The Best Air Source Heat pump in 2023 – A wonderful option to save your heating bills and carbon emissions is to install an air source heat pump in your house. Heat pumps are very different from the conventional boilers we are used to; thus, installing one should not be done hastily.
If you do decide to move further, you must make sure that the model you select is effective and dependable. Below, we've evaluated the top air source heat pumps currently available to aid you in making the best decision.
Air Source Heat Pump Fundamentals
Air Source Heat Pumps Comparison
There are several factors to consider, in addition to the cost, while attempting to select the finest air source heat pump for your house.
Air to Water or Air to Air
Air to water and air to air are the two different forms of air source heat pumps.
Heat is produced from the outside air and transferred to the water in a central heating system using air to water heat pumps.
Air to air heat pumps function more as air conditioners than they do as heaters. They produce heat by transferring outdoor air's energy to the ventilation system of a building. In order to transport air throughout the building, air to air heat pumps often require a complete installation of an exterior fan unit and a ventilation system. Our ranking of the top air source heat pumps only includes air to water types because they are highly challenging and may be more expensive to install in existing buildings.
Low or High Temperature
The majority of air source heat pump producers provide high temperature and low temperature variants of their air to water pumps. While high temperature heat pumps are better suited to conventional central heating systems because they can supply water at temperatures as high as 75–80°C, which is comparable to a gas boiler, low temperature heat pumps are better suited to homes with underfloor heating or low temperature radiators. In our post on Low vs. High Temperature Air Source Heat Pumps, we go into more detail about how these systems differ.
Monobloc or Split
Most manufacturers provide two different types of air source heat pump units: monobloc and split. Split heat pumps have an interior and outdoor unit, whereas monobloc heat pumps only have an outside unit.
Output Size
There are several (kW) output sizes for air source heat pumps. The output you need will depend on the size of your property, thus these output sizes are crucial. Below are some samples to help you get a sense of what size output you might need:
1 bed apartment or flat – 2-3 kW

2 bedroom terraced home, 4-5 kW

3 bedroom, 6 to 8 kilowatt semi-detached home

4-bedroom home; 9-11 kW

5 bedroom detached home, 12 to 15 kW
These are only estimates that may change depending on a variety of factors.
Global Warming Potential
Refrigerants are a significant component in air source heat pumps. The only component of an air source heat pump that can have a detrimental environmental impact is these gasses. This is because they all have the potential to trigger global warming (GWP). A gas's global warming potential (GWP) is a measure that describes the greenhouse impact a gas would have if it were released into the atmosphere. The more harmful a gas would be to the environment, the greater its GWP would be (carbon dioxide has a GWP of 1). Below is a table listing the refrigerants used by air source heat pumps and their global warming potentials:
| | |
| --- | --- |
| Refrigerant Type | Global Warming Potential (GWP) |
| R290 | 3 |
| R32 | 677 |
| R410A | 2,088 |
The Best Well Pump in 2023
5 Best Well Pumps in 2023 include:
Samsung EHS Monobloc
Hitachi Yutaki S80
Daikin Altherma
Vaillant flexoTHERM 400V + aroCOLLECT
Nibe F2040
1. Samsung EHS Monobloc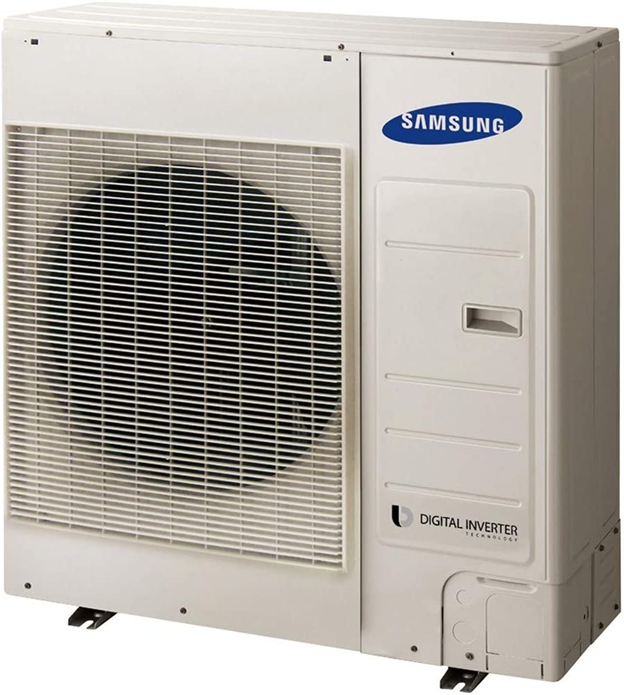 Specifications
| | |
| --- | --- |
| Output | 5 kW up to 16 kW |
| Energy Grade | A++ |
| Heating Capacity | 16 kW |
| Cooling Capacity | 14 kW |
| Dimensions | 940 x 1420 x 330 mm |
| Weight | 108 kg |
Product Description
In addition to producing everything from phones to TVs to, yes, air source heat pumps for your house, Samsung is one of the most well-known firms in the world. With its EHS Monobloc air source heat pump, Samsung has produced one of the most effective, potent, and affordably priced air source heat pumps ever created. Samsung has substantially engaged in the research and development of renewable energy technologies. It is the ideal all-purpose tool.
The EHS Monobloc is one of the smallest units available, around 40% lighter and more compact than the typical competition, in addition to its efficiency and 16 kW output. You may buy a Samsung air source heat pump with confidence knowing that the firm will be there for the duration of the heat pump and that it offers top-notch customer service.
The inverter compressor that controls the operation of the Samsung 16-kW EHS Monobloc air source heat pump depends on the ambient temperature. Due to the outside unit's light weight and small size, installation is not only quicker and less expensive but also more undetectable on your property. Additionally, the sleek shape reduces noise. The EHS Monobloc, therefore, has a sound power of 66 dBA, which is quite low.
The top-of-the-line EHS Monobloc offers a summer cooling output of 14 kW and a heating output of 16 kW. Up to 65 C, hot water may be heated, making it appropriate for almost any application. The device is ideal for use everywhere in the UK since it can function in temperatures as low as -25 C and as high as 35 C.
2. Hitachi Yutaki S80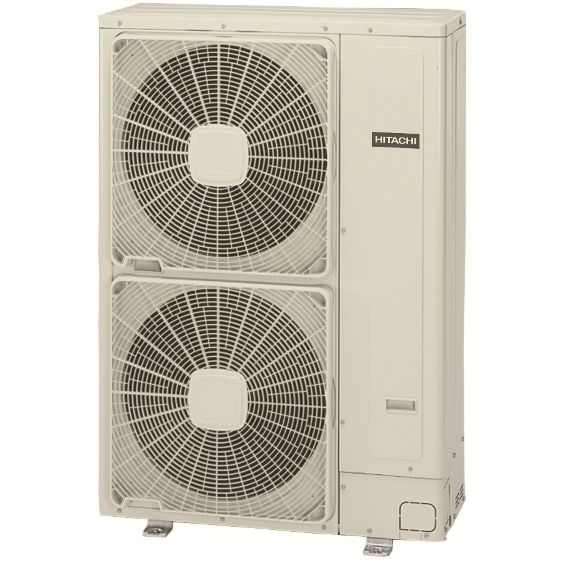 Specifications
| | |
| --- | --- |
| Model | Yutaki S80 |
| Output | 11 kW |
| Energy Grade | A+++ |
| Heating Capacity | 11 kW |
| Dimensions | 1380 x 950 x 370 mm |
| Weight | 116 kg |
Product Description
As a long-time leader in the consumer electronics industry and a well-known producer of heat pumps, Hitachi recently entered the market for home renewable energy systems. Some of the most energy-efficient air source heat pumps come from its Yutaki line, which includes the S80, S, and M ranges.
All Hitachi Yutaki pumps have an A+++ energy rating, and with a 500 percent efficiency, you not only stand to save money on operating costs over the heat pump's lifetime but also thousands of dollars. Every kilowatt of electricity is efficiently converted by the Yutaki S80 into 5 kW of heating energy. It will save your power costs and CO2 emissions by up to 60% when compared to conventional boilers.
The Hitachi Yutaki units are incredibly effective and small, just like the Samsung EHS Monobloc. You can guess that they come loaded with some user-friendly features since they were created by a company like Hitachi, which has a history in the electronics industry. A One-Touch button allows you to switch the system into vacation mode for when you're away, and a wireless remote control lets you adjust room temperatures from anywhere.
The Yutaki S80 heat pump from Hitachi does not use the conventional electrical element. Instead, a Cascade R134a Heat Pump Circuit is used, which contributes to the system's high efficiency rating. The appliance can generate hot water at a mind-blowing 80 C. A weather compensation control is one of the additional features.
3. Daikin Altherma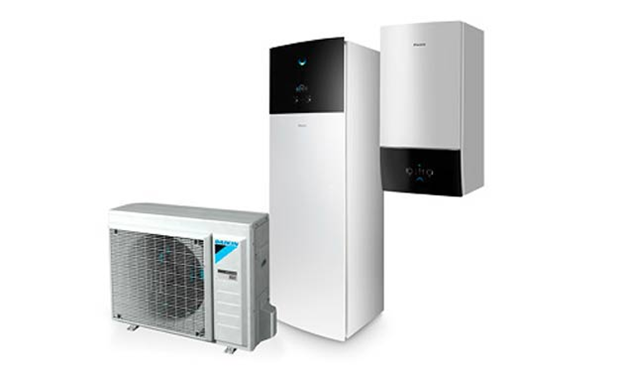 Specifications
| | |
| --- | --- |
| Model | Altherma Split System Low Temperature |
| Output | Up to 16 kW depending on the model |
| Energy Grade | A++ to A+++ |
| Heating Capacity | Up to 15.6 kW |
| Dimensions | 1440 x 1160 x 380 mm |
| Weight | 143 kg |
Product Description
Many people might not be aware of this, but Daikin has been in the home heating business for 90 years and has established a reputation for creating cutting-edge technologies. The Altherma line of air source heat pumps from Daikin features a model for the majority of property types and is built to operate with your current radiators to keep expenses down.
The Altherma air source heat pumps are fantastic because they can function even at very low temperatures. In actuality, all of Daikin's Altherma heat pumps can function in temperatures as low as -20 C. Depending on the model you choose, Altherma heat pumps may simultaneously provide hot water at temperatures ranging from 55 C to 80 C.
With models including the Altherma Monobloc Low Temperature, Split System Low Temperature, High Temperature Split, Altherma 3 with Bluevolution R32, and Altherma Hybrid, Daikin's Altherma line is highly diverse. There are a variety of output options available within these models, with the Low Temperature and High Temperature models having a maximum output of 16 kW and the Altherma 3 and Hybrid having a maximum output of 8 kW.
The most economical and well-liked models among consumers are the Low Temperature and High Temperature variants. The High Temperature type, with a grade of only A+, can provide hot water at a maximum temperature of 80 C at the sacrifice of energy efficiency. Models for low temperatures are given an A+++ grade.
There are a few choices available for the Low Temperature models. The components are all contained in a single unit in the Monobloc version. Only one wire carries the electricity from this, which is situated outside on your land, to your house. An inside unit and an outside unit are both present in the Split System Low Temperature model (with the option to wall-mount the indoor unit). You have additional options because the outside unit may be positioned up to 50 meters away.
4. Vaillant flexoTHERM 400V + aroCOLLECT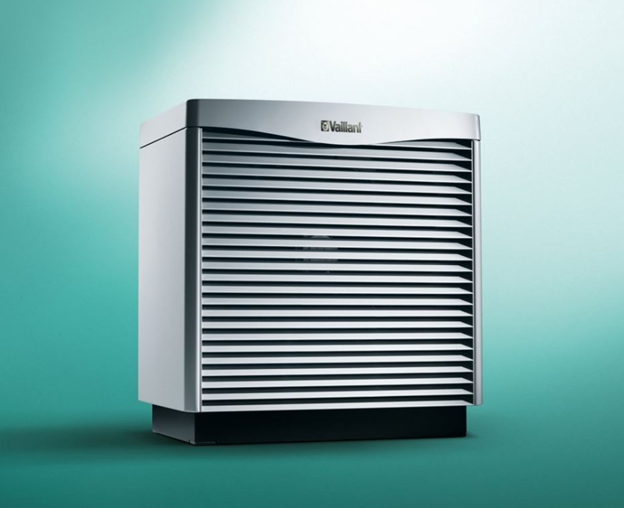 Specifications
| | |
| --- | --- |
| Model | Vaillant flexoTHERM 400V |
| Output | 15 kW and 19 kW |
| Energy Grade | A+++ |
| Heating Capacity | Up to 19 kW |
| Dimensions | 1183 x 595 x 600 mm |
| Weight | 200 kg |
Product Description
Three distinct heat sources may be used by the flexoTHERM line of Vaillant heat pumps: earth, water, and air. They transform into some of the most potent air source heat pumps you can buy when coupled to Vaillant's aroCOLLECT brine air system.
Naturally, one of the leading names in home heating is Vaillant, which is also known for its award-winning designs. The two categories of flexoTHERM heat pump models are 230V in 5-, 8-, and 11-kW choices, and 400V in 15-, and 19-kW outputs. With the help of Vaillant's cutting-edge EVI compressor technology, which blends optimum efficiency with large outputs, the 400V range is where the real power is.
As a three-phase air source heat pump, the flexoTHERM 400V functions with Vaillant's aroCOLLECT air source brine collecting module. Similar to a ground source system, the aroCOLLECT module uses the ambient air temperature to warm the brine fluid, resulting in little heat loss.
The unit's modulating ventilators reduce noise, making it one of the quietest air source heat pumps available, and it is certified A+++ for efficiency. The Vaillant heat pump's inbuilt EVI super compressor also contributes to its amazing power.
5. Nibe F2040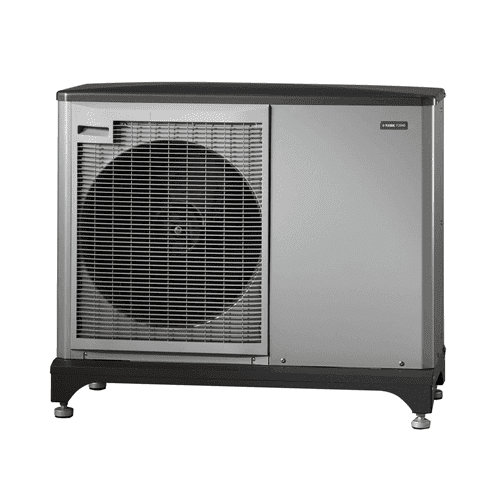 Specifications
| | |
| --- | --- |
| Model | F2040-6, -8, -12, -16 models |
| Output | 6 kW to 16 kW |
| Energy Grade | A++ |
| Heating Capacity | Up to 14.5 kW |
| Dimensions | 900 x 1025 x 420 mm |
| Weight | 66 to 135 kg |
Product Description
For more than 60 years, the Swedish manufacturer Nibe has been creating home heating systems. Because Nibe air source heat pumps have a strong focus on functional design, as one might anticipate from a Scandinavian company, they are among the simplest and most affordable heat pumps to install.
One of the company's most well-known products is the F2040 line of air-to-water heat pumps, which is appreciated for its simple installation, low operating temperature, high output, and excellent customer service.
Because it is the best air source heat pump for small- to medium-sized houses, the Nibe F2040 line is quite well known. Because the units themselves are so small, they take up less room on your property. To save room on the floor, they may also be placed on the wall. The F2040 versions also only require 150 mm of clearance space from any adjacent wall that you may mount it against, as well as 1 meter of free space in front of the unit. You have a lot of versatility thanks to this in a small area.
The design's attention to detail is likewise well-liked. The F2040 is one of the quietest air source heat pumps you can buy, thanks to fan blades that are made to flow air quietly and anti-vibration connections. Additionally, it should provide enough heat, even in cold weather, to warm the typical terrace home, with possibilities ranging from 8.7 to 15.8 kW.
Which Air Source Heat Pump Is The Most Suitable For You?
The great efficiency of the air source heat pump you install will reduce your energy expenditures. It is difficult to select a top air source heat pump among the ones we've mentioned, though. There are several aspects of your situation to think about when choosing which heat pump would be ideal for you.
If Your Neighborhood Becomes Really Chilly
The appliance's ability to function when the temperature decreases throughout the winter is your main worry. Only the Daikin, LG, Samsung, and Hitachi models will operate at temperatures as low as -25°C, whereas the majority of air source heat pumps will continue to function at low temperatures.
If Keeping Costs Low Is A Top Concern
You probably won't want to spend a lot of money on an air source heat pump if you want to switch to greener energy but don't want to break the bank. The Samsung eco heating and LG Therma system are the most reasonably priced devices on our list, with the least expensive variants costing 2,400 USD and 2,600 USD, respectively. Compared to the other air source heat pumps on our list, it is around £1,000 cheaper.
If Protecting The Environment Is Critical To You
Making your home more environmentally friendly and energy-efficient is one of the main justifications for switching from a gas boiler to an air source heat pump. Get one of the heat pumps with the lowest global warming potential if this is your only priority (GWP). The Vaillant line of products includes appliances that utilize the naturally occurring R290 refrigerant, which has a global warming potential of 3 (the lowest GWP is 1), making it the greatest option for those devoted to minimizing their environmental effect.
Bigger And Older Properties
For larger houses, the Hitachi heat pump is the ideal option since it can heat water to 80°C to meet the higher demand for hot water for additional radiators and bathrooms. Additionally, it doesn't need any modifications to an older home's radiators because existing radiators and plumbing can handle water temperatures of 80°C just fine.
FAQs about Air Source Heat Pump
1. Do air source heat pumps function in the winter?
Air source heat pumps function year-round, including in the cold. An air source heat pump may really collect heat from the air throughout the winter even though you would believe it will only function in the summer. Additionally, they may function as air conditioners, which can assist in cooling your house throughout the sweltering summer months.
2. What benefits can air source heat pumps offer?
In order to heat your home equally, air source heat pumps require four times less energy than a conventional gas boiler. This implies that you might reduce your carbon impact while saving up to 360 USD or more a year on energy costs. Air source heat pumps are also considerably simpler and less expensive to install than ground source heat pumps or even solar panels.
3. What drawbacks are there to air source heat pumps?
Air source heat pumps are still functional in cold weather, but they use more energy since they have to work harder to extract heat. As a result, while you save a lot of energy during the summer while using an air conditioner to offset costs, the efficiency in the winter is less impressive.
Conclusion
This post is a collection of data for some of the best Air Source Heat Pump in 2023. You are also encouraged to visit the Linquip website to learn more about air source heat pumps, as well as to find providers of industrial and commercial items. You can also visit our Air Source Heat Pump Suppliers and Companies to find out a complete list of Air Source Heat Pump suppliers.
Buy Equipment or Ask for a Service
By using Linquip RFQ Service, you can expect to receive quotations from various suppliers across multiple industries and regions.
Click Here to Request a Quotation From Suppliers and Service Providers
Read More on Linquip