You can use this post to find the best inverter generators in 2023 whether you need a backup generator at home or a portable generator for camping. For these applications, it is best to use an inverter generator since they are lightweight and operate quietly. We have already shortlisted the best ones from the market, so there's no need to spend hours looking for one in the market. Consequently, if you're thinking of buying one, this article might point you in the right direction.
Basics of Inverter Generators 
A portable generator is the most important tool for a home safety plan when the power goes out. During a natural disaster, a generator can produce power that keeps your refrigerator and air conditioner running, as well as the lights on and other electronics working. It does all this while not attracting attention, even when the electrical load is full.
The inverter generator differs from the conventional open-frame generator most people are familiar with. An open-frame generator uses an alternator to convert fuel (gasoline, diesel, or propane) into usable power for homes, campers, and industrial applications. As with their open-frame counterparts, inverter generators are available in different models and sizes, which means they are better suited for specific applications.
Inverter generators provide power through a computer-controlled inverter. Due to this, inverter generators are lighter, quieter, and more efficient than open-frame models. As an inverter regulates the current of the power generated, there is less fluctuation. An inverted current is known as "clean electricity," which is important when charging sensitive devices, including handheld electronics such as phones and laptops.
The best source of portable power is an inverter generator due to its stability, convenience, and portability. With them, you can easily power your devices and machines anywhere and anytime. Their power delivery is great, and they are able to handle more sensitive devices, which is a handy feature for those who travel a lot. A number of key factors were taken into account for this guide, including power output, type, size, and weight.
Nevertheless, purchasing something like an inverter generator is never as straightforward as it seems although this should not be surprising. Many factors need to be taken into account, and if adequate care is not taken, it is easy to choose the wrong model. You will be able to find the best inverter generator for your needs by understanding the defining characteristics of a high-quality product and understanding the pros and cons of various models.
You will find in this article a buying guide, a table that lists all the specifications of each product, and a detailed description of each model, along with its pros and cons. Considering inverter generators? Do you know what to look for? Here's what to consider.
Inverter Generators Buying Guide 
Some situations call for the use of portable generators. The correct generator is essential to ensure that no one is left without power. Choosing the right generator can be challenging. Inverter generator prices have been declining over the past few years as a result of increased competition between big brands, but the features and quality have improved. For example, on many new inverter generators, carbon monoxide monitoring has become a standard feature. 
Many factors must be considered before selecting the correct generator. We will discuss some of these factors below in detail to help you figure out which model is suitable for you.
Power Output
You must decide how much energy you need to be produced before making any other decision. People usually overestimate their energy requirements. It is likely that you do not need as much power as you think. However, it is recommended that you purchase a generator that produces a lot of power rather than one that produces too little. It won't be very useful if it doesn't match your energy needs.
When purchasing this generator, keep in mind the purpose for which you will use it. You probably won't need much power if you just plan to take it camping. On the other hand, a decently powerful generator is needed if you plan to power your house during a power outage. The amount of energy you require will differ depending on where you are using it.
To be able to power a house at all, most need at least 3000 watts. Obviously, this does not mean that all of your appliances are running simultaneously. If you just need the basics, 3000 may be sufficient (except if it is especially cold or hot where you are; in that case, you would need more to keep up with the temperature). In order to run everything in your house normally, you may need closer to 8000 watts. You should plan to get a generator that has at least 5000 watts at the very least unless you intend to significantly reduce your energy consumption while using it.
Portability
Inverter generators are usually portable. Certain models are capable of greater portability than others. If you must move a generator by yourself, always consider the weight of the device and whether it has any carrying handles or wheels. The portability of the machine will be greatly influenced by these factors.
As a general rule, a more portable generator is smaller and lighter. The smaller generators produce less power, so if portability is essential to you, you may have to sacrifice some output. In this respect, you should only buy a generator that is as portable as possible. Apart from that, you'll lose power that may be useful in the future.
Runtime
It is best to go for an inverter generator that can run for a more extended period of time if frequent power outages are common in your area. There are options that can run for up to five to six hours. As well, there are more powerful and efficient options available that can provide electricity for as long as 22 hours, so you can choose what works best for you.
Fuel Type
According to their fuel type, inverter generators can be divided into three categories. Most of the common models use gasoline for fuel; however, some models are available that use propane or natural gas.
Noise
Generators vary in their noise levels. Inverter generators, however, tend to be fairly quiet. There are inverter generators that are much quieter than others. The noise level of a machine is extremely important to some buyers. You should probably avoid a model that is significantly noisy if you have neighbors nearby or if you plan on using it for camping. 
No direct relationship exists between the power a generator produces and its noise, despite what you might think.
Budget
The purchase of such an indispensable machine as a generator is not something that can be made cheaply. Select a power supply that is capable of providing a constant, reliable power supply and that it won't fail to start after just a few uses. Manufacturers of high-quality generators are not cheap, and therefore they are also more expensive.
In contrast, some people make the mistake of purchasing large, expensive generators in order to power their entire house during times of power outage due to natural disasters. About 2-3 times a year, they would use them when a hurricane occurred. Do you need to run every appliance in your home if an emergency occurs? What about a few major appliances such as a refrigerator, a heater, lights, and portable electronic devices?
There's no point in buying a generator for tens of thousands of dollars if you can have the same power with a smaller and cheaper model.
Sturdy Construction
Even in the worst circumstances, you can rely on a portable generator. Make sure you choose a generator with a quality OHV engine and a strong steel frame for protection.
Fuel Efficiency
The fuel consumption of portable generators can vary significantly despite the fact that they may all look the same and have similar engines. A full tank of gasoline can give you varying levels of power.
Ease of Set-Up
A whole-house standby generator must be installed by a professional or by the manufacturer if such a service is offered. Portable generators, on the other hand, are installed by the owner. If you are going camping, you don't want to spend hundreds on a generator that is hard to start. These days, most portable generators are ready to use right out of the box.
However, you should ensure that the generator you decide to buy comes with a detailed and easy-to-understand manual written in good English.
Easy to Use and Maintain
Portable generators today are generally much easier to use than older models that usually require professional expertise to operate. In addition, some generators come with handy features, making them easy for even the most inexperienced users to run. If you plan on purchasing a generator, check to see if it has the following features:
Automatic oil-level shut-off mechanism (works with good oils for generators)

Start via electric power (or even a remote control)

Gauge showing fuel level

The ability for hybrid generators to switch fuels at a touch of a button
These features mostly serve the purpose of convenience. Some safety features, such as a low oil shut-off mechanism, are essential and should not be ignored.
Doubling Up
Parallel capabilities allow inverter generators to overcome their low power output. This allows them to be connected together and produce more power. If you're looking for a portable generator but need more power than most inverter generators have to offer, this could be a good option.
Of course, this means you will have to spend even more money. If your budget allows it, this may still be an option. Perhaps in the future, you will be able to afford a second generator, even if you cannot now.
Customer Support
Certainly, you don't want to invest hundreds or thousands of dollars in a generator just to find out that if it breaks down, no one will be able to help you. Whenever the generator fails to work for any reason, you should always be able to contact a trusted manufacturer.
That is why you should only purchase products from reliable brands. In addition to selling quality generators, they provide excellent customer service.
Some large brands, however, have been criticized for not providing excellent customer service from time to time.
Lastly, make sure you purchase a generator that has a warranty of at least three years. It is also important to check the rules first to find out what kinds of repairs a manufacturer can perform for no extra charge. The cost of professional maintenance can be high, so you are better off reading the owner's manual first.
Best Inverter Generators Reviews 
With so many brands competing to produce the best value generator, there has never been a better time to purchase an inverter generator. New models from all the major brands are available, and carbon monoxide sensors are one of the best safety features you'll find on the latest inverter generators. Regardless of your budget, you will likely discover something you need. But the one thing that they all have in common is that they're well-made, reliable, and high-quality – for the price they are. Our review of the best portable inverter generators on the market can help you narrow down your search.
1. WEN 56200i 2000-Watt Gas Powered Portable Inverter Generator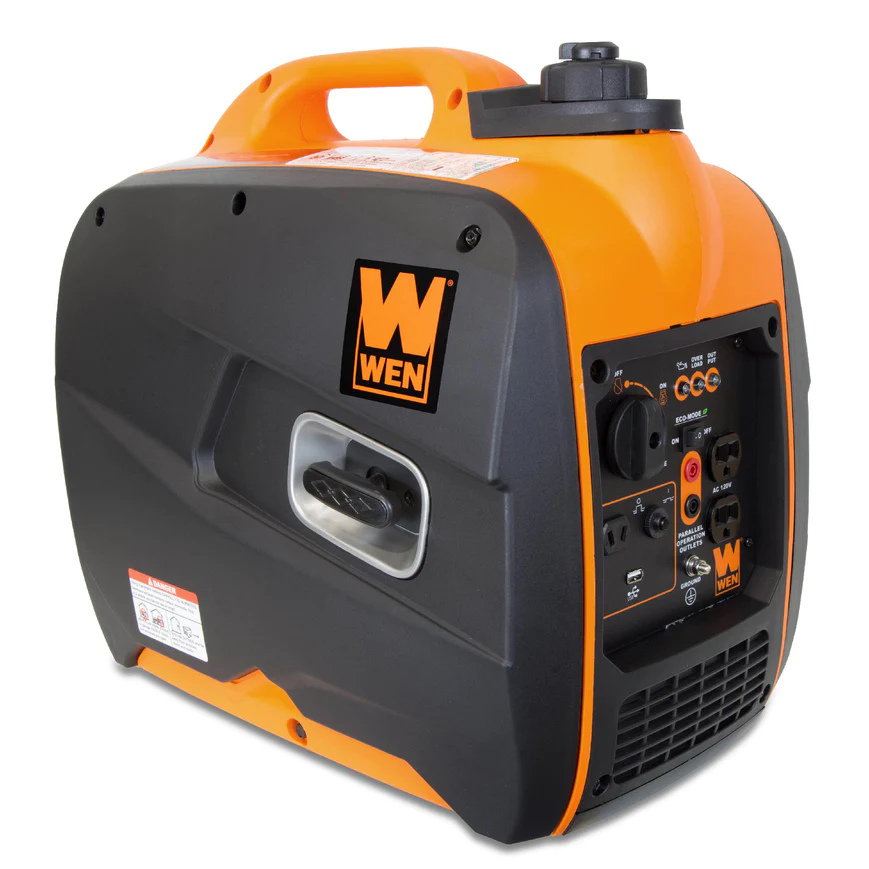 Specifications 
| | |
| --- | --- |
| Wattage | 1600 watts |
| Dimensions | 18 x 11 x 18 inches |
| Item Weight | 48 Pounds |
| Engine type | 4 stroke |
| Color | Black & Orange |
| Voltage | 120 volts |
| Runtime | 6 hours |
The WEN 56200i Portable Inverter Generator features a surge power of 2000 watts and a rated power of 1600 watts, which should be more than adequate for unexpected power outages, camping trips, and outdoor parties. Clean energy is produced by this device, which can be used safely alongside sensitive electronics like smartphones, tablets, televisions, and computers.
The unit has two three-pronged 120V outlets, one 12V DC outlet, and one 5V USB port. All your devices and electronics can be plugged in here.
Unlike many other options on the market, this machine is truly portable. Because it is relatively lightweight, you shouldn't have any difficulty moving it around. Furthermore, it runs quietly, so you won't disturb your neighbors or interrupt the forest's peace. There's even an eco-mode on it, so you can be confident that clean energy is being generated.
There's even an easy-to-use control panel. This generator is easy to use, even for non-experts. Anyone can pick it up and start using it immediately.
2. A-iPower SUA2000i 2000-Watt Portable Inverter Generator Gasoline-Powered
Specifications 
| | |
| --- | --- |
| Wattage | 2000 watts |
| Dimensions | 20 x 12.5 x 19 inches |
| Item Weight | 48 Pounds |
| Fuel type | Gasoline |
| Color | Red |
| Runtime | 7 hours |
The A-iPower SUA2000iV Portable Inverter Generator is a bit less expensive than our top choice, so those on a budget will find it more appealing. Definitely worth the money.
This generator produces 2000 starting watts and 1600 running watts. Most single-family households should be fine with this power. You can use this machine as a portable source of electricity at the campsite if you need one.
This machine is also suitable for sensitive electronic devices. Neither your phone's battery nor your TV will be damaged.
Also, it runs quietly. The noise level is 58 decibels. That's the same level of noise as a typical household refrigerator. It should be quiet enough for most purposes. This machine is also reasonably lightweight. It weighs only 48 pounds, so most people should be able to use it without too much difficulty.
A-iPower's low idle technology provides this machine with extended runtime. In this way, the generator runs more prolonged, and you never run out of power.
3. Westinghouse iGen4500 Super Quiet Portable Inverter Generator
Specifications 
| | |
| --- | --- |
| Wattage | 4500 watts |
| Dimensions | 24.5 x 17.5 x 20 inches |
| Item Weight | 104.7 Pounds |
| Voltage | 120 volts |
| Color | Electric Start, RV Ready, CARB Compliant |
| Runtime | 18 hours |
If you want a high-end inverter generator, you should undoubtedly check out Westinghouse's options since the brand is quite popular for high-priced models.
As it's a high-end inverter generator option, you can rely on it to be powerful since it features a 224cc engine that provides 4500 watts of starting power and 3700 watts of running power. While it is so powerful, it is also extremely fuel-efficient and quiet, making only 52dB of noise while working.
Regarding fuel efficiency, this generator has a 3.4-gallon fuel tank, which allows it to run for about 18 hours. In addition, it does have parallel capabilities along with two USB outlets, a 5–20R 120V Duplex Household Outlet, and a Tt-30R 30 Amp RV-Ready Outlet.
4. YAMAHA EF2200iS Inverter Generator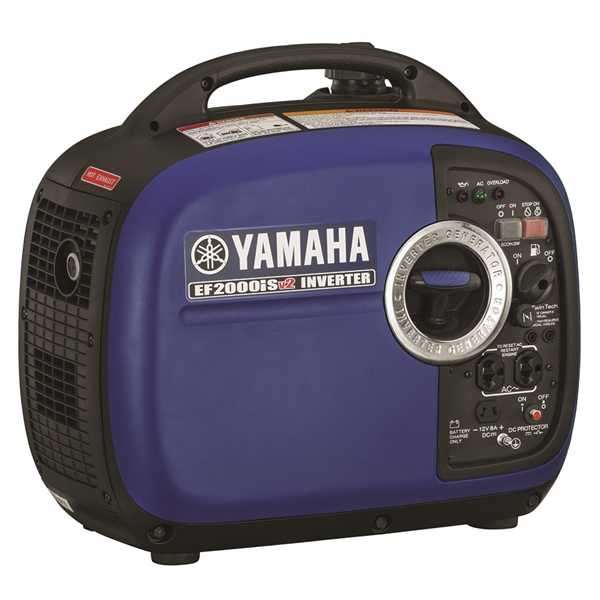 Specifications 
| | |
| --- | --- |
| Wattage | 1600 watts |
| Dimensions | 19.3 x 11 x 17.9 inches |
| Item Weight | 44.1 Pounds |
| Voltage | 120 volts |
| Color | Blue |
| Engine Type | 4 Stroke |
One of the best inverter generators on the market is the Yamaha EF2000iSv2. In addition to its beautiful modern design, it is also very portable and easy to use. But what's more important is the engine – the Yamaha 79cc 4-stroke OHV has a very high-reliability rating.
EF2000iSv2 delivers a maximum power output of 1800 running watts. For inverter generators, that's a pretty standard number. There is no way you can power an entire house with this. In contrast, this is more than sufficient to go camping or to use most tools, including drills and sanders. In summary, this is a great choice, even if it is pricier.
5. Champion 3400-Watt Dual Fuel RV Ready Portable Inverter Generator with Electric Start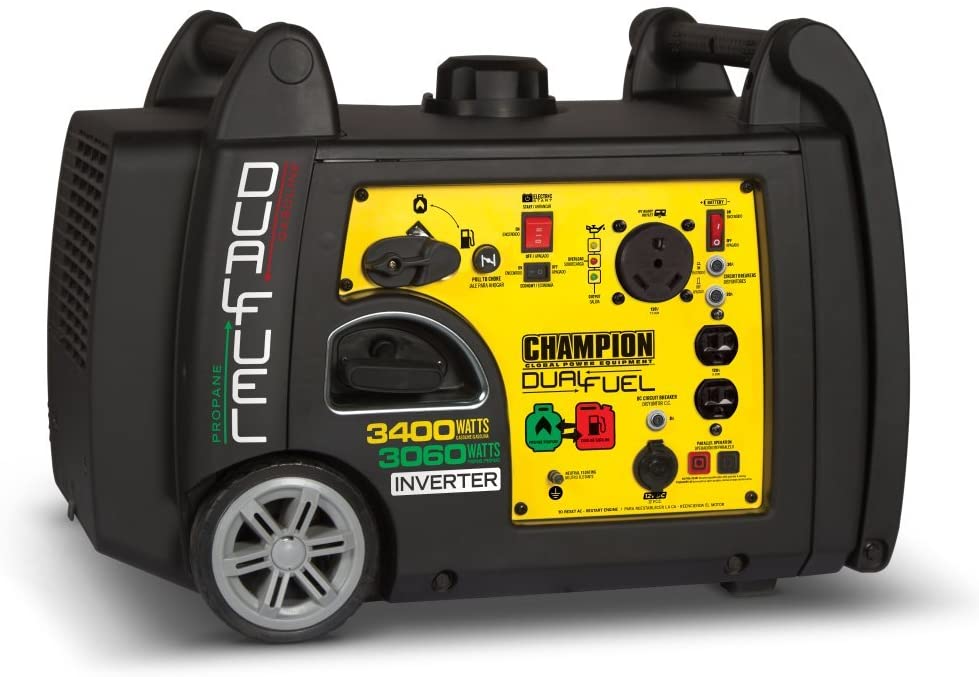 Specifications 
| | |
| --- | --- |
| Wattage | 3400 watts |
| Dimensions | 25.1 x 17.3 x 18.3 inches |
| Item Weight | 95.7 Pounds |
| Voltage | 120 volts |
| Color | Yellow and Black |
| Fuel Type | Dual fuel |
| Runtime | 7 hours |
You might want to consider the Champion 100263 Dual Fuel Portable Inverter Generator if you need much power. But it will cost you. This generator is quite expensive. Although we liked quite a few features of this machine, we are still not sure if it is worth the additional cost for the majority of users.
Both gas and propane are compatible with this machine. As well as that, it has a low oil sensor and can store quite a bit of oil. So you won't accidentally destroy the machine by running it with too little oil. The total wattage on this machine is 3100 running watts and 3400 starting watts. This should be enough for most users. It's hard to imagine a scenario where the average user would need more power than this. During a power outage, you can use this machine to run most of the things in your house.
Additionally, it produces decently clean energy, so it can be used to run sensitive electronics and charge them. Furthermore, many outlets are provided for you to use, so you can connect whatever you need.
6. DuroMax XP12000EH Portable Generator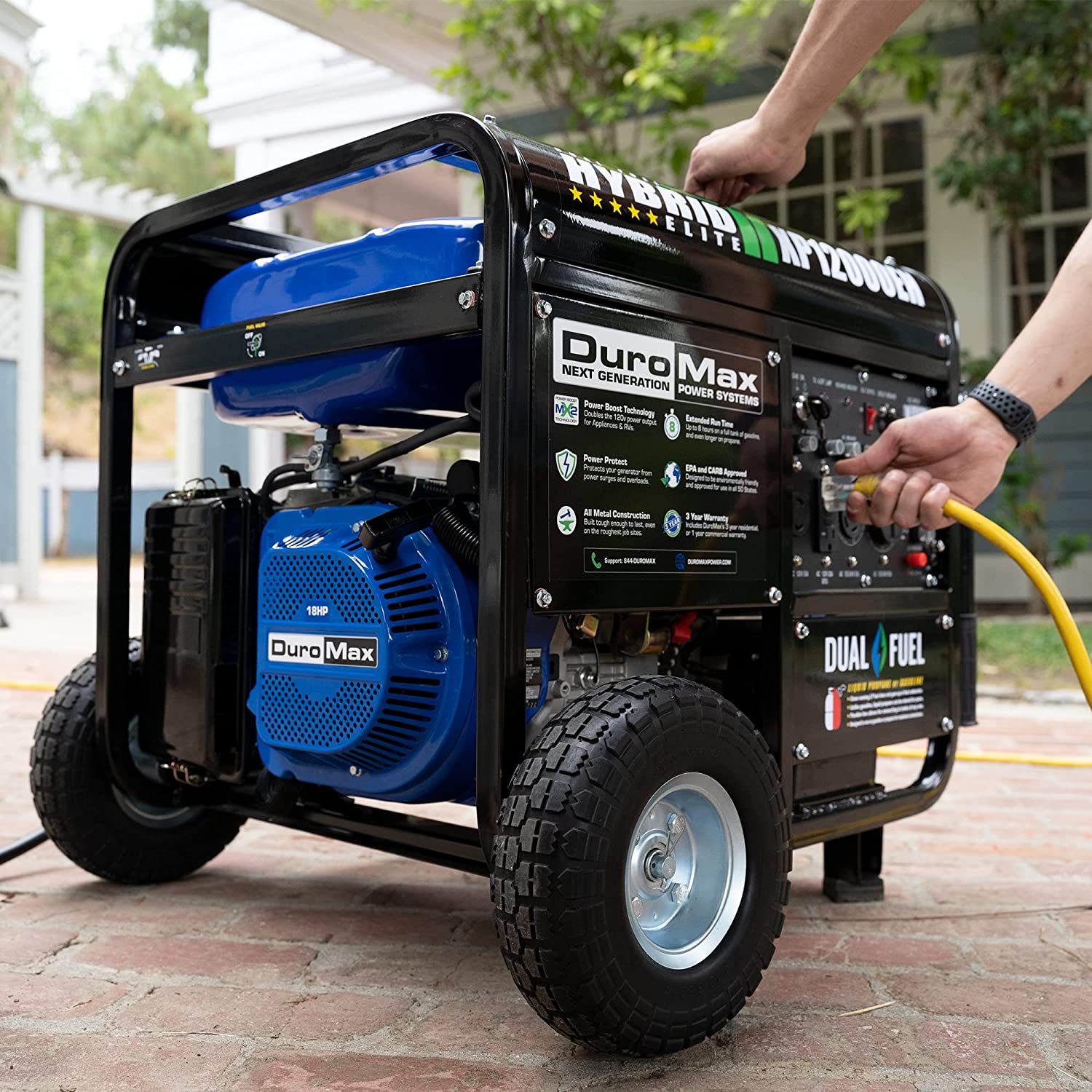 Specifications 
| | |
| --- | --- |
| Wattage | 12000 watts |
| Dimensions | 30 x 29 x 26 inches |
| Item Weight | 224 Pounds |
| Voltage | 240 volts |
| Color | Black and white |
| Fuel Type | 4 stroke |
| Runtime | 8 hours |
DuroMax Hybrid XP12000EH is one of the best portable generators on the market. With a surge power of 12000 watts and a rated power of 9500 watts, this generator provides comprehensive home backup power in case of a power outage. It can run pretty much the whole house if not all the appliances are turned on simultaneously.
With its ability to run on natural gas and gasoline, it is a very versatile machine. In comparison to conventional gas-powered portable generators, you have a bit more flexibility due to the fact that you can switch between gas and liquid propane as you need.
Its total runtime can be increased (up to 15 hours based on the load). That is undoubtedly great news for people who are anticipating having to run a generator for an extended period during extended power outages due to severe weather conditions, hurricanes, or forest fires.
This is not necessarily a quiet portable generator, as you might expect from a machine of this size. This is not a significant concern, however, if you use it as mentioned above – to power specific heavy-duty tools or as a backup power source.
7. Honda EU2200i Portable Inverter Generator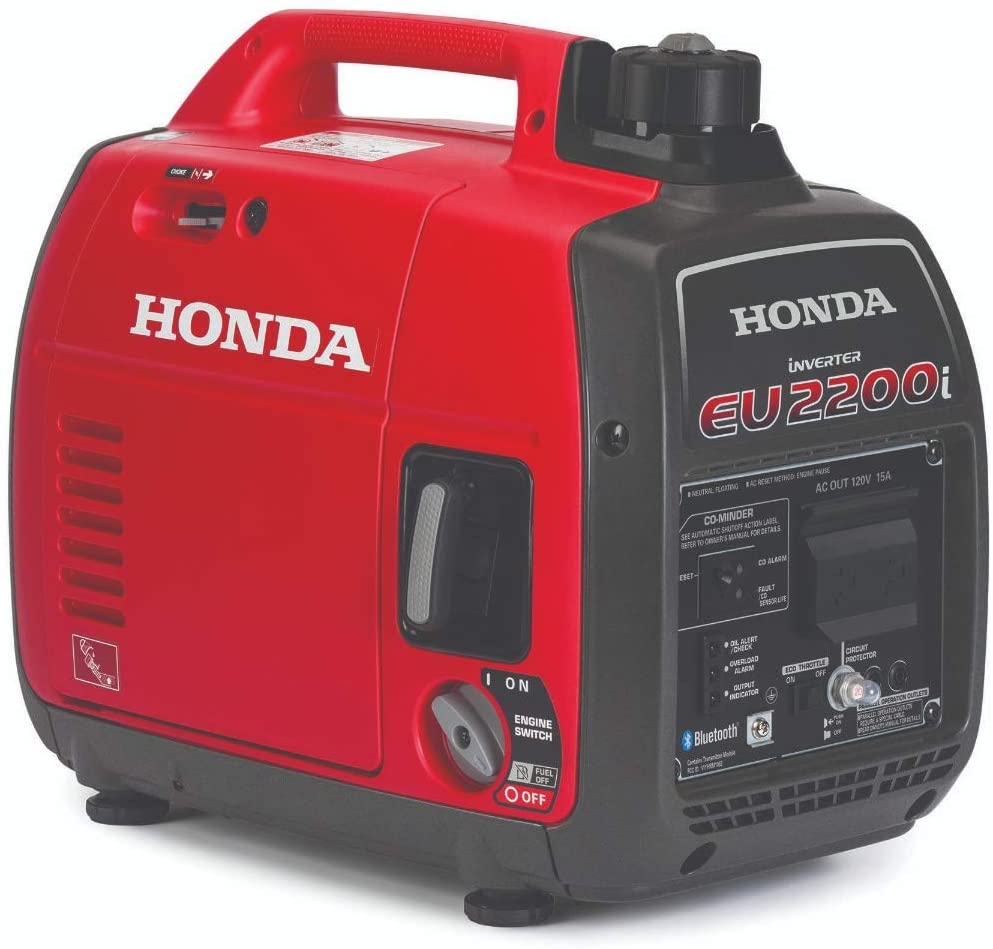 Specifications 
| | |
| --- | --- |
| Wattage | 2200 watts |
| Dimensions | 20 x 11.4 x 16.7 inches |
| Item Weight | 46.5 Pounds |
| Voltage | 120 volts |
| Color | Black and red |
One of the world's most well-known car manufacturers, Honda is also a superb generator manufacturer. In our list of best inverter generators, the Honda EU2200i exists due to the excellent performance it delivers and its amazing reliability. Fuel efficiency and clean power make it suitable for most situations.
The feature that makes this inverter generator so impressive is the eco-throttle. This mode lets you save more fuel and keep the machine running for a long time since you are probably not going to use the 1,800 watts at the same time. Honda claims the generator can run for a minimum of 4 hours and for a maximum of 9.5 hours.
Overall, this inverter generator is a standard product. There are two 120-volt outlets on the generator, as well as a DC outlet converter. In addition, it includes an indicator light that indicates when the generator is overloaded or if the oil level is low and has a parallel mode that allows it to be linked to other units. Additionally, the motor of the generator is designed to remain cool, which leads to improved efficiency.
8. Generac Gp2200I Inverter Generator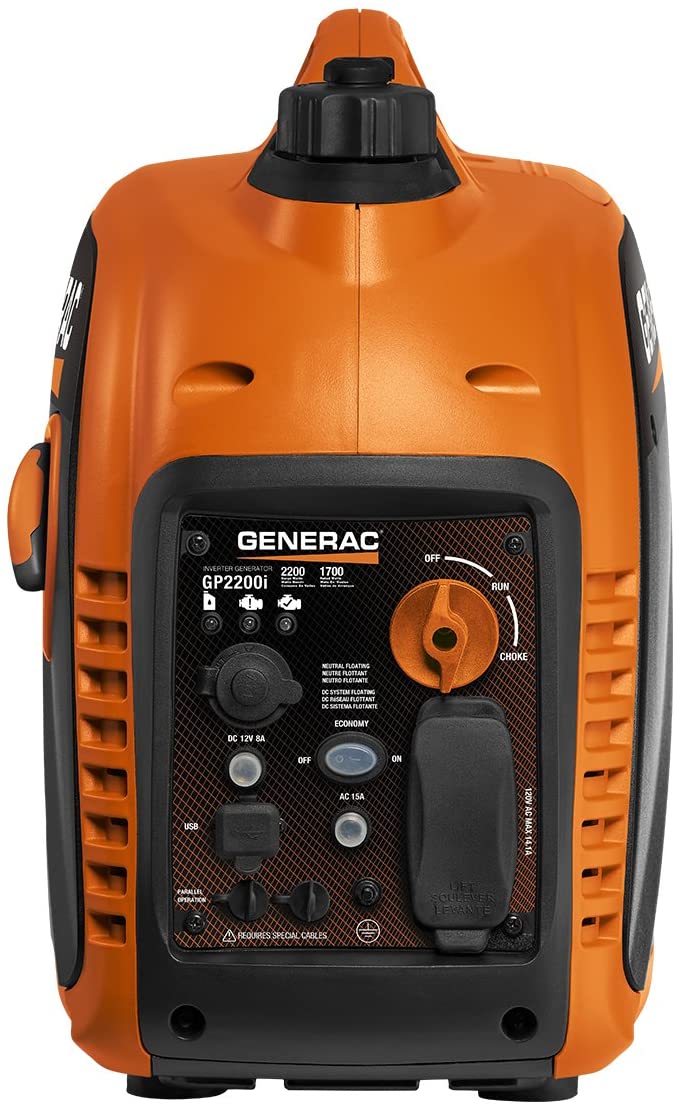 Specifications 
| | |
| --- | --- |
| Wattage | 1700 watts |
| Dimensions | 19.7 x 11.4 x 17.9 inches |
| Item Weight | 46.6 Pounds |
| Voltage | 120 volts |
| Color | Orange |
Fishing, camping, trekking, hiking enthusiasts, or even people who just like having a reliable power source for outdoor activities, the Generac GP2200i is an excellent option to consider. It has a very quiet operation, and at 24% load, it can provide a runtime of 10.75 hours with no issues. In addition, it has an eco-mode that reduces fuel consumption. You can also connect two generators together for more power, thanks to the parallel feature. Parallel functionality allows you to squeeze the maximum amount of power from two units so that you can simultaneously power your RV air conditioner, lights, cell phone, and a few other small electrical appliances. 
It comes equipped with a host of great features. This is a Generac inverter generator. Everything you need to get started is included in the box. Moreover, it is lightweight and very easy to use, so you can use it everywhere and anytime. With its integrated handle, you can easily move this unit from one location to another and set it up within seconds. Just make sure you inspect the oil and gas and keep them at an appropriate level for continuous use of this machine.
9. Pulsar G2319N Portable Gas-Powered Inverter Generator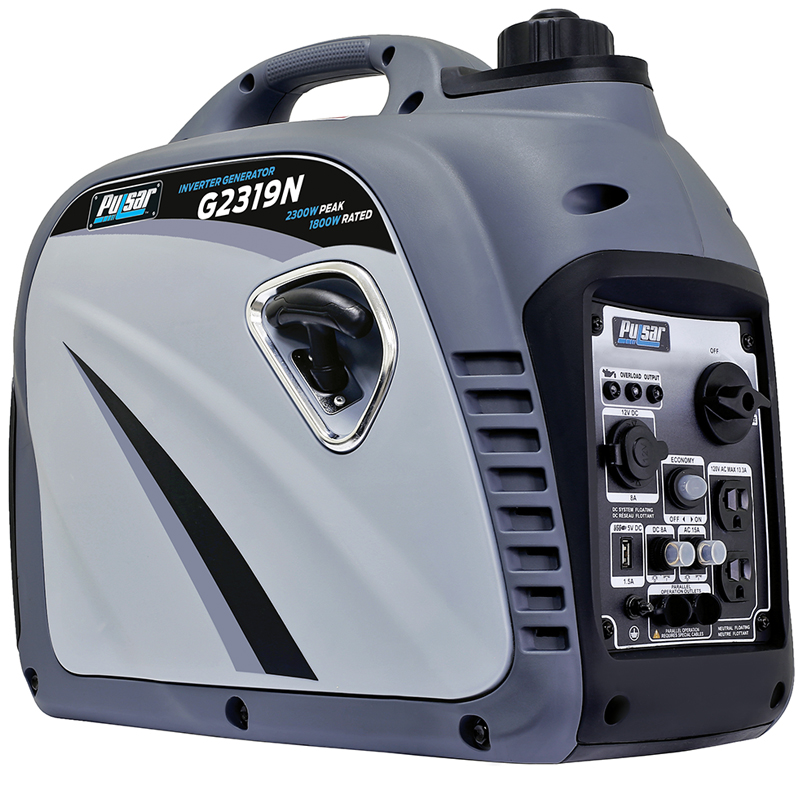 Specifications 
| | |
| --- | --- |
| Running Wattage | 1800 watts |
| Dimensions | 19.7 x 11.2 x 17.9 inches |
| Item Weight | 46.5 Pounds |
| Fuel Type | Gasoline |
| Voltage | 120 volts |
| Runtime | 8 hours |
Pulsar is one of the best-rated brands in the market if you are looking for an affordable home backup inverter generator. The 2300 peak watts and 1800 running watts make this an excellent inverter generator for affordable prices. With only a 1.18-gallon tank capacity and an 80cc engine, it offers a backup for 8 hours and is fuel-efficient. Additionally, it is one of the lightest generator models that you will find on this list due to its weight of just 47 pounds.
It is also equipped with stable sine wave technology, which allows it to provide safe electrical power and ensure the safety of your connected devices, such as your mobile phone, laptop, and other 120 Volt small appliances. You can't use it to power an RV air conditioner, but it includes two household receptacles, a 12V DC 8A outlet, and a 5V DC 1.5A USB outlet that you will definitely find helpful.
10. GENMAX-3200W Portable Inverter Generator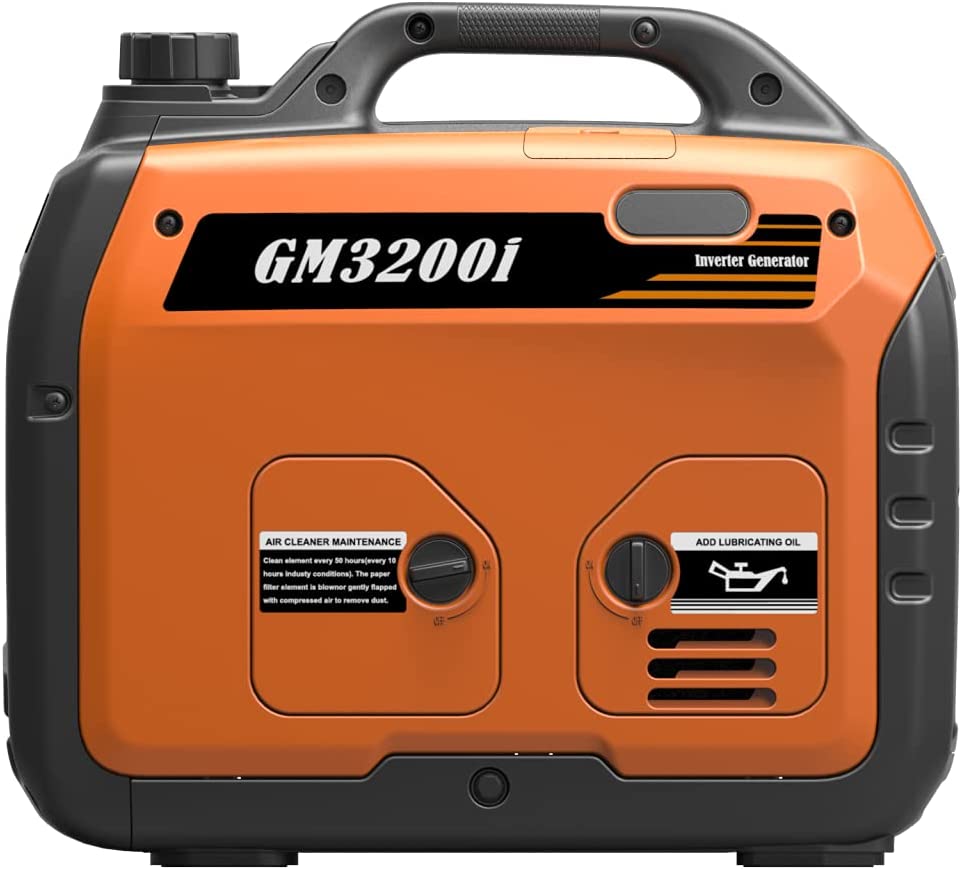 Specifications 
| | |
| --- | --- |
| Running Wattage | 3200 watts |
| Dimensions | 18.9 x 11.5 x 17.3 inches |
| Item Weight | 47.3 Pounds |
| Voltage | 12 volts |
| Runtime | 8 hours |
A quality inverter generator from the mid-range price range, Genmax is another reputable brand. With regards to its specifications, this generator comes with a 5.2 HP 145cc gas engine with the ability to deliver 3200 surge watts and 2800 running watts. Because it's so quiet, even when at full load, you can rely on it as a backup or for camping. In terms of runtime, the generator has a 1-gallon gas tank that can provide up to 8 hours of power.
There is a USB port, a duplex 120V 20A outlet, and a covered 120V 30A outlet on the back side of this generator. As a result, you can plug this into your RV air conditioner to power it. It can also work in parallel with other generators. This generator does not come with a parallel kit, so you will have to arrange it on your own. The manufacturer offers a one-year warranty on this product.
Buy Equipment or Ask for a Service
By using Linquip RFQ Service, you can expect to receive quotations from various suppliers across multiple industries and regions.
Click Here to Request a Quotation From Suppliers and Service Providers
Read More on Linquip