The 11 Best LED Lighting for Warehouse & Gurage 2023 – The potential of garages is enormous. Of course, they may be used for storage, but they can also be utilized as home gyms, businesses, studios, playrooms, greenhouses, and whatever else you can think of. Inadequate illumination, on the other hand, might prohibit you from getting the most out of your area.
To find out more about Warehouse LED Lighting, please visit our Warehouse LED Lighting for Sale pages where you can also request a quote.
How We Selected The Best LED Lighting for Warehouse & Gurage 2023
At Linquip, our team of experts is dedicated to providing our customers with the best products for their warehouse and garage lighting needs. To select the best LED lighting for our 2023 recommendation list, we performed an in-depth analysis of more than 10 popular websites and hundreds of products to determine the highest-quality and most cost-effective options on the market. We also considered previous customer feedback, reviews, and our own experience in the industry to ensure our recommendations were the best of the best.
As technology advances, so do the options available for warehouse and garage lighting. Linquip is committed to staying on top of these trends to provide our customers with the most advanced LED lighting options available. We consulted with our team of experts, including certified electricians and experienced tradesmen, to ensure that the LED lights we recommend meet the highest standards of quality and performance.
We understand that lighting is a crucial element of any work space, and our experts have carefully considered various factors such as the desired level of lighting, the size of the space, and, of course, customer budget. That's why our 2023 list includes a range of affordable and high-end LED lighting options to cater to all needs and budgets. Whether you're after energy-efficient lighting or bright and focused light, we've got you covered.
In addition to our rigorous analysis of products and reviews, Linquip has also accumulated a lot of experience in the warehouse and garage lighting industry. We have worked with many different customers over the years and have seen the impact that high-quality LED lighting can have on their work spaces. We take great pride in helping our customers to choose the right LED lighting for their unique needs, and we are confident that our 2023 recommendations will do just that.
Basics of LED Lighting for Warehouse & Gurage
Types of Garage Lighting
The incandescent bulb's prime is passed. Even if you favor the old-school energy suckers, they're becoming increasingly difficult to come by. If you come across one for sale, don't be fooled by the low price; they'll quickly show you how inefficient they are when your power bill arrives. Instead, the majority of consumers choose LED or fluorescent lights. Each has advantages and disadvantages, so choosing the ideal option for your workspace and work style is critical.
LED
LED stands for "Light-Emitting Diode," which is a fancy way of expressing that within the bulb is a small component that lights when electricity runs through it. These lights are a popular option because of their brightness, energy efficiency, and extended lifespan.
LEDs are commonly used in flashlights and spotlights because they produce directed light—a brilliant beam that shines straight out from the diode and focuses on a limited region. This isn't ideal for garages and other workshops, but lighting producers compensate in two ways: they design LEDs with multipositional wings and add reflectors to uniformly spread light around a room. Both of these adjustments provide a great alternative to incandescent lamps' wide-cast illumination.
Fluorescent
Rather than a solid filament (as in an incandescent bulb) or a diode, fluorescent lighting uses a mercury-vapor gas to create light (like an LED). When a fluorescent bulb is turned on, the gas within emits ultraviolet light.
Fluorescent lighting, in general, and for garage-type labor in particular, has the advantage of uniformly distributing light. The light shines out in a 360-degree pattern because the gas is trapped in long glass tubes. The problem with fluorescents is that, despite their extended lifespan, they must be disposed of at a hazardous waste disposal facility after they burn out. Fluorescents, unlike LEDs, are difficult to dispose of or recycle due to mercury gas toxicity.
Best LED Fixtures for Warehouse & Garage Reviews
1. Apollo HBI LED High Bay – 100W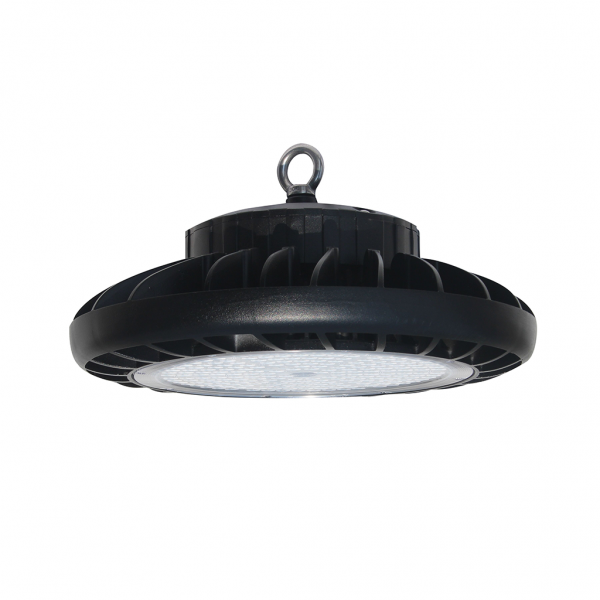 Specifications
| | |
| --- | --- |
| Indoor/Outdoor Usage | Indoor |
| Room Type | Garage |
| Power Source | Corded-electric |
| Style | Modern |
| Material | Metal |
General Descriptions
The Apollo HBI is a UFO high bay light that delivers high-quality lighting in industrial settings including factories, warehouses, and workshops. The Apollo High Bay Series' standard class is this round-shaped LED light. The fixture has received DLC Premium Verification and is suitable for use in severe situations. The Apollo HBI is dimmable and comes with an I-hook for simple mounting on high ceilings. It features cutting-edge CREE LED chips to deliver excellent illumination from high ceilings while keeping a robust circular compact shape.
2. Freelicht LED 60W Garage Light with Medium Base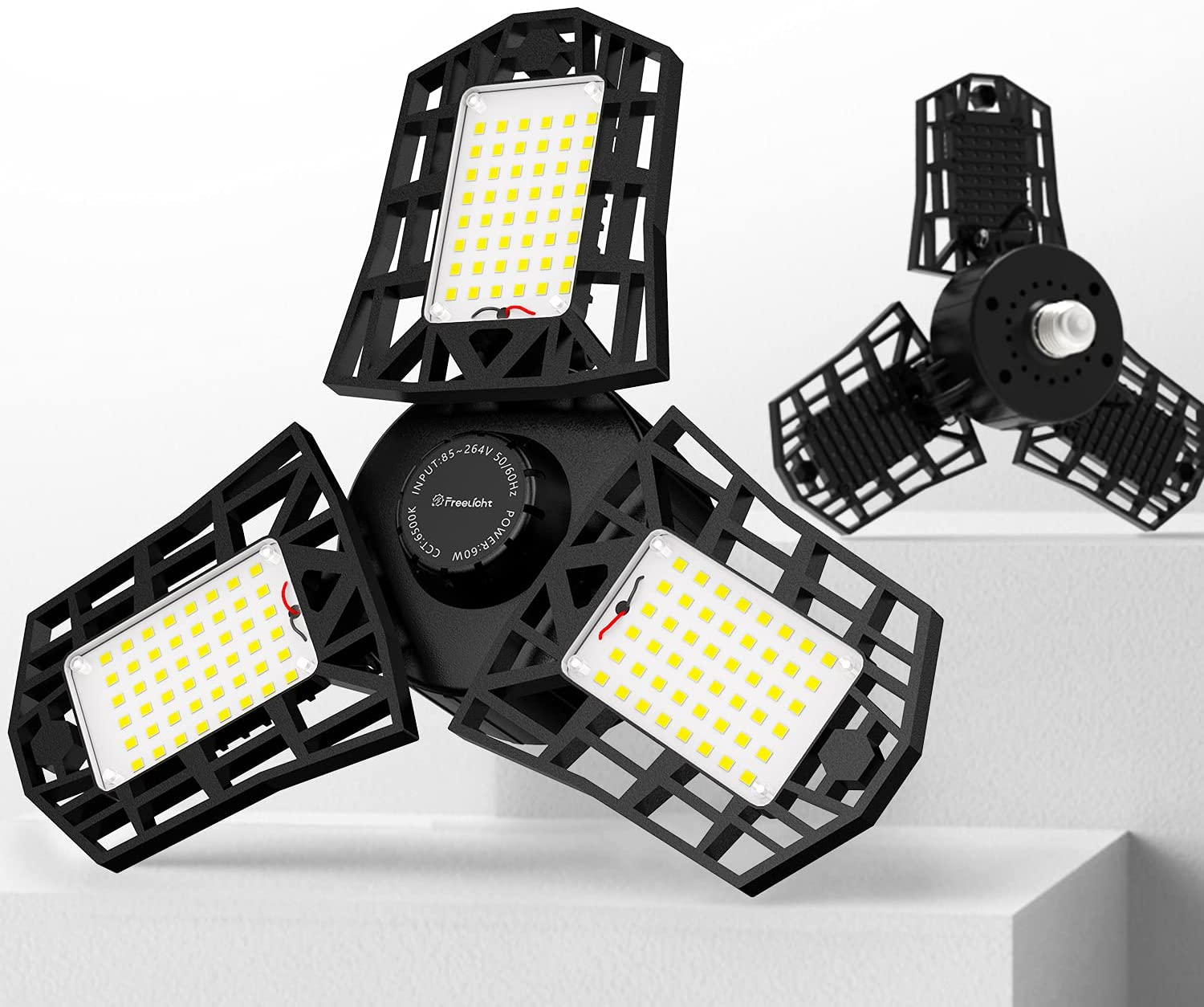 Specifications
| | |
| --- | --- |
| Indoor/Outdoor Usage | Indoor |
| Room Type | Basement |
| Power Source | Corded-electric |
| Style | Modern |
| Material | Plastic |
General Descriptions
This LED tri-light fixture from Freelicht is the most acceptable solution overall. It has a 6500 kelvin and 6000 lumens, as well as a Color Rendering Index (CRI) of 80, according to Blashaw's recommendations, which means basically the lighting makes colors seem fantastic. Each flicker-free panel can be rotated up to 90 degrees. We also appreciate that the light does not need to be wired. It's as straightforward as screwing it into a current light socket—no tools required. Furthermore, the LEDs will provide illumination for a remarkable 50,000 hours.
3. Commercial Electric 4 ft. 4-Light 80-Watt Utility LED Shop Light with Pull Chain


Specifications
| | |
| --- | --- |
| Indoor/Outdoor Usage | Indoor |
| Room Type | Basement |
| Power Source | Corded-electric |
| Style | Modern |
| Material | Plastic |
General Descriptions
Consider Commercial Electric's LED Shop Light for an easy-to-install design. The light will deliver bright, cool-toned lighting to any garage with four oblong bulbs, 7000 lumens of brightness, and 4500 kelvin. You may hang this lamp from your ceiling or place it flush. Simply pull the convenient cord to switch it on and off after it's connected in. It's worth mentioning, though, that the power chord is just 5 feet long, so depending on where your outlets are, you may need an extension cord.
4. Baloray LED Garage Lights 80W 9000 Lumens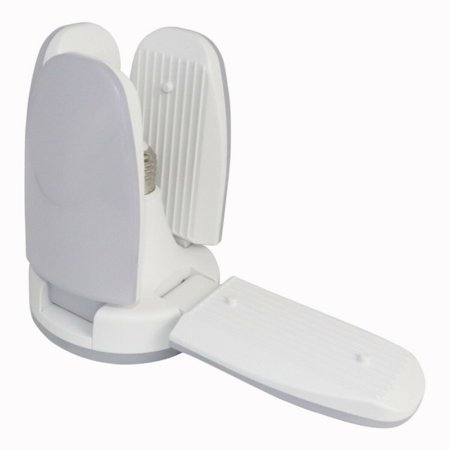 Specifications
| | |
| --- | --- |
| Indoor/Outdoor Usage | Indoor |
| Room Type | Small Garages |
| Power Source | Corded-electric |
| Style | Modern |
| Material | Plastic |
General Descriptions
Another easy-to-install garage lighting option is the BALORAY Deformable Garage Ceiling Light. It may also be utilized in basements or other dark areas where bright lighting is required whether at home or at work. The led shop lights are energy efficient, consuming only 80 Watts while providing 9000 lumens of lighting. The installation is as simple as fastening it to the garage ceiling. There's no need for hardwires or to hire a pro to do the job. Its LED lights may be adjusted, and the device has a robust feel to it overall. It's well-made, and the lights are really bright. The bright rescuer of the dangerously dim workstation is Garage Light. It keeps your garages, shops, and stalls brighter than an army of incandescent lights, allowing you to work with more clarity and less clutter. Because garages are so common in today's houses, having the greatest lighting for quick access, job productivity, and safety is a must.
5. Tanbaby LED Garage Light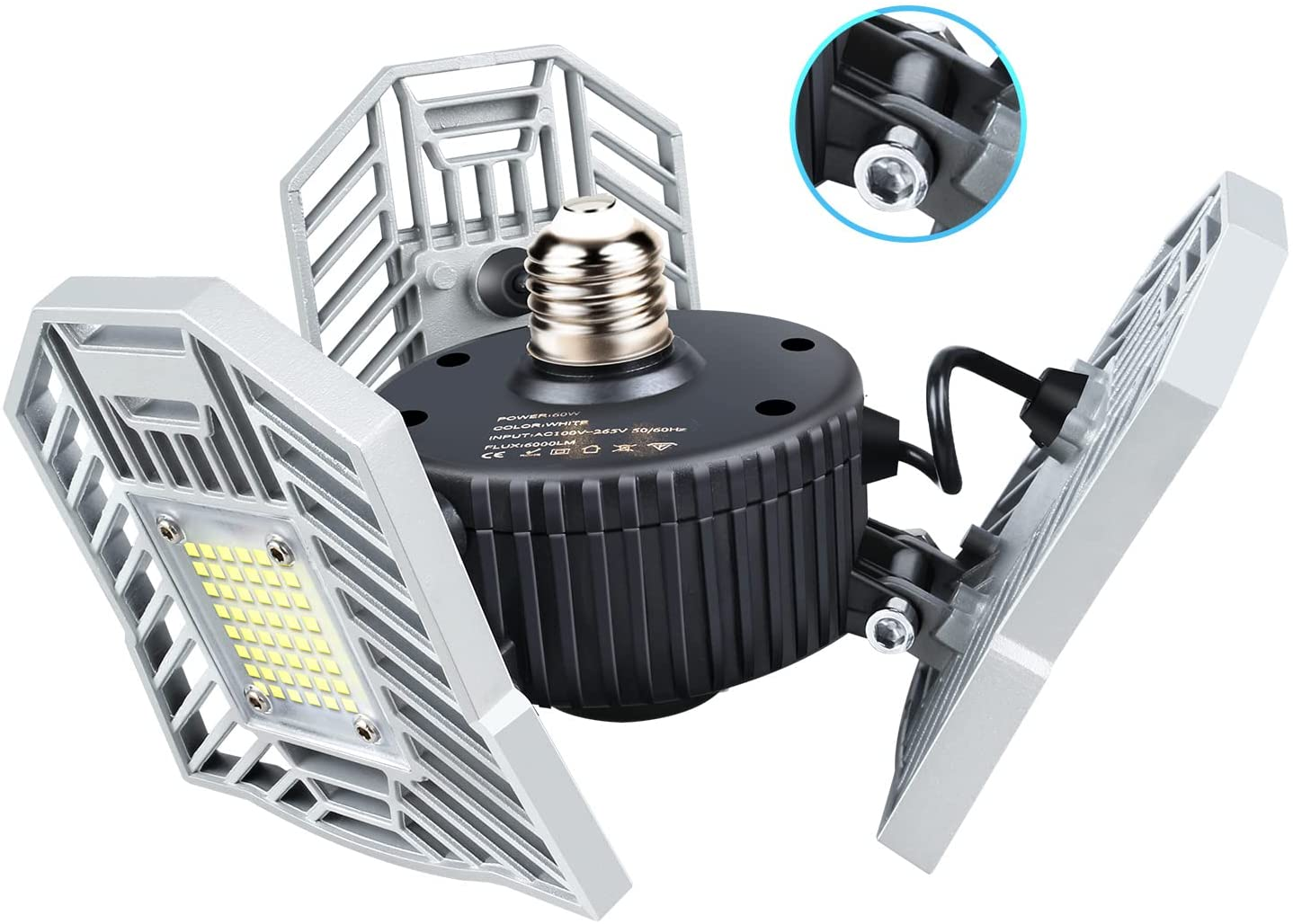 Specifications
| | |
| --- | --- |
| Light fixture form | Close to Ceiling |
| Power Source | DC plugged |
| Indoor/Outdoor Usage | Indoor |
| Room Type | Office, Basement, Patio |
| Material | Aviation Aluminum |
General Descriptions
This LED garage ceiling light has 3*48 PCS high-quality diodes that generate 100 lumens per watt, totaling 6000 lumens, CRI80+, and 6000K daylight. It can create almost 1.5 times the brightness of other garage lights of the same type while saving you up to 85% on electricity. The store light and low bay light appear to be difficult to install and have low cost-performance. Most significantly, the bulbs are unable to provide sufficient luminous flux, implying that the dark atmosphere will harm your eyes and make people feel uncomfortable. Plastic panels are used in the majority of low-cost garage lights now on the market. Life, heat dissipation, and brightness cannot all be at the same level. They provide a better customer experience and product improvements, and we always utilize the highest quality aircraft aluminum to manufacture metal panels that satisfy ETL certification criteria.
6. Lithonia Lighting SGLL 2 ft. Indoor Integrated LED Garage Light with Integrated Motion Sensor Flushmount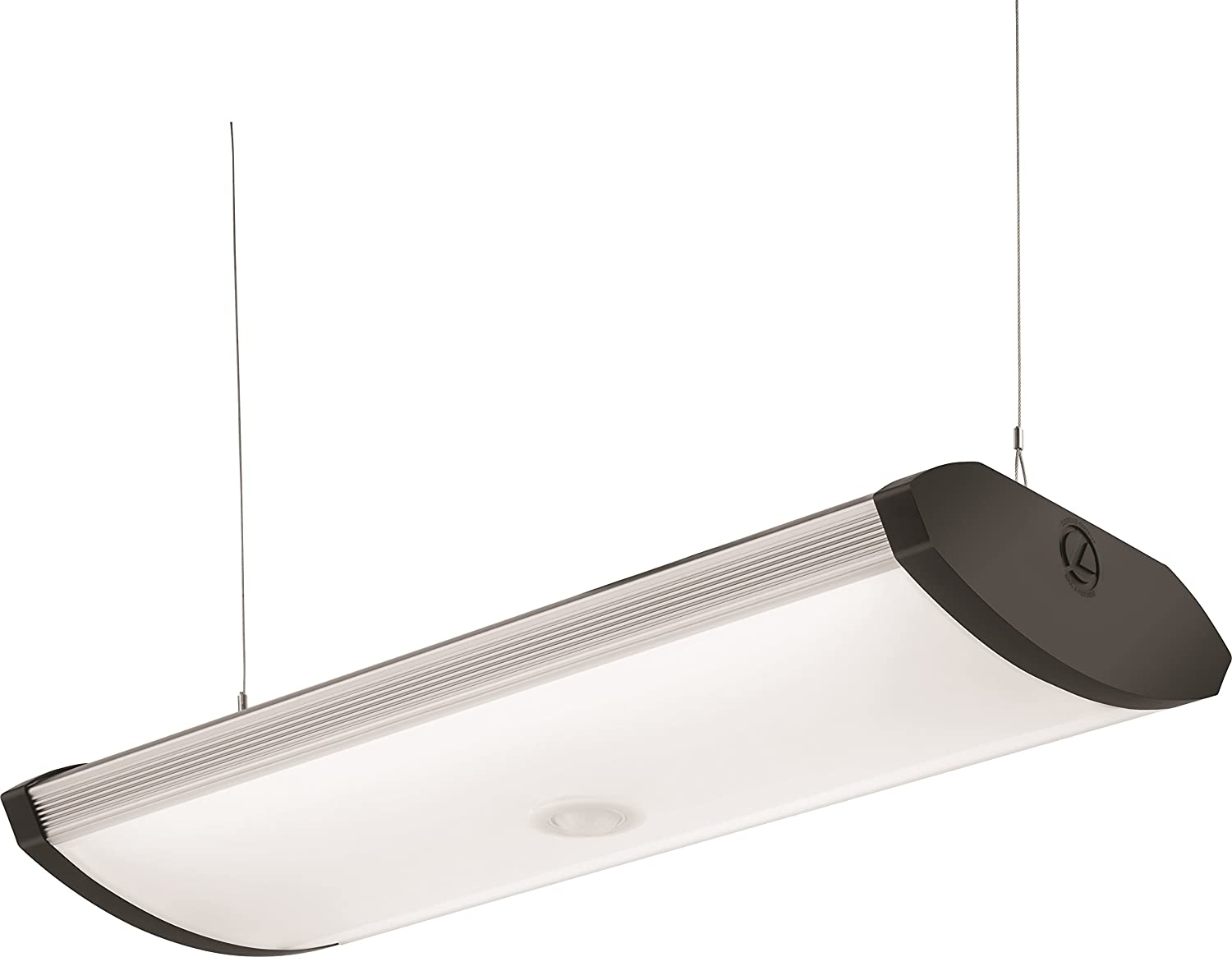 Specifications
| | |
| --- | --- |
| Power Source | Corded-electric |
| Material | Plastic |
| Room Type | Storage Room, Garage, Basement |
| Style | Sensor |
| Mounting Type | Protruding |
General Descriptions
Lithonia Lighting's LED Garage Light with Integrated Motion Sensor is a terrific alternative if you're placing a light on a high ceiling or another difficult-to-reach area. The hanging fixture has a built-in motion detector that turns on automatically when you walk or drive into the garage. This light has you covered if you're worried about utility expenditures. You can also configure it to turn off after a few minutes if no motion is detected, so it doesn't light up too much. However, owing to an incorporated end-to-end connector, you can quickly connect more lights if you require more lighting.
7. Kichler Wraparound Light


Specifications
| | |
| --- | --- |
| Power Source | Corded-electric |
| Style | Modern |
| Material | Alloy Steel |
| Switch Installation Type | Protruding |
| Color | White |
General Descriptions
The brand's fluorescent Wraparound Light, which measures 48 x 9 x 3 inches and features a steel frame and textured acrylic shade-providing ambient yet brilliant illumination, has a steel frame and a textured acrylic shade. The light attaches flat to the ceiling and is ideal for garages, basements, and workshops. A flush installation only sticks down about three inches, so you gain space in your garage as well as a pretty broad spectrum of light.
8. Airand Waterproof LED Shop Light for Garage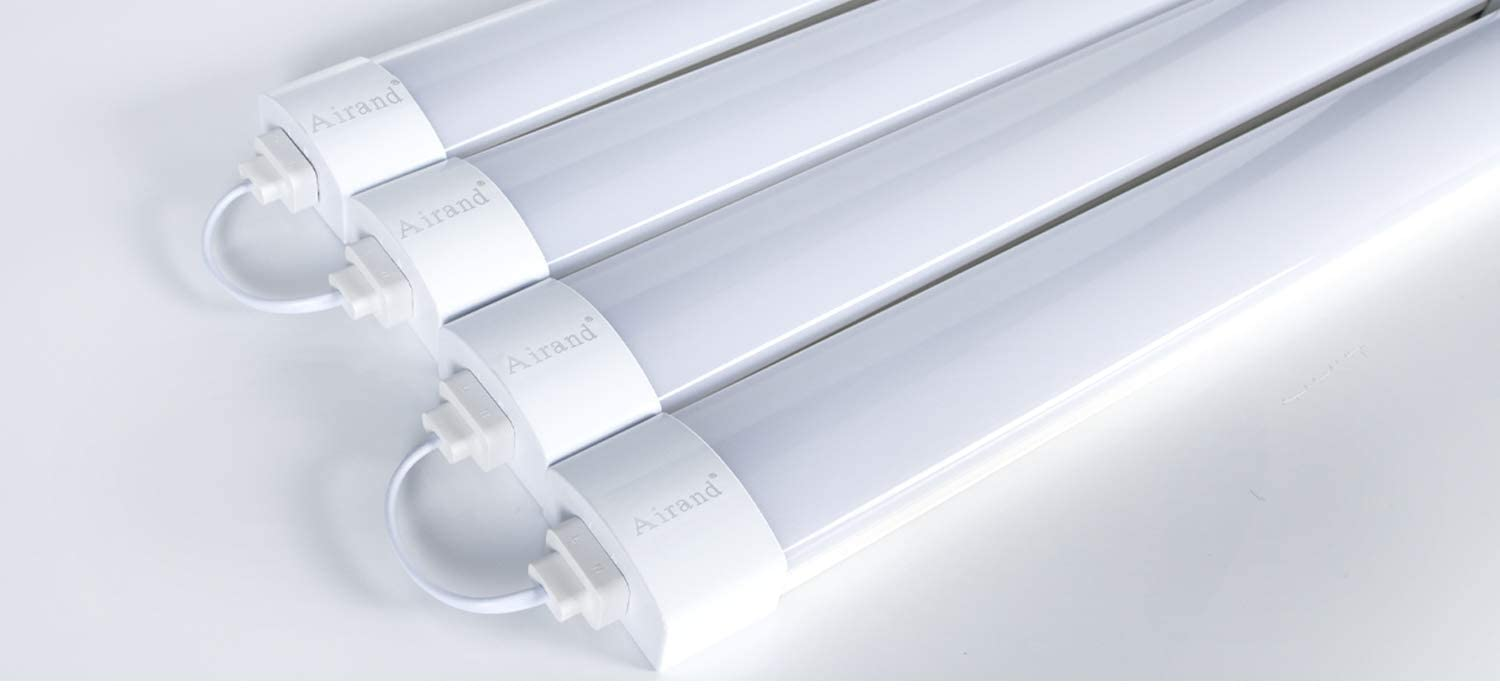 Specifications
| | |
| --- | --- |
| Indoor/Outdoor Usage | Indoor |
| Room Type | Office, Bathroom, Basement |
| Power Source | Wired electric |
| Color | White |
| Switch Installation Type | Ceiling Mount |
General Descriptions
We recommend the Airand Waterproof LED Shop Light if you're concerned about humidity destroying your light or posing an electrical threat. It has an IP rating of 66, which means it is impervious to dust, water, and other moisture. The lamp is available in two sizes, with some sets incorporating plugs and other accessories. If you need more light, the light may also be linked to up to 10 tube lights, allowing you to customize your lighting experience.
9. TooWell Motion Sensor Battery Operated LED Ceiling Light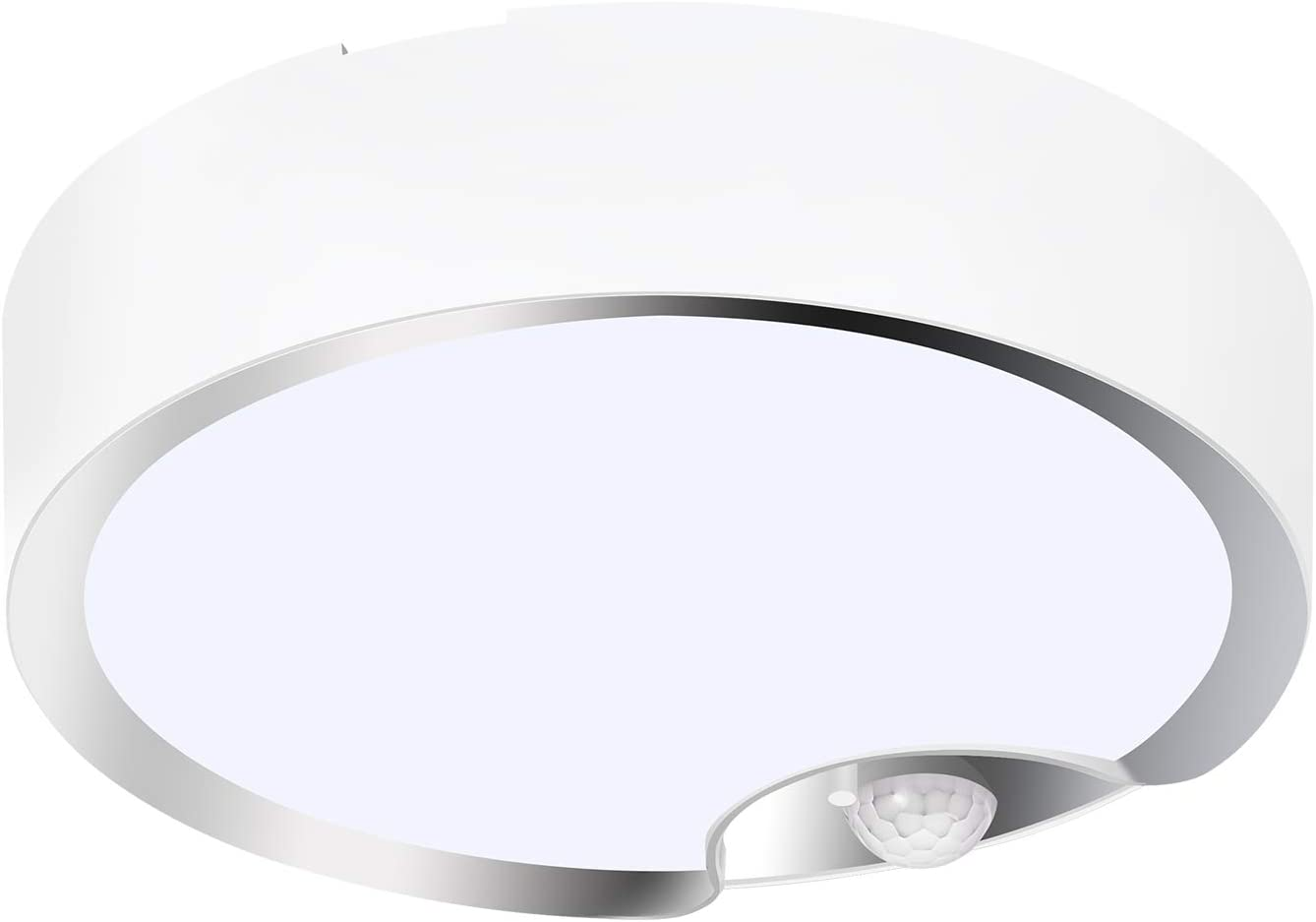 Specifications
| | |
| --- | --- |
| Indoor/Outdoor Usage | Indoor |
| Room Type | Bathroom |
| Power Source | Battery-powered |
| Style | Modern |
| Material | Plastic |
General Descriptions
Because garages sometimes lack outlets—or none at all—battery-powered lights, such as the TooWell LED Ceiling Light, come in useful. The light is powered by four D-cell batteries and comes with mounting hardware. The built-in motion sensor will trigger the LEDs from as far as 20 feet away, whether you are hanging it from your roof or attaching it to a wall. It's worth mentioning, though, that the light does not come with batteries, so you'll have to buy them separately.
10. SkyGenius Daylight LED Corn Light Bulb (200-Watt Equivalent)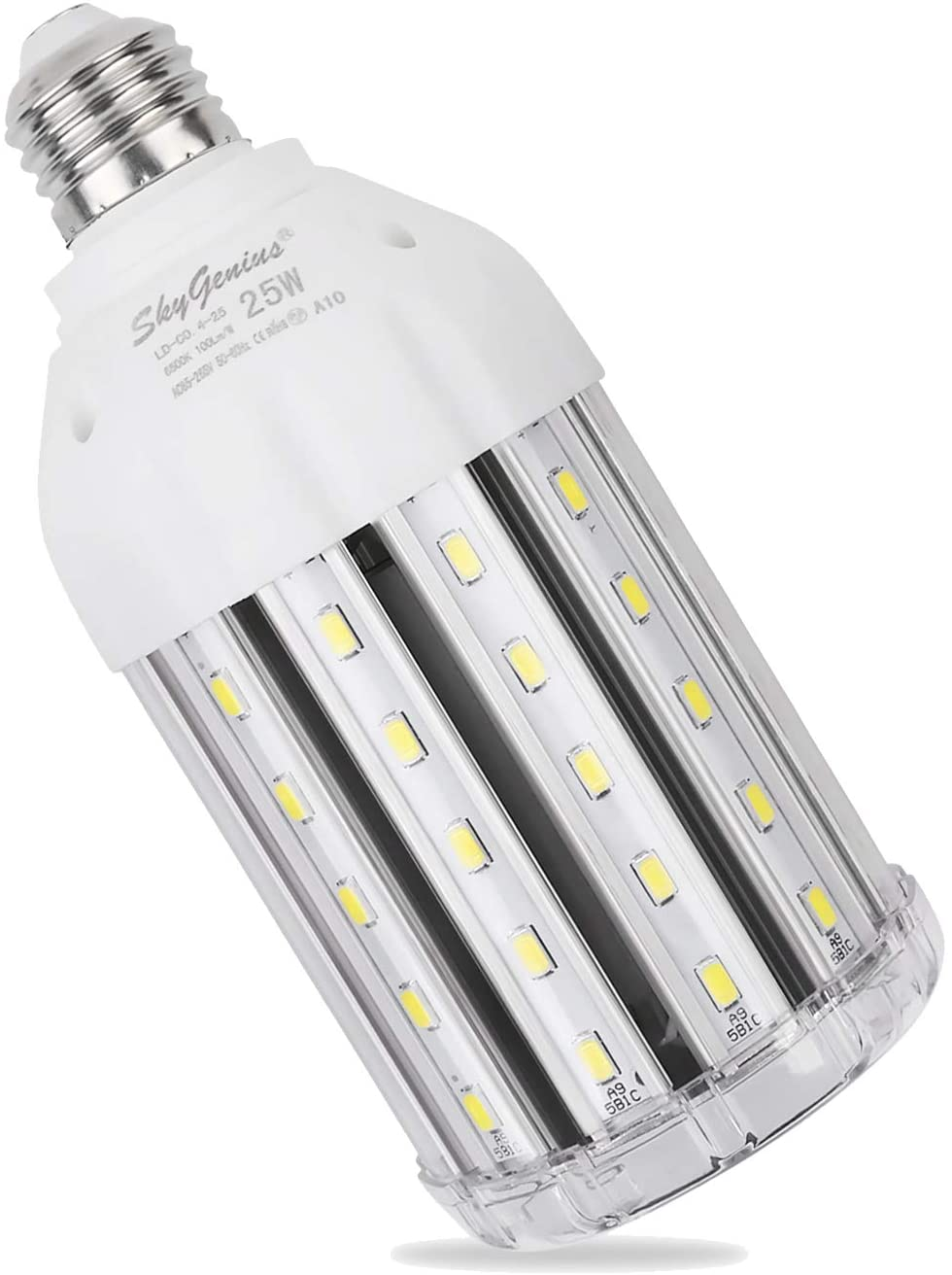 Specifications
| | |
| --- | --- |
| Special Feature | Instant On, Not Dimmable |
| Wattage | 25.00 |
| Light Type | LED |
| Light Source Wattage | 25 Watts |
General Descriptions
All you want is a good-quality bulb like the SkyGenius Daylight LED if you have a light outlet in your garage. This cool-white bulb has a lumen output of 3500 and a kelvin temperature of 6500. Furthermore, it consumes less energy than a normal incandescent light. The lamp is available in three wattages: 25, 35, and 120. It also has a five-fold longer lifespan than normal light bulbs, so you won't have to worry about changing it as frequently over time.
11. Goodland Under Cabinet Lighting 80 LED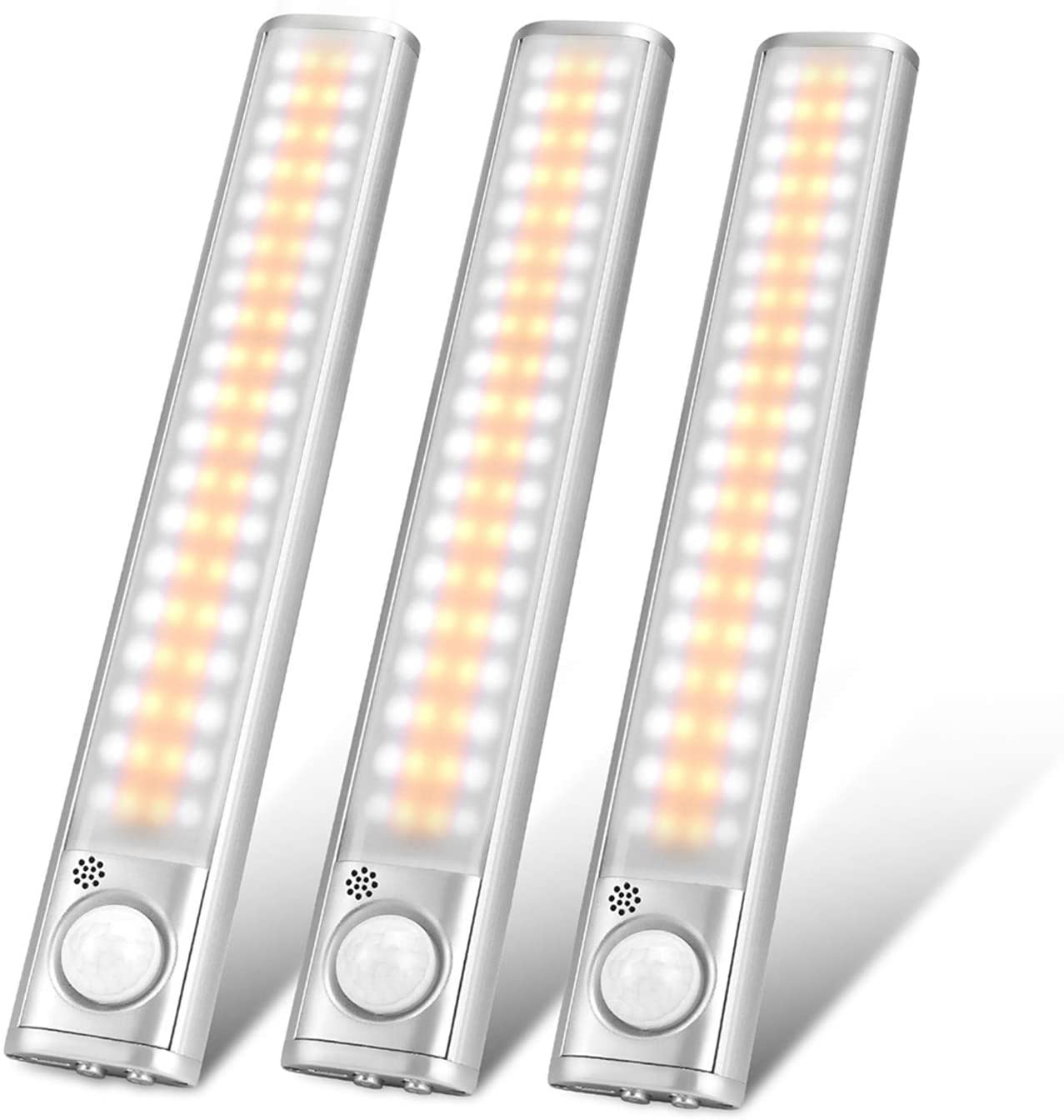 Specifications
| | |
| --- | --- |
| Indoor/Outdoor Usage | Indoor |
| Room Type | Kitchen, Bathroom, Bedroom |
| Material | Aluminum, Polycarbonate |
| Power Source | 1800mAh battery-powered |
| Style | Motion sensor, USB rechargeable, dimmable, magnetic, stepless dimming, three color temperatures |
General Descriptions
Each of the 80 energy-saving LEDs, three color temperature options, and rechargeable lithium-ion batteries in the Goodland Under Cabinet Lighting arrives in packs of one or three bars. Furthermore, the accompanying sticky magnetic strips make installation a breeze.
Considerations When Selecting LED Lighting for Warehouse & Gurage
Keep these crucial considerations in mind while looking for the finest garage lighting.
Brightness
Because garages have little or no natural light, consider lights that provide a lot of bright light when updating your lighting system. Lumens—a measure of light generated over a given amount of time—are used in the lighting business to determine brightness. The bottom line is that the more lumens the lighting has, the brighter it will be.
Watts and lumens are not the same things. Watts are used to assess energy use, whereas lumens measure brightness. A 75-watt bulb, on the other hand, provides around 1100 lumens. The recommended brightness range for workshop and garage lighting is roughly 3500 lumens as a general rule.
Temperature of Color
The color temperature of light is measured in kelvins (K) and refers to the color it generates. Temperatures range from 3,500K to 6,000K, with the lower end being warmer and yellower and the upper end being colder and bluer.
Because most garages are drab and industrial in appearance, colder lighting temps are generally the most appealing, but warmer temperatures can make the floor appear filthy. Aim for a temperature of around 5,000 degrees Fahrenheit. A 5,000K bulb produces somewhat blue light that is not dazzling or unpleasant on the eyes.
Some lights include changeable color temperatures, allowing DIYers to cycle through the options and pick the one that best suits their needs.
Efficiency in Energy
A contemporary fixture will use significantly less energy than outdated incandescent bulbs, regardless of the lighting system used for a garage. When compared to an incandescent bulb that produces the same amount of light, fluorescent lights may save up to 70% on electricity. LED lights are considerably more efficient, saving up to 90% of the energy used by a comparable incandescent bulb. When you consider that they last far longer (over 10,000 hours versus 1,000 hours for an incandescent bulb), the savings are enormous.
Connectivity and Installation
When it comes to selecting the best garage lighting lights, installation and connectivity may play a big influence. There are choices for DIYers with little or no electrical knowledge that are simple to install and give excellent results. Screw-in bulb replacements are the simplest way to modify garage lights. These are multipositional LED fixtures that screw into a standard light base, not simply bulbs. They don't necessitate any additional wiring or installation work on the installer's side.
There are also plug-in systems that DIYers may use to create a massive quantity of light in their garage. These systems are powered by regular outlets, so all you have to do is plug them in and turn on the switch. They frequently have "jumper" wires that link a group of lights together to illuminate a complete garage, and they are typically installed using simple clips.
Fluorescent lighting, on the other hand, needs a little more effort during setup. The voltage to the light bulb is regulated by ballasts in these lamps. They need to be hardwired into a garage electrical circuit. It is a more complex procedure, albeit not terribly so.
Longevity
An LED bulb may live 25 to 30 times longer than an incandescent light while consuming significantly less energy. A fluorescent bulb may last up to 9,000 hours, compared to 1,000 hours for an incandescent light. Because LEDs and fluorescents lack a sensitive, delicate filament that might break or burn up, they survive significantly longer than incandescent bulbs.
Climate
LED lamps are the best choice for unheated garages in locations where winters are bitterly cold. In fact, as the temperature drops, LEDs become more efficient. They don't need to warm up, so they're bright straight away and generate constant, energy-efficient light even in the coldest of environments. Some fluorescent lights, on the other hand, will not work if the air temperature is less than 50 ° f. For the finest garage illumination, those who reside in places where temperatures frequently drop below freezing will benefit from an LED arrangement.
Additional Features
It's a good idea to improve the workstation as well as the overhead lighting system. Establish direct task illumination by suspending a cord from the ceiling to drop a fixture or placing an LED light beneath a cabinet. There are several excellent solutions available, and various systems may be combined to provide optimum circumstances. While a standard overhead light is enough, adding an illuminated, movable arm (such as those used by fly-tying fishers) can help you see tiny pieces more clearly.
Garage lights with motion sensors can be safer and more convenient. When sensors detect someone walking or moving in the garage, certain LED systems will switch on the lights. Not only will these lights illuminate a garage without the need for the user to fumble for a light switch, but motion sensors can stop unwelcome guests from stealing equipment and other valuables.
Choose LED bulbs with multipositional wings if you want to replace incandescent lights with screw-in LED ones. These fixtures can make a significant impact on the efficiency of garage lighting. Simply position a wing in that direction to boost illumination when an area isn't getting enough light. LEDs are typically cool enough to touch bare-handed since they don't become nearly as hot as incandescent or fluorescent bulbs. This also ensures that LEDs operate at maximum efficiency.
FAQs about LED Lighting for Warehouse & Garage
1. What kind of lighting is used in a warehouse?
Linear fluorescent bulbs or metal halide lamps are commonly used in warehouses. When compared to LEDs, fluorescents and metal halides were an enhancement over incandescent bulbs, but they still have drawbacks such as disposal dangers, shorter lifespans, and less efficient illumination.
2. What type of lighting is best used for a factory?
While metal halide lighting has long been the industry standard, LED is swiftly catching up. LED lighting is more efficient, lasts longer, and produces less heat than metal halide lighting. Best of all, it saves money on utilities every month while also extending the lamp's lifespan.
3. How much lighting do you need for a warehouse?
The recommended brightness requirement for warehouses that handle heavy commodities is roughly 10 lumens per square foot. This amount rises to roughly 30 lumens per square foot in warehouses that store and handle smaller things.
4. Which ceiling light is best?
For a good reason, LED lighting is the way of the future. LED lights are more economical and last far further than fluorescent, incandescent, or halogen bulbs and can produce the warm or cool light temps your area requires, despite their greater initial cost.
Buy Equipment or Ask for a Service
By using Linquip RFQ Service, you can expect to receive quotations from various suppliers across multiple industries and regions.
Click Here to Request a Quotation From Suppliers and Service Providers
Read More on Linquip