Best Pressure Washers in 2023- Unquestionably, a pressure washer is a pressure washer. Hardly. There are numerous options available with various PSI ratings, motors, and other features. There are countless models to choose from when deciding which pressure washer will work best for your individual needs. To assist you in sorting through the possibilities, our staff completed the research.
Pressure washers are offered by a wide range of vendors, companies, Manufacturers, and distributors, and Linquip provides a huge selection of Pressure Washers for Sale.
For all OEM fleets, Linquip's website provides a comprehensive range of pressure washer services. To learn more about how to connect with a variety of service providers who consistently produce high-quality products, please contact Pressure Washer Experts.
Making home upkeep easier is possible with a pressure washer. It is simple to clean hard surfaces like patio tables and roads. From taking care of the plumbing and electrical to gardening and mowing the lawn, home upkeep might seem like a never-ending task. However, the best pressure washer alternatives may reduce the stress of maintaining the exterior of your home by removing dirt and grime from the hard surfaces outside of it and keeping it appearing clean.
These gas-powered pressure washers can perform heavy-duty cleaning for all residential needs, but there are electric pressure washers that can accomplish the same task. A pressure washer requires to exert at least 2,000 pounds per square inch of pressure to function effectively.
A pressure washer is a useful tool that can wash automobiles, remove mold from your driveway, clean decking and siding, and clean lawn equipment. In order to evaluate power, usability, and efficacy, we conducted market research on the most popular pressure washers and submitted the top-rated models to our product testers.
The best pressure washers are listed below.
Best Pressure Washers Reviews
The 8 Best Pressure Washers include:
DeWalt DXPW3625
Greenworks 3000 PSI 2.0 GPM Electric Pressure Washer GPW3000
Simpson Cleaning MSH3125 MegaShot Gas Pressure Washer Powered by Honda
Ryobi HP Brushless Whisper Series 1500 PSI 1.1 GPM Pressure Washer
Westinghouse WPX3200
Simpson PS3228 3300 PSI 2.5 GPM Gas Pressure Washer
Tacklife 3300PSI
Sun Joe 2030 MAX PSI 1.76 GPM 14.5 Amp Electric Pressure Washer
DeWalt DXPW3625
General Descriptions
The Tacklife model won the best overall gas pressure washer for heavy-duty cleaning because its performance was comparable to that of this DeWalt unit while costing half as much. However, DeWalt prevailed in several crucial areas.
Although it may seem like a little distinction, DeWalt has the best spray wand. We would contend that this point isn't insignificant because the majority of your interactions with a power washer occur when you point the wand at a problematic surface. The DeWalt spray wand had the greatest maximum pressure threshold of 4,500, resulting in the highest flow rate among the spray wands themselves. A wonderful forearm and wrist saver if you spend a lot of time behind the spray, this wand is the only one with a second-hand hold on its barrel.
For a much beefier appearance, the DeWalt avoids plastic panels like the Tacklife. The 200cc engine is the second largest of the bunch, but if a detergent tank is vital to you, this machine lacks one.
The high-pressure cleaning power hose, which comes with a steel braided one instead of the plasticky rubber look and feel of the others we examined, was the other aspect of this that we liked.
Greenworks 3000 PSI 2.0 GPM Electric Pressure Washer GPW3000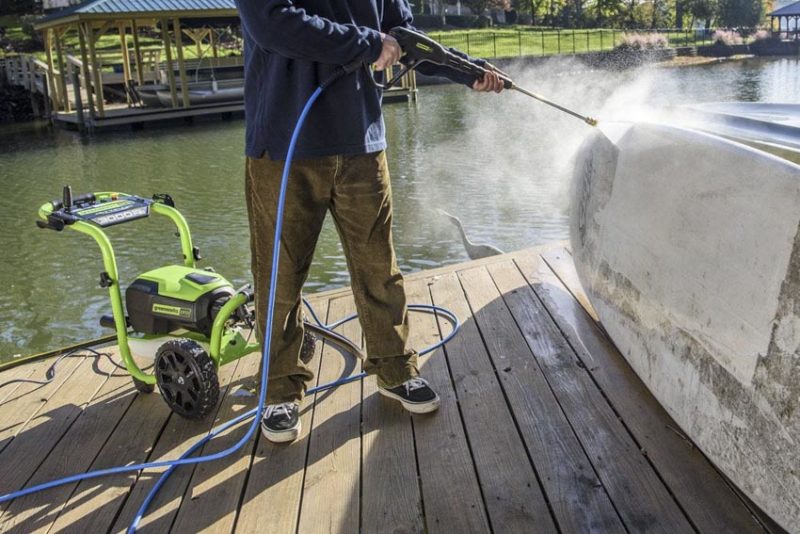 General Descriptions
The Greenworks 5110502VT is the most potent electric pressure washer, with a whopping 3000 PSI and 2.0 GPM (1.1 GPM @ 3000 PSI certified by PWMA). It gains our selection as the best electric pressure washer of the year, adding to its long list of honors. It utilizes a brushless motor and a process that Greenworks refers to as "JettFlow" technology to outperform rivals in terms of PSI. Most electric models have a maximum pressure of 2400 PSI, or they advertise a maximum PSI to give the impression that you are receiving more performance than you are. Greenworks employs PWMA-certified ratings instead of participating in that game.
However, class-leading performance is not inexpensive. It's pricey for an electric pressure washer at almost $400. But this is the most effective cleaning without a gas engine for the powerplant.
Simpson Cleaning MSH3125 MegaShot Gas Pressure Washer Powered by Honda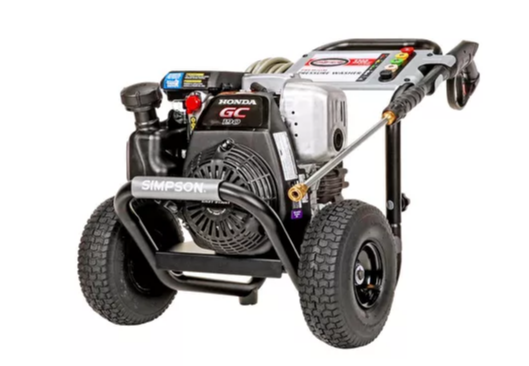 General Descriptions
The Simpson Cleaning MegaShot Gas Pressure Washer is among the greatest pressure washers available. The Honda GC190 engine in this robust machine provides dependable power. And it uses just 2.5 gallons per minute (gpm) to deliver a tremendous 3,200 psi, making it perfect for use on your house, driveway, patio furniture, car, painted surfaces, and more.
The testers cleaned some things around her house with a pressure washer, including a deck, grill, driveway, and an ATV. They noted that because the tool is so powerful, it quickly removes all kinds of dirt, but that it should be used carefully when hosing down delicate surfaces like old wood or siding. They also liked that although this pressure washer is loud, it isn't nearly as loud as some other gas machines.
Our tester liked the pressure washer's sturdy build, which has a frame made of heavy-duty welded steel and 10-inch pneumatic tires for added stability. Despite its 66-pound weight, the 10-inch pneumatic wheels make it simple to transport it where you need it. The MegaShot comes with a spray cannon that is ergonomic, a dependable OEM axial pump, and a 25-foot kink-resistant hose. Additionally, it comes with five stainless steel quick-connect nozzles of various sizes. Our tester reported that it just took 15 minutes to install and get the gas-powered pressure washer ready for use. It is dependable, durable, and powerful.
Ryobi HP Brushless Whisper Series 1500 PSI 1.1 GPM Pressure Washer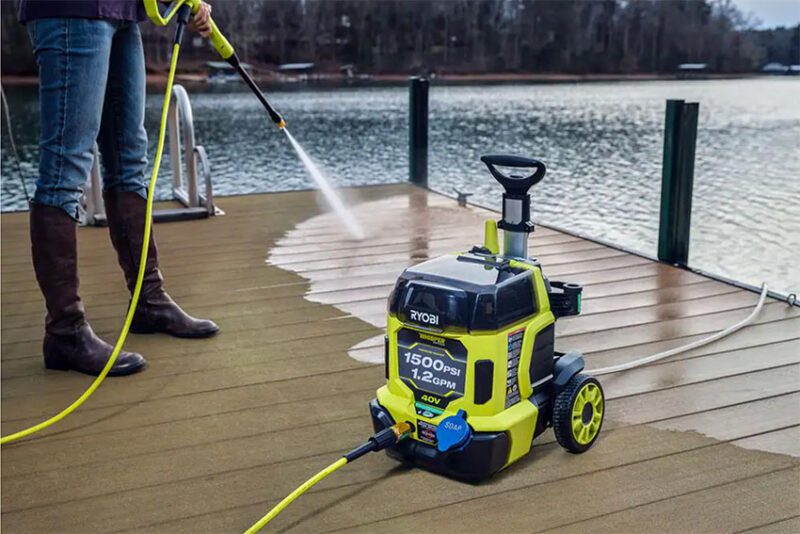 General Descriptions
We've arrived at the point where a pressure washer is powered by lithium-ion. The greatest battery-powered pressure washer in what is still a very small market is the Ryobi 40V HP Brushless model.
It uses a single Ryobi 40V battery and has a second active battery port, and in Boost Mode, it has a cleaning power output of 1500 PSI and 1.2 GPM. Use two batteries with a combined capacity of at least 4.0Ah for the greatest performance.
You don't require a pressured water source, which is a wonderful feature. Drop the siphon hose into the lake or pool and clean as much as you want. Because it is a Whisper Series Ryobi product, it operates quietly enough not to annoy your neighbors.
Westinghouse WPX3200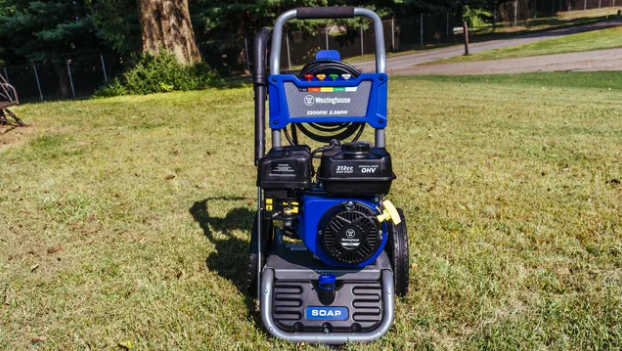 General Descriptions
This Westinghouse model is affordable, has excellent specifications, and performs well, but it also lacks a lot of characteristics that would make it particularly good or bad, making it simple to ignore.
These are the key points: the largest engine, detergent tank, and all five replaceable nozzles are provided for the lowest price. The rest of this domestic pressure washer cleaning unit is completely average.
Simpson PS3228 3300 PSI 2.5 GPM Gas Pressure Washer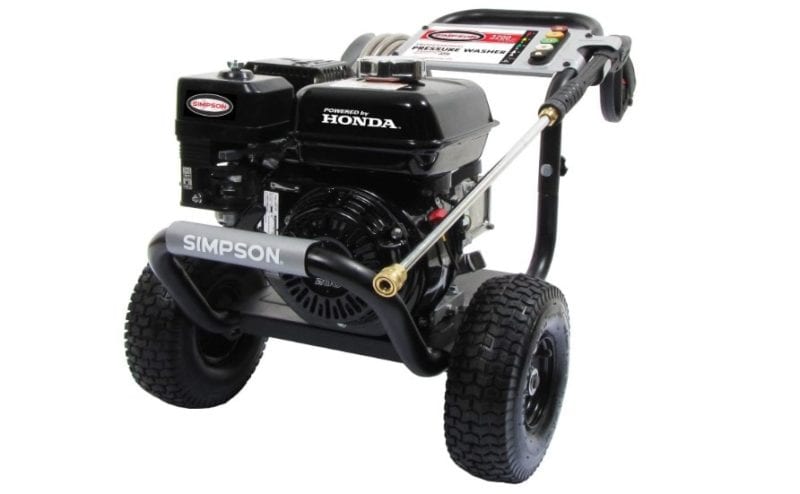 General Descriptions
A big asterisk follows our suggestion for the best pressure washer for cars: *don't pressure wash your car! The majority of pressure washers have enough force to scuff up finishes and even penetrate the paint. Use your pressure washer solely to apply soap and rinse the vehicle when it has a soap nozzle. For the actual cleaning, stick to using a soft cloth and some elbow grease.
We like to use a foam cannon in conjunction with a pressure washer, and we especially like the Chemical Guys' Big Mouth Max Release Foam Cannon. While various foam cannons operate at a variety of pressures, we find that at least 3000 PSI and 2.0 GPM produce the greatest results. The pressure range's upper limit, 3500 PSI, eliminates many of the large commercial versions.
Just to be clear once more, avoid pressure washing your car.
You need a pressure washer model that can withstand frequent use if you use one professionally for car detailing. The Simpson PS3228 is our top pressure washer for vehicles because of this. The Honda GX200 engine and AAA triplex pump are built to last.
Tacklife 3300PSI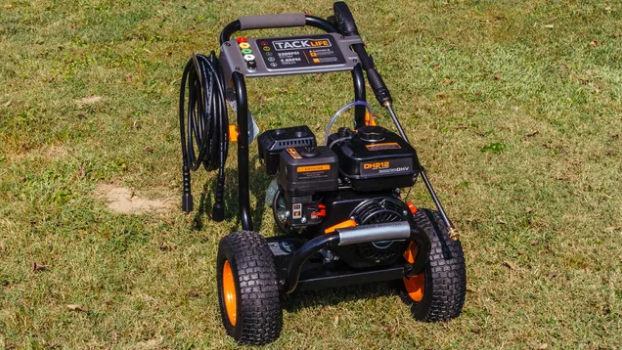 General Descriptions
All things considered; this individual checked enough prerequisites to win the title of best pressure washer. The power washer itself is heavier (there are no plastic frame elements) and rests low to the ground, giving it a sturdy feeling, and the setup is simple enough right out of the box. This device felt the most balanced to me as I was moving it around out of all the ones I tested. There were enough of the others that seemed off-balance or unsteady for this to matter.
Given that its water pressure output and engine size are two of the best specifications overall, it is priced just below the average cost of all the products we reviewed. Although the spray wand is nothing exceptional, it comes with all five of the normal spray gun tips, and tool storage is adequate (not all of them do). Even though we don't frequently use detergent with the gas washer, there is also a connected detergent tank, which we believe is fantastic.
Tacklife no longer carries this particular pressure washer type, but a comparable machine with 3200 PSI may be purchased there for $400 or at Walmart for $250.
Sun Joe 2030 MAX PSI 1.76 GPM 14.5 Amp Electric Pressure Washer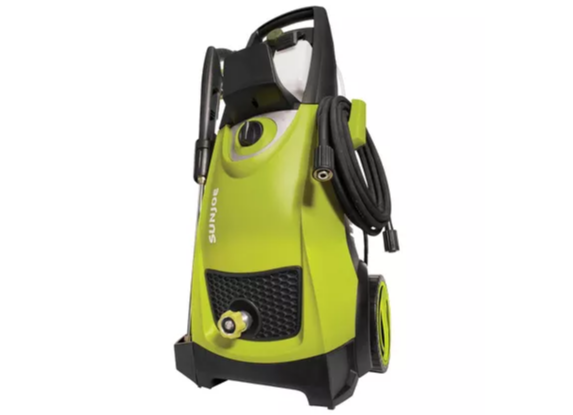 General Descriptions
Electric power washers are simpler to maintain because they don't require oil changes, but the drawback is that you need to be close to an electrical outlet. The Sun Joe Electric Pressure Washer, which produces 2,030 psi at 1.76 gpm, is one of the best-reviewed electric machines on the market right now. This reasonably priced equipment has two detergent tanks and five quick-connect spray tips to assist you with a variety of cleaning activities. The device easily cleaned grease and debris, according to the tester, who used it to clean many tiny areas outside the home, including patio furniture, a picket fence, siding, and a grill.
A 34-inch extension wand, a garden hose adapter, a 20-foot high-pressure hose, and a 35-foot power cord are included with the Sun Joe Pressure Washer. The pressure washer took around 30 minutes to put together, but once it was, it was quite simple to use and handled uneven ground and grass with ease thanks to its large wheels. The twin chambers can hold two different kinds of detergent, and you may switch between them using the selection dial. Use this adaptable power washer for a variety of simple and difficult tasks around the exterior of your home.
FAQs about Pressure Washers
1. Do Pressure Washers Require a Water Tap Connection?
A water source must be connected to your pressure washer. Most frequently, that supply will be an outdoor faucet, and you'll attach the pressure washer to the tap with your garden hose. A garden hose having at least a 34-inch internal diameter and a length of fewer than 50 feet is often necessary for pressure washers.
You still have options if you don't have access to an outdoor water tap. One is to utilize the washing machine's water tap. You won't need an adaptor to connect the hose because those taps have the same threading as an outdoor hose tap. A sink in a kitchen or bathroom is another option. You will need a threaded adapter that is sized for the tap and your hose because these are not threaded for hose connection. Plan ahead since you will need to bring your garden hose inside through a window or door to use an indoor tap.
2. Which Spray Nozzle Should We Use?
The majority of pressure washers come with several nozzles, each of which is color-coded to a certain spray pattern. Here are some general rules:
Using the red nozzle, a strong, tightly focused spray of water is produced. On extremely difficult stains or dried materials on hard surfaces like concrete or steel, it works best as a spot cleaner.
The yellow nozzle produces a small fan of spray at a 15-degree angle that is ideal for cleaning difficult stains, dried muck, rust, mildew, or paint off hard surfaces like concrete or metal.
A 25-degree angle of spray is produced by the green nozzle. The general-use nozzle can be used to clean outdoor furniture, boats, cars, and siding as well as blast away mud, leaves, and other grime off deck walkways, siding, fences, and driveways.
The 40-degree spray angle produced by the white nozzle is soft enough to be used when cleaning sensitive objects like flower pots, windows, blinds, and vehicles. Additionally, it is excellent for fast-washing items.
The black nozzle blows out a huge, 65-degree water fan. Typically, detergents are used with this nozzle.
3. How Do You Clean a Pressure Washer with Detergent?
You don't need detergent for many straightforward cleaning tasks; the water your pressure washer blasts out will suffice. However, utilizing a detergent will yield the greatest results for many tasks, especially those requiring dried or difficult grime.
Others need you to insert a tube into the detergent bottle so the pressure washer may suck it directly from the bottle, while some pressure washers have built-in detergent tanks. In either case, buying a detergent designed for pressure washers is by far your best choice. These cleaners remove grease and grime without leaving a soapy or foamy residue, a film on the surface you're cleaning, or making the ground slippery.
There are formulas for a number of tasks, including the most popular ones for cleaning driveways, siding, wooden decks, and automobiles. If you anticipate using your pressure washer for a range of cleaning tasks around your property, general-purpose pressure washer detergents are another option.
Dishwashing detergent is sometimes used, but it's not advised because there's a significant risk you'll get too many suds. Additionally, adding dishwashing detergent to the tank of your pressure washer could harm or destroy it.
4. Which Pressure Washer Should We Use to Clean the House?
The kind of materials you'll be cleaning and the size of the job will determine the best pressure washer size for your home. The ideal pressure washer should have a pressure range of 2000 to 3000 psi if you're trying to clean vinyl siding, decks, and patios outside. To prevent damage, use a pressure washer with a lower psi (1200 to 1800 psi) on softwood, aluminum, or stucco.
Summary
For more information, you can use the complete list of Linquip's Service Providers to meet all your requirements or contact Our Experts.
Don't forget to leave a comment with your ideas. Additionally, if you have any questions, you may submit them there!
Download Best Pressure Washers PDF
Visit this file to know the best pressure washers completely.
Buy Equipment or Ask for a Service
By using Linquip RFQ Service, you can expect to receive quotations from various suppliers across multiple industries and regions.
Click Here to Request a Quotation From Suppliers and Service Providers
Read More In Linquip