The Best Chipper Shredder in 2023 – Even though keeping up a yard might be tough, it becomes even more difficult if you don't have a reliable means to dispose of the garbage you produce from it. Numerous households are forced to do the tiresome process of gathering leaves and twigs into bags or bins and cutting branches into manageable bits for disposal. But utilizing a wood chipper is a far superior method.
Branches, twigs, and leaves are chopped up into smaller pieces using a wood chipper, which can be used in a variety of ways. You may use it as an attractive ground cover for pathways or landscaping, a mulch rich in nutrients for your garden beds, or as kindling for your wood stove or fire pit. Unfortunately, selecting a wood chipper from the wide range of choices available on the market may be difficult in and of itself. We searched the market for the top wood chippers in a range of categories to make the process simpler for you and put up a thorough buyer's guide so you can pick the one that best suits your requirements.
On the Linquip website, among the many options available to you, you will find all the information you need to know about the Chipper Shredder, as well as information regarding this marketplace. You can count on Linquip to provide you with as much general and reliable information about this topic, whether you're a professional or a customer looking for a proper company. We recommend you review a list of all Chipper Shredder available in Linquip.
We would be delighted to provide you with more information on how we can help you generate revenue within your industry. Don't hesitate to contact us if you have any questions! With Linquip's Solutions for Each Company Level, you will be able to upgrade the capabilities of your organization in order to gain a competitive edge by taking advantage of a wide range of options to enhance your organization's performance. If you are looking for the simplest or the most sophisticated marketing and advertising package for your business, we can help you ensure that your company gets as many customers as possible to grow your business.
The Best Chipper Shredder in 2023
1. Great CircleUSA Heavy Duty Wood Chipper Shredder
Specifications
| | |
| --- | --- |
| Dimensions | 30 x 24.1 x 41.6 inches |
| Weight | 125.7 pounds |
| Power Source | Gas  |
| Capacity | 3 inches |
| Reduction Ratio | 15:1 |
| Self-feeding | Yes |
Product Description
Falling branches are typical when you have many trees in your yard. Clearing up yard waste is simple with the Great CircleUSA Heavy Duty Wood Chipper Shredder. This multi-purpose machine, which is our best overall option, has a 7 horsepower (HP) engine to handle branches, leaves, limbs, and chips up to 3 inches in diameter.
With a 15:1 reduction rate, this chipper shredder can turn 15 bags of yard trash into 1 bag of mulch. As a precaution, avoid using this product on new greens, vines, pine cones, or palm fronds. This wood chipper shredder has attachments for a leaf blower and can be towed across bigger yards by a lawnmower, ATV, or other vehicles for increased convenience.
Although assembly isn't difficult, it could be difficult to follow the instructions. However, this choice provides a degree of effectiveness that justifies the cost.
2. DK2 Kohler Engine 3-in-1 Chipper Shredder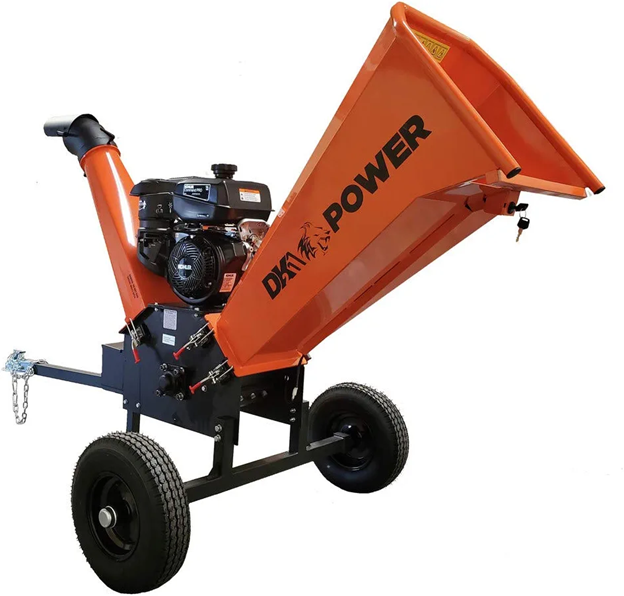 Specifications
| | |
| --- | --- |
| Dimensions | 63 x 32 x 43 inches |
| Weight | 200 pounds |
| Power Source | Gas  |
| Capacity | 3 inches |
| Reduction Ratio | 20:1 |
| Self-feeding | Yes |
Product Description
The DK2 Chipper Shredder & Vacuum is positioned as a heavy-duty commercial chipper and has all the capabilities required to maintain a sizable yard or garden. The chipper can handle branches up to 3 inches in diameter and has a big capacity feeding chute. You can quickly remove leaves by connecting it to a lawn mower or ATV. It comes with a tow bar and a vacuum attachment to collect leaves. There are just three bolts needed to remove the vacuum.
We see that damp leaves and green plant debris are challenging for this chipper shredder to handle. This drawback affects almost all chippers. With a 20:1 compression ratio, it performs a great job turning dry yard debris into mulch. Shredded dry leaves are cut into very small bits that are perfect for composting or spreading on lawns.
Take the time to thoroughly inspect all bolts and tighten them as necessary before and after each usage, as well as halfway through a day of use. Bolts may get loosened during the operation of any chipper due to vibration.
3. Sun Joe CJ601E Electric Wood Chipper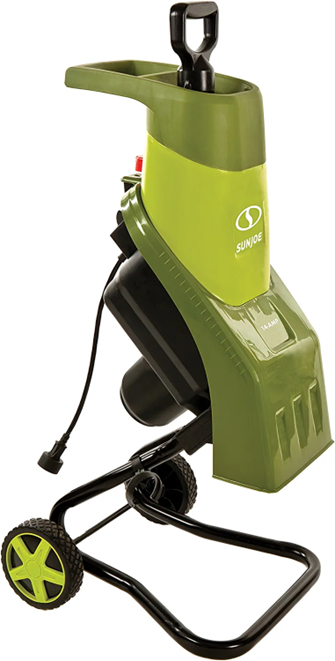 Specifications
| | |
| --- | --- |
| Dimensions | 37.5 x 17 x 19 inches |
| Weight | 25.36 pounds |
| Power Source | Electric |
| Capacity | Up to 1.5 inches |
| Reduction Ratio | 16:1 |
| Self-feeding | No |
Product Description
The Sun Joe 14-amp Electric Wood Chipper is a great addition to the garden shed for urban gardeners who wish to make mulch. It quickly converts 16 bags of yard trash into one bag of mulch due to its compact size and simplicity of use. Our at-home tester concurred, saying "The Sun Joe Electric Wood Chipper is a fantastic partner for modest cleanup activities because it can break down both twigs and leaves." But she continued, "You'll definitely be better with a machine fitted with a bigger chute if you're looking for a device that can manage some real volume and branches."
The chipper is prepared to use after a brief setup and connecting to an electrical outlet. It can take 1.5-inch-long branches and twigs, but you must gently feed them into the top hopper using the included paddle. The size of the wood that is produced is ideal for use as mulch around plants and shrubs. Although leaves also feed fast, they do not shred extremely finely. This model is unable to accomplish the desired effect, which is for them to practically vanish.
It is more challenging to move the mulch to the desired location without a collection bag. To do the task, be prepared to bring a wheelbarrow and a shovel.
4. Wen 15-amp Rolling Electric Wood Chipper/Shredder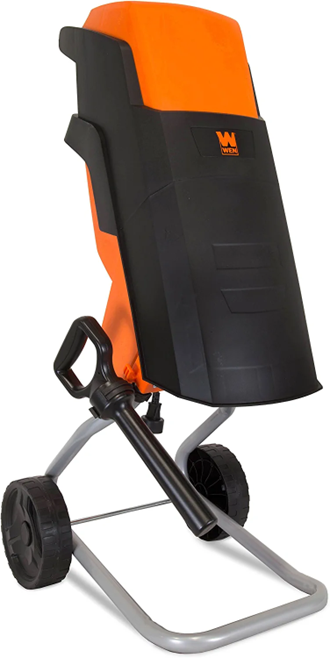 Specifications
| | |
| --- | --- |
| Dimensions | 17.1 x 12.8 x 25.6 inches |
| Weight | 30.3 pounds |
| Power Source | Electric |
| Capacity | 1.5 inches |
| Reduction Ratio | 17:1 |
| Self-feeding | No |
Product Description
The Wen Rolling Electric Wood Chipper and Shredder is the perfect choice if you like to move a wood chipper about the yard rather than concentrating the trash pile in one place. With two sturdy 6-inch wheels and an ergonomic pull handle, the machine is simple to move into small spaces. Of course, you require a long, outside extension cord that has received UL approval.
The machine can handle branches up to 1.5 inches in diameter and is surprisingly strong for a little electric chipper. In the collecting bag, the two 7-inch blades result in a 17 to 1 reduction ratio. This product, which comes with a two-year guarantee, is suitable for smaller yards.
5. Earthwise Electric Chipper with Collection Bin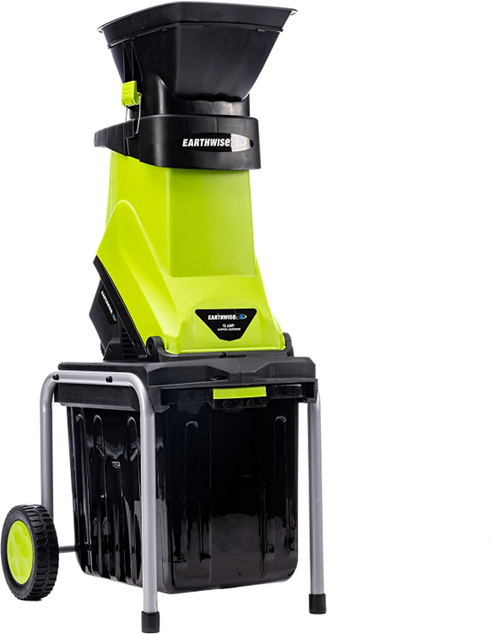 Specifications
| | |
| --- | --- |
| Dimensions | 24 x 18 x 42 inches |
| Weight | 31 pounds |
| Power Source | Electric |
| Capacity | 1.75 inches |
| Reduction Ratio | 10:1 |
| Self-feeding | No |
Product Description
The advantages of adding compost to the soil are well-known to all gardeners. By boosting the amount of water, air, and nutrients reaching the plant roots, it enhances plant development. Compostable materials are there and waiting all around the yard, but they need first to be shredded. For gardeners who wish to begin composting, the Earthwise Electric Chipper is ideal.
A 10.5-gallon collecting bin is included with the chipper to hold the shredded material until it is transported to the compost bin or pile. Use the tamper tool to easily add leaves and twigs to the hopper. For quicker feeding, the hopper hole is broader than on other models. The reduction rate is just 10 to 1, leaving bigger bits of wood and leaves that might not be appealing as mulch but are still useful for composting because the chipper is not very strong.
6. Troy-Bilt Gas Chipper/Shredder with Vacuum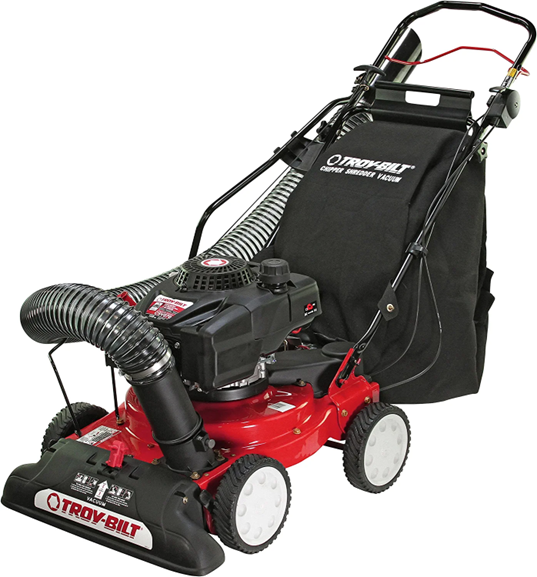 Specifications
| | |
| --- | --- |
| Dimensions | 39 x 26.5 x 26 inches |
| Weight | 116 pounds |
| Power Source | Gas  |
| Capacity | 1.5 inches |
| Reduction Ratio | 8:1 |
| Self-feeding | Yes |
Product Description
The Troy-Bilt Chipper Shredder Vacuum can be exactly what you need if leaves are your major issue with yard debris. It works like a lawnmower instead of feeding trash into a chute. The machine travels around the ground at an adjustable height, sucking up a 24-inch swath of leaves into the blades, converting them into mulch. The scraps are then gathered in the 2-bushel bag for simple application as mulch or compost. Alternatively, you might leave the collecting bag off and let the mulched leaves remain on the grass to enrich the soil with nitrogen.
A 7-foot flexible hose that is attached to the side is used to vacuum leaves and tiny branches out of shrubbery beds and confined spaces. Unless they are extremely little, it is preferable to pick up branches before running the vacuum because there is no feeder tube for them.
7. Sun Joe 15-amp Silent Wood Chipper/Shredder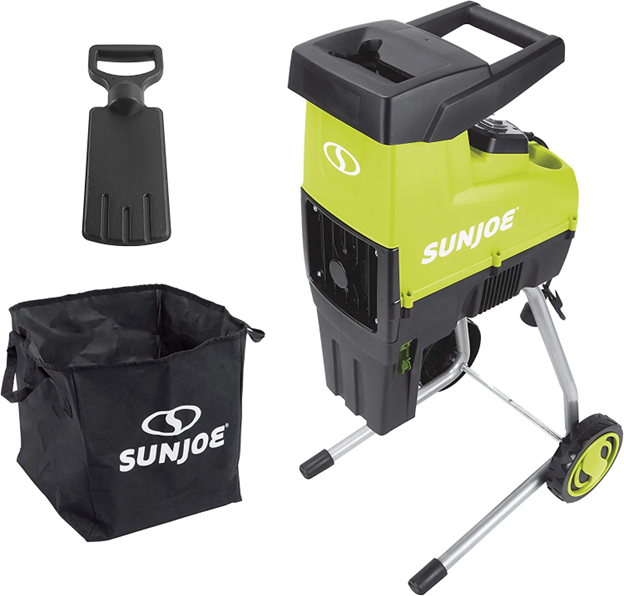 Specifications
| | |
| --- | --- |
| Dimensions | 8 x 15 x 31 inches |
| Weight | 38.6 pounds |
| Power Source | Electric  |
| Capacity | 1.73 inches |
| Reduction Ratio | 21:1 |
| Self-feeding | Yes |
Product Description
This Sun Joe Electric Silent Wood Chipper/Shredder is incredibly compact and powered with the simplicity of an electrical hookup. It is also quite powerful and silent. To create mulch for your backyard garden, the self-feeding action chops up leaves and grinds up tiny branches and twigs. I've used this chipper the previous three fall seasons to chop up my backyard's leaves and put them in the compost pile, "Our home test result informed us. "It operates safely, soundly, and effectively.
Leaves are reduced to the ideal size for composting at a 21:1 reduction ratio. The collecting container is just big enough to keep things going along without being too big to lift and move about. Assembly is necessary, but the directions are very straightforward.
We like the safety features of this chipper, such as the fact that it won't operate if the hopper is open. Additionally, storage and transport are made simple by the big wheels.
8. Predator 6.5 HP (212cc) Chipper Shredder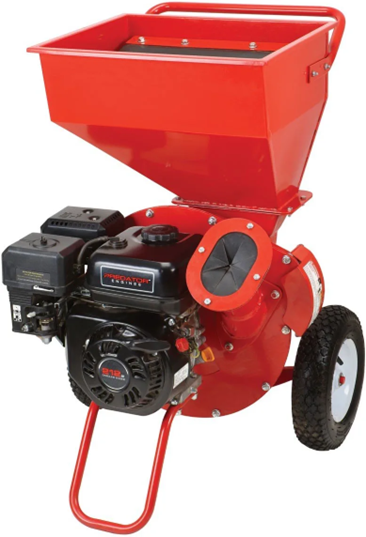 Specifications
| | |
| --- | --- |
| Dimensions | 26 x 20 x 38 inches |
| Weight | 120 pounds |
| Power Source | Gas  |
| Capacity | 3 inches |
| Reduction Ratio | 21:1 |
| Self-feeding | Yes |
Product Description
The dual-action slicer on this Predator 6.5-hp gas chipper shredder can handle branches up to 3 inches in diameter, and the manufacturer claims a 20:1 waste reduction ratio for the heavy-duty steel leaf hopper. With a full (near-1 gallon) tank of 87-octane or higher unleaded fuel, it can operate for 3 hours. The machine automatically turns off when the motor oil level is low, keeping the engine from overheating.
Despite weighing a substantial 120 pounds, the machine's 12-inch pneumatic wheels make it easy to move around your yard. A garden waste bag is provided in the packaging, and it may be fastened to the machine's discharge port on one side. However, we have seen that the bag only lasts a short time, presumably as a result of the dispersal chute's strong force.
Although the user manual's pictures are quite clear and simple to understand, other drawbacks include the machine's difficult assembly and the somewhat sluggish rate at which you may feed leaves into the hopper. The emissions control system comes with a two-year guarantee from the manufacturer.
9. BILT HARD Chipper Shredder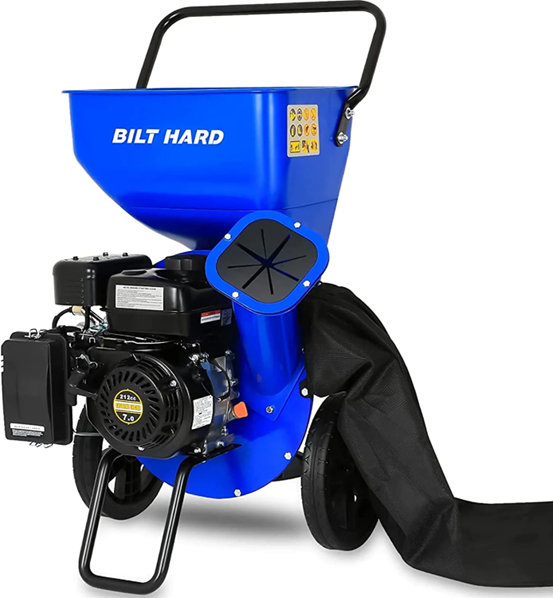 Specifications
| | |
| --- | --- |
| Item Weight | 130 pounds |
| Product Dimensions | 34 x 24 x 22 inches |
| Manufacturer | BILT HARD |
| Power | 7HP 212cc 9.14ft-lbs torque |
Product Description
Another gas-powered type, this one is appropriate for usage in bigger yards with plenty of tiny trees.
This type has an overhead-valve, 205-cc engine that is designed to be strong. The 0.4-gallon gas tank has a capacity, and the engine runs smoothly and effectively. Compared to the other motors in our study, this one is a little underpowered, but it still provides the home gardener with plenty of performance.
With its 3-way feed mechanism, which draws waste from the hopper onto the cutting deck for processing, this equipment is simple to use for gardeners. The rake-in chute, chipper chute, and drop-down all provide special processing functions for various garden materials.
This machine's collecting bag has a 2.5-bushel capacity with a 10:1 reduction ratio. The strong motor can handle branches with a diameter of up to 2 inches. This kind of equipment should be able to easily handle 3-inch branches, but we nevertheless advise you to always operate it in accordance with the manufacturer's usage guidelines.
This machine is among the strongest possibilities in this study thanks to its sturdy design and construction.
For vast gardens without many huge trees, this gas-powered machine is a perfect option. Although the motor performs somewhat less than comparable gas versions, it still provides the home gardener with a respectable amount of power at a reasonable price.
What to Think About When Buying a Wood Chipper?
Power Supply
Gas or electricity is commonly used to power chipper shredders. Electric chippers are easier to maintain and are better for the environment. They are ideal for minor cleanup. On the other hand, gas machines may need more maintenance but are often more powerful and cordless.
Capacity
This is the greatest branch diameter that the machine is capable of handling. A low-capacity machine is ideal if you're searching for one to remove branches. However, you will need to invest more money in a more expensive model if you want to chop thick branches.
Ratio of Reduction
The number of bags of debris needed to produce one bag of mulch determines a chipper/reduction shredder's ratio. Whether you are chopping branches or shredding leaves greatly influences this. A bag of mulch with a finer texture will have a greater reduction ratio.
Yard Measure
An electric chipper shredder is typically required for tiny urban yards to handle small branches and leaves. A sizable, gas-powered chipper shredder is advised for clearing regions for replanting, cleaning up after a significant storm, or yards larger than half an acre.
Vacuum-Related Abilities
A chipper shredder with suction features is a fantastic option if shredding leaves is your main priority. If the chipper shredder you want doesn't come with a vacuum attachment to collect leaves, you might be able to find a kit that will work. You might alternatively choose a device that moves over your lawn, sucking up material or chips and collecting twigs, leaves, and other garbage in bags. Larger branches can't be handled by such models, though.
FAQs about Chipper Shredder
1. How Do You Operate A Chipper Shredder?
To save landfill space, enhance compost piles or mulch garden beds, yard waste—leaves, branches, twigs, and dead plants—is reduced to small bits using a chipper shredder.
2. When Is The Ideal Time To Go Chipper Shredder Shopping?
Before the summer growing season, the spring and the fall or winter are the best times to buy lawn and garden equipment.
For instance, March through April, as well as October and December, are the ideal times to purchase lawn mowers. Ask your neighborhood large box shop or lawn and garden retailer for sales on chipper shredders if you're seeking a discount.
3. How Is A Chipper Shredder Used?
The majority of chipper shredders work by receiving organic material through a chute or hopper. Blades or grinding teeth that crush the trash into smaller pieces are located beneath the loading regions. Some machines feed themselves, while others require the user to use a tamper tool to drive the trash into the grinding area. There are lawnmower-like vacuum-style chippers that collect garbage and cut it into little bits by sucking it into the blades.
4. When Should The Blades Of A Chipper Shredder Be Sharpened Or Changed?
After 25 hours of usage, the majority of manufacturers advise honing or replacing the chipper shredder blades. If the wood chips are coarse, irregular, or shredded, it is time to act. Of course, replace the blades right away if they break or bend.
Download PDF for The Best Chipper Shredder in 2023
You can download the PDF format of this post from the link provided here.
Buy Equipment or Ask for a Service
By using Linquip RFQ Service, you can expect to receive quotations from various suppliers across multiple industries and regions.
Click Here to Request a Quotation From Suppliers and Service Providers
Read More on Linquip