The Best Electric Chainsaw in 2023 – You can have all the cutting power of a gas-powered chainsaw with today's electric chainsaw without any inconvenience. They have no emissions, start up quickly, and are silent. Additionally, you won't ever need to bother about filling up a tank of gas.
An electric chainsaw is, however, just what? Both corded and battery-operated electric chainsaws have benefits. Because you're not tied to a chord, battery-powered electric chainsaws are simpler to use, but they often aren't as powerful as corded saws. You can keep sawing since corded chainsaws don't require recharging.
On the Linquip website, among the many options available to you, you will find all the information you need to know about the Electric Chainsaw, as well as information regarding this marketplace. You can count on Linquip to provide you with as much general and reliable information about this topic, whether you're a professional or a customer looking for a proper company. We recommend you review a list of all Electric Chainsaws available in Linquip.
We would be delighted to provide you with more information on how we can help you generate revenue within your industry. Don't hesitate to contact us if you have any questions! With Linquip's Solutions for Each Company Level, you will be able to upgrade the capabilities of your organization in order to gain a competitive edge by taking advantage of a wide range of options to enhance your organization's performance. If you are looking for the simplest or the most sophisticated marketing and advertising package for your business, we can help you ensure that your company gets as many customers as possible to grow your business.
The Best Electric Chainsaw in 2023
1. Worx WG304.1 15 Amp 18″ Electric Chainsaw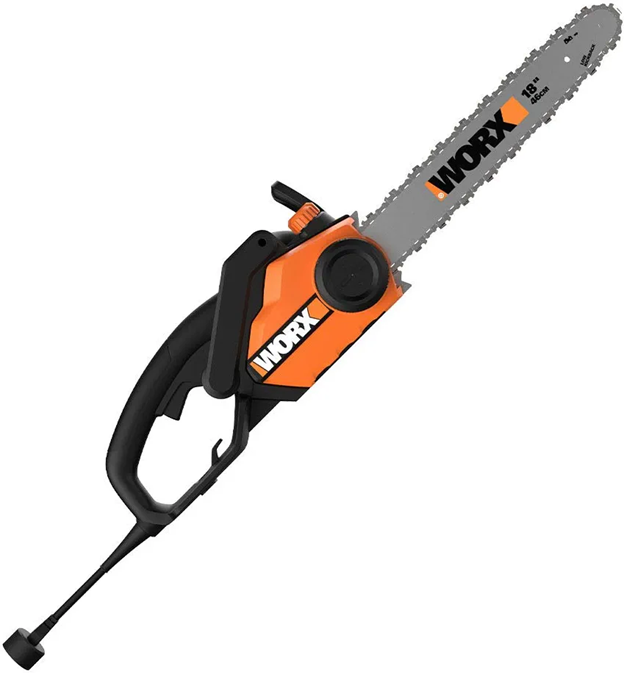 Specifications
| | |
| --- | --- |
| Brand | WORX |
| Power Source | Corded Electric |
| Horsepower | 3.5 hp |
| Item Weight | 11.3 Pounds |
| Product Dimensions | 20.6″L x 14.6″W x 8.1″H |
| Chain Length | 18 Inches |
Product Description
The power and mobility of the WORX WG304.1 electric chainsaw are combined with practicality and ease of use. Its 15-amp motor offers it the power and toughness needed to handle challenging trees. The chain blade is kept tight and secure by the innovative tool-free chain replacement and auto-tensioning mechanism.
Bonus points: The WG304.1 has an integrated chain brake, a low kickback bar, and ergonomic grips that are all part of its safety and comfort-focused design. In order to maintain its functionality over time, it also incorporates an automated oil lubrication system.
2. Sun Joe iON100V-18CS-CT
Specifications
| | |
| --- | --- |
| Brand | Sun Joe |
| Power Source | Battery Powered |
| Horsepower | 1500 |
| Item Weight | 14.96 Pounds |
| Product Dimensions | 34″L x 8″W x 10″H |
Product Description
Powered by batteries, the Sun Joe iON100V-18CS-CT is a powerhouse. The 18-inch saw bar and 100 volts of electricity in this tool allow it to cut through anything from a trunk to a branch.
The tool-free chain tensioning on this electric saw makes chain tightening simple, and the auto-oil system lubricates the bar and chain as it operates.
Accidents and catastrophes are avoided thanks to safety features, including the protective hand brake and built-in safety switch. Even the two-year Sun Joe warranty is included.
3. Makita UC4051A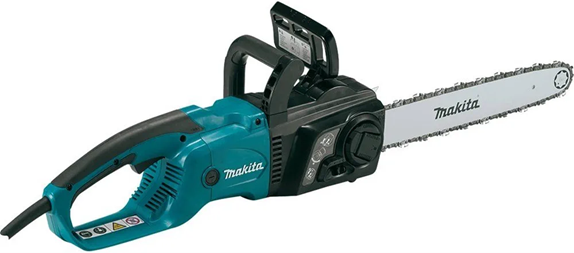 Specifications
| | |
| --- | --- |
| Brand | Makita |
| Power Source | Corded Electric |
| Horsepower | 1570 Watts |
| Item Weight | 1 Kilograms |
| Product Dimensions | 24.3″L x 10.3″W x 9.9″H |
| Chain Length | 16 Inches |
Product Description
The Makita-UC4051A corded tool has a tool-free blade and chain adjustments for simple maintenance. In order to avoid overheating while the machine is under stress, it incorporates an integrated current limiter.
The only drawbacks? This all-around performer is more expensive than most of the competitors and is heavier than most electric chainsaws.
Bonus points: You can monitor the levels of the automated oiling system thanks to the huge oil reserve and viewing port on this electric chainsaw.
4. BLACK+DECKER CS1518

Specifications
| | |
| --- | --- |
| Brand | BLACK+DECKER |
| Power Source | Corded Electric |
| Horsepower | 550 Watts |
| Item Weight | 12.5 Pounds |
| Product Dimensions | 20.69″L x 13.19″W x 10.81″H |
| Chain Length | 18 Inches |
Product Description
The BLACK+DECKER CS1518 delivers strong amperage at a reasonable price, making it the best of all worlds. For heavy-duty tasks, this 18-inch chainsaw offers everything you'll need.
The Oregon-made low kickback bar and chain on this electric chainsaw make it a superior cutting tool. Additionally, it includes automated lubrication, tool-free chain tensioning, and a chain brake mechanism for safety.
5. Oregon CS1500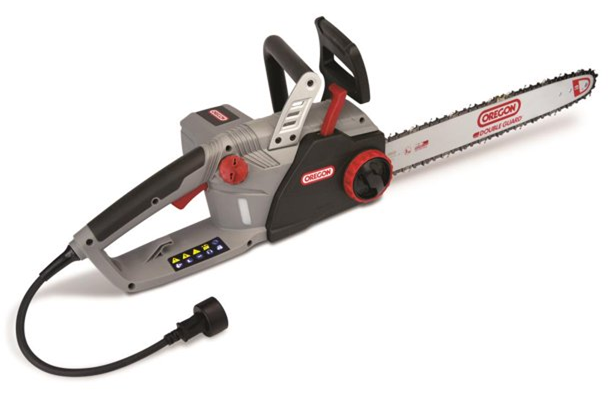 Specifications
| | |
| --- | --- |
| Power | 15 amps |
| Weight | 13.2 lbs. |
| Saw bar length | 18 inches |
Product Description
The only self-sharpening corded electric chainsaw on the marketplace is the powerful Oregon CS1500. This means that you can quickly and easily sharpen dull blades with the PowerSharp chain sharpening system by pushing a lever.
6. CRAFTSMAN CMECS600

Specifications
| | |
| --- | --- |
| Brand | Craftsman |
| Power Source | Corded Electric |
| Horsepower | 3.5 hp |
| Item Weight | 6.19 Pounds |
| Product Dimensions | 18.63″L x 11.94″W x 8.37″H |
| Chain Length | 16 Inches |
Product Description
With a weight of just over 6 pounds, the CRAFTSMAN CMECS600 is the smallest and least expensive electric chainsaw on our list, yet it still has plenty of power. It includes a 12-amp motor, a 16-inch saw bar, and sufficient power to down small trees. In our top 10, it is also the least expensive chainsaw.
7. Greenworks G-MAX 40V 20312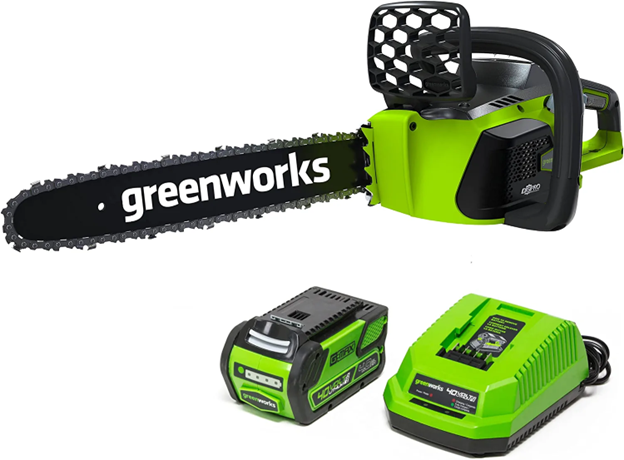 Specifications
| | |
| --- | --- |
| Brand | GreenWorks |
| Power Source | Battery Powered |
| Horsepower | 2.3 hp |
| Item Weight | 10.36 Pounds |
| Product Dimensions | 31″L x 9″W x 8.5″H |
| Chain Length | 16 Inches |
Product Description
With a sturdy, brushless motor for reduced vibration and more pleasant use, as well as a lightweight design, the Greenworks G-MAX 40V 20312 has a lot going for it. Being only 10.4 pounds and 16 inches long, it is light and portable. It can run for 70 minutes on a 40-volt lithium-ion battery and is compatible with at least 14 other Greenworks power tools.
8. Sun Joe SWJ701E
Specifications
| | |
| --- | --- |
| Brand | Sun Joe |
| Power Source | Corded Electric |
| Item Weight | 9.7 Pounds |
| Product Dimensions | 34.5″L x 7.8″W x 10.3″H |
| Chain Length | 18 Inches |
Product Description
For cutting firewood, logs, and heavy branches, the Sun Joe SWJ701E electric chainsaw is ideal. It weighs less than 10 pounds yet is powerful at 14 amps. The hand guard, ergonomic handle, and kickback brake feature increase security and comfort.
9. Husqvarna 967256101 414EL

Specifications
| | |
| --- | --- |
| Brand | Husqvarna |
| Power Source | Manual |
| Item Weight | 11.99 Pounds |
Product Description
With its 120 volts and 15 amps of power, the corded Husqvarna 967256101 414EL is one of the toughest electric chainsaws on our list. A mechanism for air injection cleaning is also part of the slender body design, which contributes to the tool's longer lifespan. Its ergonomic front grip and anti-vibration dampeners make it both comfortable and maneuverable. Its price, which is the costliest among our top 10, is its lone disadvantage.
10. Greenworks Pro GCS80420 80v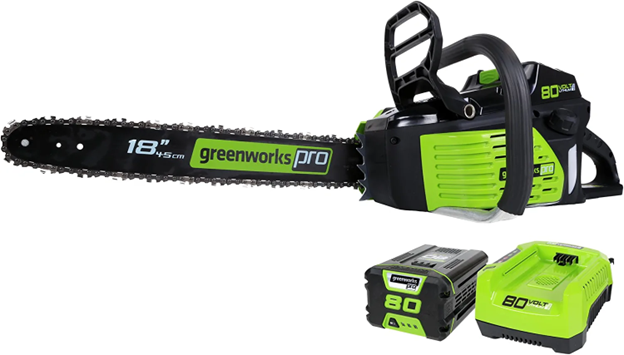 Specifications
| | |
| --- | --- |
| Brand | GreenWorks |
| Power Source | Battery Powered |
| Horsepower | 3.5 hp |
| Item Weight | 2.05 Pounds |
| Product Dimensions | 18″L x 7″W x 10″H |
| Chain Length | 18 Inches |
Product Description
The Greenworks Pro GCS80420 is a robust tool with an 80-volt DigiPro brushless motor and an 18-inch saw bar. For durability, it incorporates metal wraparound handles and bucking spikes. Safety is guaranteed by the electronic chain brake system. A 30-minute quick charger and a 2.0 Ah battery are included with this model.
What You Should Know Before Buying an Electric Chainsaw
Corded versus cordless
You can choose between corded and cordless electric chainsaws. Both models require less maintenance and are quieter than gas-powered chainsaws. He does point out that because you have to keep near an outlet while using corded chainsaws, your range is more constrained.
You'll have a greater cutting range but a shorter cutting time with cordless chainsaws. The capacity (amp hours) rating of the battery you're using determines how long a cordless chainsaw will operate. "The longer it takes to drain the battery, the higher the ampere hour rating."
Generally speaking, a cordless chainsaw will cost a little bit more. You may buy extra batteries to switch in when one starts to run low on charge in order to increase its operating duration.
Weight
Remember that the weight of electric chainsaws will vary depending on the manufacturer, the size of the overall model, the power available, and the capacity of the battery. Electric chainsaws generally weigh "on the heavier side or approximately the same weight" as gas-powered saws with equivalent specifications.
Due to the absence of a battery, corded variants of chainsaws often weigh less than cordless ones.
A chainsaw's weight should be taken into account if you want to use it for extended periods of time or if you'll be strolling about your property with it.
Bar Length and Power
When choosing the best electric chainsaw for your property, make sure to take the chain size and power requirements into account.
Most cordless chainsaws use 18- or 20-volt batteries with a 4- or 5-amp hour capacity. He says that for routine, light-duty operations like periodic trimming, this is typically adequate. He advises at least 36 volts, an 8 to 10-amp hour capacity, and a 14 to 16-inch bar for heavier-duty operations, such as down small or medium-sized trees.
Consider amperages while picking a corded electric chainsaw. For heavier-duty tasks like processing firewood, at least 15 amps and a 16-inch bar on corded chainsaws with a minimum 12-amp motor and 14 to 16-inch bar is recommended.
Safety
Although electric chainsaws may not be as noisy as gas-powered versions, several of the same safety issues still apply to them. You must nonetheless take the usual safety measures, such as donning personal protection gear.
Another aspect of safety is doing routine maintenance, such as lubricating the bar. Running the chainsaw without oil will cause the bar to become too hot and eventually damage it. If you want a chainsaw that requires less maintenance, make sure to search for one that has an automated bar oiling system.
A chainsaw's other safety features, such as a chain brake, safety switch, hand guard, and tool-free chain adjustment, may be something else to take into account.
FAQs about Electric Chainsaw
1. Is Gas Or Electricity Preferable?
This is dependent upon the kind of job you want to accomplish with your chainsaw.
Most light-duty to moderate chainsaw work may be handled by most current electric versions, which often have power comparable to certain gas ones. Additionally, they are far quieter, require considerably less maintenance, and don't emit any of the harmful gasses that gas models do.
An electric motor might not be sufficient if you need a tool for heavy-duty labor, such as falling huge trees. You'll have greater power and be better suited to long stretches of challenging cutting with a gas chainsaw.
2. What Qualities Should I Search For In An Electric Chainsaw?
Where will you be utilizing the chainsaw? Is there a nearby outlet, or would a cordless chainsaw be more appropriate? Do you have all the equipment you need to maintain and tighten your chain, or would a tool-free chain tensioner and automated lubrication system be more convenient?
How much experience do you have with chainsaws? Safety features have to be a priority for individuals with less expertise.
3. What Chainsaw Size Should I Purchase?
You should always choose a chainsaw bar that is at least 2-3 inches longer than the breadth of the material you're cutting. For instance, you will want a chainsaw that is at least 16 inches long if you are cutting trees or limbs that are 14 inches broad.
Download PDF for The Best Electric Chainsaw in 2023
You can download the PDF format of this post from the link provided here.
Buy Equipment or Ask for a Service
By using Linquip RFQ Service, you can expect to receive quotations from various suppliers across multiple industries and regions.
Click Here to Request a Quotation From Suppliers and Service Providers
Read More on Linquip