The Best FDM 3d Printer in 2023 – To create cool and useful things that will last longer than plastic models, many people turn to FDM 3D printers since they are the most accessible and inexpensive option.
On the Linquip website, among the many options available to you, you will find all the information you need to know about the FDM 3D Printers, as well as information regarding this marketplace. You can count on Linquip to provide you with as much general and reliable information about this topic, whether you're a professional or a customer looking for a proper company. We recommend you review a list of all FDM 3D Printers available in Linquip.
We would be delighted to provide you with more information on how we can help you generate revenue within your industry. Don't hesitate to contact us if you have any questions! With Linquip's Solutions for Each Company Level, you will be able to upgrade the capabilities of your organization in order to gain a competitive edge by taking advantage of a wide range of options to enhance your organization's performance. If you are looking for the simplest or the most sophisticated marketing and advertising package for your business, we can help you ensure that your company gets as many customers as possible to grow your business.
The Best FDM 3d Printer in 2023
1. Creality Ender 3 S1 Pro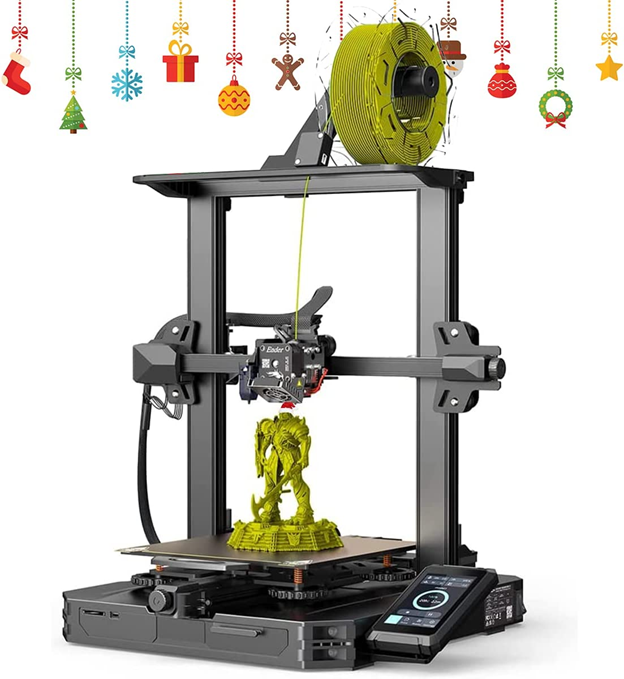 Specifications
| | |
| --- | --- |
| Technology | FDM |
| Build Volume | 220mm x 220mm x 270mm |
| Build Platform | PEI Spring Steel Sheet, heated |
| Bed Leveling | CR Touch |
| Interface | Color Touch Screen |
Product Description
The Ender 3 S1 Pro from Creality is the newest and most advanced model in the acclaimed Ender 3 series. The $479 S1 Pro is not a cheap DIY 3D printer that needs updates like its predecessors; rather, it comes fully loaded, providing an out-of-the-box experience that is easy for novices and capable for experienced makers.
To finish putting together the Ender 3 S1 Pro, we just needed a few bolts and around 15 minutes. With Creality's CR Touch probe, bed leveling—the scourge of maker newcomers—is a thing of the past. We've tested a lot of auto-leveling systems, and this one is by far the simplest.
The Ender 3 S1 Pro offers several upgrades over the standard Ender 3. It has a Sprite direct drive and an all-metal hotend, a PEI-coated steel flex plate, a color touch screen, tension knobs, a storage drawer, a light kit, and an improved spool holder. The S1 Pro's interchangeable tool head also makes it possible to attach the laser engraving module.
The Ender 3 S1 Pro may be loaded with features, but if it couldn't produce high-quality prints, it wouldn't make our list of the best 3D printers. We printed many intricate models, including a toy dolphin, a vase, and a meowing cat, and found that the resulting prints were exceptionally crisp, with fine lines and almost no stringing. We were able to print excellent models with both TPU and PETG fibers in addition to the PLA we used. A little potted plant model with leaves made out of green TPU.
2. AnkerMake M5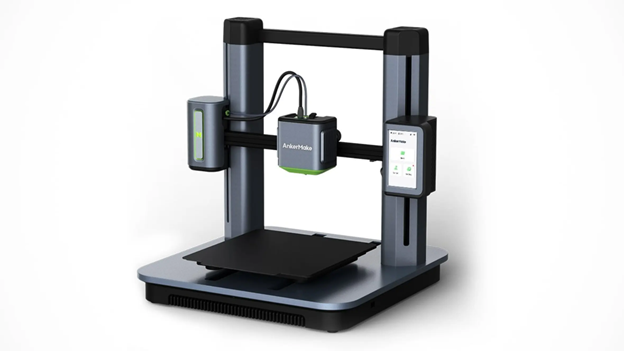 Specifications
| | |
| --- | --- |
| Technology | FDM |
| Build Volume | 235×235×250 mm |
| Interface | 4.3 inch color touch screen |
| Bed Leveling | Auto Leveling with detectable probe |
| Build Platform | PEI Spring Steel Sheet, heated |
Product Description
Today, fast 3D printers like the AnkerMake M5 are all the rage. The Kickstarter campaign began in April, and the machine is now on sale at retail for $799. The printer's normal speed of 250 mm/s is five times quicker than the typical 50 mm/s speed suggested for Cartesian-type printers.
Accurately measuring speed is challenging because of the need to account for additional time spent accelerating and slowing down around curves. Let's put it this way: I generally run my bed slingers at 65 mm/s, and with a .2 mm layer height I can print Cinderwing3D's Crystal Dragon (shown above) in around 25 hours. When operating at its standard pace of 150 mm/s, the delta-style FLSun V400 can complete the task in 11 hours. In 9 hours and 37 minutes, the AnkerMake M5 completed the task at its maximum speed of 250 mm/s.
The AnkerMake pleased us not just with its quality and speed, but with its simplicity of use. The target audience for this product is the 3D printing newbie who has the budget for a high-quality, plug-and-play printer. It boasts one of the greatest auto bed leveling systems, a smooth filament path that loads effortlessly, a filament break detector, and a built-in camera that can inform you when a print goes awry. Using WiFi and a mobile app, you may be notified when a print job is failing and stop the job remotely. Not a single print failed throughout our tests, but when we purposefully severed the filament to see what would happen, we received a notification on our phones.
There are certain flaws in the AnkerMake M5. Prints at this speed require noisy cooling fans, and WiFi and print monitoring are only accessible through the AnkerMake Slicer app. Due to its odd USB-C size, Anker assumed that its customers would all utilize WiFi instead of a removable storage medium.
Additionally, as the nozzles are a hybrid size, you'll need to purchase them straight from Anker. I don't mind the printer's idiosyncrasies because I can operate it in a different room than my workplace and yet keep tabs on it using WiFi monitoring and my smartphone. Since Anker is both a producer and an experienced online merchant, I know that their accessory shop will always provide what customers need.
3. Anycubic Kobra Go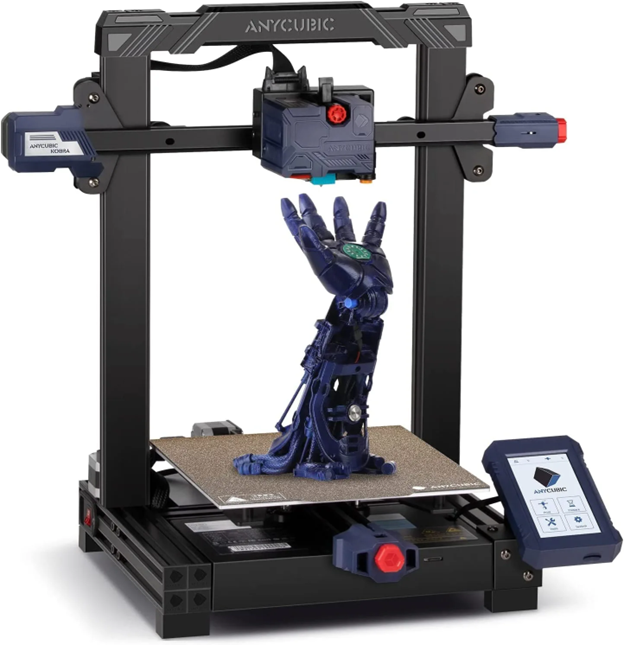 Specifications
| | |
| --- | --- |
| Technology | FDM |
| Build Volume | 220 x 220 x 250 mm |
| Interface | 2.4 inch color LCD with knob |
| Build Platform | PEI Spring Steel Sheet, heated |
| Bed Leveling | Inductive Auto Leveling |
Product Description
Inexpensive and reliable, the Anycubic Kobra Go 3D printer is ideal for both novice makers and experienced professionals looking for a second (or third) machine. Auto bed leveling and a PEI-coated flex plate are two convenient features that make up for the lack of a touch screen.
Anycubic managed to keep the price of this version down to an amazing $219 by making it available as a do-it-yourself Kit with a less expensive Bowden-type extruder. Although the screen size and control method (a little knob) may appear retrograde, I found that I had no trouble getting about it. Compared to a regular Kobra or a comparably equipped Creality Ender 3v2 Neo, you can save a hundred dollars by spending an extra half an hour or so putting together the printer.
Most of the cheap printers I've seen have been warehouse clearances of old, broken devices. The Kobra Go, a no-frills update to the 5-month-old Kobra, is an exception to this rule. You're not getting an antique; rather, a high-tech printer with features like a 32-bit board, silent stepper drivers, and integrated belt tensioners.
4. Elegoo Neptune 3 Pro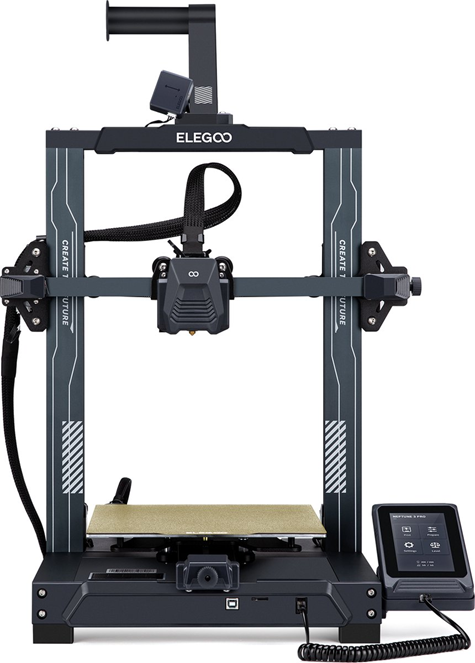 Specifications
| | |
| --- | --- |
| Technology | FDM |
| Build Volume | 225 x 225 x 280 mm |
| Interface | Color touch screen, removable |
| Build Platform | PEI textured spring steel sheet, heated |
| Bed Leveling | Automatic, Inductive probe |
Product Description
We have a problem with self-proclaimed experts who advise complete novices to buy low-quality printer kits online without first assembling them. The only way to understand their new printer, so the thinking goes, is to construct one from scratch. Putting together a kit can be a hassle, and basic devices might be difficult to get to function properly.
Instead, we suggest the Neptune 3 Pro, a 3D printer that is simple to use, inexpensive, and straightforward to set up and level. Anyone can get this machine going in just an hour and start producing high-quality prints the very next day.
To top it all off, the Neptune 3 Pro is equipped with a direct drive, an easy-to-use 36-point auto bed leveling system, and a flexible PEI steel sheet that made removing prints a snap throughout our testing. A built-in task light is included.
The Neptune 3 Pro produced beautiful, detailed prints with both PLA and PETG material. The Neptune 3 Pro, with its 260-degree hotend, easily handled TPU in our tests, producing a gorgeous TPU Christmas tree model in little over 5 hours, whereas other sub-$300 3D printers, like the original Neptune 3, struggle with flexible filament.
5. Creality Ender 5 S1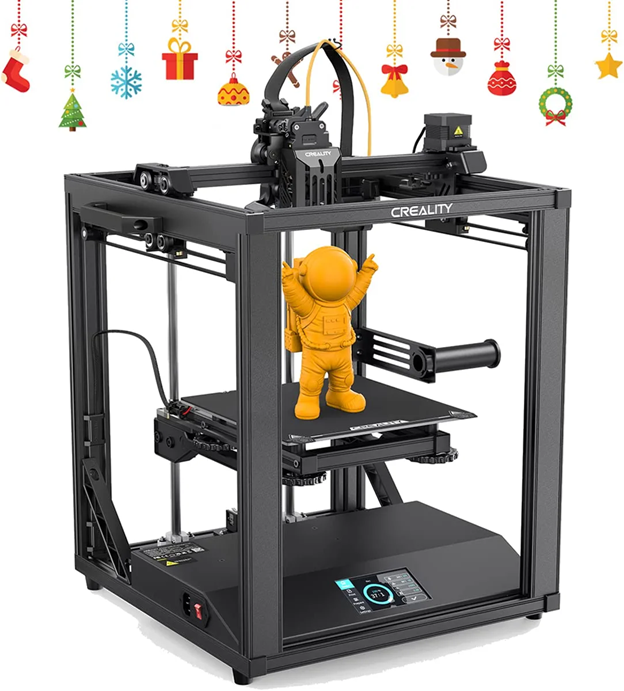 Specifications
| | |
| --- | --- |
| Technology | FDM |
| Build Volume | 220 x 220 x 280 mm |
| Interface | 4.3-inch color touchscreen |
| Build Platform | PC Spring Steel, Heated |
| Bed Leveling | CR Touch Auto Leveling |
Product Description
While every 3D printer will work with PLA, an engineering grade material will require a printer that can withstand higher temperatures and greater weight. The Ender 5 S1 is a cube-shaped 3D printer that makes use of the high-flow nozzle found on the latest Creality Spider hotend, as well as a titanium alloy heatbreak and a particularly large cooling fan. The nozzle can reach temperatures of 300 degrees Celsius, while the heat bed can go up to a warm 110 degrees.
It lacks a case, however acrylic sides are coming shortly as an accessory, as shown on Creality's website. To print with ABS and other difficult materials, this is a must-have.
Auto bed leveling, a PC coated flex plate, and a user-friendly touch screen make the Ender 5 S1 a solid choice for any printing project. We were able to print string-free flexi toys in both TPU and PETG thanks to the printer's all-metal direct drive, which keeps squirmy filament in check.
The maximum print speed of 250 mm/s produces very respectable results, and the printer's regular running speed is 120 mm/s. We were able to complete our test prints in half the time it would have taken with an Ender 3 Pro without sacrificing print quality.
6. Prusa MK3S+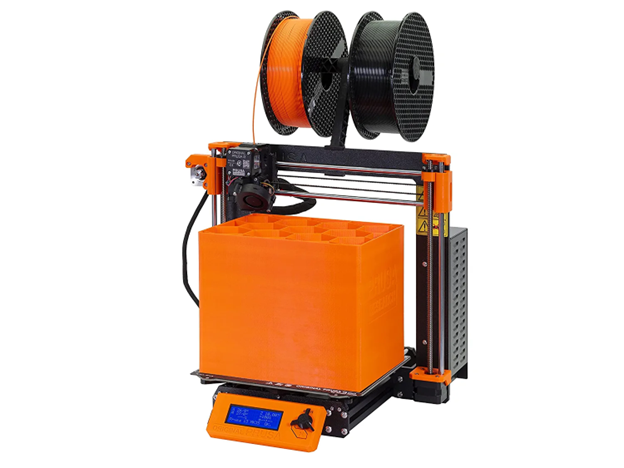 Specifications
| | |
| --- | --- |
| Technology | FDM |
| Build Volume | 250mm x 210mm x 210mm |
| Interface | 3.4-inch Mono LCD and click wheel |
| Build Platform | Magnetic Heatbed with removable PEI spring steel sheets |
| Bed Leveling | Automatic |
Product Description
Many experts and enthusiasts agree that the Prusa MK3S+ is the greatest 3D printer currently available. It is the recipient of dozens of awards and recognitions from its peers in the field. The MK3S+ is a workhorse of a 3D printer, with a combination of Prusa's characteristic black and orange hardware, feature-rich software, and a support channel. The MK3S+ is one of the greatest 3D printers available since it is built on the i3 platform and has undergone numerous generations of incremental modifications.
The Prusa MK3S+ is a high-quality 3D printer that comes with a plethora of useful features out of the box. These features include silent stepper motors, detachable textured build platforms, an automated bed leveling probe, and more. PrusaSlicer is the 3D model processing program created by Prusa, and it regularly receives updates with new community-requested functionality. PrusaSlicer gives the MK3S+ a huge advantage over its rivals by allowing users to paint directly onto support material, adjust layer heights, and make their own printer profiles.
The MK3S+ is one of the costliest printers on this list, costing $999 for a fully constructed model and $749 for a do-it-yourself kit. While this may seem steep to those accustomed to sub-$300 3D printers, the MK3S+ is the best option for professionals who want unmatched performance and comprehensive documentation and support.
7. Creality Ender 2 Pro
Specifications
| | |
| --- | --- |
| Technology | FDM |
| Build Volume | 165 x 165 x 180 mm |
| Interface | LED screen with Control Knob |
| Build Platform | Textured Magnet on a heated bed |
| Bed Leveling | Manual |
Product Description
The Ender 2 Pro is an excellent option for beginners who don't want to break the bank on their first 3D printer. We were able to get the machine from Micro Center for $129, much below the original price of $169. While many printers in this price range are novelty models made of cheap plastic, the Ender 2 Pro is a sturdy workhorse (or maybe pony) that is mechanically similar to the larger models in the Ender 3 family.
When using decement filament and a slicer, the Ender 2 Pro produced excellent results in our experiments. Both the crystal dragon and 3D Benchy (a model of a boat used by testers frequently) turned out beautifully.
The printer has to be relocated to a different room. The lightweight and portable Ender 2 Pro comes in at about 10 pounds. The top handle makes it easy to transport, making it ideal for the weekend enthusiast who needs to store it out of the way. The build volume of 165 x 165 x 180mm is rather small compared to that of most printers.
We had no trouble at all assembling the Ender 2 Pro. It's nearly ready to use right out of the box; just tighten a few nuts. It's a nice addition to the office thanks to its silent stepper motors and cooling fans. The print bed is flexible and textured, so it grips models securely during the printing process and can be easily peeled off after the job is done.
The Ender 2 Pro is a versatile printer that can adapt to your changing needs with the help of optional upgrades like stronger bed surfaces and third-party hotends.
8. Elegoo Neptune 3 Plus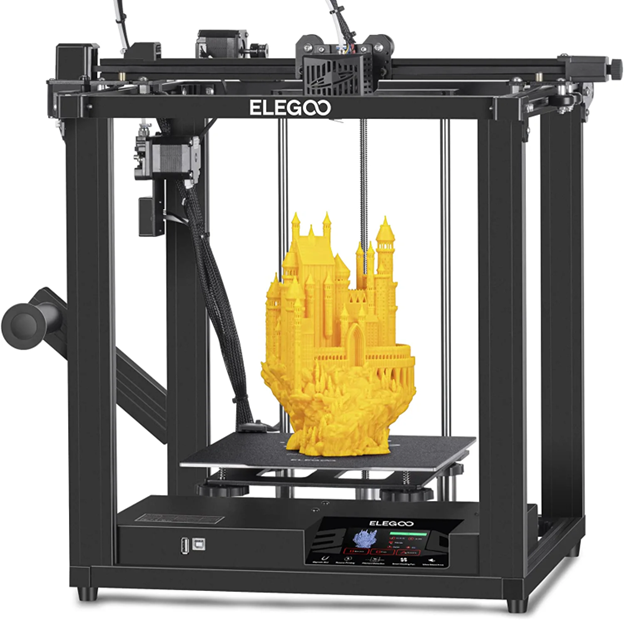 Specifications
| | |
| --- | --- |
| Technology | FDM |
| Build Volume | 320 x 320 x 320 mm |
| Build Platform | Flexible PEI |
| Bed Leveling | Automatic 49 Point |
| Interface | 4.3-inch Color Touchscreen |
Product Description
The revolutionary Elegoo Neptune 3 Plus 3D printer lowers the barrier to entry for large-format printing without sacrificing quality or convenience for its users. It has a build capacity of 320 mm x 320 mm x 400 mm, a direct drive extruder, an automatically leveling build platform, and it can be assembled with just a few bolts.
Thanks to the Neptune 3 Plus's direct drive, we were able to print a flexible TPU filament model of a Pokemon Snorlax that could be squeezed. The Bowden extruders used by many printers in this price range prevent them from printing on TPU.
Thanks to the enormous build volume and flexible PEI sheet, you may print models with a wide, flat base that would normally be impossible to remove from a glass or other stiff platform. Our testing revealed that the automated build platform leveling probe performed flawlessly, resulting in a smooth and uniform initial layer, even when printing toward the platform's periphery.
The Neptune 3 Plus is an excellent choice if you need a big format printer without breaking the bank. The Neptune 3 Plus has an unrivaled feature set for around $400, and its stabilizing rods and integrated LED light bar increase its desirability.
9. Anycubic Vyper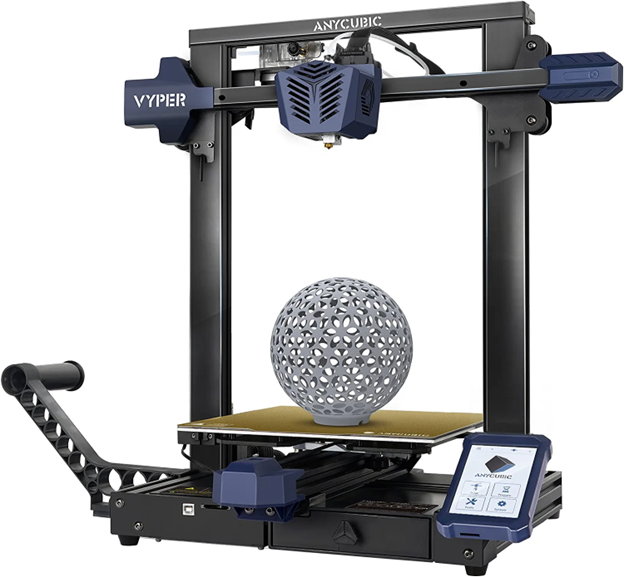 Specifications
| | |
| --- | --- |
| Technology | FDM |
| Build Volume | 245mm x 245mm x 260mm |
| Interface | 4.3-inch Color Touchscreen LCD |
| Build Platform | Heated Textured Flexible Removable Platform |
| Bed Leveling | Automatic |
Product Description
We were really impressed by the Anycubic Vyper, a high-throughput 3D printer with a sturdy build and a long range of useful features. If you're looking to print in bulk, the Vyper is an obvious choice because of its numerous advantages, such as its quiet stepper motors, dual Z threaded rods, and high-airflow component cooling system.
Because of its strain-gauge bed leveling technology, the Vyper can perform an automated mesh bed calibration with remarkable precision and speed. This method of calibration is great for those who don't have a lot of time to spend fine-tuning or calibrating the printer, and it performed admirably in testing, requiring no more tweaks to achieve an evenly printed initial layer.
The Vyper isn't the cheapest printer here, but it made the cut because of its easy installation and reliable performance in our tests. The outstanding degree of detail in the design of the Vyper is reflected in the accessibility and adjustability of the different parts of the 3D printer (extruder, X/Y belts, etc.). Although the Cura slicer software is easy to use, the default printer profile may need to be adjusted for optimal printing results.
10. Anycubic Kobra Max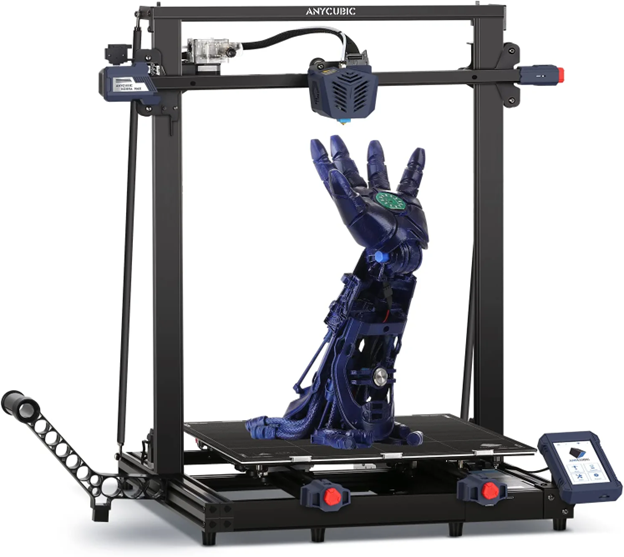 Specifications
| | |
| --- | --- |
| Technology | FDM |
| Build Volume | 400 x 400 x 450 mm |
| Bed Leveling | Automatic resistance strain gauge |
| Interface | Color touch screen |
| Build Platform | Carborundum coated glass |
Product Description
Do you need to print huge items like cosplay armor, props, or helmets but don't want to end up with a jigsaw puzzle? Fortunately, the Anycubic Kobra Max exists to fulfill your every imaginable need. Only the unending CR-30 belt printer has a larger construction space than this machine's massive 400 x 400 x 450 mm.
This machine is a monster and will require at least three-square feet of area to function properly. Since it was too huge to fit on the counter in our workshop, we had a hard time deciding where to put it. The enormous Kobra Mas footprint is more than made up for by its simple assembly. It's a modular kit that requires only a few screws and bolts to complete assembly, so we were able to get it out of the box and printing in about half an hour.
The Kobra Max, at $569, features a Volcano-style hotend and a twin gear extruder to produce silky prints. The bed is heated-becoming-tacky carborundum-coated glass. While heated, it adheres really well, but if you listen carefully, you can hear the prints crackle as the glass loses its hold.
Extremely large beds, like the one on the Kobra Max, would be challenging to level by hand. The auto-leveling sensor and the hard-mounted bed on the Anycubic system make this process a breeze. We simply had to change the Z height to account for the various filament types since the nozzle physically taps the glass surface to create an extremely precise mesh.
The Kobra Max's biggest flaw is that Cura does not come preloaded with a profile for it, so we have to manually enter measurements and figure out the best settings ourselves. We found that Anycubic's recommendation to utilize the Cura defaults was too quick for our hefty print bed, so we adapted the settings from a Creality CR10s profile and were able to print flawlessly.
What to Consider When Buying an FDM 3D Printer?
Standard of Printing
The lowest layer that may be printed, expressed in millimeters, is known as the minimum layer height, and it plays a significant role in determining print quality. The 100-micron range is where the majority of FDM printers settle, which is common enough for most do-it-yourselfers to be satisfied. Look for printers that can reduce the layer height to 50 microns, if not below, for improved print quality. The XY resolution is also a crucial factor in FDM 3D printing quality.
Print quality also depends on the components of the printer, the settings you choose in the slicer, and the temperatures at the nozzle and bed. Print quality and uniformity, especially for little, fine details, are often higher with lower layer heights.
Boost the Size of Something
The build volume of a fused deposition modeling (FDM) 3D printer is the largest printed area or capacity of that printer. The X, Y, and Z dimensions of a product's construction volume are often listed in millimeters on the product page. The dimensions of the Ender 3 (220 x 220 x 250 mm) are typical for FDM printers aimed to consumers.
Think about the kinds of components and models you want to create, then choose a 3D printer that can help you achieve those goals. If you can swing it, it's smart to invest in a printer that can handle a few more pages than you anticipate printing.
One example of a printer with a relatively small build volume is the Prusa Mini, which can produce objects just 180 x 180 x 180 mm in size. Then we have the towering machines that are huge format 3D printers, like the Ender 5 Plus, which has a build capacity of 350 x 350 x 400 mm.
The available square footage is another consideration in relation to the total volume of the construction project. A greater footprint is typically associated with a higher construction volume. Even the smallest 3D printers take up a fair amount of room, and the extra parts and pieces may add up quickly. It's a good idea to think about where you intend to put your printer before you buy it to make sure you have enough room.
Leveling the Bed
The bed of a 3D printer has to be calibrated so that it can account for the inevitable but normal height irregularities on the build surface. Manually accomplishing this on many printers is certainly possible, but it is a laborious and somewhat irritating operation, especially for inexperienced users.
It's possible that a 3D printer with an automated bed leveling feature might make this procedure easier. These often take the form of a probe or sensor that measures the nozzle-to-bed distance at various spots on the bed and adjusts the print settings accordingly.
Compatible Filaments
Flexible, sturdy, easy-to-print, brittle, wear-resistant, and so on are just some of the features that may be found in 3D printing filaments. You should do some research into which filament would work best for your needs before purchasing a printer.
If your printer has a heated bed, the highest temperature that bed can achieve, and the maximum temperature of the nozzle are the two most significant specs to look for. High-temp exotics like nylon and carbon fiber have strict temperature requirements.
In general, PLA, ABS, TPU, and PETG are compatible with most FDM printers. Even while some filaments—like ABS and flexibles—may be listed as compatible by manufacturers, it doesn't mean the machine will print them well.
If you're printing with PLA, any FDM printer will do. When printing with ABS, it is crucial that you use a printer that has an enclosure to maintain a constant temperature. Keep an eye out for machines with direct drive extruders if you're processing flexibles like TPU; these helps prevent the jamming, clogging, and snapping that can occur in Bowden systems.
Enclosure
While most FDM printers feature open layouts, these aren't ideal for printing with heat-sensitive filaments like PLA and other heat-sensitive materials.
You'll need an enclosure if you want to play around with these, or you could always make one yourself.
Extruder
The filament feeding device known as an extruder is often only included in single-head FDM printers. With a single extruder, you may print using just a single filament or color. Look for 3D printers with twin extruders if you need to print two-color items at once or weave in soluble support structures made from PVA, for example.
Plans and Allotments for the Press
There is no denying the high cost of purchasing a 3D printer. While you can find a good entry-level computer for as little as $300 now, that's a significant reduction from even the past few years. This is why it's important to consider your budget in light of your printing goals and demands (print size, intended uses, etc.).
Spending thousands on a commercial printer with more bells and whistles than a beginner could ever hope to use is a waste of money. On the other hand, a seasoned creator or established firm may discover that a cheap printer falls short of their expectations.
Download PDF for The Best FDM 3D Printers in 2023
You can download the PDF format of this post from the link provided here.
Buy Equipment or Ask for a Service
By using Linquip RFQ Service, you can expect to receive quotations from various suppliers across multiple industries and regions.
Click Here to Request a Quotation From Suppliers and Service Providers
Read More on Linquip