The Best Large 3D Printer in 2023 – Small desktop FDM 3D printers may be sufficient for some people, but when it comes to large-scale DIY projects or prototypes, bigger is better. The required 3D printer for these tasks is a behemoth capable of creating the Goliath constructions required for the client's professional or personal endeavor.
On the Linquip website, among the many options available to you, you will find all the information you need to know about the Large 3D Printers, as well as information regarding this marketplace. You can count on Linquip to provide you with as much general and reliable information about this topic, whether you're a professional or a customer looking for a proper company. We recommend you review a list of all Large 3D Printers available in Linquip.
We would be delighted to provide you with more information on how we can help you generate revenue within your industry. Don't hesitate to contact us if you have any questions! With Linquip's Solutions for Each Company Level, you will be able to upgrade the capabilities of your organization in order to gain a competitive edge by taking advantage of a wide range of options to enhance your organization's performance. If you are looking for the simplest or the most sophisticated marketing and advertising package for your business, we can help you ensure that your company gets as many customers as possible to grow your business.
The Best Large 3D Printer in 2023
1. Ender 5 Plus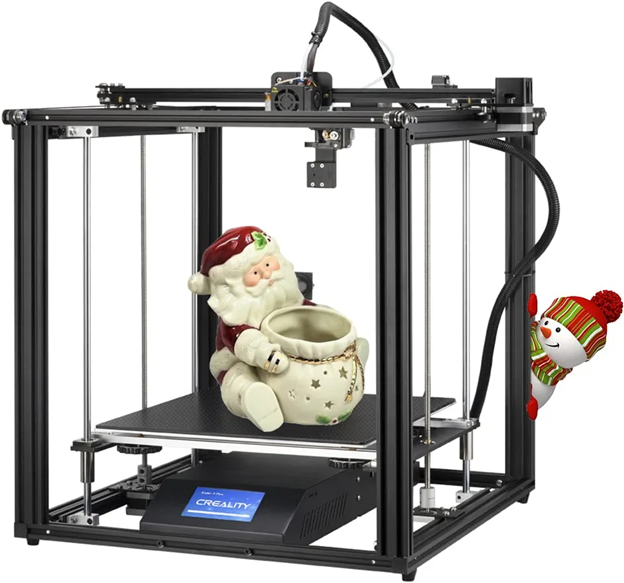 Specifications
| | |
| --- | --- |
| Build Volume | 350 x 350 x 400 mm |
| Minimum Layer Height | 100 Microns |
| Max Nozzle Temperature | 260°C |
| Filament Compatibility | PLA, ABS, TPU, PETG |
Product Description
The Ender 5 Plus lives up to its reputation as a large-format printer with a spacious 350 x 350 x 400 mm build volume, making it a perennial choice among makers looking for a good balance between price and print capacity.
The Ender 5 Plus's increased build volume makes it possible to print larger objects, such as masks, helmets, cosplay props and accessories, tabletop game terrain, tall vases, and so on than is possible with most standard-size printers.
The Ender 5's size isn't its only distinguishing trait, though. Whether you're utilizing the full print bed or just a portion of it, the twin z-axis rods will keep the lead screw from rattling about and making a racket, no matter how large your design is.
In terms of axes, the Z-axis on the Ender 5 is in charge of lowering the mattress. The belts on the Y-axis move in synchrony, propelled by a powerful stepper motor, providing smooth, accurate motion that minimizes layer shifting.
With convenient features like a print resume and a filament run-out sensor, as well as a tempered glass build platform that assures reliable first-layer adhesion and prints that snap off cleanly with no effort, this 3D printer earns high marks for its user-friendliness.
If you're the kind that likes to tinker with their printers and make them better, you'll be happy to know that the Ender 5 is quite similar to the Ender 3 in that regard.
There is no shortage of methods to make the Ender 5 better, from 3D printed mods like cable strain relief brackets to extruder knobs to expensive improvements like an all-metal extruder, silent mainboard, and why not a pivot to a direct drive system.
2. Peopoly Phenom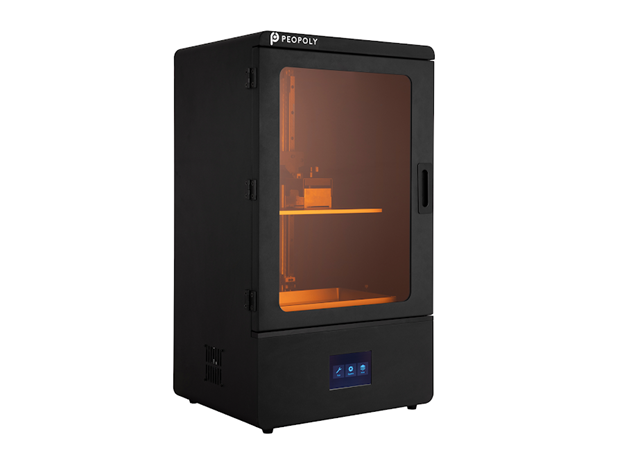 Specifications
| | |
| --- | --- |
| Printing Technology | UV MLSA |
| Print Volume | 276mm x 155mm x 400mm |
| Lighting Panel | 12.5″ 4k LCD |
Product Description
On our list, only the Peopoly Phenom resin 3D printer appears. Considering that resin printers often have small print areas, the Peopoly Phenom's massive print surface stands out.
Initial recognition for Peopoly came after the company successfully crowdfunded the release of their Peopoly Moai board game. The Phenom series incorporates MSLA technology (which combines LCD displays with LED lighting) to produce components.
The concept of a large-scale LCD 3D printer is an intriguing one. Unlike FDM 3D printing, in which the extruder must trace each layer, LCD 3D printing involves hardening the whole layer of resin at once. The potential for genuinely scaled 3D printing is unlocked when the capacity to print several items concurrently is coupled with a big size 3D printing area. The situation is thrilling.
It's hard to overstate how fantastic the printer itself is. There aren't many FDM 3D printers that can compete with the precision and superior surface finishes that a 72-um accuracy provides. While Peopoly suggests using their Deft resin, you may use any resin you choose with this high-capacity 3D printer kit.
You may easily upgrade to the Phenom from a smaller, less expensive resin printer that uses the CHITUBOX, such as an Elegoo Mars or AnyCubic Photon.
3. Anycubic Kobra Max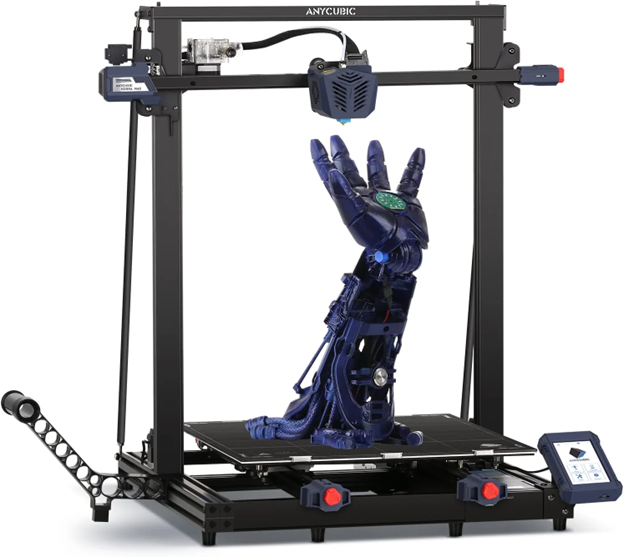 Specifications
| | |
| --- | --- |
| Build Volume | 450 x 400 x 400 mm |
| Minimum Layer Height | 50 microns |
| Max Nozzle Temperature | 260°C |
| Filament Compatibility | PLA, ABS, PETG, TPU |
Product Description
The Anycubic Kobra Max, with a build volume of 450 x 400 x 400 mm, is the largest of Anycubic's recently released inexpensive large FDM printers. It retails for less than $600. The Kobra Max's ultra-huge interior space alone would be enough to earn it a spot on our list, but it also has several more advantages.
The Kobra Max's dual z-axis threaded lead screws, each with its own dedicated stepper motor and two support rods, make it stable despite its massive capacity.
The Kobra Max provides reliable accuracy with a minimum layer height of just 50 microns and can theoretically reach blistering sprint speeds of up to 180 mm/s.
The print bed is made of tempered carborundum glass and covered in Anycubic's proprietary Ultrabase microporous coating.
Anycubic also provides the completely automated bed leveling system LeviQ, which was developed in-house. We tried it out on the Kobra and were quite pleased with its precision and hassle-free, "set it and forget it" operation. Anycubic has created something very remarkable, and it's fantastic to see LeviQ adapted to the bigger Kobra Max.
A filament runout detector, an equally responsive 4.3″ touchscreen display as the smaller Kobra, belt tensioners, an E3D Volcano-inspired hot end, and a relatively quiet operational noise level of 58 dB are all noteworthy features.
This is the biggest home 3D printer available and a solid FDM option.
4. Modix Big-60 V3 Kit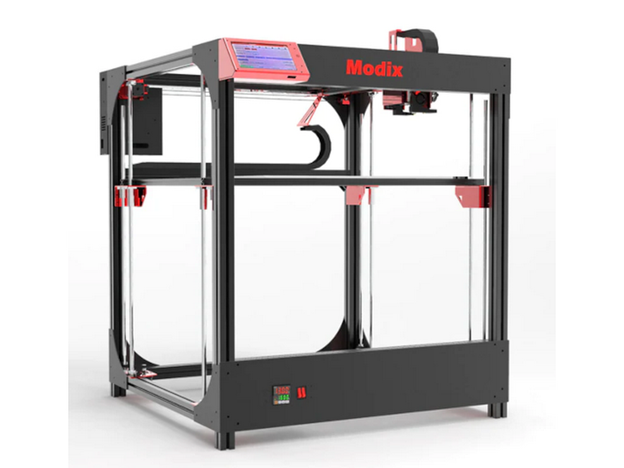 Specifications
| | |
| --- | --- |
| Build Volume | 600mm x 600mm x 660mm |
| Technology | Fused Filament Fabrication |
| Default filament diameter | 1.75mm, can be converted to 3mm by the user |
| Hotend max. temperature | 500ºc |
Product Description
The Big-60's gigantic 600 x 600 x 660 mm build capacity allows it to print even the largest prototypes and components in a single large portion, making the aforementioned printers appear puny in comparison.
This is a major benefit since it allows you to print these massive models without having to put them together after printing, which eliminates the need for any post-processing that can degrade the surface polish.
The Model Big-60 V3 is a sizable 3D printer kit, but it may be easily assembled by those with prior expertise with 3D printers, thanks to the comprehensive documentation included.
All of the components in the Big-60 V3 kit are of the highest quality, from the included Duet3D controllers to the high-end E3D hot end. The Big-60 is built for industrial, heavy-duty use, but it's also flexible enough to accommodate any additions specific to your 3D printing requirements.
These may be tailor-made, external additions, or they may come from the printer itself, such as the enclosure kit, a very high-temperature nozzle for printing industrial materials like PEEK or ULTEM, or a second print head.
Overall, it's a huge 3D printer for large 3D printing jobs, with a price tag that's more in line with a medium-range model.
5. Modix Big 40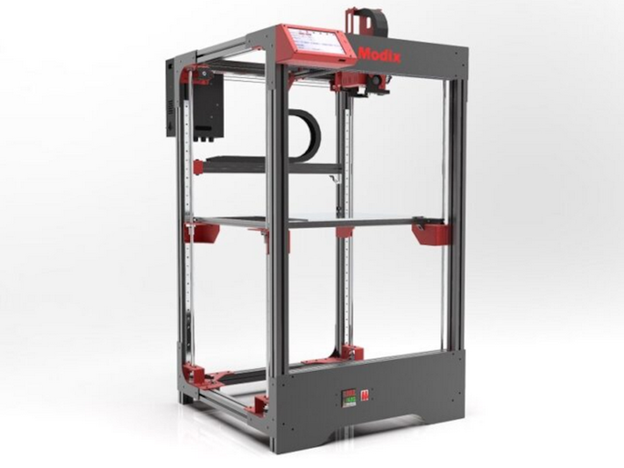 Specifications
| | |
| --- | --- |
| Printing technology | Fused Filament Fabrication (FFF) |
| Print heads | Single included, Secondary Printhead optional |
| Print volume (XYZ) | 400x400x800 mm |
| Assembly | Self-assembly |
| Enclosure type | Aluminum composite panels (ACP), 3mm thick |
Product Description
Unlike the Modix Big 60 V3, which is geared on providing a huge homogeneous build volume along all axes, the Modix Big 40 is focused on providing manufacturers and enterprises with additional height for the production of tall parts and models.
This is made possible by the device's 400 mm x 400 mm x 800 mm construction volume. The Modix Big 40's z-axis makes it twice as tall as even the largest 400 x 400 x 400 mm 3D printers.
It's easy to see the benefits of the Modix 40, which eliminates the need to print in sections and assemble the final product afterward, even for massive objects like limb prostheses and towering prototypes.
The Modix Big 60 also comes standard with a 7-inch touch screen, Wi-Fi connectivity, automated bed leveling with a 100-point mesh, and a superior powder-coated laser-cut chassis.
In addition, it has a milled cast aluminum print bed, a PEI print surface, a 40-micron minimum layer height, and a Griffin print head that combines a custom-made Bondtech extruder with an in-house developed hot end that can reach temperatures of up to 340°C, allowing it to print with carbon fiber and other tough filaments.
6. BCN3D Sigma D25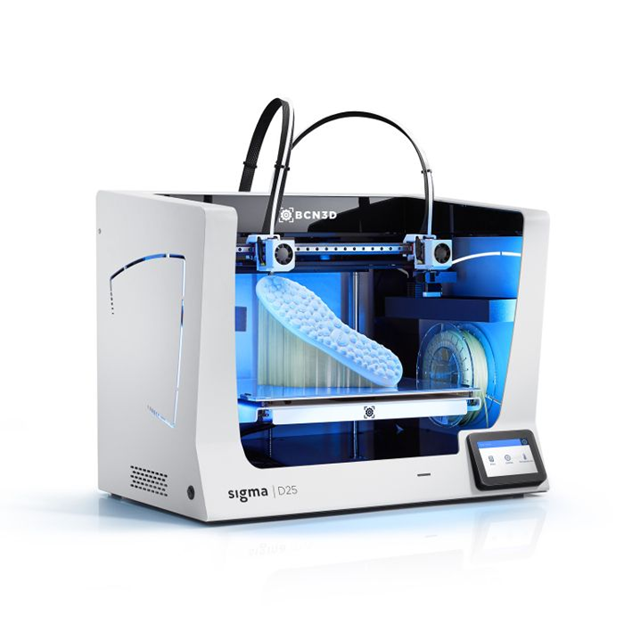 Specifications
Print Technology

FFF

Build Volume

42 x 30 x 20 cm

Filament Diameter

2.85 mm

Maximum Print Surface Temperature

80

o

C

XY Positioning Precision

1.25 micron
Product Description
The Sigma D25 is the latest edition of BCN3D's Sigma line, and it is yet another very successful fused deposition modeling printer.
The Sigma D25 is unlike most other 3D printers since it has a twin extruder and a massive print volume (420 x 300 x 200 mm). It's incredibly flexible, accommodating a wide variety of 3D printer filaments from ABS and PLA to HIPS and ASA with no problems at all.
BCN3D's IDEX (independent dual extruder) technology lets both extruders move independently, greatly accelerating the printing of identical components and opening the door to the use of multiple materials and soluble filaments like PVA.
The Sigma's replication and reflection modes make the most of its dual extruder to greatly expand the machine's capacity for mass manufacturing. For brisk component manufacturing, you can choose between duplication and mirror modes, which respectively print identical models concurrently and mirror patterns.
The D25 now includes a stainless steel frame that helps to secure the X and Y axes and enhance print quality, in addition to the E3D hotends and Bondtech extruders that make it so dependable and capable of producing such beautiful prints. This massive enclosed 3D printer maintains a constant temperature, making it suitable for printing ABS and other high-temp filaments.
The Sigma D25 is a very user-friendly large-format 3D printer, thanks in large part to its 5-inch touchscreen and impressive 50-micron minimum layer heights, as well as its high X, Y, and Z resolutions.
7. Raise3D Pro2 & Pro2 Plus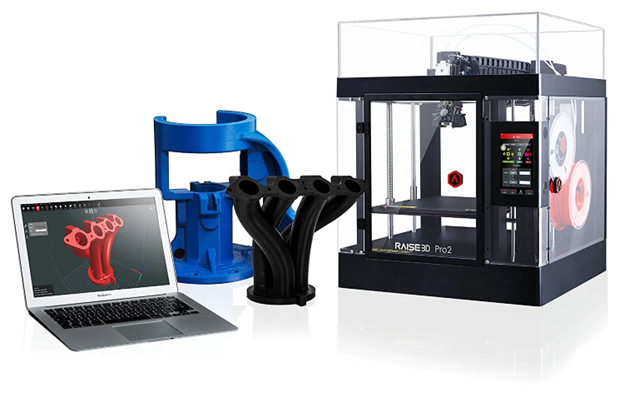 Specifications
| | |
| --- | --- |
| Brand | Raise3D |
| Material | ABS, PC, PLA, Wood, Nylon (PA), Flexible (TPU/TPE), PVA/BVOH, Carbon Fiber, Metal, PETG |
| Operating System | Linux |
Product Description
Due to their high quality, Raise3D printers are included in both our best 3D printer and best dual extruder 3D printer rankings.
We suggest it to any startup that needs to print large prints and prototypes in-house since it excels at both normal large format printing and multi-material printing (for example, ABS with dissolvable HIPS supports).
Raise3D is a well-respected 3D printing firm whose machines are employed by both large and small enterprises due to the fact that they can manufacture substantial items on demand. With an increased maximum component height of 605mm, the Pro2 Plus should have no trouble printing tall objects.
Even the Pro2's build space is massive for a closed build chamber (with improved temperature management). The Pro2 Plus, however, doubles that height, allowing for prints of up to an unprecedented 605 mm in height.
Both the Pro2 and Pro2 have stellar reputations as dependable workhorses, and the former is especially true of this huge 3D printer. And if you do run into trouble, the Raise3D crew is situated in California and ready to help.
Offering industrial-grade quality on their large-format 3D printers at lower than industrial pricing, Raise3D effectively caters to the client segments between consumers and professional printers. The Pro2 Plus's price tag is on par with the Ultimaker S5, despite its larger 7-inch touchscreen and other capabilities that give the impression of a factory-grade machine.
8. Ultimaker S5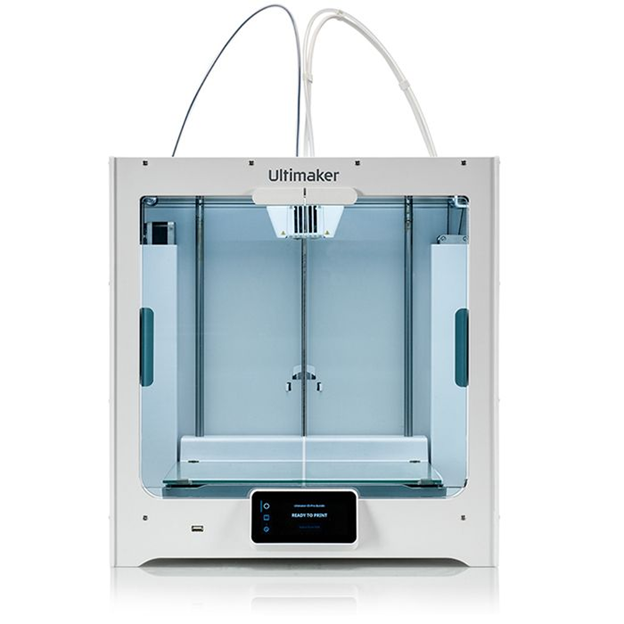 Specifications
| | |
| --- | --- |
| Technology | Fused Filament Fabrication |
| Build Volume | 330 x 240 x 300 mm |
| Print Head | Dual-extrusion head with an auto-nozzle lifting system |
| Travel Speed | 30 – 300 mm/s |
| Nozzle Diameter | 0.4 mm Print Core |
Product Description
With the release of the Ultimaker S5, the Dutch business has entered the higher-priced, more industrial printer market in the wake of the wildly successful Ultimaker 3.
Expanding the build volume and centering attention on the scalability of fast prototyping, the S5 is a big build volume 3D printer designed for a more professional and industrial clientele.
Ultimaker is not having trouble attracting customers despite the fact that their latest product is about $6,000 more expensive than its predecessor. Volkswagen is believed to utilize Ultimaker's printers, which is a testament to the quality of their products. Although you may need greater build volumes than the 330 x 240 x 300 mm that this 3D printer provides, it is still the greatest 300 mm printer currently available.
This series of big 3D printers may not be the largest on the market, but its accuracy, quality, and dependability guarantee it a spot among the top choices for commercial printing. Large things may be printed in a variety of materials, including PP, CPE, Nylon, PC, and more (Ultimaker sells their own brand of high-temperature materials).
9. BigRep Studio G2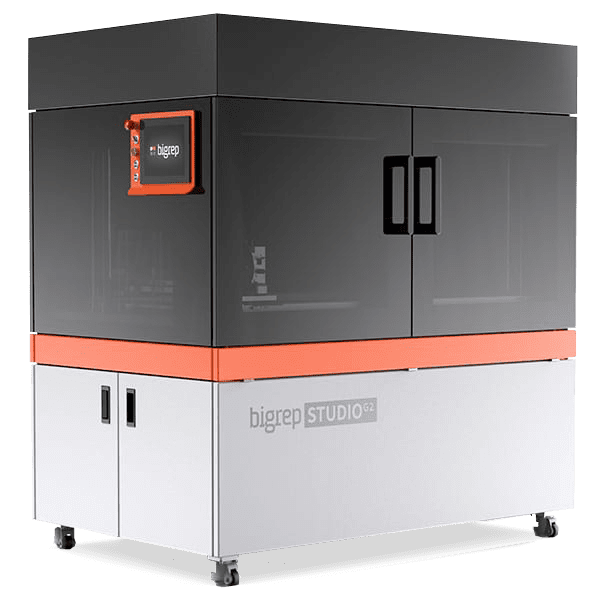 Specifications
Build Volume

1000 x 500 x 500 mm

Compatible BigRep Materials

ASA, ABS, BVOH, HI-TEMP, PA6/66, PETG, PLA,

PLX, PRO HT, PVA, TPU

Extruder Type

Dual Fiber Extruder

Nozzle Type

Tool Steel Nozzle

Layer Height

0.1 – 0.4 mm
Product Description
This monstrosity of a 3D printer is only one of several sold to industrial clients by the German company BigRep. You won't find another FDM printer this big very often.
The BigRep Studio, a prototype and manufacturing tool with applications in the medical, automotive, and aerospace industries, weighs in at almost a quarter of a ton due to its enormous build capacity.
Common printer filaments like PLA and PETG, as well as more specialized materials like flexible filaments, HT, and HS, are just some of the bespoke materials that BigRep supplies for use in its massive 3D printers. 3D printing with carbon fiber filaments, ASA, and polyamides like Nylon is possible because of the machine's sophisticated air filtering system, fully enclosed build area, and tool steel nozzle.
Printing at speeds of up to 100mm/s and with a minimum layer height of just 0.1mm, the Studio G2 is fully compatible with BigRep's Blade 3D printer software.
10. Concept Laser X Line 2000R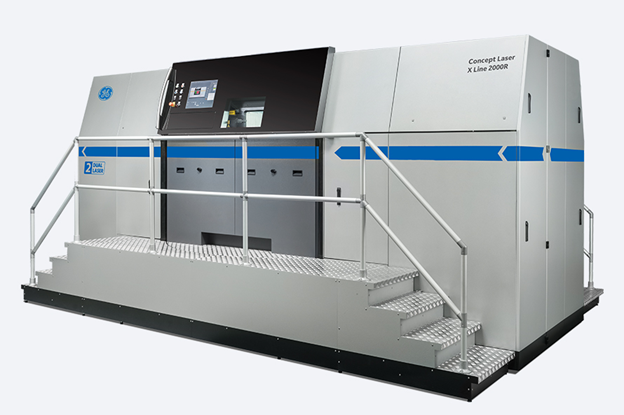 Specifications
| | |
| --- | --- |
| Build volume | 800 x 400 x 500 mm |
Product Description
The Concept Laser X Line 2000R, using Direct Metal Laser Sintering to produce robust and precise metal parts, is one of the largest and most costly 3D printers in the world. Due to the exponential difficulty of producing massive print quantities with metal 3D printing technology, we felt obligated to feature this machine because of its impressive engineering.
Creating metal items up to 800 x 400 x 500 mm in size, making it a clear market leader (and you can also check out our metal 3D printer rating). You probably won't be able to afford one until your firm is worth a billion dollars or more, but this machine is a must-have on our long list of 3D printers since it can create metal structures at proportions never before possible.
Download PDF for The Best Large 3D Printer in 2023
You can download the PDF format of this post from the link provided here.
Buy Equipment or Ask for a Service
By using Linquip RFQ Service, you can expect to receive quotations from various suppliers across multiple industries and regions.
Click Here to Request a Quotation From Suppliers and Service Providers
Read More on Linquip