The Best Pop Up Canopy For Camping In 2023 – A camping canopy does more than just block the light. Once you've got one and you're utilizing it, every camping trip after that will be more comfortable and safer.
On the Linquip website, among the many options available to you, you will find all the information you need to know about the Pop Up Canopy, as well as information regarding this marketplace. You can count on Linquip to provide you with as much general and reliable information about this topic, whether you're a professional or a customer looking for a proper company. We recommend you review a list of all Pop Up Canopy available in Linquip.
We would be delighted to provide you with more information on how we can help you generate revenue within your industry. Don't hesitate to contact us if you have any questions! With Linquip's Solutions for Each Company Level, you will be able to upgrade the capabilities of your organization in order to gain a competitive edge by taking advantage of a wide range of options to enhance your organization's performance. If you are looking for the simplest or the most sophisticated marketing and advertising package for your business, we can help you ensure that your company gets as many customers as possible to grow your business.
The Best Pop Up Canopy For Camping In 2023
1. Coleman Instant Canopy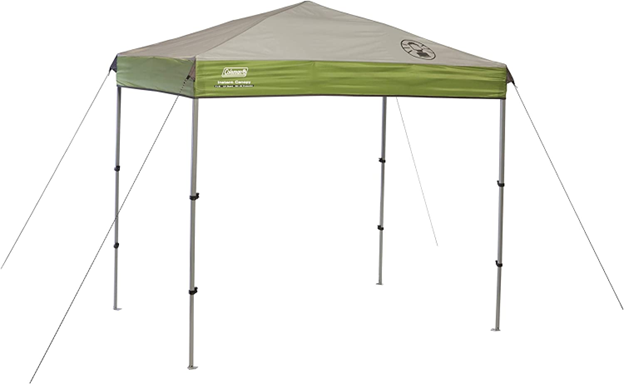 Specifications
| | |
| --- | --- |
| Brand | Coleman |
| Material | Alloy Steel |
| Style | Garden |
| Item Dimensions LxWxH | 48.8 x 10.2 x 8.27 inches |
| Item Weight | 43.6 Pounds |
| Water Resistance Level | Water Resistant |
| Shape | Square |
Product Description
The Coleman Instant Canopy kicks off our list with a bang since it is such a great all-around canopy, especially for camping and backyard gatherings. Coleman's reputation for making high-quality tents at reasonable prices has already been established, and this canopy follows suit.
This canopy has a square footage of 10 by 10 feet, and it is made out of a PolyGuard 2x fabric that is double the thickness of regular polyester, making it extremely durable. Additionally, there are two vent flaps in the roof to enable a breeze on those warmer days; however, be wary of drips in heavy rain since the material has been treated with Coleman's UVGuard technology to give optimum sun protection (SPF 50+).
However, the strong ground stakes and guy wires will shield you from the wind and the sun just as well as they will from the former.
The lines are already attached to the stakes, making assembly a breeze (though we'd prefer more detailed instructions), and the Coleman Comfort Grip technology makes extending and collapsing the telescoping poles a breeze. Additionally, the entire frame collapses into a compact, one-piece design for transport and storage.
This canopy is one of the lightest we've seen for its size, and it even comes with a rolling duffel bag for convenience.
This amazing canopy can be set up in minutes, is lightweight, and provides excellent protection from the elements, making it equally at home at camping.
2. Eurmax Ez Pop Up Canopy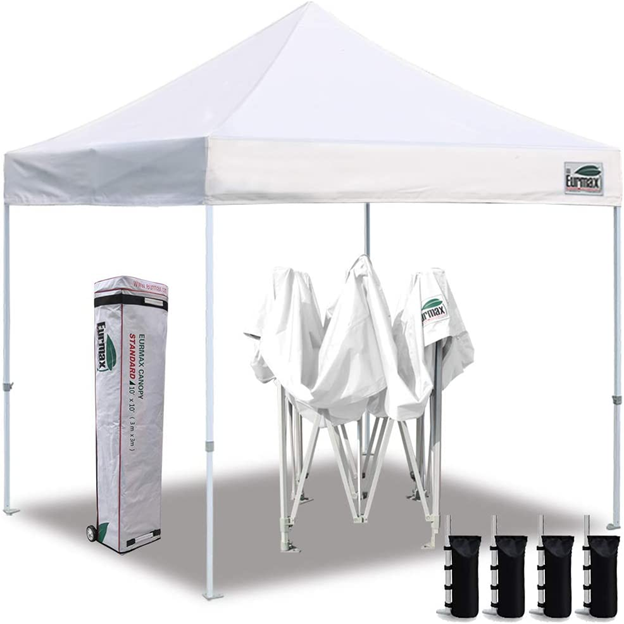 Specifications
| | |
| --- | --- |
| Brand | Eurmax |
| Material | PU-coated 500 denier polyester |
| Style | Garden |
| Item Dimensions LxWxH | 70 x 10 x 70 inches |
| Item Weight | 51 lbs |
| Water Resistance Level | Water proof |
| Shape | Square |
Product Description
Regarding commercial applications, nothing beats the Eurmax Ez Pop-Up Canopy's extreme durability.
This canopy will shield you from the elements (well, 99% of the elements) and won't fail you any time soon, thanks to its 500D PU-coated polyester construction, sealed seams, and long-lasting hammertone powder-coated finish on the frame. Also, despite its heft, the pop-up frame and thumb-lock mechanism make assembly a breeze.
You may choose from a wide range of eye-catching hues for this canopy, and it comes with four banner sleeves for displaying personalized banners on the front valance. We've evaluated the 10-by-10-foot variant, but there are several sizes and three height options from which to choose, so you're sure to find what you're looking for.
Even the wheeled carry bag, which has 1680D polyester, dual-layer fabric, and reinforced handles, is of exceptional quality.
It's true that this canopy isn't the cheapest option, but it offers substantial value for the price.
3. E-Z UP Dome Instant Canopy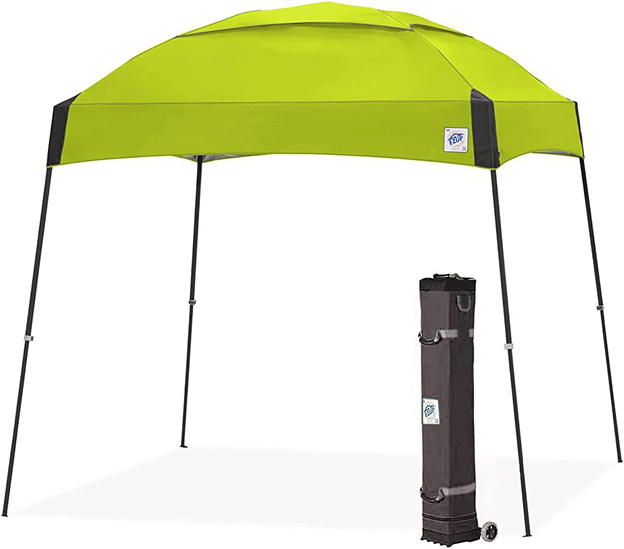 Specifications
| | |
| --- | --- |
| Brand | E-Z UP |
| Material | Alloy Steel |
| Style | Dome |
| Item Dimensions LxWxH | 120 x 120 x 109 inches |
| Item Weight | 12 Kilograms |
| Frame Material | Alloy Steel |
| Water Resistance Level | Water Resistant |
Product Description
The E-Z UP Dome Instant Canopy's innovative, wind-friendly design makes it a great choice for outdoor excursions.
The dome form of the roof deflects the majority of the wind away from the canopy, but the vented peaks let just enough air in to keep everything stable (and cool you down on hot days too). Further, the composite fiber rods that support the canopy's peak are flexible enough to move slightly in response to the wind (rather than simply snapping like more rigid rods).
There's a 10′ by 10′ base, but the top is just 8′ x 8′ since the legs are slanted to reduce wind resistance even further.
The big, grabbable pull rings and snap-button leg adjustments make assembly a breeze. A One-piece, collapsible design with corrosion-resistant powder coating on steel means no missing pieces when stored away. Moreover, the fabric's corners have been strengthened with cross-stitching, increasing its longevity.
And we really like how the legs can be adjusted to two different heights, so you can have a square canopy or an angled canopy, both of which are useful for providing shade. In addition to providing welcome shade, its canopy blocks over 99 percent of harmful UV rays (and also meets CPAI-84 and nfpa-701 fire-resistant requirements).
Last but not least, this tent is among the smallest and most portable on our list, and it even comes with a rolling duffel bag for transport. And because it comes in a variety of colors, your camp will stand out from the others no matter how crowded the area gets.
Because of its resistance against rain and wind, its mobility, and its many uses, this canopy is a great tent accessory for any outdoor adventure.
4. Leader Accessories Pop Up Canopy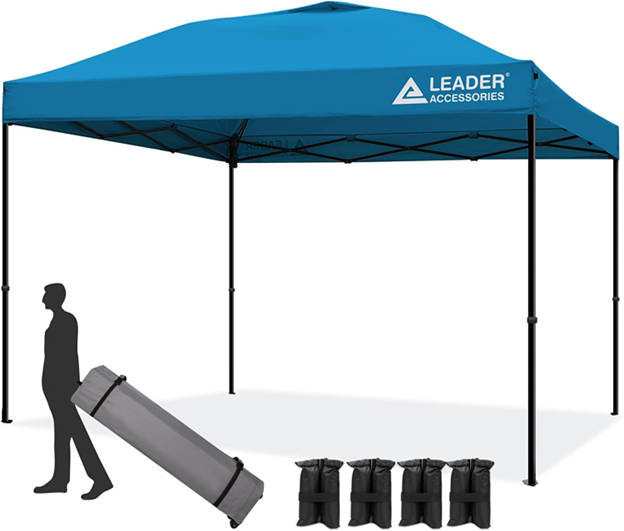 Specifications
| | |
| --- | --- |
| Brand | Leader Accessories |
| Item Dimensions LxWxH | 100 x 111 x 100 inches |
| Item Weight | 39.9 pounds |
Product Description
The Leader Accessories Pop-Up Canopy is an excellent choice if you need a pop-up shelter but don't want to spend a lot of money.
The structure of this 10′ x 10′ canopy is rustproof, and the silver back-coated 210D polyester fabric offers UPF 50+ protection from the sun. It has many tie-down lines and stakes, and the top vents cool you down and make it more stable in the wind.
We like that it can be adjusted to three different heights and that the frame just consists of one component. It weighs less than many comparable canopies, and it comes with a wheeled suitcase for easy transport.
Although it isn't quite as sturdy as other higher-end canopies, you're still getting a quite sturdy, portable, and adaptable canopy for a far lower price than we expected.
5. Pacific Breeze Easy Setup Tent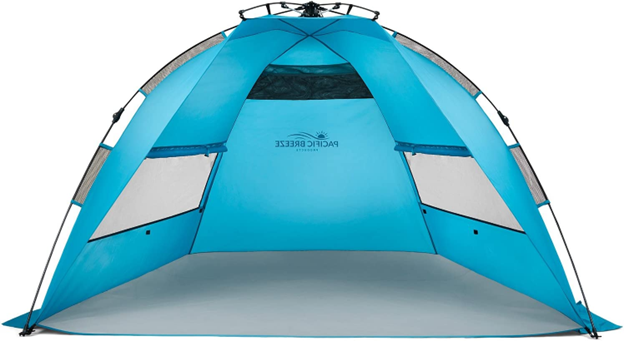 Specifications
| | |
| --- | --- |
| Brand | Pacific Breeze Products |
| Material | Polyester, Fiberglass |
| Special Feature | Water-Resistant, Lightweight, Sun Protection |
| Color | Blue |
| Recommended Uses For Product | Traveling, Beach |
| Seasons | 2 Season |
| Item Weight | 4.45 Pounds |
Product Description
Despite the fact that the Pacific Breeze Easy Setup Tent is more accurately described as a tent than a canopy, we felt compelled to add it here because of how well it works on beaches.
A reliable canopy will shield you from the sun and the elements. The Pacific Breeze is ideal for the beach since it is low to the ground and has three walls to protect its occupants from the sand, even when the wind picks up.
You won't overheat thanks to the wide mesh windows and UPF 50+ sun protection, which also work to keep the sand away. Water won't soak through the polyester walls or the PE floor, giving you more time to make preparations for inclement weather.
The interior pockets are a terrific addition, since they allow you to keep your necessities close at hand, whereas such storage space is lacking in conventional canopies.
However, its lightweight design (it weighs only 4.5 lbs) is the tent's greatest feature. This portable shelter may be easily transported thanks to its lightweight design and supplied carrying bag with a convenient carry handle.
The tent's modest size immediately eliminates any possibility of using it for outside events such as garden parties. But if the beach is more your speed, don't pass up this handy little shelter!
6. Clam Outdoors Quick-Set Escape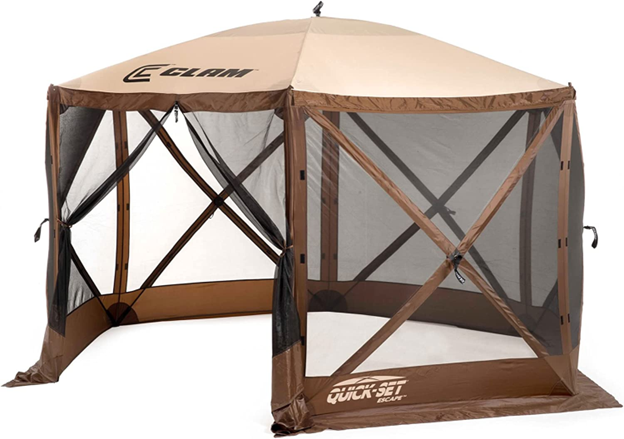 Specifications
| | |
| --- | --- |
| Brand | CLAM |
| Material | 210 denier poly oxford |
| Style | Portable |
| Item Weight | 32 Pounds |
| Water Resistance Level | Water Resistant |
| Assembly Required | No |
| Shape | Square |
Product Description
Here's something a little out of the ordinary: the Quick-Set Escape from Clam Outdoors.
In addition to providing overhead cover, the huge no-see-um mesh screens on the side walls of this canopy make it ideal for use at camping at night, when those bothersome insects are most active. The roof is waterproof as well, with taped seams to prevent water from seeping in.
The triple-lay structure of the pole pockets and the extra-durable fabric used to strengthen the rood's core makes this a great choice for those who value durability. However, rain flaps may be purchased separately to prevent water from entering through the panels, providing additional shelter from the weather if desired.
It's not quite as tall as some of the other versions we've considered (7.5 ft), but it still has plenty of inside space and aids in keeping the weight down. Setting up this canopy is a breeze because of its lightweight and compact proportions.
The whole process takes less than a minute: open the canopy, stretch the five hubs, raise the roof, and you're done.
The packed size is greater than we anticipated, and the carrying case doesn't have wheels, so you'll have to lug it around by hand (good thing it's so light, eh!).
There is one main downside, and that is the price; not everyone can afford this canopy. On the other hand, if oy can afford it, it does make for a great camping shelter.
7. Core 10′ x 10′ Instant Canopy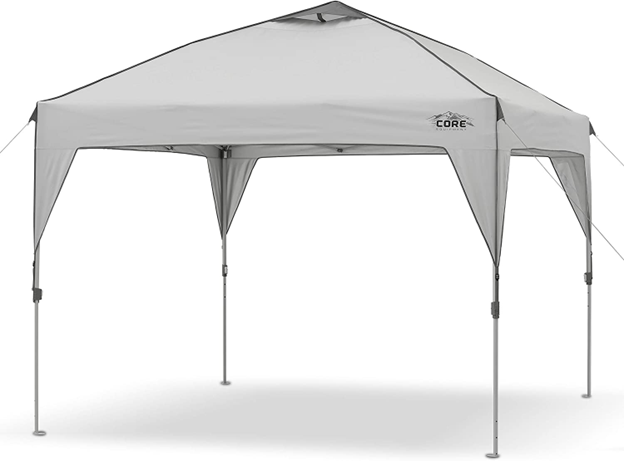 Specifications
| | |
| --- | --- |
| Brand | Core |
| Material | Polyester |
| Style | Heavy-duty |
| Item Dimensions LxWxH | 120 x 120 x 111.6 inches |
| Item Weight | 17.55 Kilograms |
| Water Resistance Level | Water Resistant |
| Shape | Square |
Product Description
Even while the Core 10′ x 10′ Instant Canopy is the most aesthetically pleasing of the canopies we've considered, that's not the only reason we give it such high marks.
The 10′ by 10′ canopy is made from 150D polyester, is water resistant, and has taped seams to keep the rain out. You can be certain that it satisfies the standards set out by the Consumer Product Safety Improvement Act of 2008 (CPAI084) and provides UV protection of 50+. Though the steel structure is sturdy, the canopy material might need a little more longevity. Not only is this canopy not the heaviest we've seen, but it's also not the lightest.
It includes two air vents at the top, which improve performance in windy circumstances and keep you comfortable in hot weather. We adore the large, easy-to-press buttons that allow for three different height adjustments and make setup a pleasure even when your hands are chilly.
It has a wheeled carry bag for convenience and comes with ground stakes and tie-downs (but the stakes aren't the strongest).
As a whole, this is a fantastic canopy that is simple to set up, adaptable, and aesthetically pleasing; in fact, we consider it to be among the best options for outdoor gatherings.
8. ABCCANOPY Pop-Up Canopy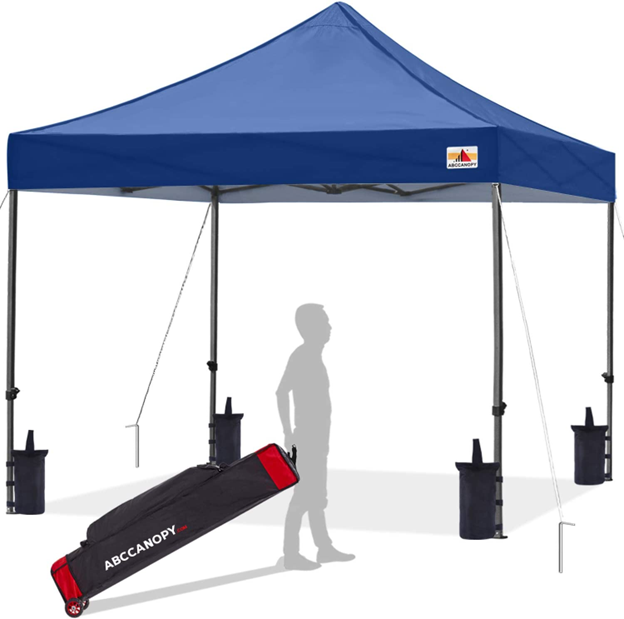 Specifications
| | |
| --- | --- |
| Size | 120 x 120 x 135 inches |
| Color | Alloy Steel |
| Brand | ABCCANOPY |
| Item Weight | 48 Pounds |
| Water Resistance Level | Waterproof |
Product Description
As a last option, we have the ABCCANOPY Pop-Up Canopy, another great option for commercial settings.
The canopy's PU coating, waterproof coating, and UPF50+ 300D fabric make it more durable than similar products intended for occasional use. The powder-coated steel frame is extremely robust and corrosion-resistant.
You can choose the perfect canopy among the many available hues and three adjustable heights. One more thing we really like is that you can get matching walls for it, and they don't cost a fortune (yay).
It's not the lightest choice, but neither are the most sturdy canopies. However, a rolling carrying case is included to make transport easier. We really like the sandbags that are provided in addition to the stakes and ropes, which come in handy when you can't drive the stakes into the ground.
It's not the cheapest choice, but it will last a long time and serve many purposes, so consider it if you can afford it.
Tips for Choosing the Right Tent for Your Next Camping Trip
There's no doubt that the goods we just mentioned are top-notch, but you still might not have discovered the perfect one. You'll need some knowledge about camping canopy shopping if that's the case. Some of the most crucial things to keep in mind when doing so are as follows:
Body Mass Index and Stature
The greatest camping equipment does what it's supposed to without adding too much weight. That is also valid for tent canopies used for camping. After all, portability and convenience both benefit from a lightweight setup.
Because of this, the heft of your camping canopy is something you need to think about carefully. Also, you'll need a canopy that's big enough for your intended use. It's hardly shocking that the heaviest choices are the largest canopies.
You should think about both the canopy's size and its weight when you shop. The ideal camping canopy will provide adequate shade without adding too much weight to your pack.
Functional Simplicity
There are few things more annoying than getting to your campsite and realizing you have no idea how to utilize your gear. Having to deal with such an issue might completely ruin an otherwise enjoyable vacation.
A camping canopy, like any other piece of camping equipment, should be as user-friendly as possible. The very finest tent covers for camping provide a great deal of practicality. As a result, they are simple to take out of their package and simpler to put to use.
You should look for a canopy that folds up easily. To get the most out of your shopping experience, prioritize the product's user-friendliness.
Durability
Sometimes going camping is a challenging experience. In such a case, it's on you to make sure you're wearing weather-proof equipment. This is of paramount importance when considering the purchase of a camping canopy or any other equipment that will serve to keep you dry and comfortable in inclement weather.
Look for a camping canopy made of durable materials when you go shopping. To find out how well items have held up over time, you should also read some reviews.
If you can afford it, spend a little extra on a camping canopy that will last a long time. Investing in a high-quality camping canopy now will save you money in the long run.
Download PDF for The Best Condensing Boilers in 2023
You can download the PDF format of this post from the link provided here.
Buy Equipment or Ask for a Service
By using Linquip RFQ Service, you can expect to receive quotations from various suppliers across multiple industries and regions.
Click Here to Request a Quotation From Suppliers and Service Providers
Read More on Linquip