The Best Reel Mower in 2023 – The reel mowers your grandparents used have avoided becoming obsolete, despite the fact that it's not unusual to see robotic lawn mowers darting about your neighborhood. In fact, according to a new study, the market for reel mowers is anticipated to increase consistently between now and 2027. Because of advancements made in its electric and gas-powered siblings, reel mowers have remained popular for so long. You can count on them to produce clear, dependable results in a number of settings. The sheer amount of alternatives, though, could astound you, and sorting through them to find the best one can seem like a bigger work than the mowing you had in mind. Read on to find out how reel mowers operate and what to think about before purchasing one. We have identified the top models for every price range, grass type, and landscaper to assist you in selecting the ideal reel mower for your yard.
On the Linquip website, among the many options available to you, you will find all the information you need to know about the Reel Movers, as well as information regarding this marketplace. You can count on Linquip to provide you with as much general and reliable information about this topic, whether you're a professional or a customer looking for a proper company. We recommend you review a list of all Reel Mowers available in Linquip.
We would be delighted to provide you with more information on how we can help you generate revenue within your industry. Don't hesitate to contact us if you have any questions! With Linquip's Solutions for Each Company Level, you will be able to upgrade the capabilities of your organization in order to gain a competitive edge by taking advantage of a wide range of options to enhance your organization's performance. If you are looking for the simplest or the most sophisticated marketing and advertising package for your business, we can help you ensure that your company gets as many customers as possible to grow your business.
How Does a Reel Mower Work?
Reel mowers are, first and foremost, purely mechanical, as opposed to their gas and electric counterparts, which depend on a source of power other than the user to work correctly. The reel mower's fundamental mechanics haven't altered much since Edwin Budding, who is also credited with creating the adjustable spanner wrench, originally invented it in England in 1830. Similar to reel mowers from the 19th century, modern reel mowers are propelled by a straightforward transfer of force at a few key locations. The user begins by holding and moving the handlebar forward to provide force. The exerted force then travels from the handle to the axel, turning the wheels as a result. A pair of meshing gears are caught and spun when the axle rotates. It is crucial that one of the meshing gears, known as the pinion gear, is smaller than the other because this causes the torque of the linked spinning blades to rise exponentially as rotational force is transferred from the axel via the bigger gear. The fixed cutter bar at the back of the mower chops the grass into clean pieces as it rotates, collecting it as it goes.
The Best Reel Mower in 2023
1. Great States 18-Inch 5-Blade Push Reel Lawn Mower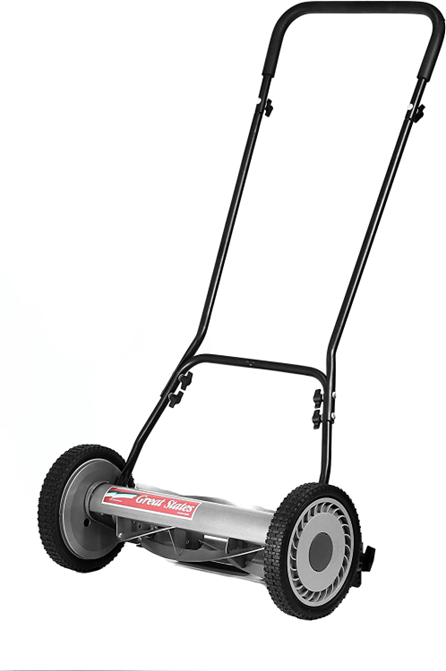 Specifications
| | |
| --- | --- |
| Brand | GREAT STATES |
| Power Source | Self-propelled |
| Material | Metal |
| Color | Gray |
| Style | Reel Only |
| Item Weight | 27 Pounds |
| Cutting Width | 18 Inches |
Product Description
The Great States 18-inch five-blade mower cuts a robust swath to save mowing times for those looking for a big swath on a reel mower. The simple design of this reel mower enables mowing height adjustments between 0.5 inch and 2.75 inches. It has back stability rollers and 10-inch composite wheels.
The handle has non-slip padding to help prevent blisters and to increase grip, and the blades are constructed of heat-treated alloy to keep their sharpness for a longer period of time. The mower weighs 27 pounds, and the loop-style handle folds down for simple storage.
This mower operated fast, quietly, and effortlessly in our backyard test. Except for the thickest grass, it was rather simple to push through, but was suddenly halted by twigs or other debris that was thicker than a pencil (as were the rest of these mowers). We loved how it felt like a typical gas mower thanks to the cushioned wide-loop handle. One wheel must be disassembled to have access to the blade drive mechanism in order to sharpen the blades, a process that the majority of users would need to perform once or twice a season. The procedure was not too difficult and was typical of these mowers.
2. Fiskars StaySharp Max Reel Mower, 18 Inch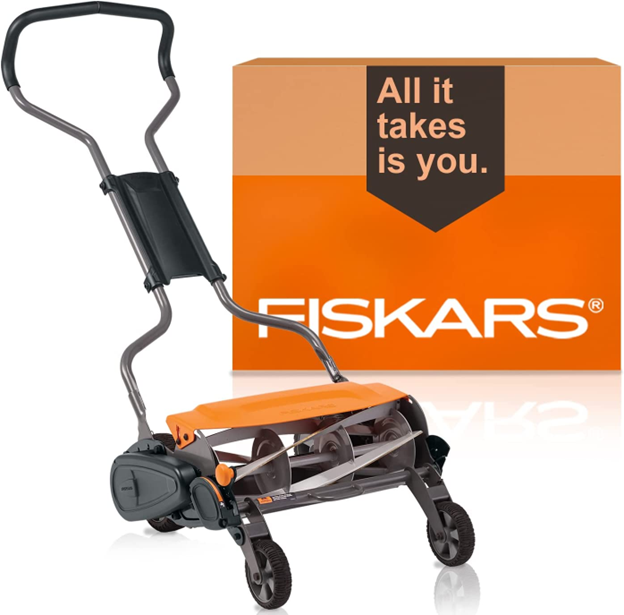 Specifications
| | |
| --- | --- |
| Brand | Fiskars |
| Power Source | Manual Push Mower |
| Material | Plastic |
| Color | Black |
| Style | StaySharp |
| Item Weight | 51.7 Pounds |
| Cutting Width | 18 Inches |
Product Description
With this Fiskars reel mower, the adage "You get what you paid for" is accurate. This model has two tiny front rollers to assist balance and steady the mower and premium StaySharp blades that require less resharpening. Additionally, it has InertiaDrive, a design element that enables the mower to cut through denser grass.
The Fiskars StaySharp Max mower, which cost about twice as much as the other models we evaluated, performed well enough to justify its price. Despite weighing a substantial 52 pounds, the construction is sturdy and functional. With the exception of the hardest terrain, the machine went relatively smoothly because of the ergonomic handle. The 8.5-inch drive wheels seemed a little small, but it was the only complaint we had. The mower can cut within an inch of the edge rather than 3.5 inches from the edge like other reel mowers because the wheels are positioned in a way that prevents them from flattening the grass before it is mowed. With one hand and a few seconds, the toolless lever height adjustment was completed. With this equipment, mowing was enjoyable, and the finished cut was smooth and even.
There is an adjustable chute so that the clippings may be directed to fall in front of or behind the mower, and the cutting height can be adjusted from 1 to 4 inches. With a broad 18-inch cutting width, the Fiskars mower is perfect for mowing small and medium-sized yards. You may buy a grass catcher separately as an optional accessory.
3. Great States 16-Inch 5-Blade Push Reel Lawn Mower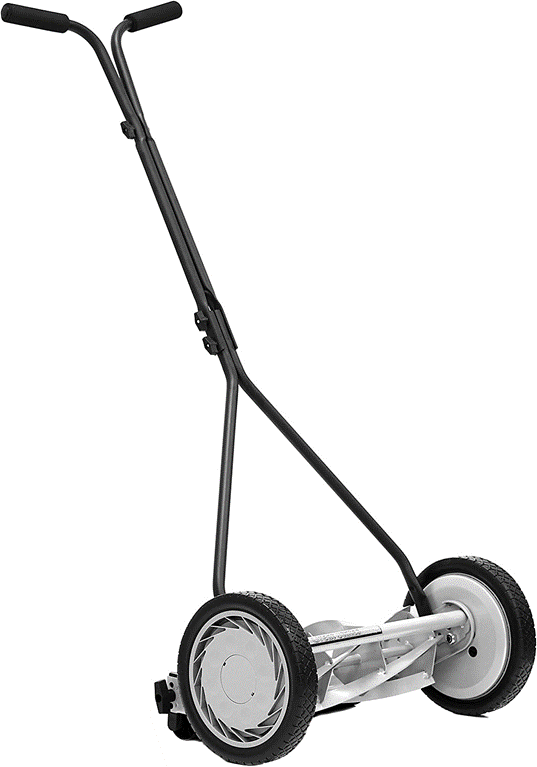 Specifications
| | |
| --- | --- |
| Brand | GREAT STATES |
| Material | Metal |
| Color | Silver |
| Style | Reel Only |
| Item Weight | 1 Kilograms |
| Cutting Width | 16 Inches |
Product Description
This five-blade reel mower is a good choice because of its low cost and simple mowing process. It has a cushioned T-handle that makes turning around corners simple and a smooth cutting action. The mower is pretty easy to push thanks to its 16-inch swath width, and it has back rollers for increased stability.
This reel mower is best for cutting short grass species like buffalo or zoysia since it has five heat-treated alloy blades that prevent dulling and adjustable blade height from 0.5 to 2.5 inches. It is also simple to move around, weighing less than 25 pounds.
This 16-inch mower is a nice "middle of the road" option, as it is both wide enough to do the job fast and narrow enough to maneuver through dense grass. It had a more "articulate" feel that was cozy and simple to control thanks to the T-style handlebar grips. While still cutting a wide swath, the 16-inch blade glided through dense grass slightly more easily than the 18-inch model.
4. Earthwise 16-Inch 7-Blade Push Reel Lawn Mower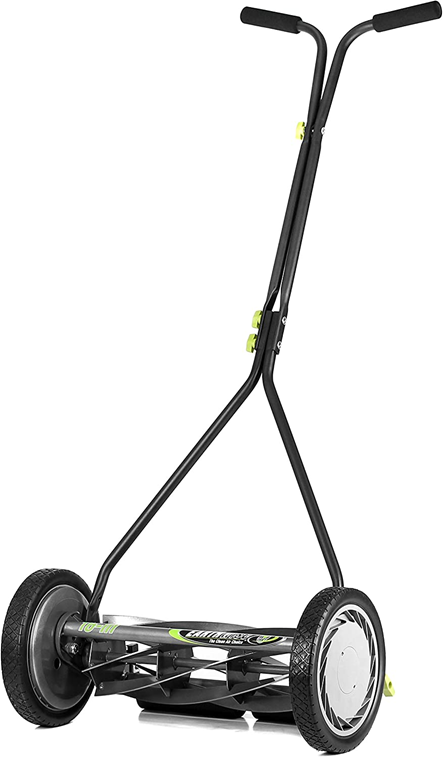 Specifications
| | |
| --- | --- |
| Brand | Earthwise |
| Power Source | Manual |
| Material | Metal |
| Color | Gray |
| Style | Lawn Mower, Grey |
| Item Weight | 21.83 Pounds |
| Cutting Width | 16 Inches |
Product Description
The Earthwise Reel Lawn Mower has seven blades, which is two more than the majority of reel mowers, giving it additional power to cut through thick grass. The steel alloy blades of the Earthwise mower are made to stay sharp for a longer period of time, and they can cut a 16-inch swath. St. Augustine, buffalo, and Bermuda grasses, among others, can be cut at a height that can be adjusted between 0.5 and 2.5 inches.
This reel mower, which weighs 26 pounds, has a T-handle that makes it simpler to navigate around the corners of buildings and trees. It also has nonslip padding in the handgrips that prevents hand strain and blisters.
This seven-blade mower provided the cleanest, most reliable cut during our tests. Even a patch of dormant centipede grass that was scalped with it left a uniform, smooth appearance. Unfortunately, the extra blades provided greater resistance, making it somewhat more difficult to push than versions with five blades. An excellent plan would be to routinely mow at 1 or 1.5 inches and give a little room to move higher if the grass gets ahead of you because it has height settings ranging from 0.5 to 2.5 inches.
5. Great States 14-Inch 5-Blade Push Reel Lawn Mower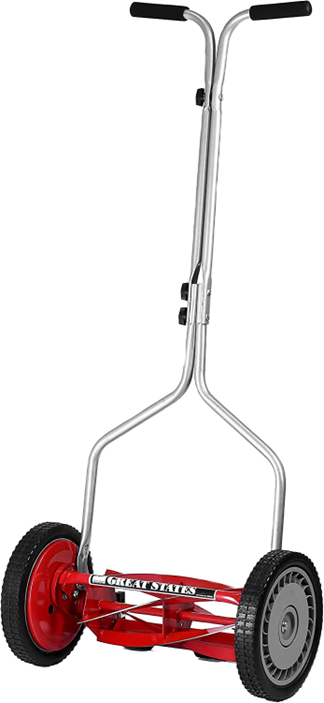 Specifications
| | |
| --- | --- |
| Brand | GREAT STATES |
| Power Source | Self-propelled |
| Material | Alloy Steel |
| Color | Red |
| Style | Reel Only |
| Item Weight | 18.96 Pounds |
| Cutting Width | 14 Inches |
Product Description
This compact mower is ideal for a smaller lawn and more delicate users because it just has a 14-inch swath width and a ball-bearing reel. This reel mower is thinner than others and is simple to steer around obstacles like trees and curves. It also has a back roller for increased stability. It has heat-treated alloy blades to help prevent dulling and a low, adjustable cutting height that can be adjusted from 0.5 to 1.75 inches, making it best suited for species of short grass.
This mower is simple to drive in confined places due to its 20-inch total body width, 8.5-inch rubber tires, and conventional handlebar with cushioned grips. It also requires less storage space. It is even light enough to hang on a wall hook at little under 20 pounds. In terms of height and blade settings, it is essentially a smaller version of our 16-inch Best Bang for the Buck selection. Unfortunately, this smaller variant doesn't include screw-knobs for height adjustment; it needs a wrench. However, when the flaws of walking a straight path, additional turning times, and overlapping edges are taken into account, the narrow body took almost twice as long to mow the same amount of space yet was even simpler to push through dense grass. This can be a nice option for trimming the grass around a townhouse or condominium.
6. American Lawn Mower Company 14-Inch 4-Blade Mower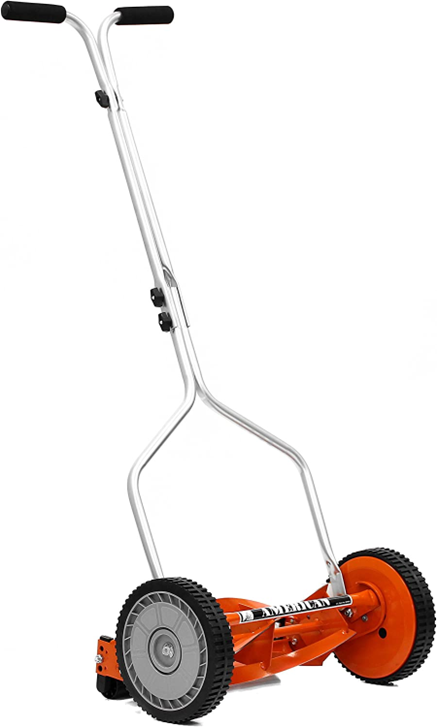 Specifications
| | |
| --- | --- |
| Brand | American Lawn Mower Company |
| Power Source | Self-propelled |
| Material | Alloy Steel, Polymer |
| Color | Red |
| Style | Mower |
| Item Weight | 20 Pounds |
| Cutting Width | 14 Inches |
Product Description
This 14-inch American Lawn Mower is the lightest reel mower in the collection, at only 20 pounds overall. It boasts four heat-treated steel alloy cutting blades to prevent dulling, 8.5-inch polymer wheels, and rear rollers to improve stability.
Because of its modest weight, this compact American Lawn Mower is easier for smaller individuals to use when cutting a small lawn. For comfortable mowing, it has a T-handle and padded non-slip grip. This compact, low-maintenance reel mower has a fold-down handle for storage and is light enough to hang in the garage if preferred. Cutting height may be changed between 0.5 and 2.75 inches.
This mower had the least resistance of all the mowers we tried, making it the easiest mower to push. It just had four 14-inch blades slashing against the bedknife. In dense or overgrown grass, however, fewer blades meant a less even finish. Overall, the ALMC 14-inch four-blade reel mower felt solid and durable and was simple to use, however some of the trickier sections required a second pass. Maintaining walkways in the vegetable garden or other secondary grassy areas is definitely a suitable use for it.
7. Greenworks RM1400 14-Inch Lawn Mower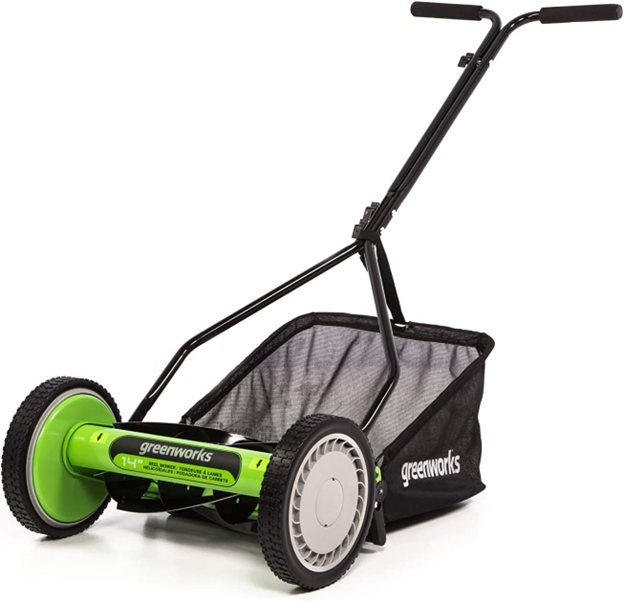 Specifications
| | |
| --- | --- |
| Brand | GreenWorks |
| Power Source | Manual |
| Material | Alloy Steel |
| Color | Green |
| Style | Manual Mower |
| Manual Mower | Manual |
| Cutting Width | 14 Inches |
Product Description
The grass clipping collection is simple with the Greenworks Reel Mower. The mower's 14-inch cutting width and 1.06 to 2-inch height adjustment make it suitable for the majority of low-growing lawn grass types. It has a T-handle that makes it simple to maneuver around tree trunks and cushioned non-slip grips for comfort. The handle can be conveniently stored by folding it.
The Greenworks mower has a convenient grass catcher that attaches to the back of the machine to collect grass clippings, and it has five heat-treated steel alloy blades on the mowing reel that are intended to keep their edge longer. The lawnmower is 24 pounds heavy.
Thanks to its lightweight frame, short wheelbase, and T-style handlebar, the Greenworks RM1400 proved to be straightforward to push and maneuver during our tests. Spring pins make it simple to change the mowing height, but the range of adjustment is only about an inch. Other reel mowers' sharpening procedures are comparable, with the bedknife mounting system being the only difference. Greenworks uses a single spring-loaded bolt at each end to maintain the correct angle, as opposed to the majority of manufacturers who use pairs of set screws on both ends to adjust and hold the angle. Only time and extensive use will tell whether the system is less durable despite appearing less complicated.
8. Greenworks 16-Inch Reel Lawn Mower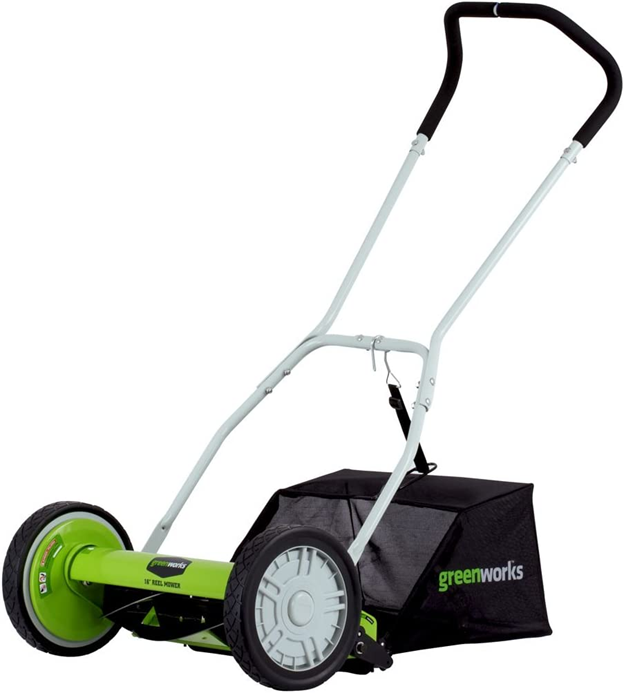 Specifications
| | |
| --- | --- |
| Brand | GreenWorks |
| Power Source | Manual |
| Material | Alloy Steel |
| Color | Green |
| Style | Manual Mower |
| Manual Mower | Manual |
| Cutting Width | 16 Inches |
Product Description
This 16-inch reel mower from Greenworks is worth taking a look at since it cuts a little wider swath than the other mowers in the series. Fewer passes are required to complete a cut because of the larger swath, and the 10-inch front wheels make pushing the mower simpler. This Greenworks model has two rear wheels for stability and a grass catcher that can be removed to gather clippings as needed.
This Greenworks reel mower features a cushioned ergonomic loop handle that folds to take up less space and an adjustable mow height of 1.125 to 2.25 inches. The lawnmower is 26 pounds heavy.
This Greenworks 16-inch reel mower, which is constructed on the same chassis as its 14-inch brother, has a broader variety of cutting heights and an ergonomic handle that is easy to use. In our experiments, the loop handle greatly improved the mower's usability and maneuverability, particularly as the grass catcher filled. The five-blade arrangement and swath size are the perfect combinations for cutting thick, dense grass without wearing out the user. Some design elements, like the light plastic rollers and the knife's two-bolt adjustment mechanism, seem less enduring. On a generally well-kept lawn, this one would be a suitable choice for routine usage.
Buying Guide of Reel Mower
Push mowers are available in a variety of power configurations, including manual reel mowers, rotary mowers, and gas or electric mower versions. Reel mowers have several cutting blades that are activated when pulled, whereas rotary mowers have a single blade that is propelled by gas or electricity and rotates at a greater pace. The many kinds of push lawn mowers and their applications are covered here.
Manual Lawnmowers
Reel lawn mowers have up to twelve blades that can capture and slice through long and occasionally damp grass. Reel mowers are lighter than other versions and quieter, so users don't need to wear ear protection when using them. They are also easier to manage.
The reel mower blades of these mowers only need to be sharpened occasionally due to their low maintenance requirements. They're a fantastic kind of workout too! Reel lawn mowers are also more cost-effective than most other lawn mowers, making them ideal for a compact lawn with few inclines.
Reel Mowers with Gas or Electric Power
Reel mowers are available in electric and gas-powered variants, but unlike other gas and electric mowers, they aren't as environmentally friendly as reel mowers that are propelled manually. When using a manual reel mower, a lawn must be maintained often since too thick grass may tangle in the blades, unlike when using an electric or gas mower.
Blades for Cutting Width and Reels
Reel mowers, in contrast to more conventional one-blade mowers, have up to seven blades with a maximum cutting width of 18 inches. More blades allow for handling thicker, higher grass and a more equal cut. For medium-sized lawns, seven-blade versions with an 18-inch cutting width are appropriate. If they are routinely maintained, most small to medium-sized lawns may be properly mowed by reel mowers with four or five blades and reduced cutting widths.
Incision Height
In more humid, warm locations where grass grows fast, reel versions with adjustable blade height features are a valuable tool to have. Typically, these values range from 0.5 to 4 inches.
Extras
For added comfort when cutting medium-sized lawns, certain reel lawn mower models include ergonomic, padded handles that are linked to grass collection containers. An InertiaDrive reel, which delivers a more exact cut and is particularly helpful for tall and thick grasses, is another feature to look for in a reel mower.
FAQs about Reel Mower
1. How Challenging Is It To Push A Reel Mower?
In thin, sparse grass, manual reel mowers are simple to push; nevertheless, it requires more energy to pull one through tall, dense, or coarse grass.
2. Can You Use A Reel Mower To Cut Damp Grass?
A manual reel mower can readily cut through damp grass, although it is not recommended to do so regularly. The clippings will cluster and appear unattractive, just as with other mowers. Wet grass clippings that adhere to the mower speed up rust production, prematurely dulling the blades.
3. How Frequently Should A Reel Mower Be Used?
To avoid removing more than one-third of the grass blade, mow as frequently as required. When the grass is growing quickly, this may entail mowing twice a week or more.
4. When Should My Reel Mower Be Sharpened?
On a reel mower, it's often a good idea to sharpen the blades after 20 to 25 hours of operation. Some users might only need to do this once a year, while others could need to sharpen blades twice or more in a single season.
Download PDF for The Best Reel Mower in 2023
You can download the PDF format of this post from the link provided here.
Buy Equipment or Ask for a Service
By using Linquip RFQ Service, you can expect to receive quotations from various suppliers across multiple industries and regions.
Click Here to Request a Quotation From Suppliers and Service Providers
Read More on Linquip