The Best Truck Bed Extenders in 2023 – Even though pickups are already quite adaptable, the addition of a truck bed extension allows you to store even more cargo and move it with ease. Those in the business world will appreciate having the ability to move commodities like timber without having to shell out extra cash to rent a larger truck or van.
An extendable bed makes it possible to transport smaller objects in a more secure and orderly manner without risking harm to the vehicle or the cargo. Furthermore, they can be utilized to carry longer or more cumbersome goods. You may mount them along the length of the truck bed or use them in conjunction with the vehicle's roof rack. While not as common, a cargo slide or partition is another option worth considering.
On the Linquip website, among the many options available to you, you will find all the information you need to know about the Canopy Tents, as well as information regarding this marketplace. You can count on Linquip to provide you with as much general and reliable information about this topic, whether you're a professional or a customer looking for a proper company. We recommend you review a list of all Truck Bed Extenders available in Linquip.
We would be delighted to provide you with more information on how we can help you generate revenue within your industry. Don't hesitate to contact us if you have any questions! With Linquip's Solutions for Each Company Level, you will be able to upgrade the capabilities of your organization in order to gain a competitive edge by taking advantage of a wide range of options to enhance your organization's performance. If you are looking for the simplest or the most sophisticated marketing and advertising package for your business, we can help you ensure that your company gets as many customers as possible to grow your business.
Why Do You Need a Truck Bed Extender?
A bed extender is one of the most useful accessories for a pickup truck, which allows the bed to be extended backwards and upwards by several feet. It's possible to transport long, heavy goods in the open bed of your vehicle with the help of bed extenders.
Gain More Space
There are many different kinds of truck bed extenders available, from the standard flip-out kind to those that attach to the hitch of your truck or even to those that install on the roof of your vehicle to provide more storage space. Most commonly, a cage-like structure is used to attach to the tailgate and take advantage of the extra horizontal space there. This extender's versatility lies in its ability to be easily folded out when necessary and stowed away in your truck bed at other times. When reversed in the other direction, it may be used to secure items in the rear of the truck and prevent them from shifting about.
Use a Long Truck Bed Extender That Attaches to Your Trailer Hitch
Some pickup drivers may just require a short bed extender to accommodate a few more tools or paint cans, while others may have to transport lengthy items that can only be carried by using an extender. Hitch mount truck bed extenders are ideal for those who often transport long objects like kayaks, PVC pipes, and long pieces of timber.
You may add an extra few feet to the reach of your trailer hitch by installing an extension like this into your truck's receiver. When elevated to the correct level, you may put very long boards in the back of your vehicle, and they'll be supported by the extension. Fasten the straps, and you'll be good to go. Before purchasing, check to see if the hitch mount extender's dimensions match those of the vehicle's receiver.
Take Advantage of Overhead Space
Many vehicle owners really only want a bit more storage room. Others, however, require the use of a rack in order to maintain their truck bed open for the storage of more supplies and equipment. A truck rack is their solution.
Mounted on the side rails of the truck bed, these racks provide extra overhead storage. Some go beyond the height of the cab, allowing the pickup to be used to transport items that are as long as the vehicle. Make sure the truck racks you're contemplating can handle the weight of the cargo you want to transport there by looking up the manufacturer's specifications online. The rack's weight is also significant since it will be more challenging to set up and take down a hefty rack.
How to Install a Bed Extender?
To attach a bed extender to a truck, you'll either need a special bracket or a hitch attachment. For common U-shaped extenders, the tailgate can be secured with the use of clips and straps that attach to the inside of the tailgate.
The Best Truck Bed Extenders in 2023
1. Darby Industries Truck Bed Extender
Specifications
| | |
| --- | --- |
| Color | Red, Black |
| Brand | Darby |
| Item Dimensions LxWxH | 53 x 15 x 2.5 inches |
| Style | Extender |
| Vehicle Service Type | Truck |
| Item Weight | 25 Pounds |
Product Description
A truck bed extension is a crucial accessory for any vehicle owner who often transports bulky things. Jumping on the Darby train is a certain way to ensure you wind up with one of the best extenders available. The Darby Industries 944 Extend-A-Truck lives up to the company's established reputation for producing high-quality, practical, and long-lasting goods. It is one of the most effective truck bed extenders and can be used to safely fasten cargo to the roof or the back of the truck.
This is a great product for business owners who frequently move basic cargo products or farm produce. It may be raised to facilitate rooftop transport, expanding its usefulness. A 4-inch-wide brace is also included to prevent the load from shifting. A red flag is supplied with the truck bed extension to increase visibility and assure road safety, as well as pins and clips to keep it in place (a rock, however, would need to be purchased separately).
2. Lund Truck Bed Extender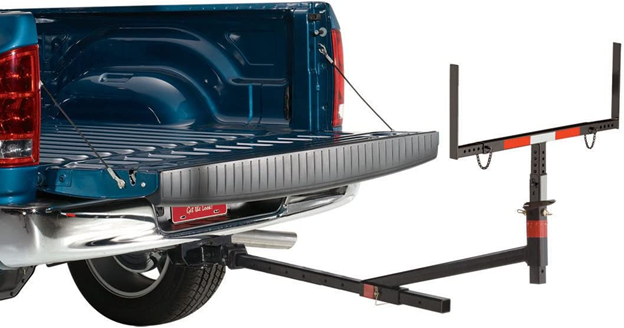 Specifications
| | |
| --- | --- |
| Brand | Lund |
| Item Weight | 46.2 Pounds |
| Vehicle Service Type | Trucks |
| Finish Type | Powder Coated |
Product Description
There's no denying the practicality of trucks for hauling goods. Because of their high payload capacity, they are frequently used by construction crews, manufacturing employees, and similar professions. For transporting long objects like boards, long pipes, and lumber, consider the Lund 601021 Hitch-Mounted Truck Bed Extender. The Lund extender will do the trick if you operate with weights of varying lengths. In addition to the standard 5-inch ground clearance, this vehicle has an additional 7 inches, ensuring that your goods are always safely elevated. No matter what you're hauling, the bed of the truck will keep it well above the ground and out of harm's way.
It can accommodate loads of up to 750 pounds and features a collapsible side support that keeps everything in place. For this reason, it is highly recommended for anybody who owns a kayak or canoe and for anyone who frequently visits or lives near the shore. Such load extenders make it easy to transport heavy objects. The width of the wings on the sides may be altered from 27 to 49 inches. This makes it simple to transport loads that are both longer and wider, ensuring that they remain stable while being transported on the truck. That this extension is compatible with the universally-used 2 hitch receiver hitch standard is a big benefit. This bed extension for kayaks has been tested and approved by the DOT for your safety.
3. ECOTRIC Pick Up Truck Bed Extender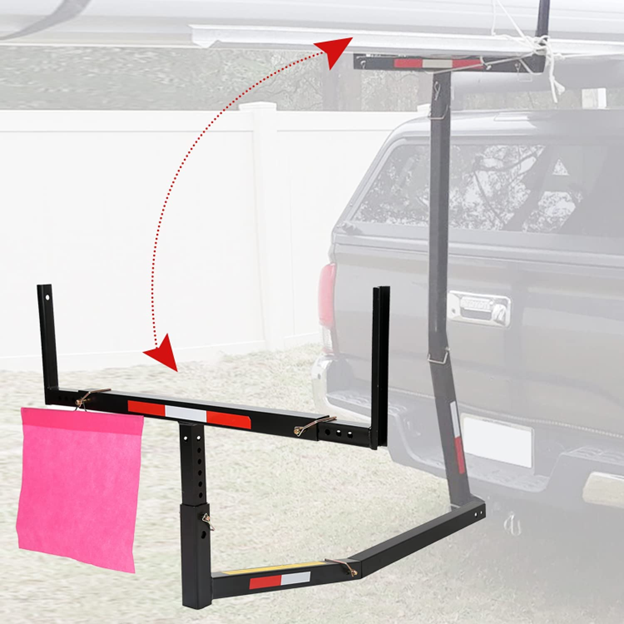 Specifications
| | |
| --- | --- |
| Vehicle Service Type | SUV, Truck |
| Material | Alloy Steel |
| Brand | ECOTRIC |
| Folding | No |
Product Description
Owning a vehicle allows you to store a lot of stuff. One of the reasons it's so popular is because it can tow a lot of weight and accommodate a lot of passengers. In order to transport larger items like furniture, equipment, and more, the ECOTRIC Pick Up Truck Bed Hitch Extender is a useful accessory. It's perfect for carrying loads too large for the car's already spacious trunk. There's no need to worry about the size or weight of your stuff since it can handle up to 750 pounds of weight.
This ECOTRIC bed lift is helpful not just because of the extra height it provides but also because of the additional advantages it offers. In addition to supporting additional weight, it also has projectors for securing higher objects. A hitch extender is available, and it may be used with any truck that has a hitch receiver measuring 2 inches on a side; for hitch receivers measuring 1.25 inches, an adapter is available. Because of its adaptability, the breadth may be set anywhere between around 28.25 inches and 48.75 inches, allowing it to carry a wider variety of weights. It can hold goods with a height of up to 10 inches, and it comes with an adjustable extension that can be lengthened by anywhere from 4 inches. All things considered, this truck bed extension is a strong contender when it comes to towing heavy goods of varying sizes. After everything is said and done, this is a fantastic offer for anyone planning to transport bulky, long, or both.
4. Ford Bed Extender Super Duty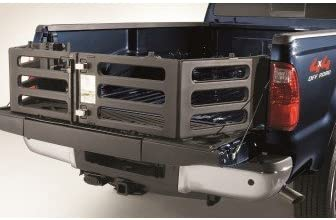 Specifications
| | |
| --- | --- |
| Brand | Ford |
| Model | HC3Z99286A40A |
Product Description
The Ford Super Duty HC3Z99286A40A Bed Extender is an excellent option if you're shopping for a pickup bed extender. It's a win-win, because this bed liner also prevents your cargo from rolling around in the open space. It fits snugly on the Tailgate and adds 18 inches of storage room. Aside from being one of the top truck bed extenders because to its outstanding classic style, its basic U-shaped construction also makes it easy to transport huge cargo.
The lightweight, brushed fiberglass cage provides security and is simple to transport. However, this in no way diminishes its tough and hard build. The sleek, stylish style is also a perk that many people will love. The bed extender's striking black color makes it a universal accessory for pickup trucks.
5. Dodge Ram Tailgate Bed Extender by Mopar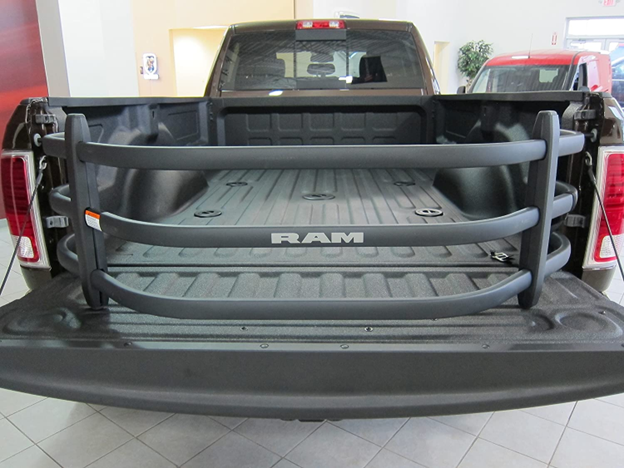 Specifications
| | |
| --- | --- |
| Color | Black |
| Brand | Mopar |
| Material | Aluminum, Plastic |
| Exterior | Aluminum |
| Item Dimensions LxWxH | 50 x 7 x 16 inches |
| Style | Modern |
| Vehicle Service Type | Truck |
Product Description
One of the most efficient methods to transport many large objects at once or in a shorter amount of time is to use a truck bed extender. Mopar's Dodge Ram Tailgate Bed Extender provides more room for storing groceries, furniture, or other stuff. Black metal, which is both sturdy and lightweight, is used in its construction. This facilitates handling, detachment, and installation. This bed extension is built to last and won't rust, thanks to its high-quality, heavy-duty design.
The truck bed extender is practical since it may be set up in or out of the truck's trunk after being attached to the truck's interior borders. Such adaptability is also useful in terms of storage; it can be stowed away with ease in the trunk when it is not in use. The hassle of detaching and reattaching is eliminated. It's also possible to secure cargo in the trunk by flipping the bed extension inside out. The V form guarantees a lot of storage space for a variety of products. This tailgate extension is perfect for those who regularly transport motorbikes, ATVs, or other bulky freight goods.
6. AMP Research Max Truck Bed Extender
Specifications
| | |
| --- | --- |
| Color | Black |
| Brand | AMP Research |
| Material | Aluminum |
| Exterior | Aluminum |
| Item Dimensions LxWxH | 36.5 x 19.5 x 17 inches |
| Style | Bedstep |
| Vehicle Service Type | Truck |
Product Description
Classical design is also included in the AMP Research Black HD Max Bed Extender. The U-shaped layout allows for maximum storage space. The bed extension requires the tailgate to be opened and flipped out of the way so it can sit properly on it; doing so will provide for an enclosed and covered cargo space of up to 2 feet in length. The enclosed, minimalist design of this bed extension makes it ideal for transporting valuables safely in the trunk. When the trunk is full, it may be rotated the opposite way to prevent anything from falling out. Being very lightweight, the bed extension may be lifted and flipped quickly to accommodate varying needs. This function helps to keep things from shifting about in the trunk unnecessarily.
The round-rectangular aluminum alloy tubes with powder coating add toughness to the clam-shell shape. These sturdy, protective tubes are not only resistant to twisting but also perform a great job of keeping things of any size from falling out. This bed extension is not only simple to set up, but it also does not necessitate any drilling to fit into your vehicle. Whether you put it inside or outside, the clips will secure it to the truck's inside border. It's a handy detachable component that increases the item's adaptability. In sum, if you're shopping for a bed extender, this one is your best bet because of its sleek appearance, a wide range of compatibility, and simple operation.
7. Genuine Ford Bed Extender
Specifications
| | |
| --- | --- |
| Brand | Ford |
| Item Dimensions LxWxH | 5 x 5 x 5 inches |
| Style | Modern |
| Vehicle Service Type | Truck |
| Item Weight | 2 Pounds |
Product Description
With this next bed extension, you may drop the tailgate and get an extra 2 feet of room, making it much easier to load and move bulky objects. The Original Equipment Manufacturer (OEM) Ford FL3Z-99286A40-C Bed Extender is constructed from powder-coated steel and is designed to accommodate large and heavy loads. When the tailgate is up, it prevents groceries or camping goods from rolling out of the trunk. Until you get where you're going, they'll be safely confined. The product's adherence to DOT safety standards is also noteworthy; the taillights will remain illuminated when the tailgate is lowered, ensuring that your turn signals will be clearly visible at all times. These kinds of additions are crucial for enhancing road safety and decreasing the likelihood of accidents.
Keep in mind that when the tailgate is up and secured, the bed extension cannot be removed. This was done on purpose and served as an effective safeguard against theft. Taken as a whole, this is a fantastic option.
8. AMP Research Sport Truck Bed Extender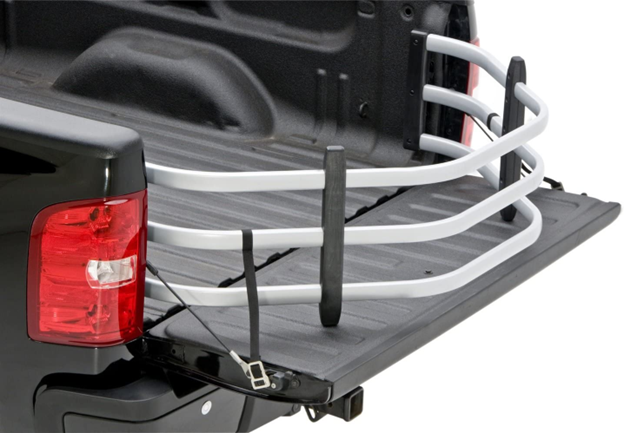 Specifications
| | |
| --- | --- |
| Brand | AMP Research |
| Exterior | Painted |
| Material | Metal |
| Lock Type | Tailgate |
Product Description
All you need is a fantastic truck bed extension for all that extra stuff in the back. The AMP Research Black BedXTender may seem like something out of a fairy tale, but now, you may experience your "happily ever after." The V-shape and shell design of this truck bed extension are just two of the many reasons why it is so great. By simply flipping it out while the tailgate is open, users obtain an additional two feet of storage space. The truck bed is also a convenient place to store tools and other goods when the bed is flipped inside out and the tailgate is closed.
A rounded rectangle and 6063T6 aluminum alloy tubes with a durable coating make up the torque-resistant clamshell design. The cherry on top is that it's a breeze to set up, take apart, and clean up afterward using this equipment. It's easy to set up and get running in no time at all.
9. ReadyRamp Bed Extender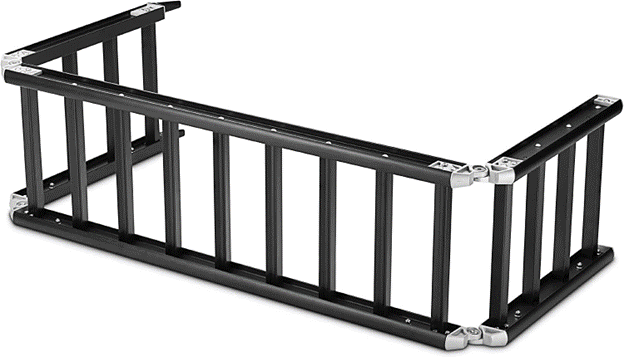 Specifications
| | |
| --- | --- |
| Brand | ReadyRamp |
| Color | Black |
| Item Weight | 21 Pounds |
| Folding | No |
Product Description
For more than a decade, the ReadyRamp I-Beam Full Sized Bed Extender/Ramp has been a staple of the motorcycle market. In terms of motorcycle ramps, the rectangular bed extender is among the top choices. This unique innovation is the first and only bed extension that doubles as a motorbike ramp. When the trunk is already full, you may store your bike there and use the additional room for other common stuff. You may store valuables like gas cans and first aid kits and repair equipment securely in the bed extension.
It's also worth noting that the height of the hinges makes it less likely that the surface will be marred by weather or scratches, ensuring that the product retains its attractive appearance over time. The ramp's lip has also been rubberized to prevent wear and tear from frequent use. There are two sizes and two colors available, so this ramp can accommodate a wide range of vehicles. Both the silver and black options are sleek and modern, making them great selections for your truck's storage compartment. The Nissan Titan, Ford F-150, Toyota Tundra, and Chevrolet Full-Size Pickup are just some of the vehicles that might benefit from this design's adaptability.
Truck Bed Extenders Buying Guide
Several options exist for making the most of the pickup's load space. Having an idea of what's out there and what to watch out for will help you select the ideal option for your needs before you spend money on one of these useful products that may increase your truck's storage capacity.
Alternate Designs for Truck Bed Extenders
U-Shaped Bed Extender: U-shaped and hitch-mounted truck bed extenders are the most common.
For maximum convenience, consider a U-shaped bed extension. These are usually lightweight and constructed of metal or plastic. The dimensions of a vehicle allow for this sort of extension to be used while still keeping cargo safe. For even more space, it may extend out onto the tailgate. This type of bag is popular since it is convenient for transporting little objects.
Hitch-Mount Extender: A hitch-mount extender may be oriented horizontally or vertically, allowing it to fit a larger range of automobiles. For securing longer things, it attaches to a hitch receiver and features supporting arms. One distinguishing feature of several of these designs is their capacity to transport cargo weighing up to 750 pounds.
Advantages of Truck Bed Extenders
A truck bed extender allows for the transfer of greater goods without the need to invest in a second vehicle. Over time, this may save money and effort. One further reason to buy a truck bed extension is this.
There's a need for more room because it's common practice in many professions to transport objects that are lengthy and/or heavy. Having a truck bed extension gives more room to a vehicle without sacrificing space. Consumers can cut expenditures in other areas, such as transportation, by purchasing this product.

Truck bed extenders are available for a wide range of trucks, vans, SUVs, and other vehicles, thus they're universally compatible. When used in conjunction with a hitch receiver and roof rack, they provide a secure and reliable means of transporting heavy loads. They can be set up in seconds, taken down just as fast, and even passed around the office amongst coworkers.

Prices for truck bed extenders typically fall between $70 to $400. Whatever your requirements or budget, we have you covered. Customers may spend as little as $10 or as much as $40 on extenders that are both strong and lightweight despite being built from high-quality materials, allowing them to carry both heavy and lengthy items. There are both well-known and lesser-known brands with a variety of items included on this list.
FAQs about Truck Bed Extenders
1. Should I Spend The Money On A Truck Bed Extender?
The cost of a truck bed extender that is tailored to your specific demands is justified if you require to transport an oversized load. If you compare the price to the alternative of making many trips or renting a more expensive truck or trailer, it's clear that it's worth it.
2. What Does The Cost Of A Bed Extender Become?
A standard truck bed extension may provide you an extra 2 feet of storage space, which is roughly the height of your tailgate. If you need to transport an item that is too lengthy to fit in your truck bed, you may use a hitch-mounted extender to get a lot more room than that. With a hitch extender, a full-size pickup is capable of securely towing boards up to 16 feet in length.
3. So, You're Looking For A Truck Bed Extender, But You Don't Know What To Look For?
Everything hinges on the type of freight you anticipate carrying most often. A hitch-mounted extender is a way to go if you need to haul lengthy items like pipes, timber, or other equipment. An overhead rack is a good option if you need to transport lengthy goods but also need to keep your sleeping space uncluttered. Traditional flip-out truck bed extenders are usually the best option if you only need a few more feet of bed area.
Download PDF for The Best Truck Bed Extenders in 2023
You can download the PDF format of this post from the link provided here.
Buy Equipment or Ask for a Service
By using Linquip RFQ Service, you can expect to receive quotations from various suppliers across multiple industries and regions.
Click Here to Request a Quotation From Suppliers and Service Providers
Read More on Linquip