Warehouse Racking
Making the most of your available space is paramount in having an efficient warehouse and increasing your performance. At Linquip we work with the best manufacturers, supplier, and service providers to make your warehouse up and running in the fastest time possible. You'll work with people who have proven track records and both the ability and training to assist you in making the right choices when it comes to your storage needs. Our network of dealer and supplier network covers all your storage needs and we assure a one-stop-shop for any product or equipment needed at the lowest prices available.
Need industrial equipment, parts, or services? Submit an RFQ and get quick quotes.
Get a Quote
Need industrial equipment, parts, or services? Submit an RFQ and get quick quotes.
Get a Quote
Warehouse Racking Subcategories
Top Companies in Warehouse Racking
+10 Companies in Warehouse Racking
0
Top Devices in Warehouse Racking
Related RFQs
Specialty Rack category
LNQ-23021162
Specialty Rack
Quantity: 4
Beirut, Lebanon
View Details
Over-Dock Pallet Storage Racks category
LNQ-22121131
Over-Dock Pallet Storage Racks
Quantity: 3
Virginia, United States
View Details
Case Flow Rack
LNQ-22021001
Case Flow Rack Case Flow Rack
Flow Racking
Quantity: 2
United States
View Details
See All
Generate leads, provide quotes and capture new businesses
Get Started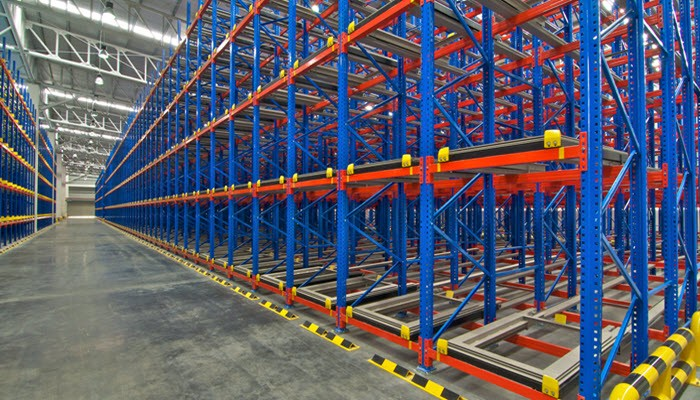 A Warehouse Racking System (Reference: medium.com)
What is Warehouse Racking System?
Warehouse racking is an important aspect of warehouse infrastructure that may either slow or speed up warehouse operations. With efficient warehouse racking, warehouse managers utilize space and optimize warehouse organization for productivity and a faster picking process. Aisle width, docking locations, shipment spaces, and other warehouse components all impact warehouse racking possibilities, therefore warehouse planning is important.
Benefits of a Racking System
Aside from boosting storage space, warehouse racking has a number of additional advantages. These advantages can be measured in terms of financial value or savings resulting from the leasing of additional storage space, reduced manpower effort, and increased throughput. Compliance with safety regulations and quality management, on the other hand, are additional value-adding characteristics that do not automatically convert to cost reductions. The advantages of a warehouse racking system are listed below.
Effective storage space utilization: As previously stated, racking takes advantage of the otherwise unused vertical space. Warehouses designed to hold racks have high ceilings to accommodate racks with many bays.
Easy inventory organization: In comparison to hoarding, racking allows for easier inventory management. Stockpiling makes it very hard to store items with many different types without taking up a lot of floor area. Selective racking is a sort of racking system that allows different types of items to be stored while consuming the least amount of space possible.
Fewer damaged items: Racking systems are designed to keep goods contained while minimizing damage. Palletized loads are not stacked on top of one another, reducing touch. There's also no need to shift commodities around to provide people access to hidden products in a stockpile. Damage is reduced when there is less touch.
Increased staff productivity: The vacant pallet location in a racking system may be readily found and accessible. This enables the removal of little inconsequential fluctuations that add up to big losses over time.
Storage automation: The first stage in warehouse automation is to adapt a racking system. This is accomplished through the use of guided forklifts and cranes, as well as smart conveyor systems. This may save money on staff and expedite the business process, which is especially beneficial for big distribution centers.
Increased safety: Racking systems are safe as long as they are correctly built. Structural steel and other high-quality materials can be used to make beams and columns. The steel frame, which is lacking in regular storage systems, acts as the backbone for sustaining stacked products. Furthermore, safety devices such as motion or proximity sensors and sirens can be installed on racks for further protection during loading and unloading.
Clean and contaminant-free handling: With easier access, cleaning items and storage places is a breeze. It is possible to accomplish better segregation in order to separate commodities that may decay or damage nearby objects.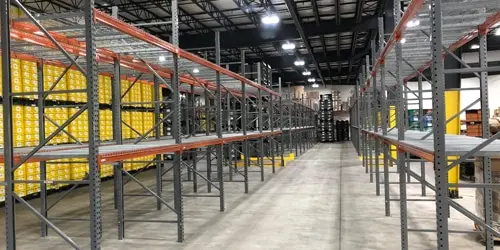 Racking Systems have numerous benefits for a warehouse (Reference: srs-i.com)
Warehouse Racking Types
Warehouse racking systems, often known as pallet racks or materials handling systems, come in a variety of shapes and sizes. Pallets, or skids, made of wood, metal, or plastic, are integrated with bigger racking systems made up of shelves at various heights. Decking bases come in a variety of lengths to support goods stored on storage racks. Warehouse racking is sometimes many feet high, necessitating the use of forklifts to load it. Examples of warehouse racking system layouts are selective racks, push-back racks, drive-in or drive-through racks, and flow racks.
Selective Racks: Selective racks are the most often utilized pallet system since they provide access from an aisle. Narrow aisle racking, conventional systems, and deep-reach systems are all possible with these warehouse racking systems. Selective racks need the use of small lift trucks and can only hold one pallet in depth.
Racks for Drive-Ins and Drive-Throughs: Drive-in and drive-through racks are perfect for high-density storage. These warehouse racking systems, which are usually made of steel, contain enough room for a forklift to maneuver into its bay. Drive-in racks only have one entry and exit, whereas drive-through racks provide access from both sides of the bay. As a result, drive-in racks are well-suited to the last-in, first-out (LIFO) method, which is typically utilized for nonperishable or low-turnover items. A drive-through system, on the other hand, necessitates a first-in, first-out (FIFO) procedure. Drive-in and drive-through racks can be built from the ground up.
Push Back Racking Systems: Push back racking systems are often used for bulk storage and store items that span 2-5 pallets. When a pallet is placed onto the system, the following pallet is pushed back, and when a pallet is removed, it is pushed forward. The LIFO method is used in push-back racking systems, which commonly include inclined rails, sliding carts, and multiple lanes.
Flow Racks: Flow racks, also known as gravity racks, are used for high-density storage. Using a FIFO method, products are loaded at the higher end and withdrawn at the lower end of this sort of warehouse racking system. As the racks flow with loading and unloading, product rotation becomes automated. Flow racks have gravity rollers that move with the rack load and are equipped with brakes or speed controls to control item movement. Flow racks have the benefit of not requiring electricity to operate since they are powered by gravity.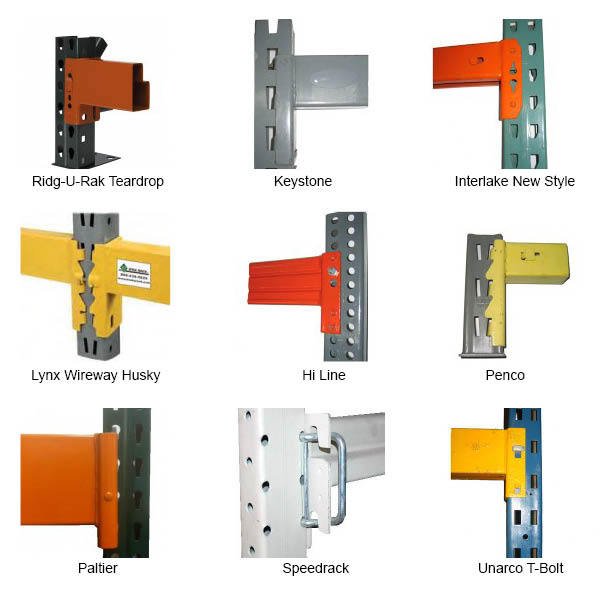 Warehouse Racking Types (Reference: orozcosracks.com)
Factors to Consider When Selecting the Right Racking System
Every warehouse has its own set of standards. An ideal racking system should maximize space utilization while minimizing disruptions to your activities, including picking.
If you are determining which racking system is best for your warehouse, you should consider the following factors:
Budget: The expected cost per pallet is referred to as the budget. Consider this when ensuring that the racking system meets all of your requirements.
Floor Utilization: A racking system's ability to maximize warehouse floor space.
Storage Utilization: The amount of space in the racking system that you can use. The amount you'll require is determined by the volume, size, and weight of your shipment.
Accessibility for Forklifts: Accessibility for Forklifts is defined as the ability to accommodate forklifts that transport large freight. This considers the amount of aisle width that forklifts need to maneuver.
Versatility: Versatility refers to a racking system's capacity to store a larger variety of items.
Inventory Management: The warehouse's needed order for inventory retrieval.

Linquip offers numerous Warehouse Racking Service Providers that can help you install a proper system for your inventory.