Solar Generators
A Solar generator is an electrical device that generates power using solar energy. It typically includes solar panels, a charge controller, a battery bank, and an inverter. The solar panels convert sunlight into direct current (DC) electricity, which is stored in the batteries and then converted into alternating current (AC) by the inverter, allowing it to be used to power electrical devices and appliances. Solar generators are portable and can provide power off-grid or in emergency situations. At Linquip you can find the list of solar generator manufacturers, suppliers, and service providers which helps you to find the best solution for your needs.
Need industrial equipment, parts, or services? Submit an RFQ and get quick quotes.
Get a Quote
Need industrial equipment, parts, or services? Submit an RFQ and get quick quotes.
Get a Quote
Top Companies in Solar Generators
0
Top Devices in Solar Generators
Related RFQs
Solar Generator
LNQ-22121110
Solar Generator MS-422
Solar Generators
Quantity: 1
Minnesota, United States
View Details
See All
Generate leads, provide quotes and capture new businesses
Get Started
Top Solar Generators Experts
The Complete Guide to Solar Generators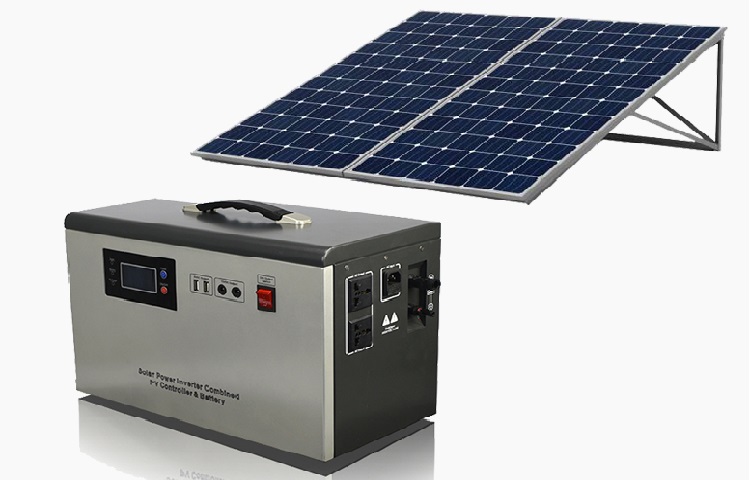 What is a Solar Generator?
A solar generator is an instrument—commonly working alongside solar panels—that provides indispensable automatic backup energy to your house when you require it the most, like during energy outages. Solar generators are also portable but don't contain moving parts. They are basically constructed of solar panels, an inverter, a solar panel battery, and a battery charger. The solar panel section on a solar generator captures power from the sun and saves that energy in a battery located inside the generator. The inverter then takes that power and transforms it from DC power to AC type before releasing it. You can utilize the energy to power various household devices once released and/or electronic instruments when they require them most, such as during a power cut.
A solar generator integrates a charge controller, battery pack, and an inverter into a usable device to turn solar energy into an electrical output. Each part is designed to match the electricity rating of the system that is receiving energy. Normal voltage ratings for solar energy generators are 48, 24, and 12 volts.
Lithium-ion batteries are the most typically employed batteries since the affordability and their long life-span. Lead-acid batteries are also typically utilized. The battery operates as an intermittent power source that can be stored for later applications.
The charge controller is responsible for regulating the electrical output to protect against electrical damage. This guarantees that there is not too much current saved in the batteries. A battery rating determines how much current the system can tolerate.
Most electrical instruments utilize AC, and therefore the inverter is employed to transform direct current into alternating current. Devices that employ DC do not need the inverter. The inverter provides the generator voltage rating to the appliance voltage rating of 220 or 110 volts.
How long does a solar energy generator last? Based on what you mean by the expression "last." If you're discussing the overall lifecycle of a solar energy generator, remember that the method is still quite new, so there really is no certain answer to that question. But the usual current consensus in the solar systems is anywhere from 30-40 years.
If, however, you're discussing the "last" term in the case of how long a solar generator will last across the day, our answer is obvious: a solar generator will last you as long as either until all the power is drained from the internal battery or the sun is out. Suppose you place your solar generator out in the sun all day and permit the energy to store in the battery. In that case, your device could last you anywhere from 1-10 hours, according to the size of your solar energy generator, the number of appliances/devices you're attempting to energize, and whether or not you're constantly running the solar generator. We understand that's like a vague answer, but the next answer may help clear that up a bit.
How much power will a solar generator create? Like what explained before, it is really based on the quality and size of the solar energy generator you're employing, the number of devices/appliances you prefer to power, the amount of time you'll be energizing them, and the amount of power saved in the internal battery at the time of usage.
What is Best Solar Generators for House?
Portable solar generators are green methods to energize devices during off-grid excursions or electrical outages. The best ones change in power, size, and battery storage capacity, so see this guide to find one fit for your requirements. Below are the examples of the best solar generators for your house. Read on for our fast, portable solar energy generator buying guide to help you choose which portable energy station is most desirable for you.
There are various solar generators on the market. We've compiled a list of the 3 best solar generators for the house to help you find the appropriate one for your individual application.
● Goal Zero Yeti 1400 Lithium with 200 watts of solar and MPPT charge controller
● Point Zero Energy's Titan 500 Kit
● Point Zero Energy's Titan 1500 kit
What is Best Solar Generators for Camping?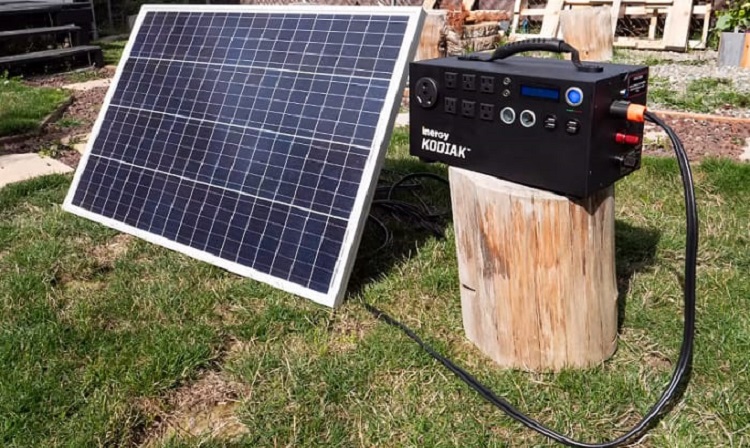 Investing in the best solar energy station ensures you have backup energy when traveling while storing money and time. We've reviewed solar-operated energy stations that have beneficial components and innovative properties. They all have high potentials to harness the energy of the sun to provide clean energy. This brief guide will help you choose the best solar generator to present sustainable power for camping. This guide provides comprehensive reviews of the five top-rated portable solar generators on the market. Now, all there's left for you to do is go through this post and choose the best solar generator for camping.
Best Solar Generator Totally: MAXOAK BLUETTI EB150 Portable Power Station
Best Initial Operation: Goal Zero Yeti 400 Battery Powered Generator
Most Lightweight Solar Generator: ALTIZURE 100W Portable Power Station
Most Suitable for High-Powered Instruments: Peppermint Energy Forty2 Pro+ All-In-One Portable Solar Power Generator
Most Appropriate for Small Devices: Audew MP500 Portable Power Station
What is Best Solar Generators for RV?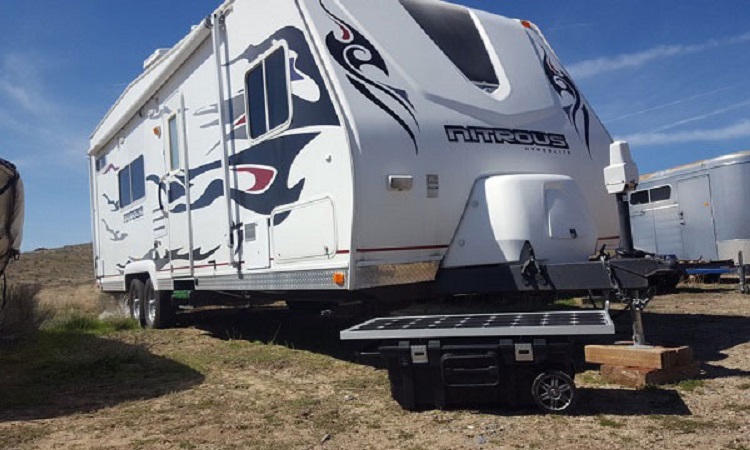 Solar generators are commonly best utilized as a backup energy source to operate or charge instruments like your lights and electronic equipment. Below are the examples of the best solar generators for RV.
The Yeti Goal Zero 500x is a 505-watt-hour portable solar generator. This little power bank has a USB-C port, two USB-A ports, a 12v port, and two 120v regular plug-in outputs.
Next up, we have the Jackery Explorer 500 with 518watt-hour of energy. The system is a close runner-up to the Yeti Goal Zero and is more beloved by campers everywhere.
BALDR Portable Power Station 330W
The BALDR portable solar generator has 297 watt-hours of capacity and is suitable for charging small items. It has a smaller potential than the first two on this list, but it's still a great back-up energy source.
WATTFUN Portable Solar Generator
The Wattfun solar energy generator is a 500-watt-hour energy pack at a very competitive cost.
AIMTOM Portable Power Station
The AIMTOM Portable solar generator is among the smaller portable energy packs while has a lot of functionality.