Fire-Tube Boiler
Need industrial equipment, parts, or services? Submit an RFQ and get quick quotes.
Get a Quote
Need industrial equipment, parts, or services? Submit an RFQ and get quick quotes.
Get a Quote
Top Companies in Fire-Tube Boiler
0
Top Devices in Fire-Tube Boiler
0
Generate leads, provide quotes and capture new businesses
Get Started
Top Fire-Tube Boiler Experts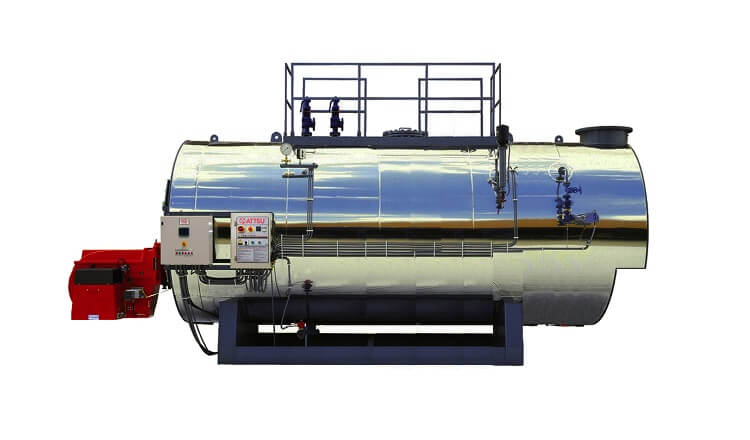 What is Fire Tube Boiler?
A Fire-Tube Boiler is a sort of boiler in which burning gases from a fire source move within one or more tubes going through a sealed vessel of a working fluid, which most of the time is water. The heat of the gases is carried through the tubes' walls mainly by thermal conduction, resulting in the heating of the water and eventually producing steam.
These types of boilers are one of the most basic and old-designed boilers. These boilers were very famous in the 18th century and especially were employed for train engines. The central features of fire tube boilers incorporate a plain design, straightforward to operate as well as the cheap cost. These boilers are incredibly adaptable in providing the average to low degrees of force with the capacity and skilled to be arranged in various designs.
These boilers may be operated at high-pressure or low-pressure conditions. The determination of these boilers can always be done with their outside diameter. Commonly, these boilers are designed for pressures up toward the highest of 250 psi and about 750 horsepower.
Their preference over boilers with a single large flue is that the multiple small tubes offer a far higher heating surface area for the same overall boiler capacity. The general construction is the same as a water tank inserted by pipes that carry the hot flue gases from the fire source. The tank is ordinarily cylindrical as it is the most robust, efficient shape for a pressurized container. This cylindrical tank may be either vertical or horizontal.
What is Water Tube Boilers and Fire Tube Boilers Difference?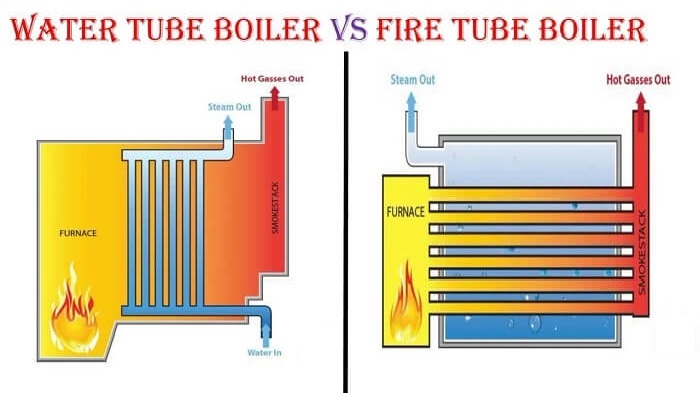 There are several factors that should be taken into account when managing to choose the best boiler for a specific steam generation requirement of an application, such as operating pressure, steam flow output, general application specifications, demand fluctuation, and total cost of ownership.
Two principal boiler types, the firetube boiler, and the water tube boiler, are basically opposed in design. The firetube boiler moves combustion gas inside a series of tubes enclosed by water in a vessel to create steam. In contrast, a water tube instead transfers water through a series of pipes surrounded by combustion gas utilized to transfer heat energy and create steam.
At what follows, some differences of mentioned types are summarized:
In a fire tube boiler, hot flue gases pass inside the tube, and the water moves in the shell side. However, in a water tube boiler, water streams inside the tube, and the flue gases pass outside.
In a fire tube boiler, the pressure is typically limited to up to 20 bar. However, water tube boilers can reach pressures up to 70-100 bar. So, these boilers are commonly high-pressure boilers.
Water tube boilers have a higher steam production rate compared to fire tube boilers.
Fire tube boilers are commonly employed in small industries, such as textile and sugar mills. In contrast, water tube boilers are widely used in large steam power plants.
Due to the lower operating pressure in fire tube boilers, the risk of explosion is much lower.
Fire tube boilers require much lower skills to operate, while sophisticated engineers are needed for the operation of water tube boilers.
Fire tube boilers have lower efficiency compared to water tube boilers.

Fire tube boilers require a higher maintenance rate compared to water tube boilers.

Water treatment is not a necessary procedure in fire tube boilers, while an excessive effort should be made to treat water in water tube boilers before the water entrance to the boiler tubes.
What is Water Tube Boilers Diagram?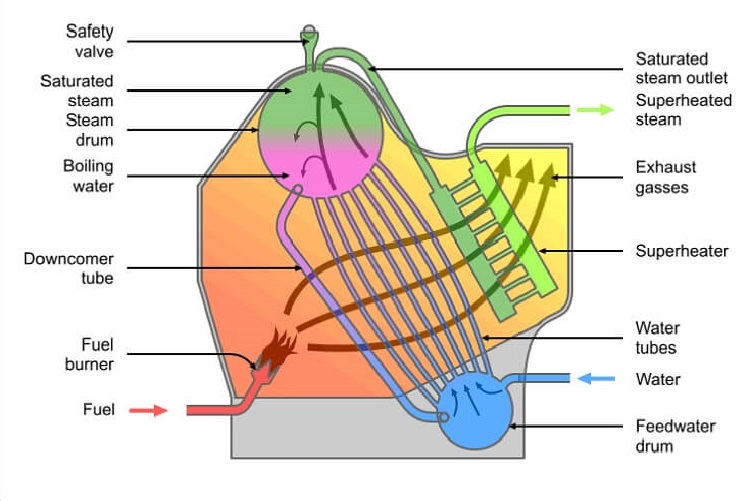 A water tube boiler's construction can be implemented with a cylindrical shell, vertical firebox in the base, space for water in the center section, and steam space in the higher part. A fire-grate is placed at the firebox base as well as coal or natural gas is fired-up on the firebox. For burnt coal, an ash pit is also located at the bottom of the grate for collecting the ash from the burnt coal, and sometimes it can be withdrawn.
One or multiple cross-tubes are flanged to the water space installed within the box to increase the outside heating area to boost the water flow. A tiny chimney is connected with the firebox's pinnacle for discharging the waste outlets at some greater height. The boiler's cleaning can be done by the hand holes and utility holes of the tubes and shell of the boiler.
These boilers comprise a pressure gauge, a water level indicator, a steam stop tap security tap, and manhole-like mountings for giving security and simplicity of working. The Fuel burns on the firebox's bed in the boiler, and the resultant hot-flue gases are allowed to flow in the region of cross tubes.
What is Water Tube Boilers Examples?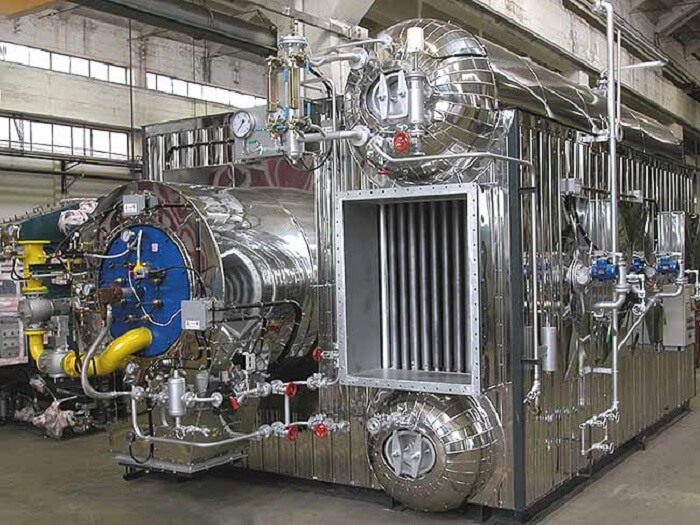 There are various types of fire tube boilers which are summarized below:
Cornish boiler: This is a large horizontal cylinder with a single large flue, including the fire. The fire was on an iron grating installed across this flue, with a shallow ashpan below to accumulate the non-combustible deposit.
Lancashire boiler: The Lancashire boiler is comparable to the Cornish but has two large flues, including the fires.
Locomotive boiler: A locomotive boiler has three principal components, including a double-walled firebox; a cylindrical, horizontal boiler barrel holding a large number of small tubes; and a smokebox with a chimney for the exhaust fumes.
Scotch marine boiler: The Scotch marine boiler varies significantly from its ancestors in employing a large number of tiny tubes. This provides a far larger heating surface area for the volume and weight.
Vertical fire-tube boiler: A vertical fire-tube boiler has a vertical cylindrical shell holding several vertical flue tubes.
Horizontal return tubular boiler: The horizontal return tubular boiler has a horizontal cylindrical shell, holding numerous horizontal flue tubes, with the fire placed directly beneath the boiler's shell, regularly within a brickwork setting.
Immersion fired boiler: It has firetubes solely, performing as a furnace and combustion chamber with various burner nozzles injecting premixed natural gas and air under pressure.