Centrifugal Compressor
Centrifugal compressors are considered as a dynamic compressor type that transforms the kinetic energy into pressure energy in the diffuser. In centrifugal compressors, energy is transferred from a set of rotating impeller blades to the gas. Centrifugal compressors are very reliable and deliver high flow capacity per unit and require less maintenance than reciprocating compressors. However, their performance characteristic is more easily affected by changes in gas conditions than of reciprocating compressors. Finding the right centrifugal compressor that best meets your company's needs is always a benefit that can help you to save a lot of budget and energy. Moreover, keeping centrifugal compressors up and running is a real challenge for the service team. At Linquip you have access to a variety of centrifugal compressor products across all verified lists of centrifugal compressor manufacturers and service providers which helps you to find the right centrifugal compressor. You can also contact our centrifugal compressor suppliers directly to find the latest information about their new products and pricing.
Need industrial equipment, parts, or services? Submit an RFQ and get quick quotes.
Get a Quote
Need industrial equipment, parts, or services? Submit an RFQ and get quick quotes.
Get a Quote
Watch a video about Centrifugal Compressor
Top Companies in Centrifugal Compressor
+7 Companies in Centrifugal Compressor
0
Top Devices in Centrifugal Compressor
Generate leads, provide quotes and capture new businesses
Get Started
Top Centrifugal Compressor Experts
The Complete Guide to Centrifugal Compressor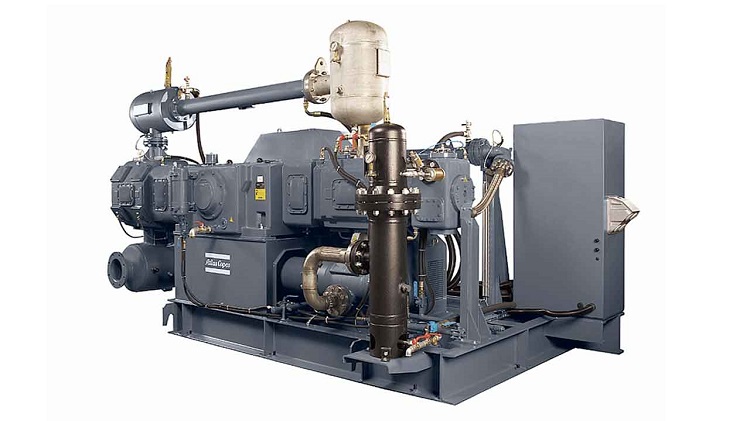 What is Centrifugal Compressor?
Centrifugal compressors, also named radial compressors, are types of dynamic axisymmetric work-absorbing turbomachinery. They efficiently convert the energy in a series of stages to compress and cool the gas as it continuously passes through the unit.
A centrifugal compressor gives kinetic energy into the airstream by increasing the air velocity using a rotating element and then converting this kinetic energy into potential energy in the pressure form. Between every compression stage, the air is cooled, and excess moisture is eliminated to increase efficiency and air quality—this design results in the capability of producing large quantities of air efficiently in a comparatively small package.
Due to the continuous flow through multiple stages, centrifugal compressors are designed to work in higher capacities and are best suited for purposes above 200 total horsepower.
The simplistic centrifugal compressor has four parts: inlet, diffuser, impeller/rotor, and collector. The figure below shows each of the components, with the flow (working gas) getting into the centrifugal impeller axially from right to left.
The principle of centrifugal compression is aero-dynamics:
The air enters the center of the impeller.

Air is pushed outward by centrifugal force.

Diffuser reduces the air velocity gradually.

Velocity energy is transformed to higher pressure.
What is Centrifugal Compressors Types?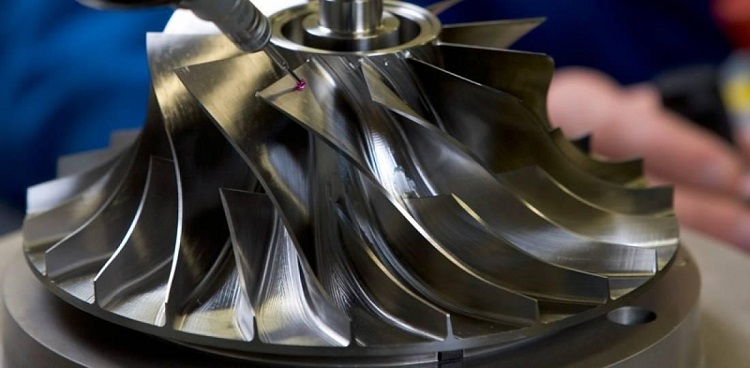 There are various types of centrifugal compressors produced for specific plans due to their desired applications. The most common ones are multi-stage and single-stage centrifugal compressors. In this part, we'll read all about these compressors. They follow the same origin, but they are not the same in their construction and how they get the work done.
Single-stage compressors are one of the popular kinds of centrifugal compressors on the market. This model has a single impeller for delivering the air or other gases for its particular purpose. The single-stage compressor also includes connected guide vanes and a diffuser. They can provide up to a 3:1 compression ratio due to their impeller peripheral speed and blade geometry. Also, these types carry flow capacities extending from 1000 to 300,000 cfm. This centrifugal compressor has many designs, including integrally geared single-stage compressors and overhung single-stage compressors.
Multi-stage compressors are other types of centrifugal compressors. As it suggests, this compressor has been produced to pass the gas through many stages for various purposes. Multi-stage compressors are employed when a single-stage compressor can't maintain the desired pressure conditions. This is because a single-stage compressor, as discussed above, has just one impeller.
Unlike single-stage centrifugal compressor types, multi-stage compressors have many impellers on the rotor. Each impeller diffuser transmits the discharge to enter the following impeller. Multi-stage compressors have several varieties, including pipeline multi-stage compressors, multi-stage centrifugal compressors with a vertically split casing, with a horizontally split casing, with bell casing, and integrally geared multi-stage compressors.
What is Centrifugal Compressor Working Principles?
Air is carried into the center of a rotating impeller using radial blades and is driven toward the center by centrifugal force—this radial action of air results in a pressure rise and kinetic energy generation. Before the air is directed into the center of the impeller, the kinetic energy is also transformed into pressure by moving through a diffuser and volute.
Each stage has a part in the overall pressure rise in the compressor unit. Based on the required pressure in the application, we can change the number of stages that can be prepared in a series to reach a higher pressure. This kind of multi-stage device is often used in oil, gas and process applications. Alternately, in wastewater treatment plants, low-pressure single-stage ones achieve the desired pressure ratio.
Ultra-high-speed electric motors are employed to drive the impellers in current configurations of centrifugal air compressors. It results in a small compressor that does not have a gearbox and associated oil-lubrication system, thus presenting an oil-free compressor and suitable for applications that need 100 percent oil-free air.
What is Centrifugal Compressors Advantages and Disadvantages?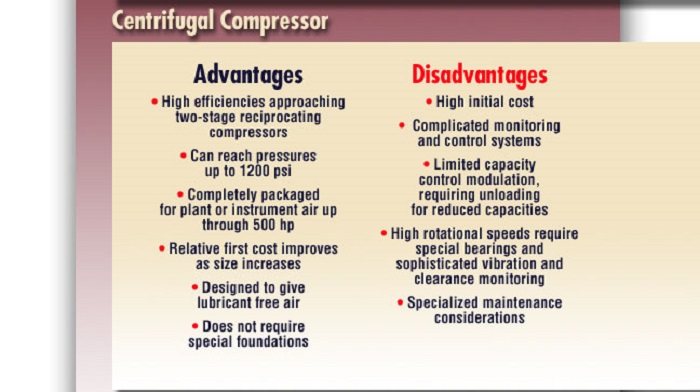 Here some advantages of centrifugal compressors:
Centrifugal compressors offer the benefits of simplicity of construction and relatively low price. This is due to needing fewer stages to reach the same pressure rise.
Centrifugal compressors are used everywhere in the industry because of having fewer rubbing components, are comparably energy efficient, and give more powerful and non-oscillating constant airflow than a likewise sized reciprocating compressor or any different positive displacement pump.
Centrifugal compressors primarily work as turbochargers and in small gas turbine engines like in an auxiliary power unit and as the central engine for smaller aircraft, same as helicopters. A similar airflow axial compressor will be less effective due principally to a combination of rotor and shifting stator tip-clearance losses.
It does not need any special foundation.
Here some advantages of centrifugal compressors:
Their chief drawback is that they cannot produce the high compression ratio of reciprocating compressors without needing multiple stages. Few one-stage centrifugal compressors are capable of producing pressure ratios over 10:1, due to stress concerns that severely limit the compressor's durability, safety, and life expectancy.
Centrifugal compressors are useless compared to axial compressors for operating in large gas turbines and turbojet engines driving large aircraft because of the resulting weight and stress and the frontal region presented by the big diameter of the radial diffuser.
They work at high speed, sophisticated vibration mounting needed.
The problem of stalling, surging and choking.
What is Centrifugal Compressor Used for?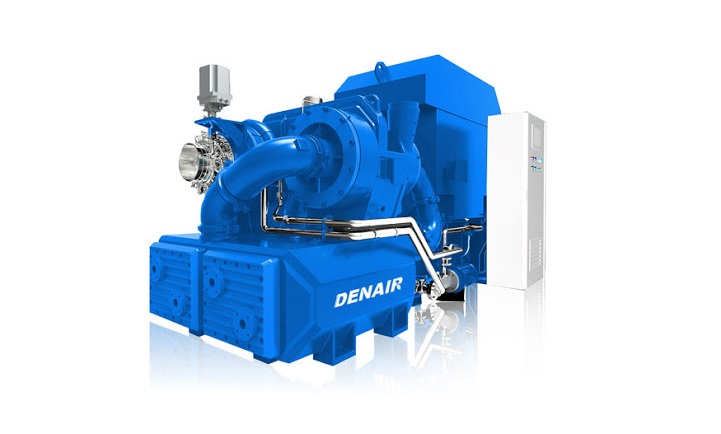 Below is a list of centrifugal compressor applications with a brief summary of some of the general characteristics of those compressors. The most well-known centrifugal compressor applications are gas turbines and turbochargers.
Gas turbines and auxiliary power units. In their simple design, modern gas turbines work based on the Brayton cycle. Both centrifugal and axial compressors are used to provide air compression. Gas turbines that most frequently include centrifugal compressors are auxiliary power units, small aircraft engines (i.e. turboshafts, turboprops and turbofans), and micro-turbines. The industry standards for all centrifugal compressors in aircraft applications are set by the related civilian and military certification specialists to achieve the durability and safety required in service. Centrifugal impellers used in gas turbines are usually manufactured from titanium alloy forgings.
In automotive engines, diesel engine turbochargers and superchargers. SAE may have established standards set by the industry for turbochargers. Ideal gas properties are usually used to design, test, and analyze these turbochargers centrifugal compressor performance.
In the pipeline, natural gas compressors move the product from the site to the consumer. Standards (ANSI/API, ASME) result in heavy casings to achieve a needed level of safety. This type of compressor is also frequently termed an API style. The power required to drive compressors is most regularly in the thousands of horsepower (HP). The use of real gas properties is needed to properly design, test and analyze the performance of natural gas pipeline centrifugal compressors.
In natural-gas processing, oil refineries, petrochemical and chemical plants. Centrifugal compressors for these applications are one-shaft multi-stage and operated by big steam or gas turbines. Their casings are termed barrel if it has no lengthwise split-line with the rotor being slid in or horizontally split if the rotor is lowered into the bottom half during assembly. Use of real gas properties is required to design, test and analyze their performance properly.
Air-conditioning, refrigeration and HVAC: Centrifugal compressors often provide the compression in water chillers cycles.
Due to the wide variety of vapor compression cycles (thermodynamic cycle) and the wide type of operation gases (refrigerants), centrifugal compressors are employed in a wide range of sizes and configurations. Standards introduced by the industry for compressors are ASHRAE, ASME & API.
In industry and manufacturing to provide compressed air for all types of pneumatic devices. Centrifugal compressors for such applications are usually multistage and run by electric motors. Inter-cooling is often required between stages to regulate air temperature. Standards set by the industry for compressors are ASME and government regulations that maintain safety. Ideal gas relationships are often employed to accurately design, test and analyze the performance of these devices. Carrier's equation is regularly used to deal with humidity.
In air separation factories to manufacture purified end output gases.
In oil field re-injection of high-pressure natural gas to increase oil recovery. Often one-shaft multi-stage type is used and driven by gas turbines. With discharge pressures 700 bar, casing is of the barrel type.