What is Industrial Valves? Working Principles & Application
A valve is a device or natural object that regulates, directs, or controls the flow of a fluid (gases, liquids, fluidized solids, or slurries) by opening, closing, or partially obstructing various passageways. Industrial valves are used to handle high pressure, either from fluid or gas, and to last through years of use in harsh environments.
Valves are mechanical devices that control the flow and pressure within a system or process. They are essential components of a piping system that conveys liquids, gases, vapors, slurries, etc. Outside the home, industrial valves are built to control processes. Most utilities, from water to oil and gas, wouldn't be able to function without heavy-duty, industrial-strength valves. So now that you know the importance of industrial valves, let's get to know their different types, features, and usability. Follow this new blog in Linquip to find out more.
Need industrial equipment, parts, or services? Submit an RFQ and get quick quotes.
Get a Quote
Need industrial equipment, parts, or services? Submit an RFQ and get quick quotes.
Get a Quote
Valve Subcategories
Actuator
Air release valve
Angle Valve
Ball Valve
Bleeder Valve
+28
Other Categories
See All
Watch a video about Valve
Top Companies in Valve
+1582 Companies in Valve
0
Generate leads, provide quotes and capture new businesses
Get Started
Parts of Industrial Valves
Despite high levels of variation, most industrial valves can be broken down into the same basic components which are as follows
Valve Body: The body, or enclosure of the valve, is often the largest component. Material flows through the body between the ports, and all other valve components connect to it. For example, a standard gate valve has three holes: the upstream port, where material flows into the body; the downstream port, where material leaves the body, and another hole on top to connect the bonnet and actuator. Of course, many valves have three or more ports as well, but the basic configuration is similar.
Depending on the type, size, and complexity of the valve, valve bodies may be comprised of a single piece or be fabricated from several separate pieces. Modern casting processes that make use of cores allow the addition of complex inner cavities. These processes, including shell mold casting, investment casting, and permanent mold casting, are often used for casting valves.
Valve Bonnet: The valve bonnet isn't necessary for every valve, but most standard industrial valves include this component. The bonnet attaches to the top of the valve body using either thread inside the valve body or bolts attached to flanges on both the body and the bonnet. The internal characteristics of the bonnet allow additional components to be attached, like the actuator and the valve member.
The bonnet often remains stationary while the valve is in use, but can be removed to service internal valve parts or to clear the body of obstructions. In some cases, the bonnet is combined with the body as a single part. Even if they are separate parts, the bonnet is often considered a characteristic of the overall enclosure. Without it, the material flowing through the valve would leak, and it would be impossible to actuate the valve.
Body
Bonnet
Actuator
Valve Trim
Valve Member
Seat
Stem

Stem Packing

Valve Actuator: Actuators are, in a way, the most important valve component. They provide the ability to control flow; without that ability, a valve is only a channel or a container. Actuators can be as simple as a hand wheel or a handle, or as complex as a computerized, automated valve controller.
In a traditional globe valve, the operator turns the handwheel at the top of the valve, and the actuator moves the stem up and down along a threaded channel within the bonnet. As the stem moves up, it frees the valve member from the funnel-shaped seat and allows the material to flow through the valve body.
Valve Trim: The removable and replaceable valve internal parts that come in contact with the flow medium are collectively termed as valve trim. These parts include valve seats, discs, glands, spacers, guides, bushings, and internal springs. The valve body, bonnet, packing, etc that also come in contact with the flow medium are not considered valve trim
Types of Industrial Valves
Industrial valves can be classified based on different factors. Here we categorized them by their mechanical motion and function.
Classification of Industrial Valves Based on Mechanical Motion
Linear Motion Valve
Multi-turn (rising stem) Valves
Gate Valves
Globe Valves
Pinch Valves
Diaphragm Valves
Needle Valves
Axial Valves
Coaxial Valves
Angle Seat Valves
Rotary Motion Valve
Quarter-Turn Valves
Ball Valves
Plug Valves
Butterfly Valves
Self-Actuated Valve
Relief Valves
Safety Valves
Check Valves
Most common types of industrial valves fall into one of these following three main categories based on the mechanical motion of the valve:
Linear Motion Valve: There are two distinct types of linear valves: rising stem (multi-turn) and axial. While both valve types rely on the linear motion of the flow obstructer, they are very different in construction and operation.
Multi-turn (rising stem) valves move the obstructer by the rotation of a threaded stem (rod) which is attached to the obstructer. Examples of multi-turn valves are gate valves, globe valves, pinch valves, diaphragm valves, and needle valves. These valve types are commonly used for flow control applications.
Axial valves use pneumatic or electro-magnetic force to slide the obstructer along an axis. Some examples of these are coaxial valves, and angle seat valves. These valves are typically fast-acting and only used for on/off process applications.
Rotary Motion Valve: These types of valves rely on the rotary motion of the flow obstructer In most cases, this rotation is limited to 90 degrees (one quarter-turn), however, some valves operate using a larger degree of rotation and have more than two positions that are used in regular operation. Valves that are quarter-turn are completely closed at 0˚ and completely open at 90˚. Examples of quarter-turn valves are ball valves, plug valves, and butterfly valves.
Self-actuated valve: self-actuated valves use the system fluid to position the valve. Relief valves, safety valves, check valves, and steam traps are examples of self-actuated valves.
Industrial Valves working Principle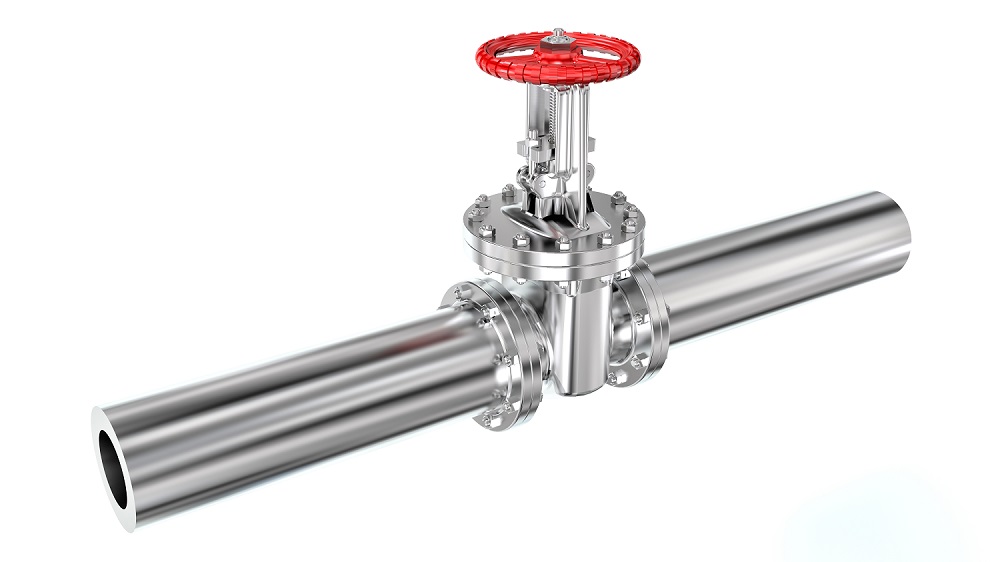 Industrial Valves Working: How Do They Work?
In general, the body which is the first pressure boundary of a valve resists fluid pressure loads from connecting piping. It receives inlet and outlet piping through threaded, bolted, or welded joints. Trim then makes basic motions and flow control possible. Then the disc allows, throttles, or stops the flow, depending on its position. When the seat forms a seal with the disc to stop the flow, the valve stem provides the necessary movement to the disc for opening or closing the valve.
Top Industrial Valves Manufacturers
The ranking of industrial valve manufacturers is continually rising over the past years. These companies are catching up with the rapidly increasing demand within the country's flourishing economy of industrial valves.
1. AVK Group
AVK manufactures industrial monitoring and control systems for discrete and process industries. AVK's division for flow control, known as AVK Valves, is manufacturing industrial valve varieties for the following industries:
Oil and gas,
Water treatment,
Paper and pulp,
Steel,
Chemical, and
Power generation.
2. BEL Valves
BEL Valves is a UK-based manufacturer specializing in high integrity and high-pressure valves for oil and gas industries. The company caters to pressures reaching 16,500psi in depths of water up to 3,000 meters.
The British company's clients include the biggest national and international companies around the world such as ExxonMobil, Chevron, Total, Shell, BP, and Saudi Aramco. What makes them unique from other industrial valve companies is that they manufacture the products in-house separate from the raw materials.
3. Cameron
Cameron embarks in industrial product manufacturing including compression, processing, pressure control, and flow control systems. Aside from these, the company also offers services for aftermarket support and project consulting for oil and gas industries. Cameron is among the world's leaders in systems for flow control. Their products include valves and automation technologies for valves that are exploited in the oil and gas industries.
So, this is all you need to know about industrial valves. If you enjoy this article, let us know what you think by leaving a reply in the comment section. We will be glad to have your viewpoint on the article. Is there any question we can help you through? Feel free to sign up on Linquip to get the most professional advice from our experts.