Coupling
Need industrial equipment, parts, or services? Submit an RFQ and get quick quotes.
Get a Quote
Need industrial equipment, parts, or services? Submit an RFQ and get quick quotes.
Get a Quote
Top Companies in Coupling
+4 Companies in Coupling
0
Generate leads, provide quotes and capture new businesses
Get Started
The Complete Guide to Industrial Coupling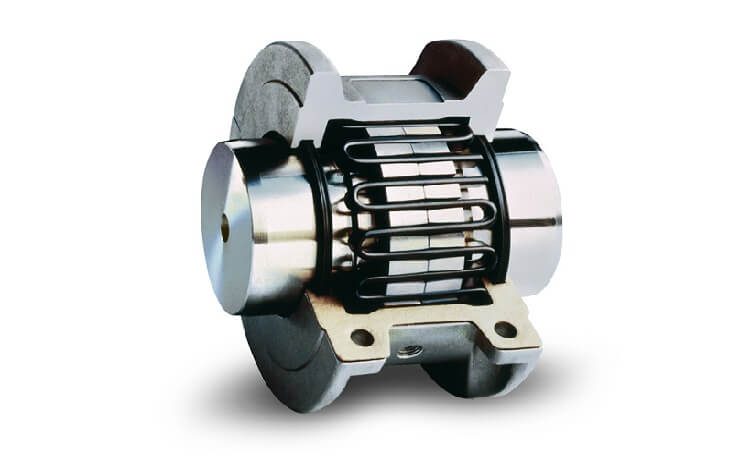 What is Industrial Coupling?
An industrial coupling is a device for connecting two shafts at their ends to transmit power. The main purpose of industrial couplings is to link two pieces of rotating equipment while allowing some end movement or degree of misalignment, or both. A coupling is a mechanical device that connects adjacent parts' heads in a more general meaning. Couplings do not usually allow disconnection of shafts through operation; however, torque-limiting couplings can slip or disconnect while some torque limit is surpassed. Selection, fitting, and maintenance of an industrial coupling can lead to diminished maintenance time and cost.
What is Industrial Coupling Types?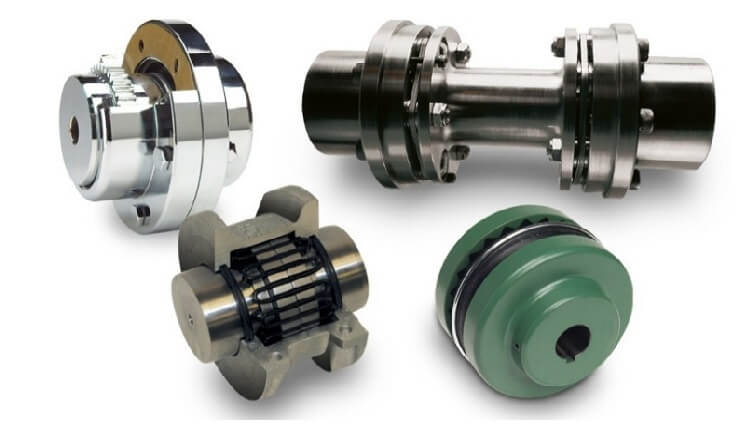 Coupling falls into two main categories: Mechanical Flexing and Material Flexing. The flexible material types reach their flexibility by compressing or stretching an elastic material, such as rubber, or flexing thin metallic discs or grids. We do not need lubrication in material flexing industrial couplings, except grid couplings.
The mechanical flexing industrial couplings allow misalignment by rolling, rocking, or sliding of metal surfaces. Lubrication is an essential part of all metal mechanical flexing couplings.
What is Industrial Coupling Application?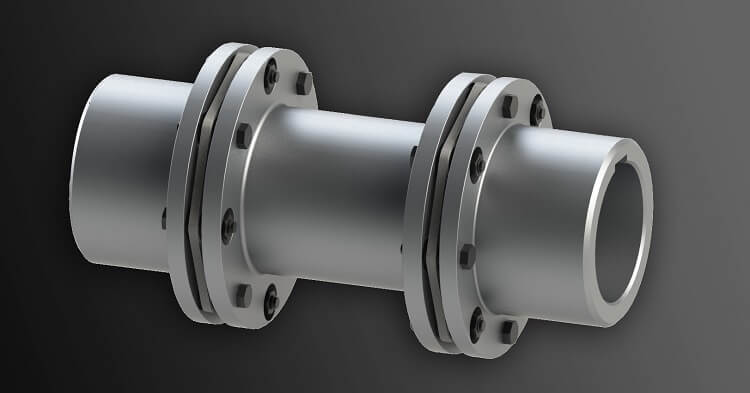 Shaft couplings are employed in machinery for various purposes. A primary goal is to transfer power from one point to another—for example, motor transfer power to pump by coupling.
Additional common applications include:
To modify the vibration features of rotating assemblies.
To combine the driving and the driven elements.
To offer protection.
To diminish the transmission of shock forces from one part to another.
To slip in an overload situation.
What is Industrial Coupling Mechanical Flexing?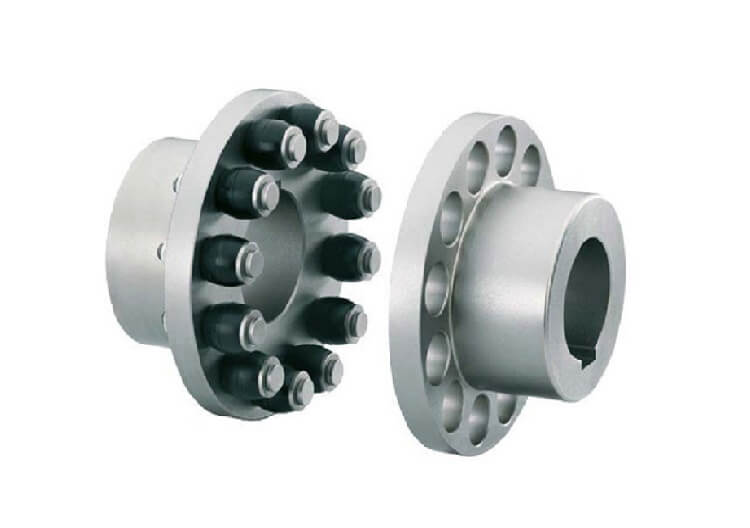 The mechanical flexing couplings allow misalignment from rolling, rocking, or sliding of metal surfaces. Metal mechanical flexing couplings need lubrication. Gear, grid, and roller chain couplings are examples of mechanical flexing couplings.
Gear couplings can transmit the highest amount of torque in the least diameter of every flexible coupling. Each coupling includes two hubs with crowned outer gear teeth. The hubs fit with two inner splined flanged sleeves that are bolted to each other. Gear couplings provide angular and axial misalignment by the sliding and rocking of the crowned gear teeth toward the mating sleeve teeth. Parallel misalignment is supported by holding two adjacent hub/sleeve flex positions. Gear couplings need lubrication based on the application periodically. The sensitivity to lubrication failures is high in this type, but they may have a service life of 3 to 5 years if accurately installed and maintained. In some cases, they can operate for more than decades.
Grid couplings have two radially slotted hubs that fit with a serpentine strip of spring steel. The grid offers torsional damping and flexibility of an elastomer with the strength of steel. This coupling transmits torque and supports angular, axial, and parallel misalignment from one hub to the other by sliding and rocking a tapered grid in the mating hub slots. The grid cross-section is usually tapered for easier assembly and better hub contact. Lubrication is needed as there is an interaction between contacting hub and grid metal components.
Roller Chain type coupling has two radially hubs with sprockets that employ a strand of double pitch roller chain. Chain couplings are employed for low to medium speeds and torque applications. The meshing of the chain and sprocket teeth transmits torque, and the clearances provide angular, axial, and parallel misalignment.
Chain couplings need periodic lubrication based on the application. The lubrication is usually brushed onto the chain, and a cover is prepared to keep the lubrication on the coupling and chain.
What is Industrial Coupling Material Flexing?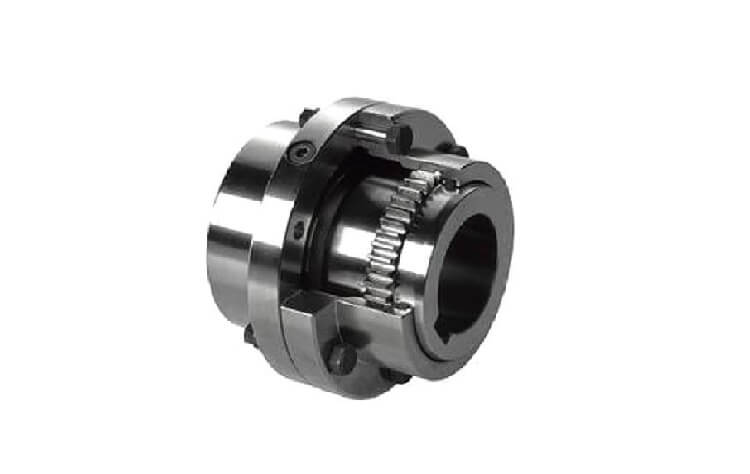 Material flexing couplings usually do not need lubrication and operation in compression or shear and can allow parallel, angular, and axial misalignment. Tire, disc, law, sleeve, grid, and diaphragm couplings are examples of material flexing couplings.
The jaw coupling is one of the material flexing couplings that transmits torque through compression of an elastomeric spider inserted within two intermeshing jaws.
Flex element is generally made of polyurethane, NBR, Hytrol, or Bronze
Provides misalignment
Transmits torque
Low torque, general-purpose uses
Good choice for torsional damping (vibration)
The sleeve coupling can transmit low to medium torques among coupled equipment in shear with an elastomeric prepared with male splines mated with female hub splines. The insert materials are typically Neoprene, EPDM, or Hytrol and can be a one or two-piece insert design.
Torsional damping (vibration)
For moderate misalignment
End float with small axial clearance
Low to medium torque, general-purpose uses
Tire couplings have a polyurethane or rubber element attached to two hubs. The rubber component transmits torque in shear.
High misalignment capability.
Can reduce transmission of vibration or shock loads.
Easy assembly.
Moderate to high-speed performance.
Extensive range of torque capacity.
The disc coupling's principle of service has the torque transmitted with flexing disc components. It functions through compression and tension of chorded parts on a common circle bolted alternately between the driven and the drive side. These couplings are usually composed of two-disc packs, two hubs, and a center part. A single-disc pack can allow angular and axial misalignment. In contrast, we need two-disc packs to accommodate parallel misalignment.
This type provides parallel, angular, and axial misalignment
Is an actual limited end float design
A zero-backlash design
High-speed rating and balance
Diaphragm couplings use a single or a group of diaphragms or plates for the flexible members. It transmits torque from the outer diameter of an elastic plate to the inner diameter, across the spacer or spool piece, and later from inside to outside diameter. When the diaphragm is subject to misalignment, the deflection of the outer diameter occurs. For instance, axial displacement tries to stretch the diaphragm, resulting in a combination of bending and elongations of the diaphragm profile.
It allows parallel, angular, and high axial misalignments.
It can be used in high torque, a good choice for high-speed applications.