Standby Generators or Backup Generators
When deciding on the best generator selection, consider the generator's design and structure, as well as the industry and application for which it is used. A standby generator, backup generator, or backup power generator any name you choose, a standby generator fires up when the grid goes out. The standby generator immediately starts up during a power loss and provides electricity to the home's outlets and appliances. Depending on your needs or budget, a standby generator can power only a few vital appliances or the entire house. Several firms provide standby generators and their services all around the world, and Linquip is one of them who provides you with several standby generator suppliers. Many organizations benefit from a full-service OEM option that provides generating equipment. Professional engineers fix standby generators and provide suggestions based on the unit's predicted operational plans. The major goal is to provide exceptional customer service and support, and some suppliers have over thirty years of engineering expertise. They have a full-time staff of generator path engineers that specialize in the repair of both fixed and rotating components. They are dedicated to offering the highest quality generator repairs. Linquip makes it easier to get a comprehensive list of verified standby generator service providers in their area. Linquip can assist you in locating a standby generator company in your area.
Need industrial equipment, parts, or services? Submit an RFQ and get quick quotes.
Get a Quote
Need industrial equipment, parts, or services? Submit an RFQ and get quick quotes.
Get a Quote
Standby Generators or Backup Generators Subcategories
Top Companies in Standby Generators or Backup Generators
+6 Companies in Standby Generators or Backup Generators
0
Top Devices in Standby Generators or Backup Generators
Standby Generators or Backup Generators Service Types:
Generate leads, provide quotes and capture new businesses
Get Started
Top Standby Generators or Backup Generators Experts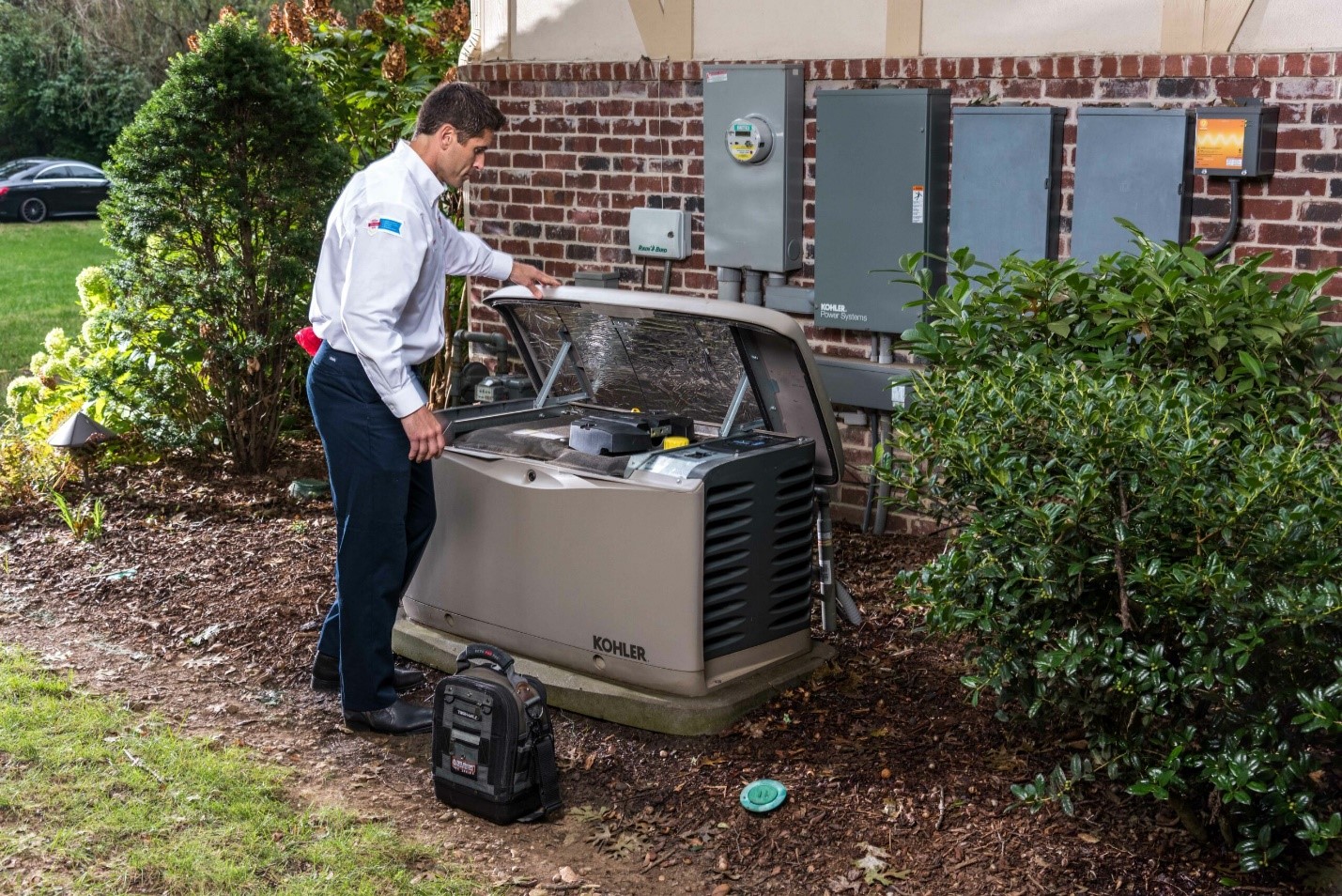 What is a Standby Generator? (Reference: : happyhiller.com)
What is Standby Generator?
In the event of a power outage, a standby generator serves as a backup power source for your company's operations, commercial & industrial applications, or facilities. The foundation for standby generators is often a concrete pad outside your facility. Standby generators are typically stationary. Linquip Platform provides a lot of Standby Generator Services including maintenance, repair, testing, installation, etc. for you to meet all your requirements.
Backup power generator, standby generator, or backup generator: Whatever name you give it, a standby generator starts up when the grid fails. When there is a power outage, the standby generator instantly turns on and supplies electricity to the home's outlets and appliances. A standby generator can power a few essential items or the full house, depending on your demands or budget.
There is no comfort or delight when there is no electricity because electricity powers almost everything in our homes. Some houses have wells that the occupants depend on for flowing water. To pump water into the home and fill the toilet tank in order to flush, that well needs energy. The likelihood that you have a well and a septic tank increase further out in the country you reside.
There are residences where one or more occupants require life-supporting medical devices. A power outage can be more than just an annoyance for homes that house the elderly, the disabled, diabetics, or families with young children. It can also be fatal.
In actuality, a backup generator is necessary for any residence that encounters power outages. Even with the smallest standby generator, you may still benefit from heat, running a well pump and sump pump, microwaving meals, keeping food refrigerated or frozen, and running two lighting circuits to keep the lights on when the power goes out.
What is so fantastic about a standby generator? The device is already set up and waiting for a power loss. With gas or diesel-powered generators, you must set up a lot of equipment after the power goes out, and you must keep extra fuel on hand in case the outage lasts days rather than just a few hours. In case you didn't know, gasoline doesn't keep for longer than 6 to 8 months, depending on how it is managed and stored. In the meantime, it occupies valuable storage space in the garage or backyard shed and is a fire risk.
What is a Standby Generator Used for?
Standby commercial generators can maintain safe working environments for you and your staff in addition to keeping the lights on when used as a backup power source. This implies that even in the event of a power outage, the air conditioner or heater will function as usual. A backup commercial standby generator can be used to maintain the functionality of automated computer systems and equipment, including servers, manufacturing and processing machines, and even security systems. The ability to maintain corporate operations with a backup generator is crucial since it prevents revenue loss and boosts productivity.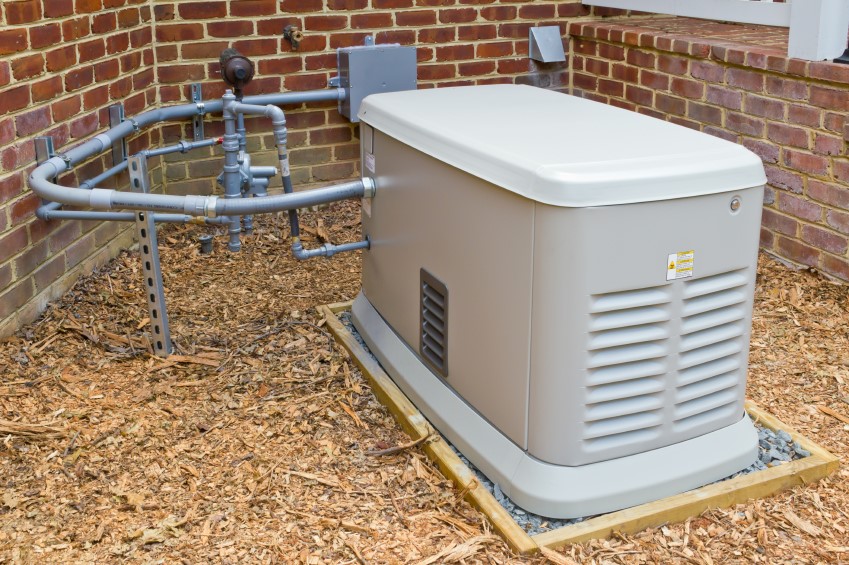 Standby Generator for Backup Power (Reference: farmandfleet.com)
A standby generator is the best option. Choose it because of its benefits, advantages, and simplicity. When there is a prolonged power outage, standby generators are a reliable alternative that, depending on the fuel type and generator setup, can supply power for days. Standby generators, as opposed to prime or continuous generators, are only used in emergencies, such as power outages brought on by bad weather, natural or man-made calamities, or recurring blackouts caused by the deteriorating power grid.
Types of Standby Generators Based on the Fuel
1. Diesel
2. Natural Gas
Diesel
Fuel tanks that are attached to standby diesel generators supply fuel to the generator, which is fed to the internal combustion engine and enables the generation of energy. When compared to their natural gas counterparts, diesel generators' limited tank capacity and high acquisition costs are disadvantages. Always make sure that your company has a contingency plan in place for crises that include logistics for diesel fuel delivery.
Natural Gas
There is no need to worry about a fuel tank because standby natural gas generators are connected directly to the natural gas network in your area. The generator can run without needing to refill for as long as the main gas utility line is operational. The drawback of natural gas generators is that they require more frequent maintenance. In addition, natural gas pipes are the first utility to be turned off during natural disasters like hurricanes, tornadoes, and earthquakes to avoid potential fires or explosions.
How Do Standby Generators Work?
Commercial backup generators are fueled by an external fuel source, such as diesel or natural gas, and are directly connected to your facility's electrical system. In terms of commercial generators, what can be powered and for how long depends on the generator's size and fuel type.
Most frequently, standby generators are used in conjunction with an ATS (Automatic Transfer Switch), which triggers the standby generator to start up immediately in the event of a power outage. After a power loss, the switch in an ATS detaches your building from the primary utility power system. The switch activates the generator and causes it to start generating electricity for the facility's electrical panel after the facility has been safely and totally disconnected from the power grid.
The automated transfer switch instructs the generator to shut off when the facility is once again connected to the main power grid. The fact that an ATS prevents power from being back-fed to the grid is the single largest safety benefit of employing a generator. Back feeding, when the generator sends electricity to the main grid, is dangerous and can cause fires, gravely hurt or even kill utility personnel who are working on the power lines to restore power to your area.
The default MTS (Manual Transfer Switch) is an option if you decide against installing an ATS with your generator. This switch needs to be physically flipped by someone standing next to the generator. In the event of a power loss, additional backup measures would need to be put in place, such as having an employee on call start the generator when the power goes out and turn it off when the electricity comes back on. In addition to raising the possibility of back feeding, this might also put the employee in danger due to road dangers, bad weather, natural disasters, etc.
For more information, you can use the complete list of Linquip's Standby Generator Service Providers to meet all your requirements or call Standby Generator Experts.