Micro Turbine
Microturbines are basically small and compact sizes gas turbines that typically generate power in the range of a few kilowatts to hundreds of kilowatts. Microturbines are used in various industrial applications from turbochargers in large trucks or turbines in aircraft power units or even in CHP applications. A microturbine usually has a single-stage radial compressor and turbine, and a recuperator. Typically, the microturbine electrical efficiency ranges from 25% to 35% however by using a recuperator and heat recovery in CHP application its total efficiency can be raised to about 90%. At Linquip you have access to diverse microturbines across all verified turbine manufacturers and service providers which helps you to find the right choice for your company's needs. You can also contact our Microturbine suppliers directly to find the latest information about their new products and pricing.
Need industrial equipment, parts, or services? Submit an RFQ and get quick quotes.
Get a Quote
Need industrial equipment, parts, or services? Submit an RFQ and get quick quotes.
Get a Quote
Top Companies in Micro Turbine
+9 Companies in Micro Turbine
0
Top Devices in Micro Turbine
Generate leads, provide quotes and capture new businesses
Get Started
Top Micro Turbine Experts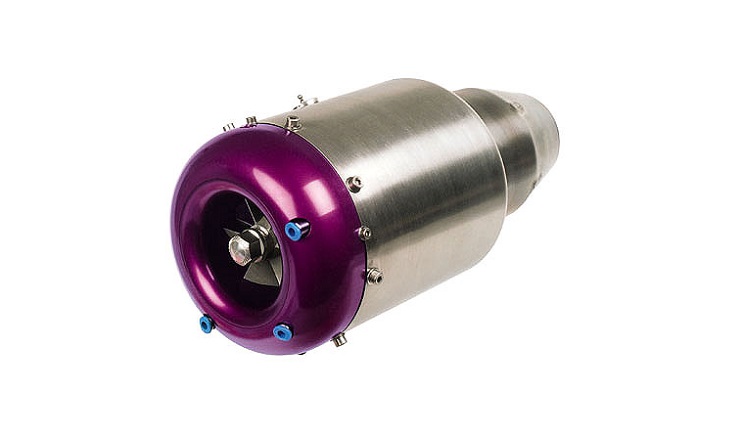 What are Micro Turbines?
Micro-turbines are small gas turbines that can produce both electricity and heat. They range in electrical output from around 25 kW to 250 kW. Units between 250 kW and 500 kW are commonly called mini-turbines. The two classes are designed to be employed in large domestic or small commercial environments to provide both forms of energy. They are regularly characterized as distributed generators because they supply their power at the distribution level of the grid.
Micro-turbines are represented as having developed from turbochargers in automotive engines or auxiliary power units for aircraft, depending on the source. Whatever their origin, they are the same in their essential components as standard gas turbines with a combustion chamber, a compressor, and a power turbine. Apart from their size, the main difference is that a micro-turbine only has one set of turbine blades and one set of compressor blades.
In most micro turbines, the generator is packaged with the turbine to create a single unit installed quickly and with minor preparation procedures. Due to their small size, micro-turbines and their generators run at very high rotational speeds, commonly between 40,000 rpm and 120,000 rpm. Generators revolving at these speeds cannot be attached directly to the grid. Alternatively, they are connected through a solid-state interface that transforms the high-frequency AC power provided by the generator to 50 Hz or 60 Hz as needed to synchronize with the grid.
Types of Micro Turbines
There are two generic types of micro-turbine packages available, including simple and recuperated. The simple turbines tend to be the more robust, but their efficiency is low at around 15%. Nevertheless, this gives a meaningful amount of waste heat in the turbine exhaust for providing hot water in a cogeneration application. Recuperated micro-turbines employ waste heat to heat compressed air between the compressor stage and the combustion chamber in precisely the way as industrial and aero-derivative gas turbines. Recuperation on a micro-turbine can enhance overall conversion efficiency between 15% and 35%. With both types, capture of waste heat for hot water can increase overall cogeneration efficiency to 85%.
In a simple cycle, compressed air is mixed with fuel and ignited under constant pressure conditions. The resulting hot gas is permitted to expand through a turbine to produce work. Simple cycle microturbines have lower efficiencies at around 15% but also higher reliability, lower capital costs, and more heat available for cogeneration applications than recuperated units.
Recuperated units utilize a sheet-metal heat exchanger that collects heat from an exhaust stream and transports it to the incoming air stream, raising the air stream's temperature supplied to the combustor. Further exhaust heat recovery can be employed in a cogeneration arrangement. The fuel energy to electrical conversion efficiency is in the range of 20 to 30%. Besides, recuperated units can produce 30 to 40% fuel savings from preheating.
Working Principle of a Micro Turbine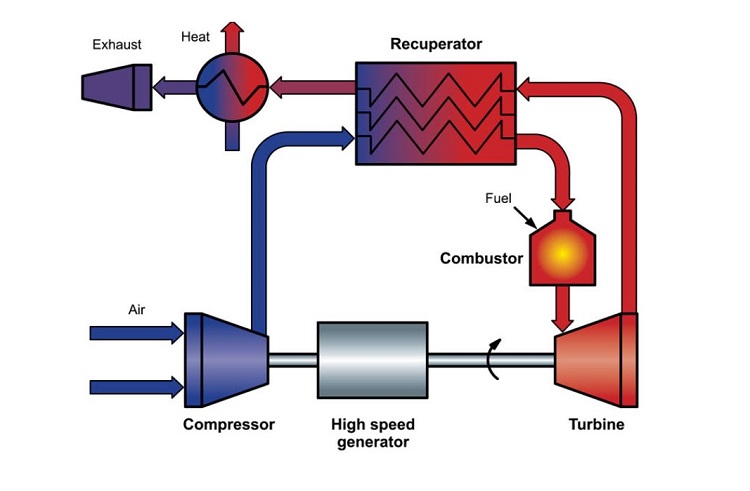 The combustible (ordinarily gas) is mixed in the combustion chamber with air pumped by the compressor. This product makes the turbine rotate, which simultaneously impulses the compressor and the generator. In the most regularly used design, the compressor and turbine are installed above the electric generator's same shaft. The turbines and compressors resemble automotive engine turbochargers, which are typically radial-flow designs. Most of the devices are single-shaft and use a high-speed permanent magnet generator for providing variable frequency and variable voltage AC power. A PEI (inverter/rectifier) is used to create 50/60 Hz AC or DC power. Most MT units are planned currently for continuous-duty performance and are recuperated to achieve higher electrical efficiencies. Furthermore, MTs offer clean operations with low emissions and excellent efficiency. Yet, the costs to maintain them are significant.
Microturbines can be employed for cogeneration and distributed generation as turbogenerators or turbo-alternators or power hybrid electric vehicles. The majority of the waste heat is included in the relatively high-temperature exhaust causing it easier to capture. In contrast, reciprocating engines waste heat is split between their exhaust and cooling system. Exhaust heat can be utilized for space heating, water heating, drying processes, or absorption chillers, creating cold air for air conditioning from heat energy rather than electric energy.
Components of a Micro Turbine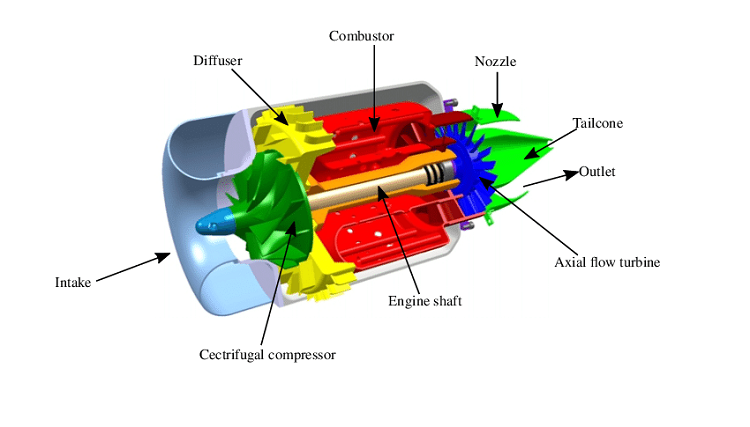 Micro turbines comprise a turbine, combustor, compressor, and electric generator on a single shaft or two. They can possess a recuperator gaining waste heat to increase the compressor efficiency, an intercooler, and reheat. They revolve at over 40,000 RPM, and a standard single shaft microturbine usually rotates at 90,000 to 120,000 RPM. They usually have a single-stage radial compressor and a single-stage radial turbine. Recuperators are challenging to design and manufacture since they perform under high pressure and temperature differentials.
A micro turbine typically consists of a rotor, recuperator, power electronics, combustion chamber, and exhaust gas heat exchanger. The rotor system is composed of a high-speed Generator, Compressor, and Turbine wheels, all on the identical shaft, which is the only rotating part in the engine. The recuperator enables the system to obtain high efficiency with simple components and comparably low operating temperatures. The advanced power electronics system transforms the generator's high-frequency electricity to either AC power or DC power with the specified frequency. The continuous fuel combustion of the micro turbine opposite to intermittent combustion of a piston engine diminishes pollutants emission, eliminating the requirement for expensive and complex post-combustion treatment. The heat exchanger component, which is a gas-water counter-current flow type, absorbs the thermal energy from the turbine exhaust and produces hot water.