Best Solar Generator- The term solar generator can refer to any power system being technically energized by the sun , although people employing the term are most often discussing portable solar systems with a specialized battery part attached. These devices use solar panels to capture the sun's power and then save that energy in a portable storage network for later use.
The inverter, the charge controller, the difference between 50 and 80-watt solar panels, etc. are features that indicate choosing the best solar generator can be complex if you're not professional. Visit here to explore more about the main choosing options of them.
Most of us don't even know our volts from our watts. To help you, we offer a list of the best solar generator units, helping you to know the pros and cons of various devices. We also discuss how a solar generator operates, why you might require one and tricks to watch out for when buying one.
Let's get to it.
Our Top 10 Solar Generators
Jackery Explorer 500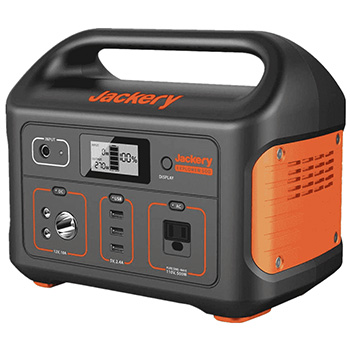 General Descriptions
The Jackery Explorer is the best solar generator based on different aspects. It's a simple and comfortable device since it is lightweight, user-friendly, and versatile.
Perfect for backup power and camping, the Explorer 500 is just 13 lbs and comes with a robust built-in carry handle, so it's simple to carry around with you on travel.
It has 3 USB outputs and an AC wall slot (among others) to energize your devices, so it's ideal for charging iPads, smartphones, laptops, and other small-to-medium sized instruments.
The device also has an LCD screen that displays battery life percentage data, real-time charging, and discharging. You often know where you stand down to the last percent.
Jackery Explorer 1000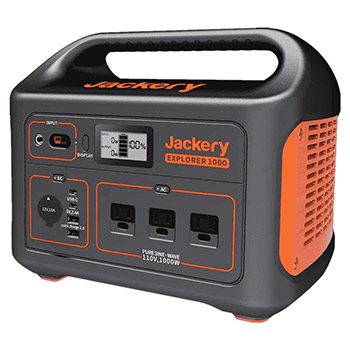 General Descriptions
The bigger type than the Explorer 500, the Jackery Explorer 1000 is the most appropriate solar generator for adventurers and campers who just require that little bit of additional power.
Complete with 2 USB outputs, 3 AC outputs, and 2 USB-C ports, you've got several options for charging various kinds of instruments. There's even a fast-charging USB, which is used in a hurry on multiple occasions.
With 22 lbs weight, it's a little less portable than the 500 type, but this portable device has more than most campers could ever require.
Renogy Lycan Powerbox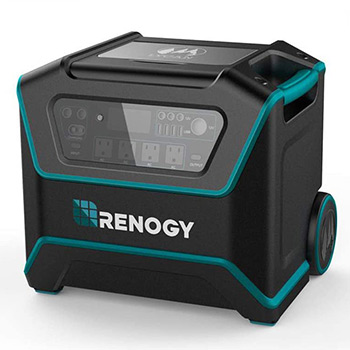 General Descriptions
Coming in at a whopping 55 lbs, this device has to be moved using wheels, so it's suitable to be employed for long-term outdoor events, camping trips, or as emergency energy for your home.
The Lycan has multiple outputs including 4 USB slots and 4 AC slots. It also has a floodlight, which can be applied when the lights go out at night.
The battery of the device is mainly replaceable, but at 1200W it's a little underwhelming.
Renogy Phoenix 300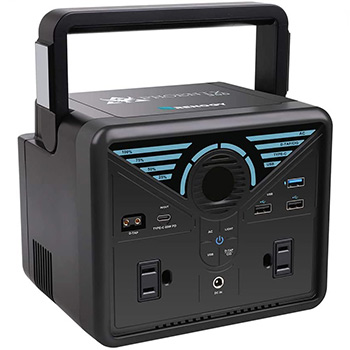 General Descriptions
Weighing a mere 6.4 lbs, this small box is the best solar generator for people who don't require to energize anything huge. This is perfect for outdoor photographers due to its CPAP charging slot for device batteries. If you are likely not a photographer, don't bother with it.
The Phoenix 300 includes 3 USB outlets and 2 AC outlets, which is pretty handy. Although you can only control the battery life in 25% chunks, you don't know precisely when it will turn off.
EcoFlow Delta 1300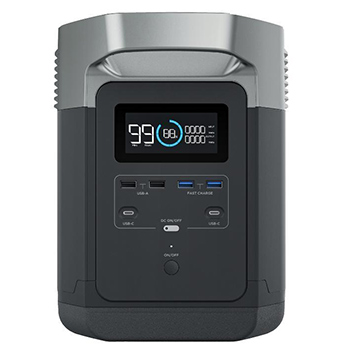 General Descriptions
The EcoFlow Delta 1300 is a modern solar generator that generates 1,300 watt/hours, as the term implies. It has several outputs including 2 USB-C ports, 6 AC outlets, and 4 regular USB ports.
You can keep an eye on the battery percentage and discharge/charge flow with a liquid crystal display, so that's pretty comfortable too.
The battery demeans immediately, plunging down to 60% after 800 cycles. If you're going to use your power supply frequently, you're probably best off with something more stable in the long operation.
Titan Solar Generator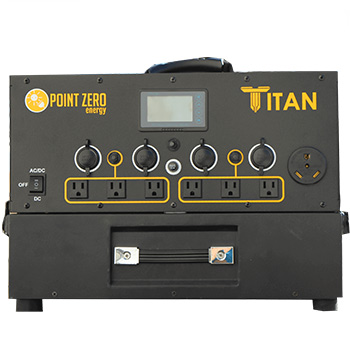 General Descriptions
The Titan, as the term shows, is huge. This device weighs a whopping 67 lbs once it's all assembled, so it's not the easiest box to move around your campsite or home.
With 2000Wh capacity, dual MPPT charge controllers, and a 3000W high-efficiency inverter, this device certainly has a lot to write home about, although, the expensive price, massive weight, and loud cooling fans all tear it down a few notches for us.
Goal Zero Yeti 400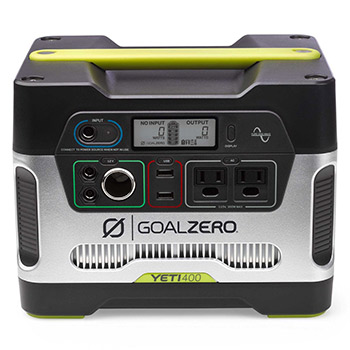 General Descriptions
This device has 400 watt-hours of energy, which seems a little small considering that this instrument weighs 29 lbs.
There is an LCD screen to show you the battery life and discharging/charging data, letting you know how much energy you're draining or putting into the box simultaneously.
The Goal Zero Yeti 400 employs a lead-acid battery type, which is mainly considered to be the worst form (most companies use lithium).
Goal Zero Yeti 1000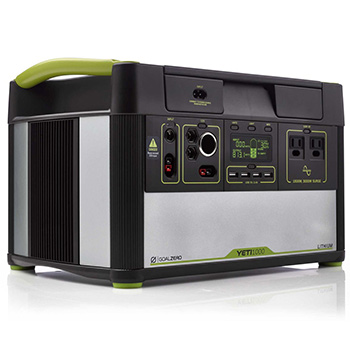 ]
General Descriptions
Whereas the weight and the price may be steep, the Goal Zero Yeti 1400 has some significant qualities. We always like how the digital display explains to us how many hours we have left until the battery is empty. For example, once we have a cookout and we just want to keep the music and lights going in the backyard, we can take a glance at the Yeti and it tells us how long we've got left.
It's also very handy. Although, this device has poor charge efficiency, no DC input ability, and it doesn't come with any section or add-ons included.
Patriot Power Generator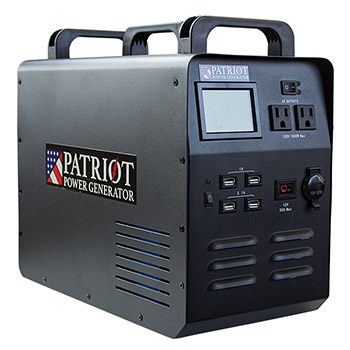 General Descriptions
First of all, the term indicates that it will have 1800 watt-hours of energy, but practically, it has a mere 690 wh. It is too expensive (not to mention the shipping) and for such a huge unit, it just has 2 AC outlets (40 lbs and they only bothered to set 2 wall outlets).
The cooling fans are also very noisy, so it's not perfect if you want a power station that can operate silently in your environment.
Inergy Flex 1500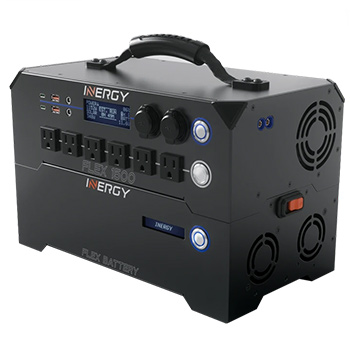 General Descriptions
The Inergy Flex 1500 sounds like it can support 1,500 watt-hours, but practically, it's only a disappointing 1,100 Wh. Given the weight and size of this device, you'd think it'd have more juice.
Whereas the stackable battery model is unique and clever, there's so much about this solar generator that we can't stand. First off, the AC outlets are not designed appropriately, so you can't plug appliances in next to each other if they're too big.
There's also no RV plug and the solar charging is restricted to 600W, while other devices can get away with 1000W simply.
Things to Consider When Buying A Solar Generator
How Much Power Do You Need?
These power sources are appropriate for camping, RVs, and backup power when the lights go out, but you cannot run your whole home off using one of them.
You should consider your power requirements and buy a power source of a suitable size.
Solar devices can energize some main appliances in your home in the event of an emergency. But no portable generator can truly power your entire home off-grid.
Can You Realistically Charge It with Solar Energy?
If you're dealing with cloudy days and low-wattage solar panels, you might find that your energy source is nearly impossible to charge.
Only rely on solar energy if you've got enough panels, a good climate, and a lot of time.
How Much Battery Capacity Do You Require?
The potential of the battery is expressed in watts, which translates into watt-hours. The more watt-hours your energy source has, the longer you can perform devices.
Goal Zero (constructor of the Goal Zero Yeti 1400 Lithium and more) translate it appropriately:
One Watt-hour is identical to one Watt of average energy flow over an hour. One Watt over five hours would be five Watt-hours of energy. As an example, a 100 Watt light bulb on a battery with 500 Watt-hour (like the Yeti 500) would theoretically last 5 hours .
Lead-acid Battery or Lithium-ion Battery?
While lead-acid batteries are more cost-effective than lithium-ion types, that's the one and just upside.
Lithium batteries are more suitable due to several factors:
Lithium-ion types are 95% efficient, while the lead-acid type is around 80-85% efficient.
You can drain them by 85% without damaging them, although this is close to 50% with lead-acid.
A lithium form has a longer life cycle than lead-acid ones.
A lithium battery is just much more reliable and stable.
Conclusion
So, what is the best solar generator out of all these significant devices?
If we had to select, we would say that you must use the Jackery Explorer 500 for sure. It's portable and light (just 13.3 lbs) and it is connected to a carry handle that makes it suitable for camping, hikes, and outdoor applications.
The Jackery Explorer 500 also has an AC outlet and 3 USB ports, so you're simply able to charge tablets, smartphones, or other electronic instruments multiple times over. There's even a handy LCD that demonstrates precisely how much battery life you have left.
Buy Equipment or Ask for a Service
By using Linquip RFQ Service, you can expect to receive quotations from various suppliers across multiple industries and regions.
Click Here to Request a Quotation From Suppliers and Service Providers
Read More on Linquip