Best Propane Generators in 2023- What propane generator offers the best performance? Depending on the generator's power output, propane generators built to start automatically can assist in restoring electricity to your most important appliances or perhaps your entire home. Running 100-foot extension wires across your yard while stealing your neighbor's power is no longer necessary thanks to a backup propane generator.
In this buying guide, we've examined the top propane generators based on their output of power, noise level, load, fuel efficiency, size and weight, mobility, and user ratings.
Due to the rise in power outages brought on by natural catastrophes, purchasing a propane generator is a wise choice for backup power as well as for camping, RVs, and tailgating.
Propane burns cleaner and can be stored for a long time, which is why many campers choose to purchase a dual-fuel portable generator rather than a conventional gas-powered machine.
Propane Generators are available from a wide range of Suppliers and Companies, as well as manufacturers and distributors, and Linquip has a large selection of Propane Generators for Sale.
The Propane Generators services for all OEM fleets are listed in detail on Linquip website. You can get assistance with this from Linquip vendors. Contact Propane Generators Experts if you'd like to find out more about how to get in touch with a wide range of service providers who continuously deliver high-quality goods.
Since there are several possibilities on the market and the sale of propane generators has expanded significantly over the past ten years, we have developed this shopping guide, which includes the best propane generators with a 90% acceptance rating from consumers.
After taking into account characteristics like noise, power output, fuel economy, portability, starting types, and reading meters, we combined all that information into this post.
When you need a power source on the road, get the appropriate one. The strongest and most dependable solutions for your upcoming camping, RV, or tailgating excursion are these finest propane generators.
You need a good propane generator if you're serious about tailgating, RV cooking, or camping.
You require a portable generator that you can rely on to provide electricity whenever you need it since your home's power source is no longer a safety net. This link may help you to know more details about them.
There are many different types of power sources for portable generators, but for us, propane fuel is off the menu.
Best Propane Generators Reviews
5 Best Propane Generators in 2023 are:
DuroMax XP12000EH Propane Generator
DuroMax XP4850EH Portable Dual-Fuel Generator
Champion 3400-watt dual-fuel Generator
DuroMAX XP2300iH Dual-Fuel Generator
WEN DF475T Propane Generator for House
DuroMax XP12000EH Propane Generator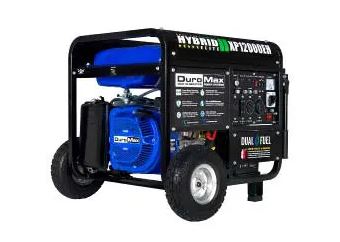 Specifications
Weight: 224lbs.
Dimensions: 30 x 29 x 26
457cc dual-fuel engine. All copper winding 8.3 gal tank
Gasoline: 12000 peak watts, 9500 running watts
Gasoline at 120V: 100 peak amps, 79.17 running amps
Gasoline at 240V: 50 peak amps, 39.5 running amps
Propane: 11400 peak watts, 9025 running watts
Propane at 120V: 95 peak amps, 75.21 running amps
Propane at 240V: 47.50 peak amps, 37.60 running amps
Start type: manual and electric
Noise levels: 74dB
Mx2 technology to get the maximum power
CARB and EPA certified
Outlets: x2 120V 20A, x1 120V 30A, X1 120/240V 50A, x1 120/240V 30A
General Descriptions
With a massive 9025 operating watts on propane and 9500 running watts on gasoline, the DuroMax XP12000EH is a dual-fuel beast. One of the greatest portable propane generators for use when camping and in the entire house.
Many people adore this appliance since it generates about the same amount of power on propane as it does on gasoline. When there are natural disasters and fuel is limited, it is crucial.
This home propane generator for powering anything, including 50 amp appliances, has four different sorts of outlets.
This unit produces a high power output at an impressive voltage recovery time while having outstanding fuel economy. DuroMax XP12000EH can generate 32HP when connected to a 100-pound propane tank.
Although not portable, this device is also not too large and although it is a little hefty, you can move it about with ease because of its wheels and folding handles.
The default wheels are awful, so you might want to swap them. Add wheels with 10-inch diameter in their place.
It won't be completely silent because it is a large propane generator, but it isn't too loud either when compared to other items.
During the noise test, we received between 75 and 80 dB at a distance of 30 feet with no load. Even if the noise is between 75 and 80 dB, muffler technology lowers the frequency of the sound to make it sound thinner and quieter.
The DuroMax XP12000EH has MX2 technology to extract the most power possible from each 120V outlet, in addition to the low-oil shutdown and idle control that automatically changes the engine speed according to the power necessary.
The DuroMax XP12000EH is a superb dual-fuel generator with great fuel efficiency, a high power output, a solid construction, a variety of outlets, and MX2 technology to extract the most power possible from each 120V outlet.
Remove the faceplate when you receive your item and examine the battery to see if the negative wire is connected.
DuroMax XP4850EH Portable Dual-Fuel Generator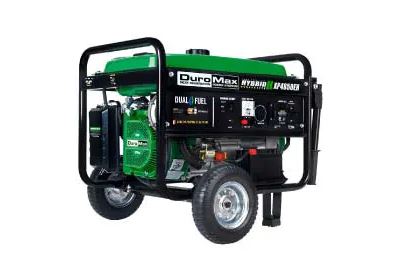 Specifications
Weight: 122lbs.
Dimensions: 25 x 24 x 21 inches
Gasoline: 4850 peak watts, 3850 running watts
Gasoline at 120V: 40.42 peak amps, 32.08 running amps
Gasoline at 240V: 20.21 peak amps, 16.04 running amps
Propane: 4608 peak watts, 3658 running watts
Propane at 120V: 38.40 peak amps, 30.38 running amps
Propane at 240V: 19.20 peak amps, 15.24 running amps
212cc dual-fuel engine. 3.96 gal tank.
Runtime at 50% load. 10.42 hours on gasoline, 8.92 hours on propane
Start type: electric and recoil
MX2 technology to get the maximum power from each of the 120V receptacles.
Low oil shutoff
Noise: 69 to 72dB.
Outlets: x2 120V 20A household outlets, x1 120/240V 30A twist lock GFCI protected outlets
EPA and CARB approved. 3-year warranty
General Descriptions
On propane, the DuroMax XP4850EH dual-fuel generator performs well. It generates enough clean energy to operate your refrigerator, freezer, sump pump, air conditioner, and a few lights.
This device, in our opinion, is perfect for anyone seeking a propane generator for RVs and camping. It produces an amazing 3850 running watts on gasoline and 3658 running watts on propane.
Users have given this propane generator a 98 percent positive rating. It is one of the generators on the market with the best reviews.
It is simpler to start the DuroMax XP4850EH in cold weather thanks to electronic start and cold start technology.
The packaging contains a tool kit, a funnel, a spark plug wrench, a user handbook, a wheel and handle kit, and a DC charging cord. With a few screws, assembling it is simple.
MX2 technology is used by DuroMax XP4850EH to extract the most power possible from each of the 120V outlets. Both 240V and 120V outlets can be used at 120V full power.
Regarding its design, it isn't big or heavy, yet most people will find it difficult to pick up. To make it portable for RVs and campers, this generator incorporates great wheels and folding handles.
Speaking about wheels, they will eventually flatten after roughly a year. The wheels' build quality is in question. After six months, you might wish to replace them.
It decreased to 62 dB from 25 feet and to 55 dB at 50 feet. In any case, the generator will be operated 30 to 40 feet away from the RV or campsite.
Now comes the big test: runtime. So, we gave it a 50% load of my trailer on gas, along with one motorized item. The generator ran for a total of 10 hours, and 57 minutes.
The DuroMax XP4850EH ran for 9 hours and 11 minutes on propane at 50% load of comparable appliances.
DuroMax XP4850EH is a versatile portable generator that may also be used for power tools if you need a little additional power for emergencies, RVs, or camping.
Champion 3400-watt dual-fuel Generator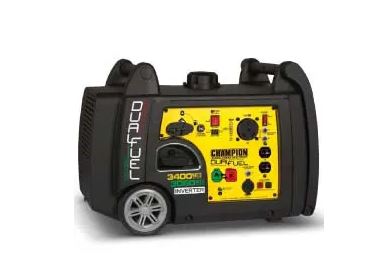 Specifications
Weight: 95.7lbs.
Dimensions: 25.1 x 17.3 x 18.3 inches
Gasoline: 3400 peak watts, 3100 running watts
Propane: 3060 peak watts, 2790 running watts
Gasoline at 120V: 28.3 peak amps, 25.8 running amps
Propane at 120V: 25.5 peak amps, 23.3 running amps
Noise: ultra-quiet. 59 to 60dB
Start type: manual and electric
EPA and CARB certified
Parallel capable. RV ready.
Less than 3% harmonic distortion
Runtime at 25% load: 7.5h for gasoline, 14.5h for propane
Outlets: x1 120V 30A, x1 120V 20A Duplex, x1 12V DC.
General Descriptions
The dual-fuel version of the Champion 3400 inverter generator is known as the Champion 3400. This device is a fantastic option for RVs and camping.
Since it carries the Champion name, you can count on it to deliver dependable and long-lasting performance. It is incredibly portable, exceptionally quiet, and highly powerful.
For outdoor sports, the Champion 3400's 3100 running watts on gas and 2790 running watts on propane are more than sufficient.
The Champion 3400 inverter generator's key selling feature is how well it performs when tailgating.
Many people find it easy to take around because of its lightweight body of under 100 pounds. As an added plus, it features wheels and a handle.
You can power your home for a long weekend using a couple of 20-pound gas tanks.
The Champion 3400 is slightly heavier since it features an electric start option and a compact LEAD-ACID battery.
The ability to burn whatever fuel is available makes dual-fuel generators for RVs and campers the preferred choice, and propane has traditionally been the fuel of choice for campers.
Propane may make sense if you don't use your generator frequently.
It thus takes 45 minutes to get it ready to run right out of the box. It starts the recoil with only one draw, which is fantastic.
A runtime test was also performed on the Champion 3400 inverter generator.
1 gallon of petrol provides 5 hours of use.
It runs for 3.5 hours on 1 gallon of propane.
A 5-gallon propane bottle has a 15-hour runtime with a 25% load.
It runs for 7.8 hours at a 25% load on a full tank of gas.
DuroMAX XP2300iH Dual-Fuel Generator
Specifications
Weight: 58lbs.
Dimensions: 22 x 24 x 20 inches
Gasoline watts: 2300 peak, 1800 Rated
Running watts: 2150 peak, 1700 Rated
80cc dual-fuel engine. 1.1 gal gas tank
Less than 3% THD
Noise: 52dB at 25% load
CO alert sensor
Parallel capable
LED data center
Outlets: x2 120V 20A GFCI, x1 120V 30A Twist Lock, x1 USB-1 outlet, x1 USB-C outlet.
General Descriptions
A good dual-fuel generator that produces almost as much power on propane is the DuroMAX XP2300iH.
It has a very contemporary appearance and is light, transportable, and fuel-efficient. It produces 1700 operating watts on propane, which is sufficient while camping or tailgating.
If you need a little of that extra power, don't worry; it is also capable of working in parallel.
The clean power generation while emitting just 52 to 54dB makes DuroMAX XP2300iH such a superb camping and tailgating generator.
The construction quality is excellent, and the wheels are attractive. It is easy to use and keep up with. Access to the air filter is quite simple. If you have any questions, their customer service is excellent.
It produces incredibly clear sine waves in both low idle and full power modes, which is why USB-C and USB-A type ports have been included so we may charge our smartphones, laptops, PCs, DSLR cameras, and other power-sensitive devices.
If you frequently camp, utilize an RV, or spend time outdoors, the DuroMAX XP2300iH dual-fuel generator can be your greatest friend. It is lightweight and takes up very little room.
WEN DF475T Propane Generator for House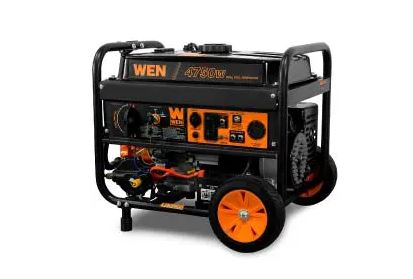 Specifications
AC 120/240. 12V DC
Gasoline: 4750 peak watts, 3800 running watts
Propane: 4350 peak watts, 3500 running watts
224cc dual-fuel engine. 4 gal fuel tank
Overload protection, automatic voltage regulator
Start type: manual and electric
Runtime at 50% load. 11 hours on gasoline, 7 hours on LPG
Outlets: x2 120V GFCI (5-20R), x1 120/240V NEMA 30A twist lock, x1 12V DC cigarette style plug.
Noise: 65 to 69dB.
EPA and CARB certified
Weight: 105.8lbs.
Dimensions: 23.2 x 17.5 x 18.5 inches
General Descriptions
One of the greatest dual-fuel generators for emergencies, camping, and construction sites is the WEN DF475T. Because it is designed for lesser power demands, it is cost-effective.
It is a difficult effort for the 244cc engine to generate 3800 running watts on gasoline and 3500 running watts on propane.
It has a manual start option as well as an electric start, GFCI outlets on the control panel, and a basic voltage switch selector to switch between 120 and 240V. It is therefore ideal for use as an emergency backup.
Before the overload protection, it can generate 3631 operating watts on propane. On propane, it burns effectively and cleanly.
The WEN DF475T dual-fuel generator is an absolute monster in terms of cost, power output, and fuel economy.
Don't worry about the upkeep; it is really simple. The protective mechanism for low oil shutdown is useful. Oil changes are also simple.
At this pricing range, the WEN DF475T is a steal because it comes with a 2-year guarantee for both residential and commercial customers.
The regulator shields the delicate electronics from sudden power spikes despite not having an idle state. The WEN DF475T is a reliable device.
FAQs about Propane Generators
How to Determine Which Propane Generator Is Best for You?
The power requirements of your home and your most vital major appliances are one of the most crucial factors to consider when buying a propane generator. Electric water heaters, portable space heaters, medical equipment, sump or well pumps, air conditioning, and, if you live in a cold climate, sump or well pumps will likely have the biggest power consumption and be the most crucial appliances during an outage.
Many times, the makers of propane generators include an online wattage calculator that you may use to tally up all of your most important items and pick the best propane generator for your home. You may sum up the "beginning watts" given on the wattage rating labels of your most important appliances to get this figure on your own.
If the "beginning watts" for your appliance are not listed, multiply the "running watts" by three. Once you have the total beginning watts, multiply it by 1.5 to ensure there is a sufficient margin of safety. Most propane standby or backup generators will be offered with an output of 9,000 to 20,000 watts since the usual minimum wattage for important appliances in small to medium-sized U.S. houses is 5,000 to 7,500.
The physical footprint that the generator occupies is among the most crucial factors to take into account when choosing the finest propane generator for your home. Your propane generator will need to be close to your home whether you have a little yard or several acres of property, so the size probably counts.
The average size of the bigger generators on our list is 30 by 30 by 48 inches, but the footprint of the smaller generators is more like 24 by 24 by 36 inches. The National Fire Protection Association (NFPA) mandates a space of five feet around all residential openings, including windows and doors. Smaller home generators may be permitted to be as close to an outside wall as 18 inches, but you should always verify local rules since some may deviate from NFPA norms.
The amount of noise the engine makes when it is producing electricity is a crucial factor to consider when selecting a propane generator. Since these generators are situated just outside of your home, you should choose a quieter model.
Although the precise noise level can vary depending on how much power the engine is producing, the majority of the generators on our list average between 60 and 70 dbA. Since you might not want the noise immediately outside a bedroom or office window, where you put a propane generator outside your house is also crucial. As a point of comparison, a typical conversation is around 60 dbA, whilst a vacuum cleaner emits between 70 and 80 dbA.
How long will a generator run on propane?
If the supply of propane does not run out and no maintenance is required, a propane generator may potentially run forever. The majority of residences that use propane instead of natural gas have a permanently placed propane tank that is routinely refilled by a professional service. However, a propane gas main line is uncommon.
Are propane generators better than gas?
Because propane burns more effectively than natural gas, propane generators may generate more power than natural gas generators. Additionally, because propane burns "cleaner," it is more ecologically favorable to use propane electricity than natural gas. Propane is not eco-friendly. People who use propane continue to pollute the atmosphere by burning fossil fuels.
Is it cheaper to run a generator on propane or gas?
Propane is often more expensive than natural gas, in part because it must be provided by a specialized firm and seldom ever flows through a gas line controlled by a city or county. Having said that, you will require less propane to power your generator because it is a more efficient fuel type.
What size propane tank is needed for a whole house generator?
For their propane backup generators, Generac, a well-known generator manufacturer, suggests a minimum of a 250-gallon propane tank. To calculate how much electricity, and thus how much propane, you could need for a propane generator, Generac also provides a free house evaluation.
What is the most efficient propane generator?
Because they produce fewer BTUs per gallon of fuel, propane generators are often less effective than gas generators. The propane generator with the highest BTU output per gallon of fuel is the most efficient.
How much propane does a generator use per hour?
A propane generator uses between 1 and 2.5 gallons of fuel per hour, depending on the load and generator. 8 to 10 hours is typical on a 20-pound tank.
How loud are propane generators?
At 50% load, a typical 4000-watt portable propane generator produces 55 to 58 dB. Because propane burns well and cleanly, propane generators often produce less noise than other generator types and wattage output.
What is the most efficient propane generator?
The propane generator on our list with the highest fuel efficiency is the DuroMax XP4850EH. It ran for 9 hours and 11 minutes on propane at 50% load.
Are propane generators good?
Propane is more affordable than gasoline, burns more cleanly and efficiently, and emits fewer greenhouse gases. Yes. Because we can store more fuel, propane generators are great for camping and tailgating.
Are propane generators quieter than gas generators?
Yes. Since propane burns cleanly and smoothly, generator noise is often reduced.
Conclusion
In addition to being practical and helpful in situations, propane generators are frequently used for camping and tailgating. The storage of fuel is why dual-fuel generators are most frequently chosen. In addition to burning effectively and cleanly, propane is also incredibly simple to store.
DuroMax XP4850EH is a monster on propane and is suggested for camping. Champion 3400 is a fuel-efficient device for RVs and tailgating. DuroMAX XP2300iH is a very portable camping generator. WEN DF475T is suitable for residential applications. These are the models from our list.
Buy Equipment or Ask for a Service
By using Linquip RFQ Service, you can expect to receive quotations from various suppliers across multiple industries and regions.
Click Here to Request a Quotation From Suppliers and Service Providers
Read More In Linquip