In this article from Linquip, we want to talk about different types of PVC pipes. You probably know PVC pipes, but few people know that these pipes have different types. Each and every one of these pipes have been designed for a specific purpose and work to achieve a certain goal. Here, we will explain all of them and their use in day to day life. Are you ready to expand your knowledge about different types of PVC pipes? Then keep on reading…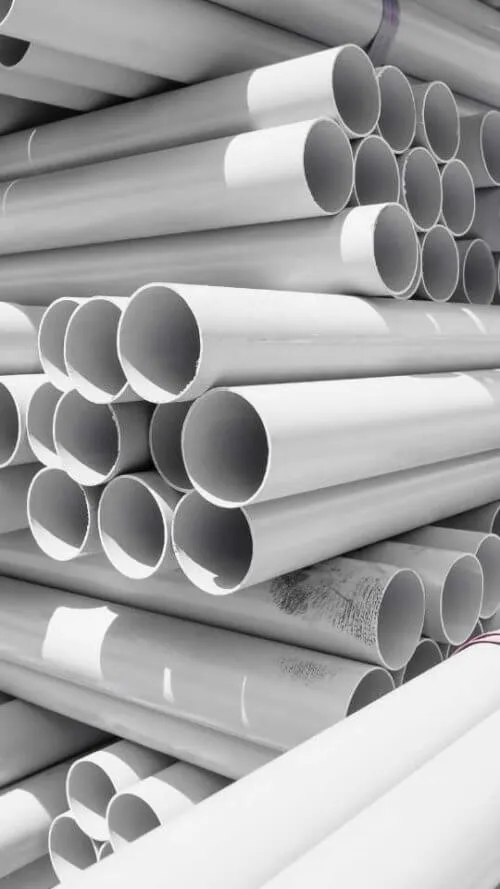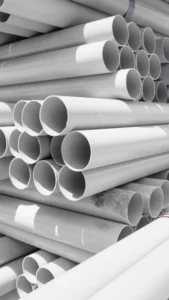 Different types of PVC pipes
PVC pipes, also known as Polyvinyl Chloride pipes, are categorized into four major types: PVC-U, C-PVC, PVC-O, and PVC-Hi. These pipes are commonly used for plumbing these days because of their durability and the ability to withstand the pressure of the water without being cracked or torn. Plumbers prefer using PVC nowadays because fixing PVC leaks is a lot easier than copper sewers. The four major categories of PVC pipes are as follows:
Unplasticized PVC (PVC-U)
Chlorinated PVC (C-PVC)
Molecular oriented PVC (PVC-O)
High Impact PVC (PVC-Hi)
Keep in mind that copper pipes and plastic pipes have a few differences. e.g. PVC pipes are more sustainable and can be recycled. That is why they are considered to be more earth-friendly than other types of pipes. Many plumbers call PVC pipes "plastic pipes" because not all of them know their different types. Though four types of PVC pipes contain similar features such as sustainability, safety, durability, and recyclability, they have precise distinctions as well. Let's review each and every one of them: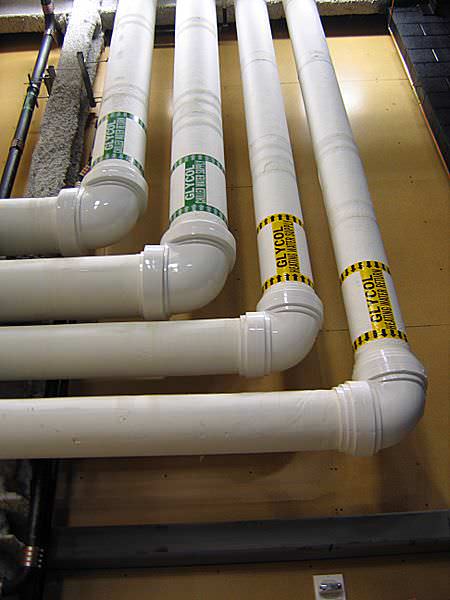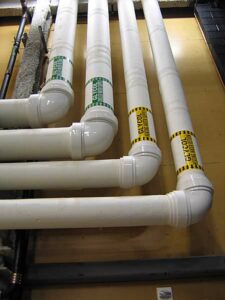 Unplasticized PVC (PVC-U)
PVC-U pipes don't contain a plasticizer (a substance that adds flexibility to the material, resulting in a softer product. It also decreases viscosity and friction.) Due to this lack of material, this type is also known as rigid PVC. Unplasticized PVC is used for pipes and fittings, drinking water, waste, and soil transportation, industrial applications, industrial drainage, and sewage.
PVC-U pipes have many benefits including their lightweight, their easiness to handle as well as their affordability. Because of these features, they are considered to be the best choice for our drinking water transportation. Their resistance to UV exposure as well as high chemical resistance adds up to the advantage that pushes the weights toward the benefits of using such pipes, not to mention they have a high mechanical performance too. That is why they are among the most popular types of PVC pipes
Chlorinated PVCs, also known as C-PVC pipes, have higher chlorine content. By the chlorination of PVC resin, you can make a chlorinated PVC pipe. Different materials such as lubricants, impact modifiers, pigments, and stabilizers are also added to these pipes in the making process for a better ending result.
Chlorinated PVCs have different applications. They are used for pipes and fittings, drinking water transportation, handling industrial liquids, and carrying water with various temperature ranges. These pipes are similar to unplasticized PVC pipes in their resistance to corrosion feature. Plus, they are also safe for drinking water applications. Their durability is also high enough to be popular for different applications that require such features.
Keep in mind that these types of PVC pipes are resistant to various temperatures range and are ideal for sewer systems for commercial constructions and residential areas. Another important thing about these pipes is that they are more flexible than Unplasticized PVC pipes because they have plasticizers. Chlorinated PVC pipes are more ductile when they are compared with Unplasticized PVC pipes, but the good news is that they are both environment-friendly because they are both entirely recyclable. This is why these two types of PVC pipes are popular among environmentalists around the world.
Some debates are going on about whether C-PVC pipes affect the drinking water quality, but there is nothing to worry about because chlorinating water is among the common ways of providing safe tap water for people all around the globe. It is correct that chlorine may affect the taste and the odor of the water, but it doesn't ruin the quality of the water in any way, and at the same time, this chlorine in the drinking water doesn't damage or change the PVC pipe's properties either. So, it's safe to say that these pipes are completely safe and ok to use for drinking water transportation.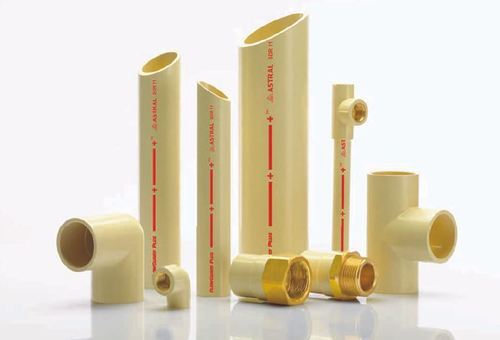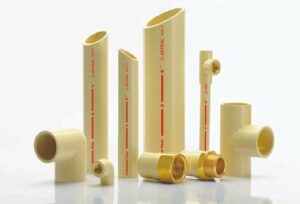 Molecularly Oriented PVC (PVC-O)
Molecularly Oriented PVC pipes, also known as PVC-O pipes are among the different types of PVC pipes that are produced by turning amorphous Unplasticized PVC structure into a much more layered form to make an enhanced version of PVC-U called PVC-O. They are used for pipes and fittings where high pressure is required. They can also be used for irrigation pipes, sewer systems in unstable grounds, and sewer pumping mains.
Since they can withstand high pressure, you can use PVC-O pipes in places where the pipes are exposed to pressure. It's good to know that PVC-O pipes have also higher resistance to corrosion than U-PVC pipes. They are also more cost-efficient and have higher water quality preservation. And above all, it is also recyclable. They are strong, stiff, and flexible.
PVC-O pipes have high ductility, great resistance to cracks as well as high hydraulic capacity. These features make them resistant to impact and weariness. Plus, they will last for a long time. Just like other PVC pipes that we explained above, PVC-O pipes are 100% recyclable too and are environment-friendly due to this characteristic.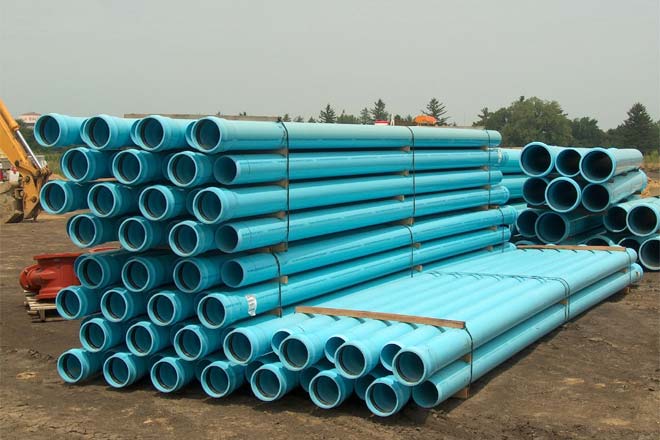 Last but not least in the list of different types of PVC pipes is the High impact PVC pipe, also known as PVC-Hi pipe. These pipes are the newest types of PVC pipes that are made by using different chemicals and inserting them into Unplasticized PVC (PVC-U), resulting in an increase in the resistance to impact. Since standard PVC is not stable enough for various usages, designers have come up with a solution to use polycarbonate with PVC, forming an alloy composition with high dimensional stability. The result could easily withstand heat or pressure when exposed to those conditions. The end product has thermal distortion resistance and high-impact strength. This strong thermoplastic resin composition normally contains polycarbonate and an alloy of vinyl chloride resin. Other materials usually include butadiene-modified acrylic and ethylene-vinyl acetate. Both of these variations are very rigid, creating the best result for High Impact PVC pipes.
High Impact PVC pipes are great for applications where high pressure or extreme temperature is required such as in industrial liquids or commercial sewage systems.
That was all there is to know about different types of PVC pipes. What is your opinion about these so-called "plastic pipes"? Do you think they can revolutionize the piping system in the near future? Comment below and let us know what you think about them! Don't forget to sign up on Linquip to talk to our expert and ask all your questions. We will solve your problems right away!