As there are many AC repair service providers in Dallas, choosing the best AC repair service can be challenging, especially for new homeowners. To help you with that, here are five steps to choosing the best air conditioner repair company in Dallas.
Step-by-Step Guide to Choosing the Best AC Repair Service in Dallas
Step 1: Check Online Reviews
At first, you'll have to find the top HVAC companies in your location. For this, you can search online and list down a few companies.
While selecting these AC repair companies, you'll have to emphasize the ratings, reviews, and testimonials. If the average rating of a specific air conditioner repair company is less than 4.0/5.0, you must avoid the company. Besides, you'll have to read the reviews and testimonials of the previous customers. This will provide you clarity about what to expect from that AC service provider. Also, sometimes, from ratings, you cannot know about the flaws of an AC repair company. But by reading reviews and testimonials, you can easily get to know about those and decide whether or not to write that company on your list.
You can read Google reviews, BBB reviews, Shopper Approved reviews, etc. on AC repair companies in Dallas to create this preliminary list.
Step 2: Check the HVAC License & Certificates
After listing down the top AC repair companies in Dallas, you'll have to check the HVAC license of those service providers. When an AC repair company has an HVAC license, it indicates that the company knows what they are doing. Besides, it suggests that they follow the guidelines set by the regulatory authority and don't harm the environment.
When you're done checking the HVAC license, you'll have to ask whether the HVAC professional has all the necessary HVAC certifications or not. You can expect better AC service when you hire a certified cooling expert. Besides, certified HVAC professionals like Green Leaf Air's technicians know their work very well and can handle all sorts of cooling systems.
After checking the HVAC license and certification, you'll have to check whether or not the HVAC company has insurance. Because during AC repair or maintenance, if something happens, insurance will cover the charges. But when there is no HVAC insurance coverage, you'll have to pay from your own pocket. That's why it's necessary to choose an air conditioner repair company that has HVAC insurance.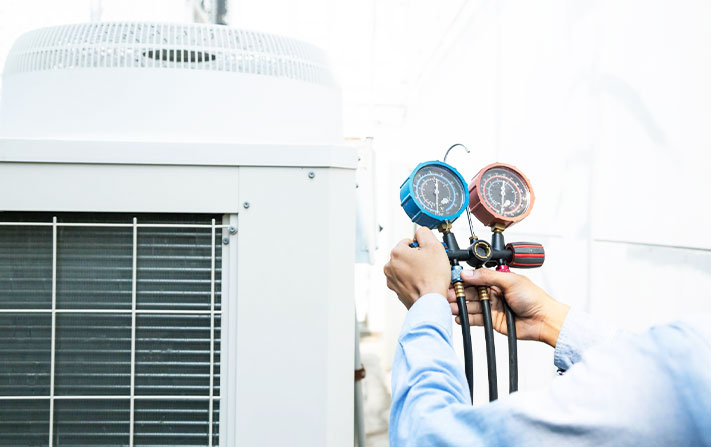 Step 3: Inquire about the Process
Next, you'll have to talk directly with the AC repair provider and ask them about their process and how they are going to approach the solution. If the AC repair company tries to offer a solution without visiting your house, you must avoid them. Because the air conditioning unit is a complex system and experienced HVAC professionals do not bluntly suggest solutions without inspecting the unit.
If your cooling unit has a performance or efficiency issue, the reason could be a clogged air filter, dirty air ducts, or compressor malfunction. But how to determine the main reason behind the problem? Simple, you'll have to visit the location and inspect the AC system thoroughly.
If you select an AC repair company that wants to fix your cooling system without proper inspection, the probability of your issue getting solved is very low. That's why you must always select an AC repair company that intends to do a thorough inspection of your cooling system.
Step 4: Read the Description of AC Repair Package
When choosing the air conditioner repair company, reading the package description is crucial. Because if the AC repair company isn't offering the repair service you need, there is no point hiring them.
When you don't read the AC repair package description, there is every possibility that there will be a misunderstanding at the end of the AC repair. To avoid such a situation, you must ask the service provider about what is included and what's not in the repair package. Besides, when you read the package description, it'll help you to understand if you're getting the best deal for your AC repair service or not.
Step 5: Compare the Repair Packages
After reading the package description, you'll have to compare the prices from different AC repair providers. If you notice that a company is offering air conditioning repair at an extremely low cost, you should avoid them. Because usually, scammers offer such unreasonably alluring packages to the customers, and unfortunately, many homeowners fall for these. So as soon as you get such offers, consider it a red flag.
Also, you can use your negotiation skills to lower the AC repair cost a bit.
Conclusion
If you know what to look for in an HVAC company, choosing one from the horde of advertising phonies gets easier. So, make sure to read the reviews and testimonials before you list them. Also, make sure to consult with your friends, family and neighbors. They might know a fantastic HVAC service provider perfect for your HVAC needs.