The best warehouse lighting depends on a variety of factors to be considered. It may seem like a formidable task, but it does not have to be. With our assistance, you can make the right decision, no matter how basic or complex the issue may be. Choosing the right light source or system is one such decision.
To find out more about Warehouse Lighting, please visit our Warehouse Lighting for Sale pages, where you can also request a quote.
How We Selected The 10 Best Warehouse Lighting in 2023
We analyzed more than 10 webpages and hundreds of products and reviewers to find the best warehouse lighting for 2023. We considered factors such as lumen output, lifespan, energy efficiency, ease of installation, and warranty when making our selections. We also consulted with our experts and drew on our own previous experiences to ensure that we were recommending the best possible products.
The following are some of the factors we considered when making our selections:
Lumen output: The lumen output of a light is a measure of its brightness. We looked for lights with high lumen outputs to ensure that they would provide adequate light for even the largest warehouses.
Lifespan: The lifespan of a light is the amount of time it is expected to last before it needs to be replaced. We looked for lights with long lifespans to save businesses money on replacement costs.
Energy efficiency: The energy efficiency of a light is a measure of how much energy it uses to produce a certain amount of light. We looked for energy-efficient lights to help businesses save money on their energy bills.
Ease of installation: The ease of installation of a light is important for businesses that want to save time and money on installation. We looked for lights that were easy to install so that businesses could get up and running quickly.
Warranty: The warranty of a light is important for businesses that want peace of mind knowing that they are covered if the light fails. We looked for lights with long warranties to protect businesses from unexpected costs.
We are confident that the products we have selected are the best warehouse lighting available in 2023. They are bright, energy-efficient, and easy to install. They are also backed by long warranties to protect businesses from unexpected costs.
Type of Warehouse Lighting Source
Lighting sources for warehouses include three options, each with its own benefits and drawbacks: HID (high-intensity discharge), fluorescent, and LED. 
HID Lighting 
Warehouse lighting has long relied on high-intensity discharge lamps, and these are still used. These lamps are the cheapest to purchase. But they are also the least flexible when it comes to color temperatures and have the highest Lumen depreciation rate. There is a very yellow tint to the light from high-pressure sodium lamps, where the color temperature ranges from 2200K to 2400K. Meanwhile, metal halide lamps are between 4000K and 4500K, which is a much whiter color. 
Additionally, all HID systems must be warmed up before reaching full illumination and must be cooled down after being turned off before they can be turned on. Because of this, the lights may go dark for up to fifteen minutes during a power surge.
Fluorescent Lighting 
Budget-conscious individuals seeking a more energy-efficient lighting solution can use fluorescent lighting as an alternative to HIDs since they are less energy-consuming than HIDs. Their color temperatures range from 2700K to 6500K, and they come in many different shapes and sizes, so you have much more flexibility when choosing them. However, fluorescent lighting is limited to certain operating temperatures. During extremely cold or hot weather, fluorescent lighting cannot be used. Thus, very cold or very hot warehouses can negatively impact fluorescent lighting life. 
Their life expectancy can also be reduced by frequent on/off cycles, so they are not recommended for areas that frequently turn the lights on and off. 
LED Lighting 
Lighting fixtures using LEDs are the most energy-efficient and versatile solution for lighting your warehouse. Their energy consumption is lower than that of any other light source, yet their Lumen output is comparable or superior. It is possible to purchase LEDs as part of a complete fixture for new construction or as retrofits for existing fixtures. 
The life of these bulbs can also reach 100,000 hours, so you won't be required to get a ladder out of the attic to change them as often, and they are not subjected to constant on/off cycles like HIDs and fluorescents do. LEDs are sensitive to high temperatures despite their great performance at lower temperatures. Even so, the reduction in light output and life hours is generally negligible until temperatures reach 80 degrees Fahrenheit.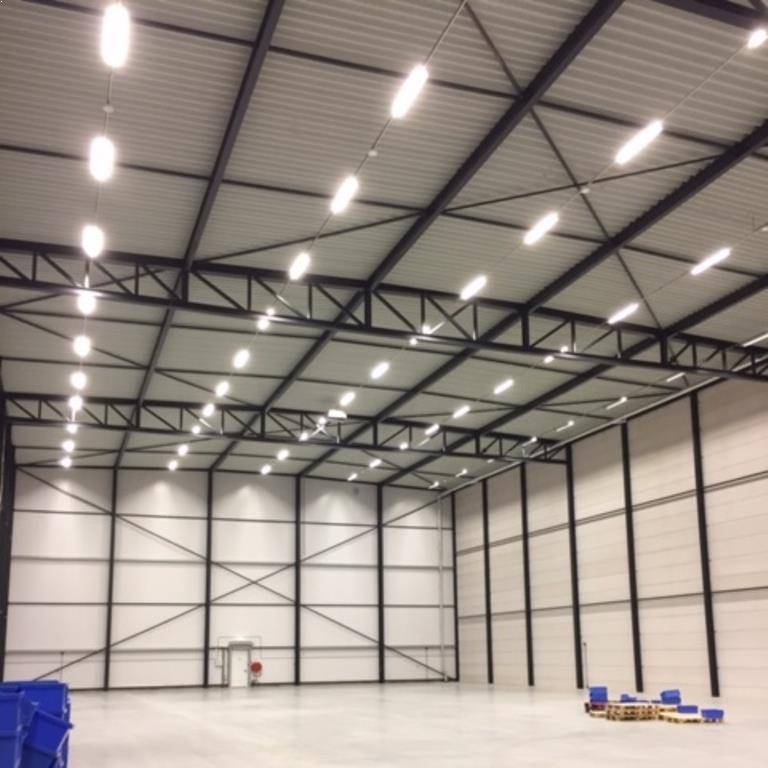 Warehouse Lighting Buying Guide
Various characteristics distinguish warehouses and industrial buildings from other types of buildings. Few windows, high ceilings, elevated shelves, and large floors are just a few of the features present in this space.
The first step in designing a warehouse lighting layout is to measure the space and height where the lights will be placed. By knowing these measurements, you can plan accordingly. The second step is to review existing light locations. Installing the same components at the same locations can help reduce costs if they are spaced correctly. Following this is laying out a grid. The higher the fixture, the brighter it will be, and the larger the spacing. 
For example:
An average ceiling height of 15 ft requires about 20,000 lumens with a 14 ft spacing. For 25 feet high, you will need 30,000 lumens and a 20-foot spacing. These are recommendations, and some areas will need more light.   
 For all these reasons, warehouse lighting systems must adapt and conform to the following requirements:
Lower maintenance costs,

Enhance the operational efficiency of a given space,

Boost productivity,

Ensure the safety of workers as well as their working conditions,

Be environmentally friendly.
Below are a number of lighting options that will simplify your warehouse lighting selections.
Fixtures Brightness 
It is essential to keep in mind that ceiling and wall colors have a huge impact on illumination. Ceilings and walls with lighter colors reflect the light more than darker ones, making them a better choice for fixtures that require fewer Lumen output. You save some money on energy costs with these fixtures since they consume less power. Skylights in your warehouse may also allow you to choose fixtures that produce fewer Lumens. In this case, however, you may have to turn on fewer fixtures during sunny days. Wiring multiple switches together can achieve this, and you can then turn on as many as you need.
It's important to have fixtures that are both bright enough and don't cause a lot of glare, which could reduce productivity or result in accidents. Investing in diffuser lens covers is an easy solution.
Depending on the area that you wish to cover, the wattage and lumens needed will vary. Warehouses typically require less wattage and lumens than retail spaces. When doing your calculations, use lumens instead of watts: Lumens refer to the amount of light produced. In other words, lumens indicate the intensity of light. A higher wattage does not guarantee a brighter light. Look for a lumens-to-watt ratio. You should find LEDs with a lumens-to-watt ratio of 140 or more.
It is often asked what type of lighting is recommended for different heights. Although we always recommend a plan, here are some rough guidelines of how to set up warehouse lighting to be bright but not too intense.
12-15 feet for approximately 10,000-15,000 lumens. You will need more fixtures and fewer lumens at these lower heights. 

You will need 16,000-20,000 lumens at 15-20 feet. 

For 25 to 35 feet, 33,000-lumen lights are ideal. The size of the space increases, so the number of lumens should be increased as well.

If it is 25-25ft, then a 33,000 lumen light is ideal.
Color Temperature 
A warehouse's color temperature may seem unimportant when choosing the right lights, but it can and will significantly improve productivity and visibility. The best color temperature for warehouses is between 4000K and 5000K. It produces a cool white light, sometimes perceived as having a blue tint. Studies have found that it reduces eyestrain and creates a more productive working environment.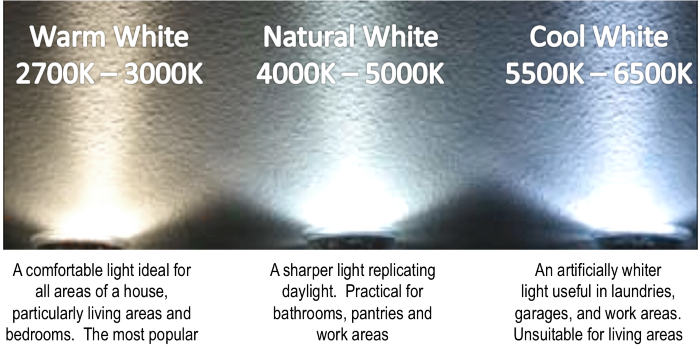 Light colors are described by the Kelvin scale. The Kelvin scale measures the degree of warmth or coolness of light. 
For warehouses, 3000K is too warm but may be fine for restaurants or churches.

A 4000K color temperature is natural and suitable for business or other fields of work. If you find 5000K too harsh, this would be a good option for your office.

The 5000K color temperature is pure white, suitable for large areas and outdoors. Around 85% of high bay sales are for this color temperature. The 5000K is popular for auditoriums, ballrooms, and large spaces. Large spaces and areas requiring a lot of lighting are recommended to use 5000K lights. They cover a large area effectively.

It is not recommended to go above 5000K. The

AMA

has also cautioned against going above 5700K.
Light Distribution Types 
In warehouses, light distribution will either be I or V depending on the layout of the building. For spaces with tall shelving units, type I distribution is required, which is a very narrow and long pattern. By doing so, all the light will be allowed into the room, and none will be blocked. Type V light distribution is appropriate if your warehouse has a more open floor plan. This pattern emits light with a widespread from all the sides of the fixture, forming a circular or square pattern.
Fixtures Positioning 
Your light fixtures need to be spaced correctly. It can cause hot spots or glare where lights from one fixture overlap with those from another if they are placed too close together. It is possible to create dark areas or lighting "drop-offs" if they are too far apart. Before buying or installing your fixtures, plan where they need to be located. Before setting up fixtures, consult a lighting professional to avoid over or under lighting your space.
The amount of space between lights depends on the height, beam angle, and footcandles desired.  Below are a few basic guidelines.
The ideal spacing is about 12 ft for bright lighting and 15 ft for normal lighting at 15ft high.

If you are 20 feet high, you can go to 15 feet for bright and 18 feet for normal.

The spacing for bright is 20ft and for normal is 25ft when 30ft is reached.
Lighting Management and Energy Saving Solutions 
Lighting large spaces, such as warehouses, can be made easier with occupancy and vacancy sensors. By incorporating one of these motion sensor types into your lighting design, you can reduce wasted energy costs by up to 30% without having to do any major renovations. Sensors detect if someone is present and turn the lights on/off accordingly. You can use occupancy sensors to turn the lights on and off automatically. In areas such as warehouses with many skylights, vacancy sensors reduce the need to turn on the lights every time someone enters, but you still want them to turn off when there is no one in the space.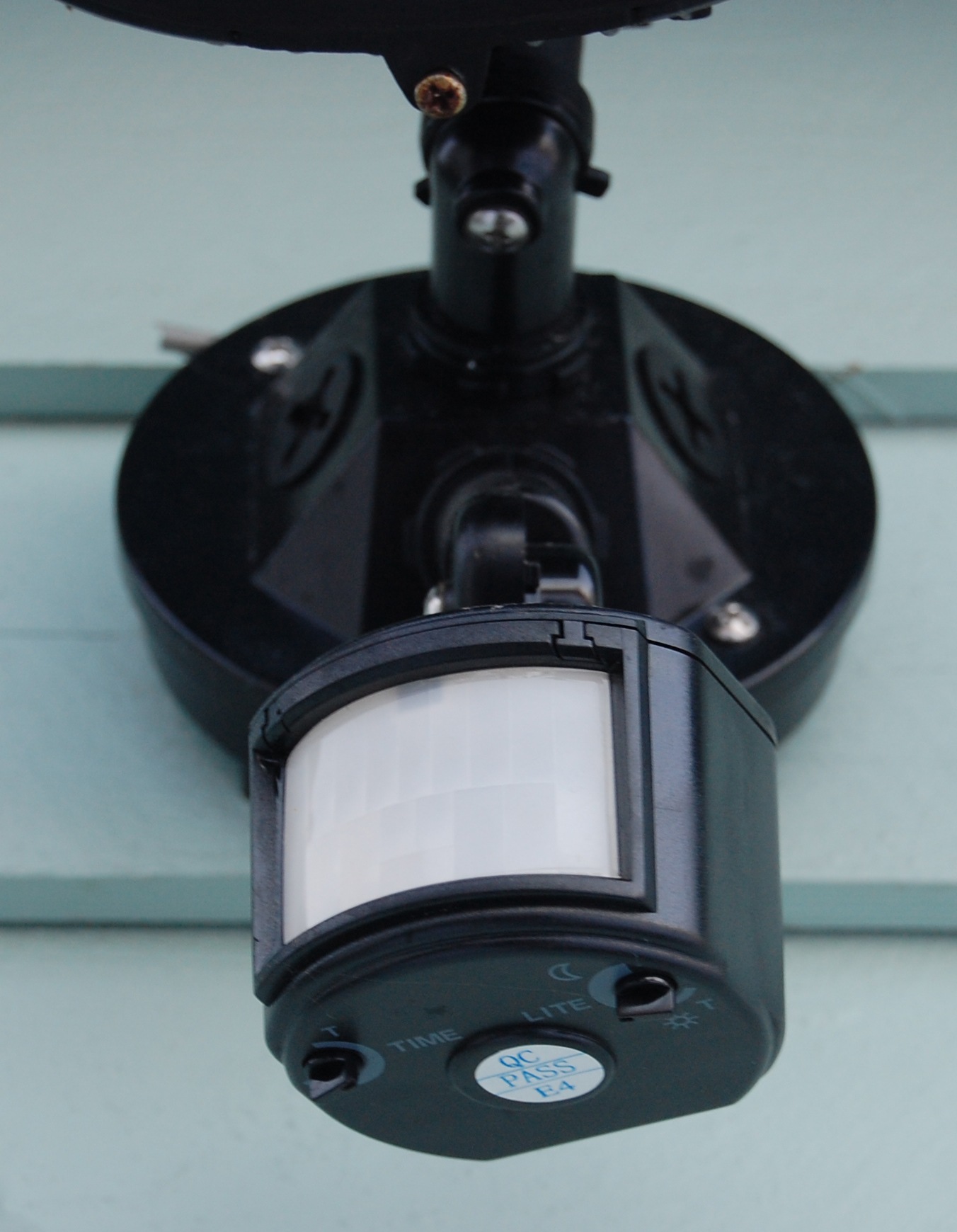 For warehouse lighting, you may also find it helpful to install a luminous flux adjustor. Some areas, for instance, may have a reasonable quantity of natural light, so you may need to reduce the intensity of the lighting system in those areas. By doing so, you will significantly reduce your energy costs.
Material Quality 
Another aspect to look at is how strong the lighting needs to be for the activities occurring inside the warehouse. In order to use a warehouse light in an industrial setting, you must choose a model that is dustproof, waterproof, and resistant to vibrations, shocks, and shattering.
Best Warehouse Lighting Review 
A list of the best warehouse lighting is provided here. We have taken care to include different light types to ensure that there is something suitable for every warehouse size and type. Find out which of our warehouse lighting recommendations is the best option for your workshop by reading our buying guide for warehouse lighting.
1. The Prologis Essentials Acuity Premium High-Bay Fixture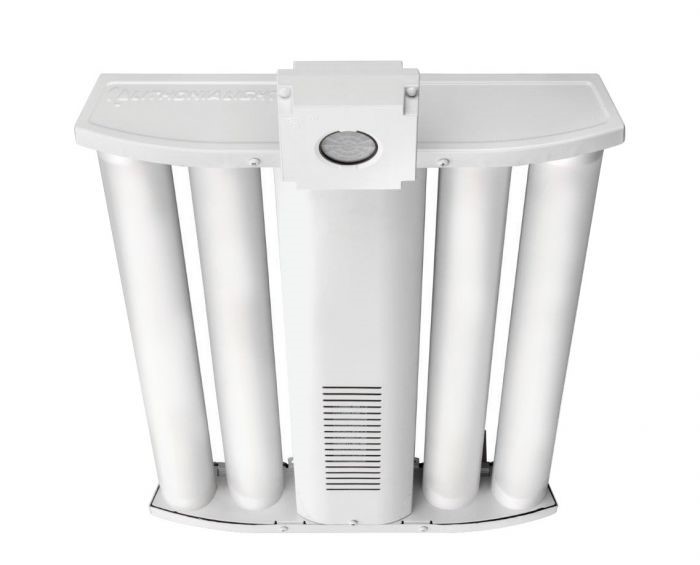 Specifications
| | |
| --- | --- |
| Technology | LED |
| Brightness | 24000 lumen |
| Color Temperature | 5000 kelvin |
| Color | White |
| Wattage | 150 watts |
| Lifespan | 120,000 hours |
| Warranty | 5 years |
LED lighting from Prologis Essentials offers you a great deal of flexibility. With the company's LED lighting, your energy bill will be reduced by 60% to 80% compared to traditional lighting. You can keep 100% of the energy savings associated with these lightings, and the price per square foot for five years is only one cent. You are not obligated to renew your lease if it expires within five years.
Your business is not disrupted by LED installations by their lighting partners. The result is a better work environment, increased productivity, less maintenance, and lower energy costs.
2. qimedo Illuminator 360 Led Garage Light LED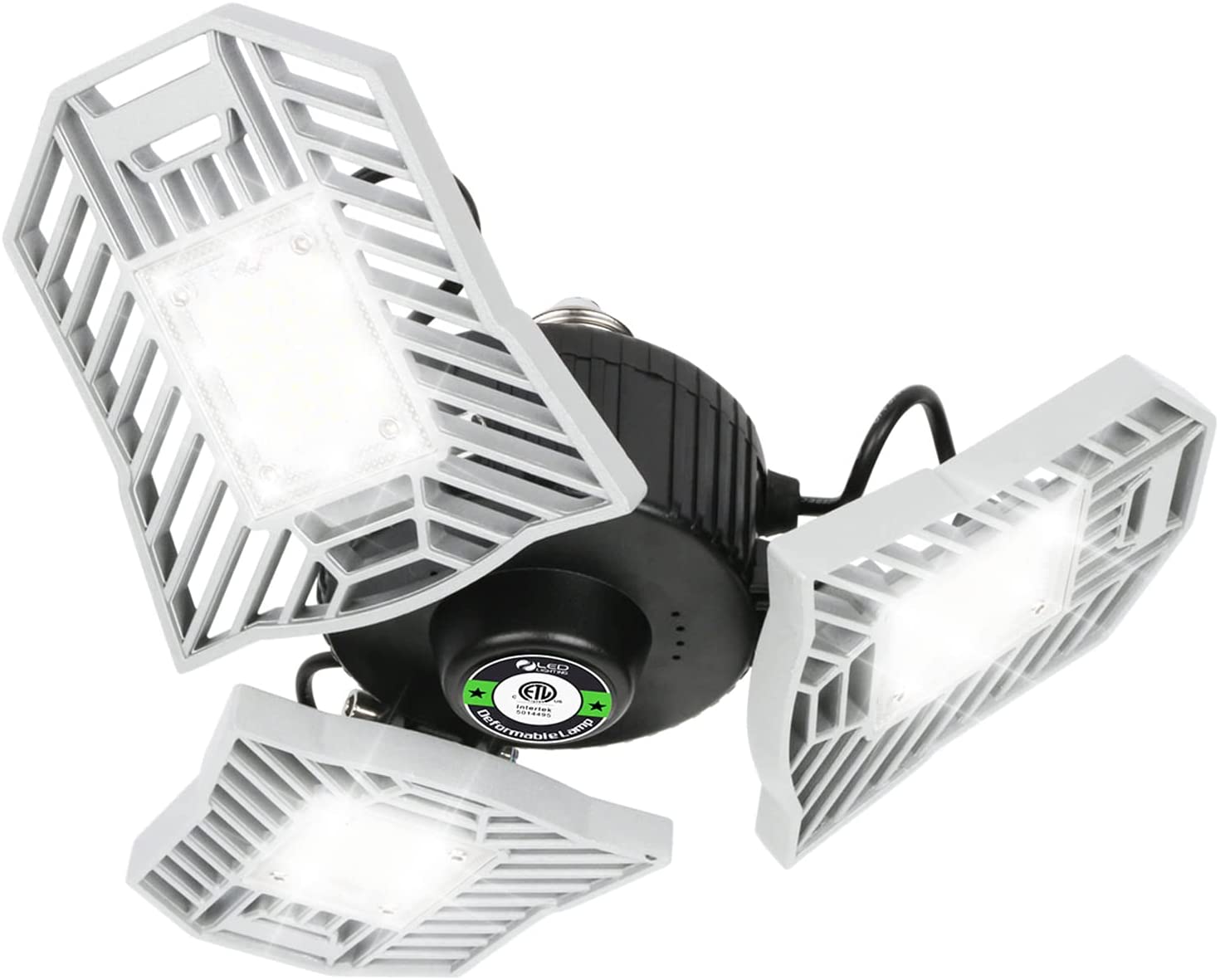 Specifications 
| | |
| --- | --- |
| Technology | LED |
| Brightness | 6000 lumen |
| Color Temperature | 6000 kelvin |
| Wattage | 60 watts |
| Lifespan | 50,000 hours |
Look at this LED lighting fixture. You'd think it's from a science fiction movie. A total of three aluminum lamp heads provide 360-degree coverage. Each lamp head can be tilted up to 90 degrees.
It is not waterproof, but it has an extremely efficient heat dissipation design. Its high-quality aluminum construction has slits in each lamp head to release heat faster.
Its simplicity makes this product another great selling point. The center has an E26 socket, and you can screw in your regular light bulb directly into the socket. Installation is similar to installing a regular light bulb.
6000 Kelvin color temperature and a luminous flux of 6000 provide daytime lighting with very high quality. These three lights require only 60 watts to provide this level of brightness.
Their expected lifespan is 50,000 hours. This warehouse lighting fixture comes with a two-year manufacturer's warranty and a 30-day free return policy.
3. Howard HFA1 Series Fluorescent Luminaires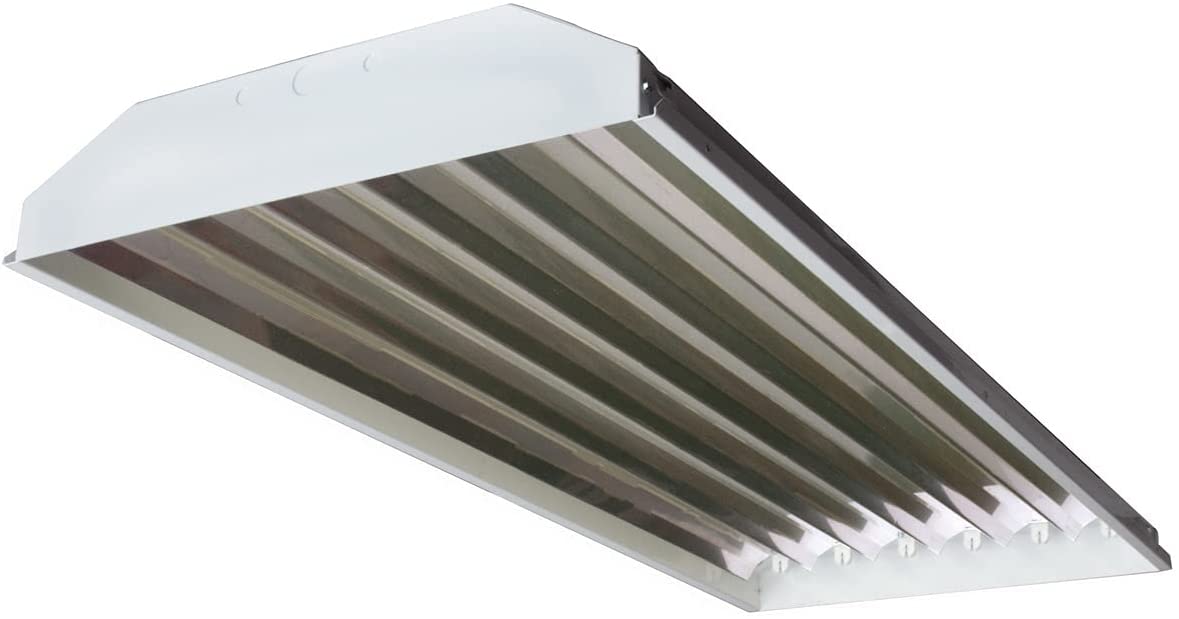 Specifications 
| | |
| --- | --- |
| Technology | Linear Fluorescent |
| Brightness | 29,400 lumen |
| Color Temperature | 4100K, 5000K |
| Number of Lamps | 6 |
| Voltage | 120-277V |
A Howard HFA series is an unbeatable option if you do not mind fluorescent technology and want a lower up-front cost. Fluorescent lighting offers comparable lumen-to-dollar efficiency to LED, so it is still a viable option for lighting large spaces. They are excellent for cafeterias, gymnasiums, warehouses, manufacturing facilities, large retail establishments, and more while minimizing upfront investment costs.
4. GE Albeo ABV1 Series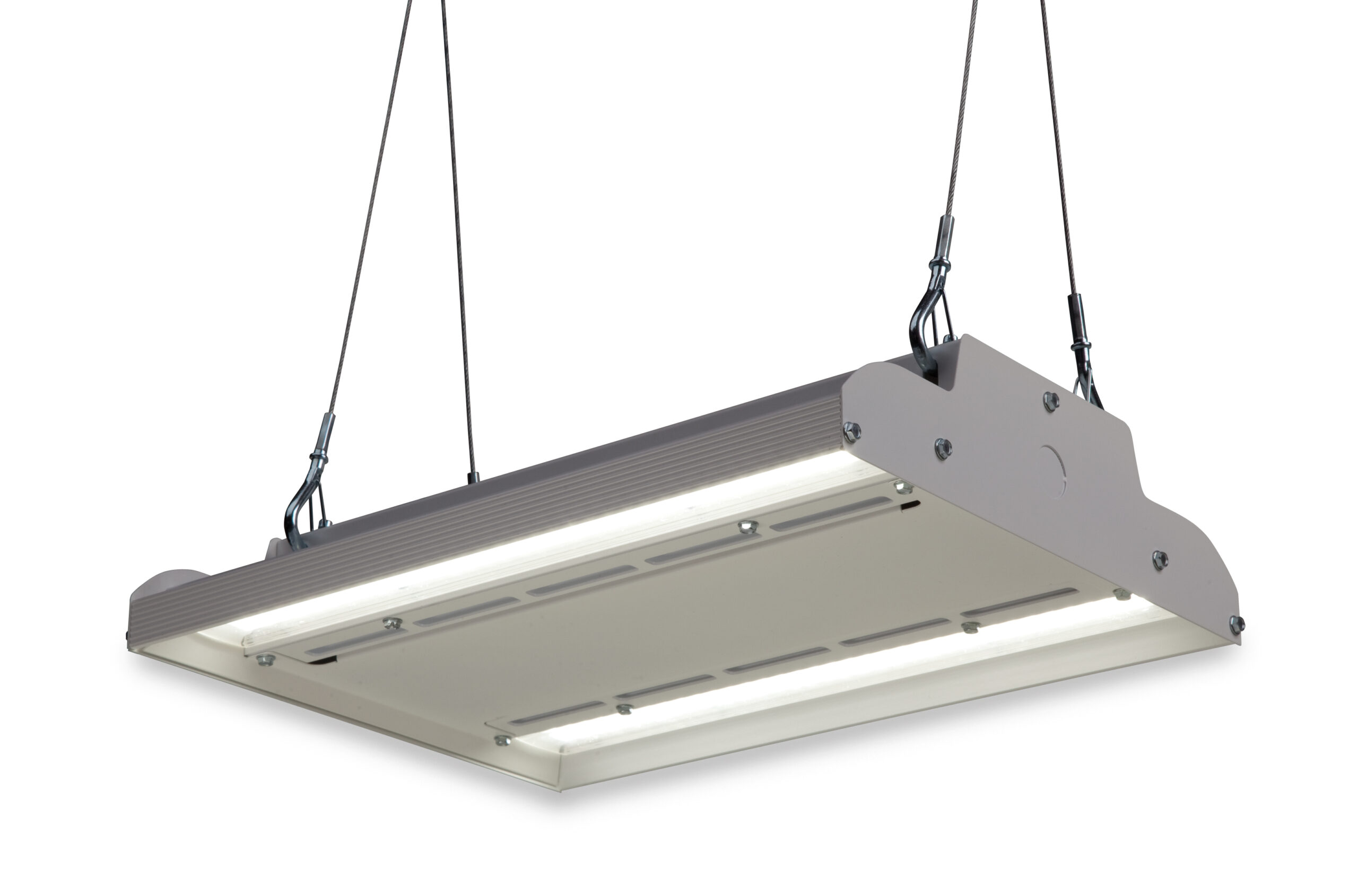 Specifications 
| | |
| --- | --- |
| Technology | LED |
| Brightness | 9,000 – 18,340 lumen |
| Color Temperature | 4000K, 5000K |
| Voltage | 120V-277V |
| Warranty | 5 years |
The GE Albeo ABV1 series is an LED fixture that looks and feels like a linear fluorescent. A high level of energy efficiency is offered, along with a 100,000-hour lifespan. Your net expenses will be lower in no time with these fixtures, which will help you pay back your investment quickly. This product comes with a five-year guarantee, which makes it perfect for environments that currently use linear fluorescent high bays.
5. Titan II MOTION SENSOR LED High Bay UFO Light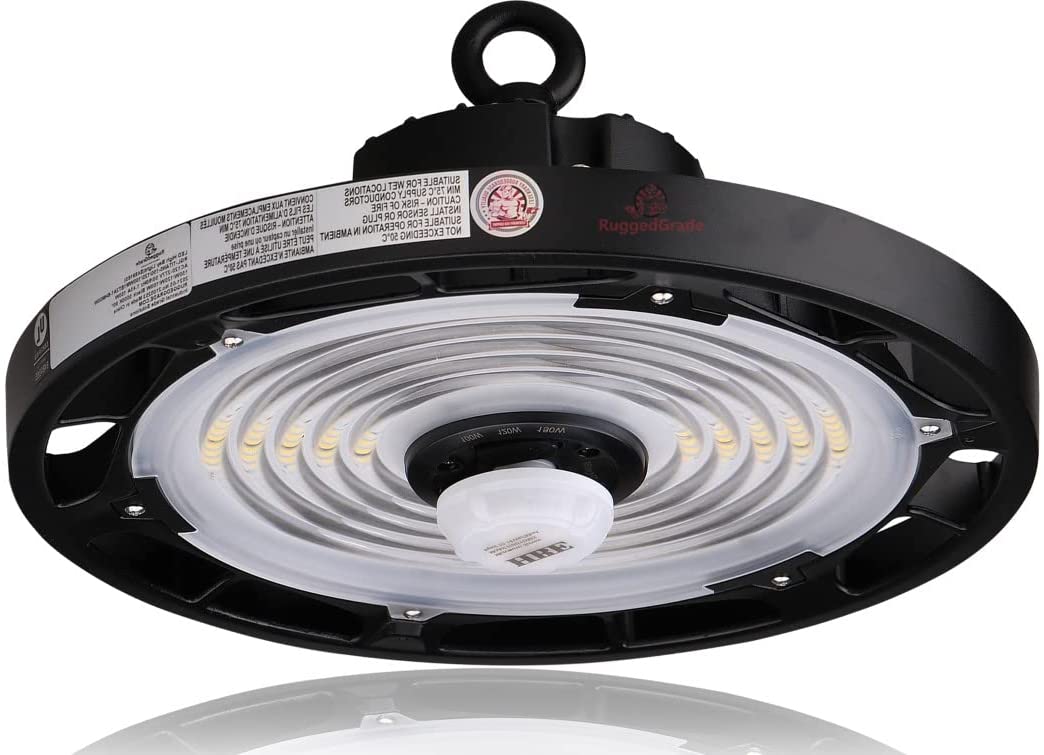 Specifications 
| | |
| --- | --- |
| Technology | LED |
| Brightness | 14000 lumen |
| Color Temperature | 5000 kelvin |
| Wattage | 150 |
| Dimmable | Yes |
| Lifespan | 100,000 hours |
| Warranty | 5 years |
This RuggedGrade LED high bay light is energy-efficient and incorporates a metal halide lamp for your safety. It has a classic spotlight look and is made of durable materials with long-lasting LEDs.
LEDs produce an impressive 14000 Lumens of light, making them ideal for high ceilings such as those in warehouses and factories. Their color temperature is 5000 Kelvin, which is a bright, white light.
Lighting fixtures with such long lifespans make sense for industrial use as they have a lifetime of up to 100,000 hours, which is twice as long as that of typical lights. By purchasing this machine, your company will save money over the long run due to its longevity and energy efficiency.
Additionally, the Titan II model features many dimming options, so you can customize it to meet your needs. The technology can also be used with smart controls like a motion sensor, and there are three different installation options for dimmers.
All this comes in a well-designed package made of good quality aluminum that is waterproof and comes with a hook for easy installation.
In addition to the standard black color, other colors are available with a custom order as well; green and red.
6. JESLED T8 8FT Integrated Tube Light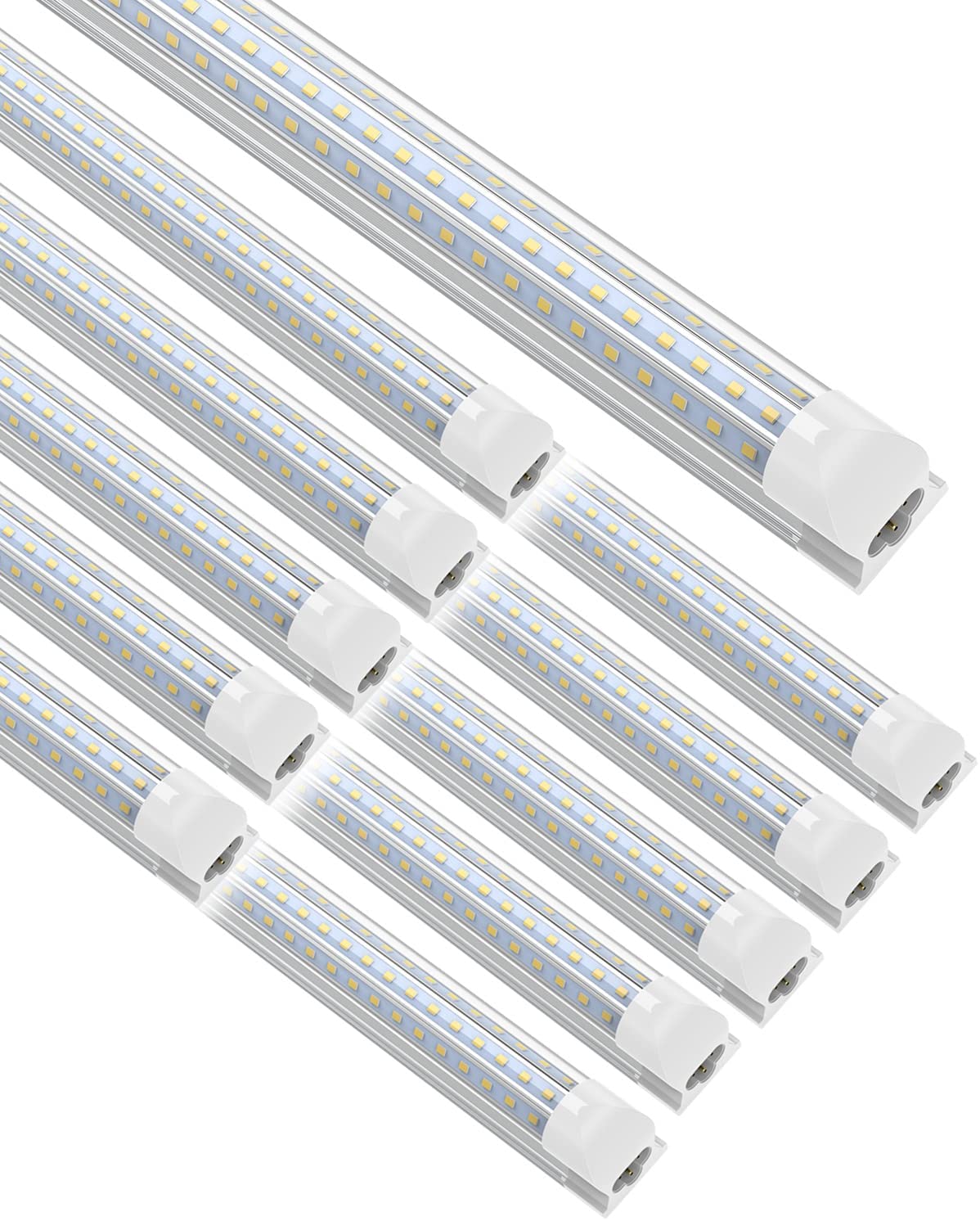 Specifications 
| | |
| --- | --- |
| Technology | LED |
| Brightness | 7200 lumen |
| Color Temperature | 5000 kelvin |
| Wattage | 72 watts |
| Lifespan | 50,000 hours |
| Warranty | 3 years |
For warehouse LED lighting, the traditional and versatile 8ft LED tube lights are still an excellent choice. This 8ft integrated LED tube light, the JESLED T8, is a good choice for those who prefer tube lights.
Its already long length makes it more appropriate for industrial use, as you can easily connect it to a maximum of six 8ft tubes to create a link. With this extension, you'll be able to cover a large space with a simple plug-and-play system.
Unlike most LED tube light models, the tubes on this model are V-shaped rather than flat. As a result, the lights have a wider angle coverage of 270° and a brightness of 7200 Lumens in a cool white light.
As an excellent replacement for fluorescent industrial warehouse lighting, the JESLED T8 8ft Integrated Tube Light has a standard T8 base and includes accessories to install.
The 25 tube lights in this big pack are all very affordable, so you can replace all the lights in your workshop at once.
7. Hyperikon 2 Foot Linear LED High Bay Lights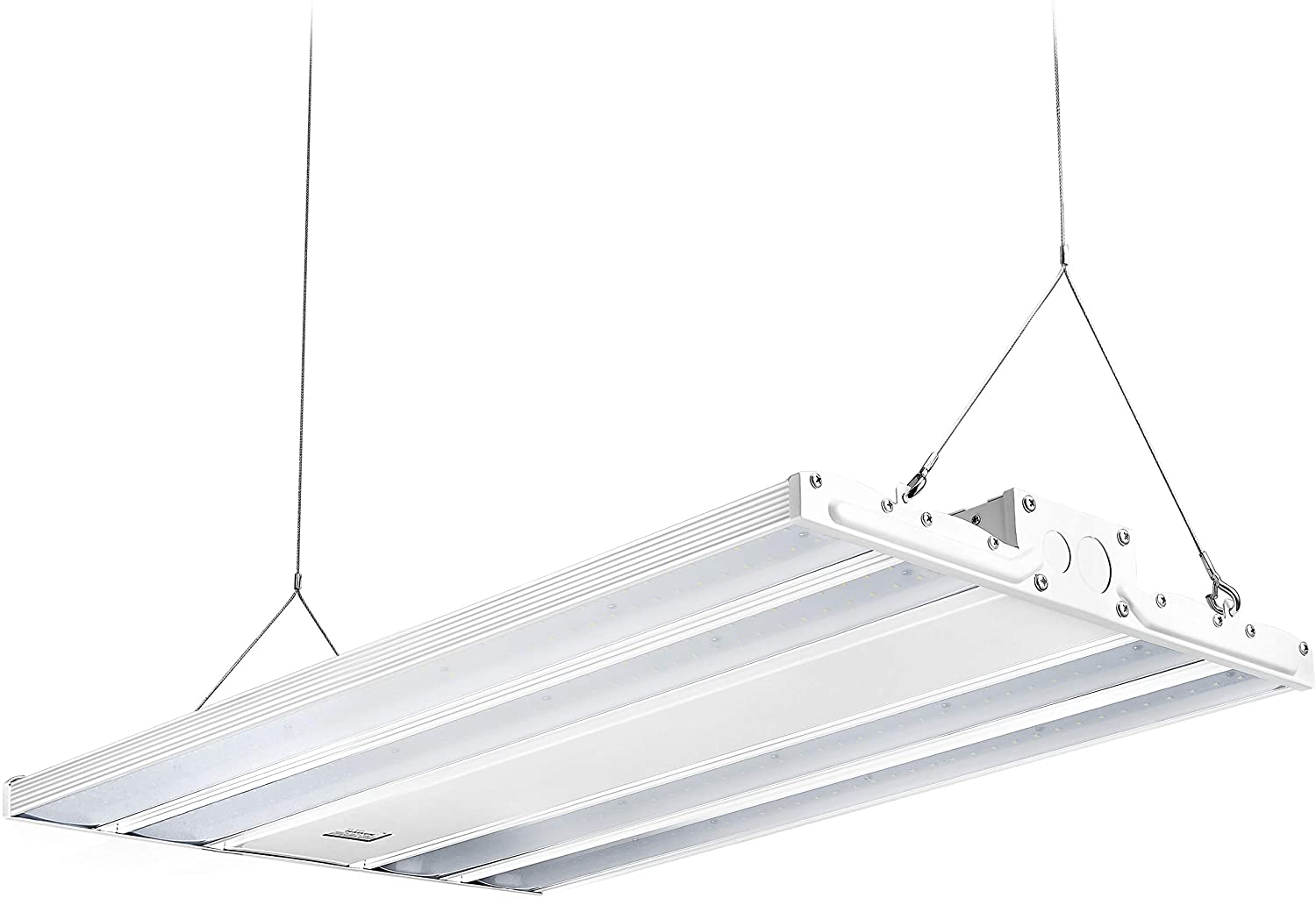 Specifications 
| | |
| --- | --- |
| Technology | LED |
| Brightness | 14,000 lumen |
| Color Temperature | 5000 kelvin |
| Wattage | 105 watts |
| Lifespan | 45,000 hours |
| Warranty | 5 years |
The cool rectangular design of the Hyperikon workbench light is perfect for high bay lighting in workshops. A rectangular lighting fixture covering 120° is two feet long and two feet wide.
The color rendering is 82, with a brightness of 14,000 lumens and a bright white color temperature.
One of the unique attributes of this design is that a motion sensor is pre-installed, so it consumes less energy. The motion sensor can detect movement from a distance of up to 80 feet. Once it has detected no movement for two minutes, the motion sensor dims its brightness to 10%. 
Despite its industrial-grade sturdy metal construction, this Hyperikon model is still relatively lightweight for its dimensions. In addition to being shock, shatter, and vibration resistant, this LED warehouse lighting fixture is also a safe choice for overhead lighting in workshops.
There is a minimum available power rating of 105 watts. For those who wish to have the brightest light for their workshop, higher wattages are available.
8. Dephen UL-Listed LED Corn Light Bulb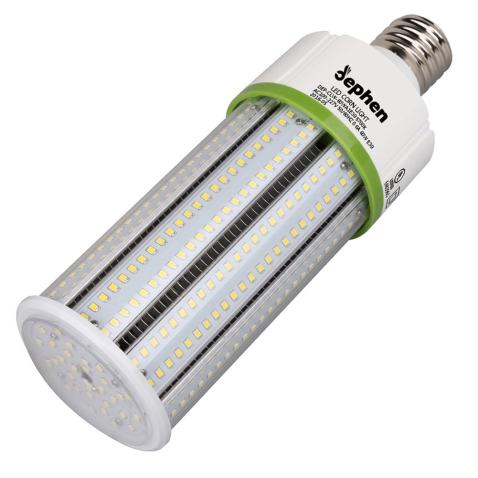 Specifications 
| | |
| --- | --- |
| Technology | LED |
| Brightness | 32,400 lumen |
| Color Temperature | 5000 kelvin |
| Wattage | 240 watts |
| Lifespan | 50,000 hours |
| Warranty | 5 years |
Are you looking for the best light bulb to replace the bulbs in your lighting fixtures? Look no further than this powerhouse light bulb called a corn light from Dephen. This is one of the brightest LED bulbs on the market, with a luminous flux of 32,400 lumens, making it ideal for areas with very high ceilings.
This heavy-duty corn light was designed for intensive industrial use. Designed to function flawlessly for at least 12 hours a day, they can also be used continuously for up to 24 hours.
You may be concerned that prolonged use will overheat and damage the light with other lights; however, the Dephen is not subject to this issue. Besides being flame-retardant, it is constructed of high-quality aluminum and an extremely effective heat sink, which is reinforced even further by a cooling fan built right into it.
The IP64 waterproof and dustproof nature of these LED corn lights makes them suitable for outdoor lighting fixtures. A surge protector is also included in the power supply unit.
Buy Equipment or Ask for a Service
By using Linquip RFQ Service, you can expect to receive quotations from various suppliers across multiple industries and regions.
Click Here to Request a Quotation From Suppliers and Service Providers
Read More on Linquip