Best Racking Warehouse – A racking warehouse system is a storage solution that allows products to be stacked horizontally on many levels. These systems can aid in the management and better utilization of your warehouse space, as well as the organization of freight in order to streamline operations.

Each warehouse has its own set of standards. The ideal racking system should be able to maximize space utilization while minimizing disruption to your activities, particularly the picking process. Consider the following variables to determine which racking system is best for your warehouse:
Floor Utilization – A racking system's ability to utilize warehouse floor space.
Budget – The approximated price per pallet. Consider this when ensuring that the racking system meets all of your requirements.
Forklift Accessibility – The ability to accommodate forklifts that are used to transport large goods. This takes into account the amount of aisle width that forklifts need to maneuver.
Storage Utilization – The quantity of space in the racking system that you can use. The amount you'll require is determined by the volume, size, and weight of your shipment.
Inventory Management – The warehouse's preferred order for inventory retrieval.
Versatility – The ability of racking systems to store a larger variety of items.
Inventory management is critical to simplifying warehouse operations in today's fast-paced and highly competitive marketplaces. It's one of the numerous difficulties that warehouse managers confront, but it can be mitigated by choosing the correct warehouse racking system. As a result, in this post, we'll go over the best racking warehouse systems, as well as the elements to consider when choosing a good racking system and the many varieties.
To find out more about Warehouse Racking, please visit our Warehouse Racking for Sale pages, where you can also request a quote.
Best Racking Warehouse Systems Reviews
Selective Racking System
Specifications
| | |
| --- | --- |
| Budget | $45 – $65 per pallet |
| Floor Utilization | 40% |
| Storage Utilization | 90 – 95% |
| Inventory Management | First in, First Out (FIFO) |
General Descriptions
Because of its low cost and wide range of sizes and attachments, the selective racking system is the most popular. This racking system is ideal for conventional storage for any application that requires quick access to materials.
Features
Supports First in First Out (FIFO)
Clear Aisles of 3 to 3.4m for reach trucks or 3.5 to 4.5m for counter-balanced forklifts.
Unfettered access to any pallet
The most common mode of racking
Storage Utilization: 90%, i.e. for every 100 pallet places available, you can fill 90.
Allows order picking at lower levels
Double-Deep Racking System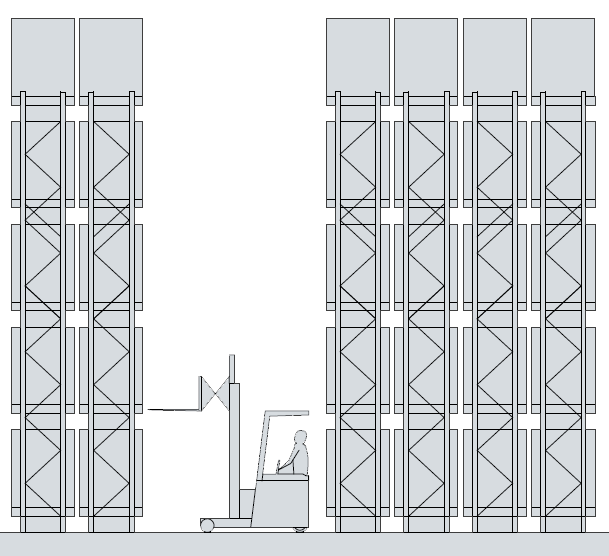 Specifications
| | |
| --- | --- |
| Budget | $50 – $70 per pallet |
| Floor Utilization | 60% |
| Storage Utilization | 85 – 90% |
| Inventory Management | First In, Last Out (FILO) |
General Descriptions
The double deep racking system is a variation that provides a nice boost in density but necessitates specific equipment (extendable forks) and is more time-consuming to operate. It's the best of both worlds: selective racking and high-density racking.
Features
FILO for each slot
Clear aisle of 3.0 to 3.4m
Need a forklift truck with extendable reach and camera to assist the operator
Pallets must be placed on beams at lower levels, and guide rails are employed at higher levels.
Reach and counterbalanced forklift tricks, as well as order picking devices, can be used to service them.
Typically, two pallets of the same SKU are placed in each double deep slot.
Storage utilization: 85-90%
Pallet Flow/Live Racking System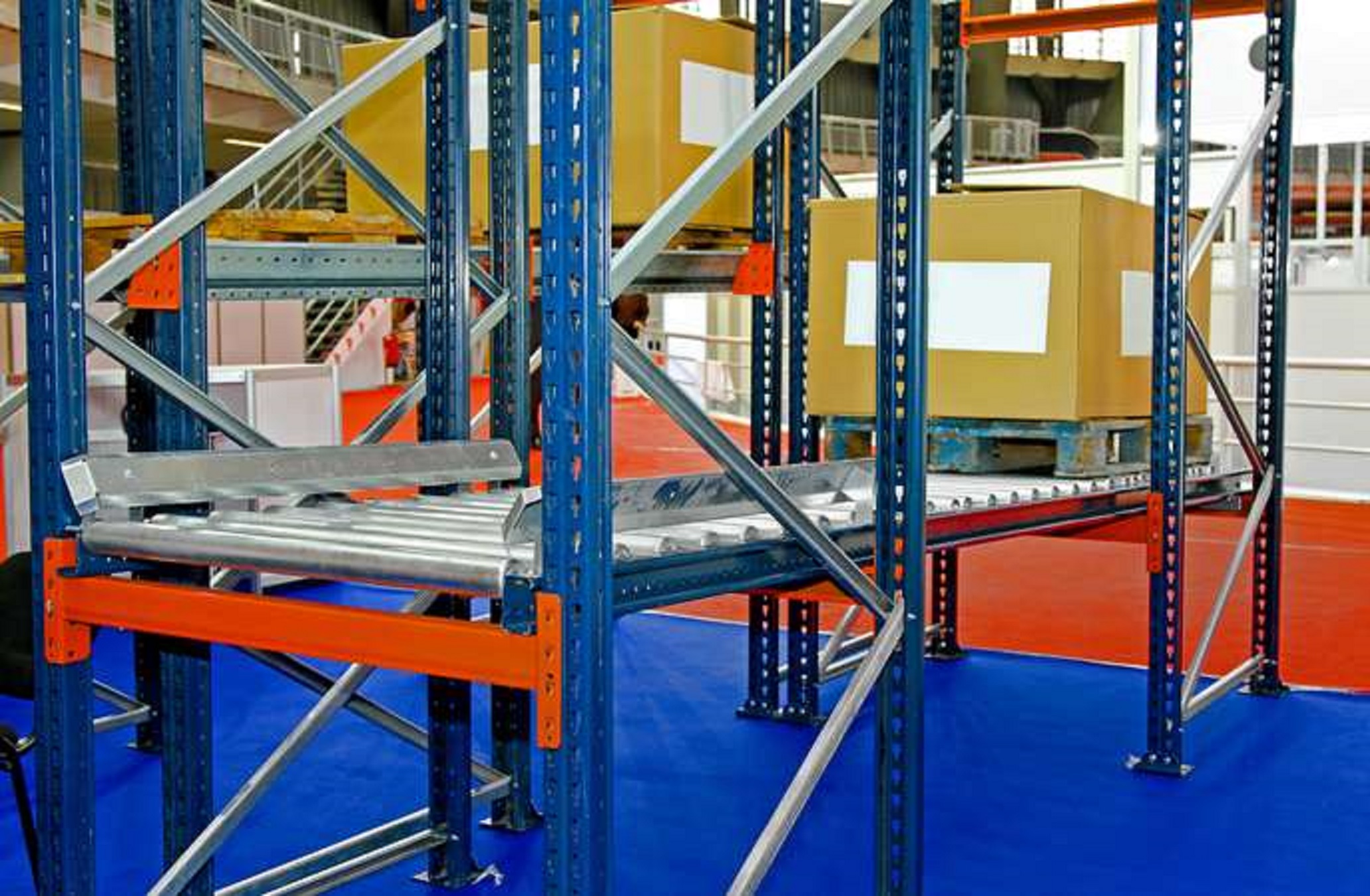 Specifications
| | |
| --- | --- |
| Budget | $170 – $185 per pallet |
| Floor Utilization | 70 – 75% |
| Storage Utilization | 85 – 90% |
| Inventory Management | First In, First Out (FIFO) |
General Descriptions
Pallet flow racks are a type of high-density storage system that combines elevated rails with dynamic components like gravity rollers and conveyors. Gravity is used to power these warehouse storage racks. This racking system may increase or even quadruple your warehouse's storage capacity, and it's ideal for expiration-date-sensitive products.
Features
FIFO for each site
High use of cube
Clear aisle of 3.0 to 3.4m
Pallets are put on gravity roll rails and moved by gravitational attraction from entry to exit.
Separate load in and load out aisles
One lane per SKU
utilization: 85-90%
Full pallets only
Drive-In Racking System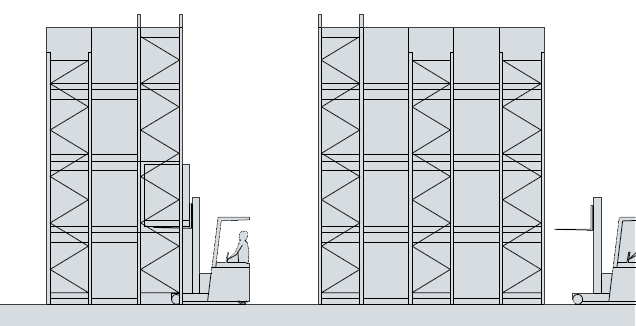 Specifications
| | |
| --- | --- |
| Budget | $160 – $185 per pallet |
| Floor Utilization | 65% |
| Storage Utilization | 60 – 65% |
| Inventory Management | Last In, First Out (LIFO) |
General Descriptions
The drive-in racking system allows you to store products in your warehouse at maximum density. It eliminates aisles in a warehouse and is ideal for storing huge quantities of comparable products in a little amount of space.
Features
Clear Aisles of 3 to 3.4m for reach trucks or 3.5 to 4.5m for counter-balanced forklifts
Can be up to 10 or 12 pallets deep and up 6 or 7 pallets high
FILO for each lane
To deposit or pick up pallets, the forklift travels down the lane of each racking bay.
Drive-in racking resembles the process of block stacking, but there is less damage to pallets and stacking can be higher with the racking.
Utilization: 50-60%
Push Back Racking System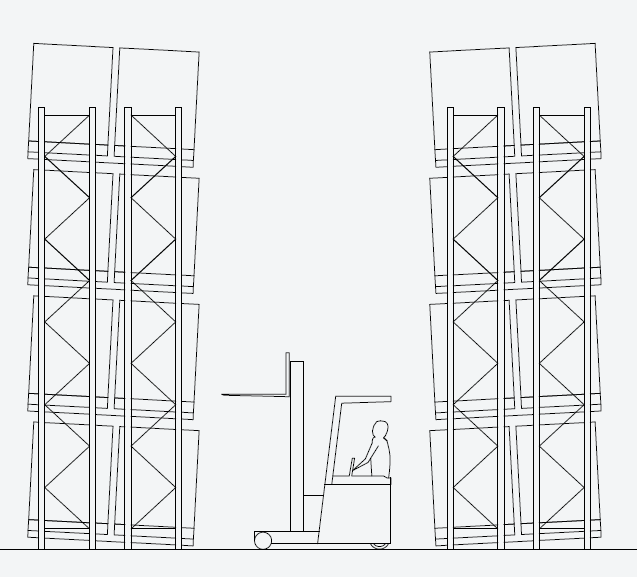 Specifications
| | |
| --- | --- |
| Budget | $275 – $295 per pallet |
| Floor Utilization | 75% |
| Storage Utilization | 75% |
| Inventory Management | Last In, First Out (LIFO) |
General Descriptions
The push-back pallet racking system provides greater pallet storage while also improving selectivity by using separate lanes for each SKU, making them easier to locate, pick, and put away. Push back warehouse storage racks remove the requirement for multiple aisles by allowing for front-loading and unloading.
Features
Clear aisles of 3 to 3.4m
It can be three or four pallets deep, but most are simply two.
Forklift trucks push pallets back from the aisle.
Pallets are loaded into carts with a reduced friction surface.
Only used to store complete pallets.
To avoid pallet damage, forklift drivers must be cautious when loading in and out.
Utilization: 85-90%
Narrow Aisle Racking System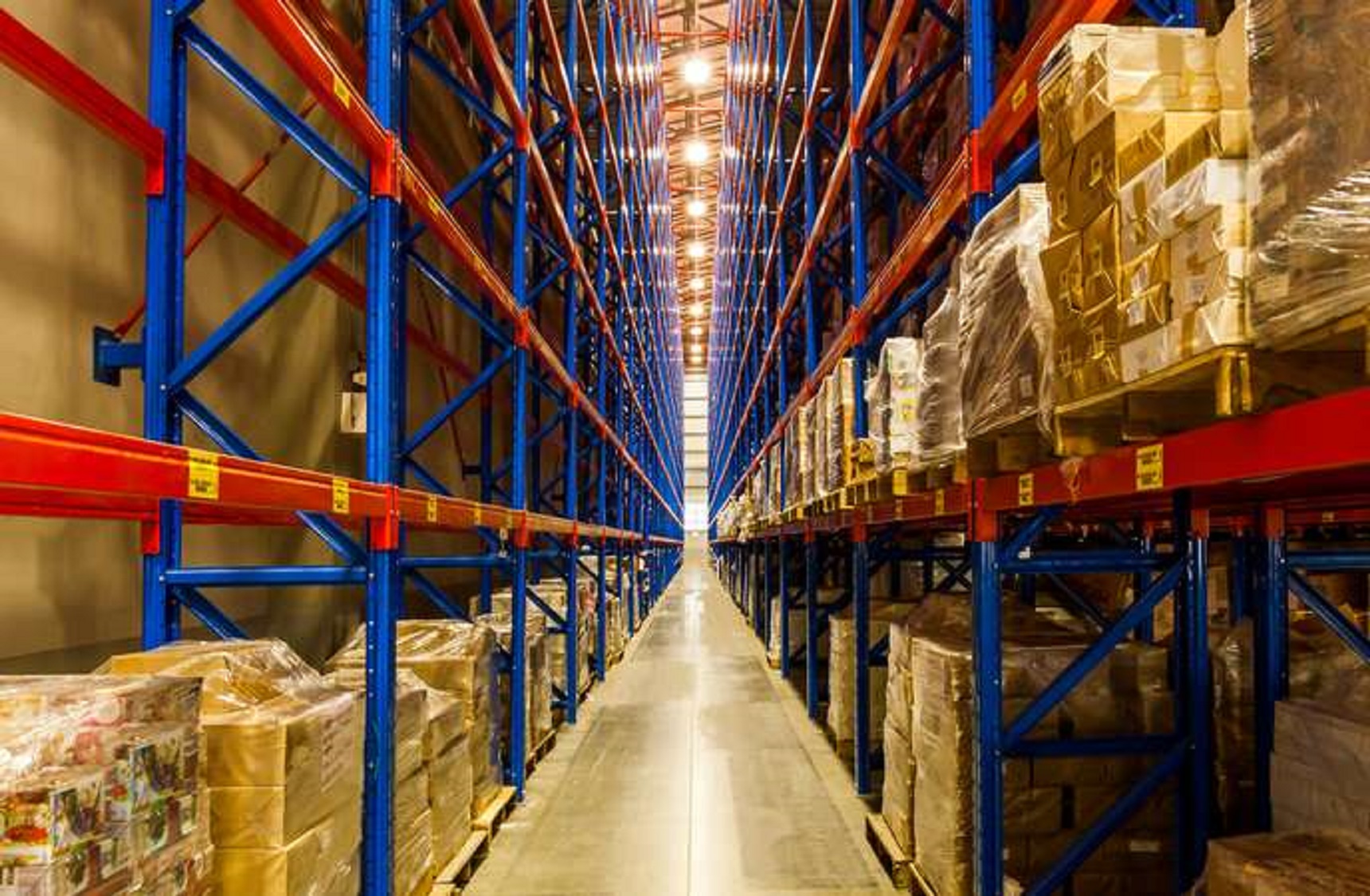 Specifications
| | |
| --- | --- |
| Budget | $50 – $60 per pallet |
| Floor Utilization | 90% |
| Storage Utilization | 95% |
| Inventory Management | First In, First Out (FIFO) |
General Descriptions
Narrow aisle racking is similar to selective racking in that it provides easier access to each pallet. The warehouse storage racks use floor space and roof height to create high-density storage.
Features
Clear aisle of 1.8 to 2.2m
Only one machine in an aisle at a time
Simulates the effects of selective racking.
At the end of each bay of racking, turret trucks retrieve and place pallets from pick and deposit (P&D) stations.
Turret trucks need wire or mechanical direction down each aisle's length.
Pallets are delivered and picked up by a separate forklift to and from the P&D stations.
Picking from pallets is possible for order picking machines although not at the same time as turret trucks.
Utilization: 90%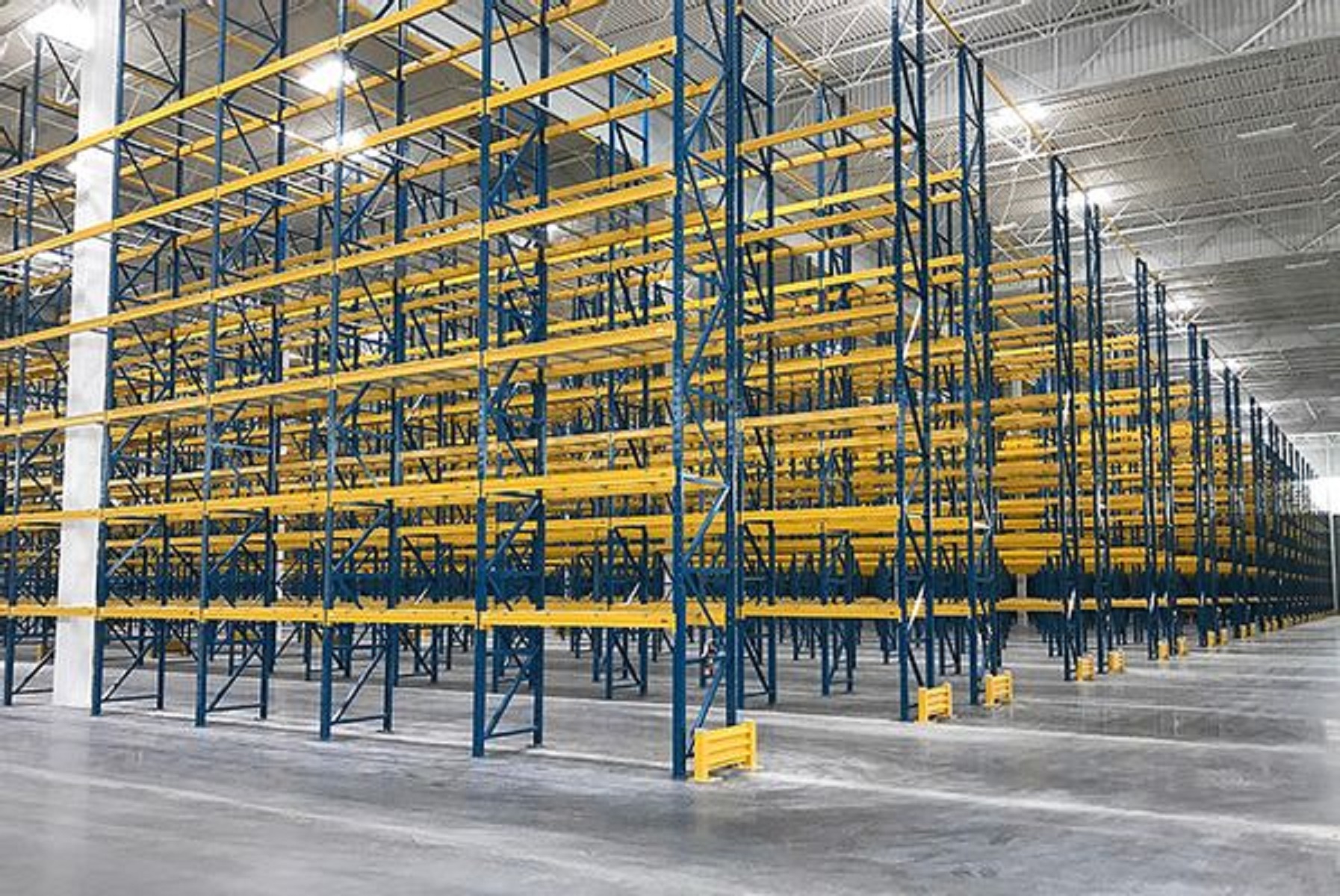 Specifications
| | |
| --- | --- |
| Frame Bracing | Braces are 1.5" x 1.5" |
| Beams | Manufactured with high-strength steel |
| Connections | 2" adjustability for better space utilization |
General Descriptions
Because it is made of strong C-channel structural steel, Steel King's SK3000 pallet racking by Prologis Essentials delivers increased overall strength and stiffness. The SK3000 is a high-performing material handling rack and the greatest value in structural pallet racks today, with a longer service life, fewer maintenance costs, and greater safety. The SK3000 Structural Rack is a modular system that can be configured to accommodate a range of applications and quickly extends as per your needs.
Upright frame columns come in three sizes: 3′′, 4′′, and 5′′. The use of structural channel steel allows for increased resistance to forklift impact damage while also boosting load bearing capacity and seismic resilience. The whole horizontal and diagonal bracing uses structural angle. High-strength steel beams are one-piece, seamless, and continuously welded with a complete vertical weld. Bolted beams may be adjusted in 2′′ vertical increments with ease.
A thick 7 gauge wrap-around connector plate is used for column-to-beam connections, which helps square the rack for a tighter connection. When compared to single bolt systems, using two bolts per beam gives 57 percent higher strength. Your system's shear strength is improved with Grade 5 hardware. The bolted connectors are built to RMI specifications.
The strength of SK3000 can be seen from top to bottom. Standard footpads are welded to each column and are comprised of 7 gauge steel plates, effectively distributing floor stresses. There's also a footpad that's more durable. Powder coating is not only more attractive, but it is also more resistant to impact damage, chemicals, chips, and scratches than liquid coating.
FAQs about Racking Warehouse Systems
Why Should We Use a Warehouse Racking System?
For one thing, using a racking system is far less expensive than doubling the size of an existing warehouse. Adding a racking system to your warehouse can double or even triple the number of goods you can handle, and adding forklifts to a simple warehousing operation usually results in a significant increase in efficiency.
Businesses nowadays are more concerned with the bottom line than ever before, and a warehouse without even the most basic racking system is nearly always inefficient. Forklifts are generally present in warehouses that deal with large commodities, making the transfer to a racking system much easier.
What Safety Concerns Are We Looking At?
You'll need to take extra special precautions to avoid damage because your raw materials will be stored dozens of feet above the warehouse floor. Pay strict attention to any slack racking system components, especially after installation, because even the smallest mistake could result in materials falling.
Also, make sure to adhere to each manufacturer's rigorous load limitations. While your racking system may appear to be capable of handling more, it is not safe and could result in goods being damaged or workers being injured. Rack audits should be conducted regularly to maintain product integrity.
What is a Concentrated Point Load?
The weight of a concentrated static load is not equally distributed throughout the deck's surface. A point load is a static load that is concentrated at certain locations on the deck. For example, a container with feet or bars that hold the weight, which is concentrated in a few different regions of the container, could be used.
How Often Should We Have My Racks Inspected?
MHI (Material Handling Institute) recommends having your racks evaluated at least once a year. Additionally, if a forklift or other warehouse equipment damages your racking system, we recommend having your racks inspected replacing the damaged item. In your warehouse, safety should be a top priority.
Why Do My Racks Need to be Anchored?
Racking must be attached to the floor, according to the Rack Manufacturers' Institute. This is true for all racking frames at all times. Contact the manufacturer if you're not sure what size anchor bolts to use. If you're in a seismic zone, you may need more than a conventional ½" anchor bolt to meet the requirements.
You may only require one anchor bolt per column, or you may need to utilize all four holes in the base, depending on the racks and your position. Your manufacturer should be well-versed in the regulations and can ensure that your racks are properly grounded to comply with local regulations. Anchors maintain the racks in place, ensuring pallet racking reliability and durability while also ensuring warehouse safety.
Conclusion
Due to the huge range of racking systems available on the market, choosing the best racking warehouse systems can be a difficult undertaking. Considering the elements described above is the best method to prevent becoming overwhelmed with this activity. The ideal warehouse racking system will help you make the most of your space while also streamlining your warehouse processes.
Call today to speak with one of our Material Handling Service Providers on Linquip if you are ready to automate inventory management or are searching for a solution to boost efficiency, or if you have another question about pallet racking or any other warehouse equipment or services.
Buy Equipment or Ask for a Service
By using Linquip RFQ Service, you can expect to receive quotations from various suppliers across multiple industries and regions.
Click Here to Request a Quotation From Suppliers and Service Providers
Read More on Linquip