Cooling towers play an important part in many industrial processes. Without proper maintenance, they are destined to experience problems that can lead to a complete shutdown of the entire building, higher energy costs and shortened equipment lifespan. Another factor is Legionella prevention, which has become an industry-wide focus. Because cooling towers are one of the most common sources for growth of bacteria, routine maintenance is of great importance. Follow this new blog in Linquip to learn valuable tips about cooling tower maintenance.

The Importance of Cooling Tower Maintenance
Regular maintenance of your cooling tower indeed ensures that:
The operating reliability of your cooling tower remains optimal.
Your cooling tower continues to operate as it should.
Your cooling tower retains its cooling capacity.
The risk of Legionella's disease is minimized.
The working life of your cooling tower is extended so you do not have to replace your cooling tower so soon.
Unnecessarily premature wear of your cooling tower is avoided.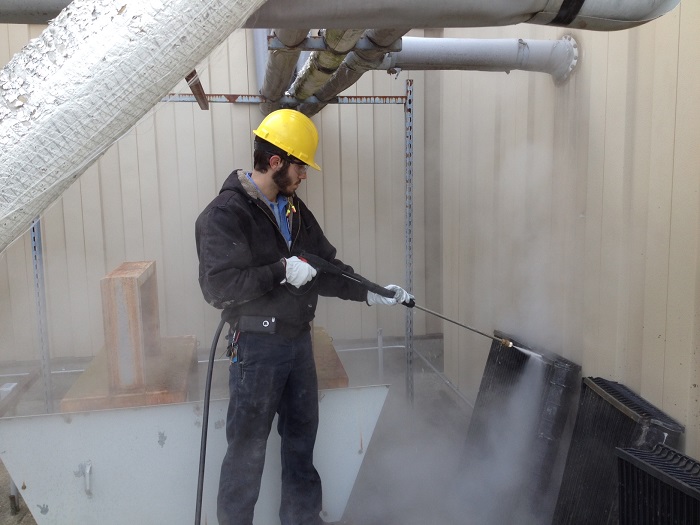 Cooling Tower Maintenance Checklist
The following is a task list of the crucial things for cooling tower maintenance. By doing so regularly and properly, you will make sure that your cooling tower will continue to function at the original optimum efficiency, keeping energy costs low.
Water Treatment
The most critical step in cooling tower maintenance is a thorough, monthly water treatment program. If water quality is neglected, it can undermine the entire system resulting in scaling and sludge in the pipes and condensers.
If your company does not have expertise in water treatment, make sure to get assistance from a company that does. Ensure that the water is tested monthly and is treated with biocide and scale inhibitors. Automatic feeders and sensors should also be installed.
Motor
If your motor fails, it can bring the whole building down along with it. Because these motors are extremely heavy, hoisting a new one to the cooling tower is not a simple task. Here is what to do on a regular basis:
Inspect starter coils and contacts (quarterly)
Tighten all electrical connections (annually)
Measure operating current and voltages, and make sure that they don't exceed the recommended guidelines found on the motor nameplate (quarterly)
Check for excessive vibration (monthly). Signs include worn out Elkings and fan blades out of balance.
Lubricate Elkings as required
Examine motor mount resiliency (annually). If the motor sits on rubber supports, make sure they are not dried out.
Check the motor's insulation (annually). If the insulation breaks down, water can seep in and short out the motor.
Fan
Proper fan maintenance is equally important, as broken fan blades can destroy Elkings and cause other problems. Therefore:
Check blades and clean dirt accumulation (annually)
Lubricate Elkings and check for end play and wear (quarterly)
Check condition of drive couplings, pulleys, and belts (quarterly)
Replace belts (annually)
Check for corrosion and wear (quarterly)
Check the fan's alignment, balance, and security to shaft (annually)
Water Inlet and Water Outlet
Inspect and check for leaks (quarterly)
Clean strainer, as required
Spray Nozzles
Baffles
Inspect for corrosion and wear (monthly)
Clean or replace as required

Sump
Inspect for corrosion, clean (annually)
Drain and Overflow
Inspect for obstructions, clean (monthly)
Float Valve
Inspect for corrosion and wear (monthly)
Preventive Maintenance of Cooling Tower
Here are 10 simple tips for cooling tower maintenance to get the most out of your system.
Check the overall condition of the unit and listen for any uncommon noises to establish a baseline of any potential issues.
Before beginning any hands-on work, be sure to follow proper lock-out procedures and disconnect motor switches to ensure your safety.
Inspect and clean debris from strainers to keep the system free of excess materials.
Inspect the water distribution system and check for dry areas over the fill coil section to avoid scale buildup and increase system capacity. If the surface is not fully wetted, check the nozzles for cracks and clogs.
Flush dirt and debris from the cold water basin through the tower drain or sump strainer to maintain water filtration and keep dirt from collecting. Installing basin sweeper piping in addition to a filtration system will function as automatic maintenance.
Check the makeup water supply for the appropriate predetermined water level to conserve water and reduce air entrainment.
Adjust the bleed rate accordingly per your local water quality and evaporation rate regulations, preventing accumulation of solids in recirculating water.
Fix any tension problems on the belt to ensure optimal belt-drive system performance.
Routinely check oil level, oil quality, and shaft alignment for a gear-drive system following the manufacturer's recommendations to assure reliable cooling tower service.
Lubricate fan shaft Elkings every three months, at a minimum, to maintain proper operation. Installing automatic bearing greasers is easy and can eliminate monthly Elking maintenance.
The frequency of cooling tower maintenance varies depending on the condition of the circulating water and the environment in which the unit operates. A well-maintained cooling tower will help prevent equipment failure and extend equipment life. Storing critical parts in inventory will also help reduce downtime in the event of an emergency
So this is all you need to know about cooling tower maintenance. If you enjoy this article and want to share your experience with cooling tower in Linquip, let us know what you think by leaving your idea in comment section. Is there any question we can help you with? Feel free to sign up on our website where our experts waiting to give you the professional advise you need.
Buy Equipment or Ask for a Service
By using Linquip RFQ Service, you can expect to receive quotations from various suppliers across multiple industries and regions.
Click Here to Request a Quotation From Suppliers and Service Providers
Read More In Linquip