Interested in learning about the Functions of a Heat Pump? A Heat Pump's functioning principle and uses may be found here at Linquip. In search of a place to purchase Heat Pump Equipment? Visit Linquip's Heat Pump For Sale, where you can see a complete list of all Heat Pump Products depending on your needs and application.
For your convenience, Linquip also provides a list of Heat Pump Suppliers and Companies from which you may select the best one. Linquip has a wide variety of Heat Pump Manufacturers who can help you discover the right equipment for your application. The best Heat Pump Service Provider businesses can also manage your industrial equipment service activities, such as the installation, maintenance, and repair of your industrial equipment.
A best mini split heat pump function is actually to monitor the temperature in rooms or zones. Mini split heat pumps are also called "ductless" since they do not have any ductwork. In this guide at Linquip, you will find out the best mini split heat pump for cold weather, what a mini split heat pump is, and how it works.
⇒ View a List of Heat Pump for Sale and Their Suppliers ⇐
What is a mini split heat pump?
A mini split heat pump can replace your primary heating system or complement your current heating system because it is the cheapest to use. Because mini split heat pump systems do not require ductwork, they are suitable for single-room additions or homes without ducts. They, moreover, offer flexible design.
Mini Split cold weather performance
About the mini split cold weather performance, it is clear that it takes heat from the environment and transfer it to heat the home indoors or move it to cool the house outdoors. It includes indoor and outdoor equipment. The condensing / compression unit applies pressure, which is then distributed through lines connected to the interior. The indoor unit has three components: air-handlers, blowers, and the evaporator coil.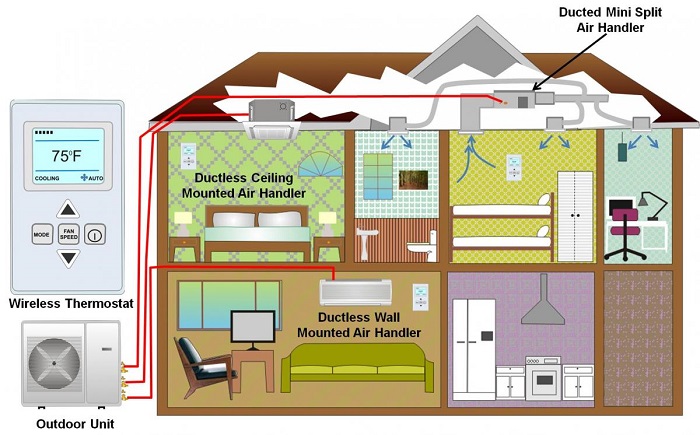 In several areas, including walls and ceilings, air handling units can be placed inside the home. The quiet indoor unit is mounted high on a wall or ceiling and is controlled by remote control. Meanwhile, the condenser remains open.
The components are connected by tubes. Such tubes are typically flowing through the wall a hole mostly three inches wide, and all line sets plus electrical wiring connecting the two components passed through that hole. The tubing is circulated by an environmentally friendly refrigerant that plays a key role in providing warmth to the indoors.
Once mounted, heat pump and air-conditioner are turned on, warm air is drawn from outside the home and the heat in the air is drawn and pumped into your rooms by the air handler as the air passes through the refrigerant. The cool air from which heat was drawn is dumped outside the house in the meantime.
What is the best mini split heat pump for cold weather?
When cold weather arrives, it is time to ensure that your cold winter days are warmer with a reliable, cost-effective heating system. With a mini split heat pump, a more flexible positioning, lower heating cost, and simpler set-up have some important advantages over a conventional system. There are several brands available to choose the best mini split heat pump for cold weather. Here, we will mention some of them briefly.
DAIKIN mini split heat pumps
Daikin is a well-known Japanese brand because of its high device efficiency. Searching for the best mini split heat pump for cold weather, it is certainly a good brand to try. Daikin heat pumps use heat pumping technology that enables the heat pump to adjust to the heating power of the room. They decrease indoor temperature fluctuations and energy consumption. Also, they have an infrared sensor that detects motion and activates energy-saving mode when the room has been empty for 20 minutes empty.
MITSUBISHI mini split heat pumps
Mitsubishi is regarded as a pioneer in mini split cooling and heating. Within this brand, some units have electric belt heating that provides faster heat at startup and increases the system performance in freezing climates. Moreover, systems automatically restart after a loss when the power returns.
LG mini split heat pumps
Another best mini split heat pump in cold weather is LG. It is interesting to know that this in kind of mini split, Wi-Fi is available for the system. Several systems have already mounted a drainage pan heater. And the LG red high-efficiency series operates at full efficiency up to -5 ° F.
FUJITSU & RUUD mini split heat pumps
Last but not least, the best mini split heat pump for cold weather is Fujitsu that has developed high-quality items in heating and cooling over the past 40 years. It is now a manufacturer for Ruud, a maker of American HVACs. The mini split heat pump made from this company has several features, including numerous design choices and models; each unit has its thermostat, so when a room is unoccupied there is no need to run the device.
Cold Climate Heat Pumps
An Inverter-driven, mini split heat pump that can comfortably heat a house when outside temperatures are as low as -15 °F is a cold climate heat pump. It heats and cools the home at a fraction of the cost of traditional heating and cooling systems. These highly effective and quiet heat pumps work together with your existing heating system, even at a temperature lower than zero to heat your home comfortably.
Cold climate heat pumps allow cool spaces cooler and warm spaces warmer by using energy to transfer heat from cool spaces to warm spaces. Because heat is transmitted instead of produced, cold climate heat pumps may supply up to three times the amount of energy they consume. This ensures that heat can be distributed more effectively and cheaper.
Mini Split Cold Climate air source Heat Pump
More about picking the best mini split heat pump for cold weather, we have the mini split cold climate air source heat pump which is like a heat sponge: it collects heat from the outside air and transfers it to your house. As it uses outside air, it operates particularly well at moderate temperatures. But if temperatures fall below 32 ° F, it is not effective anymore. For comfort and energy use however, the proper operation of an air source heat pump is necessary. Although successful in cold weather, a mini split cold climate air source heat pump also needs additional heat during subzero days.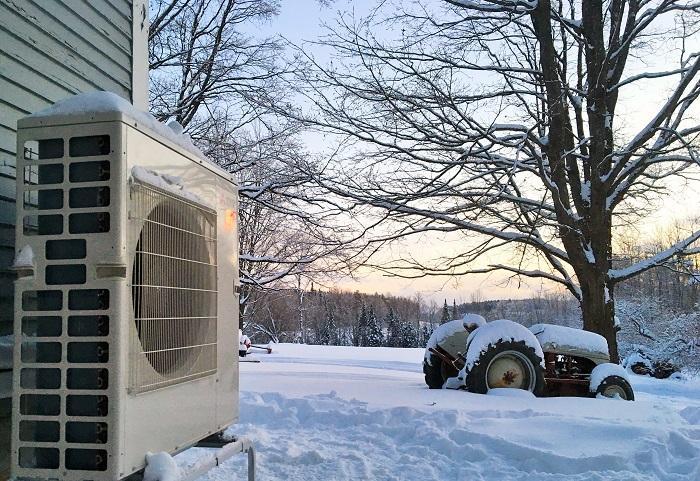 What is the Difference Between a Heat Pump and a Mini Split?
Heat pumps transfer heat rather than produce it, resulting in higher energy efficiency. Heat pumps use less energy than typical split systems since they are driven by electricity. Individual room manipulation and continuous adjustment with auto heat and cool control are possible with split systems.
Do Mini Splits Use a Lot of Electricity?
Mini-splits use significantly less electricity than central air conditioning and heating systems, making them an energy-saving option. The majority of them use around 600 watts each hour. Energy consumption, on the other hand, fluctuates based on usage, temperature settings, and unit condition.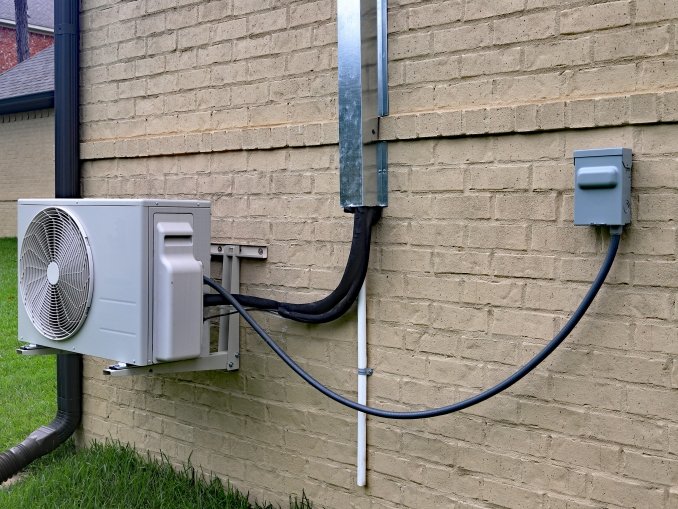 Frequently Asked Question
Should I leave my Mini Split on All the Time?
When your mini split isn't switched off much of the time, it's all right. The mini split slows the process and thus raises the heat output to several times instead of turning off. The mini-split consumes less energy. During winter, when temperatures drop dramatically early in the day only to return in the afternoon, your mini split will be operating at different levels. In the coldest part of the day it will have more heating and then less heating if not quite cool. That can make your mini split run longer than normal, but it's okay. How long the device can adjust even in the heat can change. This is linked to the coefficient of performance (COP) of the mini split method. In this case, the COP will tell you how much you need to cool your mini split to keep your home comfortable in warmer weather.
How Long Do Mini Splits Last?
Mini splits can last decades to provide reliable indoor comfort and safe, cost-effective, and energy-efficient operations for homes (included any best mini split heat pump for cold weather) if you manage them well. In contrast with traditional heating or cooling systems, mini-split pumps generally last longer because there are no ducts. However, the efficiency of the heat pump depends greatly on its regular servicing and quality.
Do I Need a mini split for Every Room?
If a single mini split device has a proper size, the building envelopes and airflow will heat or cool down to 1500 square feet or even higher. If your home doors are left open, the temperature control can be more even, and even older homes with more rooms can be very comfortable thanks to a ductless heat pump system. When your home is poorly insulated and already loses lots of water, every device will work hard and you will certainly encounter hot or cold spots. However, if your home has been weathered and has sufficient airflow, the average size home of 1,300 m2 in both winter and summer can be easily maintained with a single mini split device. For home heating, one heat pump is typically needed per room or one multi-zone set-up.
Do mini split heat pumps work in cold weather?
The answer is yes. Mini split heat pumps can work in cold weather. However, they operate effectively only if a heat source such as a gas furnace or electrical resistance coils has been used.
Do mini splits heat below freezing?
When temperatures are below a specific level, mini splits cannot work effectively. They use more electricity to heat the house properly, thus increasing the energy consumption. The optimal temperature range is for conventional mini split heat pump operation is over 25-30 degrees Fahrenheit. As the temperature goes down to 40 degrees, the heat pump starts to lose efficiency and is no longer the most efficient heating method once the temperatures go down to 25 to 30 degrees. However, the mini split does not go useless when temperatures fall to freezing and below; it still works. It requires much more power but usually fails to keep the temperature stable indoors because of the heat that cannot be moved outside.
Final Words
In recent years, the mini split heat pump technology has advanced to make it perfect in cold climates. As you can see any best mini split heat pump is an excellent source of supplementary heating. Learning the facts about these systems and how they perform will help you understand how they are correctly configured and how your new system doesn't cost more than you need. However, you can leave your comments on this article at Linquip if you have any questions about picking the best mini split heat pump for cold weather.
Buy Equipment or Ask for a Service
By using Linquip RFQ Service, you can expect to receive quotations from various suppliers across multiple industries and regions.
Click Here to Request a Quotation From Suppliers and Service Providers
Read More on Linquip