Throughout this post, we will provide information on How to Install a Thermostatic Mixing Valve (Costs and Maintenance in 2023). However, before we get into the details, let's take a closer look at thermostatic mixing valves, their application, and their function.
When you visit Linquip's website, you are likely to find all the relevant information you are seeking about thermostatic mixing valves. Our team of experts is always available to help you get the right mixing valves for your specific needs. If you would like to get a basic understanding of how these industrial devices function, you may find Linquip's article, "What is a Mixing Valve? Working Principle & Function," to be very helpful.
Did you ever work with mixing valves before? Linquip's selection of Mixing Valve Products will help you find the valve you need. Is there any particular type of service you require for your mixing valve? When have you ever needed a guide for installing or repairing a thermostatic mixing valve? Or have you ever managed to locate a manual for the thermostatic mixing valve online? The Linquip platform gives free access to all Mixing Valve Service Providers. If you are interested in finding mixing valve prices, submitting a request/inquiry to all Mixing Valve Suppliers and Companies on the Linquip platform is a great way to do that for free.
Generally speaking, a thermostatic mixing valve, or TMV, is a device that blends hot and cold water together to keep a specific temperature as water flows through the faucet.
Water from the thermostatic mixing valve is simply hot and cold water mixed together so that it is a specific temperature, within 1°C +/-, which can then be sent to different outlets. Traditionally, tradespersons or qualified local plumbers set the temperature for a thermostatic mixing valve element, which adjusts the water levels based on thermal activity to ensure the proper liquid temperature.
Some hot water installations are not permitted to provide water above 50°C/45°C according to Plumbing and Drainage Standard, which is why a thermostatic mixing valve is installed in order to assist with temperature regulation.
All locations listed below should be equipped with a thermostatic mixing valve:
Nursing homes, assisted living facilities and rehabilitative facilities.

Hospitals.

After-school care and childcare centers.

Repetition centers.

Shopping center restrooms.

Hotels.
Children, the elderly, and patients with severe health conditions, along with environments containing high-risk individuals, require thermostatic mixing valves because they need lower water delivery temperatures – typically 45°C or 113°F at their hottest.
Among the most important functions of a thermostatic mixing valve is that if the cold or hot water supply is interrupted, the flow of water is immediately stopped, preventing scalding or burning from occurring too rapidly away from too hot or too cold water, which could lead to injury.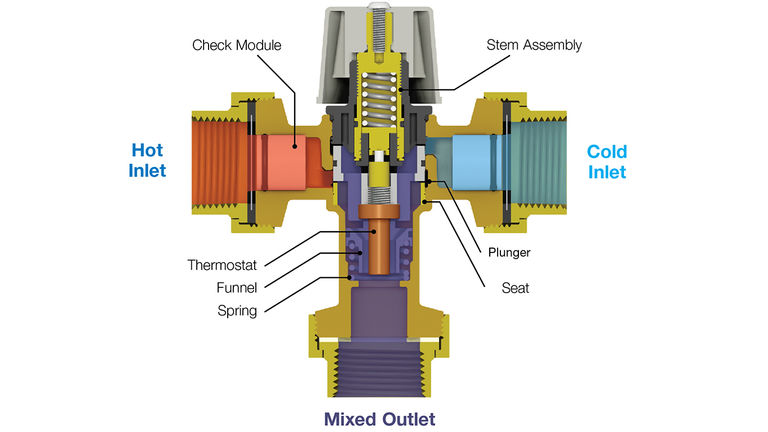 Check out this article if you would like to know more about industrial valves.
Thermostatic Mixing Valve Installation
A thermostatic mixing valve ensures that the temperature of cold and hot water in showers and faucets is always consistent so that injuries don't occur. Too hot water can cause scalding, but the thermal shock is more likely to cause injuries, such as a slip or fall when water that is hotter than expected flows from a showerhead.
There is a mixing chamber in the thermostatic valve that regulates the inflow of hot and cold water to a predetermined temperature. Depending on the type of mixing valve used, adjustments can often be made to the maximum temperature, but typically a temperature of 60 C (140 F) is recommended to ensure the death of the bacteria related to Legionnaires Disease.
Thermostatic mixers can be installed in the hot water heater or in a specific plumbing fixture, such as the shower valve. In order to understand and install a thermostatic valve, read the following key steps.
Step 1: Installing the mixing valve requires full compliance with local building codes, so make sure the appropriate qualifications are in place.

Step 2: Close all faucets and turn off the main water supply so water can drain. You will need some patience during this process.

Step 3: Select a location where it is possible to clean, adjust and service the device. Consider also that hotter water may benefit dishwashers. You should run a separate line for the dishwasher or any other appliances that might require hotter water directly from the water heater. A mixing valve should not be used in these situations.

Step 4: Before attaching the thermostatic valve, solder its connections to prevent gasket damage. You must make sure that the solder is safe for drinking water so that harmful elements do not get into it.

Step 5: Secure the connections to the valve with a wrench.

Step 6: You can use a thermometer to measure the temperature of the water coming from a faucet. Wait a few moments before recording the temperature of the hot water.

Step 7: Change the temperature of the water by using the handwheel. It should be indicated on the thermostatic valve instructions at what temperature the water is presumed to be without the mixing valve attached and how one degree makes a difference in percentage.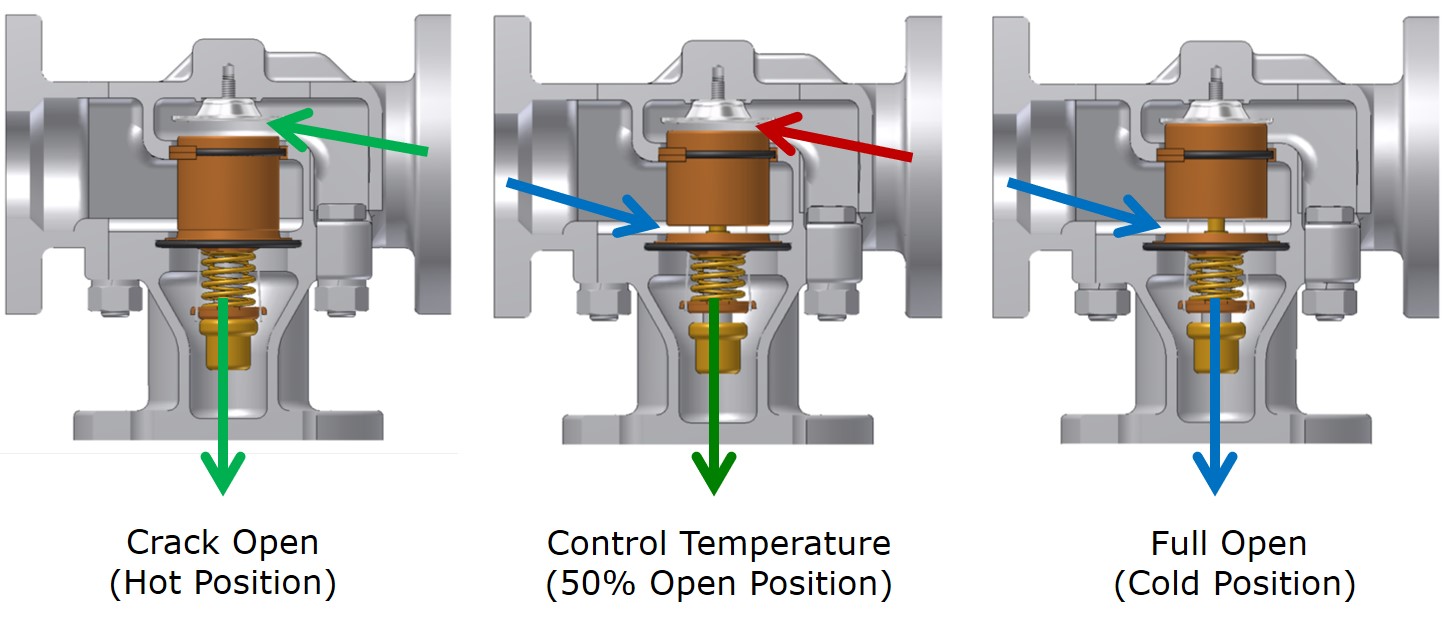 How Much Does Installing a Mixing Valve Cost?
Retail prices for the valves at some of the larger chains are just under $100. An installation fee of $100-$200 may be charged by a plumber.
| | | |
| --- | --- | --- |
| Valve type | Valve unit cost | Total replacement cost |
| Thermostatic | $150 – $600 | $250 – $900 |
It is not possible to install a thermostatic mixing valve that feeds multiple outlets in order to reduce installation and maintenance costs. The guidance recommends installing valves as close to the outlet as possible, usually within two meters. By doing this, Legionella is less likely to grow after the valves have been installed. Taking into consideration that valves are set between 38 and 46 degrees Celsius, which is an optimum growth temperature, it is necessary to carefully weigh up the risk of scalding against that of bacteria growth.
Thermostatic Mixing Valve Maintenance 
thermostatic mixing valve servicing should be performed annually. If you suspect the system may be malfunctioning, make sure it is serviced more frequently. A change in the water temperature can be indicative of thermostatic mixing valve issues. In order to maintain a safe working condition, both water systems and thermostatic mixing valves need to be regularly tested. Once your water system and thermostatic mixing valve have been assessed, it's likely that remedial action will be needed to bring them into compliance. 
Whenever you fail to service your thermostatic mixing valve regularly, you put all users of your service at risk. Legionella contamination and scalding are two main dangers. 
thermostatic mixing valve servicing will involve comparing results recorded during commissioning to those during servicing. If no noticeable changes take place, the thermostatic mixing valve is recorded as working. Whenever the temperature of the water rises by more than 2°C or if the failsafe ceases to operate, a complete thermostatic mixing valve installation or thermostatic mixing valve replacement is necessary. In thermostatic mixing valve servicing, a visual inspection and extensive cleaning, descaling, and disinfection are conducted.
The assessment of the safety concerns associated with the use of hot water is an essential process for individuals or businesses that own or manage premises where water is used by the public. Testing and servicing thermostatic mixing valves on a regular basis will help to ensure scalding risks are managed appropriately in healthcare and social care premises.
Thermostatic mixing valve maintenance is a crucial part of keeping them safe and following the schedule outlined by your risk assessment will help you stay compliant. Ideally, valves are to be checked on a regular basis, either annually or at intervals determined by the risk assessments. There is always a need to check that the valves are functioning correctly and that they will provide protection against scalding. Among the tasks used to maintain the thermostatic mixing valve's safety are:  
Temperature Control
Temperature control (baths, showers, and taps) in compliance with health and safety standards should be achieved and maintained in a safe, accurate, and reliable manner. 
Water Quality Standards
The thermostatic mixing valve components should be cleaned, descaled and disinfected regularly to ensure the appropriate water quality and flow rates.
Failsafe Operation
It is critical to ensure that the failsafe mechanisms of the thermostatic mixing valve are functioning properly in order to protect users. 
THERMOSTATIC MIXING VALVE Specification
All thermostatic mixing valves should be reviewed to ensure that they are equipped with the correct specification valves.
Record Keeping
Maintenance and inspections of thermostatic mixing valves must be documented. 
In addition, flushing the shower and the taps should be done regularly.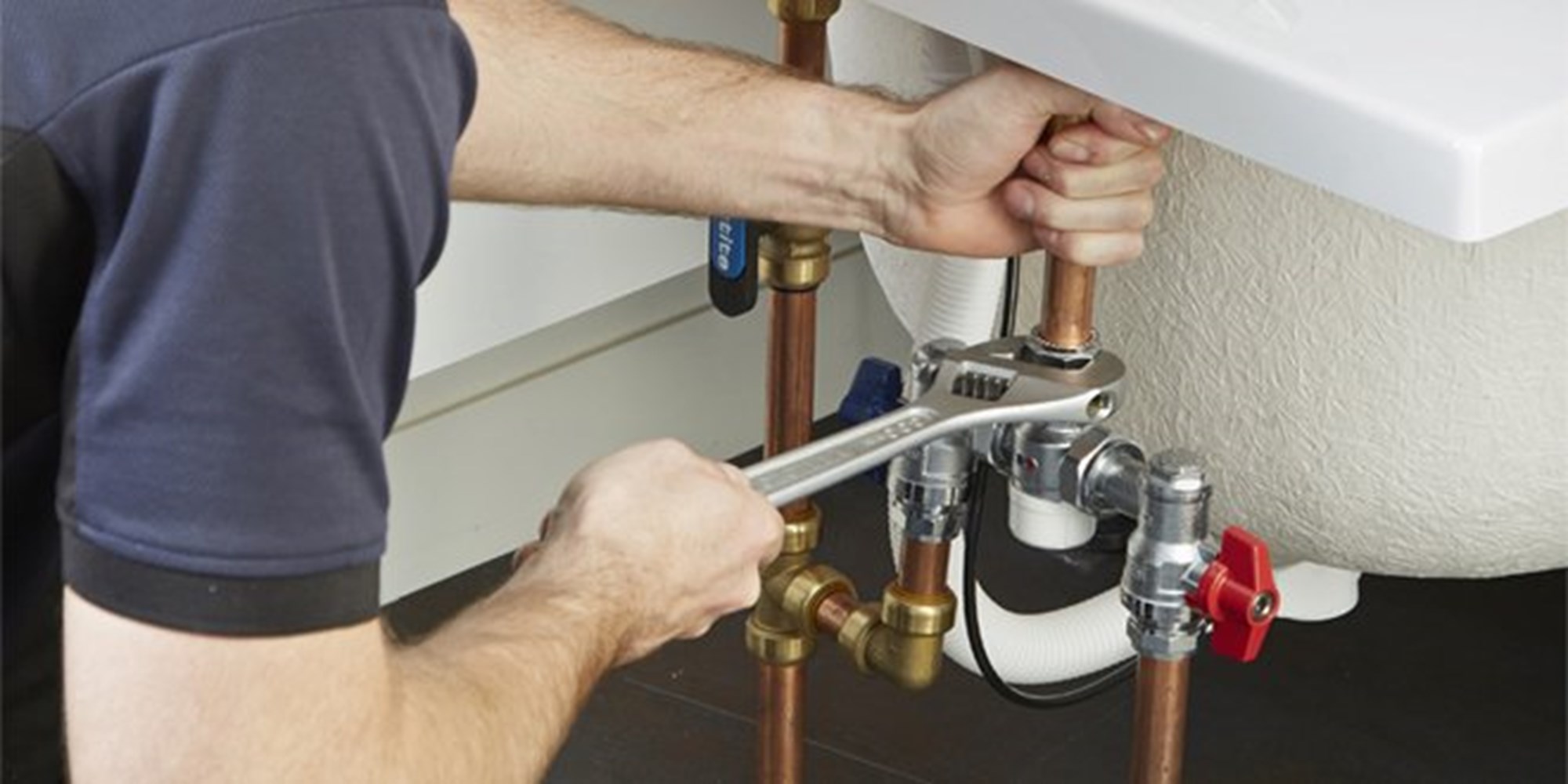 On a weekly basis, outlets that are used infrequently should be flushed for several minutes. Missing any flushing will result in an increase in bacteria that may be potentially hazardous. It may be necessary to flush more frequently in premises with high risks, such as care homes. A risk assessment will determine how frequently to flush.
This video will provide you with some helpful information about cleaning your thermostatic mixing valve.
THERMOSTATIC MIXING VALVE – How Often Should They Be Serviced?
To ensure that thermostatic mixing valves function properly, regular testing is required in health care settings. The manufacturer's instructions should be followed when a valve fails, or a replacement should be performed in the case that the manufacturer's instructions cannot be followed.
Regular verification of the thermostatic mixing valve's thermal performance should be conducted during routine in-service testing.
Is It Necessary To Install a Thermostatic Mixing Valve?
With a thermostatic mixing valve installed in the hot water line from your water heater, you can keep the temperature of the water heater at 120 F or slightly above. By doing so, Legionella will be killed. The temperature of the water can then be lowered in the thermostatic valve to keep everyone safe from scalding.
Download How to Install a Thermostatic Mixing Valve PDF
This article can be downloaded as a PDF by clicking on the link provided below.
Buy Equipment or Ask for a Service
By using Linquip RFQ Service, you can expect to receive quotations from various suppliers across multiple industries and regions.
Click Here to Request a Quotation From Suppliers and Service Providers
Read More In Linquip