Best Gasoline Generator- With extreme weather conditions becoming more usual, portable generators have become extremely popular. Anyone who lives in a suburban region always hit with energy outages after storms, surely experience the sound of dozens of generators humming all over the area. But emergency energy backup isn't their only advantage.
Portable gasoline generators are always used on construction sites, for camping and tailgating, and at barbecues and other situations such as parades, runs, fairs, or any place that can't be reached by an extension cord. Portable generators are becoming more attainable with prices coming down for just about anyone who wants to keep one handy. Visit here to see the best gasoline generator for portable applications.
Consider our five top proposes and scroll down to find out what you require to know about generators and the full reviews.
Best Gasoline Generator
Honda EU2200i Companion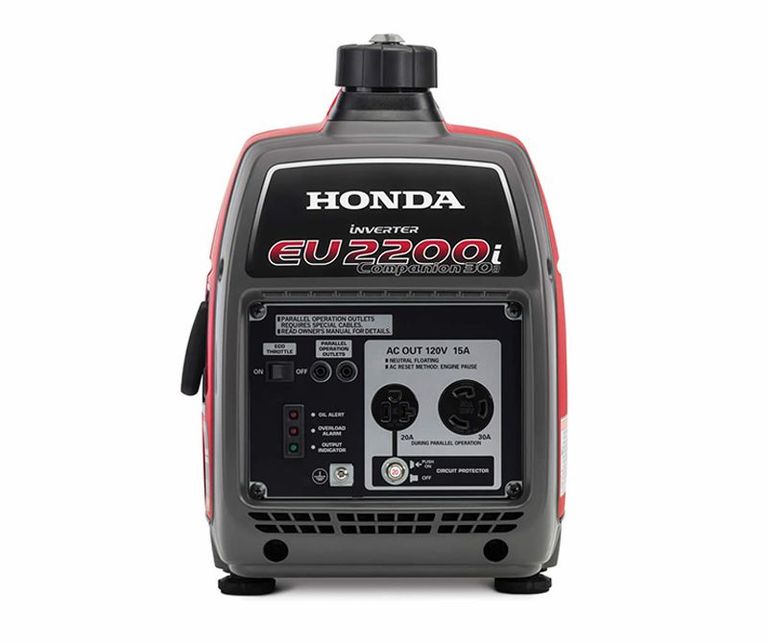 Specifications
| | |
| --- | --- |
| Running watts | 1800 |
| Starting watts | 2200 |
| Decibels under load | 2 ft/25 ft: 81.2dB / 59.9dB |
| Outlets | 1 – 120v 20A, 1 – 120v 30A twist lock |
| Engine size | 121cc |
| CO (carbon monoxide) shut-off | No |
| Fuel capacity | 0.95 gal |
| Weight | 46.5 lb |
General Descriptions
At half the weight and less than half the size of the other types in this list, the Honda EU2200I gasoline generator is the most portable of the devices we explored. It's simple to pick up, move around, or pack in a car—and because the device is completely enclosed, it can slip into tight locations without getting caught on other instruments.
That package is an essential feature as it protects the device electronics and helps reduce noise—the EU2200i is considerably quiet. In analysis tests, they measured sound rates of 68.9 decibels at the device under no load. When switched to the "eco" situation, which decreases engine speed once power isn't called for, the sound was 76 decibels. When they employed an oscilloscope to look at the sine wave of the current produced, the curves were symmetrical and smooth, a sign of "clean" power needed by sensitive devices.
When they started and stopped instruments with larger motors, as an air conditioner and table saw, the sine wave remained smooth. Operation under these heavier loads, they detected the highest sound rates for the EU2200i at 81.2 decibels at the device. Aside from the clean enclosure, there are some other suitable properties of this generator. The vent on the gas cap can be closed, so that fuel, or fumes, cannot escape. So, if it's been set in a passenger compartment of an SUV, the fumes or fuel subjected to it won't be released.
Similarly, the energy on/off switch doubles as a fuel shutoff, so it can't be neglected. Finally, the EU2200i includes ports for parallel performances. With the right cable, it can be attached to a second EU2200i to increase output to 4400 starting and 3600 running powers. The EU2200i is suitable for outdoor events like camping where the device's noise might be frowned on.
Briggs & Stratton 3500 Watt Portable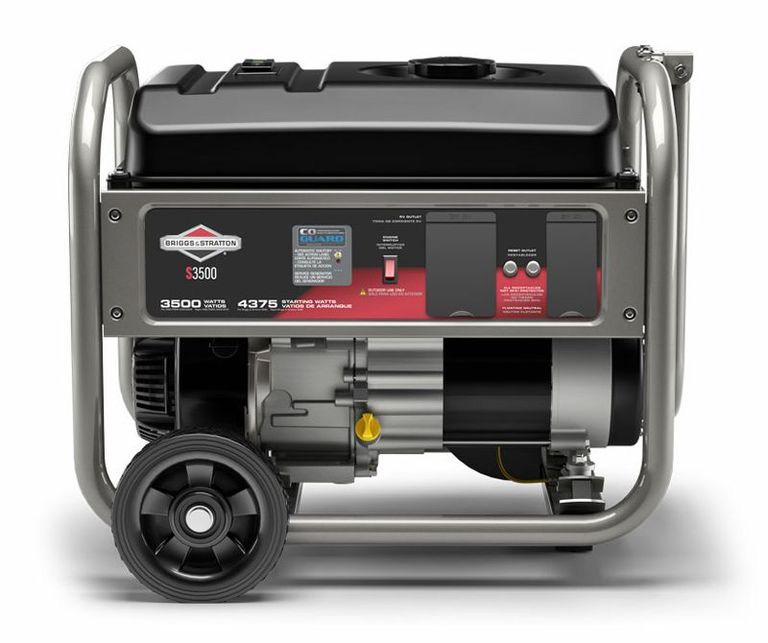 Specifications
| | |
| --- | --- |
| Running watts | 3500 |
| Starting watts | 4775 |
| Decibels under load | 2 ft/25 ft: 90.1dB / 73.2dB |
| Outlets | 2 – 120v 20A, 1 @ 120/240v 20A twist lock |
| Engine size | 208cc |
| CO (carbon monoxide) shut-off | Yes |
| Fuel capacity | 4 gal |
| Weight | 121.3 lb |
General Descriptions
Briggs & Stratton, with a history of powering instruments for other designers, constructed this 3500 Watt gasoline generator with CO Guard bearing its own name on it. It could be lifted out of the truck by one person at just over 120 pounds, but it would be safer with two persons. Wheels and a folding handle ease the moving and setting the generator to make a structure simple and fast.
Once the device is operating, a handy fuel gauge built into the top of the component helps guarantee there are no surprises with the gasoline rate. Its performance is so simple:
turning the fuel on
flipping the ignition/engine switch
choking the carburetor
and pulling the recoil starter
We measured sound rates, with no power, in front of the device at 89.1 decibels. Under power, that number increased just to 90.1 decibels, while 25 feet away calculated 73.2. Checking the current output on an oscilloscope visually, we found small deterioration of the sine wave, a typical occurrence with portable generators. Due to this, it's often best to employ a power strip with a particular protector when powering sensitive devices.
Possibly the most important characteristic is CO Guard, which shuts down the system once carbon monoxide (CO) rates get too high around the device. This can help control CO poisoning, or death, resulting from inappropriate location or use of the generator. By testing this property employing a large appliance pack located over the generator—it shut down in 26.3 seconds. Briggs & Stratton's 3500 generator is a suitable option for moderate power requirements when camping, for emergency energy backup, or in regions where electrical service just doesn't reach.
Champion 5500 Dual Fuel with Emphasis on Gasoline Consumption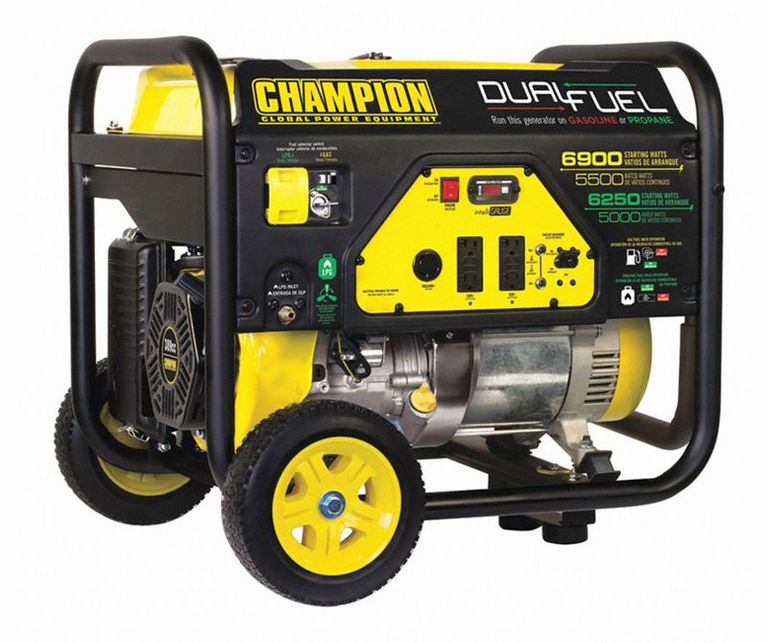 Specifications
| | |
| --- | --- |
| Running watts | 5500 |
| Starting watts | 6900 |
| Decibels under load | 2 ft/25 ft: 93.8dB / 87.2dB |
| Outlets | 4 – GFCI 120v 20A, 1 – 120/240v 30A twist lock |
| Engine size | 389cc |
| CO (carbon monoxide) shut-off | No |
| Fuel capacity | 6 gal |
| Weight | 162 lb |
General Descriptions
Select your fuel, or employ what's existence in an emergency, with Champion's 5500 Dual Fuel device. Being able to choose between propane and gasoline has a couple of advantages, particularly when employing a generator for backup energy during or after storms. Unlike gasoline, propane is very reliable and won't gum up carburetors or other parts when stored for a long time between use or from storm seasons. However, in this list, we will focus on gasoline generators. So, using gasoline is the main aspect that should be considered about Champion's 5500 Dual Fuel generator.
The device use switching between propane and gasoline very simple, and the 5500 started equally well, on either fuel. Although propane doesn't pack the identical amount of power as gasoline, the operating and starting watts will be significantly reduced. Testing the 5500 indicates that it runs with 81.5 decibels on gasoline.
It also uses the digital gauge at the top of the control panel that demonstrates the current and voltage frequency being produced, as well as overall hours of use to control the track of maintenance schedules. The 5500 Dual Fuel is a great choice for emergency backup energy absolutely on a gasoline foundation, but it's also appropriate for job sites, campers and bigger RVs.
GeneracGP 6500 COsense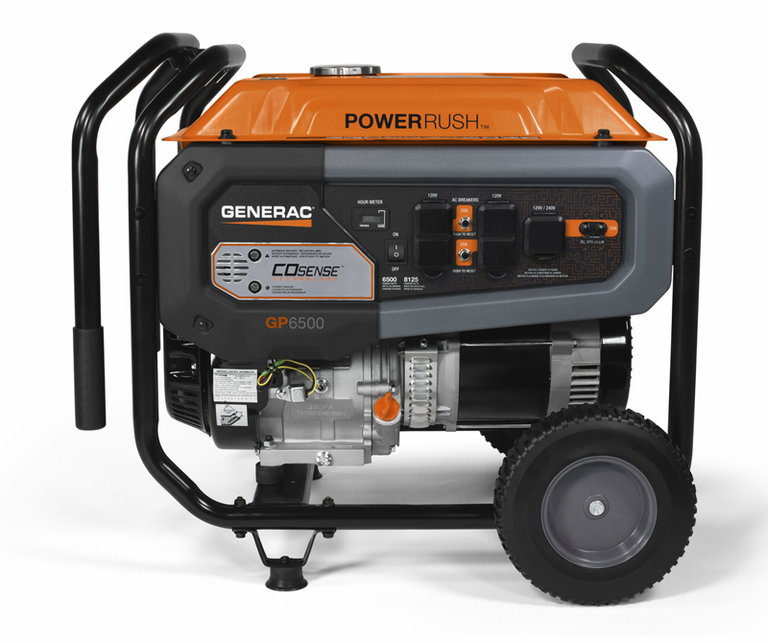 Specifications
| | |
| --- | --- |
| Running watts | 6500 |
| Starting watts | 8125 |
| Decibels under load | 2 ft/25 ft: 94.2dB / 83.3dB |
| Outlets | 4 – GFCI 120v 20A, 1 – 120/240v 30A twist lock |
| Engine size | 389cc |
| CO (carbon monoxide) shut-off | Yes |
| Fuel capacity | 7.9 gal |
| Weight | 172 lb |
General Descriptions
The largest generator presented is Generac's GP6500 COsense, which boasts a generous 8125 starting watts potential. This means the device can control startup loads from big instruments or tools that could be two to three times their operation watts. Larger-potential instruments like this are frequently employed as backup power during energy outages.
Attached to the home via a manual transfer switch, instead of function extension cords to individual devices, the generator can provide energy directly to the building's critical circuits. This setup could also be applied to supply energy at construction locations, or for large RVs that have considerable power demands.
Wherever it's employed, Generac's COsense approach keeps people nearby safe. When the device senses high rates of carbon monoxide (CO) in the close area, it shuts down immediately—preventing CO death or poisoning. This function was evaluated by setting a large cardboard device box over the unit during operation and found that it shut off in only 16.5 seconds.
For a larger device, the GP6500 isn't considerably loud, evaluating sound rates at 83.3 decibels under load from 25 feet away. If we use an oscilloscope and control the sine wave of the current produced, we notice some mediocre distortion, which is common for most AC generators.
To ensure that the device won't require frequent refueling, it has a huge fuel tank that holds nearly 8 gallons—there's also a fuel gauge placed into the top of the source. A digital hour meter is set on the front display to help track maintenance—as it is used about 100 hours and begins to blink, it's the golden time to recover the oil. At 200, routine service is required. Finally, the GP6500 meets emission demands and standards in every state such as California.
Goal Zero Yeti 3000x
Goal Zero Yeti 3000x (Reference: popularmechanics.com)
Specifications
| | |
| --- | --- |
| Running watts | 2000 |
| Starting watts | 3500 |
| Decibels under load | 2 ft/25 ft: 81.2dB / 59.9dB |
| Outlets | 2 – 120v 16.5A, 1 – 12v (DC) 30A, 1 – USB-A, 1 – USB-C, 1 – USB-C PD |
| Engine size | 121cc |
| Battery | Li-ion NMC |
| Weight | 69.8 lb |
General Descriptions
Power sources like this one keep getting more appropriate. As tech develops and prices come down, they've become a stable supply of portable electricity. We've employed smaller types from Goal Zero to energize lights and devices on weekends boondocking camping trips and to use phones and computers in makeshift work-at-home offices. But this 3000x presents a new rate of capability and promise.
With a 2000w AC inverter (with 3500w surge capability) and a huge lithium-ion battery, it can juice main devices and a bunch of smaller ones for a weekend. That makes it a practical choice for emergency backup energy. For example, a full-size, energy-hungry fridge, radio, and 60-watt light can be constantly operated for 38 hours. In that time, if we also run four cycles of a toaster, and recharge an iPhone twice and a laptop once, the generator can support them completely. Fundamentally, the essentials you'd require to reliably get through a short power outage.
It also makes no noise, and there are approximately zero emissions, so you can safely use it in your garage. The compact, solid structure and wheeled frame make it simply portable, so you can bring it overlanding, take it to an operation region, or wheel it anywhere you require a lot of energy. Goal Zero also provides a home integration package, so you can attach it right into as many as three of your building's electrical circuits for always-on backup energy.
FAQs You Need to Know About Gasoline Generators
How do Generators Work?
Generators have two major parts: an engine and an alternator. The engine rotates the alternator, generating AC (Alternating Current) energy that goes within a voltage regulator to deliver 240 volts or 120 volts, as needed. AC power is what is used and distributed in our homes, so just about anything, we can support a house that we want to be energized by a generator.
Does Your Generator Need to Be Grounded?
In general, if powering instruments, devices, or other tools by plugging them directly into the typical outlets on the front of the generator, no.
If the generator is being employed to energize circuits in your house, maybe.
It's always best to review the constructor's manual, employ a licensed electrician, and/or township ordinances with your local building officials—some localities may have standards that vary from the NEC (National Electric Code).
Buy Equipment or Ask for a Service
By using Linquip RFQ Service, you can expect to receive quotations from various suppliers across multiple industries and regions.
Click Here to Request a Quotation From Suppliers and Service Providers
Read More on Linquip