The Best HVAC Vacuum Pump in 2023 – When maintaining an air conditioner, several equipment and gadgets are needed. An example of one of these tools is an AC vacuum pump, which enables you to remove any moisture and water from the AC unit that needs maintenance and repair.
Basics of a Vacuum Pump
When the air conditioning system is in use, a vacuum pump is employed to remove extra air and water vapor from the system. Recovering the refrigerant from the system for subsequent usage is often done as the first step in any air conditioner repair.
After finishing the recovery task, you may go on to the required diagnostic and repair operations. The next step is to check to see if there are any leaks in the system; if there are, corrective action needs to be performed.
The vacuum pump is then utilized to remove the air and moisture from the refrigerant system during the subsequent evacuation procedure. After doing this, the system may then be fully tested before the charging procedure is started.
How to Use an HVAC Vacuum Pump?
Although cleaning your AC line-set may seem challenging, it's really rather simple. Of course, the objective is to exclude air and moisture from the copper tube. Although we'll refer to the process as vacuuming, drawdown is the term most experts use.
If you have ever had to repair a compressor, you are aware of how expensive they are. Failure to vacuum your AC line-set might result in serious problems with your compressor.
If you've never used an HVAC vacuum pump before, you'll probably need to buy a few more pieces of equipment to complete the task. Here is a list of the equipment you'll need.
The Necessity of Evacuation
Only the refrigerant and oil should be flowing in a refrigeration system. Air may enter the system when being serviced or after many years of use. Oxygen, nitrogen, and moisture are all components of the air from the atmosphere that enters the system. These undesirable elements will result in:
An increase in head pressure brings on higher discharge temperatures and compression ratios. The system's effectiveness is decreased.

The refrigerant produces acids that cause chemical reactions that lead to electroplating and damage to the insulation of the motor. Short circuits will occur if the insulation in the compressor motor deteriorates, harming the compressor. One of the system's most expensive pieces of equipment is the compressor. Acids over time also lead to corrosion of the metal components.

Oil, acid, and moisture in the system combine to create sludge. Over time, it will result in the poor operation of the expansion device, strainers, and filter dryer.
The Best HVAC Vacuum Pump in 2023
1. XtremepowerUS 3CFM 1/4HP Air Vacuum Pump HVAC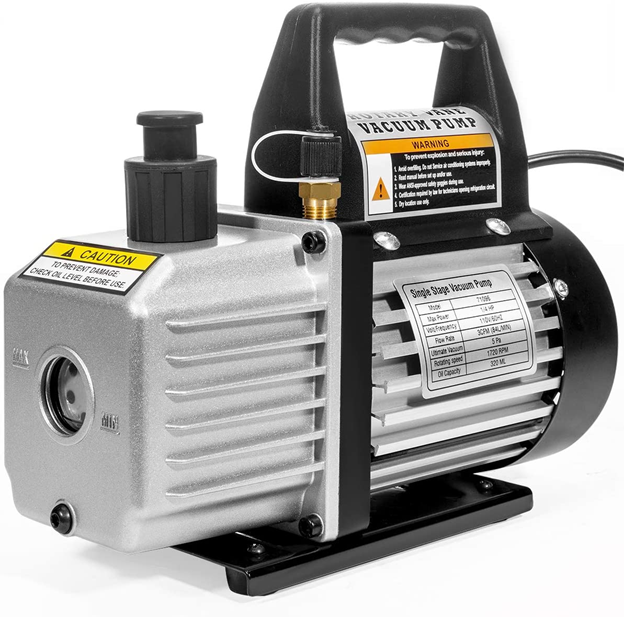 Specifications
| | |
| --- | --- |
| Brand | XtremepowerUS |
| Model | 71097 |
| Weight | 17.65 Pounds |
Product Description
You may examine and repair the HVAC system in your car or house using this XtremepowerUS 3CFM 1/4HP Air Vacuum Pump HVAC. This is a simple-to-use, 1-stage rotary air vacuum pump with a built-in, high-volume cooling fan. It includes robust brass connections, a clear oil level window, good efficiency, and low noise production. With this air vacuum pump, you have everything you require, and the kit's handy carry bag makes it easy to keep all the parts together.
2. Zeny AC Vacuum Pump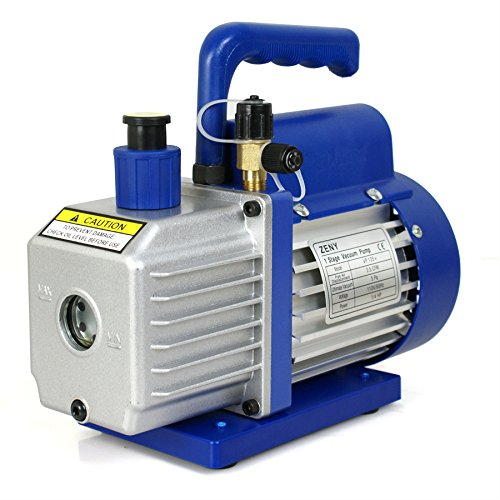 Specifications
| | |
| --- | --- |
| Air Flow Rate | 5 cfm |
| Pump Power | ¼ HP |
| Warranty | 30 day |
Product Description
A wide variety of inexpensive and low-cost appliances are available from Zeny, and these products typically receive great user ratings due to the excellent value they provide to the consumer.
The Zeny R410a AC vacuum pump is listed in the first place since it is the most affordable choice in our article. Despite having reasonable pricing for consumers on a tight budget, it offers a great value for the money due to its respectable performance. For the price, this AC vacuum pump's pump power rating of 1/4 HP is fairly respectable.
Regarding its performance, it has a respectable airflow rating of 3.5 CFM, which ought to be more than sufficient for the majority of people out there. Unfortunately, the 30-day warranty that comes with this inexpensive vacuum pump may be a problem for certain customers. Nevertheless, it has a respectable build quality and a strong grip base that is shockproof and wear-resistant.
Read more about HVAC Technician
3. Kozyvacu Mini Split/HVAC/AUTO AC Vacuum Pump Tool Kit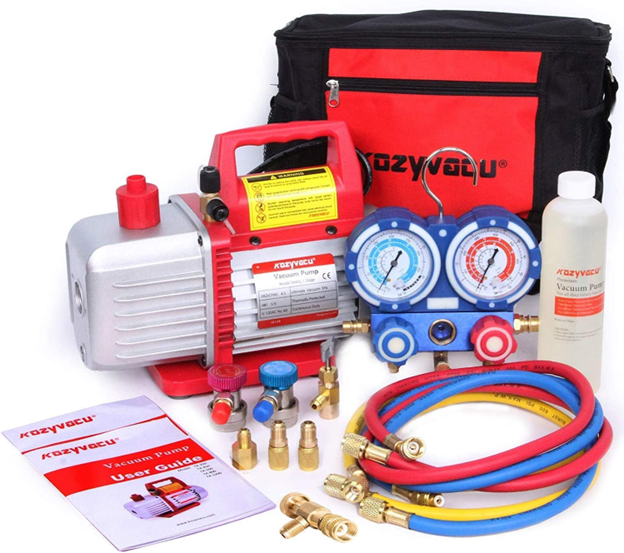 Specifications
| | |
| --- | --- |
| Brand | Kozyvacu |
| Weight | 19.8 Pounds |
Product Description
If you live in a place where it's impossible to drive without air conditioning, vacuum pumps for vehicles are a need. This full tool kit for replacing refrigerants includes a top-notch manifold and three colored hoses. The Kozyvacu Tiny-Split/HVAC/AUTO AC Repair Complete Tool Kit was created specifically for mini split air conditioners and HVAC systems, but it also functions well for the air conditioning in your car. It has a high torque design and a die-cast aluminum body that makes starting up simple. This vacuum pump will assist you in achieving the efficient operation of your HVAC or other comparable systems.
4. Robinair AC Vacuum Pump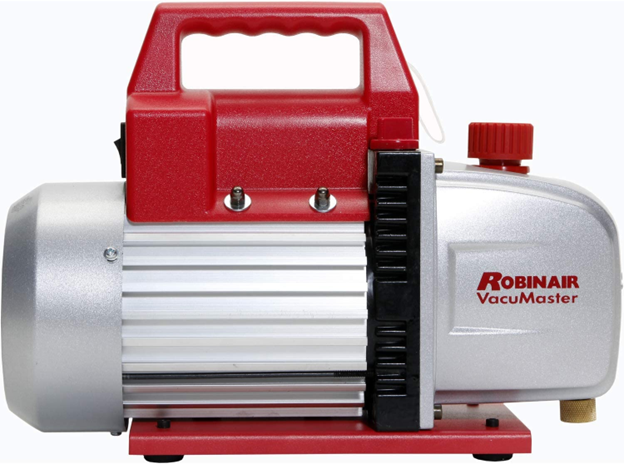 Specifications
| | |
| --- | --- |
| Brand | Robinair |
| Model | 15500 |
| Weight | 15 Pounds |
Product Description
You might infer from the name that Robinair is a well-known manufacturer of pneumatic goods. It also produces a strong AC vacuum pump that comes in helpful while maintaining an air conditioner.
Due to its excellent value for money, Robinair's 15500 VacuMaster AC vacuum pump is listed in second place in this article. It is one of the most potent choices in this post and comes at a price that is quite reasonable. Due to its two stages and high power, the AC vacuum pump has a relatively high airflow rating of up to 5 CFM.
This vacuum pump's 13 HP pump power rating allows it to provide such a high airflow rating. To put it another way, this vacuum pump is also quite dependable. This AC vacuum pump comes with a 1-year guarantee, however, when compared to other alternatives in its class, its build quality is only mediocre. However, this vacuum pump is rather stable, thanks to the foundation.
5. BACOENG 3 Gallon Vacuum Pump HVAC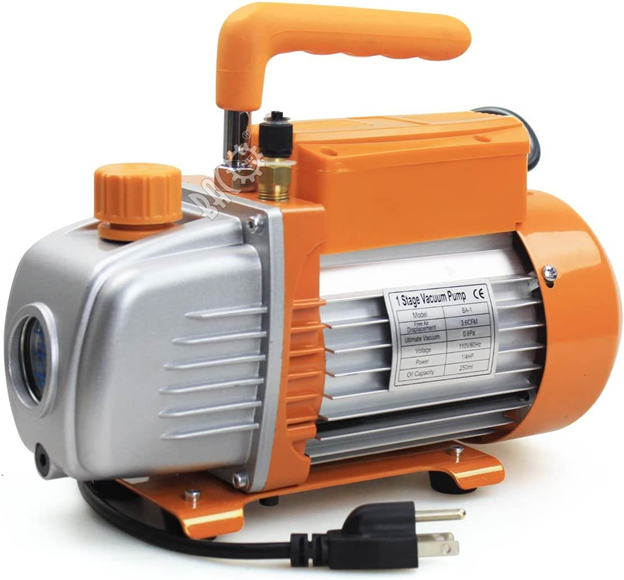 Specifications
| | |
| --- | --- |
| Brand | BACOENG |
| Weight | 25.2 Pounds |
Product Description
This BACOENG 3 Gallon Vacuum Chamber Kit is a fantastic tool to have in your toolkit for quick jobs around the house and for hobbyists. A 3-gallon vacuum chamber with a durable silicone gasket that may be used 10,000 times or more without degrading is a feature of the device. With its great efficiency and low noise, this device is perfect for degassing silicones, epoxies, essential oils, and other materials. You will operate more effectively with it than with other oil vacuum pumps. See our list of the best heat guns on the market for a list of additional necessary household items.
6. Vivohomme AC Vacuum Pump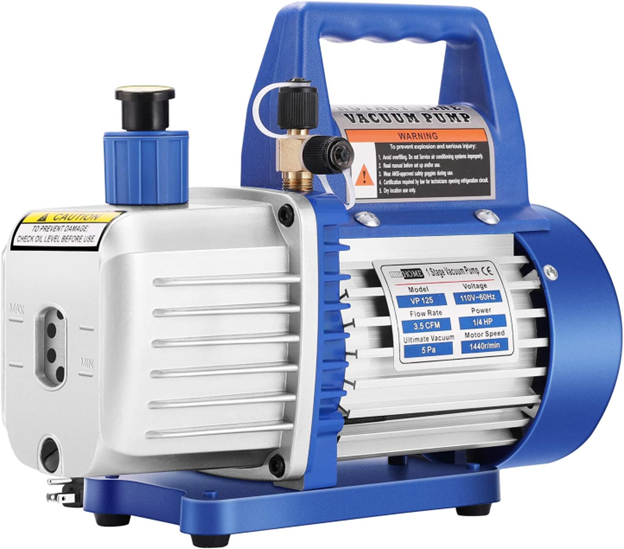 Specifications
| | |
| --- | --- |
| Airflow rating | 5 cfm |
| Pump power rating | ¼ HP |
Product Description
One of the smaller manufacturers of tools and appliances is Vivohome, which offers products like an AC vacuum pump that are both reasonably priced and a fantastic choice for consumers on a tight budget.
The performance of the Vivohome AC vacuum pump is comparable to that of the majority of other inexpensive solutions. This AC vacuum pump has a 14 HP pump power rating, as implied by its name. It makes it simple for you to easily reach a maximum airflow rating of 3.5 cubic feet per minute. You cannot reasonably expect more from any choice in its class, despite the fact that it is not the highest.
This AC vacuum pump comes with an oil bottle that might be useful in the long term for maintaining the AC vacuum pump. Speaking about upkeep, this pump delivers a respectable build quality and is fairly dependable and long-lasting. However, as this is an inexpensive AC vacuum pump, the lack of a guarantee might be a problem if you want a highly robust and dependable alternative.
7. Goplus Single Stage Rotary Vane Vacuum Pump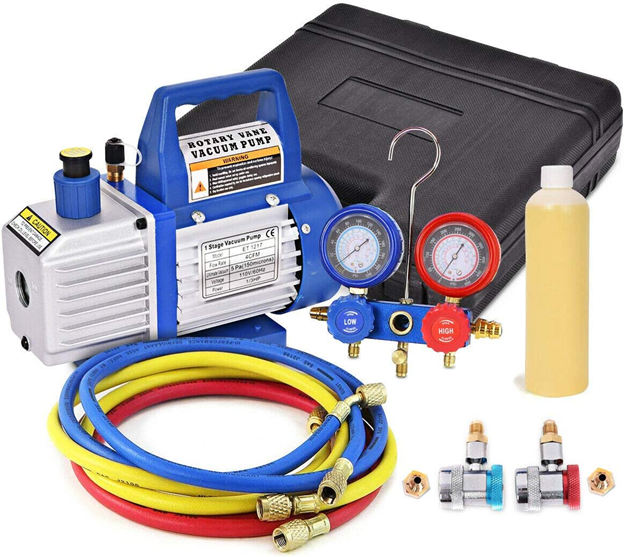 Specifications
| | |
| --- | --- |
| Airflow rating | 4 CFM |
| Pump power rating | ⅓ HP |
| Working pressure | 800 – 4000 PSI |
Product Description
One of the top brands of tools and appliances is Goplus. The aluminum body of this single-stage AC vacuum pump assures its lightweight, sturdiness, high efficiency, thermal protection, and low noise output, making it ideal for long-term use.
After setting adapters, this powerful vacuum pump for an AC system yields more than 150 microns and is perfect for R22, R12, R134, and R410a. Due to its design, it is easily employed for many applications and has an airflow rating of 4 CFM and a pump power rating of 1/3 HP. AC system diagnosis and repair gauge set for HVAC systems.
This full tool kit is intended for auto air conditioner and HVAC/mini-split refrigerant recharge. It includes a number of extras, including a portable case, three color-coded hoses, a spillage meter, an oil fill outlet, and a pump oil bottle.
8. Bacoeng AC Vacuum Pump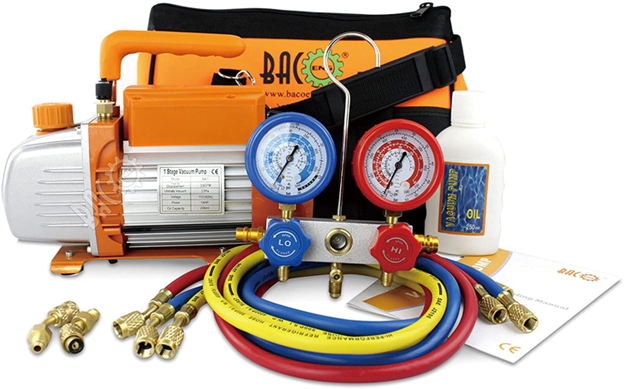 Specifications
| | |
| --- | --- |
| Airflow rating | 3.6 CFM |
| Pump power rating | ¼ HP |
| Body | Solid anodized aluminum |
Product Description
The company Bacoeng is a modest one. Nevertheless, the company produces dependable AC vacuum pumps that rank among the best vacuum pumps in terms of performance and dependability.
The AC vacuum pump from Bacoeng has a horsepower of 1/4 HP and can produce 3.6 CFM at a final vacuum of 0.8Pa. It has a strong, sturdy black anodized aluminum body for a long lifespan. Additionally, it boasts a large cooling fan for quicker heat dissipation. To prevent heat failure, the motor has a thermal protection function.
A large glass window on the AC vacuum pump lets you see the refrigerant flow. It has a rubber grip and an aluminum alloy case for convenient handling. In addition, a tool bag is another option for optimal portability. Two 45-degree angled adapters are included with the vacuum pump to change the 5/16-inch vacuum ports to take the 14-inch gauge hose set.
9. HFS Double Stage Vacuum Pump 12CFM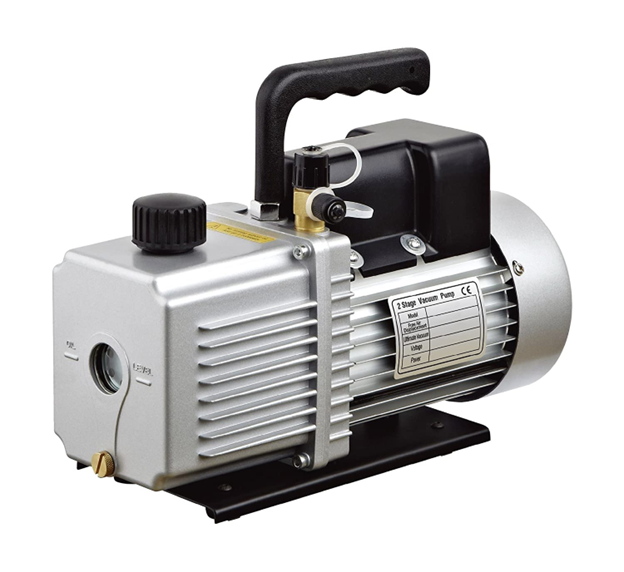 Specifications
| | |
| --- | --- |
| Brand | HFS |
| Model | VP2200 |
| Weight | 14.57 Pounds |
Product Description
If sophisticated vacuum pumps make you want to run for the hills, you'll adore the HFS Double-Stage Vacuum Pump's ease of use. Due to the vacuum pump's ease of use, you may empty a container or an HVAC system of air or gas in order to prepare it for a refrigerant refill. This two-stage rotary vane vacuum pump has very little vibration and is incredibly quiet. You may use it all year round since it starts readily, even in chilly conditions. You can operate safely and effectively thanks to the durable alloy aluminum shell and the oil-free design—just be sure to wear safety glasses, of course.
10. Yellow Jacket 93600 Vacuum Pump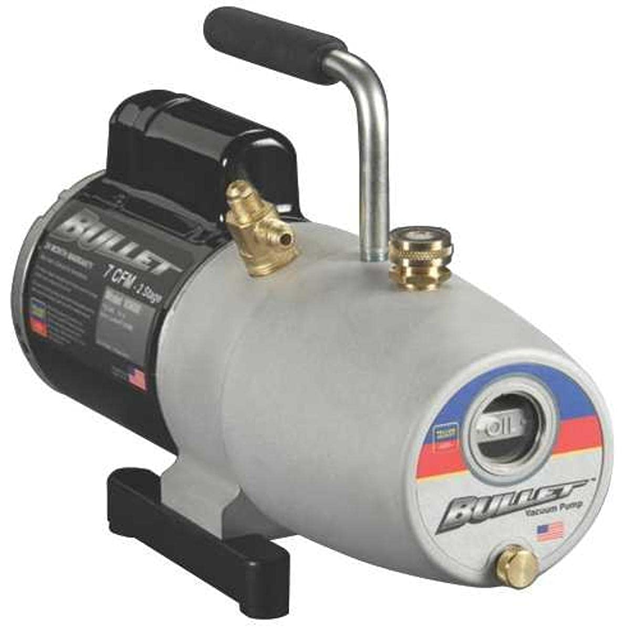 Specifications
| | |
| --- | --- |
| Brand | Yellow Jacket |
| Model | 93600 |
| Weight | 30.8 Pounds |
Product Description
The Yellow Jacket 93600 Vacuum Pump is easy to operate and perfect for professional maintenance workers or home handymen. Heavy-duty rotors, bearings, and an intake screen filter are used in its construction to keep dirt, debris, and other impurities out of the pump's motor. Additionally, it includes a sizable oil sight glass and a wide mouth oil reservoir port, which make it simpler and less messy to refill this vacuum pump. Additionally, it features a beautiful, firm base that is broad for greater stability when in use and an internal intake check valve to prevent oil backup.
Considerations Before Purchasing A Vacuum Pump
Quality: You want a vacuum pump that can work swiftly and efficiently, whether you are removing the air and gasses from the HVAC system in your house or the AC unit in your automobile. Vacuum pumps must be of the highest quality due to their primary usage and the fact that oil is required to operate them. Poor-quality equipment will undoubtedly leak and be less efficient at generating the vacuum required in the HVAC system's chamber before refrigerant can be added. Get a high-quality vacuum pump for dependability and longevity so you can complete the task at hand without having to clean up a sizable mess.
Features: Verify the vacuum pump's specs to make sure it has the features you need it to have. Check the motor's size and the maximum pressure that can be achieved as well. Some vacuum pumps also have extra attachments, allowing you to use them to check for leaks and perform maintenance on your HVAC or AC system.
Ease of Use: Although most home handymen are excellent at doing a range of maintenance tasks around the house, they lack the training or qualifications to handle the majority of them. The vacuum pump you select should be simple to use as a result. Look for versions that you can switch on and then attach to the container from which you need to remove air. It's acceptable if you need to do additional steps, but make sure you get a vacuum pump with clear instructions.
Noise Level: The majority of the vacuum pumps in our range have exceptionally quiet, powerful motors. You might need to use your vacuum pump at home or for extended periods of time. If you use a vacuum pump professionally for house maintenance, you don't want one that is noisy since it can bother your ears, especially if you use it all day. Look for low decibel or noise levels. While all vacuum pumps will produce some noise, look for one that isn't excessively loud.
Conclusion
This post has produced a collection of data and business summaries for some of the best HVAC Vacuum Pumps in 2023. You are also encouraged to visit the Linquip website to learn more about these types of pumps, as well as to find industrial and commercial items. You can also visit our Vacuum Pump Suppliers and Companies to find out a complete list of vacuum pump suppliers. You are also encouraged to download this PDF file to understand more about HVAC vacuum pumps.
Buy Equipment or Ask for a Service
By using Linquip RFQ Service, you can expect to receive quotations from various suppliers across multiple industries and regions.
Click Here to Request a Quotation From Suppliers and Service Providers
Read More on Linquip