Best Condensate Pumps – Assume you walk into your utility room and see water splattered on the floor. If your condensate pump isn't working properly, this is a real possibility. Long-lasting motors (steel shafts) and safety switches are included in the best condensate pumps which will shut down your HVAC system if it detects a leak.

These tools make our lives easier everywhere, from air conditioners in homes to furnaces in factories. But the narrative doesn't end there.
While we recognize their value, we have all dreaded the notion of water drainage in the case of a flood. And it's here that condensate pumps come into play. These unassuming machines are in charge of collecting moisture and draining it in a methodical manner. It's as simple as plugging it in and forgetting about it. Isn't that appealing?
Let's go back to the beginning. You must first have a clear knowledge of what you're looking for before you can begin your search for the best condensate pumps.
Any heating, ventilation, or air conditioning (HVAC) system requires a condensate pump. Condensate pumps are centrifugal pumps, which deliver energy to fluids in the form of high pressure and momentum, pushing the fluid in the desired direction.
Condensate pumps get their name from the fluid they push, which is water derived from condensed steam produced by the device in question. Here's a brief overview of all the best items. Continue reading to find out how to pick and utilize the best condensate pumps.
⇒ View a List of Pumps for Sale and Their Suppliers ⇐
Best Condensate Pumps Reviews
Little Giant 554425 VCMA-20ULS Condensate Removal 1/30 HP Pump with Safety Switch
Specifications
| | |
| --- | --- |
| Adapter Type | 1/4-inch |
| Tank Material | Galvanized steel |
| maximum water temperature | 140-degree Fahrenheit |
| Flow rate | 80 gallons per hour |
General Descriptions
The 554425 VCMA-20ULS Condensate Removal Pump from Little Giant is an excellent choice for usage in home appliances like heaters and air conditioners. It has a flow rate of 80 gallons per hour and draws 1/30 horsepower. This pump's location is adjustable thanks to its lengthy power cord and wall mounting tabs.
A sturdy stainless steel motor shaft that runs on 115v is at the heart of its vertical-type design. This means you may use your regular home electricity to power the pump. Furthermore, the thermal protection function can withstand a maximum water temperature of 140°F.
This machine, which comes with a 12-gallon plastic tank, is designed to remove condensate from high-efficiency furnaces and boilers, among other things.
This pump takes around twenty minutes to install on its own. This condensate pump is less expensive than many at hardware shops, yet it's typically just as sturdy. When used properly, it may endure for years and features a safety switch to avoid accidents. Keep in mind that you'll need to buy plastic drainage tubing separately.
The safety switch, which may be directly attached to the appropriate appliance, is perhaps its most significant asset. The switch will turn off the compressor in the event of an emergency, preventing an overflow situation. You may also connect the switch to a water alarm system to be alerted of a possible tank overflow.
The 1/4-inch turn check, which does not need the operator to disassemble the tubing, was also a plus. This technique will once again prevent you from a water spill, therefore additional points! Finally, the 6-foot power cord allows you to comfortably install the pump.
Although it does not operate quietly, this condensate pump will perform admirably in a variety of home appliances. Once installed, it will function at its best for a long period without requiring any significant maintenance.
Sauermann SI-30-230V Mini Condensate Removal Pump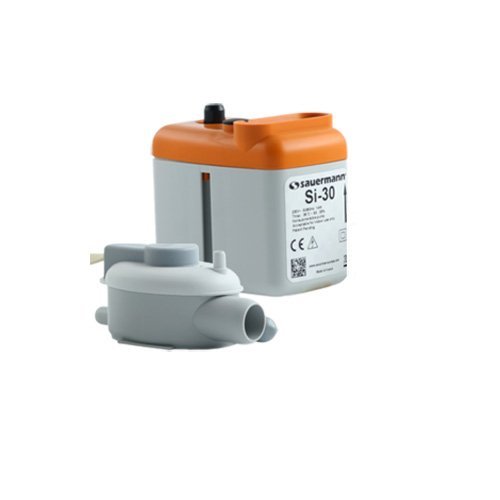 Specifications
| | |
| --- | --- |
| Voltage | 220 V |
| Compatibility | air conditioners of up to 5.6 |
| Type | Removal |
General Descriptions
The Sauermann SI-30 Mini Condensate Removal Pump is a specialized and high-end pump for removing condensate from air conditioners weighing up to 5.6 tons. Furthermore, the ultra-lightweight construction makes transporting a snap! This pump is suitable with air conditioners up to 5.6 tons, thanks to the proprietary Sauermann Si-30 piston technology. Not only that, but the condensate may also be used to eliminate tiny particles.
Furthermore, the SI-30 is designed to withstand pollutants caused by regular air conditioner use. This one, like the Fujiwara Condensate Pump, has a low noise level, making it suitable for use in almost any room of the house.
Finally, for improved user-friendliness, the kit includes tubing, a float switch, a wall mount and simple instructions.
There are several areas where we would like to make improvements. For starters, smooth mounting of the pump necessitates a significant amount of work. Furthermore, customers that require a more powerful lift may find the 1-floor equivalent lift to be a limitation. It also runs on 220v, so you'll need to make sure you have enough electricity.
Little Giant 554421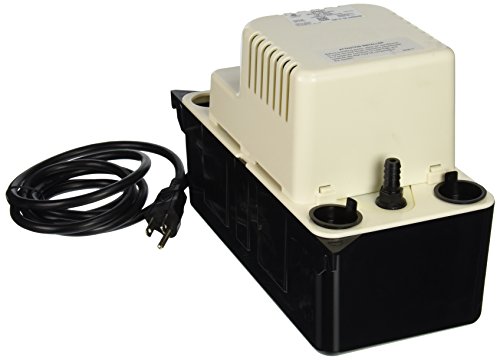 Specifications
| | |
| --- | --- |
| Capacity | 80 GPH |
| Temperature range | 140-degree Fahrenheit |
| material | ABS plastic |
General Descriptions
Because of its 115v and 1/30hp functioning, this pump may be employed in a variety of domestic appliances such as furnaces and dehumidifiers. The rust-proof half-gallon tank is composed of sturdy ABS plastic. Thermal overload protection is included in the 6-foot power cord of the condensate pump. You have the option of placing the condensate pump on a flat surface or mounting it on the wall.
The 554421 Condensate Pump is one of the most dependable and high-performing pumps from the company, and it's perfect for intermittent usage. Its small size allows it to fit into even the tiniest of areas. When it's time to change the pump after a few years, you should be able to do it yourself in minutes. Though it appears to be a little light and fragile in comparison to other pumps, its endurance may surprise you. If you're searching for a low-cost solution with long-term dependability, we think this condensate pump is a great choice.
To be honest, the previous Little Giant pumps' greater performance persuaded us to attempt a third unit. The 554421 Condensate Pump doesn't make any extravagant claims, but it does a good job of delivering its promise. It's also appropriate for heavy-duty applications because of its 80 GPH flow capacity.
Despite the fact that the plastic body does not appear to be extremely substantial, the ABS plastic substance makes it durable enough to sustain heavy use. Its powerful engine is thermally insulated and can withstand temperatures of up to 140 degrees Fahrenheit. This condensate pump, like many of the others on the list, may be mounted on the wall or placed on a flat surface. The 6-foot power cord provides ample reach to the nearest switchboard for this purpose.
Overall, this cost-effective equipment offers a rapid and effective answer to your intermittent condensate needs. The lack of an overflow shutdown switch may be a source of substantial dissatisfaction. We couldn't understand why the device compromised on safety and user-friendliness, given the brand's reputation in the condensate pump business. Aside from that, the operational noise is excessive for such a modest design.
Diversitech Corporation IQP-120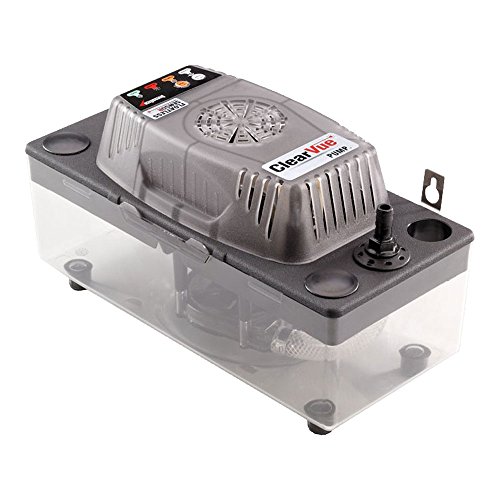 Specifications
| | |
| --- | --- |
| Motor | 1/30 horsepower |
| Tank capacity | 0.25-gallon |
| Material | Plastic |
General Descriptions
To begin with, the 1/30 horsepower motor works at the lowest possible speed to keep it functional for a longer period. This feature does not suggest that the speed is insufficient for cleaning the condensate; rather, it prevents the motor from becoming overworked. This also means that it produces less heat, which increases its durability. Apart from that, the stainless steel mounting tabs keep the pump together well.
The unique self-cleaning mode, which lowers maintenance requirements, is a standout feature. When the pump detects an excessive buildup or influx of undesirable particles, it cleans its inside with condensate water. Additionally, the 0.25-gallon clear bottom tank allows you to monitor the water level at all times.
The light indication system on the top of the pump will let you keep an eye on the general functioning once again.
We like the glass bottom tank, but we're a little concerned about the plastic construction. Because it's not constructed of the highest quality plastic, you'll have to be extra careful not to bang it into anything.
FUJIWARA Condensate Pump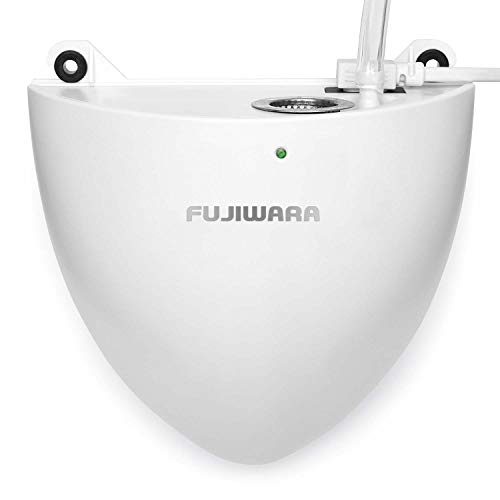 Specifications
| | |
| --- | --- |
| Flow rate | 40 GPH |
| operating range | 100-220v |
| inner diameter | ½ inch |
General Descriptions
This fully automated machine is the ideal combination of efficiency, dependability, and convenience at a price that won't break the bank. Furthermore, it runs on a low-voltage source, which means it won't raise your power cost.
First and foremost, the tiny and quirky design piqued our interest. And, while appearances should be the last thing on your mind when purchasing a condensate pump, we don't mind its appealing design. So you get bonus points for it!
When it comes to performance, the completely autonomous operation is, without a doubt, the best. In the event of a rapid float displacement, the probe induction technique also avoids the possibility of anomalous drainage.
However, it may be useful to know that when the incoming flow exceeds the pump's specified flow rate, i.e. 40 GPH, a small bottom hole on the unit will empty water. This system guards against a short circuit in the motor, ensuring its safety.
Not only can the pump be used to remove condensate from a variety of appliances, but its 100-220v working range adds to its versatility. Furthermore, the 32-foot lift should be perfect for resolving maximum condensate issues. It's also a fantastic choice for usage in bedrooms because of the low sound output.
Only wall-mounting is supported by the Fujiwara Condensate Pump, and all necessary components are included in the package.
In comparison to the 32-foot lift, we thought the drain hose that came with the equipment was too short. As a result, we recommend buying a separate hose, preferably one that is approximately 100 feet long and has a 1/2-inch inner diameter. This will cost you more money, but it will ensure that your business runs well.
WaterAce WACND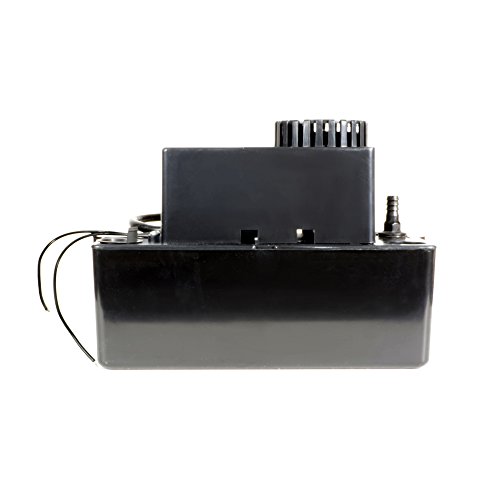 Specifications
| | |
| --- | --- |
| Outlet | 3/8-inch |
| Risk potential | integrated safety switch |
General Descriptions
This unit is no exception to the brand's reputation for producing high-quality water pumps. Its' easy-to-follow instructions and familiar design appeal to both novice and experienced users.
This model, like the Little Giant VCMX 20ULST, is designed to meet the various needs of home use. In that regard, the familiarity of design and application struck us. It'll be simple to figure out how to operate a replacement pump if you're seeking one.
The pump is useful for different appliances such as furnaces and dehumidifiers, however, we utilized it to remove condensate from our air conditioners. In the event of a power outage, an incorporated safety switch automatically turns off the pump. The high-impact thermoplastic tank can withstand a few blows with ease.
It also has a dual mount mechanism that allows for maximum installation versatility. It may be mounted on the wall or be placed on the floor, depending on your preference.
The WaterAce WACND Condensate Pump, with three intake holes and a 3/8-inch output, appears to be a no-nonsense pump that remains true to its mission.
Because this condensate pump isn't the quietest on the market, you'll probably want to keep it in the basement. We would have preferred a quieter pump for a pump aimed at household usage. We're also not sure if it can deal with high-temperature condensate from a steam generator.
Mars 21780 115-volt Lift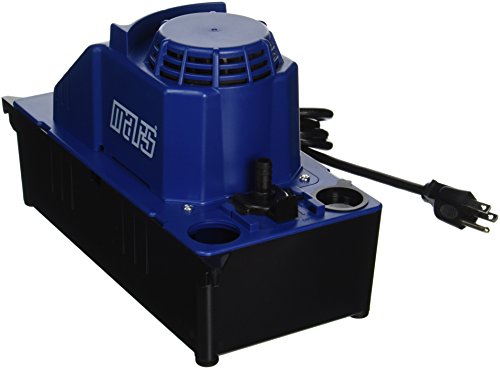 Specifications
| | |
| --- | --- |
| Capacity | 125 GPH |
| Tank | 1/2-gallon water tank |
| Operating | 115-volt |
General Descriptions
It has a strong build that can survive daily usage and is equipped with a slew of user-friendly features. This device may easily meet your needs if you're looking for efficiency on a budget.
The Mars 21780 Condensate Pump accomplishes a number of things to increase its sturdiness. To begin with, the dip-proof housing design allows for better air circulation and avoids water droplets from forming on the motor. As a result, the motor can work to its maximum capacity.
The motor uses sealed ball bearings rather than the more conventional sleeve bushings to ensure silent operation. We were very happy with the float switch's quality, especially after dealing with a handful of subpar switches previously.
This type, like the Little Giant Condensate Removal Pump, has a 1/2-gallon water tank and can drain up to 125 GPH. The built-in 250v safety switch can also be connected to a high-level alarm system or used to shut off equipment directly.
Finally, without disconnecting the condensate line, the fast-release silicone check valve allows for quick and easy service. The Mars 21780 Condensate Pump is one of the most user-friendly machines on the market because of this as well as its ease of installation.
Despite its efficiency for the price, the device is not without problems. The plastic tab that connects a sliding lock to the base is of special concern to us. Because the lock secures the hose and check valve, any damage to the tab renders the unit inoperable.
Beckett CB151UL 115 Volt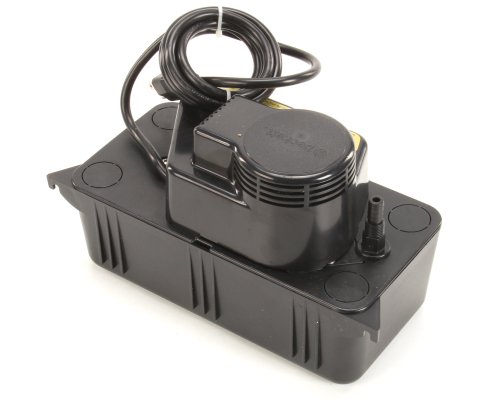 Specifications
| | |
| --- | --- |
| Operating | 115-volt motor |
| flow rate capacity | 120 GPH |
| Material | plastic |
General Descriptions
Beckett is a well-known brand in the medium-sized condensate pump sector, and the CB151UL earns a spot on our list. Its innovative lightweight design is intended to improve overall performance and longevity. If you value safety and dependability above all else, this product could be the one for you.
In the food market, Beckett is a well-known name. This pump has a 115-volt motor with a 120-gallon-per-hour flow rate. Even somewhat bigger particles will easily pass through.
When it comes to the brand's design, the innovative airflow mechanism does an excellent job of reducing heat generation and operational noise. Furthermore, the dual-float type design ensures that pump operations are not required frequently, extending the product's service life.
The pump is simple to install and will perform effectively for a long time once it is turned on. Because the plastic tank that protects the pump is delicate and vulnerable to harm if struck or dropped, you must be careful where you place it.
The Beckett condensate pump is slightly more expensive than some of its Little Giant contemporaries, but it is a device that should last a long time if installed correctly.
The device has a 120 GPH flow rate and is powered by a powerful 115v motor. Furthermore, it is capable of passing medium-sized particles without causing any discomfort to the user. But it doesn't stop there in terms of user-friendliness. The installation is straightforward and it can be installed from both sides. It comes with a 6-foot long power wire.
Overall, the Beckett CB151UL prioritizes both performance and safety. If premium cost isn't a concern, this high-performing item might be a good value.
We were a little disappointed by the heavy plastic odor, especially after the OEM clearance. Furthermore, the float switch is prone to become stuck, and there are no clear instructions for how to set it up. To minimize any undesired spills, we recommend inspecting the switch before installing the device.
Little Giant VCMX-20ULST 554550 VCMX Series Automatic Condensate Removal Pump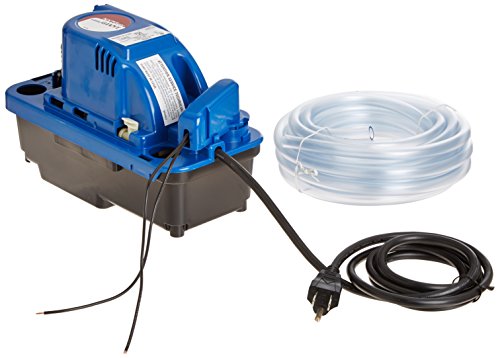 Specifications
| | |
| --- | --- |
| Operating | 115v |
| Range | 1/30hp |
| Material | Non-flat plastic |
| Capacity | 84GPH |
General Descriptions
Another dependable Little Giant device is this pump. It provides 115 volts and 1/30 horsepower, making it an excellent choice for home appliances. At a one-foot raise, it has a powerful flow of 84 gallons per hour. It may be mounted on the wall or placed on the floor, with its rubber feet dampening vibrations. The VCMX 20ULST 554550 is a cost-effective and efficient condensate pump with a strong engine for forceful water discharge. It's also appropriate for domestic usage because of its lower footprint.
This one is powered by a strong 1/30 Horsepower motor with an overload prevention system. Its cooling architecture, on the other hand, ensures a longer service life. One possible difficulty with this pump is that the reservoir isn't clear enough to examine quickly, so you'll have to trust that it's operating properly.
We feel this pump is extremely cheaply priced, considering it has a larger lift capacity and better transfer rates than some other condensate pumps. This condensate pump should endure for a long time if you don't use it for appliances that pump big volumes of water. The Little Giant 554550, unlike its competitors, features a non-flat plastic tank, which enhances overall efficiency. Simply put, the muck and slime that builds up over time collect in a compartment that is separate from the float switch. The switch will remain active and unobstructed in this manner.
On that note, it's worth mentioning that the tank is oil-resistant, which means it can tolerate damage from oil. The model also contains a high-level external alarm that can be plugged into practically any audio/visual or building control system, in addition to the safety switch. The operator can link an air handler shutdown or building automation system to the 20 feet of the 3/8-inch tube.
Finally, the availability of a test switch makes it easy to determine if the pump has been properly wired without the use of water. This function, in combination with the 1/4 check valve, will be especially useful when the pump has to be entirely emptied.
Because the pump is intended for use with domestic appliances, it may not be the best choice for draining huge volumes of water. Also, if not for the poor quality of the float switch, we would have given the model a higher rating.
DIVERSITECH CP-22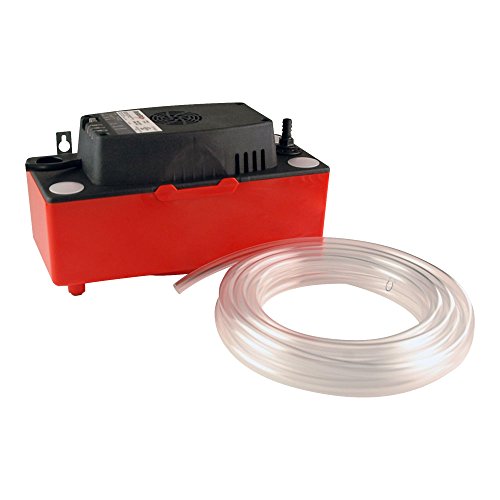 Specifications
| | |
| --- | --- |
| Connector | 1/4inch |
| Material | stainless steel |
| Package Weight | 5.1 lb |
General Descriptions
Diversitech-22 Condensate Removal Pump is long-lasting equipment that works with most condensing furnaces and boilers. Its professional-grade design and sturdy high-capacity pump make it a client favorite.
The Diversitech-22 is made of a blend of heavy-duty plastic and stainless steel that allows it to withstand tough job site conditions. Furthermore, its rubber feet decrease operational noise by dampening vibration.
When it comes to its performance, the sturdy pump design with a lift of 22 feet was the first thing that caught our eye. The 1/4-inch fast connector terminals also make it simple to connect to the built-in overflow switch. The unit's visual indication system, which lets you keep an eye on the pump system, is what drew us in the most.
The green light shows that electricity is being supplied, the yellow light indicates that the pump is functioning, and the red light serves as a visual alert for potential overflow.
It also comes with a metal hang tab with a slot design for simple attachment. With two extra connections, the device gives you the most freedom when it comes to installing an air handler shutdown or optional alarm. In addition, the removable check valve allows for easy maintenance. This type is worth considering if you're searching for a pump that's both efficient and simple to operate.
The item can be a little loud, but it didn't pierce the eardrums. Furthermore, its exorbitant price tag may be a stumbling block for some purchasers. Having said that, given the price, we are extremely pleased with how it works.
FAQs about Condensate Pumps
When Should I Replace a Condensate Pump?
It's easy to overlook the condensate pumps in your appliances, but they, like many other appliance parts, need to be updated from time to time. It's unlikely that your pump will need to be replaced frequently. The motor in your condensate pump may begin to malfunction over time, or the switch that turns it on and off may become worn as dirt and debris gather.
The most apparent symptom that your condensate pump needs to be replaced is if it is leaking. Small pools of water will appear on the floor or on other surfaces near the appliance.
Can I Replace a Condensate Pump by Myself?
Are you thinking about doing it yourself? Take a chance! The reality is that if you can follow instructions, you can replace your condensate pump without the assistance of a professional.
Here's what we mean: installing a condensate pump isn't extremely difficult. You must be able to unfasten and refasten screws, as well as paying attention to the placement of electrical wires. If you're confident in your abilities, there's no reason you can't change a condensate pump on your own. However, there is no need to feel rushed. You may always hire a handyman to come over and assist you.
What Features Should I Search for in a Condensate Pump?
The best condensate pumps offer a variety of characteristics that improve their performance. Here's a quick rundown of what to look for in a condensate pump:
Pump Head Measurement: The maximum height to which the condensate pump may convey a liquid to the pump output is indicated here.
GPM/GPH: The gallons of the condensate water that the pump can remove in one minute or hour is measured in GPM or GPH. You'll need a pump that can remove 2-3 times the condensing rate of the system's intake.
Voltage: The majority of conventional household equipment operates on 115 or 120 volts. 230v is required for certain bigger appliances, while commercial-grade equipment may require 460v.
Horsepower: The typical domestic appliance has a power range of 1/30 to 1/50 hp.
Before you buy a new condensate pump, check your appliance for specifications on these characteristics to guarantee correct and optimal performance.
Conclusion
Purchasing a condensate pump is more difficult than it appears. Although the small sizes and basic designs may lead you to believe differently, there are several aspects to consider to make your investment worthwhile. And, to make your work easier, we've tested the top ten units on the market right now. But, before we allow you to pick your preferred model, here's a link to our Pump Experts who can help you with all of your needs.
Buy Equipment or Ask for a Service
By using Linquip RFQ Service, you can expect to receive quotations from various suppliers across multiple industries and regions.
Click Here to Request a Quotation From Suppliers and Service Providers
Read More on Linquip