Different types of cooling towers are there to help solve a major problem in the modern world: removing excess heat! A large amount of heat generated by industrial processes and different machines should be removed if you want your system to operate efficiently and to decrease the amount of money you need to pay for the extra pressure that such inefficient systems use.

With that in mind, types of cooling towers have been designed to suit different needs in this area and to help save money in the long run. In today's article, I want to talk about these different types and help you know them one by one to choose the right one for your system. Are you ready to join Linquip in this article? let's begin.
Different types of cooling towers
Different sizes and types of cooling towers are tailored for different needs and applications of cooling towers. Although different types have different cooling tower designs, the basic function of all these types remains the same since they all have the same purpose of dissipating heat from a system into the air through evaporation.
Below, you can see the different classification of cooling towers:
Heating, ventilation, and air conditioning (HVAC)

Industrial cooling towers
Package type

Field erected type
Air-flow generation methods
Natural draft

Mechanical draft
Induced draft

Forced draft
Fan-assisted natural draft
Dry cooling towers

Fluid cooling towers or closed circuit

Hybrid cooling towers
Classification by use
Cooling towers based on their use are categorized into two types that are described below.
Heating, ventilation, and air conditioning (HVAC)
An HVAC (heating, ventilating, and air conditioning) cooling tower is used to dispose of unwanted heat from a chiller. Liquid-cooled chillers are normally more energy efficient than air-cooled chillers due to heat rejection to tower water at or near wet-bulb temperatures. Air-cooled chillers must reject heat at the higher dry-bulb temperature, and thus have a lower average reverse-Carnot cycle effectiveness.
HVAC cooling towers are typically smaller than industrial cooling towers and serve more commercial applications such as cooling the recirculating water of oil refineries, power plants, and chemical plants as well as cooling buildings such as large office buildings, hospitals, schools, and colleges.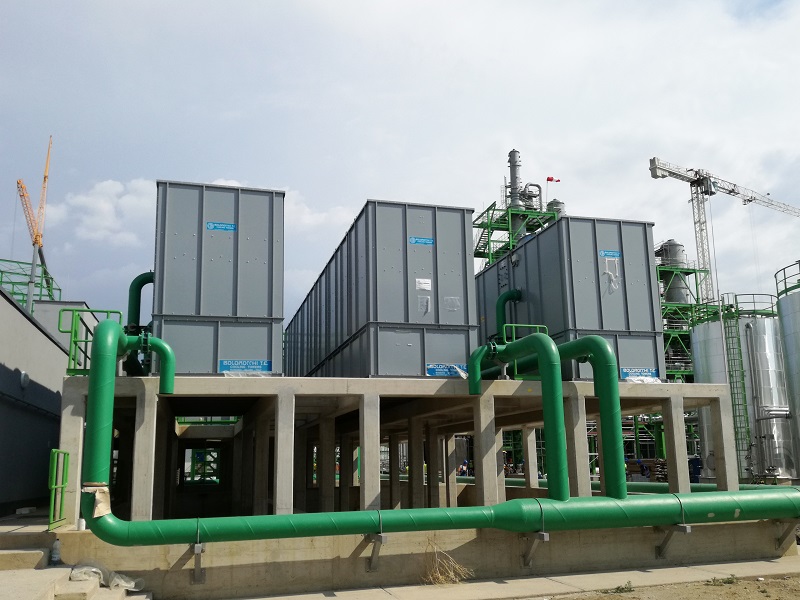 Industrial cooling towers
Industrial cooling towers can be used to remove heat from various sources such as machinery or heated process material. The primary use of large, industrial cooling towers is to remove the heat absorbed in the circulating cooling water systems used in power plants, petroleum refineries, petrochemical plants, natural gas processing plants, food processing plants, semi-conductor plants, and for other industrial facilities such as in condensers of distillation columns, for cooling liquid in crystallization, etc
Classification by build
Cooling towers can differ based on their build that includes:
The shell in this type has been designed with materials such as fiberglass-reinforced polyester because of its heat resistance ability and also its high durability, plus, the used materials for creating the shell in this type should be corrosion-free as well. This type is pre-fabricated and compact; hence, its transportation is easy. Package type is used in the facilities where low heat rejection is required; such as office buildings, hospitals, and malls. Due to their frequent use in or near residential areas, sound level control is a relatively more important issue for package-type cooling towers.
Unlike the package type, this type of industrial cooling tower is large and is used in huge facilities such as power plants, steel processing plants, petroleum refineries, or petrochemical plants due to their greater capacity for heat rejection. They can be tailored to your industrial needs and based on custom specifications.
Air-flow generation methods
With respect to drawing air through the tower, there are three types of cooling towers: natural draft cooling tower, mechanical draft, and fan-assisted natural draft.
The shape and design in this type enable the flow of the air naturally throughout the tower. The law of different densities between the warm air and the ambient air makes this process possible. The warm and moist air is more dance than cool air and will rise through the tower, while the cool and dry air that is outside of the tower, falls down the tower. This process happens in a loop and cools down the water as a result. Natural draft towers are usually located outside the building to have the proper airflow.
This type of cooling tower needs a fan to force the air through the system as one of the necessary steps of cooling down the flowing water in the system with the help of this air. This air is circulated with the help of propeller or centrifugal fans. The fan's speed can be controlled and as a result, the capacity control also becomes easy.
Comparing to the natural draft type, this one has a much smaller structure. The effectiveness of mechanical draft type is much more than natural draft towers and unlike the natural draft, they can be located anywhere inside the building when exhausted properly. But one of their disadvantages is that they consume more power than the other type and cost more to operate.
Mechanical draft cooling towers consist of two types that are as follows.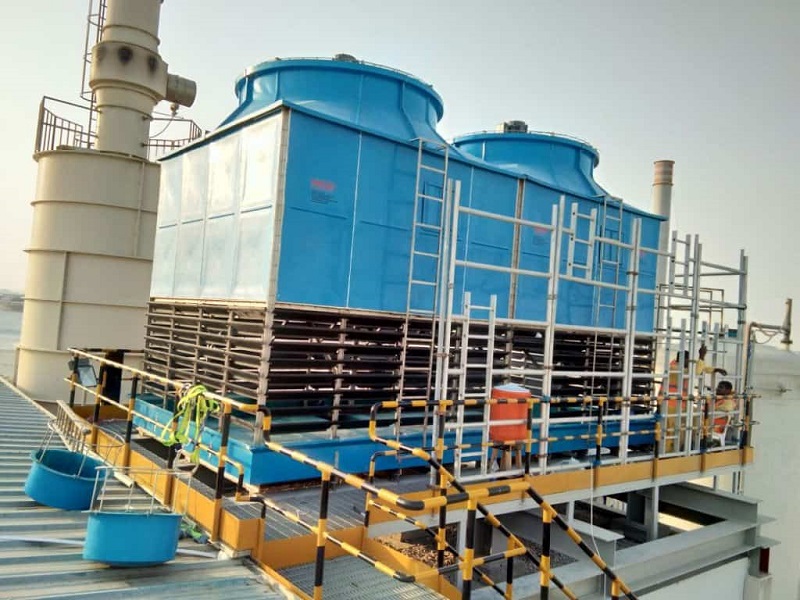 The induced draft is a mechanical draft tower with a fan at the discharge (at the top) which pulls air up through the tower. The fan induces hot moist air out the discharge. This produces low entering and high exiting air velocities, reducing the possibility of recirculation in which discharged air flows back into the air intake. This fan/fin arrangement is also known as draw-through.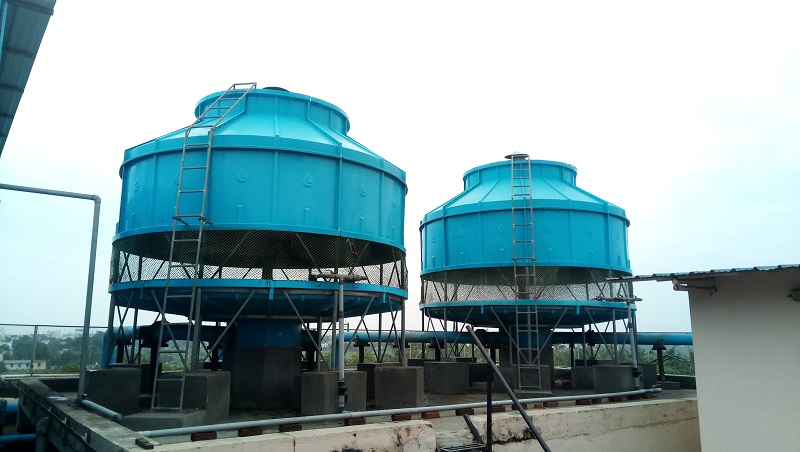 The forced draft is a mechanical draft tower with a blower-type fan at the intake. The fan forces air into the tower, creating high entering and low exiting air velocities. The low exiting velocity is much more susceptible to recirculation. With the fan on the air intake, the fan is more susceptible to complications due to freezing conditions. Another disadvantage is that a forced draft design typically requires more motor horsepower than an equivalent induced draft design. The benefit of the forced draft design is its ability to work with high static pressure. Such setups can be installed in more confined spaces and even in some indoor situations. This fan/fin geometry is also known as blow-through.
Fan-assisted natural draft
Fan-assisted natural draft is a hybrid type that appears like a natural draft setup, though the airflow is assisted by a fan.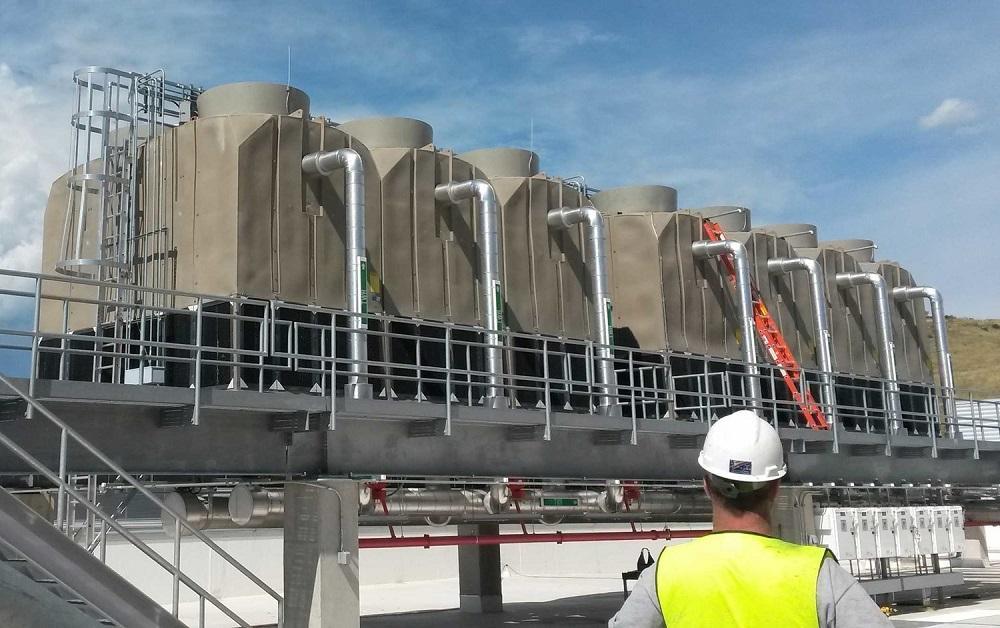 Heat transfer methods
There are four types in this category, including:
Wet cooling towers or open circuit
This type uses water to cool down the facility. The decrease in the process temperature and increase in the wet-bulb temperature and the moisture of the air indicates the heat transfer in the tower. They usually produce drift emissions that are not hazardous but some eliminators can be used to minimize the drift. This type is affordable, renewable, and cost-effective and that's among the reasons for its popularity.
The surface that separates the ambient air from the working fluid is responsible to transfer the heat. This operation is based on the principle of heat transfer that happens by a heat exchanger with extended fins. This type does not consume any water, since the fan uses an electric motor to run.
Fluid cooling towers or closed circuit
The fluid that's mentioned in the name of this type is created with a mix of water with glycol. The fluid then circulates in the coil throughout the system to remove the excess heat. They are high in productivity and have lower downtime. You can use them where the surface needs to be free of contamination.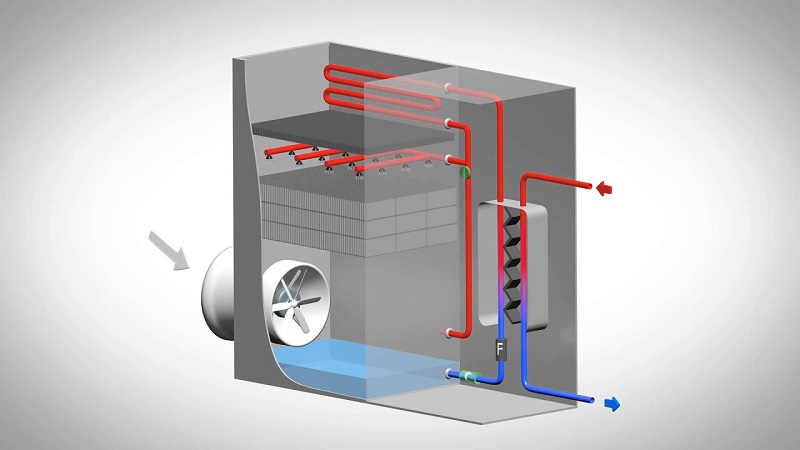 hybrid cooling towers are closed-circuit cooling towers that can switch between wet and dry operation. This helps balance water and energy savings across a variety of weather conditions.
Air-to-water flow
Cooling towers categorization based on air-to-water flow include:
The air in this type of cooling tower can flow horizontally and the hot water flows down vertically. The hot water flows from the distribution basins and the airflow cools down the water to reach the desired outcome. This type is considered to be less efficient than the counter-flow type since it's more prone to freezing and dirt buildup in the fill, especially in dusty or sandy areas. Plus, it has higher power consumption since more air is needed in this type to complete the process because of the lesser air-flow contact time.
This is one of the types of cooling towers that is also popular. The hot water in this type enters from the top and the air comes from the bottom to exit from the top. There are channels with lateral pipes and the water is distributed through them. Among the advantages of this type, the lower power consumption compared to the cross-flow type can be mentioned. Plus, the maintenance is easy and affordable and they are more compact than their counterpart. In counter-flow cooling towers, the breakup of water in spray makes heat transfer more efficient.
The disadvantages of these cooling towers include higher initial and long-term costs, primarily due to pump requirements. Moreover, they are typically noisier, due to the greater waterfall height from the bottom of the fill into the cold water basin
That was all you needed to know about types of cooling towers and how they work. Now that you have all the necessary information, do you have any comments to share with us? Then don't hesitate to leave a comment below and write down your thoughts. We are also eager to know if you have any experiences with these systems as well! Tell us your story right now. And if you have any questions, feel free to sign up on Linquip so that one of our experts helps you solve your problems.
Buy Equipment or Ask for a Service
By using Linquip RFQ Service, you can expect to receive quotations from various suppliers across multiple industries and regions.
Click Here to Request a Quotation From Suppliers and Service Providers
Read More In Linquip