Many locations require water softeners, which is a type of filtering appliances that removes calcium and magnesium from water. If you also need such a device, you would wonder about water softener installation cost, and it is what this article is all about.
It is reported that around 85% of Americans residents have hard water, which means there are high levels of calcium and magnesium content in the water. A water softener will remove these minerals, which ensures less plumbing issues and repairs, less damage to devices such as water heaters, longer-lasting and softer laundry, and better skin and hair.
In this article you will read about different cost factors for installing water softeners from unit prices to installation labors costs. You can also browse through and compare a variety of water softener products here.
Overview of Water Softener Installation Cost
A number of factors play a part in the final water softener installation cost. These cost factors include system type and size, brand, and labor costs. However, on average a range of $800 to $2,500 could be considered for water softener installation cost estimation.
This cost range could be broken down into unit cost and labor cost. Water softener prices lie between about $600 and $2,000, while the labor cost to install the water softener is from $200 to $500.
For $600 to $1,000 you could install a budget water softener, which would do the job for small to medium-sized residents; nonetheless, their components are of low quality.
If you are willing to pay something between $1,000 and $2,200 for your water softener installation cost, you can get longer-lasting devices with high-quality components that are suitable for almost all home sizes.
Of course for top notch quality devices with extra features such as wi-fi controls and the best water softening performance that last the longest from the best brands in the market, you should be willing to pay above $2,200 up to as much as $5,000 as your water softener installation cost.
Water Softener Installation Cost Based on Type
Water conditioners
The water softener installation cost for standard ion exchange types is estimated between $600 and $3,200. These are the most common types of water softeners that make use of sodium or potassium salts to soften hard water.

Unit cost: $400 – $2,700
Labor cost: $200 – $500

Large residents might consider dual tank ion exchange water softeners. The water softener installation cost for these types ranges from about $1,400 to $3,500. The same mechanism of using sodium or potassium salt for softening hard water is also present in these types of water softeners.

Unit cost: $1,100 – $2,500
Labor cost: $300 – $1,000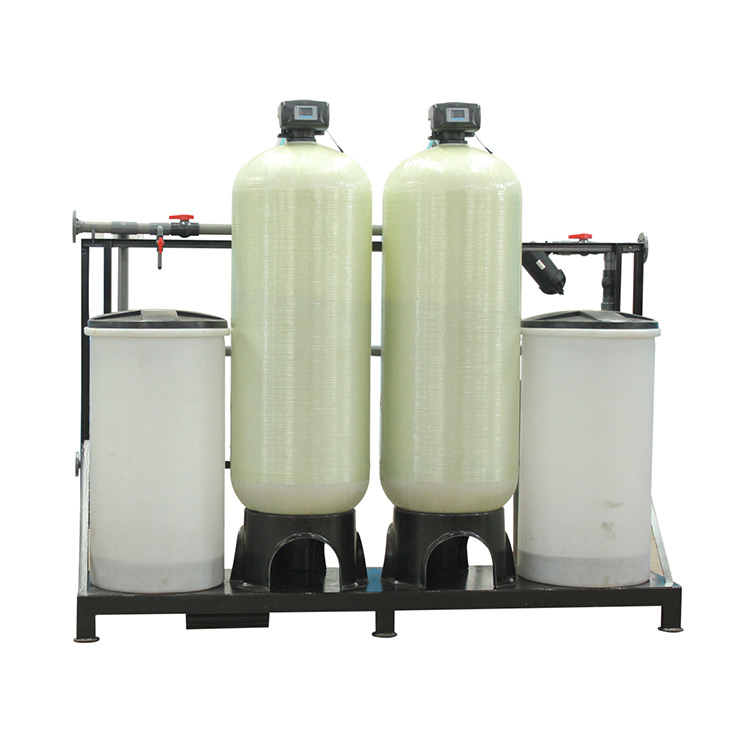 Commercial water softener installation cost would start at about $2,000 and go as high as $20,000.
Water purifiers
For severely contaminated water, the only option is a reverse osmosis (RO) filtration system. These systems remove up to 98% of contaminants from water as well as treating odor and discoloration. For below-counter RO systems, you would expect a range of $300 to $900 for you water softener installation cost. However, due the need for multiple water pre-treatment requirements, you might consider a whole-house RO system, which would make your water softener installation cost range jump to about $4k to $12k.

Unit cost: $150 – $500 (below-counter) | $4,000 – $11,500 (whole-house)
Labor cost: $100 – $400 (below-counter) | $300 – $1000 (whole-house)
Descalers
The water softener installation cost for no-salt conditioners is $400 to $4,200. These types do not actually soften water and only prevent scale buildup in pipes. They do not require high maintenance, are easy to install, do not require drains, and have no electric costs.

Unit cost: $300 – $4,000
Labor cost: $100 – $200

Although not completely proven effective, you could also use magnetic descalers or electric descalers to prevent scale buildup in pipes. In this case, you water softener installation cost would range from $160 to $600, which is actually the unit cost and no labor costs are necessary due to easy installation. Note that these devices will not soften the water.
Read More on Linquip
 Extra water softener installation cost factors
Some of the factors that might add to the previous cost estimates are listed below:
Necessary modifications to the framing, HVAC, electrical, or plumbing
Installing soft water loops ($600 to $2,000on average)
Replacing an older unit ($50 – $1,000 based on how much of the old components are removed)
Moving an already installed unit ($200 to $500 on average)
Limited space or access
Requirement for specific permits or inspections
Hiring a general contractor
For a video on how to install a water softener see the video here.
Buy Equipment or Ask for a Service
By using Linquip RFQ Service, you can expect to receive quotations from various suppliers across multiple industries and regions.
Click Here to Request a Quotation From Suppliers and Service Providers