Best Ceramic Coatings- A high-quality ceramic automobile coating can alter the appearance of your car by enhancing the paint's depth, bringing out a glass-like sheen, and shielding it from the weather. But which ceramic coating is ideal for automobiles?
Even while a new car's gloss won't remain forever, a ceramic coating might make it appear that way. These ceramic coating formulations are praised for their propensity to preserve the gleaming, mirror-like sheen of automobiles as well as to shield them from harmful elements including rain, dust, muck, and UV rays.
Ceramic coatings are available from a wide range of Suppliers and Companies, as well as manufacturers and distributors, and Linquip has a large selection of Ceramic Coating Products for Sale.
Linquip's platform has a comprehensive list of coating services for all OEM fleets. Vendors from Linquip can help you with this. To learn more about how to connect with a varied collection of service providers who consistently produce high-quality products, please contact Ceramic Coating Experts.
A ceramic coating for vehicles may appear extraordinary, but it has limitations, and it requires a precise application to provide protection that lasts as long as the package claims. What you should know about DIY ceramic coating projects and professional ceramic coatings.
In this buyers' guide, we examine the best ceramic coatings for automobiles based on consumer feedback, detailing expertise, price, performance, and longevity. We'll also discuss the advantages and disadvantages of employing ceramic automobile coatings as well as what to look for in high-quality ceramic coating goods.
Our list of the best ceramic coatings for vehicles was compiled based on factors including usability, high customer satisfaction ratings, the performance that has been proven in the industry, and overall value. To help you choose the product that is most suited for your car detailing chores, we have assigned each product a superlative.
Reviews of the Best Ceramic Coatings for Cars
4 Best Ceramic Coatings of 2023 include:
Chemical Guys HydroSlick SiO2 Ceramic Coating
Best Protection: CarPro CQuartz UK 3.0
Easiest Application: Turtle Wax Hybrid Solutions Ceramic Spray Coating
Shine Armor Fortify Quick Coat
Chemical Guys HydroSlick SiO2 Ceramic Coating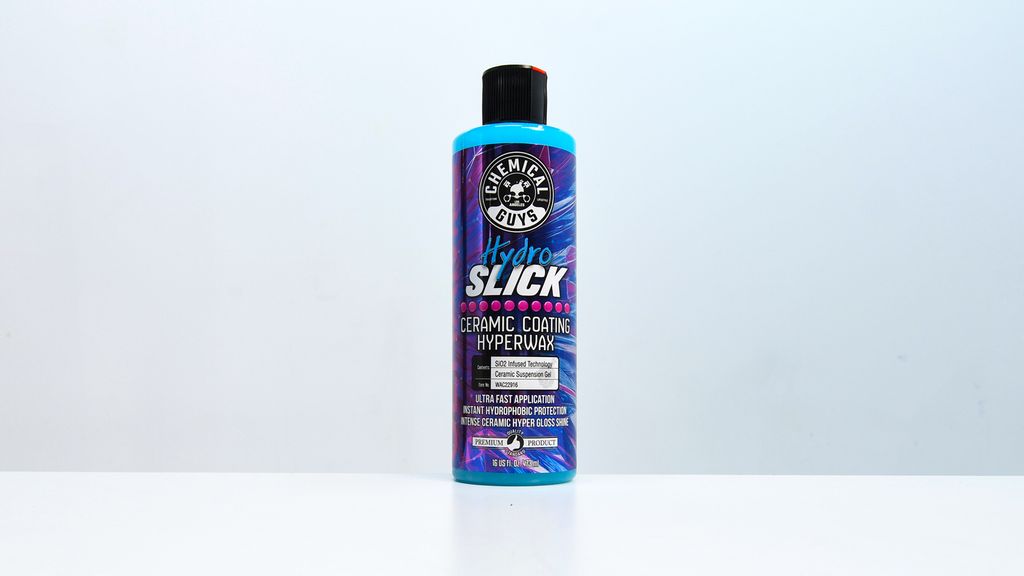 General Descriptions
The application procedure for The Chemical Guys HydroSlick SiO2 Ceramic Coating is quick and easy. Apply the gel to the treated surfaces after washing your car, give it as little as 30 seconds to dry, and then dry the area with a premium microfiber towel. SiO2 hydrophobic chemicals are used in the design of the ceramic coating to ensure water beads and sheets following application.
The Chemical Guys HydroSlick SiO2 Ceramic Coating is a wonderful choice for inexperienced detailers even though it doesn't quite provide the same level of shine and scratch protection as a typical ceramic coating.
Key Features
Created from hydrophobic SiO2 polymers
Operates on all exterior surfaces
Simple application process
Our Experience
The HydroSlick formula from Chemical Guys is a simple-to-apply gel. Simple wipe-on and wipe-off directions are provided, and all you need are some microfiber towels. You should prepare your car's paint by cleaning it, just as you would with any ceramic coating.
Although they don't seem to last as long as spray-on coatings, the results are still better than a multi-stage kit like CQuartz. It seems like you're putting a layer of protection because the gel is so thick. When utilizing spray-on products, especially with a white car, this is less evident.
| | |
| --- | --- |
| Overall Rating | 4.5 out of 5 |
| Ease of Use | 4.5 |
| Appearance | 4.5 |
| Longevity | 4.5 |
What Customers Are Saying
Chemical Guys HydroSlick has received over 4,500 reviews on Amazon, with an overall rating of 4.6 out of 5. The majority of reviews (around 91%) give it four or more stars.
Most of the time, reviewers praise the HydroSlick formula's look and shine. This product is well-liked by at-home detailers seeking a showroom finish, especially given how simple it is to use. Although your car needs to be ready before using this coating, it offers a rich shine.
Reviews on longevity are conflicting. Some people claim that the product comes off after three or four car washes, even though we have found it to last for a month (so far). Others claim that HydroSlick endures for a very long time, thus durability may be influenced by how skillfully you use the product.
Best Protection: CarPro CQuartz UK 3.0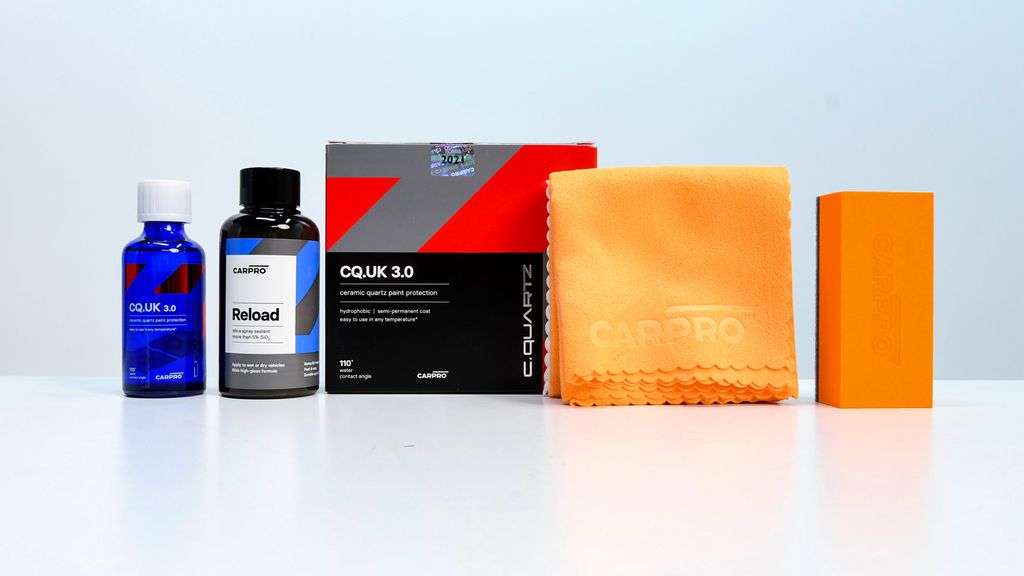 General Descriptions
For any detailer seeking a professional appearance without paying a large price, we suggest the CarPro CQuartz ceramic coating package. The coating is extremely water-repellent and chemical- and salt-resistant after curing. Additionally, it contains more quartz than usual SiO2, which gives the coating its glossy, long-lasting appearance.
This ceramic automobile coating is not recommended for beginners, though. You must thoroughly prepare your vehicle before the actual application process, as is the case with many higher-quality ceramic coatings. This comprises:
Use a soap with a pH balance and no wax to wash
Removing any iron that may be buried in the paint
Using a clay bar to scrub all surfaces
Using polish to get rid of any smudges, wet spots, or flaws
Applying denatured alcohol to all surfaces to clean
Key Features
0-milliliter bottle of CarPro Reload Silica Spray
0-milliliter bottle of CQuartz UK 3.0
0-inch microfiber suede towel
Four microfiber suede applicators
CarPro foam applicator block
Our Experience
Although the method of applying the CQuartz protective coating is more extensive than that of other products, it is not particularly challenging. The package comes with everything you'll need for application, and we found the directions to be simple to understand.
However, we just covered a small area of the test vehicle with CQuartz. Given the preparation measures you'll also need to do, it would probably take an entire day to cover the complete paint job of one automobile with the tiny applicator.
CQuartz delivers look and protection unlike few other at-home kits once it has been applied. According to customer feedback, this coating can persist for longer than a year.
| | |
| --- | --- |
| Overall Rating | 4.2 out of 5 |
| Ease of Use | 3 |
| Appearance | 4.5 |
| Longevity | 5 |
What Customers Are Saying
From more than 1,300 reviews, CarPro CQuartz UK 3.0 has an average Amazon score of 4.7. This ceramic coating receives 4 or more stars in almost 93 percent of reviews.
Both positive and negative reviews seem to agree on one thing: It takes a lot of time to apply this product correctly. The majority of users assert that it provides outstanding shine and enduring protection after application. Many people seem to think the effort is worthwhile, however, some people think simpler coatings will suffice.
Easiest Application: Turtle Wax Hybrid Solutions Ceramic Spray Coating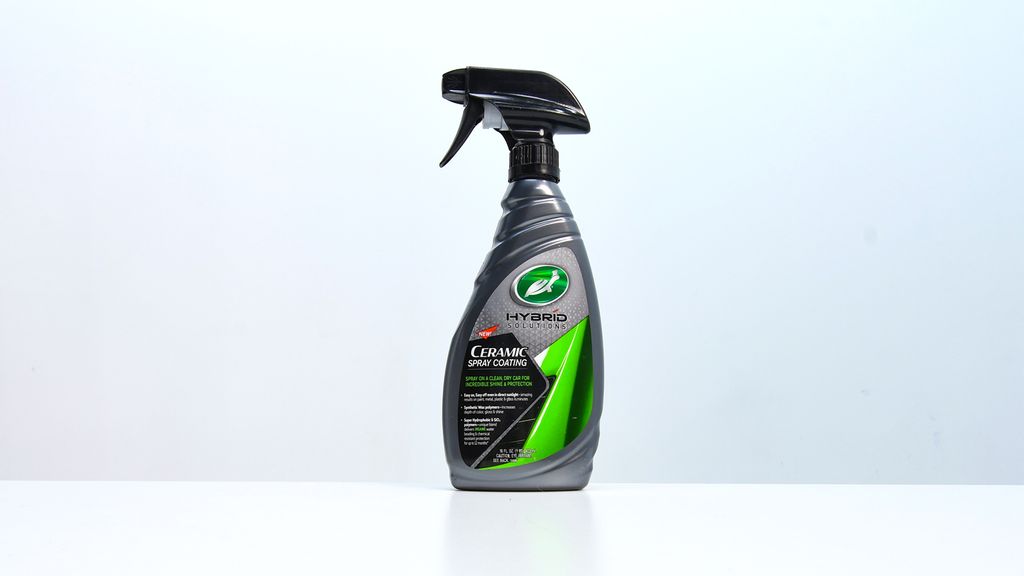 General Descriptions
Turtle Wax Hybrid Solutions Ceramic Spray Coating is incredibly effective, cost-effective, and simple to use.
SiO2 polymers, or silica nanoparticles, are used in this ceramic coating to give your car a glass-like appearance and sheen. After the ceramic coating dries, these polymers also help with water resistance and sheeting. Consumer studies show that this product can survive abrasive weather conditions and potent chemical solvents in addition to having a remarkable aesthetic appeal.
The application of this ceramic coating is straightforward and just calls for two sprays, a wipedown with a microfiber towel, and a 24-hour curing period.
Key Features
Created from hydrophobic SiO2 polymers
Appropriate for all exterior surfaces
Fruity fragrance
Simple application
Our Experience
Of the ceramic coatings we examined, Turtle Wax is by far the easiest to apply. All the user needs to do is spritz and wipe with the spray bottle of solution. Application for a small area of the car takes under a minute. When covering a full car, the time difference between this coating and others is considerably more noticeable.
The shine was pleasant but not noticeably different from previous ceramic coatings, in our opinion. The coating is still intact one month after application.
| | |
| --- | --- |
| Overall Rating | 4.2 out of 5 |
| Ease of Use | 5 |
| Appearance | 4 |
| Longevity | 3.5 |
What Customers Are Saying
Hybrid Turtle Wax Solutions Based on more than 12,500 reviews, the average Amazon rating for Ceramic Spray Coating is 4.6. This ceramic coating receives at least 4 stars from almost 92 percent of reviewers.
Reviewers laud the coating's simplicity of use and the high caliber shine it provides. Turtle Wax is cheap, yet it doesn't last as long as expert work and more expensive treatments.
Dedicated enthusiasts with more free time appear to prefer alternative products, claiming that Turtle Wax needs multiple coats to achieve a nice gloss and that it only lasts for a few months.
Shine Armor Fortify Quick Coat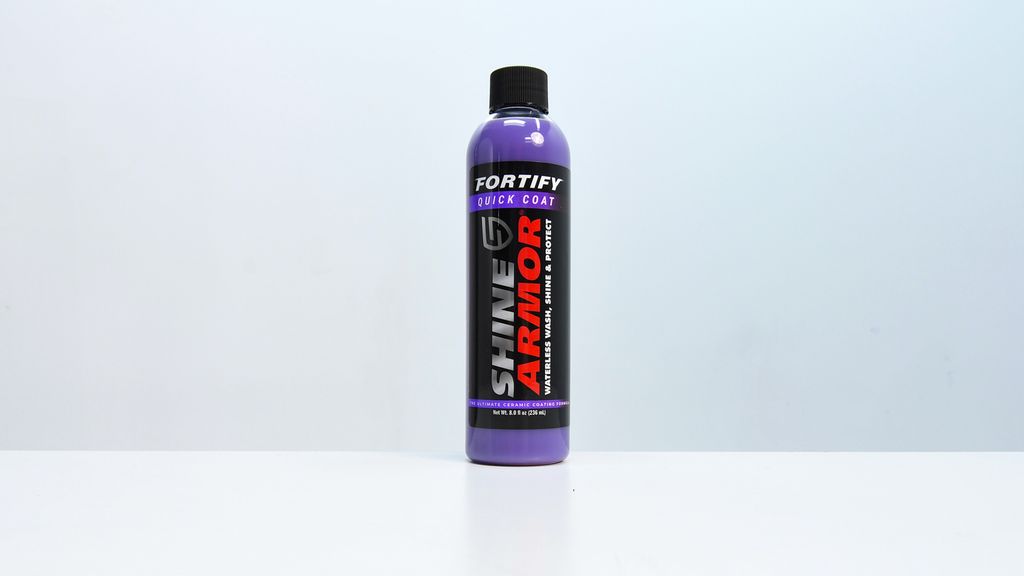 General Descriptions
One of the most well-liked DIY ceramic coatings is the Shine Armor Fortify Quick Coat. The three-in-one mixture cleans, coats, and shines your car without using water. In addition to automobiles and trucks, Shine Armor Fortify Quick Coat can be used on motorbikes, yachts, RVs, and four-wheelers. This spray's recipe is similar to that of the Chemical Guys HydroSlick SiO2 Ceramic Coating, making it simple to apply but less durable.
Shine Armor claims that the spray may be applied in just 15 minutes. Before applying the ceramic coating, make sure your car has been thoroughly washed, preferably with a shampoo with a pH-balanced formula. It works well on the clearcoat, wheels, windshield, and mirrors of your car.
Key Features
Three-in-one formula
Proper on all exterior surfaces
Simple application process
Light grape scent
Our Experience
Our experience with Shine Armor was quite similar to that of Epic Elements Protect. Although it is simpler to use than Turtle Wax ceramic coating, the spray container is of poorer quality. Although not the greatest of the products we tested, the shine is apparent.
Shine Armor and Epic Elements Protect have both lasted for at least a month on our test vehicle, but based on consumer feedback, we don't anticipate Shine Armor to stay as long.
| | |
| --- | --- |
| Overall Rating | 3.8 out of 5 |
| Ease of Use | 5 |
| Appearance | 3.5 |
| Longevity | 3 |
What Customers Are Saying
Based on more than 68,500 reviews, Shine Armor Fortify Quick Coat has an average rating of 4.3 stars on Amazon. Approximately 81% of reviewers give the product four stars or more.
Customers generally agree that this is an easy-to-apply ceramic coating that produces respectable results. Even while the protection is not very long-lasting, it does provide a high-quality shine and protects for about two months.
FAQs about the Best Ceramic Coatings
Your car's exterior can be shielded from scratches, water stains, and bird droppings with a nano-ceramic coating. Compared to a regular wax coating, these coatings often stay a lot longer. Ceramic coatings can be applied by a professional, but they are also reasonably easy to apply by hand.
What is a Ceramic Car Coating?
A ceramic automobile coating is a chemically-based, liquid polymer that forms a connection with the clearcoat of a car and shields the paint against environmental deterioration such as rain, filth, dust, debris, industrial fallout, and UV radiation. Ceramic coatings have hydrophobic qualities, which means they can readily remove any moisture sheet or bead off the surface of an automobile. Because water and grime can't easily attach to your car, automotive fans frequently mention the product's cleaning properties.
Ceramic automobile coatings offer more than just practicality though. These compounds harden after application and curing to give your automobile that "candy apple" shine. The best ceramic coatings for vehicles provide your paint job with a high-gloss sheen while also deepening the color.
Drivers have the option of using DIY supplies or hiring a professional to apply the ceramic coating. Professional-grade ceramic coatings can be pricey while having a longer lifespan of up to three years. It may cost between $1,000 and $2,000 for a professional detail. DIY ceramic coatings of the highest caliber are a great method to achieve a professional-grade appearance without paying a professional price.
How to Choose a Professional Ceramic Coating
A high-quality ceramic coating offers a shield of defense against corrosion and wear and tear brought on by a variety of variables for a vehicle. While a professional ceramic coating is probably only seen in specialized garages, car lovers and cleaning professionals will desire a high-quality ceramic coating product to get that thin but long-lasting layer on cars.
Before picking ceramic coatings, buyers should think about several factors, including how long they want the coating to last, what sort of paint they're using, what they want the ceramic coating to preserve (a paint job, headlights, trim?), and how big of investment they're ready to make.
Where to Apply Ceramic Coating Products
The paint job of the car is the most obvious spot to add a ceramic coating, but it's not the only one. For a showroom-quality sheen everywhere, a ceramic coating can also be applied to plastic trim, headlights, and even glass windows. With any ceramic coatings, just be sure to carefully check the instructions for any specifics. For long-lasting protection that applies quickly and uniformly and to prepare the vehicle for ceramic coatings, it is advisable to thoroughly wash the car, use a clay bar, and make any necessary paint corrections.
What Ceramic Coatings Protect Against?
When applied correctly, a ceramic coating shields the surface of a car from things like water, acid rain, chemicals, bird droppings, salt, UV rays, corrosion, and minor cracks or scratches, as well as that of other cars and boats. More impressively, ceramic coatings provide a high gloss finish and are designed to last for a year or longer (some even up to three years).
Where does the ceramic coatings' protection end? Cars cannot be protected by ceramic coatings from large stray rocks, door dings, and other significant damage. Serious swirl marks and scratches typically require sanding or the use of a dual-action polisher, and they also require more than just a ceramic layer to be fixed.
Why Apply Ceramic Car Coating?
You might want to add ceramic automobile coating to your detailing toolkit for the following reasons:
Longer-lasting than car wax: Although waxing makes your automobile look gorgeous, the effect only lasts three to six months. The greatest ceramic coatings for automobiles can last for more than a year. Although ceramic automobile coatings may need more work to apply, they require less frequent reapplication than conventional carnauba wax.
Protection from the elements: Your car is shielded by ceramic coatings from UV rays, particles, rain, stains, lubricants, pollutants, and industrial fallout. Your paintwork may suffer depending on where you live. Your paint coating is long-term protected by a ceramic automobile coating.
Cut down on cleaning time: Your car's surface will become slick once a ceramic automobile coating cures and hardens, making it difficult for water, dirt, and debris to stick. Cleaning your car will take less time and less debris there is on it.
A cost-effective way to enhance your car: Products for ceramic automobile coatings typically cost between $15 and $25. Pro-grade kits are more expensive although the majority are under $100.
Conclusion
Ceramic car coatings can protect the paint from UV radiation, stone chips, brake dust, acid rain, and other hazardous objects and elements. These ceramic coatings provide long-lasting covering and frequently contain both silicon dioxide and titanium dioxide. Visit this video to explore more about the best ceramic coatings.
To make sure that this paint protection film and sacrificial layers function, adequate maintenance is also necessary for addition to the optimum ceramic coating (no car wash immediately after application or exposing it to poor weather). The appropriate tools are also necessary. It's important to have lots of microfiber towels, sponges, and micro silk applicators on hand. We sincerely hope that our analysis of the best ceramic coatings for automobiles was useful.
Download best ceramic coatings PDF
Buy Equipment or Ask for a Service
By using Linquip RFQ Service, you can expect to receive quotations from various suppliers across multiple industries and regions.
Click Here to Request a Quotation From Suppliers and Service Provider
Read More In Linquip