Our aim in this post is to help you find the best quiet generators for 2022. In choosing a generator, it is important to consider how noisy it is. Additionally, other factors must be examined. This article will discuss the criteria upon which the top-rated quiet generators are listed. Firstly, let's take a quick look at the generators.  

Basics of Generators 
Living in an area where frequent power outages occur would make you aware of the importance of having backup power at hand. Getting outside is one of the most enjoyable ways to maximize the fun while camping. Your devices can be charged easily when batteries run low when you bring them with you. You can choose among different generators. A quiet generator is ideal for those who prefer not to hear disturbing engine noise while enjoying nature.
In times of power outages or when you are off the grid, generators provide electric power. Generators provide daily activities and business operations with power so that they can continue as usual.
Portable generators are often used for camping and other outdoor activities. Their power output is modest and usually limited to just a few low-wattage devices. However, others can be permanently installed to power the entire home. The larger industrial generators are capable of providing full power to facilities, hospitals, and large offices.
Generators powered by propane, diesel, bi-fuel, or natural gas are great for providing power when the power goes out. In recent years, battery-powered generators have become more popular. They do not require constant refueling, and they emit no toxic fumes.
Portable generators are designed to supply the right amount of power when you need it. Inverter generators are among the quietest generators. These generators have an inverter controlled by a computer, have a small, efficient motor, advanced mufflers, and consume a small amount of fuel. Traditional generators run at the same speed, but inverter generators self-regulate and deliver power more consistently. Choosing a quiet generator to keep on standby can be challenging. 
When the power supply is unreliable, even the best quiet generator won't help. There are also factors such as price, portability, and durability. The selection of a dependable generator requires consideration of each aspect.
Quiet Generators Buying Guide 
Are you having trouble finding a quiet generator? These are the most critical considerations for pre-purchase regarding the quietest generators.
Inverter or Standard Generator
Nowadays, most generators are able to power sensitive electronic devices. Inverters provide the protections our tech devices need, but generators do not.
Tablets, smartphones, and other "sensitive" electronics need "clean" AC voltage, which inverter generators can provide.
Inverter generators usually run longer, are quieter, and are more efficient than standard generators. That's a suitable selection if you need a generator that delivers quiet power in a residential setting or in an RV.
The quietest generator is usually an inverter model although you might be tempted to choose one with a "quiet" designation.
Fuel Capacity
Many consumers are concerned with fuel capacity because they don't want to be tied to their generator. The idea is to have more power and to use less fuel; we don't want to fill up every few hours.
Fortunately, fuel consumption isn't an issue with most generators due to their fuel efficiency. Therefore, you should consider the fuel capacity required for your application.
A smaller fuel tank capacity won't be a problem if you plan to run your generator periodically. As a rule, the larger the reservoir, the less you have to do if you need the unit to run continuously.
Power 
Another important factor is the Watt rating of the generator. Calculate how much power you will need based on what you plan to do with the generator.
Insufficient power will lead to a generator going out under stress. However, too much power is overpriced for something that will not be used. From there, calculate the wattage based on the appliances or items that you will need most frequently. When you first start up many products, their wattage is set, but they also see a spike in energy consumption.
When using your generator, it is especially important to consider energy needs if you will be using power tools, maintaining an air conditioner or other household appliance, and switching up which items you have attached.
Decibel Level
When discussing the noise level of a generator, we often hear the abbreviation dBA, but what does it mean? dBA stands for decibels, which are a measure of sound. A person's breathing has a decibel level of about 10, just barely audible. Conversation in a suburban home is almost 50 decibels, so a generator between 50 and 60 decibels is considered reasonably quiet. Any amount over that level may sound frustrating, but some generators will operate over that level.
State parks might ban generators altogether or set upper decibel levels for what is acceptable noise at specific locations. The lower the decibel count, the better. However, if you plan to run your generator on your own property, you may choose to sacrifice some decibels for other features.
Automatic Throttling
The output of many generators can be throttled based on which devices are connected and drawing power. When the compressor is automatically adjusting its output, you don't have to monitor it as closely, which helps with overall efficiency.
Think about whether this is an important feature to you and what the benefits may be, especially if you're new to generators.
Complying with Environmental Regulations
It is possible for some generators to violate local, state, or federal regulations relating to emissions and other environmental factors. For example, some generators can't be shipped to California due to regulations regarding emissions. Spark arrestors and other safety features may not be standard on other generators.
If anything is unclear, request documentation from the manufacturer to ensure that the unit you receive is safe and legal. You may be penalized for using a generator without the necessary certifications, and you might even cause a fire with a malfunctioning device.
Indicators and Lights
Many inverters lack an indicator light or display showing wattage, and only a few have a fuel gauge. Some models have a run time indicator, but many others do not. So, prior to making a purchase, you should decide which features are essential.
Parallel Functionality
Most generators can run in parallel with other units of the same class. Some units are not compatible with each other, nor does every unit come with the cables and other items required for a parallel system.
In some cases, as well, it may prove more expensive to use two generators in parallel than to purchase a higher wattage generator to begin with. Consider the costs and convenience of both options before deciding which one you prefer.
Budget
You need a generator that provides consistent, reliable power and starts easily. Manufacturers of high-quality generators do not produce them inexpensively, so their price also rises.
When natural disasters cause power outages, many people make the mistake of purchasing large, expensive generators, hoping they can provide them with electricity for the whole house. A hurricane would hit 2-3 times a year. Ask yourself – does all of your household equipment need to be running in the event of an emergency? Would it be possible to have just a few major appliances, such as refrigerators, heaters, lights, and portable electronics?
It makes no sense to spend several grand on a generator when you can buy a smaller and cheaper model capable of providing enough power to meet your essential needs.
Sturdy Construction
Don't compromise on quality by choosing a generator that has a solid steel frame that protects the engine.
Best Quiet Generators Reviews 
The main objective of this post is to round up the best quiet generators to make your camping trip as enjoyable as possible. When a power outage occurs, quiet generators can also be used as backups for your home. Because they use quiet technology, your neighbors are protected from the noise of typical generators. Several of their features make them ideal for work, play, and recreational activities. You can choose the best quiet generator for your needs by browsing our recommendations.
1. Honda EU3000iS Gas Powered, Portable Inverter
Specifications 
| | |
| --- | --- |
| Wattage | 2800 watts |
| Dimensions | 26 x 22 x 17.6 inches |
| Item Weight | 144 Pounds |
| Noise Level | 49-58 decibels |
| Voltage | 120 volts |
A generator has two ratings: startup wattage (most electrical devices generate an initial surge) and running wattage. While the latter is typically lower-a drop of up to 25 percent in real-world performance-the Honda unit is only 10 percent different in that regard, demonstrating the efficiency of the gadget. With 2800 running watts, the EU3000iS can be used at home and on the go.
It is quiet enough for campsites with a noise level of 49 to 58 decibels. One 3.4-gallon tank of gas will last between seven and twenty hours. This model scores poorly in terms of fuel consumption. However, starting is simple, and it comes with overload protection and a low oil alert. Although there isn't a dedicated USB port, you can always use the household 120V socket to charge.
2. YAMAHA EF2000iSv2 Gas Powered Portable Inverter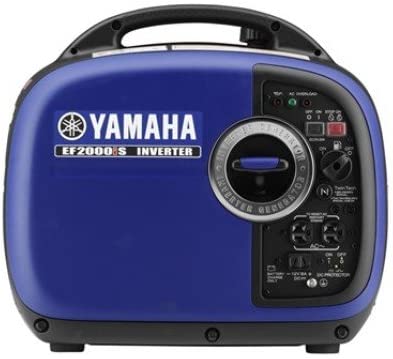 Specifications 
| | |
| --- | --- |
| Wattage | 1600 watts |
| Dimensions | 19.3 x 11 x 17.9 inches |
| Item Weight | 44.1 Pounds |
| Noise Level | 51.5 – 61 decibels |
| Voltage | 120 volts |
Yamaha is another brand that gets high marks for product reliability, and it was proven well by the EF2000iSv2 portable inverter generator. You can simply count on it to work smoothly – even when its eyes are closed. It features a variety of advanced features that we enjoyed. Among the technologies were the smart throttle and the pulse width modulation (PWM) control.
Thanks to the Yamaha OHV engine, the generator was highly fuel-efficient. Despite having a relatively small tank, it runs for hours. It was one of the lightest wheeled generators, resulting in excellent portability.
Additionally, even if you push this generator to its limits, it won't bother you with noise. Additionally, it can be used in parallel. Using an extension cable, you can connect two of these generators together for more power. The 3-Year warranty covers workmanship and part defects.
For use at home or during camping, this is a good choice if your power needs are moderate.
3. WEN 56203i Super Quiet Generator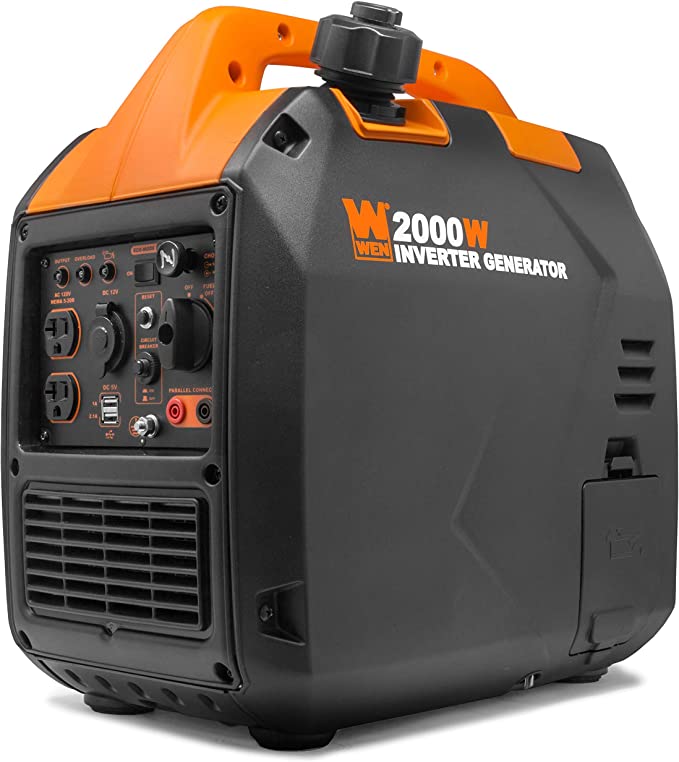 Specifications 
| | |
| --- | --- |
| Wattage | 2000 watts |
| Dimensions | 17.3 x 11.5 x 17.7 inches |
| Item Weight | 39 Pounds |
| Noise Level | 51 decibels |
| Voltage | 120 volts |
WEN's Super Quiet generators are rated safe for use with electronic devices while delivering high power with low noise. The WEN generator has a decibel rating of 51, which is as quiet as a window AC unit or a conversation of average volume. Moreover, these generators are safe to use with laptops, phones, tablets, and other electronics that can be damaged by overloading.
At half-load, the fuel tank provides over five hours of power, and the Eco-Mode throttle saves gasoline. In this mode, the generator detects when items are plugged in or unplugged and manages fuel consumption accordingly.
With low-oil and low-fuel settings, the engine automatically shuts off for safety, and indicator lights let you know what is going on. Furthermore, you can connect two WEN generators using a separate connection kit if you need more power.
The tiny but mighty unit requires frequent oil changes (around every 25 hours), and if you're going to leave it in place for any significant period of time, you must remove the gas. In any event, shutting these generators off could be difficult since they automatically close the fuel lines, thereby trapping fuel in the carburetor if any is still circulating.
While the echo mode is by far the quietest, even when you throttle on full power, the noise level is relatively low.
4. A-iPower SUA2000iV 2000 Watt Portable Inverter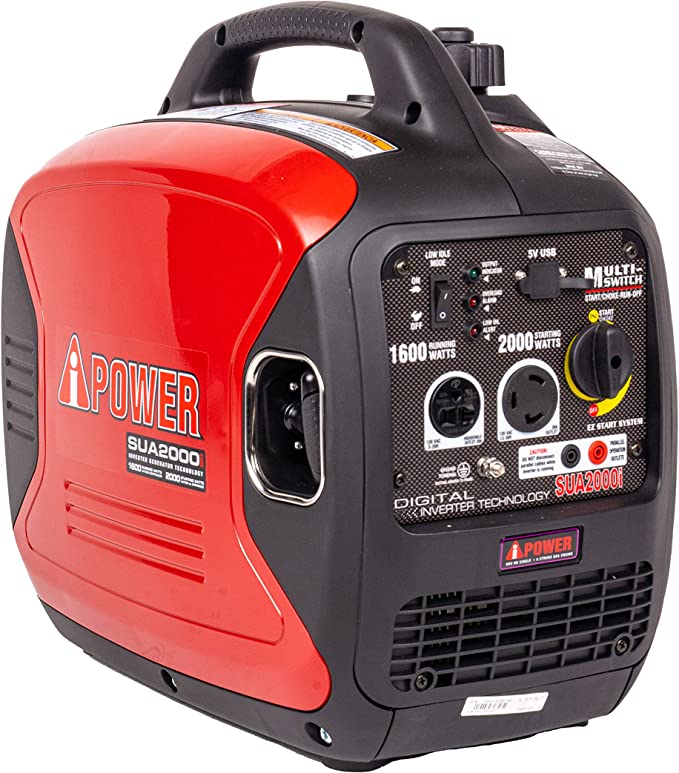 Specifications 
| | |
| --- | --- |
| Wattage | 2000 watts |
| Dimensions | 22 x 13 x 20 inches |
| Item Weight | 50 Pounds |
| Noise Level | 52 decibels |
| Voltage | 120 volts |
You can get quiet power on the go with this portable inverter generator from A-iPower if you don't want to spend a fortune. In terms of specifications, it's not bad for a low-cost generator. It produces quiet, clean power for computers, tablets, and other electronic devices through two 120V outlets and a 5V USB port. In addition, the low-idle mode maximizes fuel efficiency, and low oil and overload alerts are available.
Despite the A-ipower's 2,000-watt start-up rating, its actual running power is 1600 watts. Although it's not enough to back up your home, it's more than enough to power your devices while camping. In terms of weight and decibels, 50 pounds isn't that heavy, nor is it loud enough to drown out your campfire conversation.
5. Predator 3500 Super Quiet Inverter Generator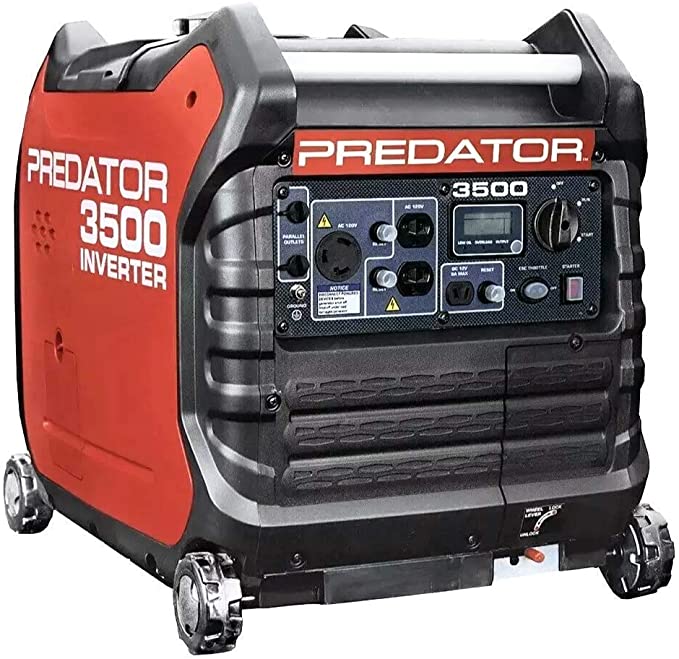 Specifications 
| | |
| --- | --- |
| Wattage | 3500 watts |
| Dimensions | 22.75 x 17.3 x 20 inches |
| Item Weight | 99.2 Pounds |
| Noise Level | 57 decibels |
| Voltage | 120 volts |
The Predator 3500 does a respectable job. The surge power of 3500 Watts is ideal for running heavy equipment. In addition, the air-cooled OHV gas engine provides a powerful and efficient performance. Additionally, it has an LCD display that displays important information.
In terms of safety, the portable inverter generator is equipped with the right features. You get an oil level shutoff, overload warning, and an inverter for keeping small electronics safe.
Furthermore, there is a 90-day warranty period against defects in materials and workmanship.
However, it is not the quietest generator available. The sound levels, however, are within the 57 dB rating when the output is at the low end.
Even with the four casters, the device is still heavy and not the best for rugged outdoor use.
6. Atima AY2000i Portable Generator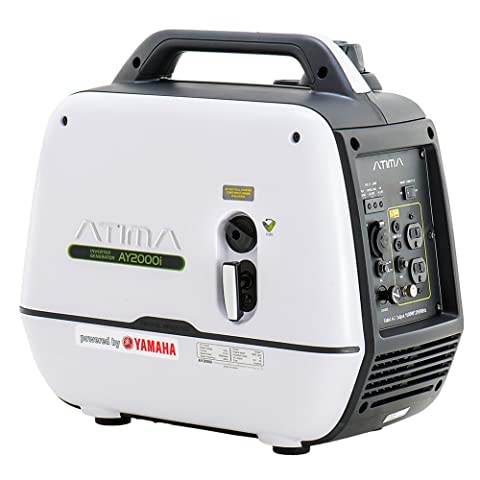 Specifications 
| | |
| --- | --- |
| Wattage | 2000 watts |
| Dimensions | 21.6 x 19.7 x 13 inches |
| Item Weight | 50 Pounds |
| Noise Level | 51-61 decibels |
| Voltage | 120 volts |
The Atima AY2000i is a handy portable generator with a Yamaha engine, which offers the same fuel-efficient capabilities as the renowned Powersports brand. Additionally, the super-quiet noise level is comparable to generators with similar features.
It's one of the lighter portable generators on the market, thanks to its Yamaha engine. It weighs roughly 50 pounds. Yamaha generators have an excellent reputation for quality, so it's safe to say that this unit will perform well. One end has wheels so that it can be maneuvered even though it's lightweight by generator standards. Even though it has wheels, you can probably also carry it by its handle quite comfortably due to its narrow profile. In spite of its bulky shape, this generator is much more trim and less ugly than many other inverter options.
Its LCD display adds to its overall appearance, and its aluminum design blends nicely with any background. 
It has an innovative design, and you might expect more features, including a fuel gauge and other indicators. However, Besides its aluminum housing and flashy paint job, this inverter has few modern features.
With a CARB-compliant (California Air Resources Board) generator, you will get the job done, but you will still need to pull the cord for starting and track the hours of operation in order to determine fuel consumption.
7. Briggs & Stratton 30651 P2200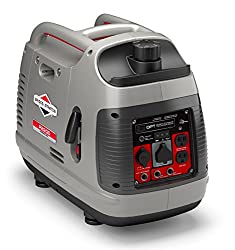 Specifications 
| | |
| --- | --- |
| Wattage | 1700 watts |
| Dimensions | 21 x 12.5 x 17.35 inches |
| Item Weight | 55 Pounds |
| Noise Level | 59 decibels |
| Voltage | 120 volts |
The Briggs & Stratton 30651 P2200 Inverter Generator is a valuable inverter generator that offers good power in a small package. It is light in weight and produces reasonable sound. A Briggs & Stratton inverter generator maintains a reliable power source with a computer-controlled engine that is also quiet.
A lightweight of just over 55 pounds gives it 1700 Watts of power and makes it easy to use and transport. Although carrying handles are useful, it is the lighter weight of this model that makes maneuverability easier.
One possible downside of this model is that it won't ship to California customers. Briggs & Stratton's inverter generators don't meet California's emissions regulation, and the company doesn't yet have a California-compliant model. This generator isn't among the quietest ones available, even though it has a low decibel output. As long as you don't live in California, Briggs & Stratton is likely your best option when it comes to sticking to a budget.
With an 8-hour runtime (at 25 loads), you'll be able to meet most of your needs without running out of fuel. However, it has no eco mode, so you can't do much about reducing fuel consumption except by turning down appliances.
In summary, the 30651 P2200 portable generator is one of our favorite choices for a handy, easy-to-use generator that is reasonably quiet.
8. Sportsman Generator 4000 Surge Watts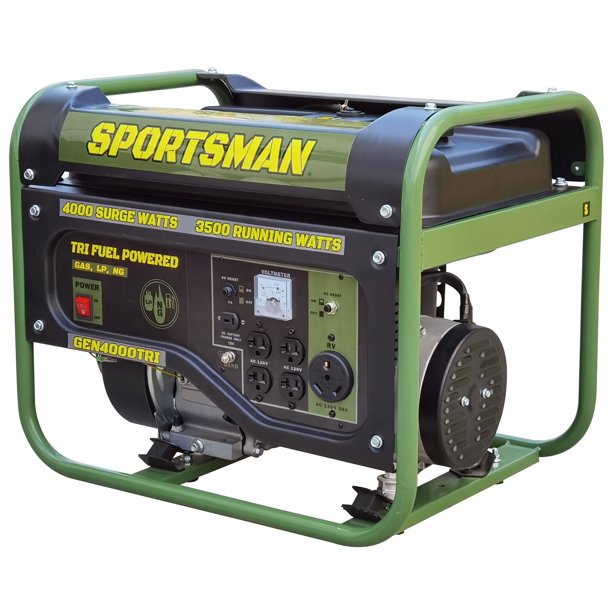 Specifications 
| | |
| --- | --- |
| Wattage | 4000 watts |
| Dimensions | 21 x 12.5 x 17.35 inches |
| Item Weight | 88 Pounds |
| Noise Level | 68 decibels |
| Voltage | 120 volts |
Some people cannot afford a Honda or a Yamaha. In that case, the Sportsman GEN4000LP generator would be an excellent choice. Moreover, it runs on propane. On top of that, the engine stays clean and is fuel-efficient. In addition, the overall carbon emissions are minimal, which results in a longer engine lifespan. Safety features consist of an automatic voltage regulator and a low oil shutdown. These are essential safety features. 
A bonus is how affordable it is—a high-quality product at a reasonable price. A 1-year limited warranty is included. For commercial and rental use, however, the warranty is only 30 days.
When it comes to noise levels, it wasn't very quiet. At 25% load, however, its performance was satisfactory.
As a result, if you prefer propane as fuel, check out this one.
9. Generac 6866 iQ2000 Super Quiet Gas Powered Inverter Generator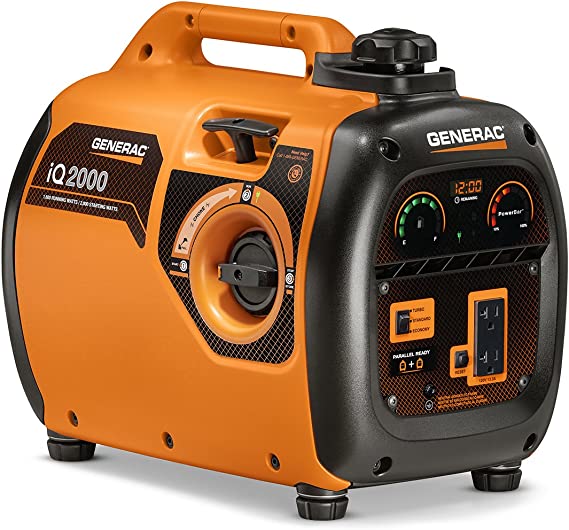 Specifications 
| | |
| --- | --- |
| Wattage | 1600 watts |
| Dimensions | 20 x 12.6 x 16.9 inches |
| Item Weight | 46.2 Pounds |
| Noise Level | 53 decibels |
| Voltage | 120 volts |
Generac's 6866 iQ2000 operates at three different levels with varying noise levels, allowing you to customize the product to fit a variety of requirements. By selecting from three modes of operation, you can reach the lowest possible noise level with the Generac 6866 iQ2000.
You can start up the generator easily with a PowerDial while switching between three settings with a rocker switch. Using the light-up display, you can determine the correct setting and what you can plug-in based on the generator's wattage output. The remaining runtime display is helpful for estimating the remaining fuel.
Keeping an eye on output and fuel reserves is easy with the display features, and this is a feature we don't usually see on portable generators.
The Generac quiet generator weighs just under 50 pounds, which makes it a convenient choice as well. Because of the top handle and the lightweight, it's easier to maneuver than many other inverter generators.
The engine appears to have issues when running on low-quality gasoline, which causes the machine to require pure fuel. You should aim to use high-quality gas if possible to avoid corrosion and rough operation.
A decibel rating is not included in the manufacturer's description, but this Generac model is not likely to disturb people conversing, which is a plus since the noise level is kept at a minimum. A lower-level output produces less noise, which is perfect for nighttime use when only a fan or a small AC is needed.
10. Westinghouse iGen1200 Super Quiet Portable Inverter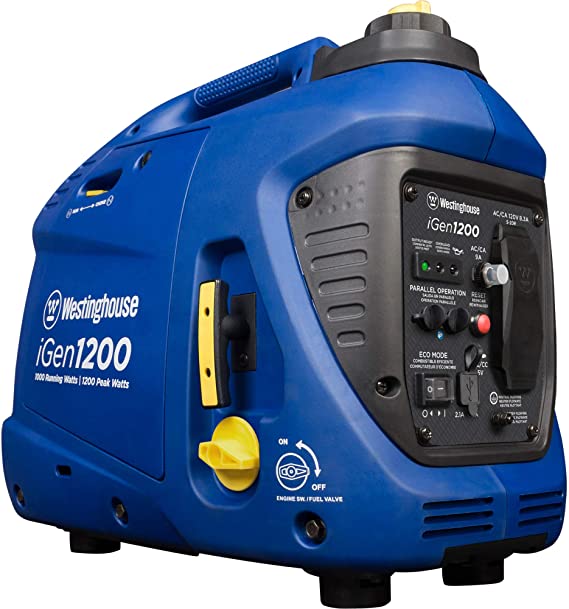 Specifications 
| | |
| --- | --- |
| Wattage | 1200 watts |
| Dimensions | 18 x 8.5 x 15.5 inches |
| Item Weight | 33 Pounds |
| Noise Level | 52 decibels |
| Voltage | 120 volts |
Westinghouse's 1,000-watt iGen1200 portable inverter generator is an excellent example of the type of generator designed for those with modest demands. The 52 decibel sound level of this portable generator, in addition to its lightweight, makes it one of the best in its class.
On a budget generator like this, you wouldn't expect electronic ignition, but the 54 cubic centimeter motor is easy to start. Fuel capacity is 0.8 gallons, which is enough to run for up to nine hours with only a small amount of fuel consumption to comply with CARB standards.
This Westinghouse provides clean, consistent power to your electronic devices, even though it is small and compact. It comes with two 120V/20A household sockets and two USB ports. It is equipped with low oil and overload alarms as well.
Buy Equipment or Ask for a Service
By using Linquip RFQ Service, you can expect to receive quotations from various suppliers across multiple industries and regions.
Click Here to Request a Quotation From Suppliers and Service Providers
Read More In Linquip