Power outages are often more than just an inconvenience; particularly for vulnerable populations, they can be downright dangerous. Portable generators are great sources of electricity when the main grid power goes down, or when you are outdoor camping. The best portable generator allows you to power your appliances and charges your devices in all situations. However, without enough information, finding the best generator can be a challenge. To help in your search, Linquip prepared this generator guide to introduce best generator brands in the market. With our detailed portable generator reviews, you will learn everything about portable generators and how to pick the most suitable one for your needs.

Things to consider when selecting the best portable generators
Whether you are new to the world of portable generators or you have some basic experience with the equipment, there are a handful of specifics you will need to keep in mind when shopping around for the right portable generator.
With so many options out there it is easy to feel overwhelmed, that is why we want to give you the features to consider and what to look out for.
The price of a portable generator is influenced by:
The amount of power it generates.

The ease of use features it has.

Its noise rating

The brand manufacturer
Generators from established brands such as Honda and Yamaha are somehow pricey, but for a good reason. These manufacturers are experienced in making these engines, and you can be sure that their generators are reliable enough to serve you for a very long time.
Efficient fuel consumption is a feature of a good portable generator. Such generators adjust the rate at which they consume fuel with the applied load. With this setting, the engine runs in full-throttle only when the applied load equals the generator's maximum rating. Such as Honda generators using the Eco-Throttle feature, which ensures that the engine consumes enough fuel in line with the applied load. Efficient fuel consumption helps you to save money on fuel expenditure.
The amount of power each portable generator produces is of great importance. You may want a portable generator to work with an electric grill or television at a tailgate. Or you may want it to power large lighting rigs and construction equipment. The amount of power the generator creates is critical.
You should have a basic idea as to what you want to use the generator for. Do you want to use it to power some basic handheld electronics, or do you want it for a specific job? Keep all of this in mind when you are looking for the best portable generator.
Generators that run too loudly can cause hearing damage, and act as a nuisance to your neighbors. You should, therefore, buy the best quiet portable generator, or purchase long cables to be able to set your generator a few meters away. The acceptable noise level for generators is 60 decibels and less. At this level, you can comfortably hold a conversation and act less as a disturbance to your neighbors at home, in your business premises, or at the campsite. Some examples of noise operation measured in decibel:
Whisper talking – 30 dB. 

Operating refrigerator – 50 dB. 

Vacuum cleaner – 70 dB. 

Blender – 80 dB.

Size
Lastly, keep in mind the size and weight. If it is only you and you want a portable generator, you may want to go with something smaller that you can carry on its own. However, if you are working with a team and have the vehicle capable of moving it, something larger may be just right. After all, you probably do not want to buy a 75-pound generator pre-fill-up and not have the ability to move it.
The 5 Best Portable Generators
Here is the complete list of the best portable generators and their specific features. 
1. Honda EU2200I Portable Generator
Famous for its reliability and exceptional performance comes the Honda EU2200i to continue the great success of the EU2000i. Now it has a stronger engine with 10% more power, simplified maintenance, and an improved recoil starter. All with no change in weight or cost.
This generator is designed to handle your portable power needs comfortably. It delivers power and usability while maintaining industry standards of quality and workmanship. 
It produces 2200W surge and 1800W running power. It is equipped with advanced inverter technology that is suitable for powering sensitive electronics that require a clean power source. 
It is also parallel capable. Simply connect it with a second identical unit to double the power output to accommodate larger loads. This super quiet generator makes only 48 decibels at quarter load and 57 decibels at full load. This small portable generator only weighs 46.5 pounds.
It is perfect for a variety of professional and recreational activities. Backed by a 3-year warranty that covers it from top to bottom.
Unfortunately, if the generator is not level when changing the oil, overfilling can easily occur. Besides, there is no gas gauge, which makes it hard to monitor the fuel level.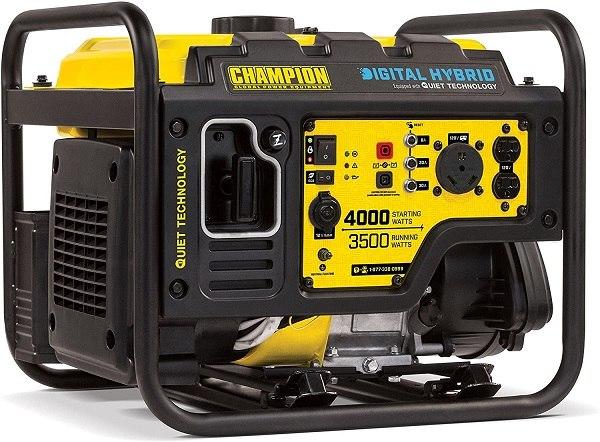 Champion Power Equipment 100554 Portable Generator
The Champion Power Equipment 100554 is a powerful gas-fueled generator with great features including a cold-weather engine start and a 30 amp RV outlet. This generator has 4375 surge watts and 3500 continuous watts and runs for 12 hours at 50% of the rated load. It is capable of starting and running a 15,000 BTU RV air conditioning system making it more than capable of handling your trailer, boat, or backup power needs.
The electric remote control makes this machine more than a little user-friendly. It also has an electric start, a manual recoil start, and a low-oil automatic shut-off, which are some of the great features available on this machine. It has a handle that can be folded away when not in use and a special design of never go flat wheels that allow for easy transportation. Besides, the cast iron sleeve on the engine makes it a durable portable generator, CARB compliant with low emissions. The Champion 3500W portable generator offers good value while being fuel-efficient and powerful.
Unfortunately, it is almost loud for noise enforced campgrounds, rated at 68db. Also, the oil should be changed every 50 hours, which is every couple of days if you are using it regularly. That said, if your needs are short term and intermittent, it's a great affordable option.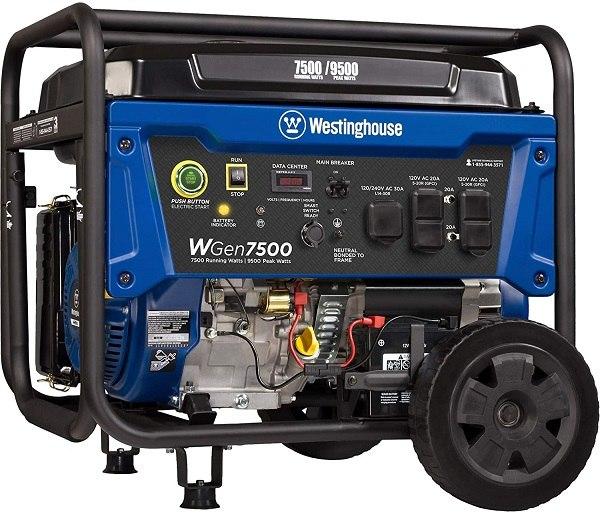 Westinghouse WGen7500 Portable Generator
The latest hit model from Westinghouse comes packed with power and ease of use features. At 7500 running watts and 9000 starting watts, the Westinghouse WGen7500 is the best portable generator and the most powerful in our list. This gas-powered generator is designed with durability and functionality as a focal point.
Starting, set up, and maintenance is easy. It will pretty much start working straight out the box, requiring minimal assembly.
Has a 6.6-gallon gas tank, the WGen7500 is a powerhouse, and proves more than capable of covering your home power needs, even over an extended period.
This generator is equipped with some useful features, such as; the built-in fuel gauge to check the gas level easily, low oil automatic shut-off, overload protected outlets consisting of a twist lock outlet for powering heavy-duty appliances. It's also EPA, CSA, and CARB approved.
Unfortunately, it is heavy, weighing a bit over 200 pounds that makes it hard to store or transport. Besides, rated 64 decibels 23 feet away, this unit may not be quiet enough for camping grounds and simple outdoor tranquility time.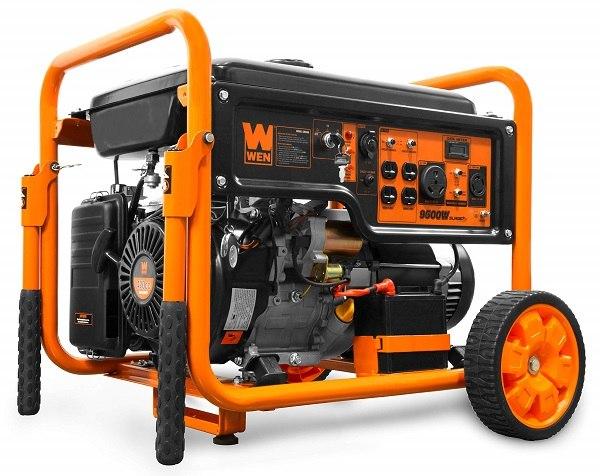 WEN 56500 Portable Generator
The WEN 56500 is a good example of an economical powerful portable generator. On a full gas tank of 3.4 gallons, you can run this generator up to 7.5 hours at half load.
Packing 5000 starting watts and 4500 running watts, it has enough power to run your electric stove, oven, and sump pump. With two household outlets, one 120V RV, and one 30A prong outlet, it is easy to use with a myriad of devices; able to run your tools and appliances.
Weighing 121 pounds, however, the collapsible handles and rolling wheels make it easy to transport.
Featuring an electric start switch, hour meter, low-oil shutdown, overload protection, automatic voltage regulator, and everything to ensure your machine and connected appliances are all running safely.
On the flip side, at 68 decibels, it may sound like a vacuum cleaner when placed nearby. 
5. Champion Power Equipment 100302 Digital Hybrid
Rated at 3500W running power and 4000W surge power. A cost-effective digital hybrid portable generator, RV ready with quiet technology. The Champion Power Equipment 100302 is an inverter generator in open-frame design. It is more efficient and comes fully assembled with a durable steel frame.
It has a large gas tank of 2.9 gallons that allows it to run for up to 17 hours at quarter load. Fuel efficiency is an important thing to consider when choosing a generator, and this one makes a great example of that.
It is also RV ready with enough power to run a 15,000 BTU RV air conditioner. Not to mention, with the incorporated inverter technology, it is also suitable for use with sensitive electronic devices. It produces clean power with less than 3% total harmonic distortion.
Featuring a convenient control panel, it easily accesses all controls in one area. It has two 120V household outlets, one 120V RV outlet, and a 12V DC outlet. The Champion Power Equipment 100302 digital hybrid is a great solution for recreational use and can also serve as portable backup power during emergencies.
Unfortunately, this generator Weighs almost 83 pounds and has no wheels. For added portability, you can acquire a wheel kit but at an extra cost. Also, adding fuel might be a challenge. It may accidentally splash out gasoline unless you go slow and careful.
So, there you have a detailed list of the best portable generators and their features. If you enjoyed this article in Linquip, let us know by leaving a reply in the comment section. Is there any question we can help you with? Feel free to sign up on our website to get the most professional advice from our experts.
Buy Equipment or Ask for a Service
By using Linquip RFQ Service, you can expect to receive quotations from various suppliers across multiple industries and regions.
Click Here to Request a Quotation From Suppliers and Service Providers
Read More on Linquip