Best Diesel Engine– The car or generator is powered by an engine. Manufacturers recommend diesel engines for public transportation vehicles in automotive engineering. Petrol Engine is the best choice for personal use. Here, we are going to introduce a list of the best diesel engines. But before that, we describe some important factors to be considered for selecting a proper engine.

Considerations of Selecting a Proper Engine
The choosing of a proper task is more critical than the machine's efficiency. You will never be frustrated if you choose the right engine for your needs. As a result, it's critical to understand which style is best for a specific application. It would be best if you compared these engines in order to make a perfect decision.
We are comparing petrol and diesel engines here so that you can choose the right engine for your needs. You can also watch this video to comprehend basics of selecting a proper engine.
Before that, let's explain some advantages and disadvantages of an engine in what follows:
During the suction stroke of a gas engine, a charge of petrol and air is drawn into the cylinder, which is then compressed during the compression stroke. Pre-ignition is possible in gasoline because compression raises the temperature above the ignition point of the fuel. Only air is compressed throughout the compression stroke of a diesel engine and fuel is pumped afterward.
In a petrol engine, a carburetor is used to supply the mixture of air and petrol in the proper proportions as required. An injector or atomizer is used to inject fuel at the end of the compression stroke in a diesel engine.
Diesel engines are larger and more powerful. As a consequence, both the initial cost and the cost of repair are higher. Due to the high compression ratio, a higher quality of material and workmanship is expected.
While a diesel engine has a higher initial cost, it can run almost twice as long as a gasoline engine for the same amount of fuel. Diesel is less expensive than gasoline, so the operating costs are lower. This is preferred over a gasoline engine for all types of heavy work.
The heat of compressed air is used to burn the fuel in diesel, so there is no need for an additional source of heat. In order to ignite the charge with an electric spark, a spark plug is required in petrol.
Petrol engines are more prone to fire than diesel engines.
Diesel engines are more difficult to start because of the higher compression ratio, which necessitates more cranking effort.
Because of improved fuel and air mixing, petrol engines outperform diesel engines under reduced load.
Because of the high compression ratio, diesel engines have a higher thermal efficiency than gasoline engines.
The petrol engine uses the Otto cycle, while the diesel engine uses the Diesel cycle.
You can see from the above analogy that both engines have advantages and disadvantages. The type of equipment chosen for a specific job must be based on the relative details provided above in relation to the mission requirements.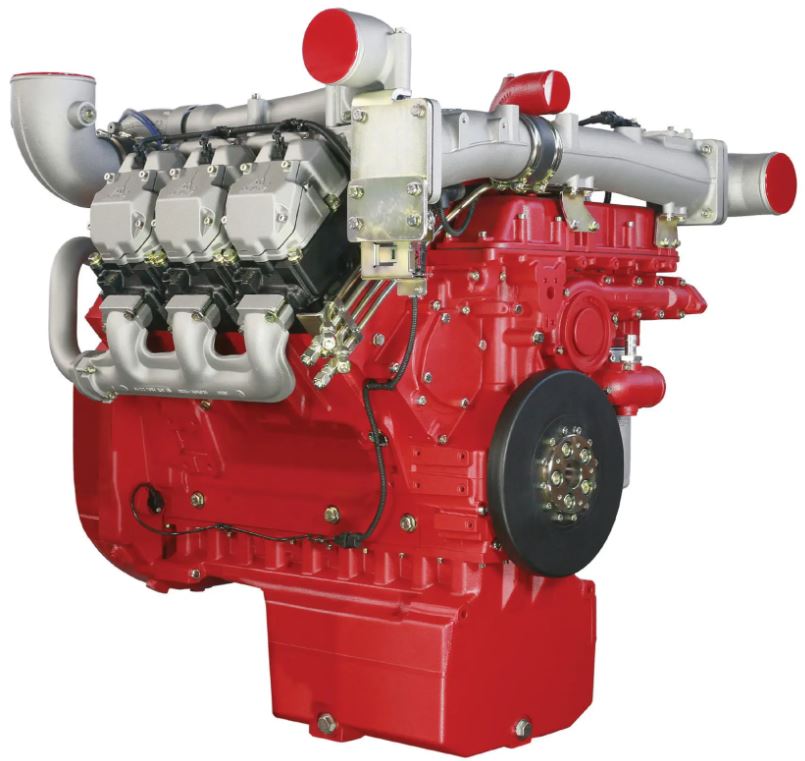 Top Diesel Engine Reviews
1. The Cummins B-Series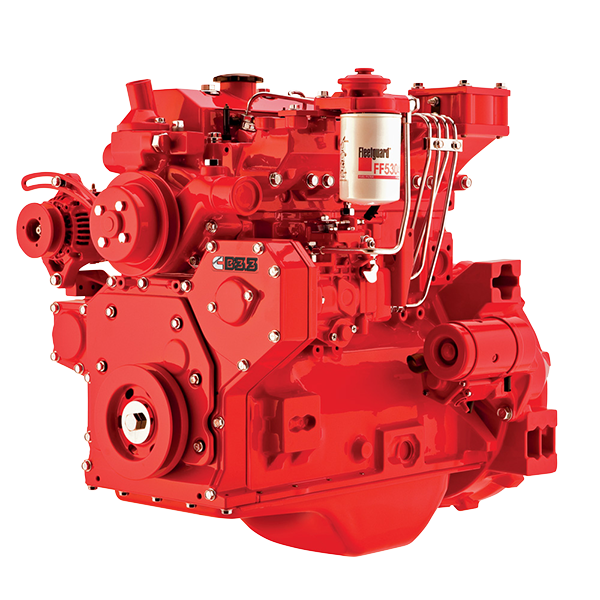 Specifications
Engine Type: Four Stroke, Six Cylinder, Inline
Displacement: 359 ci (5.9L)
Bore and Stroke: 4.02 × 4.72 in
Construction: Cast-iron block and head
Fuel Injection: Electronic high-pressure common rail
Maximum Power: 325 hp
Maximum Torque: 610 lb-ft 8
Compression Ratio: 17.2:1
General Descriptions
This Cummins engine wasn't the first to add respectability to the medium-duty diesel engine market, but it certainly improved it. The torque rating capability of the 4BT, 6BT, and ISB 5.9L engines was incredible. If you need to tow something, these engines will handle it. Honorable mention on the list of the best diesel engines of all time isn't bad.
2. Mack E-7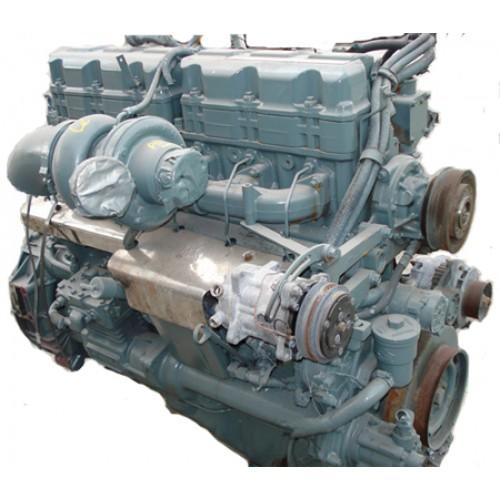 Specifications
Engine Type: Four Stroke, Six Cylinder, Inline
Bore and Stroke: 6.50×6.70 in
Displacement: 672-998 ci (11.01- 16.35L)
Aspiration: Turbocharged
Fuel Delivery: Unit fuel injection
Maximum Power: Up to 454 hp
Maximum Torque: Up to 1,660 lb-ft
Governed Speed: 1,700-1,800 rpm
General Descriptions
Mack truck engines were introduced in 1893 when the Mack Brothers purchased the Brooklyn-based Fallsen & Berry Wagon Company. Mack has always been regarded as a workhorse that moves slowly and steadily. In 1909, it manufactured the first hook and ladder fire engine, and during WWI, it produced over 6,000 trucks for the British and US military, as well as assisting in the construction of the Hoover Dam. The crankshaft to wheel torque ratio of its engines is well-known.
These are the engines that propelled the United States of America forward. The Mack E-7 was introduced in 1988 and remained in production until the early twenty-first century. They're very easy to overhaul and restore, and they do exactly what you need. They won't win any races, but they're highly dependable.
3. International DT-466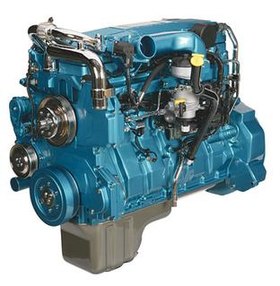 Specifications
Type and Description: Four Stroke, Six Cylinder, Inline
Bore and Stroke: 4.59×4.68 in
Displacement: 466 ci (7.6L)
Governed Speed: 2,600 rpm
Compression Ratio: 16.4:1
Maximum Power: 170-350 hp
Maximum Torque: 860 lb-ft
Total Engine Weight: 1,425 lb (647 kg)
General Descriptions
You've probably passed 47 trucks with DT-466 engines if you've ever driven on a public highway.  On a daily basis, this engine transports America's freight and serves as the backbone of medium-duty fleets across the world.  It's a fleet manager's favorite because it lasts a long time, has a high torque-to-power ratio, and can be rebuilt right in the truck's frame.
The International Light Duty models, in particular the VT-265 and VT-335, were released in 2003. The Powerstroke was formally adopted by Ford in 2003, but it had been in use since 1994. The predecessors had six cylinders, but an International bean counter thought it would be a great idea to remove two of them, resulting in a four-cylinder engine. This was not well received, and the VT-265 and VT-335 were severely underpowered.
Read More on Linquip
4. CAT 3406E
Specifications
Engine Type: Four Stroke, Six Cylinder, Inline
Bore and Stroke: 6.50×6.70 in
Displacement: 893.39 ci (14.64L)
Aspiration: Turbocharged
Fuel Delivery: Unit fuel injection
Compression Ratio: 14.5:1
Maximum Power: 375-465 hp
Maximum Torque: Up to 1,850 lb-ft
Governor Speed: 1,800-2,100 rpm
General Descriptions
There have been a few catastrophic Caterpillar engine failures, but the 3406E is not one of them. The CAT 3406 engine is available in four different models: A, B, C, and E. It later developed into the CAT C15 and then the CAT C15 Acert. This was a very good engine for CAT because it was the first properly evolved electronic engine. The Caterpillar 3406E engine was so common in the mid-90s and early 2000s that it was used in the vast majority of Peterbuilt trucks.
The ECM architecture was simple to work with, and it quickly gained a following of programmers who could write a wide range of applications for the engine. The ECM's "open source" design allowed end users to "hot rod" the engine by changing the injectors, camshaft, or valve timing to increase horsepower and torque. The CAT 3406E is still in use in millions of on-road and off-road applications around the world in 2016. In general, Caterpillar is regarded as the undisputed king of diesel engines.
5. Detroit Diesel Series 60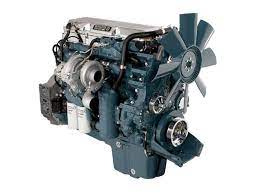 Specifications
Engine Type: Four-cycle, six-cylinder, inline
Bore and Stroke: 5.24×6.61 in
Displacement: 12.7- to 14.0L
Aspiration: Turbocharged
Fuel Delivery: Unit fuel injection
Maximum Power: Up to 515 hp
Maximum Torque: Up to 1,650 lb-ft
Governed Speed: 2,100 rpm
General Descriptions
John Deere Engine Company cast the Detroit Diesel Series 50 cylinder heads. In the early 1970s, GM's Detroit Diesel had a market share of about 41% of all diesel engines sold in the United States. By the early 1980s, that number had fallen to about 4% of the market. GM recognized that the company was in trouble and requested assistance from John Deere engineers in order to restore the company's image. Although a planned joint venture between the two companies fell through, JD engineers are said to have designed the ring-system, which solved many of the Series 60's oil leakage problems, as well as the cylinder head design.
The launch of the first electronically powered engine with the patented "DDEC" or Detroit Diesel Engine Control technology was the Series 60's biggest drawback. DEDEC, or Detroit Engines, Deere Engine Company, was the suggested name for the proposed company. The joint venture, however, never materialized, but the engine control technology did.
Consumers loved the first diesel ECM because it was easy to use and provided real-time alerts to the driver. Engine diagnostics, shutdown timers, progressive change functions, fault history and record-keeping, speed limiting governors, cruise control, and automatic stall prevention were all included in the DDEC system. The cruise control technology was especially popular with fleet managers due to its fuel-saving capability, but most notably, the DDEC system allowed the operator to download engine management reports, provide a record of over-speeding, excessive idle time, hard braking, as well as other parameters.
Dealers could adjust the horsepower settings with the DDEC, and proprietary software could be loaded into the machine in some cases. The system was simple to use, and diagnostic codes were shown to the driver in real-time: red indicator lights indicated a serious problem, while yellow lights indicated a minor problem. Detroit Diesel did not develop the new ECM; instead, it adopted GM's ECM technology from the early 1980s for use in diesel engines. BMW developed the first ECM in 1939 for the Kommandogerat plane during WWII. The DDEC craze ushered in the electronic age of diesel engines.
From 1987 to 2007, Detroit Diesel produced the DDEC I, DDEC II, DDEC III, DDEC IV, and 14L/DDEC V hybrid engines, which became the company's most successful selling diesel engines. The Series 60 was the first major diesel engine to use a larger bore and open the lead cam. The DDEC IV engine produced up to 575 horsepower before being replaced in 2007 by the 14.0 L engine. Millions of Detroit Diesel Series 60 engines are still on the road today, and due to their open-source nature, remanufacturing Detroit Diesel Series 60 engines is extremely simple. Freightliner and Penske trucks have had exclusive contracts to use Series 60 engines in their trucks for the past 20 years.
6. Cummins 855 Big Cam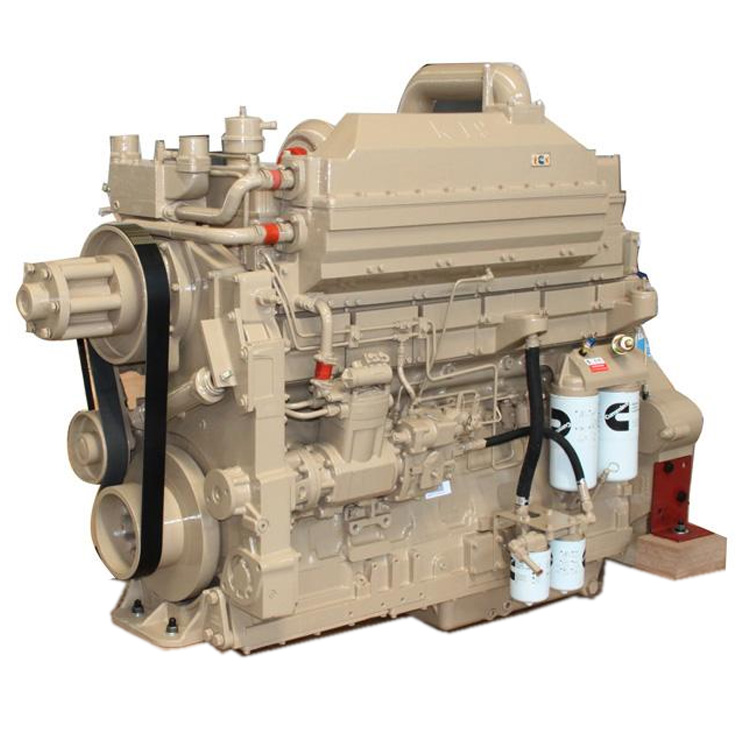 Specifications
Engine Type: Four Stroke, Six Cylinder, Inline
Bore and Stroke: 5.50×5.98 in
Displacement: 856 ci (14 L)
Aspiration: Turbocharged
Fuel Delivery: Unit fuel injection
Compression Ratio: 10:1
Maximum Power: Up to 605 hp
Maximum Torque: Up to 1,118 lb-ft
Governed Speed: 1,800 rpm
General Descriptions
The Cummins 855 Big Cam was the company's last mass-produced real mechanical variable-timing engine in 1976. The Big Cam engine, which replaced the small cam 855, was Cummins' first to comply with the Clean Air Act and noise regulations of the time. The Cummins Big Cam 855 engine was built in four generations and was replaced by the N14 in 1985. The 855 Big Cam is a favorite of ours because of its raw horsepower and dependability. A Cummins 855 Big Cam will comfortably run 700,000 miles before needing to be overhauled. The Cummins 855 Big Cam was the company's first engine to use demand-flow cooling, which cools the engine only when it requires it. The saved horsepower at the crankshaft is then used to put more horsepower into the project at hand.
By incorporating pulse manifolds into the engines, the Big Cam II greatly improved performance; these were a big selling point for these engines at the time. The overall horsepower of this engine was the key reason it outsold the small cam ones. The Cummins 855 Big Cam featured top-stop injectors and one of the largest camshaft diameters on the market at the time. Any old school truck driver from the 1970s will tell you stories about how the Cummins 855 series was the king of the road. It's difficult to leave these engines off every list of the best diesel engines of all time. The 855 had some flaws, especially when it came to starting the engine in colder climates. The 855 utilizes a lower pressure fuel injection system with 2,200 psi to control the injectors and varying timing specs, oil/water pump, and valve spring pressures. However, a glow plug or a shot of ether should be enough to fix this minor issue, as this engine is otherwise fantastic.
7. 6.6L Duramax LB7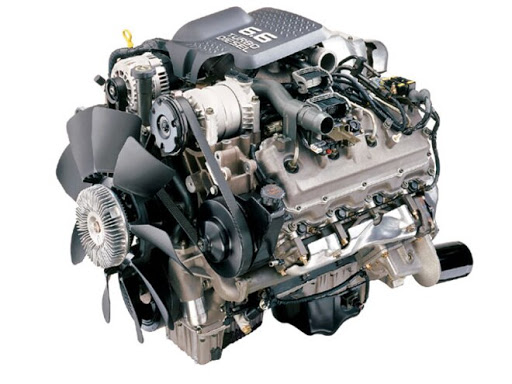 Specifications
Power: 300 hp;
Bore x Stroke: 3.87 x 4.13 inches;
Displacement: 6.6L;
Valvetrain: OHV with 4 valves per cylinder;
Layout: V-8;
Engine weight: 835 lbs;
Torque: 520 lb-ft;
Aspiration: Turbocharged and intercooled.
General Descriptions
The LB7 Duramax was first launched in 2001, when GM's 6.5L Detroit diesel was phased out. The Duramax outperformed the obsolete Detroit and marked a watershed moment in the diesel industry for Chevrolet and GMC pickups. Since it predates emissions standards, the engine is unlike any other Duramax unit. As a result, it's known for its dependability and is thought to be an especially cost-effective variant of the engine.
The GMC Sierra HD, Chevrolet Silverado HD, GMC TopKick (medium duty), and Chevrolet Kodiak all use the LB7 (medium duty). The LB7 had problems with fuel injectors, as impressive as GM's new engine platform appeared to be. Due to the high frequency of injector failures, GM was forced to recall these units and replace them with a new design. In addition, the warranty was expanded to cover the new injectors for up to 200k miles to give existing customers peace of mind.
8. 6.7L Power Stroke Diesel Engine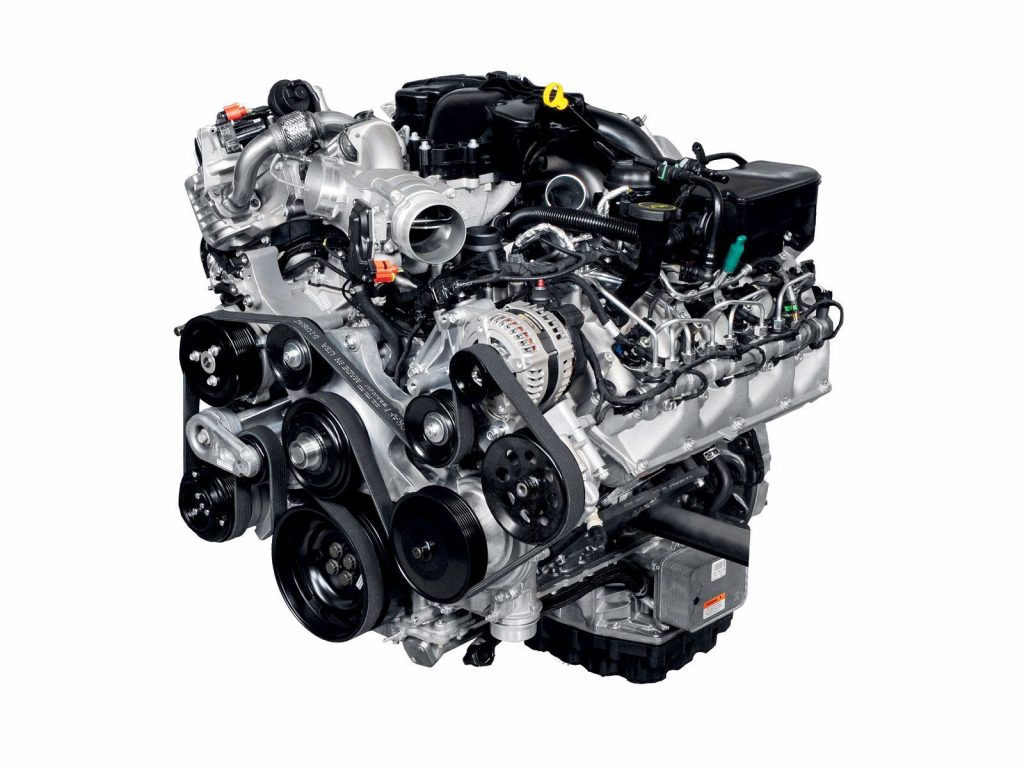 Specifications
Power: 475 hp;
Displacement: 6.7L;
Torque: 1,050 lb-ft;
Layout: V-8;
Valvetrain: Traditional pushrod OHV with 4 valves per cylinder;
Bore and Stroke: 3.89 × 4.25 inches;
Engine weight: 1,100 lbs;
Aspiration: Single VGT turbocharger.
General Descriptions
The 6.7L Power Stroke is a Ford Super Duty engine designed in-house, and it is the most reliable diesel truck engine on the market. To preserve profitability and a competitive advantage in the growing diesel market, Ford built, engineered, and manufactured its own diesel engine. This is the first Power Stroke that isn't made by International Navistar, a long-time partner.
Ford introduced the 3rd Generation 6.7L Power Stroke diesel for 2020, which has a peak torque of 1,050 lb-ft and a horsepower of 475. The new piston configuration is the most noticeable improvement in the revamped engine, which involves many major changes. A steel piston with a short overall height is used in the engine. The increased weight of steel, which is much heavier than the previous aluminum version, is compensated for by lowering the piston's height. As a consequence, the piston is the same weight as the pre-2020 piston. Despite its smaller profile, it has improved strength/resilience and lower friction.
9. Chrysler 3.0L EcoDiesel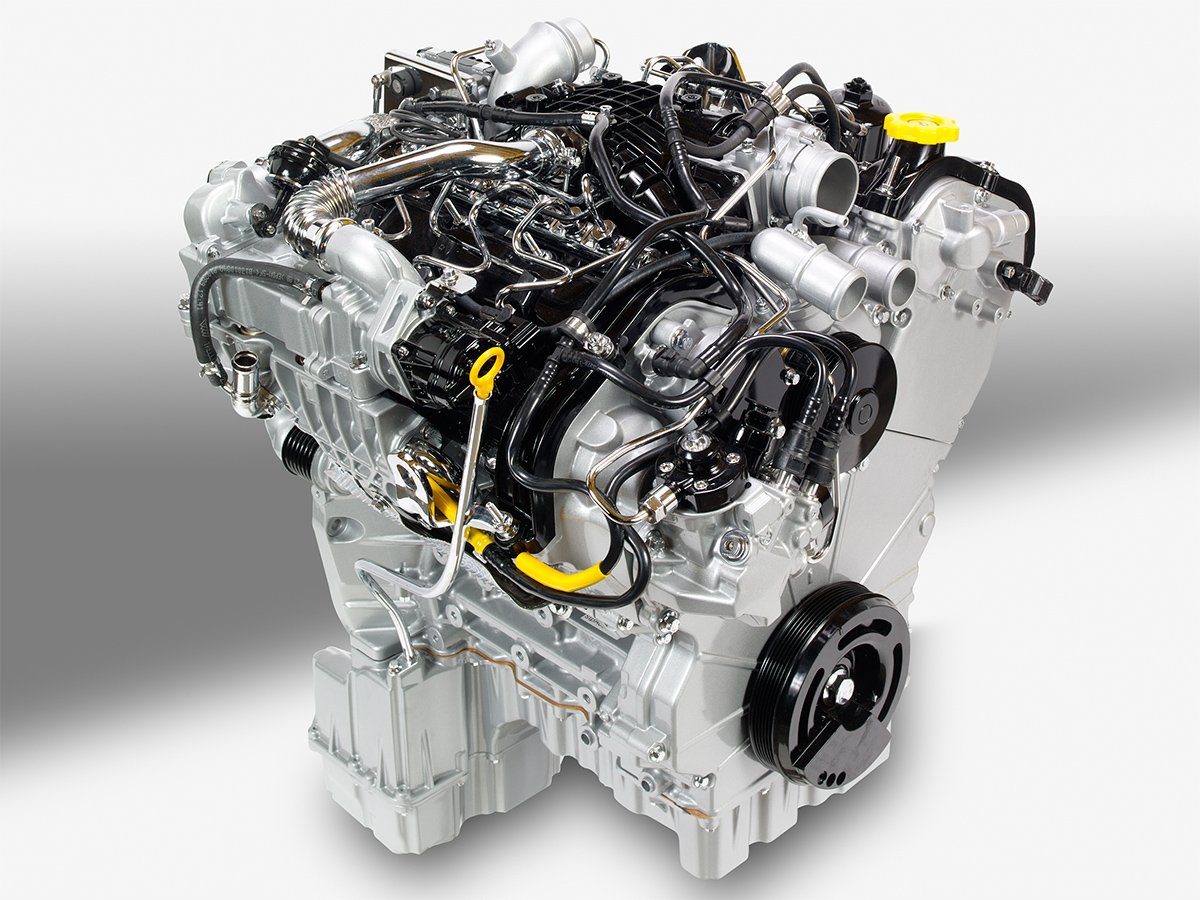 Specifications
Displacement: 3.0L;
Layout: V-6;
Torque: 420 lb-ft;
Power: 240 hp;
Valvetrain: DOHC with 4 valves per cylinder;
Engine weight: 505 lbs;
Bore and Stroke: 3.27×6.30 inches;
Aspiration: Turbocharged and intercooled.
General Descriptions
The 3.0L EcoDiesel wowed in the 2014 Ram 1500 and Jeep Grand Cherokee, becoming the first factory-direct diesel engine in a 1/2-ton pickup in more than a decade. In Cento, Italy, VM Motori, an Italian manufacturer and current FCA subsidiary, produces the 3.0L EcoDiesel. The EcoDiesel engine is still available in the Ram 1500, but it was phased out of Jeep Grand Cherokee applications with the 2019 model.
This four-cylinder diesel engine was rated at 240 horsepower and 420 lb-ft of torque from 2014 to 2019. Due to competition from General Motors and Ford Motor Company, the EcoDiesel was updated for 2020, raising power by 20 horsepower and torque by 60 lb-ft while also improving fuel economy ratings for both two- and four-wheel-drive versions.
10. 7.3L Power Stroke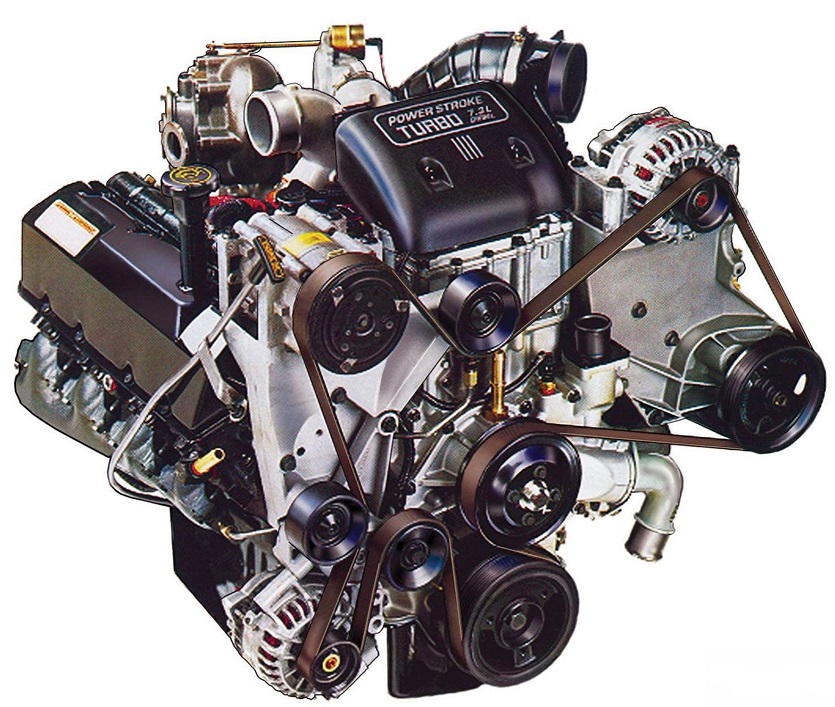 Specifications
Displacement: 7.3L;
Layout: V-8;
Torque: 525 lb-ft;
Bore and Stroke: 4.11 × 4.18 inches;
Valvetrain: Overhead valve with 2 valves per cylinder;
Engine dry weight: 920 lbs;
Power: 275 hp;
Aspiration: Single turbocharger, Garrett GTP38 (wastegated).
General Descriptions
The 7.3L Power Stroke diesel is designed to replace the 7.3L IDI, which is now obsolete. Despite the fact that the engines have similar displacements, the designs are vastly different. International Navistar manufactures this turbocharged, direct injection diesel engine. Since Ford owns the "Power Stroke" trademark, the 7.3 "Power Stroke" can only be used in Ford applications.
The 7.3L Power Stroke turbodiesel is known for its HEUI (hydraulic electric unit injector) injection system, which uses highly pressurized engine oil instead of a traditional injector pump to make fuel pressure directly in the injector body. The 7.3L Power Stroke produces fuel pressures up to 21,000 psi using a low-pressure lift pump and a high-pressure oil pump (HPOP) instead of an injection pump.
Conclusion
If you need to choose a diesel engine and you have doubt to select a proper one, you comprehend how vital it is to choose the best diesel engine. Whether you require high power or enough reliability, you won't get very far without the proper diesel engine. These types of engines are really necessary for mid to heavy-duty purposes, from just off-roading to loading heavy cargoes. A suitable diesel engine can perform everything you require for confidence transportation.
Taking the best diesel engine guarantees that you have one that is durable and efficient. Here we have introduced 10 of the best diesel engines widely available in the market and are excellent choices for your truck. According to your budget, you can select the proper one. We have also specified pros and cons along with specifications and general descriptions of these selected diesel engines. We have also discussed various essential parameters of choosing an appropriate diesel engine from different perspectives.