Best Tankless Water Heater Electric of 2022 – Installing an electric tankless water heater can conserve energy and minimize associated energy costs by removing the tank and just heating the quantity of water needed when it's needed. If you're reading this, you've probably already arrived at that conclusion. So, let's have a look at some of the top electric tankless water heaters on the market to see which one is suitable for you.

Basics of Tankless Water Heater Electric
Tankless water heaters, also named demand-type or instantaneous heaters, only heat water as needed. They don't have the identical standby energy losses as storage water heaters, which might help you save money.
How They Operate
Without the necessity of a storage tank, tankless water heaters heat water instantly. When you turn on a hot water faucet, cold water runs through a heat exchanger in the device, where it is heated by either a natural gas burner or an electric element. Tankless water heaters deliver a uniform supply of hot water as a consequence. There's no need to wait for a hot water storage tank to fill up. The outcome of a tankless water heater, on the other hand, restricts the flow rate.
Tankless water heaters normally offer 2–5 gallons of hot water per minute. Gas-fired tankless water heaters' flow rates are greater than those of electric tankless water heaters. However, even the biggest, gas-fired model cannot always provide enough hot water for several simultaneous usages in large houses. Running the dishwasher and taking a shower simultaneously, for example, might stress a tankless water heater. You may solve this issue by installing two or more tankless water heaters. You may also install separate tankless water heaters for equipment that utilize a lot of hot water in your house, such as a clothes washer or a dishwasher. On the other hand, additional water heaters will cost more and may not be worthwhile.
Advantages and Drawbacks
Demand water heaters are 24–34 percent more energy-efficient than conventional storage tank water heaters for homes that use 41 gallons or less of hot water each day. For households that utilize a lot of hot water — roughly 86 gallons per day — they may save 8–14 percent on electricity. In rare circumstances, installing a demand water heater at each hot water outlet may result in even higher energy savings.
A tankless water heater has a greater initial cost than a standard storage water heater; however, tankless water heaters frequently live longer and have lower operating and energy bills, which may offset the higher investment price. The majority of tankless water heaters have a lifetime of over 20 years. They also have easily replaceable components, enabling them to endure for many more years. Storage water heaters, on the other hand, survive 10–15 years.
The standby heat losses related to storage water heaters are avoided with tankless water heaters. Although gas-fired tankless water heaters have better flow rates than electric ones, if they have a pilot light, they may waste energy. When contrasted to a storage water heater, this may sometimes balance the removal of standby energy losses. The pilot light of a gas-fired storage water heater warms the water in the tank, saving electricity.
The price of running a tankless water heater's pilot light varies depending on the type. For the model you're considering, check the manufacturer's documentation to see how much gas the pilot light requires. Instead of a standing pilot light, look for versions with an intermittent ignition mechanism (IID). This mechanism looks similar to the spark ignition device used on certain natural gas furnaces, as well as kitchen ranges and ovens.
Maintenance and Installation
Your demand water heater's energy efficiency may be improved by proper installation and maintenance.
Many elements impact proper installation. These factors include climate, fuel type, local building code regulations, and safety issues, especially with relation to gas-fired water heater combustion. As a reason, it's important to have your water heater installed by a qualified plumbing and heating specialist. When hiring a contractor, take note of the following:
Inquire about recommendations.

In writing, request cost estimates.

Check to see if the firm will seek a local permit if one is required and if they are familiar with local building rules.
Start by contacting the manufacturer if you plan to install your water heater yourself. Usually, the manufacturer can provide installation and operation instructions. Also, if appropriate, check with your city or municipality for details on obtaining a permit and local water heater installation regulations.
Periodic water heater maintenance may considerably increase the life of your water heater and reduce efficiency loss. Specific maintenance advice may be found in your owner's handbook.
If you're unsure about adding a Tankless Water Heater Electric to your home, get guidance from an expert or a local shop. You are also encouraged to check out our Boiler Providers on Linquip for more information to fulfill all of your needs.
In what follows, we looked at the finest models from the best companies and ranked the top seven that satisfy the demands of the majority of homeowners. They're a hybrid of point-of-use water heaters and high-efficiency workhorses that deliver hot water on demand for an entire household.
Best Tankless Water Heater Electric Reviews
1. Ecotouch Tankless Water Heater Electric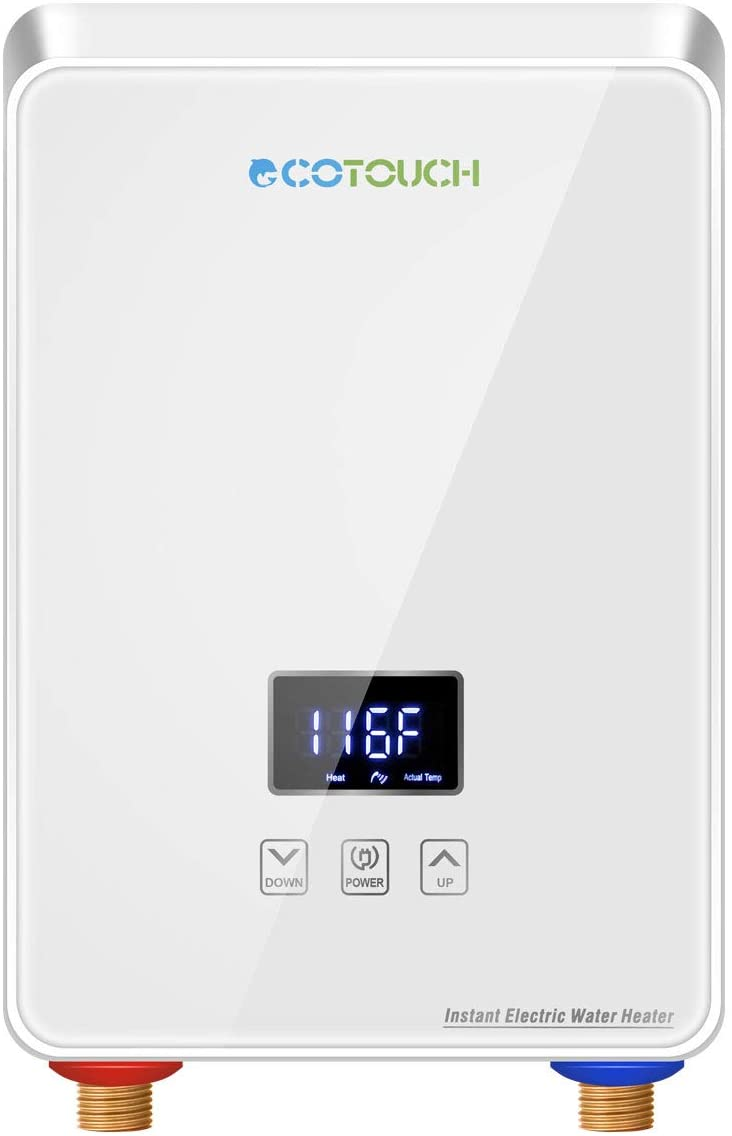 Specifications
| | |
| --- | --- |
| Brand | ECOTOUCH |
| Color | White |
| Power Source | AC |
| Material | Glass |
| Heat Output | 5.5 Kilowatts |
General Descriptions
Water heaters are one of the last products you'd expect to include high-tech capabilities, but the ECOTOUCH water heater does just that. It has the appearance to match its high-spec functionality, with touch-based controls and a sleek design.
And it doesn't stop there with the high-tech features. The heater is equipped with a sophisticated mechanism that senses incoming water flow. If you're pumping less water than usual, the heater will reduce the heating temperature to maintain the water at a safe temperature so you don't scorch yourself. It's convenient and hands-free, which is ideal if you despise having to manually control the temperature every time you shower.
2. Bosch Electric Mini-Tank Water Heater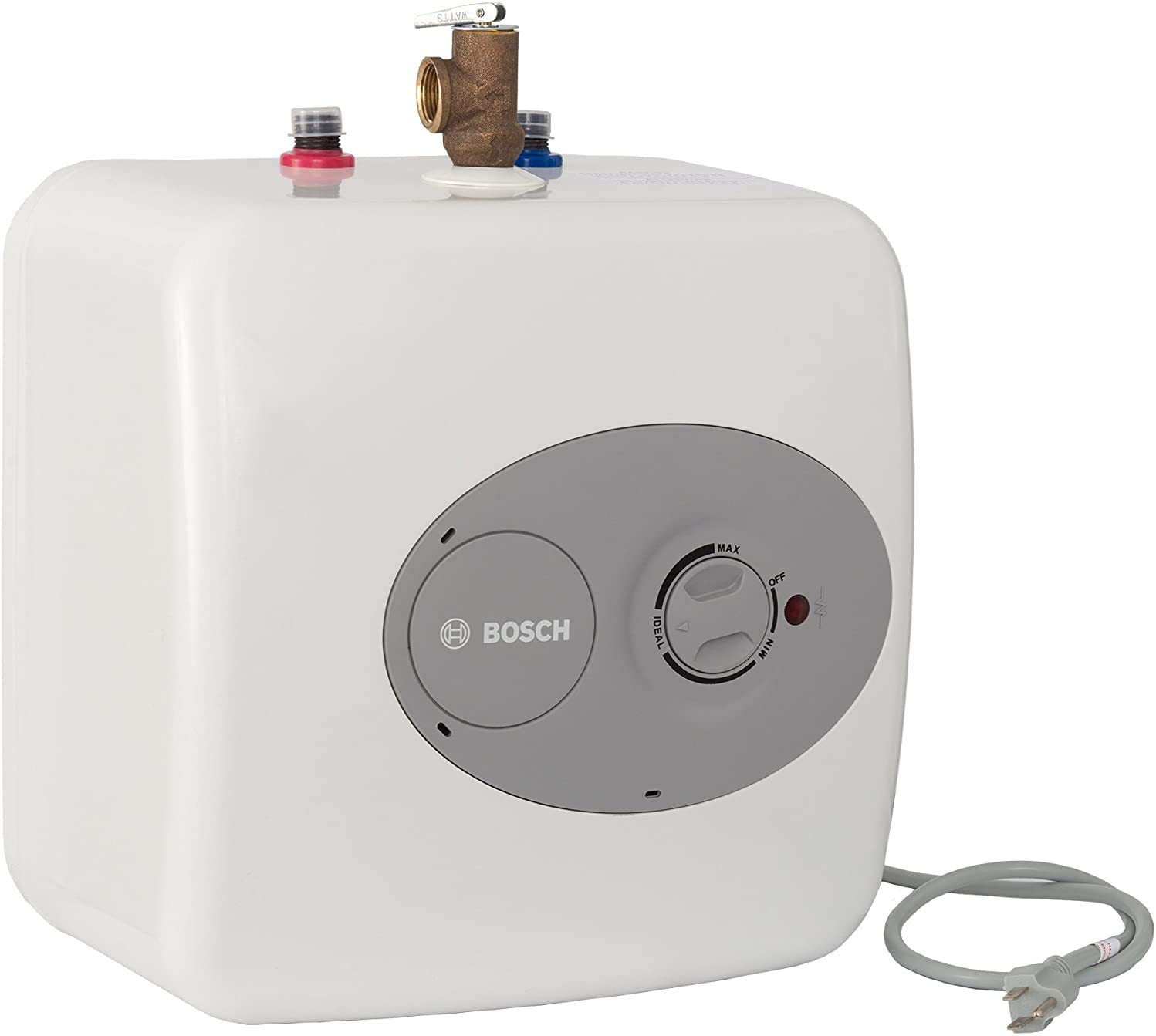 Specifications
| | |
| --- | --- |
| Brand | Bosch Thermotechnology |
| Color | White |
| Power Source | Corded Electric |
| Item Dimensions LxWxH | 13.75 x 10.75 x 13.75 inches |
| Item Weight | 15.5 Pounds |
General Descriptions
For many people, Bosch is a brand that springs to mind when it comes to heavy-duty appliances. This is especially true with their water heaters, which not only provide warm water but also endure a long period.
The existence of a mini-tank distinguishes this water heater from the others on this list. This mini-tank helps the system to boil water more quickly and keep some water hot even after the machine has been turned off. It may also be mounted in a variety of positions, so it won't be difficult to set up in your home.
3. EcoSmart ECO 11 Electric Tankless Water Heater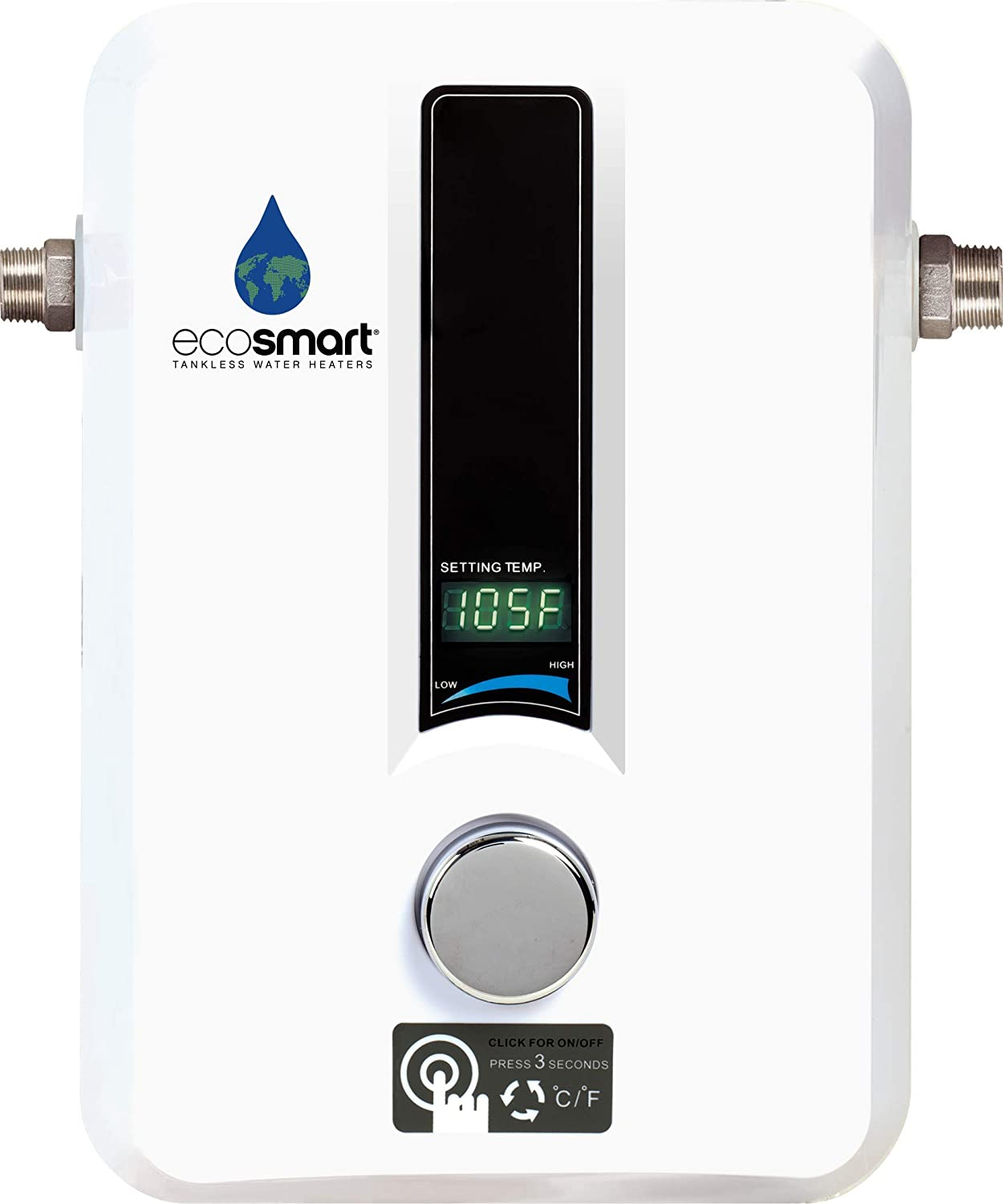 Specifications
| | |
| --- | --- |
| Brand | EcoSmart |
| Color | White |
| Style | ECO 11 |
| Power Source | No |
| Item Dimensions LxWxH | 3.75 x 8 x 11.5 inches |
General Descriptions
There are many reasons to desire an energy-efficient water heater, whether you're concerned about your carbon impact or simply want to save money on your electric bill. The EcoSmart ECO 11 tankless water heater uses an energy-efficient design to provide warm water to the customer. Heating systems are one of the most energy-intensive equipment in a contemporary house, so investing in an energy-efficient one may save you money over time.
The heater includes a self-modulating mechanism that keeps the user warm without being excessively hot. It promises to save up to 60% on power, which may be enough to persuade you to purchase this heater.
4. Rinnai Indoor Tankless Hot Water Heater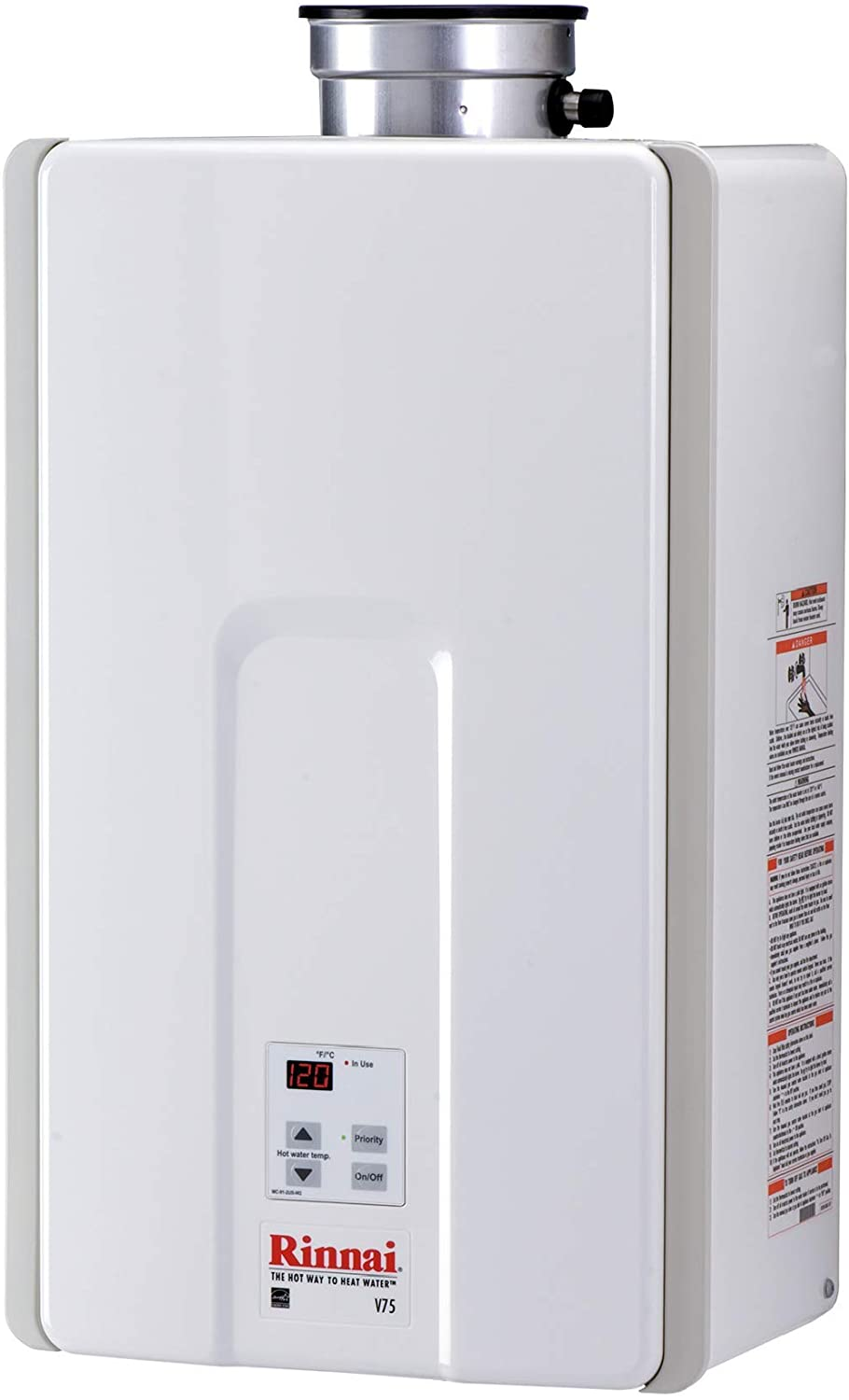 Specifications
| | |
| --- | --- |
| Brand | Rinnai |
| Color | White |
| Style | Natural Gas, Indoor Installation |
| Power Source | Gas Powered |
| Item Dimensions LxWxH | 17.5 x 30 x 13 inches |
General Descriptions
Having access to a water heater during a power outage may be incredibly useful, especially on chilly evenings. Water heaters powered by sources different from electricity can be quite beneficial in these instances. One such example is the Rinnai Indoor water heater, which runs on natural gas.
The heater is basic enough on its own, but it has a few extra characteristics that make it stand out. You may, for example, download specific software that links to your heater and allows you to schedule when it warms the water. If you feel the need, you can even switch the heater to vacation mode.
5. Rheem RTEX-18 18kW 240V Electric Tankless Water Heater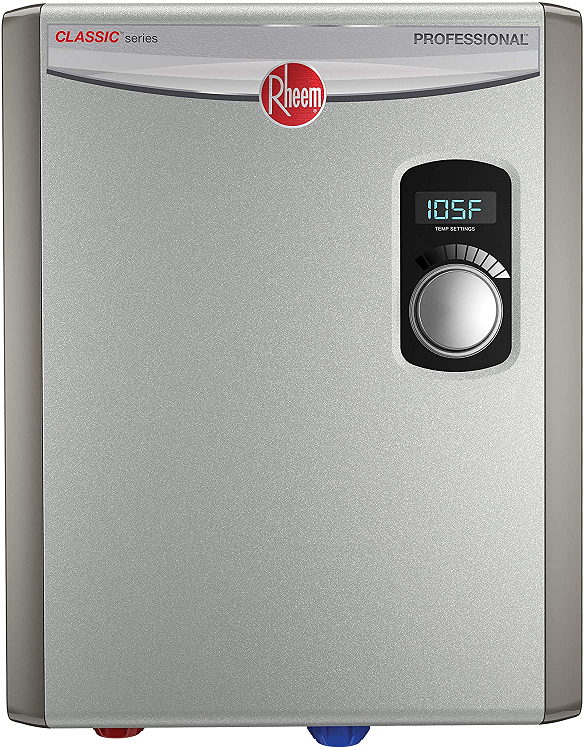 Specifications
| | |
| --- | --- |
| Brand | Rheem |
| Color | Gray |
| Style | Heater |
| Power Source | Battery Powered |
| Item Dimensions LxWxH | 18.5 x 14.5 x 3.5 inches |
General Descriptions
The Rheem RTEX-18 is at the top of the list when it comes to convenience and added features. Its smart thermostat helps you to keep a closer eye on the temperature at all times, ensuring that your water is heated to the proper degree. It also has a self-modulation mechanism that ensures the perfect temperature at all times.
This heater is ideal for modern houses that wish to keep their bathroom or sink looking clean and simple. It has an easy-to-install frame and a streamlined design. It is more expensive than other heaters, but it is definitely worth the money.
6. Forue Portable Propane Tankless Water Heater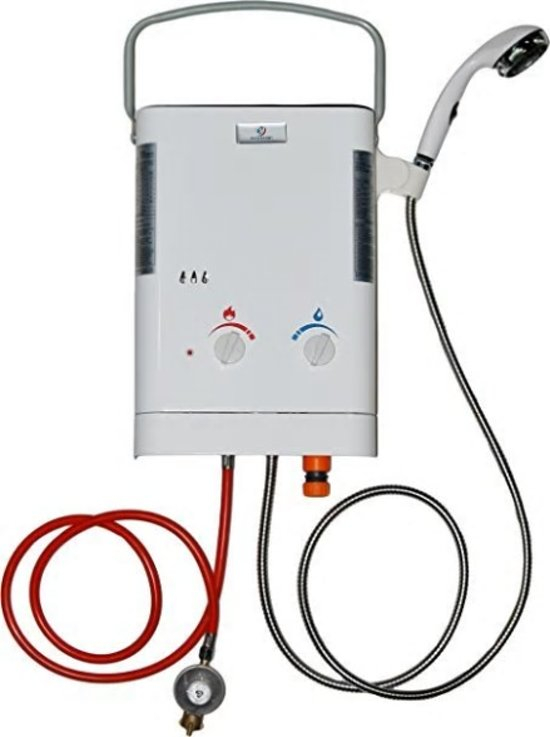 Specifications
| | |
| --- | --- |
| Brand | Forue |
| Color | Gray |
| Style | Portable Heater |
| Power Source | Battery Powered |
| Item Dimensions LxWxH | 14.5 x 12 x 4.7 inches |
General Descriptions
Water heaters are often permanently fixed on a wall, floor, or other spots in the house, and they spend most of their lives there. However, because it runs on propane rather than electricity, this propane tankless water heater may be transported about and used wherever and whenever it is needed.
You could desire one of these heaters for a variety of reasons. This heater can give warm water anytime you need it, for example, if you're camping or on a road trip, and it may also be utilized at hotels or motels that don't have their own heating systems.
7. Titan Electric Tankless Water Heater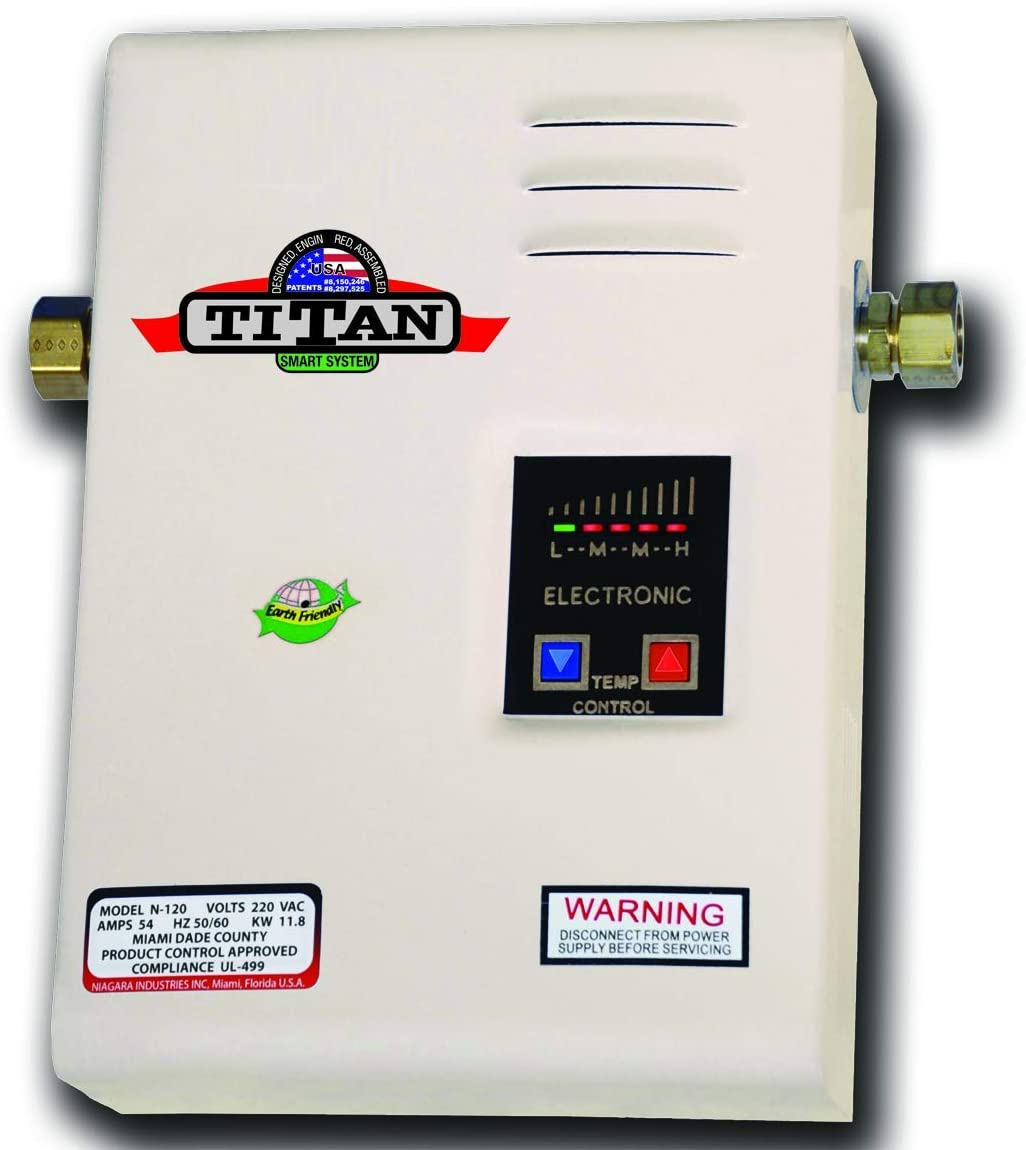 Specifications
| | |
| --- | --- |
| Brand | Titan |
| Color | White |
| Style | Corded Electric |
| Item Dimensions LxWxH | 4.8 x 9.6 x 12 inches |
General Descriptions
Most tankless water heaters now include digital thermostats that are complemented by touch controls or elegant buttons to display the temperature. However, some individuals still love the sight and feel of old-fashioned water heaters. The Titan electric water heater features more analog controls and a thermostat, allowing individuals who favor these sorts of heaters to continue to enjoy hot water as they did in the past.
Considerations When Selecting Tankless Water Heater Electric
Size
Tankless water heaters do not all come in the same size. In truth, the size of a water heater is mostly determined by the inner circuits and systems existing within the appliance. Depending on the manufacturer, some may fit within your tight shower room, while others would require you to position them in a more open space.
Shape
Aside from the size, the form of the heater is also important to consider. For the most part, water heaters contain a rectangular design that makes them easy to place on a bathroom wall or next to a sink, which is where they're most usually put. Due to the existence of other components, such as a small tank, some heaters are formed differently. Before you go out and purchase a heater, think about where you'll put it.
Features
Water heaters are designed to do one thing: heat water, but that doesn't rule out the possibility of them doing more. Many water heaters include digital thermostats for more precise temperature readings, and some even have a self-modulating mechanism that keeps the water at the perfect temperature all of the time. These options aren't absolutely required, but they can come in helpful in a variety of situations.
Portability
While not all water heaters are meant to be portable, some are, and you may want to be able to take one with you on vacation or if you want to use it in other locations. However, because these heaters often operate on natural gas or propane, use caution when utilizing them.
FAQs about Tankless Water Heater Electric
1. Is it true that tankless water heaters use less energy than traditional water heaters?
In general, a tankless water heater will save you more money than a tank water heater. Tankless water heaters utilize less energy to heat the water and have lower running expenses than traditional tank heaters.
2. Is it accurate that tankless water heaters are superior to traditional water heaters?
That depends on how "better" is defined. Tank water heaters provide instantaneous heating of water, but they need more energy to operate. On the other hand, tankless water heaters use less energy but take longer to heat the water since there is no tank to retain the heated water.
Buy Equipment or Ask for a Service
By using Linquip RFQ Service, you can expect to receive quotations from various suppliers across multiple industries and regions.
Click Here to Request a Quotation From Suppliers and Service Providers
Read More In Linquip