The Best Industrial 3D Printer in 2023 —There are so many different 3D printers on the market today that choosing one might be challenging. When every cent of your quarterly budget matters, you want to ensure that your professional 3D printer is customized to your requirements. Material compatibility, build size, ease of use, process, software, and many other factors all play a role.
Linquip offers a wealth of information on industrial 3D printers that will assist you in making an informed selection. Linquip provides the best industrial 3D printers on the market to help you execute your work more effectively. Do you intend to purchase an industrial 3D printer in the future? When you explore Linquip's vast range of Industrial 3D Printer Products for free, it's easy to choose the ideal product for your needs. If you want to find more about what Linquip can provide you based on the function of your 3D printer, please contact Industrial 3D Printer Experts.
If you're looking for a good deal on an industrial 3D printer, the Linquip platform might be incredibly helpful. You can simply obtain free quotations from a range of Industrial 3D Printer Suppliers and Companies. by completing our simple online form. You'll be able to get them soon.
3D printers are quickly becoming a popular option for small-scale manufacture of finished products and parts, allowing businesses to save money by producing real-world products directly from digital data. To identify the top industrial 3D printer options in 2023, we reviewed over 50 models and selected 10 to further study. We considered a variety of aspects while choosing our top selections, including pricing, accuracy, resolution, materials, and process.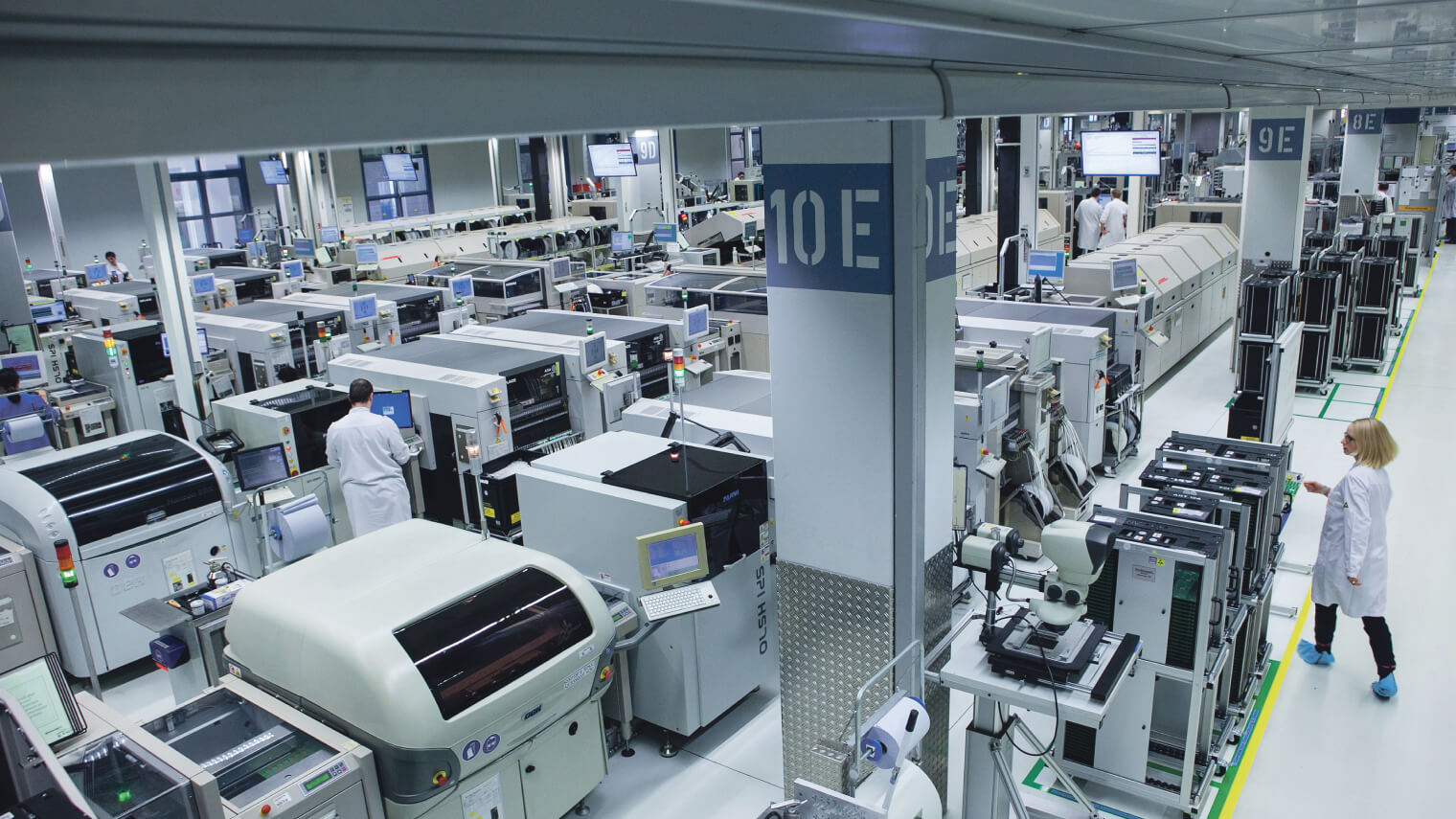 Description on Industrial 3D Printer
An industrial 3D printer, as opposed to a home 3D printer, is intended for businesses who wish to use 3D printing to produce new prototypes or reduce production costs.
Companies are increasingly using 3D printers for rapid prototyping to shorten the time it takes to create new products by allowing them to 3D print in-house, reducing the time lag associated with having manufacturers deliver prototypes. Multiple prototypes may be evaluated and iterated on an hourly, if not daily, basis, leading in much faster and better products. 
Rapid prototyping for product design employs 3D CAD software and, in most cases, a 3D printer. 3D printing is used to quickly create small-scale replicas of a final product to verify its design or functionality, with any flaws readily remedied by updating the 3D model and re-printing the next iteration.
Rapid prototyping is widely utilized in the aerospace, automotive, and medical industries. Because 3D printing is a type of additive manufacturing, there is no waste from carved out materials like there is with CNC machines. This makes industrial 3D printing, such as metal 3D printing, extremely valuable in firms where cost-cutting is a concern.
3D printers can also create components with variable infill percentages, resulting in lightweight but still sturdy metal parts, which is very beneficial in the automotive and aerospace industries, where cutting weight may considerably increase profit margins.
Professional 3D Printer Buying Guide
When selecting the best professional 3D printer for your requirements, there are various features and specs to consider:
1) Technology
 3D printing encompasses a variety of technologies. Do you value low-cost component printing over incredibly precise surface quality? These will define which technology you require and, as a result, which industrial 3D printer to purchase.
FFF (fused filament fabrication) 3D printers are perfect for producing prototypes as well as finished items. Resin 3D printers using SLA, DLP, or LCD-based technologies are better suited for experts in the dentistry or jewelry sectors where great precision and detail are essential. For more complex uses, there are desktop SLS 3D printers (powder 3D printers), PEEK 3D printers, continuous fiber 3D printers, and others.
2) Size
Think about the build volume (the maximum size of pieces that can be printed) of the industrial 3D printer as well as the overall area the printer occupies. You may not have enough storage space for the printer or require the extra build volume.
3) Build Plate or Print Bed
Users who need to 3D print with ABS or other more demanding materials must have a heated print bed. The heat prevents warping and improves first-layer adhesion.
While heated build plates are virtually usually included in today's 3D printers, they do not all achieve the same temperatures. It is crucial to know the thermoplastics you will be printing with before selecting a desktop 3D printer. 
Some professional 3D printers offer interchangeable build trays that allow users to swiftly launch fresh prints while the previous build plate cools. Vacuum systems allowing quick part release from the print bed may also be found on higher-end 3D printers.
4) Print Head
PLA and ABS are the most prevalent and fundamental 3D printing materials in general. Professionals, on the other hand, frequently need to print more complicated materials like Nylon, Polycarbonate, PETG, ASA, and other engineering-grade polymers. 
Because they do not have the same melting or glass transition temperature, they must be 3D printed at separate temperatures. PLA, for example, may be extruded at roughly 200°C, PC at around 260°C, and some high-performance polymers, such as PEEK or PEKK, require at least 450°C.
Plastics impregnated with carbon fiber or glass fiber are also popular professional filaments for greater strength and resistance. These materials are abrasive and necessitate robust nozzles; many professional printers are already compatible with these composites, but double-check.
Some 3D printers are compatible with a variety of nozzles of varied sizes, and paste-type print heads are available to 3D print clay.
5) Automatic Calibration
To make the procedure as simple as possible, most professional 3D printer systems include automated calibration functions. To achieve consistent print quality, a 3D printer should be calibrated on a regular basis.
Calibration is classified into two types:
Leveling the print bed (making sure the print bed is perfectly parallel to the nozzle, and not tilted)

Offset of the nozzle (determining the right gap between the nozzle and the print bed)
Most professional 3D printers have a probe linked to the print head that automates these procedures rather than requiring users to utilize a piece of paper or a business card. Some 3D printers also have NFC scanners, which allow them to automatically modify their temperature settings based on the substance found (so long as the spool is chipped, too).
6) Material to Print 
Do you want to 3D print polymers like PLA, ABS, or Nylon? If so, you have the choice of FDM (all three) or SLS (Nylon). To 3D print metal materials like titanium or aluminum, you'll need a DMLS, EBM, Binder Jetting, or other sort of metal 3D printer.
7) Independent dual extrusion and dual extrusion (IDEX)
A dual extruder allows customers to 3D print in two colors or materials at the same time, including soluble support material for complicated sculptures. The system is known as IDEX if it has two different print heads (independent dual extruder). BCN3D Technologies was among the first to provide this capability a few years ago.
In addition to the ability to 3D print two materials at the same time, independent dual extrusion provides a variety of 3D printing options:
Duplication mode: 3D prints two identical things simultaneously.

Mirror mode: to 3D print a part twice as quick as with only one extruder, each nozzle completes one-half of the object.
8) Speed
Even within similar technology, some 3D printers print substantially quicker than others. DLP 3D printers are usually quicker than SLA printers, and delta 3D printers are nearly always faster than Cartesians.
9) Minimum Layer Thickness
Layer thickness, also known as layer height or Z resolution, is inextricably tied to 3D print quality. The 3D printed item is formed by the minimum height of each succeeding layer. The thinner the layers, the less distinct they are and the smoother the product (similar to the ratio of pixels in an image).
Thinner layers also require more layers to create the item, resulting in a longer 3D print time. The layer thickness may be changed based on whether you require a speedy print (thicker) or a high-resolution print (thinner).
The normal minimum layer thickness for mid-range FFF 3D printers is 100 microns (0.1 millimeters), however in certain situations it may be as low as 0.01 mm.
10) Closed Frame
Temperature variations and room drafts are two examples of factors that might affect 3D print quality. As a result, 3D printers with an enclosed build chamber tend to produce higher-quality prints while also lowering noise, smells, and dangerous particle emissions when equipped with a HEPA filter.
When 3D printing with anything other than PLA, a closed frame is nearly always required. It is now uncommon to find a professional 3D printer without an enclosure.
11) Onboard Camera
Some 3D printers have an onboard camera for remotely monitoring prints or recording time-lapse videos. If the printer is going to be left unattended for a lengthy period of time, this function can be handy. Onboard cameras, when combined with the correct 3D software, may aid in quality control. Quality control may also be performed with a metrology 3D scanner during post-processing procedures.
12) Is a Trained Operator Required? 
Expensive, sophisticated, and high-quality industrial 3D printers frequently necessitate the use of a competent operator to guarantee the printing process runs smoothly and the proper temperatures are maintained. This increases expenses but may be important for prototyping; bear this in mind.
Best Industrial 3D Printer Reviews
We've compiled a list of the top industrial printers so you can get started on your project by choosing one that meets your needs.
1.
3D Systems Fab Pro 1000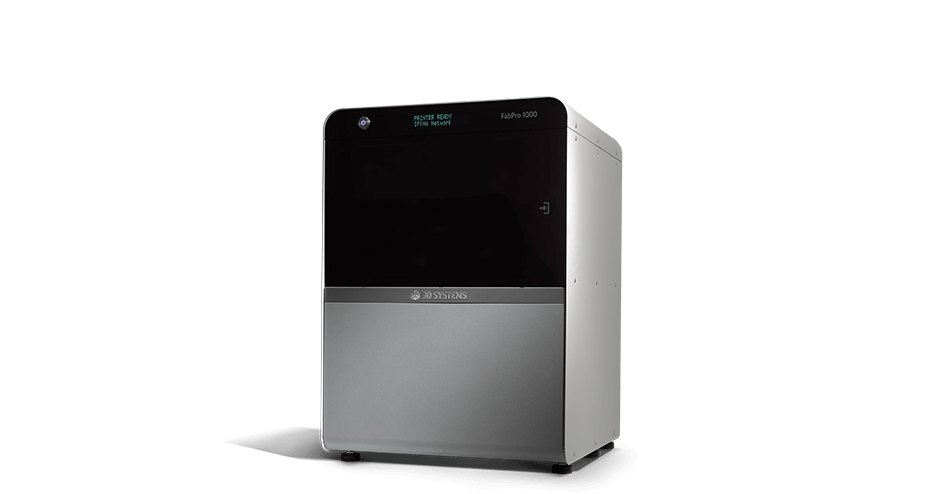 Specifications
| | |
| --- | --- |
| Max. Build Size    | 125 x 70 x 120 mm (4.92 x 2.76 x 4.72 in) |
| Resolution | XY Resolution 65×65 microns; Z Resolution 30 microns |
| Min. Layer Thickness | 0.3 mm (0.01 in) |
| Dimensions  | 43 x 43 x 61.2 cm (16.9 x 16.9 x 24.1 in) |
| Weight | 55 kg (121 lbs) |
| Price Range | $ 500 – $ 5000 |
| Technology | Resin (SLA- DLP…) |
| Material | Liquid resin |
This industrial 3D printer is the most cost-effective on the list, capable of developing and producing precise plastic prototypes for investment casting, dental models, and orthodontic splits in the jewelry sector. This industrial 3D printer can generate parts and functional prototypes with a minimum layer resolution of 30 microns.
The resin 3D printed parts and working prototypes of this 3D printer will require post-curing. And you have an outstanding support team ready to answer any queries you have regarding the 3D printer. This industrial 3D printer also comes with a one-year guarantee.
Uses:
The FabPro 1000 can manufacture high-quality components with accuracy and a flawless surface finish at three times the speed of its competitors.

The technology in this printer allows users to print many pieces at the same time.

The combination of fast print rates and effective printing results in cheaper printing expenses when compared to competitors.

The DLP StereoLithography process, which employs UV light to harden components and prototypes, is at the core of the FabPro 1000.
2.
Voxeljet VX 4000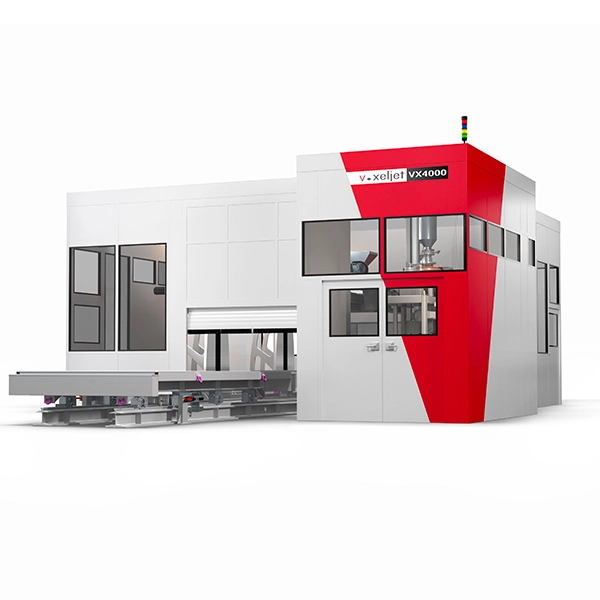 Specifications
| | |
| --- | --- |
| Max. Build Size    | 4000 × 2000 × 1000 mm (157.48 × 78.74 × 39.37 in) |
| Resolution | Up to 200 dpi |
| Min. Layer Thickness | 0.3 mm (0.01 in) |
| Dimensions  | 19000 × 9300 × 4300 mm (748.03 × 366.14 × 169.29 in) |
| Price Range | > $ 250000 |
| Technology | Binder Jetting |
| Material | Ceramic |
This printer is designed for manufacturers who want to employ sand 3D printing to create a huge quantity of parts or working prototypes for their clients. This 3D printing machine is also known as the largest industrial 3D printing equipment in the world. This is due to the printer's construction volume of 4000 mm x 2000 mm x 1000 mm.
Uses:
The VX 4000 is a large-format 3D printing device capable of producing any sort of item from particles.

The Voxeljet VX 4000 excels in two of the most competitive areas: print speed and print flexibility.

Despite having a lot to do, the Voxel VX 4000 printer system is easy to use, owing to a well-thought-out ergonomic design that goes across the whole Voxeljet series.

The Voxeljet VX 4000 can photograph even the smallest details with great precision.

This printer is capable of producing large-format components up to four meters in length.
3. EOS P810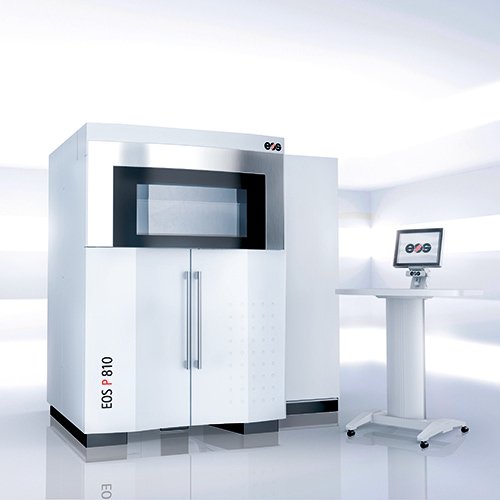 Specifications
Max. Build Size   

700 x 380 x 380 mm (27.6 x 15 x 15 in)

Build Rate

Up to 10 mm/h, up to 2,7l/h

Layer Thickness

120 Microns

Dimensions 

2,500 x 1,300 x 2,190 mm (98.4 x 51.2 x 86.2 in)

Weight

Approx. 2,300 kg (5,071 lb)

Technology

SLS 3D printing

Material

Thermoplastics > Standard (PLA, ABS…)

Thermoplastics > Engineering (PC, nylon…)

Thermoplastics > High-performance (PEEK, Ultem…)
EOS developed this industrial 3D printer after collaborating with Boeing. EOS is a 3D printer manufacturer located in Germany. The EOS P 810 employs SLS 3D printing. The P 810 system is designed to use HT-23, a high-temperature, high-performance plastic.
Uses:
You can create lightweight components, save production and assembly time, and reduce total cost per part.

It is also the first PEKK material with carbon fiber reinforcement to be utilized with EOS systems, enabling the creation of high-strength, lightweight components or functional prototypes.

Because it can be used with high-performance 3D printing materials, it is suited for use in the aircraft industry. This is because the UV resistance and flame retardancy standards have been reached.

Selective Laser Sintering 3D printing technique is used in this industrial 3D printer.
4.
3D Systems ProX 950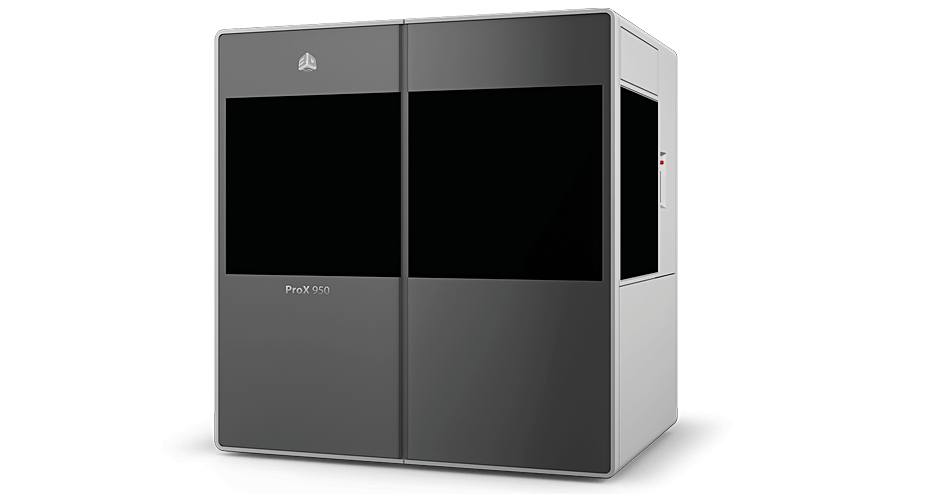 Specifications
| | |
| --- | --- |
| Max. Build Size    | 1500 × 750 × 550 mm, 59.06 × 29.53 × 21.65 in |
| Resolution | 0.00127 mm (X-Y accuracy) |
| Min. Layer Thickness | 0.03 mm, 0.001 in |
| Dimensions  | 2200 × 1600 × 2260 mm, 86.61 × 62.99 × 88.98 in |
| Weight | 1951 kg, 4301.22 lb |
| Price | > $ 250000 |
| Technology | Resin (SLA- DLP…) |
| Material | Liquid resin |
This printer is one of the SLA 3D printers capable of handling enormous build volumes formerly reserved for FDM 3D printers. This industrial 3D printer is delivered fully assembled. All you have to do is ensure that you grasp the specifics of each item and how it functions.
Uses:
The ProX 950 promises to employ two laser sources for curing printed layers.

The printer can produce dimensional precision in both small and large items, as well as functional prototypes.

The printer supports a wide range of 3D printing materials.

The ProX 950 printer employs the Stereolithography 3D printing method.

The ProX 950 features a big build volume, letting you create large products up to 1,500 mm in length.

On the ProX 950 SLA 3D printer, there is a single point of contact for skilled application help.

This point of contact is the printer's advanced production software.

The manufacturer, ProX 950, claims to offer an equal quantity of micro and big parts or operational prototypes.

The ProX 950 3D printer generates less waste than SLA or FDM 3D printers.
5.
Ultimaker S5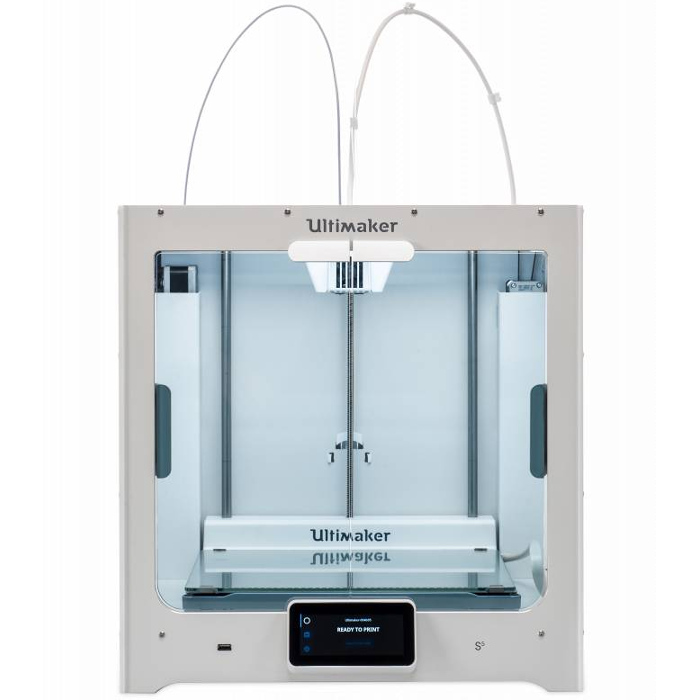 Specifications
| | |
| --- | --- |
| Max. Build Size    | 330 × 240 × 300 mm, 12.99 × 9.45 × 11.81 in |
| Resolution | 0.007 mm (X-Y accuracy) |
| Min. Layer Thickness | 0.02 mm, 0.001 in |
| Dimensions  | 495 × 457 × 520 mm, 19.49 × 17.99 × 20.47 in |
| Weight | 20.6 kg, 45.42 lb |
| Price | $ 5995 |
| Technology | Extrusion (FFF- FDM…) |
| Material | ABS, Other plastics, PLA |
With a weight of only 20.6 kg, this is the lightest industrial 3D printer on the list. Unlike some other 3D printers that are astronomically priced and provide nothing new to consumers, the Ultimaker S5 transcends this stereotype. It isn't cheap, but the quantity of tools and features it provides more than makes up for it.
Uses:
Despite being a desktop 3D printer, it has a considerable volume.

Users are frequently astounded by the company's sturdy and solid framework. As a consequence, when printing with the Ultimaker S5, there are no vibrations. As a result, the polish and precision are greater.

You may 3D print in two distinct colors and materials at the same time.

Print cores are exchangeable.

The 3D printer can produce a wide range of materials. That means you can build components from basic materials like PLA as well as more complex ones like ABS and Nylon.

PVA may also be printed using. This implies that using this soluble substance as a support will facilitate post-processing.

The 3D printer comes with pre-sets. As a consequence, it can differentiate between materials using an NFC reader and alter the settings accordingly.

You may halt the print in the middle of it to replace the filament on the Ultimaker S5.

The active bed leveling function makes bed leveling a snap.

The 3D printer will halt and warn the user when the filament runs out.
6.
Sinterit Lisa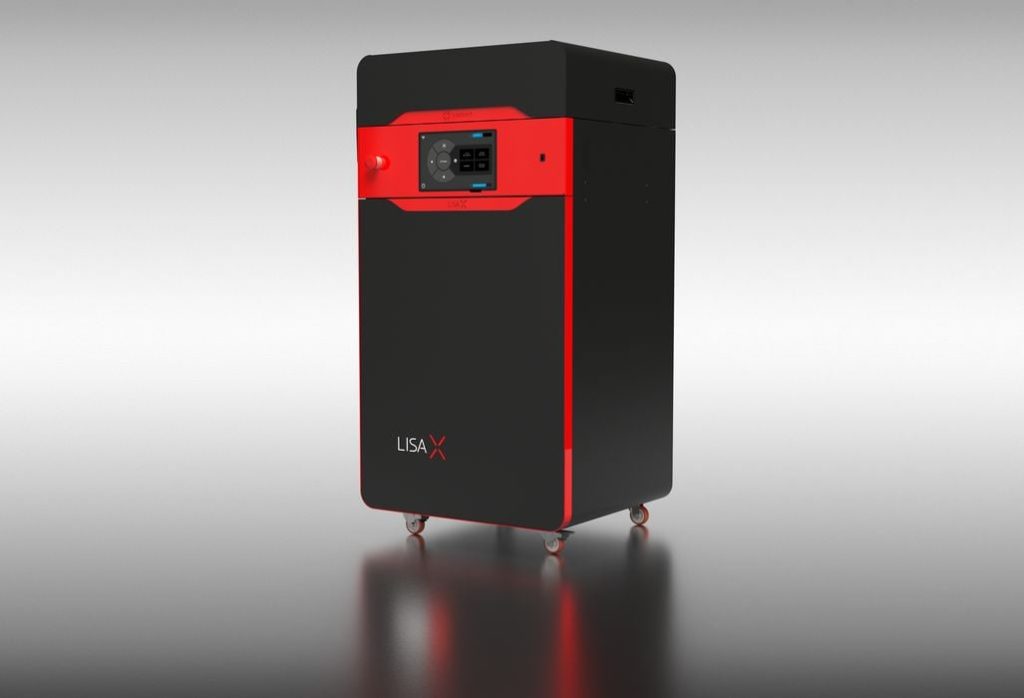 Specifications
| | |
| --- | --- |
| Max. Build Size    | 150 × 200 × 150 mm, 5.91 × 7.87 × 5.91 in |
| Resolution | 0.1 mm 0.004 in (X-Y accuracy) |
| Min. Layer Thickness | 0.08 mm, 0.003 in |
| Dimensions  | 620 × 400 × 660 mm, 24.41 × 15.75 × 25.98 in |
| Weight | 41 kg, 90.39 lb |
| Price | $ 9995 |
| Technology | Powder (SLS- SLM…) |
| Material | Other plastics |
Because it is an astoundingly low-cost industrial SLS 3D printer, this 3D printer caused quite a stir in the market. The equipment offers all of the essential advantages of selective laser sintering 3D printing technology without the exorbitant price tag.
According to the corporation, every industrial 3D printer machine price from a Polish manufacturer goes through a "precisely developed calibration and testing method."
Uses:
The Sinterit Lisa does not require any support structures, which is a huge benefit.

This printer can print numerous parts at once.

The Sinterit Lisa's temperature resistance is obviously far higher than that of printers employing FDM and SLA technology.

The powder used by the Sinterit Lisa has a diameter ranging from 20 to 100 microns.

The printer maker developed proprietary software that is both user-friendly and printer-compatible.

The 4-inch touchscreen on this 3D printer, as well as Wi-Fi and USB, may be utilized to operate and build a part or functioning prototype.
7.
Formlabs Form 3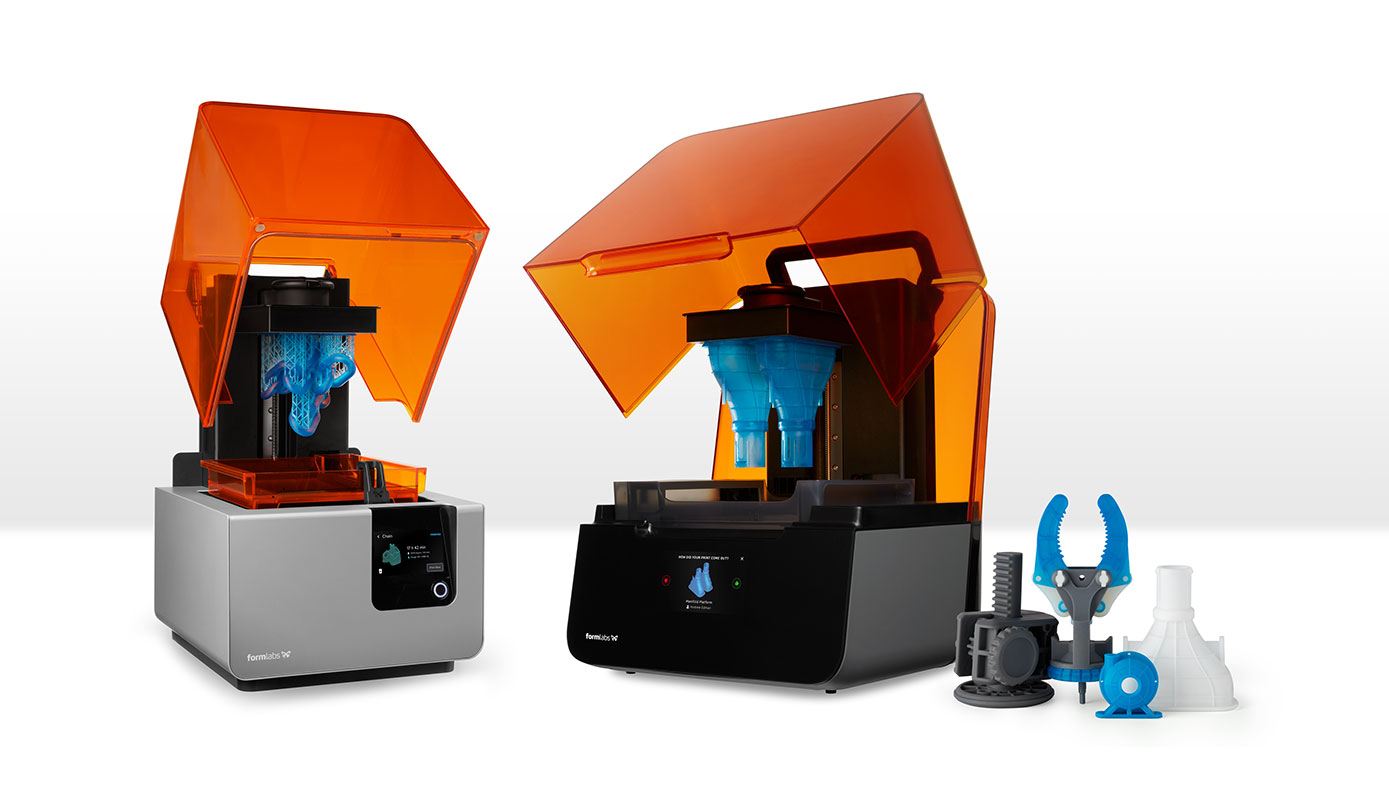 Specifications
| | |
| --- | --- |
| Max. Build Size    | 145 × 145 × 185 mm, 5.71 × 5.71 × 7.28 in |
| Resolution | 0.025 mm, 0.001 in (X-Y accuracy) |
| Min. Layer Thickness | 0.025 mm |
| Dimensions  | 405 × 375 × 530 mm, 15.94 × 14.76 × 20.87 in |
| Weight | 17.5 kg, 38.58 lb |
| Price | $ 3499 |
| Technology | Resin (SLA- DLP…) |
| Material | Liquid resin |
If you want a printer that needs little labor yet provides professional results, requires minimal maintenance, and is simple to use, Formlabs' Form 3 is the printer for you. Form 3 is a touch-screen-controlled machine that can operate with a variety of materials. Its PreForm application is simple to use and makes changing models and settings a snap.
Uses:
Form 3 is considered a Low Force Stereolithography (LFS) printer featuring flexible plastic at the bottom, which improves printing reliability by allowing the printer to raise the hardened layer with less force.

On top is a print bed, and on the bottom is a detachable resin tank that holds liquid resin within printing.

Form 3 prints the part layer by layer, lowering the build platform to this transparent layer at each step. A thin coating of liquid resin is trapped there.

The UV laser, which has an 85 micron wavelength, burns the resin and causes it to cling to the bed. As a consequence, the model is constructed layer by layer.

It has a print resolution up to 25 microns on the XY axis and a resolution of 25 to 300 microns on the Z axis, which may be modified manually. The prints have a high quality finish, with a smooth surface, organic curves, and sharpness.

Form 3 has a decent size for making 3D models; it is a solid combination of features that guarantees trouble-free 3D printing.
8.
Markforged Metal X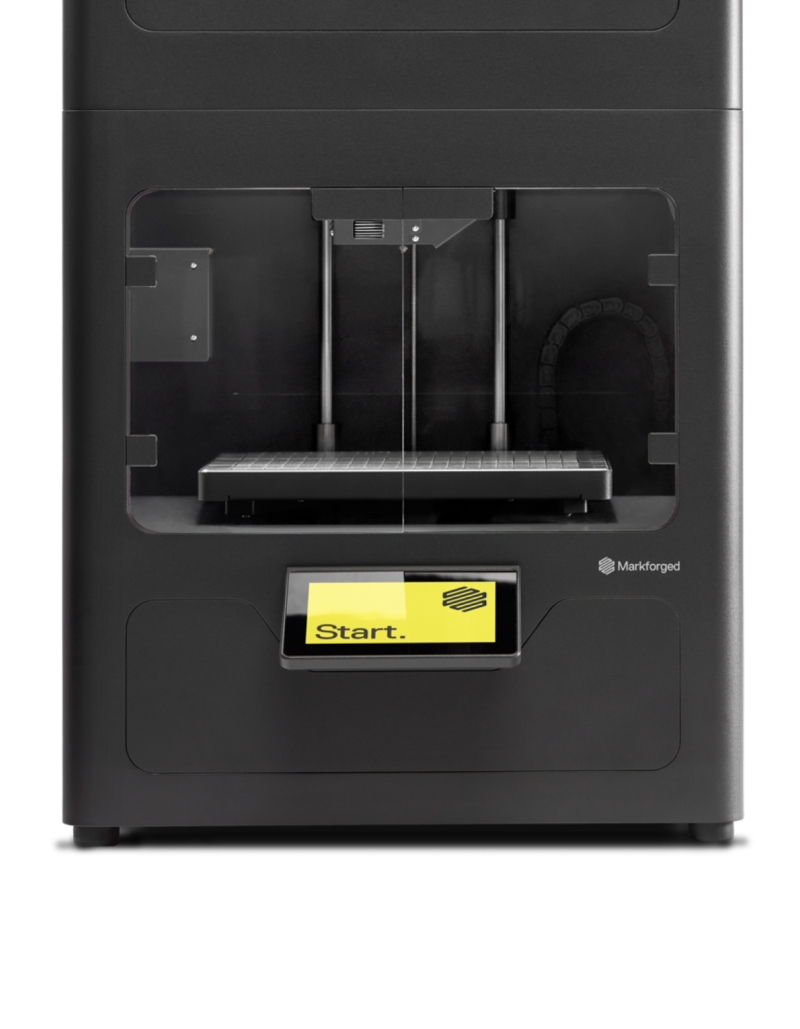 Specifications
| | |
| --- | --- |
| Max. Build Size    | 250 x 220 x 200 mm or 9.8 x 8.6 x 7.9 in |
| Resolution | 50-microns (0.05 mm) (X-Y accuracy) |
| Min. Layer Thickness | 0.05 mm 0.002 in |
| Dimensions  | 22.7 x 18.4 x 44.1 in |
| Weight | 75 kg / 165 lbs |
| Price | $ 99,500 |
| Technology | Extrusion (FFF- FDM…) |
| Material | Copper, Inconel, Stainless Steel, Titanium, Tool Steel |
When compared to potentially investing hundreds of thousands of dollars on a DMLS or EBM 3D printer, Markforged's Metal X 3D printer is one of the most accessible methods to 3D print metal.
You may print with materials such as copper, inconel, A2 and D2 tool steel, and 17-4 PH stainless steel using Markforged's bonded powder filament process. The Metal X mixes FDM-style filament printing with metal, much like the Desktop Metal. This makes metal 3D printing more accessible, whether for in-house component manufacturing and prototyping or as a service producing reasonable-sized metal parts.
9.
Stratasys F900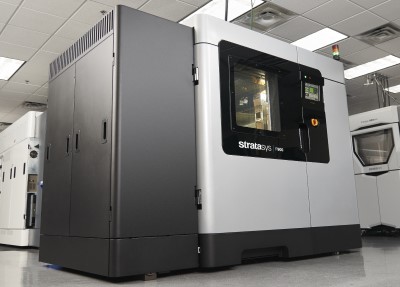 Specifications
| | |
| --- | --- |
| Max. Build Size    | 914.4 × 609.6 × 914.4 mm, 36 × 24 × 36 in |
| Resolution | 0.015 mm 0.001 in (X-Y accuracy) |
| Min. Layer Thickness | 0.13 mm, 0.005 in |
| Dimensions  | 2772 × 1683 × 2027 mm, 109.13 × 66.26 × 79.8 in |
| Weight | 2869 kg, 6325.07 lb |
| Price | $ 100000 – $ 250000 |
| Technology | Extrusion (FFF- FDM…) |
| Material | ABS, High performance (ULTEM – PEEK …), Other plastics, PLA |
The Stratasys F900 is a professional-grade FDM 3D printer designed to generate repeatable thermoplastic components (including nylon, ULTEM, PC-ABS, and more). It is built on the Fortus 900mc platform and is capable of producing large end-use components, jigs & fixtures, tooling, and functioning prototypes.
Uses:
According to the design, the client must decide whether or not to use an acceleration kit. If the package is included, the printer will be able to print at a quicker pace.

Variability is a 3D printing feature that is seldom accessible. The F900's capacity to print on fourteen different materials is just outstanding.

The F900 has product optimization, which allows it to swiftly and efficiently adjust the setup of the user's 3D models.

The manufacturer claims that the accuracy of this printer is +/- 0.089 mm or +/- 0.0015 mm per millimeter, depending on the shape you want to 3D print.
10.
Roboze Argo 500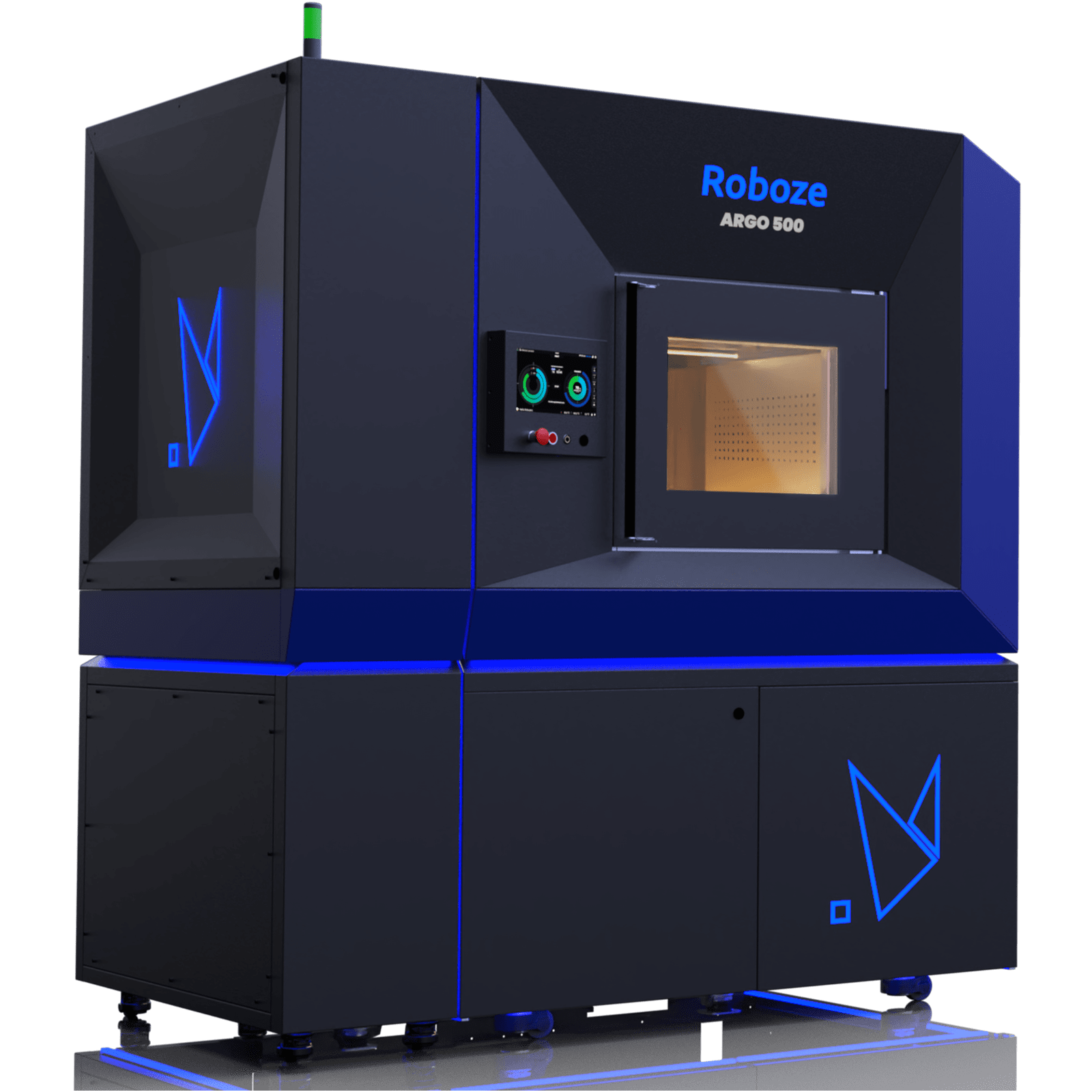 Specifications
| | |
| --- | --- |
| Max. Build Size    | 500 × 500 × 500 mm, 19.69 × 19.69 × 19.69 in |
| Resolution | 25-Micron (X-Y accuracy) |
| Dimensions  | 1400 × 1300 × 2350 mm (55.12 × 51.18 × 92.52 in.) |
| Weight | 1700 kg / 3748 lb |
| Price | $ 100000 – $ 250000 |
| Technology | Extrusion (FFF- FDM…) |
| Material | High performance (PEEK – ULTEM…), Other plastics |
The Roboze Argo 500 is based on FDM 3D printing technology, which can print with a wide range of materials, including solid materials that act as metal equivalents in components or functional prototypes created on the Roboze Argo 500.
Uses:
The entrance to the print bed is open. With this claim, the company is seeking to explain to readers how the extruder can withstand temperatures of up to 450o C.

The other claim is about the heated chamber. The heating chamber has a temperature range of 356o C.

The print volume of the printer for component manufacturing and functional prototype manufacturing is 500 mm x 500 mm x 500 mm.

Argo 500 has auto-leveling technology to assure precise building plate leveling.

The spools are kept in a tight space at a constant temperature.

PEEK and Ultem AM9085F are high-performance polymers, whereas Carbon PEEK and Carbon PA are composites with the potential to replace metal.

The business claims that each component or functional prototype is "strong as metal" since the Roboze Argo 500 can print with these materials even for large-scale fabrication of parts and functional prototypes.

Its novel X and Y mechatronic motions assure the precision of these large-scale objects that the business is aiming to produce on such a large print bed.
Download The Best Industrial 3D Printer in 2023 PDF
There is an option to download the article in PDF format if you find that to be more convenient for you. You can download the file by clicking on the following link.
Buy Equipment or Ask for a Service
By using Linquip RFQ Service, you can expect to receive quotations from various suppliers across multiple industries and regions.
Click Here to Request a Quotation From Suppliers and Service Providers
Read More on Linquip