Best Dual Action Polishers – The improvement above elbow grease and microfiber cloths are dual action polishers. They buff, polish, and sand your paintwork, enhancing its texture and shine and doing it significantly more quickly than hand polishing would allow.
It takes more than a simple vehicle wash to bring an automobile back to its brilliant, just-out-of-the-factory gloss. This is exactly what a dual action polisher, also known as a DA polisher, is capable of doing. It not only shines and polishes, but it can also buff out surface-level imperfections.
Many different Suppliers & Companies, businesses, manufacturers, and distributors provide dual action polishers, and Linquip offers a vast assortment of Dual Action Polishers for Sale. Linquip offers a thorough range of services for all OEM fleets. Please get in touch with Polisher Experts to find out more about how to establish connections with a wide range of Service Providers who consistently deliver high-quality goods.
There are numerous varieties of dual-action polishers available today. Style, oscillating speed, supplementary features, and learning curve are all differences among them. To discover more about our picks for the finest dual-action polishers, best practices advice, the advantages of dual-action polishers, brand reviews, and commonly asked questions, keep reading.
Both auto detailing businesses and home workshop setups will find it advantageous and necessary to have one or two of these tools on hand. However, there are a lot of options available when it comes to automobile buffers. What distinguishes dual action polishers from other types of polishers on the market? How do they compare to a rotary polisher or anything similar?
Sure, during your standard detailing procedure, you can take the time to meticulously and methodically apply wax and polish to the exterior of your automobile. But doing it calls for a lot of effort, consideration, and free time. It's time to change to a power tool that will make the task go faster and easier if you're trying to achieve a swirl-free, immaculate finish throughout your entire exterior but aren't achieving those results or are simply finding it too difficult or time-consuming.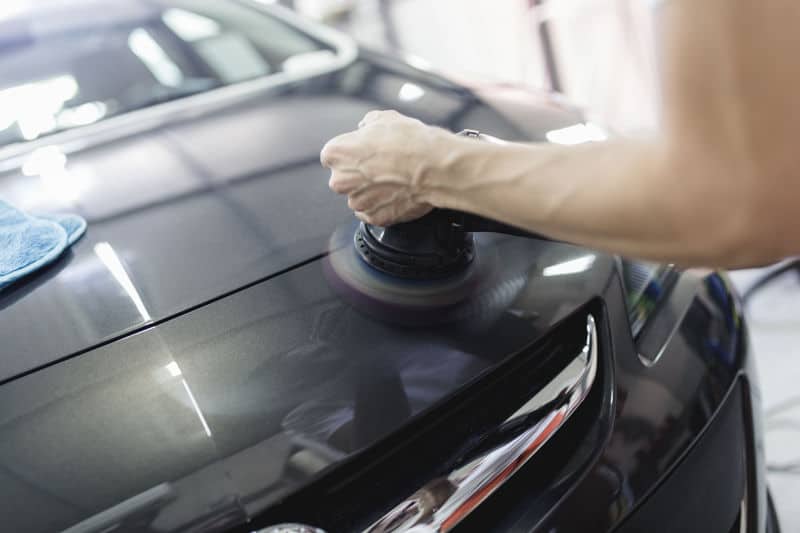 The right polisher has two actions. By using one of these polishers, you can finish and wax your automobile quickly and easily, giving it the ideal amount of gloss, brightness, and weather resistance. You'll work more quickly and efficiently if you have a dual-action polisher in your garage. Visit this tutorial to explore more about their principle.
It's time to look at some samples now that you've had a chance to read about the various qualities of dual action polishers. The following products were chosen as some of the best dual action polishers in various categories based on the mentioned criteria. This list makes it simpler to choose the ideal product for every given application. Here are what we think are the best dual action polishers in 2023.
At Linquip, we looked at the various possibilities available online to determine the best dual-action polishers, paying close attention to polishers produced by well-known manufacturers in the auto detailing and power tool industries. To compare these polishers' efficiency and usability, we looked at their rotations, powers, and power supplies. Furthermore, we looked for dual-action polishers with ergonomic grips and handles that would make swirl-free detailing simple to use. In order to understand how each tool performed in actual situations and to identify potential areas for improvement, we also looked at user feedback.
Reviews of the Best Dual Action Polishers
1. Meguiar's Dual-Action Variable-Speed Polisher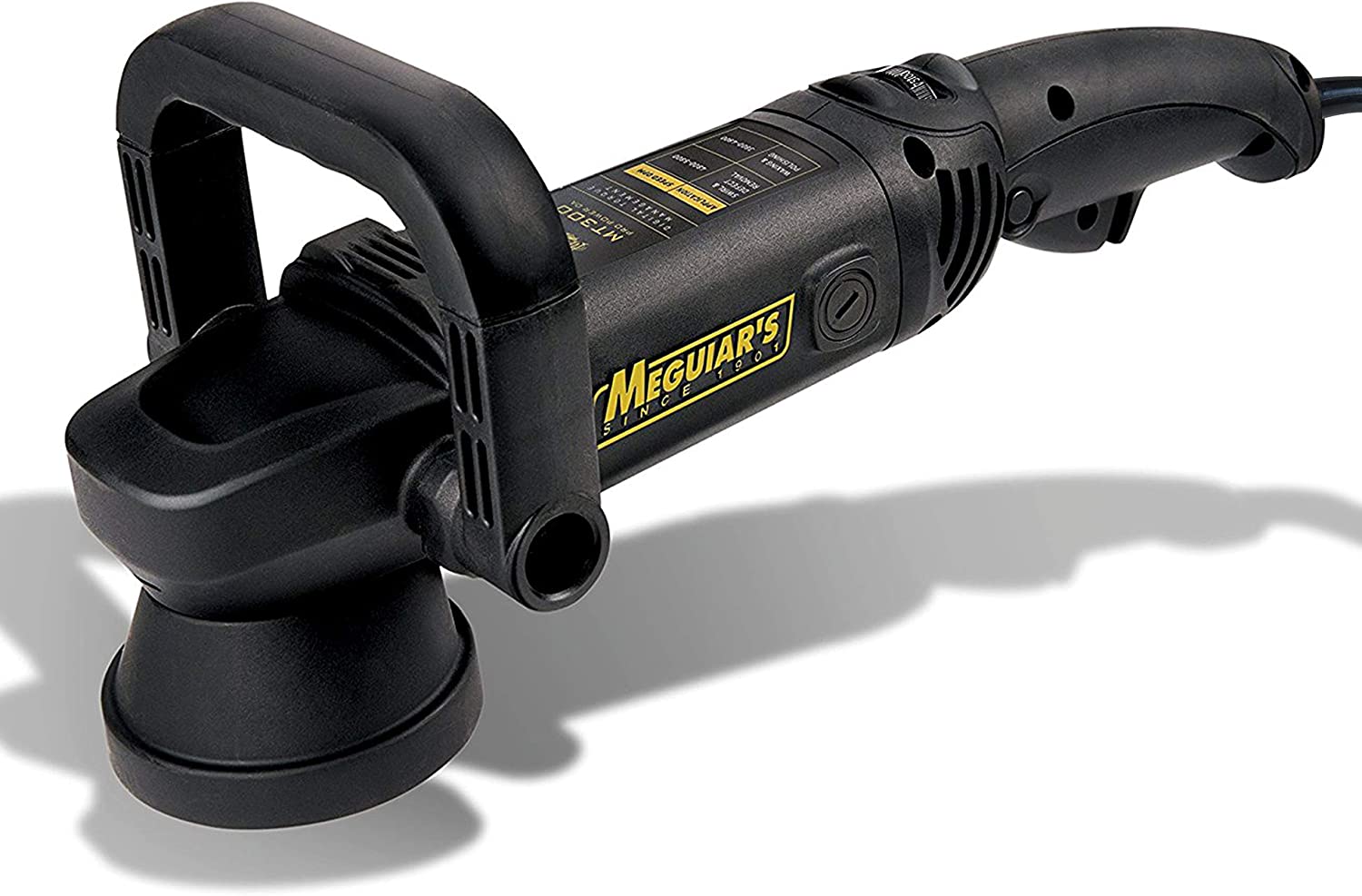 General Descriptions
The polisher by Meguiar is not weak. It will make detailing your car less difficult. With this effective tool in your possession, you'll not only use less polish and wax but also save a ton of time and effort. This dual-action polisher allows you to choose the speed of your polishing operations and can deliver between 3,000 and 7,500 opm. With a smooth start that keeps you in control as you gain speed, it is simple to change the speed thanks to the thumb-adjustable dial.
The addition of digital torque management means that the torque is automatically adjusted to suit every speed level while the billet counterweight guarantees that you'll remain balanced and precise. As it can be noisy while it runs, this polisher enables you to work more quickly and easily with less effort. The polisher is also a little hefty, which makes working with it tiring.
Specs
Speed: 3,000 to 7,500 opm
Power Supply: Power cord
Weight: 5.4 lbs
2. Ryobi One+ Variable-Speed Dual-Action Polisher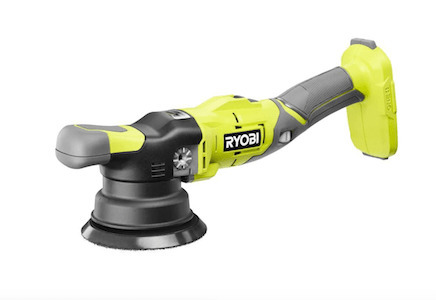 General Descriptions
This polisher has the distinction of having the most ergonomic design because of its multi-position D-handle that can convert into numerous configurations. It is also the only cordless choice on the list and, at a little under four pounds, one of the lightest.
The Ryobi One+ Dual-Action Polisher is an excellent choice when it comes to staying within your budget and obtaining exceptional value for your money. As a part of the Ryobi One+ system, which enables you to switch a single rechargeable battery across more than 260 cordless power tools, this tool is reasonably priced but also offers a ton of variety. With this dual-action polisher, the cordless battery offers up to two hours of run time per charge and is compatible with all One+ power tools.
This inexpensive choice is also loaded with features. You may choose any speed between 3,000 and 7,500 opm, and its dual-action design lowers heat while it works. Your job is made even simpler by extras like a slide lock that enables continuous polishing and the installation of non-marring bumpers. The noise level is this polisher's major drawback. Given its low cost, it shouldn't be a surprise that it is rather loud. Additionally, people claim that the manual is not particularly informative or illustrative, so you might not want to rely on it significantly.
It can run for two hours on a single charge and won't lose power while working. Also included is a polishing pad that adheres to the backing plate with a hook and loop closure and has various speed settings for easy use.
Specs
Speed: 3,000 to 7,500 opm
Power Supply: Swappable rechargeable lithium-ion battery
Weight: 3.75 lbs
3. Makita Brushless Cordless Dual-Action Polisher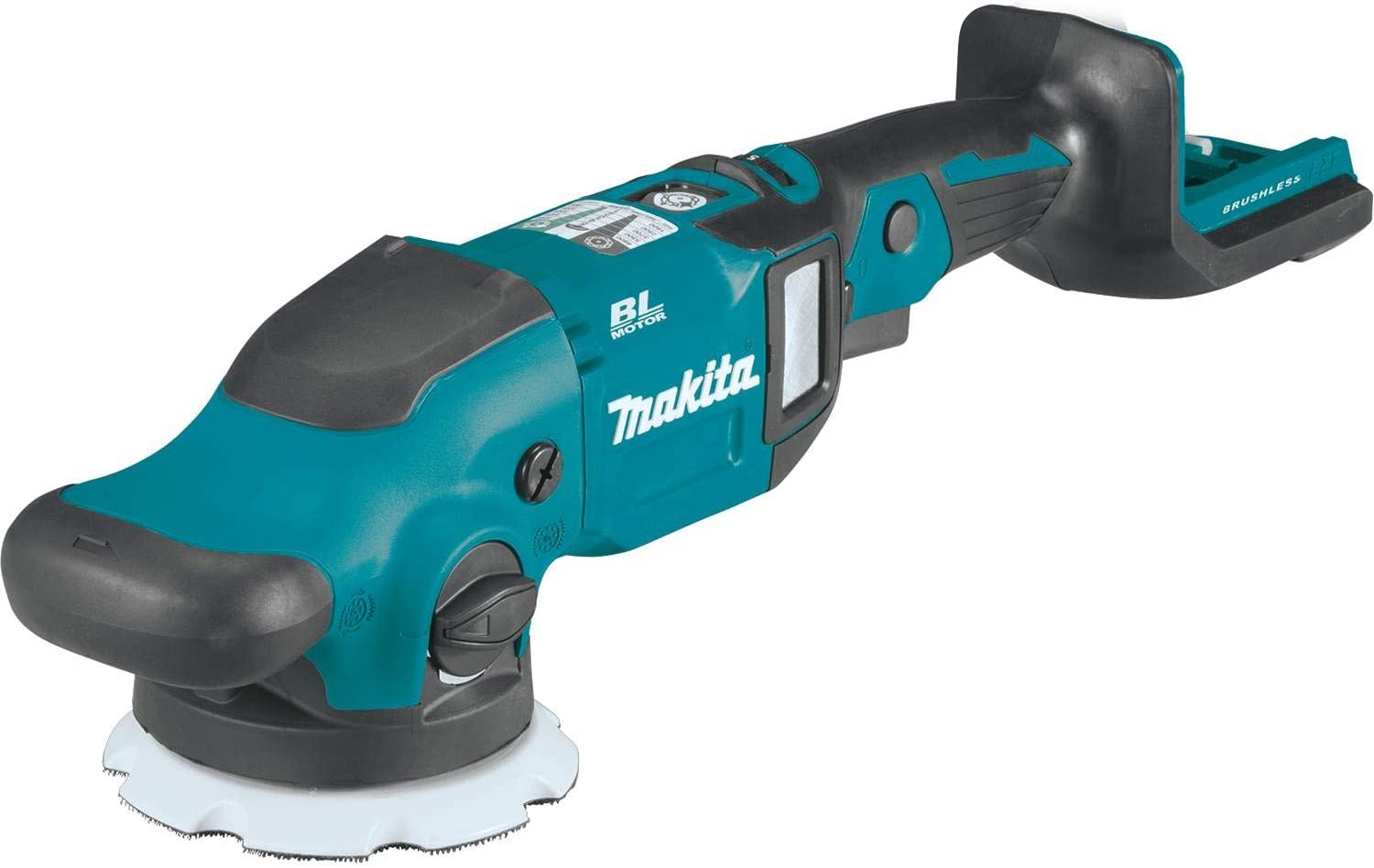 General Descriptions
Unable to choose between a corded or cordless polisher? You get both with the Makita Brushless Cordless Dual-Action Polisher. You'll receive two power modes from the Makita 18-volt system's rechargeable lithium-ion battery, which also powers other power tools. One is a corded power tool with a high power setting for fixing defects, while the other has a low power option with a long runtime for polishing longer. In either case, this potent weapon will provide you with up to 6,800 opm and 780 rpm.
Without limiting you, the cordless design gets rid of the difficulties associated with electrical cords. Additionally, the high-capacity brushless motor performs more effectively and with less heat. There is one significant drawback despite the dual-action polisher's strength and effectiveness. It is pricey. However, it does have excellent value and is made to withstand years of frequent use.
Specs
Speed: 780 rpm
Power Supply: Rechargeable lithium-ion battery
Weight: 3.72 lbs 
4. Milwaukee Fuel Brushless Cordless Polisher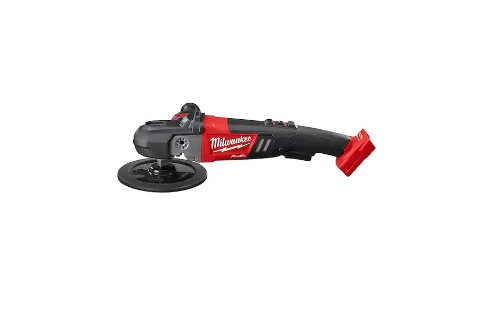 General Descriptions
You can get cordless detailing power with the Milwaukee Fuel Brushless Cordless Polisher without compromising any power, efficiency, or speed control. It is a robust, powerful tool that performs similarly to a corded type without tangling or plugging. This seven-inch dual-action polisher is run by a lithium-ion rechargeable battery from Milwaukee that can be switched out between power tools.
With 2,200 rpm, a variable speed dial and trigger, and a locking on/off switch, you'll have more than enough power. As you increase the pace, the polisher automatically modifies its power. Additionally, a single battery charge will be sufficient to power the entire vehicle. The rechargeable battery, however, must be purchased separately. Additionally, compared to other, lighter cordless polishing equipment, it weighs around a pound more.
Specs
Speed: 2,200 rpm
Power Supply: Rechargeable M18 XC 5.0 battery
Weight:4.84 lbs
5. Adam's Swirl Killer Dual-Action Buffer Polisher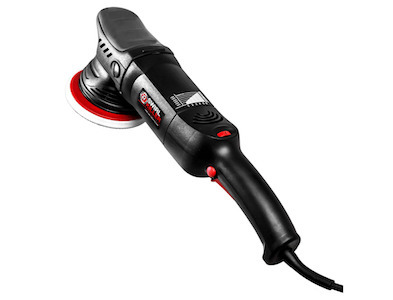 General Descriptions
A dual action polisher, such as this one from Adam's Polishes, can nearly always remove swirls and scratches that have been left on a car due to incorrect maintenance or subpar detailing.
If you choose a dual-action polisher like Adam's polisher, which buffs, polishes, and corrects defects, you can reap additional advantages from it. This tool will buff for a faultless finish while applying shine and wax. Additionally, it is powerful enough to eliminate flaws including scratches, surface flaws, and swirls. If you're unhappy with the appearance of your less-than-stellar exterior, this polishing tool could be able to help you get it back to new.
It restores paint as well as chrome, aluminum, and diamond-plate metal and has a maximum output of 4,500 opm. You will have good reach and be able to work on either compact automobiles or big SUVs with a 25-foot power cord. The ergonomic grip is pleasant, and the speed settings are easily controllable. But this polisher can speed up abruptly without you even touching the dial. It vibrates a lot, and those vibrations may accelerate without your knowledge. The same vibrations could make your hands get more tired.
It features a more pistol-grip style for easy handling, and the backing plate is large enough to handle fully-loaded cars while still being a good size for navigating bends and turns. The oscillating action is simple to manage and eliminates the waves and swirls that are so feared.
Specs
Power: 120–127 volts
Speed: Up to 4,500 opm
Type: DA, random orbital
6. Bauer Long-Throw Dual-Action polisher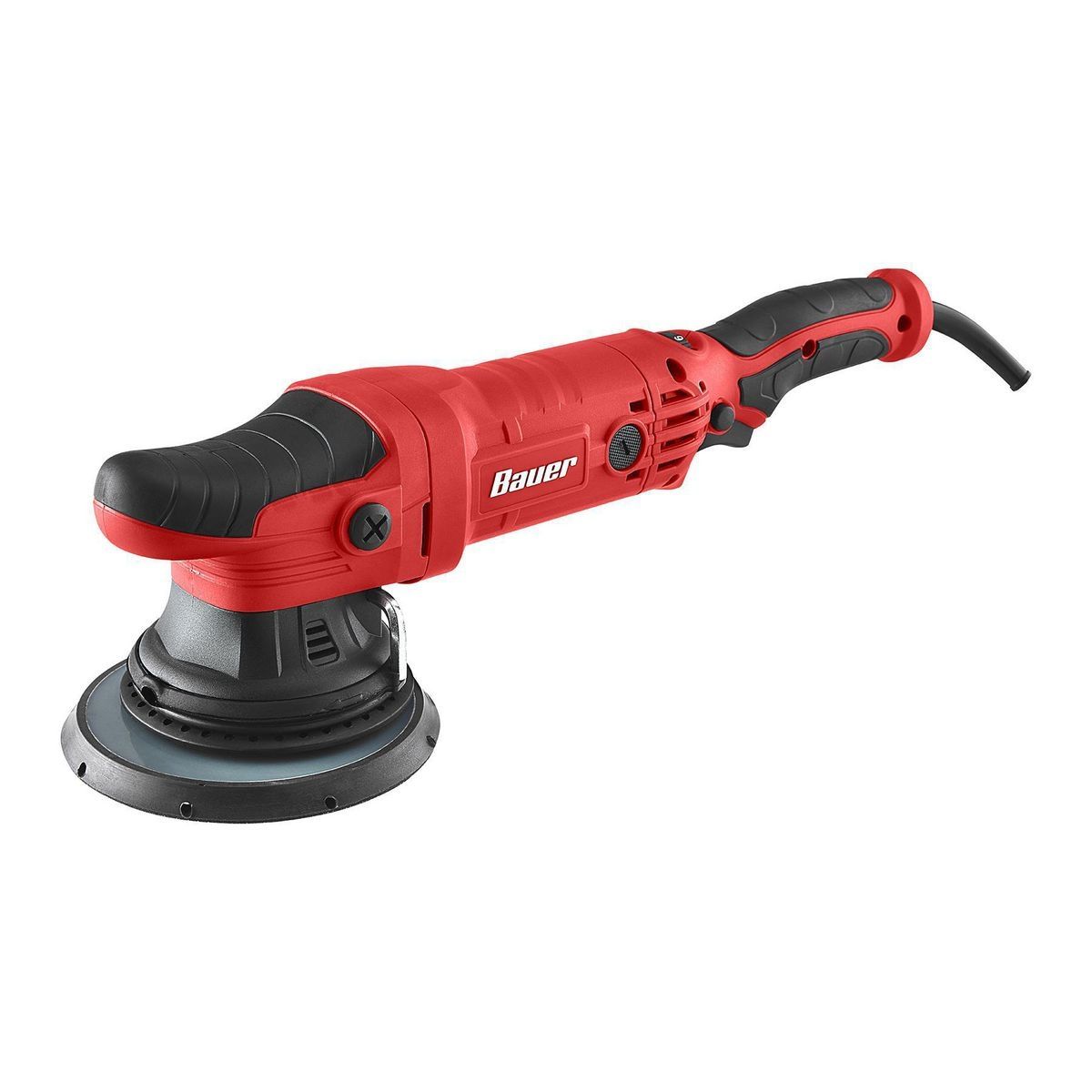 General Descriptions
Grab the Bauer Long-Throw Dual-Action polisher if your car's paintwork has more than a few minor dings and scratches. With the help of this powerful power tool, you can quickly and effectively correct minor to major external problems on your car. It has a dial with six-speed settings, a trigger lock, and other features to help you maintain control and accuracy.
The electronic speed controller and high-performance 7.5-amp motor work together to automatically adjust your power level as the speed changes. The ergonomic, rubberized handle will be easy to hold onto as you go throughout your outside. Just remember to do routine maintenance on this dual-action polisher. To keep everything working smoothly and silently, it's a good idea to replace the grease regularly. It can be noisy until you add grease or change the grease, so changing the grease is a good idea.
Specs
Speed: 2,100 to 4,600 OPMs
Power Supply: Power cord
Weight: 5.86 lbs
What to Consider When Buying Dual Action Polishers
Make sure to shop with these features, pricing information, and other important facts in mind before choosing any basic polisher.
Speed
Look for one that produces 3,000 rpm or more if you can. It's crucial to choose one that gives you control over that speed. You can choose a polisher with manual speed settings, which let you alter the number of rpm or opm you're working with by turning a small dial in tiny increments. The more you can adjust the dual-action polisher's pace, the more it will assist you in achieving a faultless finish.
Corded or Cordless
Some types are cordless, while the majority of dual-action polishers are powered by a power cord that plugs into a regular electrical outlet. Dual-action cordless polishers provide you freedom of movement without tying you to an outlet or worrying about tripping over or tangling the cord. On the other hand, cordless polishers typically run for an hour to 90 minutes before needing a recharge or a new set of batteries. For longer polishing sessions, corded polishers can offer more power.
Ergonomic Grips
When using your dual-action polisher, you shouldn't feel frustrated or uneasy. It should be simple to hold onto and move across the outside of your car from any angle. Ergonomic grips or handles come in handy in this situation. You'll be able to operate with more control, reasonable precision, and less hand strain when using ergonomically contoured handles, which could lead to a better end product.
Pricing
Between $125 and $225, you can get several excellent dual-action polishers from well-known manufacturers if you're on a tight budget. Within this range, both corded and cordless variants are available. Expect to pay between $250 and $400 for a premium power tool if you require additional features, a polisher with greater capability, or more power.
FAQs about the Best Dual Action Polishers
1: Is A Dual-Action Polisher the Same as A Random Orbital Polisher?
Each of these polishers operates differently, as their names would suggest. The rotation and oscillation of the pad occur individually, randomly, and without any predetermined pattern while using a random orbital polisher. You can combine rotation and oscillation in a predetermined, fixed pattern using a dual-action polisher.
2: Can A Dual-Action Polisher Remove Scratches?
Your vehicle's surface won't likely be cut into sufficiently deeply by a dual-action polisher to remove scratches. But it's a fantastic tool for getting rid of swirls. It might also make scratches more noticeable and help them blend into your exterior.
3: Can We Burn Through Paint or Clear Coat with A Dual-Action Polisher?
When using a dual-action polisher, it is theoretically conceivable to run through both a clear coat and paint, but this is unusual. You ought to be able to identify any potential damage areas during the detailing process as long as you take care.
Answering all these questions is important to the success of your project. Don't forget to leave a comment with your ideas. Additionally, if you have any questions, you may contact Linquip's Experts.
Summary
When there are so many alternatives available, such as the various rotation modes and different polishing models, it might be difficult to choose the best DA polisher. It is necessary to take into account everything, including the foam cushions, build quality, spinning action, and safety measures.
Whether you were looking for a dual-action orbital polisher, one to apply polishing liquid precisely, one with two rotation modes—forced rotation or free rotation—or a smaller tool to fit into those small spaces, we hope each dual action polisher review was helpful and you were able to find the best dual action polishers for your needs.
Download Best Dual Action Polishers PDF
Visit this pdf file to know the best dual action polishers completely.
Buy Equipment or Ask for a Service
By using Linquip RFQ Service, you can expect to receive quotations from various suppliers across multiple industries and regions.
Click Here to Request a Quotation From Suppliers and Service Providers
Read More on Linquip