Best Chisel Sets for Woodworking – Chisels are metal hand tools with either a straight or beveled edge that have been a staple of woodworking for thousands of years. They are employed to remove extra wood, create complex wood joints, and carve out unique designs. Fine furniture must be crafted using wood chisels; thus every professional woodworker should have a good pair on hand.

But investing in the incorrect kind of chisels for the job—or a subpar product—is a waste of money, so we put a variety of models through hands-on testing to identify the best wood chisels on the market. Check out our specific product suggestions and use this guide to understand what essential qualities and characteristics to look for while shopping.
Linquip offers a thorough range of services for all OEM fleets. Linquip vendors can assist you with this. Please get in touch with Linquip's Experts to find out more about how to establish connections with a wide range of Service Providers who consistently deliver high-quality goods.
A thorough "Buying Guide" is also provided below to further assist you in understanding chisel sets for woodworking. To make the best decision, be sure to read the article in its entirety. The best chisel sets for woodworking are listed below for you. You can also visit this link to explore more about them.
Best Chisel Sets for Woodworking Reviews
1. REXBETI 10pc Premium Wood Chisel Set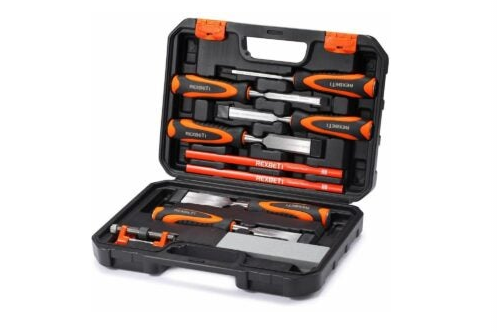 General Descriptions
This beginner-friendly set would be a wonderful option for taking on simple home repairs or your very first woodworking project. It comes with two carpenter pencils, a carrying box, a sharpening stone, a honing guide, and six chisels ranging in size from 14 inches to 112 inches. The six chisels are of acceptable quality, and the size range is sufficient, ranging from 6 mm (useful for getting into tight shoulders, such as when making a tenon) to 30 mm (ideal for such tasks as flattening out the cheek of the tenon).
The vanadium steel blades are factory sharpened; however, we can't say that they were honed particularly well because we found a burr on the edge. Thankfully, the sharpening stone that is included has two grits—one coarse and one more fine—for improved sharpness.
The rubber grip on the chisels makes them comfortable to use in the hand, which is great for tough carpentry like building a backyard shed. Metal striking caps are attached to the toughened plastic handles to make them more resistant to regular malleting. Each chisel has a metal striking plate on the bottom, which leads us to believe that they were made to withstand blows from a metal hammer.
Product Specs
Metal finish: Rough
Sizes: 6 mm, 13 mm, 19 mm, 25 mm, 32 mm, 38 mm
First cut: Not the sharpest, dulled easily
2. Hurricane 4 Pieces Wood Chisel Set Cr-V Construction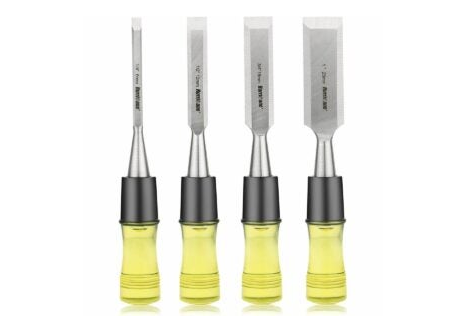 General Descriptions
This traditional four-piece set from Hurricane might be ideal for the craftsperson working on a tight budget. The vanadium steel blades are sharp and heat-treated for durability in sizes of 1/4, 1/2, 3/4, and 1 inch. Surprisingly sharp right out of the package, the chisels kept their sharpness. Additionally, they include a surface layer of lacquer that has been prepared to lubricate and preserve the blades.
A mallet won't cause the impact-resistant toughened plastic used for the handle to crack. They fit comfortably in the hand during paring even though we thought they were a little short (a few hits to the hand during use).
The nail bag is intended to be used to transport this chisel set. The chisels come with four plastic safety caps to shield the blades while not in use, despite the lack of a storage case. A sharpening tool is also missing from this set. Given the extremely affordable pricing, these restrictions shouldn't come as a surprise.
Product Specs
Metal finish: Midrange finish
Sizes: ¼, ½, ¾, and 1 inch
First cut: Surprisingly sharp, kept the edge longer than expected
3. GREBSTK Professional Wood Chisel Tool Set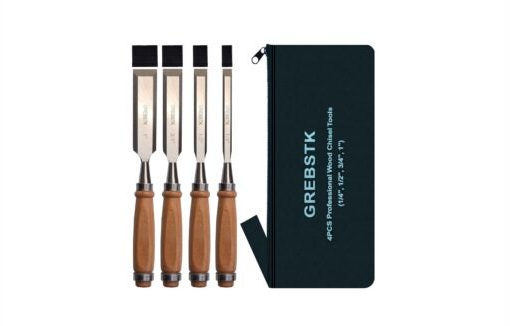 General Descriptions
This chisel set can be a fantastic place to start for those prepared to try their hand at exquisite woodworking. It comes in four sizes (1/4 inch, 12 inches, 34 inches, and 1 inch), all of which, despite being very short, are adequate for paring duties. For protection, each chisel is packaged separately, has its guard, and is supplied with a zippered carrying bag.
The chrome vanadium steel (Cr-V) blade edges have a respectable polish. They have a micro-bevel, are extremely sharp, and are gently lubricated. An optimal blend of strength and comfort is achieved by balancing the blade's weight with a lightweight beechwood handle and a stainless steel hoop. The set is a wonderful value and a great introduction to the trade, even though the chisels don't seem to be the most lasting tools on the market.
Product Specs
Metal finish: Smooth
Sizes: ¼ inch, ½ inch, ¾ inch, 1 inch
First cut: Sharp
4. STANLEY Chisel Set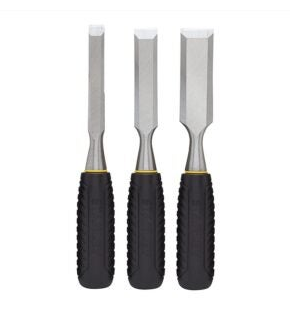 General Descriptions
First impressions aren't always accurate. Without even a shipping box, this chisel set arrived in normal plastic packaging, raising questions about the equipment's quality and condition. And soon away, we saw a variety of finishes and even a sizable chip in one chisel, perhaps as a result of improper shipping.
But this three-chisel set quickly demonstrated its worth in our tests. In fact, the chisels became our go-to tool for creating drawer slide notches as we were building a new kitchen. Sizes range from 12, 34, and 1 inch, all measuring 734 inches in length—just long enough to be carried around in a bag but not too short to be used for paring. These chisels were created to be simple to hold, manage, and use thanks to the combination of the carbon steel blades and the plush black polypropylene handles. Overall, we discovered that they were excellent for both fine and rough woodworking—truly all-purpose chisels.
Product Specs
Metal finish: Midgrade; there was a nick on one of the chisels
Sizes: ½, ¾, and 1 inch, all with a 7¾-inch length
First cut: Good, aside from one chipped chisel
5. Narex 853053 Set Of 6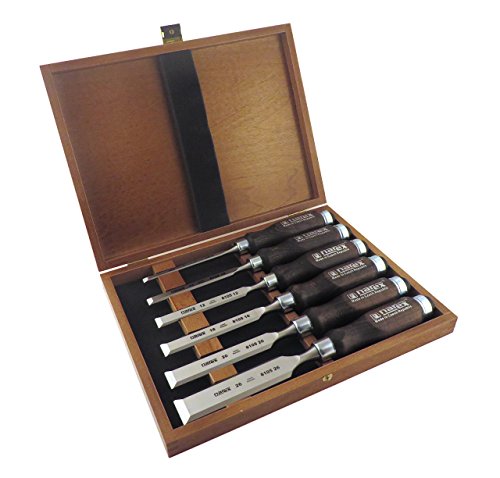 General Descriptions
Premium chisel manufacturer Narex is adored by woodworkers all over the world. They are produced at a facility owned by the corporation in the Czech Republic, guaranteeing a consistently high level of quality. They are comparable to Stanley chisels, and many customers would choose them over Irwin Marples, another classic in the world of carpentry. A useful wooden box is included with this set.
Overall, Narex has developed a reputation for producing dependably high-quality chisels at a reasonable price. They typically endure forever and stand up well to any necessary resharpening.
The steel is of high quality and offers the functionality that has been synonymous with this brand. The fact that this set is at the lower end of their product range merely proves how serious they are about chisels.
Product Specs
6 piece set comes on a wooden presentation box
Blades are made from fine-grained, nicely tempered chrome-manganese steel and hardened to Rc 59
Contains the following sizes: 6, 10, 12, 16, 20, and 26 mm
Buying a Woodworking Chisel
Chisels, to put it simply, are blades with handles that woodworkers use to precisely sculpt, shape, and cut wood. Every woodworker appreciates the importance of a good pair of chisels and knows that they must be kept sharp to function correctly.
Types of Woodworking Chisels
Three categories of chisels exist:
Bench: These chisels are ideal for novices because they often have a beveled edge and may be used for a variety of applications (except for mortises). Since they are used so regularly, you should always have them on your bench.
Mortise: Mortise-and-tenon joints are cut and chopped using these powerful chisels. They are strong enough to pound them vigorously with a hammer and thick enough to provide the leverage required to remove wood.
Paring: They are better suited for delicate and precise work since they are longer and thinner, such as trimming little amounts of material to guarantee a tight-fitting joint. They need to be handled carefully to prevent damage because they can't withstand being bashed with a hammer.
Woodworking Chisel Buying Considerations
Consider the following variables while purchasing chisels:
Size: The width of the blade is referred to as chisel size. Size matters depending on how it will be used and how productive you want to be. If you're starting from scratch with your chisel collection, choose a bench chisel set with sizes in 1/4-, 1/2-, 3/4-, and 1-inch increments.
Storage: Although chisels can undertake fairly demanding duties, their blades are sensitive, and if they are not stored properly, their edges can be readily broken. If you don't have a secure place to keep your chisels, think about purchasing a set that includes a pouch, roll, or box.
Handle type: There are two: tang and socket. A cone-shaped handle on socket chisels fits into the hollow receiver of the metal blade. The opposite is true of tang chisels, which have a metal cone that slides into a hollow handle. For frequent, demanding use, socket chisels are a better option than tangs since they are typically more resilient and last longer. Most users should be able to manage tang handles.
Material: The most popular type is wood. It offers a strong, organic grip and a charming, rustic appearance. Plastic handles lack this tactile advantage, but they are typically far less expensive and more durable than wooden alternatives.
Sharpening required: The majority of chisels need honing and sharpening, and you can get advice from customer evaluations. Some premium chisels will be nearly ready for use out of the box. Regardless of the chisel you select, you must be familiar with proper chisel sharpening techniques.
What to Consider When Choosing the Best Chisel Sets for Woodworking
When selecting the best wood chisel for you from the three main categories, there are several things to take into account. Knowing what you'll use them for, the variations in handle and blade styles and any necessary attachments are also helpful.
Purpose
Determine your primary method of chiseling to avoid spending money and shop space on unnecessary equipment. For instance, purchasing a set of bench chisels if your next project calls for numerous mortise and tenon joints is likely to result in broken handles and damaged blades. However, if you work on numerous projects that need a variety of woodworking activities, an all-purpose set of bench chisels in various sizes can be the perfect solution.
In short:
If you are unclear about exactly what you will need to chisel, purchase a bench chisel (or a set in several sizes).
Invest in a mortise chisel if you intend to create numerous deep mortises (especially in hardwood).
If you're making beautiful furniture or cabinets with intricate joints and shavings, choose a paring chisel.
Socket vs. Tang Handle
Depending on how the base of the blade, also known as the shank, is attached to the handle, chisels can be roughly categorized as either socket or tang varieties. An appropriate cone-shaped protrusion from the handle of a socket chisel's shank with a cupped indentation (also known as a socket) fits into the socket. A tang chisel, on the other hand, has a pointed shank (also known as a tang) that is attached to the handle.
Due to their increased endurance, socket chisels are typically more expensive and more in demand than tang chisels. Because the connection between the handle and the blade might loosen over time, tang models are less resistant to regular use. A socket has the handle fitting directly into the blade, whereas a tang has the metal on the end of the blade locked into the handle through friction. When used appropriately and with care, tang chisels can still live a long life.
Handle Material
The grip of a chisel may be constructed of wood or plastic. Beautiful, strong, and well-balanced, wood-handled chisels are favored by skilled artisans who are willing to pay a little bit more for that look and feel. The drawback is that chisels with wood handles are typically more expensive and less sturdy than those with plastic handles.
Either a hard-grip or a soft-grip material is used in plastic handles. PVC, inexpensive material with good impact resistance, is used to make hard plastics. However, soft-grip variants are typically more comfortable to use. They tend to be stronger than soft-grip handles made of rubber and hard plastic mixture. Plastic handles are often selected by novice woodworkers who may need a more inexpensive and sturdy solution because of their lower price point and more forgiving nature.
Blade Material
Vanadium or carbon steel is the most common material used to make chisel blades. To make iron harder, carbon is added to create carbon steel, also known as tool steel. Most chisels have a carbon level of 0.6 to 0.75 percent, however high-carbon steel with a carbon content of up to 1.7 percent can also be used to make them. The blade's hardness generally dictates how long it will stay sharp and how long it will take to resharpen.
A little quantity of vanadium is added to carbon steel to create vanadium steel, which is stronger and more durable than carbon steel. Vanadium steel is also utilized in surgical tools that require repeated precise cuts without dulling the edge because it helps the blade maintain a sharp edge for longer than standard tool steel.
Western vs. Japanese Chisel
For many years, people have argued over whether Western or Japanese chisels are better. Two significant discrepancies in how the chisels are manufactured lie at the center of this argument. In contrast to most Western chisels, which are typically made of either normal tool steel or vanadium, Japanese chisels are made of a much tougher steel (high carbon with minimal contaminants and additional tungsten). Every type has benefits and drawbacks.
The stronger Japanese steel will maintain a sharp edge but takes longer to sharpen, whereas the softer Western steel often dulls quickly but is easier to sharpen. Japanese steel is regarded as the best for work requiring frequent malleting without the need for numerous breaks to sharpen the blade for this reason.
Japanese chisels differ from their Western counterparts in that they have shorter blades and more cylinder (less ergonomic) handles. This is another significant distinction. The particular benefits and drawbacks of these various forms and dimensions mostly depend on personal preference.
Despite the varied opinions, most will concur that the two styles can work well together. Try both of them out to see which suits you the best.
Width and Length
The type and use of the chisel have a significant impact on the breadth of the blade, which varies. The width can range from 1/16 inch to 3 inches, depending on the type. Smaller chisels are needed for finer work, but larger jobs (like framing) call for larger (112- to 3-inch) chisels.
The length of a chisel can also vary greatly. The best control is provided by longer blades, which are useful when working on flat or other readily accessible surfaces. For better control, this is why paring chisels have long, thin blades. For cramming into small spaces where a longer blade can't, shorter chisels are useful. A well-stocked woodworking shop should have chisels of various lengths and widths.
Accessories
It makes sense to think about accessories that will keep wood chisels sharp and securely stored for many years while spending the time, energy, and money to acquire the ideal ones. The investment will be preserved and kept up with the use of the proper sharpening tool and storage technique.
The majority of chisels are not factory sharpened, hence it is the user's responsibility to do so before using them. There are numerous methods for sharpening, including using a bench grinder, sandpaper, or a sharpening stone (oil, water, or diamond).
A case (such as a plastic or wooden box), a canvas bag, a wall-mounted or free-standing rack, or a magnetic tool holder are all possible storage solutions.
A strong hardwood mallet is also necessary for users to operate with chisels safely and effectively without breaking them.
FAQs about the Best Chisel Sets for Woodworking
The answers to some of the most often-asked questions regarding chisels are provided here for those who still want more details about these adaptable woodworking tools.
1. How Do You Chisel Wood for A Door Hinge?
Make multiple shallow cuts that are the same depth as the hinge after marking the location of the hinge with a sharp 114-inch mortise or bench chisel. Slices cut horizontally afterward should be used to remove the notch.
2. How Do You Sharpen a Wood Chisel?
Your wood chisel can be sharpened using a bench grinder, sandpaper, or a sharpening stone.
3. What Size Chisels Should We Buy?
Depending on the task at hand, bench chisels of 14 inches, 12 inches, 34 inches, and 1 inch can be used.
4. How Do You Store Wooden Chisels?
Chisels can be stored in a case, pouch, storage rack, or magnetic tool holder while not in use.
Conclusion
A chisel is the best instrument to use to describe a woodworker's craft. Chisels are among the first tools a woodworker ever receives, though perhaps something like a saw would be a better choice. These hand tools are versatile and are frequently found on workbenches or concealed in aprons worn by carpenters or woodworkers.
Don't forget to leave a comment with your ideas. Additionally, if you have any questions, you can contact Linquip's Experts.
Download Best Chisel Sets PDF
Buy Equipment or Ask for a Service
By using Linquip RFQ Service, you can expect to receive quotations from various suppliers across multiple industries and regions.
Click Here to Request a Quotation From Suppliers and Service Providers
Read More on Linquip