Top Metal Suppliers and Companies in USA and Worldwide – The majority of items require a metal component to act as a support, cage, framework, or enclosure in some way. Metals' ability to be shaped, modified, or molded to fulfill any purpose has made them an indispensable aspect of contemporary manufacturing. Metal product development and manufacturing are reliant on the collaborative efforts of metal suppliers and manufacturers to make raw materials available.
Because most metals are alloyed to enhance their durability, stability, and strength, it's difficult to nail them down to a particular sort or class. Pure metal is rarely employed in the manufacturing of a product. As a result, metal suppliers and manufacturers are always seeking new methods to improve their goods by using higher-quality materials.
Metals are a common component in a wide range of industrial processes and products. According to a market research analysis published by IBIS World in July 2019, the Metals sector in the United States generated $225 billion in sales. Steel, titanium, silver, gold, rhodium, palladium, and iridium are among the most popular metals. Platinum has witnessed a surge in demand throughout the year, according to Metal Miner, due to demand from the jewelry sector as well as for investment purposes. This post focuses on and analyzes significant metal suppliers in the United States and throughout the world.
It is critical to understand what an alloy is, given that all metals are some sort of alloy. In the most basic sense, an alloy is a mixture of metals that emphasizes their good features while suppressing their negative ones. Many of the materials we use benefit from the alloying process, which makes them more durable. Alloys are used to make metals tougher, more corrosion resistant, more malleable, enhance their temperature tolerance, or give them properties that make them more versatile for industrial operations.
Aluminum, a naturally occurring soft metal that can be molded and shaped to fulfill a variety of purposes when alloyed with stronger metals, is one of the most frequent alloys. Whether it's roofing material, window frames, doors, or a decorative object, aluminum may be found in homes, machinery, buildings, and cars. Designers consider aluminum to be a versatile metal that may be used in a variety of applications. Aluminum cans, which are easily recyclable, are the most popular usage that many of us are familiar with.
Examine and filter top metal fabrication businesses with previews of advertising and extensive descriptions of each product using this comprehensive directory of metal suppliers and firms. Any metal fabrication company may supply metal fabrication goods and services that are tailored to your company's needs. Linquip also provides a quick request for a quote form that makes it simple to contact metal fabrication firms. If you're looking for CNC machining, aluminum fabricators, metal processing, or any other metal stamping requirements, this is the place to go.
Top Metal Suppliers in the US
The table below lists the leading metals suppliers in the United States. The table also includes the company's headquarters city/state, their principal business activity, and the year they were created. With previews of adverts and thorough descriptions of each product, use this list to evaluate and rank top metal Suppliers.
Metals may be designed, engineered, and manufactured by different metal suppliers to fulfill your organization's exact requirements. Linquip makes it simple to contact metal firms by providing a quick request for a quotation form. Website links, business profiles, locations, phone numbers, product videos, and product information are all included in the corporate information. Customer reviews and product-specific news items are accessible. If you're looking for a producer of aluminum wire, aluminum supplies, or aluminum alloys, this is the place to go.
Table 1: Top Metal Suppliers in the US
| Company | Headquarter | Year Founded | Annual Revenue |
| --- | --- | --- | --- |
| Metalmen Sales Inc. | Long Island City, NY | 1991 | 6.5 M |
| Metal Associates | Pompton Plains, NJ | 1983 | 6.28 M |
| Penn Stainless Products, Inc. | Quakertown, Pennsylvania | 1949 | 37 M |
| Metals USA | Houston, TX | 1999 | 1.03 B |
| Indium Corporation | Clinton, NY | 1934 | 500 M |
| Commercial Metal Exchange | Warminster, PA | 1974 | 7.31 B |
| Reliable Source, Inc. | Fontana, CA | 2001 | 16.31 M |
| Vortex Metals | CLEVELAND, OH | 2007 | 8.1 M |
| R.D. Mathis Company | Signal Hill, CA | 1963 | 9.2 M |
| Industrial Metals International, Ltd. | Ronkonkoma, NY | 1972 | 1.12 M |
Metalmen Sales Inc.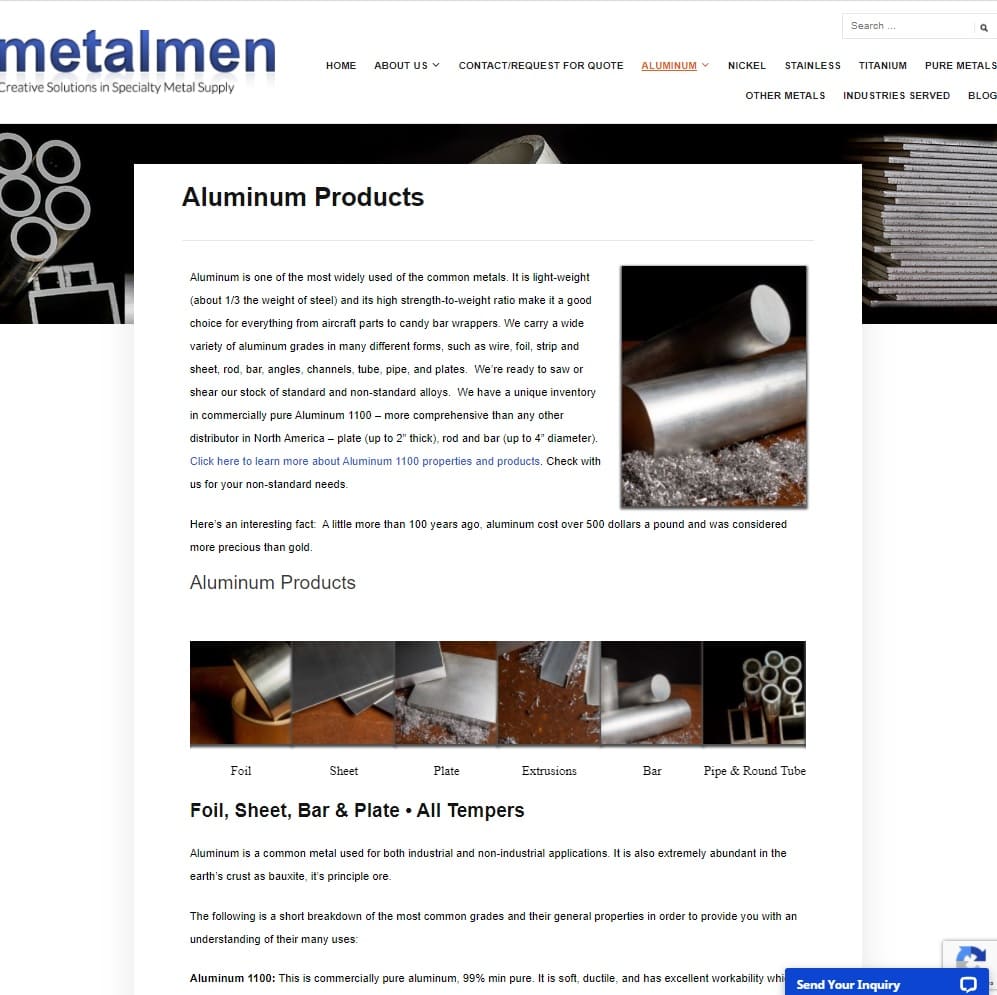 Metalmen carries North America's biggest inventory of Al 1100 plate and bar. Other Al alloys in sheet, foils, channel, angle, rod, tube, and pipe are available to the clients. They have a variety of saws and shears on hand for in-house cutting. They give no-obligation quotations that are quick, straightforward, and hassle-free. Call them right now to take advantage of their 100+ years of market expertise.
Metal Associates
This firm began tiny, but it rapidly developed to be able to handle even the largest metal requirements. Their metals are created from the highest-quality materials, and they guarantee that all of their clients will receive excellent service. They don't want clients who only utilize them once; they want to build long-term connections with them that will span generations. For additional information, please contact them!
Penn Stainless Products, Inc.
Penn Stainless Products, Inc. is a producer of conventional and specialty metals based in Quakertown, Pennsylvania. Copper, steel, and stainless steel are among the metals provided by the organization. Sheets, pipes, plates, beams, tubes, and bars are all available. The items can be used in the aerospace and aircraft industries. Penn Stainless Products also provides customers with fabrication, cutting, casting, and servicing capabilities.
Metals USA
Clients may get the aluminum plate, aluminum tubing, aluminum pipe, and much more from Metals USA. They are one of the top ten metal service centers in North America, so give them a call or visit them online now to learn how their metal products and procedures may help you.
Indium Corporation
Metals are manufactured by Indium Corporation particularly for use in the electronics assembly sector. LEDs, medical devices, solar assembly materials, semiconductors, and PCB assembly are among the other markets. Copper, silver, gold, silver, gallium, and tin are among the products supplied by this firm.
Commercial Metal Exchange
They promise that with over 25 years of metallurgical knowledge, they can provide exactly what you need. They provide quick shipping and a wide range of beryllium copper sizes. The creation of these superb copper alloys is a source of great pleasure for their highly knowledgeable workforce. They have a reputation for producing the highest quality copper fabrications. The firm has risen to the top of the copper processing industry. Get in touch with them right now to learn more!
Reliable Source, Inc.
Reliable Source, Inc. is a supplier of various grades of raw metal and alloy materials. Copper, titanium, brass, aluminum, steel, bronze, nickel, cobalt, and stainless steel are among the metals provided by the firm. Customers may also benefit from Reliable Source's forging, casting, forming, grinding, waterjet cutting, drilling, stamping, perforating, welding, and labeling services.
Vortex Metals
VORTEX METALS is a Cleveland, Ohio-based family-owned business. The firm is recognized for its high-quality on-site processing equipment and specializes in metal processing and distribution. The firm is proud of its status as a full-service processing distributor with a full-service facility.
R.D. Mathis Company
High-purity vacuum evaporative materials are manufactured by R.D. Mathis Company. Gold, nickel, alloys, cobalt, iron, silver, titanium, aluminum, and copper are all available to consumers. Low voltage high current power supply, high current feedthrough, high current cables & cable lugs, and electrode mounting brackets are among the company's accessories for the coating process. The R.D. Mathis Company is certified to ISO 9001 and AS9100.
Industrial Metals International, Ltd.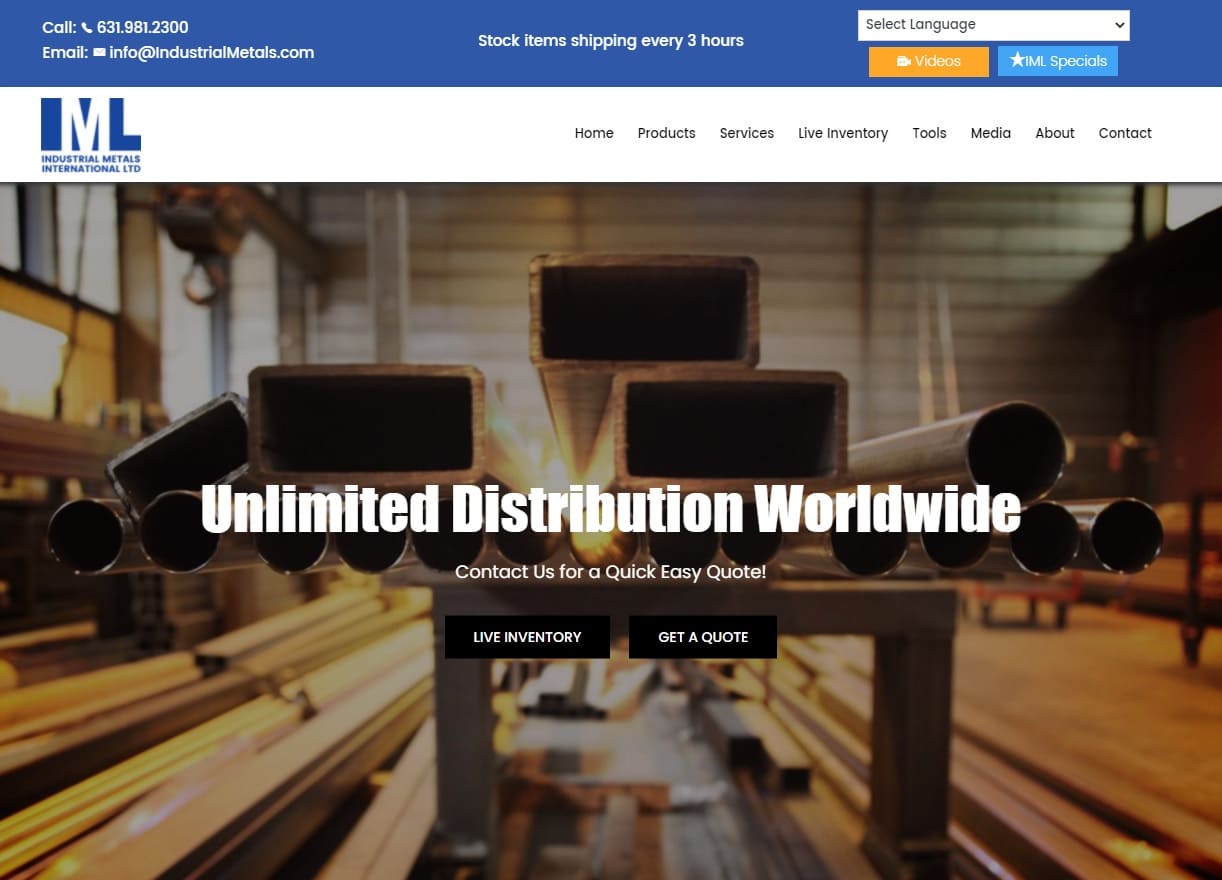 Nickel is one of the numerous products offered by Industrial Metals International. Plates, strips, sheets, tubes, bars, rings, forgings, and nickel wires are some of the products they provide. They also offer heat treatment, metal testing, and precise cutting and drilling services. They are ISO 9002 accredited and a member of the SSCI.
Top Metal Suppliers all over the World
The major metal suppliers across the world are listed in Table 2. Companies are ranked according to their expected yearly revenue. The table also shows the company's headquarters city and nation, as well as the year it was created. Annual revenue estimates are given in billions or millions of dollars, as stated.
Table 2: International Metal Suppliers
| Supplier | Location | Year Founded | Annual Revenue |
| --- | --- | --- | --- |
| Tata Steel | Mumbai, India | 1907 | US$24 billion |
| Ferralloy Inc. | Cleveland, OH | 1978 | 500 M |
| The Shagang Group | Zhangjiagang, Suzhou, China | 1975 | 13.47 billion yuan |
| Rockwell Industries International Corp. | Plainview, NY | 1928 | $14.89 M |
| ArcelorMittal | London | 2006 | US$53.27 billion |
| Outokumpu | Helsinki, Finland | 1914 | 5.6 billion euros |
| Hindustan Zinc | Udaipur, India | 1966 | 22629.00 Rs (in Crores) |
| Nippon Steel | Chiyoda City, Tokyo, Japan | 1950 | 4.83 trillion Japanese yen |
| POSCO (formerly Pohang Iron and Steel Company) | Pohang-si, South Korea | 1968 | KRW 75.16 trillion |
| JFE Steel Corporation | Tokyo, Japan | 2003 | 34,476.99 Japanese yen |
Tata Steel
Tata Steel produces steel principally for the automotive, construction, engineering, and packaging sectors. Plates, electrical sheets, and tubes are all examples of steel goods. Roll forming skills are also available for the company's goods. Tata Steel is now active in twenty-six nations throughout the globe.
Ferralloy Inc.
They have been providing metal forged items to a wide range of sectors for over 30 years, including military, aerospace, medical, food service, and automotive. Their clients know they can rely on the quality and price of their forgings. They will never try to get you to pay more for their items than you should. To learn more, please contact them by phone or email.
The Shagang Group
The Shagang Group is a Chinese steel producer based in Jiangsu Province. Steel goods from the firm include wide and heavy plates, billet, pipe, bars, rods, strand, coil, and rebar. For its products, the Shagang Group also offers roll forming services. Currently, the firm sells to over forty nations in Western Europe, South America, East Asia, South Asia, and the Middle East.
Rockwell Industries International Corp.
Titanium, Aluminum, Stainless, Steels, Brass, Nickel, Copper, High Temp Alloys including common & non-standard, and hard-to-find alloys are among the raw materials that they custom-make and distribute. Nickel alloys are available in a variety of shapes and sizes, including plates, bars, tubing, sheets, forgings, wire, and coil. Shipments are made daily for both domestic and international markets.
ArcelorMittal
ArcelorMittal is a steel and mining business headquartered in London. ArcelorMittal was formed by the amalgamation of two earlier firms, Mittal Steel and Arcelor. Its products are used in the construction, automotive, home appliances, energy, transportation, and packaging industries. The firm has approximately sixty sites worldwide, including one in Chicago, Illinois.
Outokumpu
Outokumpu is a multinational stainless steel manufacturer situated in Finland. Precision strips, plates, wire rods, bars, and coil strips are among the stainless steel items offered by the firm. Moda, supra, core, forta, dura, therma, prodec, ultra, and deco are some of the stainless steel lines offered by Outokumpu.
Hindustan Zinc
Hindustan Zinc is the second-largest zinc-lead producer in the world. Silver and cadmium are two more products. In addition to smelting, mining, and power generation, the corporation has operations all across India. Hindustan Zinc is a certified ISO 9001:2008 corporation.
Nippon Steel
Nippon Steel manufactures steel, titanium, and stainless-steel metals for the automotive, energy, infrastructure, and consumer electronics industries. Metals come in a variety of shapes and sizes, including bars, rods, plates, sheets, pipes, and tubes.
Pohang Iron and Steel
The Pohang Iron and Steel Company (POSCO) produces wire rods, hot-rolled iron, plates, cold-rolled iron, steel, and titanium. Shipbuilding, automobile, construction, household appliances, electricity, and industrial machines all use the metals produced.
JFE Steel Corporation
JFE Steel Corporation, based in Tokyo, Japan, produces titanium, steel, and iron powders. Sheets, pipes, plates, bars, tubes, and iron rods are only a few of the products offered. The metals produced by JFE Steel Corporation are mostly used in the energy sector.
Summary
This post has produced a collection of data and article summaries for some of the most well-known metals suppliers in the United States and throughout the world. Visit the Linquip Metal Suppliers page for more information on these firms and to discover new metal suppliers. There are over 20000 metal suppliers listed there. Linquip's Metallurgy Experts can also provide you with more information and meet all of your requirements.
Buy Equipment or Ask for a Service
By using Linquip RFQ Service, you can expect to receive quotations from various suppliers across multiple industries and regions.
Click Here to Request a Quotation From Suppliers and Service Provider
Read More In Linquip