As you can see, rotary pumps have a wide variety of applications, making up about 10 percent of all the pumps used in the industry. As a type of positive displacement pump, rotary pumps are available in different shapes and sizes. There are numerous types and various methods of classification. A common classification is based on the number of rotating pumping elements. In this article, we will explain a few of the most common types of rotary pumps and how they operate. Keep reading to learn more and more!
⇒ View a List of Pumps for Sale and Their Suppliers ⇐
The two major types of rotary pumps are those with single or multiple rotors. Let's look at each type in more detail:
9 Different Types of Rotary Pumps are:
Vane Pumps
Flexible Member Pumps
Rotary Piston Pump
Peristaltic Pumps
Progressive Cavity Pumps
Gear Pumps
Lobe Pumps
Circumferential Piston Pumps
Screw Pumps
Single Rotor Rotary Pumps
When there is only one rotating pumping element in the casing, these are called single rotor pumps.
Vane pumps are characterized by moveable vanes or rigid blades, retained by a rotor that rotates within the pumping cavity. This action draws fluid in and forces fluid out of the pumping chamber, thereby delivering flow. The vanes (blades, buckets, rollers, or slippers) work with a cam to draw fluid into and force it out of the pump chamber. These pumps are known for being able to dry prime, easy to maintain, and having good suction characteristics. They can usually handle fluid temperatures from -32°C to 260°C and differential pressures to 15 bars.
They are predominantly used for lube oil service and transfer, tank stripping, bilge, fuel loading, and in general, for handling lighter viscous liquids. Vane pumps are also well suited to handle non-lubricating liquids such as LP gas, ammonia, solvents, alcohol, fuel oils, gasoline, and refrigerants.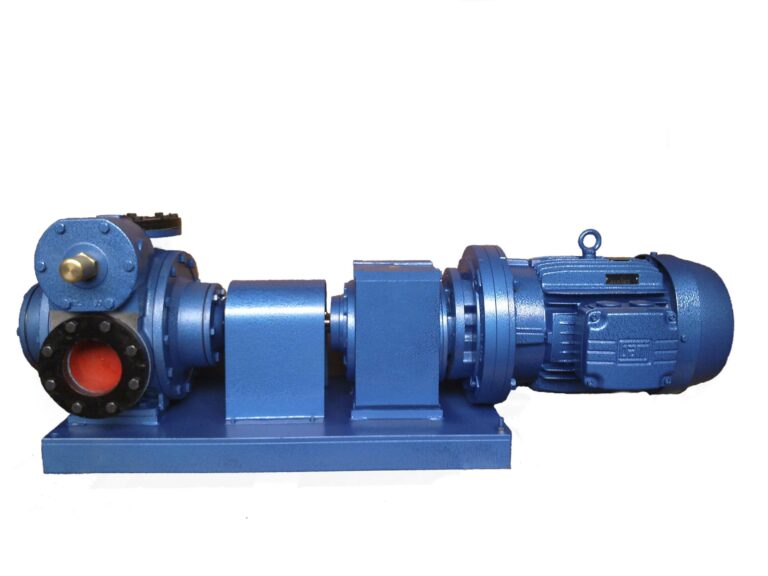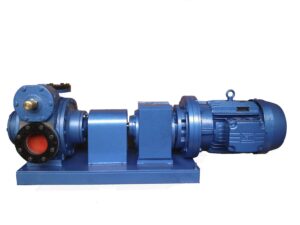 Flexible member pumps (also known as flexible vane, flexible impeller, flexible tube, or flexible liner pumps) operate in a similar principle to vane pumps, except rather than sliding, the vanes flex. These pumps transfer the product from the inlet to the outlet by making use of the elasticity of the flexible members which may be a tube, vanes, or a liner. The fluid pumping and sealing action depends on the elasticity of the flexible members.
These pumps can only operate at relatively low pressures at about 60 psi and relatively low flows at around 150 gpm, however, they are self-priming, relatively low cost, and can handle all kinds of fluids without damage. They are commonly used in the marine industry as ballast and bilge pumps on small to medium-sized boats, and sanitary versions can be found in the pharmaceutical, cosmetic, and food industries for their ability to handle delicate, low viscosity fluids.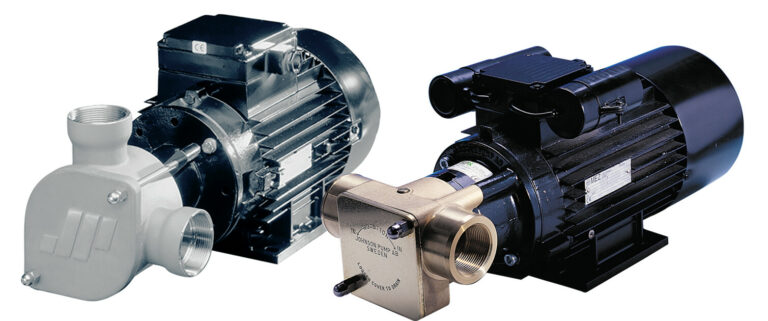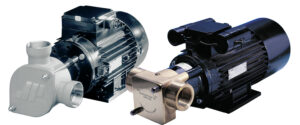 Rotary piston pumps operate by a piston sliding back and forth along a rotor's groove pulling liquid into the inlet of the pump. The piston moves towards the center of the pump when near the pump inlet and as it moves towards the outlet of the pump it moves along the rotor expelling the liquid via the outlet. They typically handle up to 20,000 cst and temperatures up to 300°C. These types of rotary pumps can deliver high-volume oils, viscous fluids such as resins.
Typical applications for rotary piston pumps are in medical, biotechnology chemistry, industry, electronic, food and dairy, perfume/cosmetics, rubber/plastics, glass/ceramic, and pulp and paper.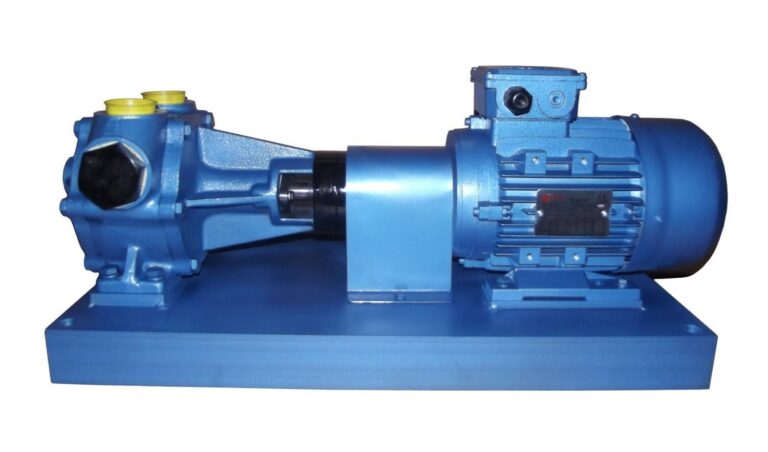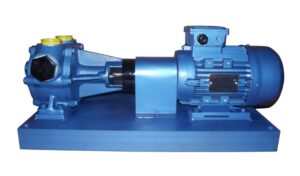 Also known as hose or tube pumps, peristaltic pumps use positive displacement to force fluid through a hose or tube by squeezing it in. These pumps generally have a flow rate range between 0.2 to 200gpm, a pressure range between 10 to 250psi, and a horsepower range between 0.125 to 40hp. As they are one of the few types of rotary pumps where the fluid being transported does not come into direct contact with any parts of the pumping mechanism, they are ideal for pumping fluids that are potentially dangerous, or need to be sterile, or should not leak into the environment.
They are also used in some chemical metering, medical applications such as IV and dialysis, industrial and municipal applications, in scientific research to handle hygienic or volatile fluids, and smaller-sized versions are used for applications like pumping ink.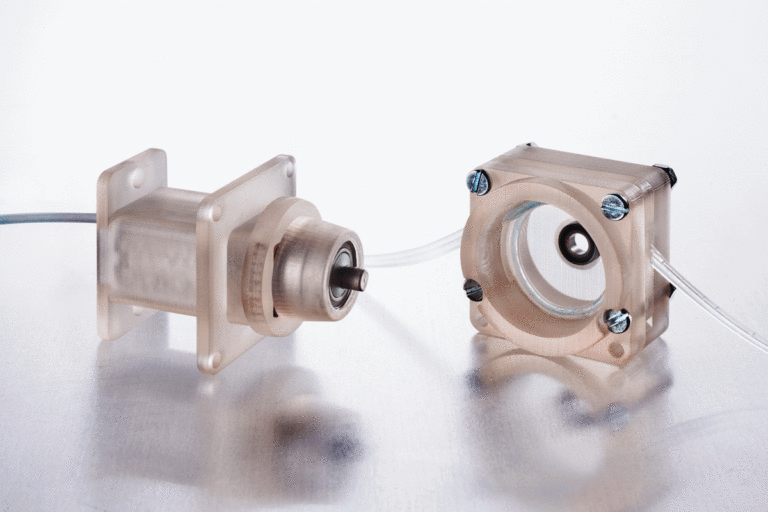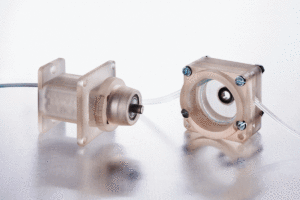 Also known as single screw pumps, progressive cavity pumps consist of a precision mechanized single external helix metallic rotor and double internal helix elastomer stator. As the rotor turns within stators, the cavity progresses from suction to discharge along with fluid. These pumps can generate about 75 psi of pressure at the discharge, but higher rates are achievable if multiple rotors and starts are connected in a series.
Due to the rotor design, these pumps are somewhat longer than other types of rotary pumps, and as there must be enough space for the rotor to be pulled out of the stator for maintenance, they require a greater amount of floor space.
Smaller versions are found in oil lubrication systems and hydraulic actuated elevators, while larger versions are used to pump sewage, slurries, oil, and other viscous chemicals. They are also useful in a range of sanitary and sterile applications such as pharmaceutical, chemical and food processing.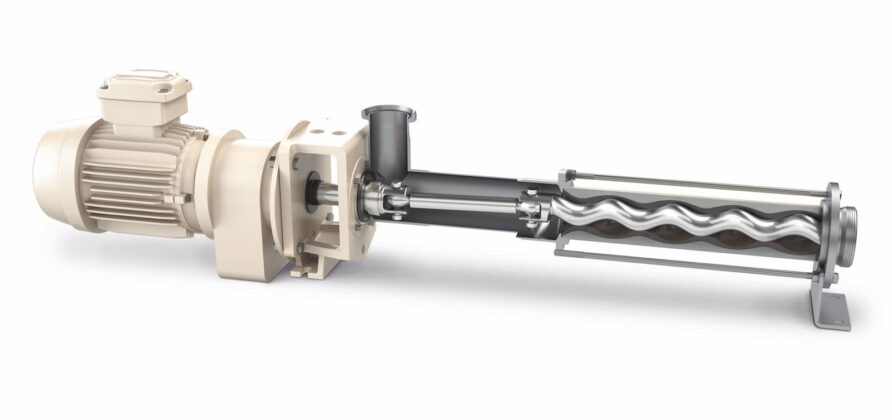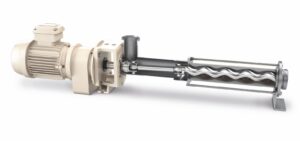 Multiple Rotor Rotary Pumps
These types of rotary pumps have multiple rotating pumping elements in the casing.
These pumps have two gears that are side by side or external to each other. Gear pumps carry the pumped fluid between gear teeth and displace it when the gears mesh. The surfaces of the gears cooperate to provide continuous sealing, trap pockets of the pumped fluid, and push it out the discharge port. They generally have a flow rate range between 1 to 1,500gpm, a pressure range between 10 to 2,500psi, a horsepower range between 0.5 to 2,000hp, and a viscosity range from clear liquids to two million SSU.
These pumps are widely used in low-pressure hydraulic systems and home heating systems in which the burners are fired by oil. They are also ideal for thick, viscous fluids and slurries like automotive oils, plastics, paint, adhesives, or soaps.
There are two main variations of gear pumps depending on the size and rotation motion of the gears:
Internal gear pumps use external and internal spur gear; a gear within the other gear located in the pump chamber. These pumps create flow by trapping fluid between the cavities of the two gears. Speeds up to 1 to 150 rpm are considered common. Because of their ability to operate at low speeds, internal gear pumps are well suited for high-viscosity applications and where suction conditions call for a pump with minimal inlet pressure requirements.
External gear pumps use two external spur gears of the same size that mesh together and rotate in opposite directions. These pumps come with a straight spur, helical, or herringbone gears. Usually, small external gear pumps operate at 1,750 or 3,450 rpm, and larger versions operate at speeds up to 640 rpm. They handle viscous and watery-type liquids, but speed must be properly set for thick liquids.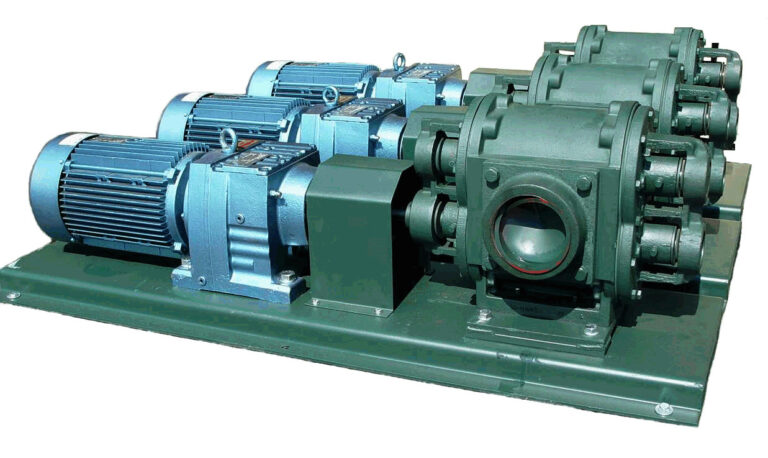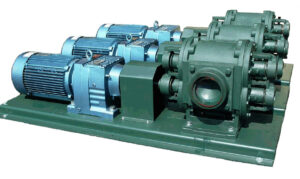 Lobe pumps receive their name from the rounded shape of the rotor's radial surfaces. They carry the pumped fluid between rotor lobe surfaces and the pumping chamber from the inlet to the outlet. Lobe pumps operate almost identically to external gear pumps except the lobe shape means there is no direct contact. This reduces the certainty of wear that comes with gear pumps. These pumps can be single or multiple lobe configurations. Both types carry fluid between their rotor lobes in the same way as a gear pump does.
They are ideal for sanitary, pharmaceutical, chemical, bioprocessing, and biotechnology applications. Pulp and paper (acid, soap, lye, black liquor, kaolin, lime), polymer, paint, adhesive, wastewater, beverages, food (chocolate, cacao butter, fillers, sugar, vegetable fats, oils, molasses, animal feed) are some examples of their applications.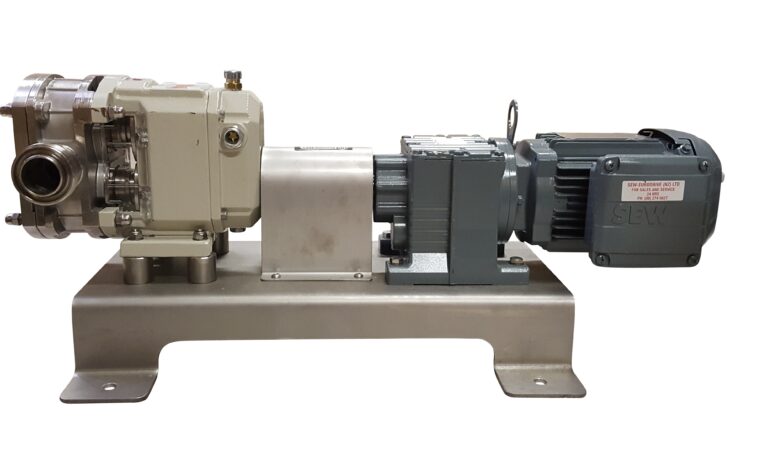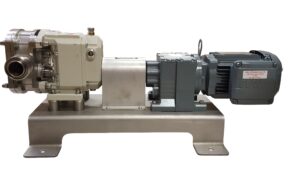 Circumferential Piston Pumps
In these types of rotary pumps, rotating pistons are used to move fluid and counter-rotating rotors are timed separately. More than one rotor may have one or more piston elements. Fluid is carried from inlet to outlet in spaces between piston surfaces. Circumferential piston pump rotors create the seal between stators that extend from the pump housing. The rotors also do not touch and nor does mesh. They can operate under high vacuum and high temperature, and require low inlet pressure.
These pumps are designed for transporting very low viscosity products at higher discharge pressures for food, dairy, beverage, and other hygienic applications. The extensive range meets a wide spectrum of requirements under various working pressures.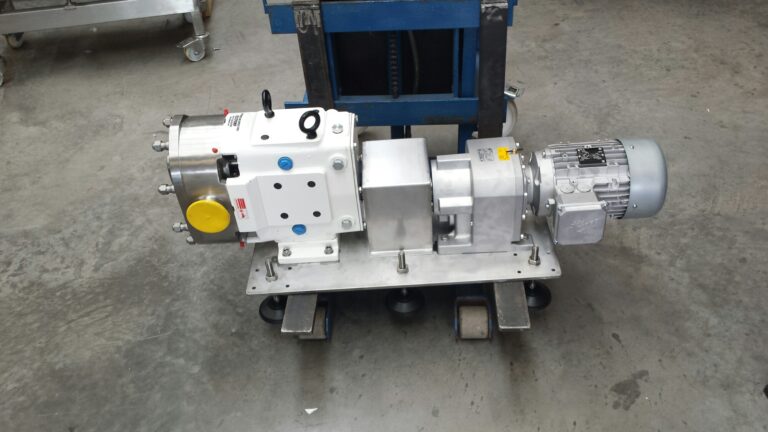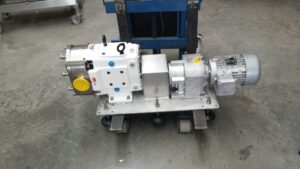 Both Single And Multi Rotor Rotary Pumps
Some types of rotary pumps can either have multiple or one rotating pumping element.
Screw pumps use one or more screws that rotate axially clockwise or counterclockwise to transfer high or low viscosity fluids along an axis. The thread of each screw carries a specific volume of fluid to the center of the pumps where it is then discharged. These pumps can deliver high flow rates and have a variety of uses including hydrocarbons ranging from crude oil to bitumen and lubricating oils, vegetable oils and water, and as the hydraulic pump for elevators. A classic example of a screw pump is the Archimedes screw pump that is still used in irrigation and agricultural applications.
There are several types of screw pumps characterized by the number and pitch of screws:
Single screw pumps have a rotor with external threads and a stator with internal threads. The rotor threads are eccentric to the axis of rotation. The geometry of the rotor and stator form cavities that progress from inlet to outlet as the rotor rotates, which creates the pumping action.
Multiple screw pumps have multiple external screw threads. These pumps are divided into two broad families-timed and untimed. The inlet fluid, which surrounds the rotors, is trapped as the screws rotate. With the rotors in tight-fitting bores and the casing acting as a stator, the fluid is moved uniformly with the rotation of the rotors along the axis and forced out at the other end.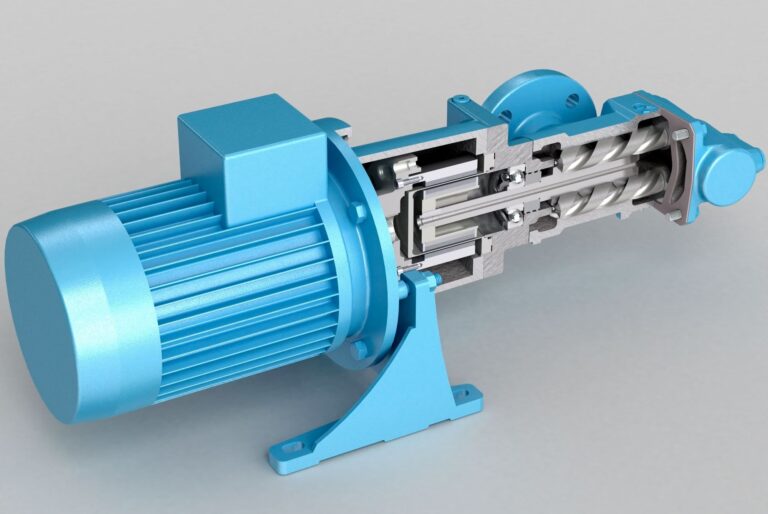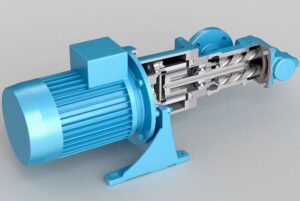 Conclusion
Rotary pumps are best for pumping clean and non-corrosive, non-abrasive liquids, which makes them very efficient. It depends on your application to see which type of rotary pump is best for you. If you aren't sure or have more questions, or want to know more about rotary pumps contact us and we can help you walk through it and offer you the most satisfying pump.
Buy Equipment or Ask for a Service
By using Linquip RFQ Service, you can expect to receive quotations from various suppliers across multiple industries and regions.
Click Here to Request a Quotation From Suppliers and Service Providers
Read More on Linquip