Top Water Pump Manufacturers and Suppliers – Water pumps are among the most useful machines on the planet. Pumps have extensive applications in a variety of disciplines. They are most often used in the building and infrastructure development industries. Pumps are required everywhere, whether to drain water from flooded regions or to deliver water to agricultural fields. Water pumps manufacturers are among the busiest and most in-demand workers.

The industrial pump market is anticipated to be valued at $88.4 billion by 2025, according to a market research analysis released by Grand View Research in April 2019. This is due to rising demand in the water and wastewater treatment business, as well as the oil and gas industry, as a result of the rising global population and associated usage of natural resources.
With expectations of increased industrialization, need for energy fuels, and increased industrialization, a variety of pumps are likely to dominate the industrial pump industry. During this time, reciprocating, rotary, centrifugal, and diaphragm pumps are projected to be in high demand. By 2025, the industrial pump market in the United States, the United Kingdom, Germany, India, China, Brazil, Japan, and the United Arab Emirates is predicted to grow the most. So, this article concentrates on and summarizes the leading water pump manufacturers throughout the world.
A few crucial considerations should be considered when acquiring water pumps. There are a plethora of water pump manufacturers all around the world. The buyer should be aware of his individual requirements before making a purchase. Here is a complete list of the top water pump manufacturers to save you time and effort.
Linquip researched the market and compiled a list of the most reputable names to aid you in locating companies that guarantee on-time delivery and give personalized service. This comprehensive list provides analytical data, reviews, and ratings to help you make the best possible decision. Examine this list of water pump manufacturers and suppliers to choose one that best fits your business's requirements.
Top Water Pump Manufacturers & Suppliers all over the World
The makers of the world's largest water pumps are listed in the table below. There are a plethora of pump manufacturers all around the world. The customer, on the other hand, must be aware of his individual requirements before making a purchase. Here is a comprehensive list of the top 10 pump manufacturers in the world to save you time and effort.
Table 1: International Water Pump Manufacturers
| Company | Headquarter | Year Founded | Annual Revenue | No. of Employees |
| --- | --- | --- | --- | --- |
| Wilo Group | Dortmund, Germany | 1872 | $1.72 billion | 7,830 |
| ETEC Company | Houston, Texas | late 1980s | - | 100-500 |
| GRUNDFOS (PTY) LTD | Viborg, Denmark | 1945 | $6.66 million | 16000 |
| Hydroo Pump Industries SL | Barcelona, Spain | - | - | 100 |
| ZMSA | Alberta, Canada | - | <$5 Million | <25 |
| Vossche | Texas, USA | 1985 | <$5 Million | <25 |
| Robot Pumps | Rajkot, India | 2008 | $311 million | 11-50 |
| Sulzer | Winterthur, Switzerland | 1834 | CHF 3.3 billion | 15,054 |
| Calpeda | VICENZA, Italy | 1959 | $155.63 million | 250 |
| WAA Motors and Pumps | Gujarat. India | 2020 | - | 2500+ |
Wilo Group
Wilo Group, headquartered in Dortmund, Germany, is one of the world's top producers of high-tech pumps and pump systems for the building technology, water, and industrial sectors. The firm, which was founded in 1872, is a market leader in terms of innovation and problem-solving. The firm employs around 7,830 people worldwide, with 60 companies in 50 countries. Pumps and pump systems are manufactured by the company at 17 locations spanning Europe, Asia, and America.
The extensive product range includes high-efficiency pumps for water boosting, HVAC, raw water intake, firefighting, wastewater collection, and transport, clean water supply and irrigation, and wastewater treatment applications in the residential and commercial building, municipal clean & wastewater, and industry market segments.
Wilo provides personalized products to their clients and makes complicated technology user-friendly while maintaining a high degree of system efficiency and energy savings. To be closer to its customers, to better address their challenges, and to improve responsiveness in the East African region, the company launched the Wilo East Africa platform, which supports all east African countries, including South Sudan, Sudan, Eritrea, Ethiopia, Djibouti, Tanzania, Uganda, Burundi, Somalia, and Rwanda.
ETEC Company
ETEC is a major water pump manufacturer that was founded in the late 1980s with a focus on technological innovation in high-volume pump manufacturing and the ensuing breakdown of technological paradigms.
This firm uses technological innovation to make high-volume pumps while preserving quality and dependability. Because of its brand and reputation, ETEC pumps are in high demand in the aquaculture industry. These pumps have aided in market sectors such as flood management in irrigation districts, metropolitan regions, aqueducts, and other locations. The organization has lived up to its name by producing long-lasting solutions to water challenges all across the world. The company's ability to provide clients with custom-made packages ranks it among the top ten pump producers in the world.
ETEC pumps are increasingly being used in different market segments, including flood control in urban and agricultural regions, aqueducts, irrigation districts, and industrial applications.
ETEC guides every user of their pumps through a step-by-step approach to ensure the optimal performance of the system by implementing the proper design for the pump station and ancillary structures. The firm can build "custom-built" packages, starting with civil works and ending with the invention of equipment that is tailored to specific and unique working circumstances.
GRUNDFOS (PTY) LTD
With over 16000 people and an annual production of over 16 million pump units, Grundfos is the world's top pump producer. They are available in 56 countries directly, as well as through a large network of partners, distributors, and sub-dealers.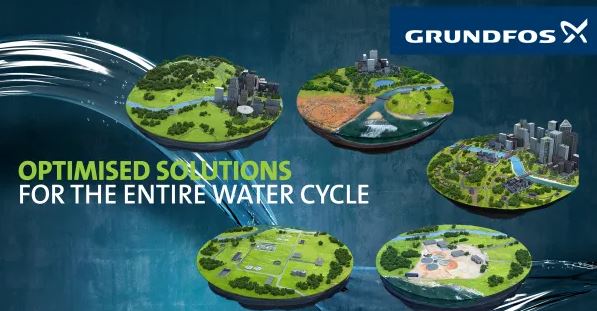 For its water solutions for the globe, the corporation has a set of requirements in terms of innovation, efficiency, dependability, and sustainability that assist its partners and customers carry water where it is meant to go. Providing drinking water to the world's tiniest villages and tallest buildings, purifying and eliminating wastewater, and delivering warmth and comfort to the planet – or cooling it down if necessary.
Grundfos provides products and solutions for a wide range of applications, including water treatment, irrigation, wastewater treatment, commercial building, and different industrial uses. Its product line includes submersible pumps for boreholes, fire pumps, end-suction surface pumps, disinfection, chemical dosing, monitoring, and control devices.
A solar-powered option is also part of the product line. The Grundfos solar pumps have been in development for over four decades, demonstrating the company's long-term commitment to providing water solutions that improve people's lives. The revolutionary AQtap water dispenser is another Grundfos innovation that offers safe and clean water to communities. The AQtap is a smart rural-based water dispenser system that can purify and distribute safe, dependable water to informal urban settlements and rural regions.
Grundfos products are energy-efficient, long-lasting, and, most importantly, technologically advanced. When you buy a Grundfos product, you receive the benefits of lower system operating costs, remote monitoring and control, service level agreements that ensure you get maintenance and repairs when they're needed, and a long-term partnership with high-quality equipment. You also have access to Grundfos' digital platforms, which allow for simple sizing, ordering, and remote monitoring.
Hydroo Pump Industries SL
Hydroo Pump Industries SL is a manufacturer of high-efficiency stainless steel pumps for industrial, building services, HVAC, irrigation, and water treatment, particularly reverse osmosis and filtration systems, situated in Europe.
Pumps are manufactured to meet a variety of technical requirements. A firm established in Europe that manufactures stainless steel pumps for HVAC, water treatment, irrigation, construction sites, and other applications. Their pumps' exceptional performance may be attributed to IE3 standard motors, dependability, and adaptability, as well as the usage of artificial intelligence. In a nutshell, they are dedicated to offering environmentally friendly services that are efficient enough to provide value to the lives of their customers.
The firm offers a diverse selection of pumps to fulfill a variety of technical requirements, as well as high-quality water pumping system solutions. The motor and hydraulics' precise design are linked to their best pump performance. They employ cutting-edge technical resources to get the greatest market results. Maximized hydraulic efficiency combined with IE3 standard motors results in a one-of-a-kind leading pump concept: durable, dependable, versatile, user-adjustable, intelligent, and multi-purpose.
ZMSA
ZMSA provides a diverse selection of water pumps and can aid in identifying the best pump for each location. The items have a distinct feature in that they are all made from renewable energy sources. Eskom's challenges were now becoming a reality for small farms, and the company's decision to add renewable energy solutions to its portfolio was bolstered by projections of electricity rises of 35 percent over the following 3-4 years.
They can use the power of flowing water to pump water and can also help with hydroelectric power generation if given proper flow statistics.
Vossche
The corporation is based in Texas, and it has a large research and manufacturing center there. Circulation pumps, deep well pumps, sewage pumps, centrifugal pumps, and submersible pumps are just a few of the company's primary products. These pumps are suitable for a wide range of applications, including swimming pool applications, fountains, agriculture, irrigation, and so on.
Every year, the firm manufactures over 2 million pump sets in 12 different categories, with over 2,000 different types. As a result, all of their goods are subjected to extensive production and operational testing to guarantee that they meet the high standards they have established.
To continue providing value for clients, the firm has also committed a significant amount of time and resources to research, development, and innovation in order to uncover new and better models, applications, and manufacturing techniques.
Every year, a significant amount of money is invested in research to manufacture sophisticated and efficient products. Every year, about 2 million pump sets are produced, encompassing over 2000 different categories. Pump makers test their goods for quality and efficiency before releasing them on the market, ensuring that they satisfy market requirements.
Robot Pumps
Robot Pumps Holland is the favored pump brand by many municipalities in South Africa because it properly handles and pumps raw, unscreened sewage. They also have a large installation base in Lesotho, Seychelles, Namibia, Nigeria, Mauritius, and Ghana, among other places.
This firm, which is well-known in various South African cities, properly treats raw sewage. Namibia, Nigeria, Lesotho, Mauritius, and other countries have large installation bases. Customers can pick from a variety of pump models to meet their specific requirements. The most popular and in-demand models are constantly on hand for customers to see and choose from. Spare components are also produced on-site. They maintain Robot pumps in stock and have the most common types accessible, as well as the ability to convert them to the client's unique Robot pump type.
Sulzer
Sulzer, a global industry leader with dependable and sustainable solutions for the oil and gas, water, power, and general industrial areas, was founded in 1834 in Winterthur, Switzerland.
Sulzer, situated in Switzerland, is one of the oldest of the top water pump manufacturers in the world. They specialize in developing extremely efficient pumps, in addition to providing sustainable solutions in sectors such as renewable energy, gas, and oil. The pumps are built for medium to heavy-duty operations in municipal and industrial wastewater systems.
The company has kept its focus on flow control and applicators, focusing on pumping solutions, rotating equipment services, separation, mixing, and application technologies, and building a reputation as a dependable, rapid, and trustworthy partner for its clients.
Sulzer has one of the most complete submersible pump portfolios on the market today. Pumping light and medium-duty inside residential and commercial premises to pumping heavy duty with high concentrations of rags and solids in municipal wastewater collection systems and industrial wastewater applications are among the uses.
Calpeda
Calpeda has been a leading developer, service provider, manufacturer, and spare parts provider of pumps and accessories for all types of industries since 1959, including water supply, treatment, pools, waste movement, circulation, and chemicals management, all of which are done above or below ground or in submerged water.
Calpeda, which was founded in 1959, is one of the most well-known manufacturers of pumps and related components. The pumps are entirely built-in Italy at their own manufacturing facility. Their pumps are intended to meet industrial standards in accordance with the evolution of demands. Before being released onto the market, each pump is rigorously tested. Even before they are used in household applications, their performance is verified. As a result, they can be trusted in every way.
Calpeda delivers a high degree of quality and dependability to the market with the evolution of the pumps to changing needs. Every pump is built entirely in Italy at their own 450,000 m2 manufacturing complex, which includes an in-house R&D center and foundry. Before leaving the factory, their pumps are thoroughly examined, and the performance of their goods is certified and tested to international standards for industrial-grade pumps as well as pumps for household and commercial use.
WAA Motors and Pumps
Waa Pumps is a part of the well-known Waaree Group that aims to provide cutting-edge pump technology for a variety of applications. It has a huge impact on a lot of people's lives since there are still roughly 3.2 billion people who are affected by water scarcity. The company's mission is to deliver the greatest products and services possible in order to achieve maximum client satisfaction. This Gujarat-based firm is one of India's most dependable pump producers.
Summary
Linquip is your best choice if you're seeking a firm that can offer you high-quality water pumps that meet your expectations. Visit our website and contact Linquip's Water Pump Experts for more details.
Buy Equipment or Ask for a Service
By using Linquip RFQ Service, you can expect to receive quotations from various suppliers across multiple industries and regions.
Click Here to Request a Quotation From Suppliers and Service Providers
Read More On Linquip