Aluminum Suppliers in USA and Worldwide – A variety of factors contribute to aluminum's widespread use, including its lack of toxicity, lack of magnetic quality, resistance to corrosion, light weight, better electrical conductivity, and capacity to survive extremely low temperatures. Additionally, aluminum scrap may be recycled several times.
A wide range of industries, including the architectural, chemical, defense, automotive, aerospace, transportation, marine, and food and beverage sectors, can benefit from the usage of aluminum and aluminum alloy goods. Aluminum plates, aluminum sheets, and other forms are used by manufacturers in these sectors and others to create a bewildering array of goods.
On Linquip website, among the many options available to you, you will find all the information you need to know about aluminum suppliers, as well as information regarding this marketplace. You can count on Linquip to provide you with as much general and reliable information about the aluminum industry as possible, whether you're a professional in the aluminum industry or a customer looking for a product. We recommend you review a list of all Material Technology Manufacturers available on Linquip.
We would be delighted to provide you with more information on how we can help you generate revenue within your industry. Don't hesitate to contact us if you have any questions! With Linquip's Solutions for Each Company Level, you will be able to upgrade the capabilities of your organization in order to gain a competitive edge by taking advantage of a wide range of options to enhance your organization's performance. If you are looking for the simplest or the most sophisticated marketing and advertising package for your business, we can help you ensure that your company gets as many customers as possible to grow your business. 
Aluminum History 
Prior to the invention of aluminum, mankind utilized alum, an aluminum sulfate that may be produced from the same minerals as aluminum. Alum was mentioned by a number of ancient historians, including Pliny the Elder, a Roman historian who lived in the first century AD, and Herodotus, a Greek historian who lived in the fifth century BC. To color the cloth, they used alum. In fact, it became so well-liked that until the 15th century, they sold alum to mainland Europe. We think the Romans utilized alumina (aluminum oxide clay) for tanning skins, fireproof structures, and providing first aid. However, they failed to recognize the clay as aluminum.
The 16th century saw the beginning of the study of aluminum by scientists and alchemists. This started when Paracelsus, a Swiss physician and alchemist, proposed that alum was a distinct substance from sulfates, which at the time they termed vitriole. Instead, he suggested that alum was a salt made by an element. German chemist and physician Andreas Libavius discovered that copper(II) sulfate (then known as blue vitriole), iron(II) sulfate (then known as green vitriole), and alum could be produced using the same acids but different metals 65 years later, in 1595. He was unable to identify the element from which alum originated, but he nonetheless gave it a name—alumina. Another German scientist, Friedrich Hoffmann, then asserted that the alum base constituted a distinct element in 1722. Six years later, a French scientist by the name of Étienne Geoffroy Saint-Hilaire challenged that theory by proposing that alum was an oxide produced by combining sulfuric acid with an unidentified metal element.
The first to find the metal and create an alloy was Danish scientist Hans Christian rsted in 1825. After he discovered how to purify it, aluminum gained a lot of popularity. However, because it was so costly, only the elite could afford it. For a while, it was more costly than gold. This was due to the fact that it was challenging to locate and refine.
Following the invention of a new method for extracting aluminum by Karl Josef Bayer in 1887, manufacturers had easier access to aluminum. Before him, a few other scientists created other extraction techniques, but he is the most well-known and well-appreciated. Aluminum significantly decreased in price as Bayer's techniques spread. Its release onto the market came just in time for engineers to use it to improve the construction of new machinery and technology, including electrical cables, vehicles, and airplanes.
Aluminum sheets and plates were essential during World Wars I and II because they were employed by manufacturing workers to create armaments, ships, and airplanes. Aluminum was lighter than steel, which pleased industrialists, especially in the aerospace industry. Aluminum was employed by manufacturers to create home items and appliances in the 1950s, including aluminum foil, cutlery, washers, and dryers. The first aluminum pop cans were launched by manufacturers in this decade as well. The United States launched its first aluminum spacecraft in 1957 as well.
Aluminum has been popular ever since in all of its forms, from powder through the plate. Its value has changed throughout time, as have the countries from which it is most frequently imported, but as a commodity, it has never wavered.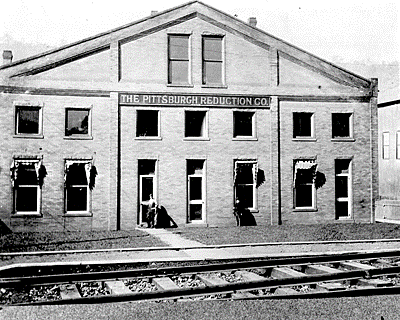 Top Aluminum Suppliers in USA
Listed below are the top aluminum suppliers in America, ranked by company size. Each company's information includes its headquarters, sales, year of foundation, and the number of employees. US million dollars are used to measure annual sales. Following the table are summaries of each company.
| Company name | Headquarters | Year founded | Number of employees | Annual sale |
| --- | --- | --- | --- | --- |
| Arconic | Pittsburgh, PA | 1888 | 43,000 | $18.2 Bil |
| Alcoa | Pittsburgh, PA | 1888 | 14,000 | $12.2 Bil |
| Aleris Rolled Products | Cleveland, OH | 2004 | 5,500 | $3.5 Bil |
| Century Aluminum | Chicago, IL | 1957 | 1,741 | $1.9 Bil |
| Kaiser Aluminum | Foothill Ranch, CA | 1946 | 2,760 | $1.6 Bil |
| JW Aluminum | Williamsport, PA | 1979 | 50 | $250 Mil |
| Tri-Arrows Aluminum | Louisville, KY | 1984 | 174 | $29.8 Mil |
| Logan Aluminum | Russellville, KY | 1984 | 1,400 | $24.9 Mil |
| C-KOE Metals/a> | Euless, TX | 1983 | 57 | $18.7 Mil |
| Metalmen Sales | Long Island City, NY | 1986 | 50 | $13 Mil |
Arconic
American industrial business Arconic Corporation specializes in the engineering and production of lightweight metals. Products from Arconic are utilized in industrial, consumer electronics, aerospace, automotive, packaging, commercial transportation, building and construction, oil & gas, and other fields all over the world.
Alcoa
American industrial company Alcoa Corporation. With its corporate headquarters in Pittsburgh, Pennsylvania, it is the eighth-largest producer of aluminum worldwide. Alcoa has activities in ten different nations.
Aleris Rolled Products
Aleris Corporation, situated in Beachwood, Ohio, produced aluminum rolled goods for the American market. It was also known as Aleris Inc. or Aleris International Inc. As of the middle of 2015, the firm employed around 5,000 people worldwide. Aleris Corporation was purchased by Novelis Inc., a subsidiary of Hindalco Industries, for $2.8 billion on April 15, 2020. With the completion of the purchase, Novelis joined the high-end aerospace market, and Hindalco became one of the leading producers of aluminum worldwide.
Century Aluminum
The United States-based Century Aluminum Company manufactures primary aluminum at facilities in Iceland, South Carolina, and Kentucky. In the US, it is the biggest producer of primary aluminum. The business is an openly traded corporation that is listed on the NASDAQ. The corporate office is located in Chicago at One South Wacker.
Kaiser Aluminum
An American manufacturer of aluminum is Kaiser Aluminum Corporation. It is a spinoff from Kaiser Aluminum and Chemicals Corporation, which was created when Permanente Metals Corporation's title was changed to Kaiser Aluminum and Chemicals Corporation and common stock was sold in Permanente Metals Corporation.
JW Aluminum
Aluminum goods are produced by JW Aluminum Company. The company sells flexible packaging, fin stock, auto foils, cable wrap, coils, and sheets. Worldwide clients are served by JW Aluminum.
Tri-Arrows Aluminum
With a concentration on the beverage can sheet and automotive sheet industries, Tri-Arrows Aluminum is a top provider of rolled aluminum sheets in the North American market. Logan Aluminum, a joint venture production plant between Tri-Arrows and Novelis Corporation, is where our goods are made. One of the most effective aluminum mills in the world, Logan Aluminum is a top-notch plant. A group led by the UACJ Corporation and Sumitomo Corporation owns Tri-Arrows.
Logan Aluminum
The 1000-acre location where Logan Aluminum is situated has more than 40 acres of roofed space. They provide more than 45% of the North American can market and are the largest single can sheet factory in the continent. Each year, they create more than 2 billion pounds of aluminum. They have more than 1300 team members that are aggressive, involved, imaginative, and who push our procedures to get better all the time. Every member of the Logan Aluminum team is required to take part in and support company leadership.
C-KOE Metals
After purchasing the facility in 1983 with a partner, Charles Koetting converted it from being constructed to process secondary aluminum into a high-end processor of rare and high-purity primary aluminum. C-KOE Metals' name came to represent excellence. Later, Mr. Koetting gave his partner his stake in the facility after purchasing it alone in 2001. As the sole proprietor, Charles gave the company his name and launched it as C-KOE Metals that year. Customers from all around the world have since come to respect the business. C-KOE Metals is the preferred supplier to many of the top aluminum users in the world thanks to its dedication to continual development in production, technical investments, a worldwide supply chain, and top-notch customer support.
Metalmen Sales
In the middle of the 1980s, in the midst of the decline of the local manufacturing sector, two New Yorkers named James Pignetti (Jim Netti) and Jeffrey Zweifler created a novel method of supplying metals. By learning as much as you can about the stainless, nickel, aluminum, and titanium inventories in the United States, as well as by looking for processors who work with these materials, by speaking clearly and concisely, and by always showing respect and responsibility, even to the tiniest user. Metalmen has been providing products made of aluminum, stainless steel, nickel, and titanium to every sector of the North American and global metal markets.
Global Aluminum Suppliers
The following table lists the best aluminum suppliers worldwide. The companies are ranked based on their employee size. Furthermore, the global headquarters location of each company and the year it was founded are also presented. The table is followed by descriptions of these companies. 
| Company name | Headquarters | Year founded | Number of employees | Annual sale |
| --- | --- | --- | --- | --- |
| BHP Group | Australia | 1851 | 26,827 | $43.6 Bil |
| Aluminum Corporation of China | China | 2001 | 64,794 | $27.7 Bil |
| Norsk Hydro ASA | Norway | 1903 | 36,236 | $18.4 Bil |
| Hindalco | India | 1958 | 36,000 | $17.7 Bil |
| Vedanta | United Kingdom | 1976 | 70,000 | $15.4 Bil |
| Alcoa | United States | 1888 | 14,000 | $12.2 Bil |
| Rusal | Russia | 2007 | 61,976 | $10.7 Bil |
| Rio Tinto Alcan | Canada | 1902 | 24,000 | $9.6 Bil |
| China Hongqiao Group | China | 1994 | 60,537 | 8.8 Bil |
| Aluminum Bahrain | Bahrain | 1968 | 3,186 | $2.6 Bil |
BHP Group
Melbourne, Victoria, Australia serves as the corporate headquarters for the international mining, metals, and petroleum firm known as BHP Group Limited. On July 16, 1885, the Broken Hill Proprietary Company was established in the mining community of Silverton, New South Wales.
Aluminum Corporation of China
Chinese corporation Aluminum Corporation of China Limited is listed in Hong Kong and New York. Beijing, People's Republic of China is home to the headquarters of a worldwide aluminum corporation. It is the third-largest producer of basic aluminum in the world and the second-largest producer of alumina.
Norsk Hydro ASA
Oslo-based Norsk Hydro ASA is a Norwegian aluminum and renewable energy enterprise. It is one of the biggest aluminum producers in the world. It operates in about 50 different nations worldwide and is present on every continent.
Hindalco
Aditya Birla Group subsidiary Hindalco Industries Limited manufactures copper and aluminum in India. Mumbai, Maharashtra, India is home to its headquarters. The business generates $15 billion in revenue annually and employs about 20,000 employees. It is ranked 895th in the Forbes Global 2000.
Vedanta
With its primary activities in iron ore, gold, and aluminum mines in Goa, Karnataka, Rajasthan, and Odisha, Vedanta Limited is an Indian multinational mining corporation with its headquarters in Mumbai, India.
Alcoa
American industrial company Alcoa Corporation. With its corporate headquarters in Pittsburgh, Pennsylvania, it is the eighth-largest producer of aluminum worldwide. Alcoa has activities in ten different nations.
Rusal
According to the main production output, United Firm RUSAL is the second-largest aluminum company in the world. It was the biggest until China Hongqiao Group surpassed it in 2015.
Rio Tinto Alcan
The second-largest mining and metals firm in the world is Rio Tinto Group, an Anglo-Australian multinational enterprise. The business was established in 1873 after a group of businessmen bought a mining complex on the Rio Tinto from the Spanish government in Huelva, Spain.
China Hongqiao Group
Founded in 1994 and listed on the Hong Kong Stock Exchange, China Hongqiao Group Limited is a manufacturer of aluminum. In 2015, Hongqiao surpassed its biggest rival, the Russian firm UC Rusal, to become the world's largest producer of aluminum.
Aluminum Bahrain
The first aluminum smelter in the Middle East, Aluminum Bahrain B.S.C., began conducting commercial operations in 1971. Alba employs 84 percent Bahrainis, and the business has launched a number of capacity-building programs to encourage the nationalization of its staff.
Download Aluminum suppliers in USA & Worldwide (2023) PDF
PDF files are available for download if that's the format you prefer. The download can be started by clicking the link provided below.
Buy Equipment or Ask for a Service
By using Linquip RFQ Service, you can expect to receive quotations from various suppliers across multiple industries and regions.
Click Here to Request a Quotation From Suppliers and Service Provider
Read More In Linquip