Top Stainless Steel Suppliers and Manufacturers in the USA in 2023– A common type of steel is stainless steel. It is well known for providing an affordable and high-quality combo. You can get stainless steel from a variety of stainless steel Suppliers & Companies.
Linquip's website has a comprehensive list of services for all OEM fleets. To learn more about how to connect with a varied collection of Service Providers who consistently produce high-quality products, please contact Steel Experts.
One of the strongest, lightest, and most useful types of iron-based alloys is stainless steel. Many businesses have been using stainless steel to produce their products due to its widespread use. Due to its durability, stainless steel is one of the most dependable materials for top industries all over the world. Due to its distinctive qualities, the top stainless steel producers have gained notoriety.
With at least 10.5% chromium, less than 1.2% carbon, and additional alloying elements, stainless steel is a corrosion-resistant alloy that is incredibly resistant to rust and corrosive media. Nickel and molybdenum additions can also further improve corrosion resistance.
Stainless steel is frequently available in ferritic, austenitic, martensitic, duplex, and PH grades and can be rolled or formed into sheets, plates, bars, wire, angles, channels, tubing, and other structural forms. Their physical characteristics make them an amazing choice for usage in conveyor chains, hot water tanks, heat exchangers, dishware, nuclear reactors, tubes, boilers, household appliances, cooking utensils, and more.
The Global Stainless Steel Manufacturers' Market Report, created by industry experts at Verified Market Research, estimates its value at USD 112 billion in 2019. By 2027, the market capitalization is anticipated to reach USD 179.35 billion thanks to technological improvements. As a result, it can be predicted that from 2020 to 2027, demand for the top stainless steel manufacturers would increase at a CAGR of 6.1%.
Stainless steel is available in a variety of shapes. You can get it in coil form. The lengths of the stainless steel coils can vary. But you may also get it as a plate, sheet coil, sheet, or bar. The sizes of these goods can also vary. Additionally, you can get structural and tubular components that use stainless steel.
Stainless steel bars come in a variety of varieties and are all sold by multiple retailers. Some of them have a hexagonal shape and are referred to as "hex bars." Some bars are round. Some stainless steel bars, though, are square or flat. Additionally, stainless steel mesh can be bought.
Applications for Stainless Steel
Commercial, residential, and industrial uses all involve stainless steel. Here are some locations where you can locate it:
Evaporators and Condensers
Equipment for Chemical Processing
Equipment for the Pharmaceutical Industry
Heat Exchangers
Boat Fittings
Equipment in the Textile Industry
Equipment to Mitigate Pollution
Pump Trim
Laboratory Benches
Machinery that's used to Produce Plastics, Rubber, and Paper
The Aircraft Industry
Lab Equipment
Linquip researched the market and compiled a list of the most reputable names to aid you in locating companies that guarantee on-time delivery and give personalized service. This comprehensive list provides analytical data, reviews, and ratings to help you make the best possible decision. Examine this list of stainless steel suppliers to choose one that best fits your business's requirements.
Top U.S. Stainless Steel Suppliers
Before making a purchase, the consumer must be aware of his unique needs. Information about the leading stainless steel suppliers can be found below.
Table 1: USA Stainless Steel Suppliers
| Supplier | Headquarter | Year Founded | No. of Employees |
| --- | --- | --- | --- |
| Source 21, Inc. | Sound Beach, NY | 1992 | +1000 |
| SteelSummit | La Vergne, Tennessee | 1984 | +1000 |
| Metalmen Sales Inc. | Long Island City, NY | 1991 | 900 |
| Service Steel Aerospace Corp. | WA | 1972 | 100-200 |
| Central Plains Steel Co. | Kansas | 1982 | 500 |
| Siskin Steel & Supply Co. | Chattanooga, Tennessee | 1898 | 400-500 |
| Bobco Metals Co. | Los Angeles, California | 1955 | - |
| Reliance Steel & Aluminum Co. | La Mirada, California | 1876 | 500 |
| Combined Metals | Bellwood, Illinois | 1971 | +1000 |
| Cleveland-Cliffs | Cleveland, Ohio | 1847 | <50 |
| Industrial Metal Supply Company | California | 1948 | - |
| O'Neal Industries | Birmingham, Alabama | 1921 | +1000 |
| United Performance Metals | Hamilton, Ohio | 1982 | +1000 |
| NMLP | Elk Grove Village, Illinois | 1964 | +1000 |
| Cada Stainless & Alloys | Chester, New York | 1981 | - |
Source 21, Inc.
Look no further than this for the best stainless steel available! To produce your items swiftly and effectively, they use high-quality metals and effective manufacturing techniques. They never skimp on quality since they understand how essential your business is to you. They prioritize every consumer because if you're not satisfied, the company won't survive. You may count on them to meet all of your metal needs with creative solutions.
SteelSummit
Leading flat-rolled stainless steel processor and distributor SteelSummit Holdings serves the demands of the construction, HVAC, office appliance, and automotive industries. All of the stainless steel goods are available for slitting, shearing, cut-to-length, warehousing, and just-in-time delivery from the ISO 9001:2015 certified business.
Metalmen Sales Inc.
All stainless steel is distributed globally by Metalmen. With their broad selection of goods, they function as a custom response provider to industry, providing complete metalworking and experienced market guidance. For over 30 years, they have offered engineering and research. Many specialty and on-demand metals are delivered quickly; non-standard quantities are also appreciated.
Service Steel Aerospace Corp.
The largest stocking distributor of stainless steel that complies with AMS, ASME, ASTM, and BMS standards is Service Steel Aerospace Corp. A variety of stainless steel grades, including UNS, DMS, HSM, RMS, DIN, SAE, and others, are kept in stock by the distributor. The material is appropriate for use in injection molding, water jet cutting, aerospace, petrochemical, and nuclear applications due to its exceptional physical qualities, including high strength, superior hardness, and corrosion resistance. Stainless steel is available from the company in rod, bar, plate, block, wire, ring, and sheet form.
Central Plains Steel Co.
Since 1982, Central Plains Steel Co., a renowned producer of stainless steel, has been operating in Kansas, Kansas, United States. In addition to coils, plates, sheets, tubes, and bars, the company also sells stainless steel in other forms. They can cut, saw, press brake, shear, and laser create stainless steel to your specifications thanks to their over 300 locations spread over 12 nations.
Siskin Steel & Supply Co.
A metal service company called Siskin Steel & Supply Co. offers stainless steel goods in the shapes of angles, pipes, flats, tread plates, tubing, and round and square bar forms. The goods can be manufactured using a variety of capabilities, including plasma cutting, laser cutting, and shearing, thanks to their cutting-edge software and technology. The company has more than six locations across three states, carries a variety of stainless steel grades, provides JIT (Just in time) delivery, and lowers the cost of supplementary tools.
Bobco Metals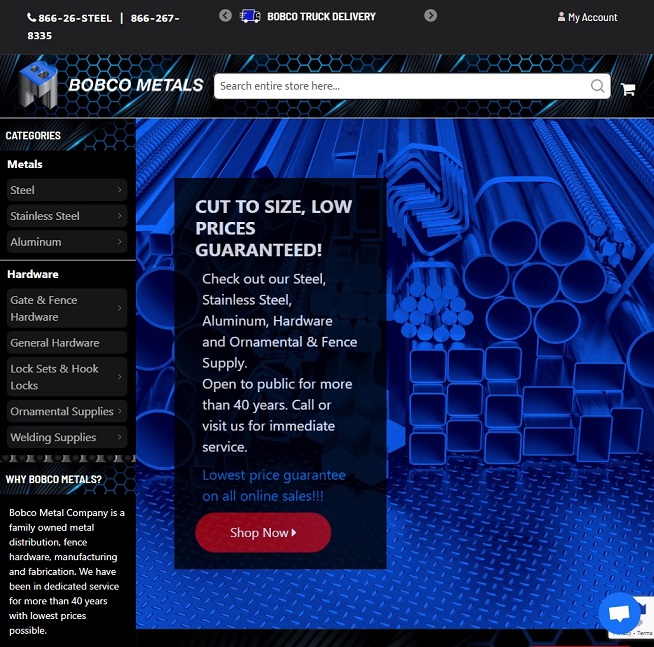 Bobco Metals has been a top provider in the metals sector and a family-owned business for more than 40 years. They offer a large variety of metals, such as galvanized steel, stainless steel, and aluminum. Bobco Metals takes great satisfaction in offering premium goods and top-notch customer support. Customers of all types may rely on Bobco Metals to provide the best metals available. For more information, call or visit their website.
Reliance Steel & Aluminum Co.
The largest metal service center in North America, Reliance Steel & Aluminum Co., based in California, offers stainless steel in a variety of shapes, including beam, bar, pipe, tube, plate, and sheet. Stainless steel is readily available for its capabilities, which include cutting to length, slitting, shearing, plasma burning, machining, etc. The business has taken satisfaction in supporting the energy, aerospace, manufacturing, machining, and oil industries since it was founded in 1876.
Combined Metals of Chicago
Bellwood is a full-service facility that caters to the needs of the aerospace, automotive, construction, energy, oil, gas, and other allied industries. The metalworking shop is ISO 9001:2015 certified, and the stainless steels it carries are grades 201, 301, 302, 304/304L, 305, 316/316L, 321, 409, 430, 434, 439, and 441 as well as 17-7PH. With its skills for coil buffing, polishing, stamping, punching, and cut-to-length, the company can also fabricate stainless steel.
Cleveland-Cliffs
Ohio-based Cleveland-Cliffs is the biggest producer of flat-rolled steel in North America. The fabricator focuses on using PED, ISO, and IATF-certified high-quality automotive steel grades. The business was established in 1847, and as of this writing, it operates over 68 facilities that provide stainless steel that is state-of-the-art in technology.
Industrial Metal Supply CompanySun Valley, CA818-729-3333
An extensive inventory, strong production capabilities, and top-notch customer service are all hallmarks of Industrial Metal Supply Company. Tubes, sheets, plates, pipes, and bars are included in their array of stainless steel items. Applications range from cutlery to industrial machinery to culinary items. They keep a variety of stainless steel in stock, including #304, 303S, and 316.
O'Neal Industries
O'Neal Industries is proud to have been the largest family-owned metal service center in the country for more than a century. The shapes and forms of stainless steel include plate, sheet, bar, coil, tube, and pipe. The company's links with numerous subsidiaries will enable you to obtain the materials you want.
United Performance Metals
For the aerospace, defense, power, medical, semiconductor, and other industries, United Performance Metals offers a variety of stainless steel grades. Stainless steel is available from the distributor in sheet, bar, and plate forms. They may create stainless steel utilizing a variety of techniques, such as cut-to-length, laser cutting, precision blanking, heat treating, ultrasonic testing, etc.
NMLP
With operations on five distinct continents, National Material Limited Partnership (NMLP) is currently one of the biggest and most prestigious stainless steel providers. The producer and distributor supply stainless steel to the electronics, automotive, food service, HVAC, aerospace, and other industries in sheet, strip, and foil form.
Cada Stainless & AlloysChester, NY845-469-3899
The stainless steel you want is available at Cada Stainless & Alloys. Additionally, they specialize in the supply of stainless steel strips and coils and offer a variety of alternatives for processing, finishing, and other customizing. Visit their large online inventory of stainless steel products to see what they have to offer, then get in touch with them if you want more details. Their business is accredited to ISO 9001:2008.
Stainless Steel Manufacturing Process
Melting
The basic components are first mixed. They are then heated until they are molten. The ingredients normally melt in 8 to 12 hours, and the blast furnace is heated to an extraordinarily high temperature of more than 2500 degrees. The time it takes to melt the materials, however, varies depending on the machinery being employed.
Casting
The molten object is then cast. The steel starts to solidify into uniform shapes at this stage. These shapes include billets, slabs, rods, tube rounds, and blooms (rectangular). Round or square billets are also acceptable. Additionally, there are large variations in billet size. The length of time it takes for the steel to cool completely in the cast varies depending on several variables, but it usually takes a long time.
Forming
Steel is heated while being heated through a series of huge rollers. The steel may become a form of wire as a result. Bars can be constructed from blooms and billets. Plates, sheets, and strips can be created from slabs. The sizes of these items range widely.
However, there are a few bar-specific standard dimensions. They typically have a 0.25-inch diameter and can have various forms. Bars are frequently circular, square, hexagonal, or octagonal.
Wire also comes in different diameters. It rarely measures more than 0.5 inches thick nevertheless. Stainless steel wire, however, is capable of becoming much thinner. Every plate has a thickness of at least 0.1875 inches. Its width is at least 10 inches. Strips are less than 24 inches broad and at least 0.185 thick. The sheets are at least 24 inches wide and have a thickness of 0.1875 inches.
Cutting
Cutting stainless steel can be done in a variety of ways. Often, mechanical techniques are employed. This might entail employing incredibly sharp blades and a lot of power. A steel cutting saw is utilized in other situations. The techniques of blanking and nibbling are occasionally employed. However, it is also possible to use high temperatures. In some instances, a high-temperature flame is used to accomplish this. Plasma, however, can also be applied.
Finishes
Although they are not always included, finishes are relatively frequent. Sometimes finishes can aid to increase the steel's durability. Additionally, it can be used to keep things from adhering to the metal. In other instances, the steel's finish may make cleaning it simpler. These are but a few of the numerous potential applications for stainless steel treatments. A mirror finish can be applied in specific circumstances. The steel is now quite reflective as a result.
Tips for Purchasing Stainless Steel
The maker typically sells the goods for a little bit more than $1 per pound. However, it is frequently offered for considerably less than a dollar per pound, particularly if it is bought as scrap metal. In these circumstances, it might only be 70 cents per pound. The cost varies greatly from distributor to distributor. This is why it is crucial to evaluate pricing from a variety of manufacturers. Over time, the price has also changed dramatically, and it may continue to change in the future. This tutorial will help you to know them completely.
Video: Tutorial
It is preferable to purchase stainless steel from the stainless steel suppliers listed on Linquip if you are interested in doing so. The listing includes a large number of stainless steel vendors. While many of them provide stainless steel in its raw form, others are processed into finished goods. For instance, tubes are frequently manufactured from stainless steel. It's crucial to confirm that the manufacturer you select offers the completed stainless steel product you require if you need one.
Summary
In the table above, we have categorized the top-tier and featured stainless steel providers. Visit our page, where we list more than 8,000 Stainless Steel Suppliers if you want to learn more about stainless steel or require information on additional suppliers. Linquip is your best choice if you're seeking a firm that can offer you high-quality products that meet your expectations. Visit our website and contact Linquip's Experts for more details.
Download Stainless Steel Suppliers PDF 
Buy Equipment or Ask for a Service
By using Linquip RFQ Service, you can expect to receive quotations from various suppliers across multiple industries and regions.
Click Here to Request a Quotation From Suppliers and Service Providers
Read More on Linquip