Best Air Compressors for Nail Guns – A nail gun provides a quick, reliable way to complete any task, whether it be around the house, on a huge building site, or in modest outdoor projects or DIY projects. Any strong nail gun, from more basic framing nail guns to more complex nail guns, must have an air compressor. In addition to providing power for airbrushes and framing nailers, air compressors are also useful for other everyday chores like inflating tires, air beds, or balloons.
Air compressors for nail guns are available from a wide range of Suppliers and Companies, as well as manufacturers and distributors, and Linquip has a large selection of them for Sale. Linquip has a comprehensive list of services for all OEM fleets. To learn more about how to connect with a varied collection of Service Providers who consistently produce high-quality products, please contact Air Compressor Experts.
It's crucial to consider the types of tools you'll use with the air compressor when choosing one. This is how you can tell whether a specific compressor will be sufficient for your requirements. After all, not every compressor will be able to supply enough air pressure or flow for every air tool. Nail guns are among the most frequently used instruments with compressors. People frequently worry about what size air compressor they will need for nail guns because of this.
Depending on the use of the nail guns, different compressor sizes and CFM ratings will be needed. For example, frame nailing calls for a larger flow rate than finish nailing. In general, most nail guns, which require 0.5 to 4 CFM At 90 PSI, may be easily operated by a 6-gallon compressor.
This does not imply, however, that you should purchase the first 6-gallon air compressor you come across. Make sure the compressor you choose can deliver enough air at a strong enough pressure for the nail guns to function. And in this post, we'll describe how to do that!
Review of the Best Air Compressors for Nail Guns
1. Makita Mini Size Air Compressor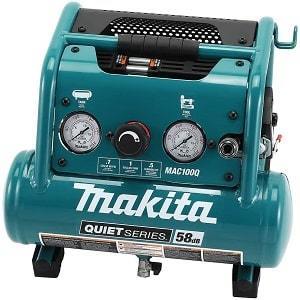 General Description
You wouldn't anticipate the Makita Quiet Series air compressor, which is only 15 inches tall, to be as potent and flexible as it is. You may use your appliances at any time of day without worrying about disturbing your family, friends, or neighbors because of their low sound wave production of only 58dBA. This electric compressor with a maximum pressure of 135 is perfect for use in indoor construction.
Since it weighs only 29 pounds, the compressor may be conveniently stored on a shelf or countertop while in use and, when finished, can be put in a garage or storage shed. Rubber feet keep it elevated and robust off the ground. It has a low amp draw to ensure that any trips or inadvertent plug-outs won't trip a circuit breaker.
Specifications
Weight: 23 pounds
Performance: 7 CFM @ 90 psi, 135 max psi
Dimensions: 14.5 x 13 x 12 Inches
Voltage: 120 volts
2. WEN Two-Stage Oil-Lubricated Air Compressor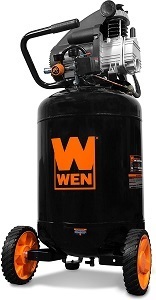 General Description
It may be difficult to choose the ideal compressor for use with a nail gun because there are so many different types available. This WEN two-stage compressor is oil-lubricated in contrast to the majority of the compressors on this list, which are oil-free. To achieve double the pressure and increase efficiency and recovery time, two-stage air compressors simply compress the air they utilize twice. However, this does tend to make them louder than some other solutions.
This 20-gallon tank contains two pressure gauges, one for airflow and the other for internal pressure, a 14-inch NPT fast coupler, and a maximum psi output of 135 psi. This WEN machine is a perfect air compressor for nail guns like frame nailers, spray guns, or other pneumatic instruments that cover painting or woodworking. It has thick, sturdy wheels for simple transportation and stability on rough terrain.
Specifications
Weight: 86 pounds
Performance: 5.0 CFM @ 40 psi, 135 max air pressure
Dimensions: 19.5 x 17.5 x 42 Inches
Voltage: 220 volt
3. DeWALT Oil-Free Air Compressor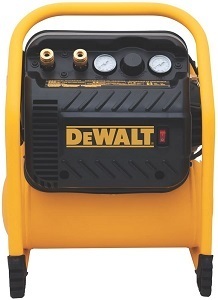 General Description
The DeWALT Air Compressor DWFP55130, one of the lightest air compressors on our list of suggestions, with a 2.5-gallon capacity and weighs less than 40 pounds. This air compressor, which has a maximum psi of 200, is ideal for individuals who require something sturdy but still want a smaller unit.
Since the extension cord is only a little over five feet long, it is best to bring along another one for more portability. With this pump, you can operate it without doing any maintenance, and the flexible roll cage guards the critical compressor parts. It's the greatest air compressor for people with limited space because its rubber feet may stand either horizontally or vertically.
Specifications
Weight: 36 pounds
Performance: 3.0 CFM @ 90 psi, 200 max psi
Dimensions: 21.5 x 17 x 13 inches
Voltage: 120 volts
4. Bostitch Pancake Air Compressor and Brad Framing Nail Gun Combo Kit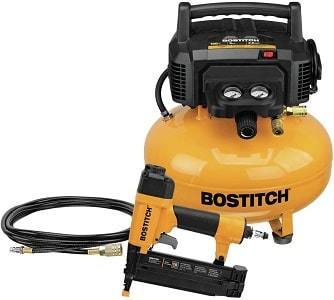 General Description
This adjustable exhaust pancake compressor provides an easy start-up in cold weather thanks to a Bostitch high-efficiency motor. Among the reviews, one said that it "immediately reaches the desired pressure and maintains it for a long period. There are connectors for numerous hoses, and the (drain) valve is simple to use."
All projects can benefit from the 18-gauge brad nailer that comes with it because it can fire nails that are between 5/8 and 2 inches long. The 15-foot-long, 14-inch-thick PVC air hose makes it simpler to safely and successfully do tasks like framing, roofing, or general construction.
Specifications
Weight: 34 pounds
Performance: 2.6 CFM @ 90 psi, 150 max psi
Dimensions: 19.5 x 17 x 19 inches
Voltage: 110 volts
Hose Length: 25 feet
5. PORTER-CABLE Portable Air Compressor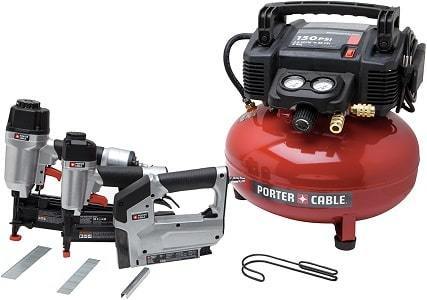 General Description
The maximum pressure of this pancake-style PORTER-CABLE air compressor is 150, as opposed to the 135 of other air compressors. The 6-gallon compressor, a 16-gauge 212-inch finish nailer, an 18-gauge 2-inch brad nailer, and a 3/8-inch crown stapler are all included in this combo set. A 25-foot 1/4-inch air hose with a coupler, plug, and belt hook is also included.
Although this pancake-style air compressor is powerful enough to power a framing nail gun, users are advised to avoid using it continuously at maximum pressure to prevent reducing its lifespan. It is the perfect size air compressor to have on hand when a portable compressor is needed because it weighs only 30 pounds.
Specifications
Weight: 30 pounds
Performance: 2.6 CFM @ 90 psi
Dimensions: 22 x 20 x 20 inches
Voltage: 120 volts
Hose Length: 25 feet
Buying Guide of the Air Compressors for Nail Guns
When purchasing a compressor for use with nail guns, size isn't the most crucial factor. The size of the compressor tank is less crucial for nail guns than it is for other air tools because they don't require constant airflow. Compressed air is only needed once per nail for nail guns. Since the compressor has time to rest as a result, you typically don't have to worry about running out of air during nailing.
It's advisable to start with Cubic Feet per Minute (CFM) and Pounds per Square Inch rather than size (PSI). These are the two most important criteria for determining if a compressor is suitable for a nail gun.
The important parts of a decent air compressor are listed below for you to look for when choosing the one that best suits your needs.
Why Use the Air Compressors for Nail Guns
When purchasing a nail gun, there are several options available. Sizes of nail guns are classified, with 16- and 18-gauge variants being the most common. Pneumatic and cordless nail guns are available for both 16 and 18-gauge. The gauge indicates the maximum nail, screw, or staple thickness that the nail gun can handle. The 16-gauge is thicker in this case than the 18-gauge.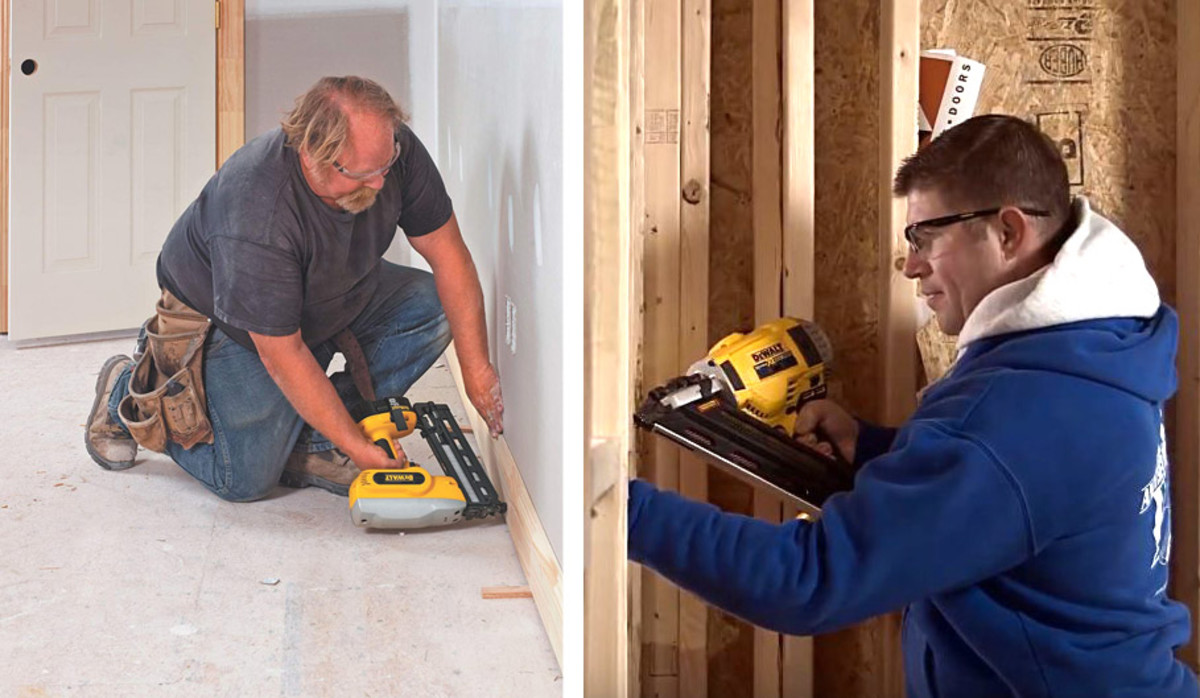 A wonderful all-purpose pistol, 16-gauge nail guns typically fire 34 to 2-12 inch long nails, making them perfect for outdoor surfaces and areas like flooring and cabinets as well as high-traffic items like chairs and stairs. It is not recommended to use a 16-gauge on soft or thin wood due to its thickness as it could split, and the holes left behind are huge and may need to be filled and sanded down.
Nails fired from 18-gauge nail guns range in length from 3/8″ to nearly 2″ and have a smaller head. They work well when used for trim work, securing casings, or leisurely woodworking projects that don't call for thick, heavy wood.
CFM for Nail Guns
The cubic feet per minute, or CFM, is another measurement. You may find out from this measurement how much pressure your compressor can transfer every minute. For your performance requirements, PSI and CFM work together to deliver air volume and pressure.
When it comes to air compressors and air tools, CFM is a measurement of flow. It serves as a gauge for the amount of air the compressor can push to the air tool. To function properly, the majority of nail guns need between 0.5 and 4 CFM.
Additionally, this will be expressed in terms of SCFM, or Standard Cubic Feet per Minute. Since ambient temperature, atmospheric pressure, and humidity can have an impact on CFM, this is only the idealized measurement of CFM.
PSI for Nail Guns
The amount of pressure needed for a nail gun to operate effectively is PSI. Most air compressors available today produce enough pressure (PSI) to run all nail guns. Many compressors have a maximum PSI rating that ranges from 135 to 175 PSI. Even the most demanding nail guns have a maximum working pressure of about 115 PSI.
Depending on your intended purpose, it's important to make sure the air tool you choose has a psi with adequate power to sustain a healthy pace for the size and breadth of your job. The psi determines how strong of a force, or pressure, the air tool can deliver.
CFM and PSI are mentioned together, as you'll see. Although CFM is the more significant of the two statistics for nail guns, you should still be aware of both. They frequently resemble this:
Compressor X: 2.8 SCFM @ 90 PSI
This indicates that the manufacturer has given compressor X a rating of 2.8 standard cubic feet per minute at 90 pounds per square inch.
Oil-Free Compressors
There are numerous varieties of air compressors on the market. Noting whether or not the compressor is oil-free is a crucial distinction. The cylinder walls of an oil-lubricated air compressor must be manually lubricated. Pre-lubricated oil-free compressors do not require ongoing motor maintenance. These compressors have an average lifespan of 2,000 to 3,000 working hours, which makes them perfect for people who only intend to use them one occasion during the year, even though they are not as robust or long-lasting as oil compressors.
Oil-free pump compressors employ a maintenance-free pump, which makes them lighter, more portable, and generally less expensive. These compressors provide a cleaner, safer, and quieter solution for indoor or outdoor use because there is no risk of oil spilling out or smoke clogging the air. Keeping note of your air compressor's usage hours will help you make sure to service it or replace it after 2,000 hours. Additionally, oil-free compressors are simpler to store for a long time and operate in cold weather without risking damage to the high-efficiency motor.
Pancake Air Compressor
The pancake-style air compressor is one common model. The portability and compact design of this donut-shaped compressor lend it popularity. Pancake air compressors can be found in garages or on construction sites and are available in a variety of strengths to meet a variety of applications.
Other Considerations
If you will use an air compressor frequently enough or have a sufficient need for one, buying one makes sense for nail guns, frame nailers, or other construction or DIY jobs. You should also spend money on a sturdy extension cord that can handle all of that power, depending on the size, weight, and location of the compressor or the location of your job.
Nail Guns and Their Requirements
Let's now examine the various nail guns available on the market and their CFM, PSI, and tank size specifications. Remember that various tools for the same task may have slightly different specifications. The types of materials you're hammering through can also influence the CFM needs.
Brad Nailer
Brad nailers need very little space. Brad nails don't need a lot of air because they don't have a large head and aren't particularly thick. Brad nailers typically require between 60 and 90 PSI and operate at 0.5 to 1 CFM. Your compressor should have a minimum 2-gallon tank and be able to output 2.0 CFM at 90 PSI.
Framing Nailer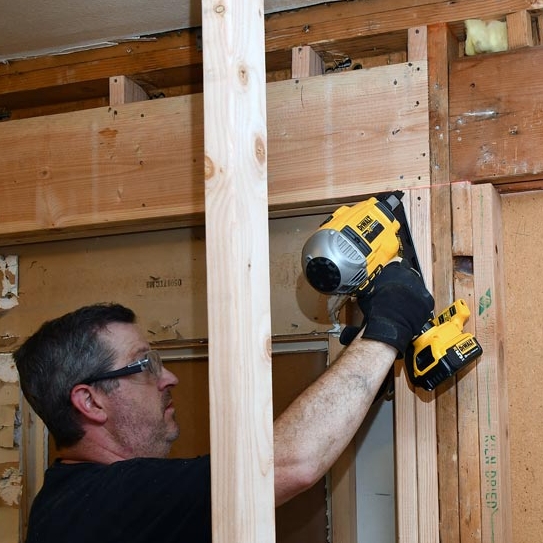 In comparison to some of the other nailers on this list, framing nailers demand a greater CFM rating. Typically, they require 2.5 CFM @ 90 PSI. This indicates that a compressor with a 4.0 CFM @ 90 PSI capacity will work just fine. For a framing nailer, a 6- to 8-gallon tank will work just fine.
Finish Nailer
The majority of the time, finish nailers don't need significantly more air than brad nailers. You'll be OK purchasing a compressor with a 2-gallon tank and a 2.0 CFM @ 90 PSI capacity.
Palm Nailer
Palm nailers are excellent for those challenging to access areas. Fortunately, they don't require much pressure or a lot of CFM flow rate to function. Most palm nailers can be used with a 3.0 CFM @ 90 PSI compressor and a minimum 3-gallon tank.
Flooring Nailer
The typical 2.0 CFM @ 90 PSI requirement is for flooring nailers. You can use this and other smaller air tools if you purchase an air compressor with a 3.0 CFM @ 90 PSI capacity and a 3-gallon tank (or larger). You can visit this link for more information about them.
Roofing Nailer
The majority of roofing nailers need between 2.2 and 2.5 CFM. You'll be set to go if your compressor can output 4.0 CFM at 90 PSI. A 6-gallon tank is typical for compressors of this capacity, which is sufficient to power a roofing nailer.
Pin Nailer
Pin nailers don't need a lot of power or a big compressor tank to operate. Typically, they operate with less than 1 CFM of airflow. Therefore, a 2-gallon compressor with a 2.0 CFM @ 90 PSI output will work just fine.
Siding Nailer
In terms of requirements, siding nailers are identical to frame nailers. Typically, they require 2.5 to 3.5 CFM @ 90 PSI. Therefore, compared to many other nailers, these typically require a significantly larger compressor. For a siding nailer, a compressor with 5.5 CFM @ 90 PSI will do just well. These compressors typically have tanks that are 8 to 10 gallons in capacity.
Stapler
The majority of staplers don't have particularly strict specifications for cubic feet per minute. These air tools can run with as little as 1 CFM, thus a small compressor with a delivery capacity of 2.0 CFM At 90 PSI is more than adequate.
Summary
It's simple to locate everything you need with these air compressors for nail guns. The California Air Tools low-noise compressor is probably your best option if you prefer quiet operation versus a powerful motor. The Stealth air compressor is another excellent oil-free choice.
The amount of air a nail gun needs might vary depending on a variety of circumstances. If the compressor has a small tank, you run the risk of exhausting its air supply while working quickly with another person before it has a chance to refuel. However, the majority of nail guns will work without running out of air with smaller compressors.
The compressor's CFM and the tools you'll be employing with it should be carefully considered. Additionally, you'll probably need a larger tank and a stronger compressor if you intend to run more than one nail gun off of the same compressor. However, you'll discover that the majority of nail guns on the market may be used with a compressor of 6 to 8 gallons in capacity.
We hope that our post on air compressors for nail guns was useful and that you were able to select the appropriate compressor for your maintenance, DIY, or building needs. Consult our other guides or get in touch with Linquip's Experts for a list of further Service Providers of related goods, such as frame nailers, nail guns, and other air compressors.
Download Best Air Compressors for Nail Guns PDF
Buy Equipment or Ask for a Service
By using Linquip RFQ Service, you can expect to receive quotations from various suppliers across multiple industries and regions.
Click Here to Request a Quotation From Suppliers and Service Providers
Read More on Linquip