The Best Electric Air Pump in 2023 – Are you sick of manually inflating your inflatables and leaving your face red? Are you an experienced camper who needs to puff up a sleeping bag? Or perhaps your kids are pleading with you to blow up the enormous blow-up unicorn you regret purchasing? The finest electric air pump for inflatables can help you save time and effort no matter what the circumstance! In this post, we are going to provide information about 10 of the best electric air pumps in the market.
What is an Electric Air Pump?
If you have a lot of inflatables to inflate, an electric air pump, also known as an air compressor, may be a lifesaver. The majority of individuals don't have the time to spend 30 minutes filling up one inflatable since manual air pumps take so much longer!
However, which one do you pick? What qualities should a portable air compressor have? Making the right choice might seem daunting with so many options available.
For your benefit, we have created this really handy tutorial. You may browse through the top ten best electric air compressors that we've chosen.
The Best Electric Air Pump in 2023
10 Best Electric Air Pump in 2023 are:
Semai Electric Air Pump
ONG NAMO Electric Air Pump
AGPtEK Quick-Fill Air Pump
Coleman 2000021141 Quickpump
Dr.meter HT-420-V Air Pump
OutdoorMaster Air Mattress Pump
BOMPOW Electric Air Pump
EPAuto AT-010-1Z Air Pump
Gifts Sources Electric Air Pump
TROPRO Electric Air Pump
1. Semai Electric Air Pump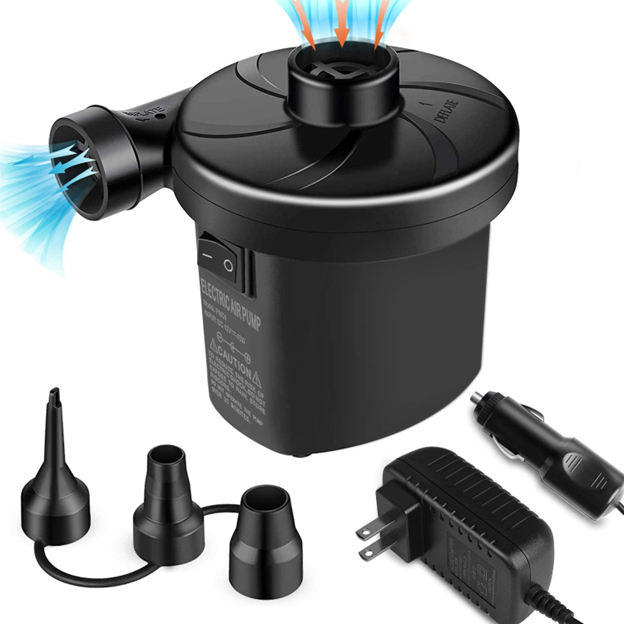 Specifications
| | |
| --- | --- |
| Color | Black |
| Brand | Semai |
| Material | Plastic |
| Item Dimensions LxWxH | 5.11 x 3.9 x 4.2 inches |
| Power Source | Corded Electric |
Product Description
Are you looking for a quick-inflating, quick-deflating electronic air pump? If so, this particular model appears to be what you're searching for. It can function more quickly and effectively. Therefore, even a queen-size air bed may be inflated quickly using this device. Best of all, you don't have to do a difficult task!
In fact, this gadget has three nozzles of various sizes that accommodate practically all inflatables. Users of the electric air pump can inflate or deflate numerous items at any time.
Both 12V DC and 110V AC power sources work with this model. Both indoor and outdoor uses are appropriate for it. You may either attach the device to an outlet at home or plug it into a vehicle socket.
If you enjoy traveling and going on camping vacations with friends or family, this gadget is a wise purchase. Because of its portability, light weight, and compact design, storing and transferring it won't be a hassle. While running, this pump won't make any annoying noises.
When a pump is in action, noise levels are greatly reduced by superior metal impellers. If you look at it closely, you can also see the pump's sturdy cables, which are made of pure tinned copper. This sturdy construction aims to provide steadier and safer performance.
2. ONG NAMO Electric Air Pump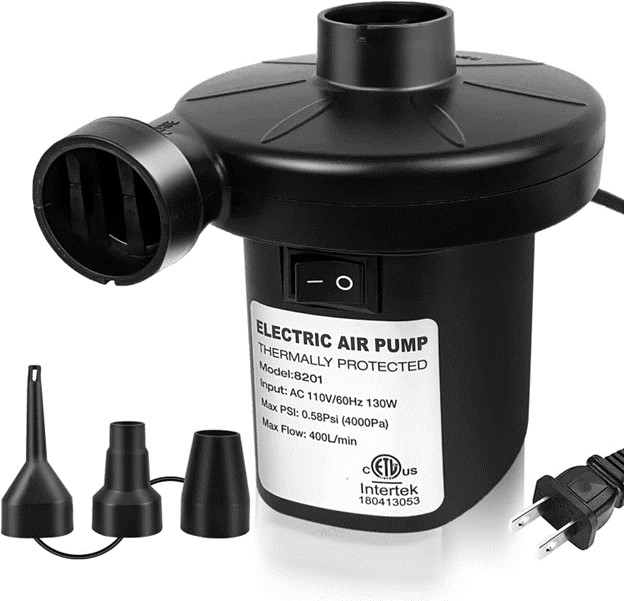 Specifications
| | |
| --- | --- |
| Color | Black |
| Brand | ONG NAMO |
| Material | Plastic |
| Item Dimensions LxWxH | 3.94 x 3.94 x 3.94 inches |
| Power Source | Corded Electric |
Product Description
Do you favor a powerful air pump that charges quickly? If so, you may stop looking for other possibilities because this model will meet your needs. It's simple to use and run this device. It is lightweight, compact, and tiny. Additionally, the kit comes with three different nozzles and a long-lasting battery.
This air pump is effective and potent, and it may blow up bigger objects. This device is perfect for many different types of valves because of its three nozzle modifications. Please note, however, that technique is not advised for inflating tires on cars, basketballs, or balloons.
Surprisingly, despite its tiny and modest size, this version is powerful enough to do its chores without delay. It is ideal for trips and outdoor activities as a portable air pump. Because it is built of high-quality materials, the battery operates more effectively and lasts longer.
The fact that this pump operates without a power source or battery is impressive. It may be charged at home before going out and about. Similar to that, the air pressure is adequate to quickly inflate any big air pump mattress.
When using the pump, be sure to keep in mind that it is crucial to take a pause of a few minutes after operating the device for five minutes. Although this is a strong and resilient item, you still need to handle it carefully. This will guarantee an even better performance each time you use it.
3. AGPtEK Quick-Fill Air Pump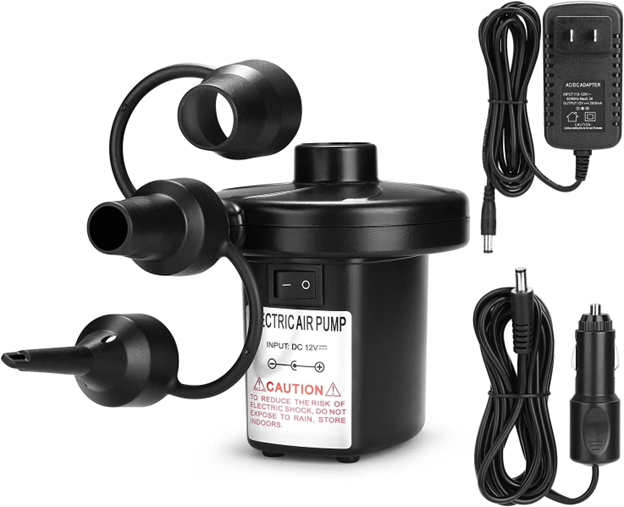 Specifications
| | |
| --- | --- |
| Color | Black |
| Brand | AGPTEK |
| Material | Other |
| Power Source | Corded Electric |
Product Description
This firm is deserving of your trust if you're looking for portable electric air pumps that can live up to their promises. You will be awed by this device's unique characteristics if you examine it attentively. This item is an AC or DC pump with a built-in vehicle adaptor. You may plug it into an outlet using the AC adaptor if necessary.
Given that it is user-friendly for beginners, you won't have any significant issues with utilizing this device. To inflate, all you have to do is turn the apparatus on and align the nozzle with the inflatable valve. When deflating, however, all you have to do is insert the same inflatable head into the vent hole and start the pump. Isn't that simple and handy, even for beginners?
You cannot doubt the way this gadget functions, even if it appears to be smaller and lighter than its rivals. This would make a dependable partner for both indoor and outdoor use and applications because it is made to be versatile. Regarding the cost, this is a reasonably priced machine that won't break the bank.
Its home power adapter and auto power adapter are the unique qualities that make this electric air pump for mattresses an ideal choice. For your travels and activities, this inflatable mattress pump is a highly reliable inflate and deflator. Because it does not restrict your applications, it is outstanding.
4. Coleman 2000021141 Quickpump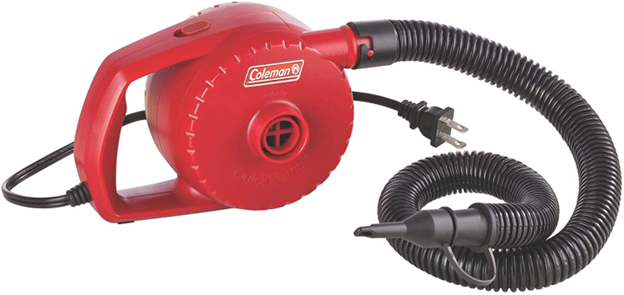 Specifications
| | |
| --- | --- |
| Color | Multi |
| Brand | Coleman |
| Material | Blend |
| Item Weight | 1.65 Pounds |
| Item Dimensions LxWxH | 8.47 x 5.91 x 5.2 inches |
Product Description
This device may give you more convenience and better performance if you're looking to get an air pump for inflatables. Since it has a 120V connector, you may use any domestic outlet to power the appliance.
You are protected by a one-year guarantee in the event that you have any problems with this pump. Its flexible extension hose will provide you with additional convenience.
You'll be happy to know that any air bed in your house may be inflated and deflated quickly with this pump. It is simple to use since all you have to do is plug it into an electrical outlet at home, attach it to a double-lock valve, and let it work. Your air bed may be ready in just a few minutes, thanks to its extremely quick inflating and collapsing abilities.
This is your best option if you want a pump that won't overheat easily. It is useful for routinely filling inflatables. Several sizable pool floats may be regularly inflated and deflated without this pump failing. This is unparalleled when it comes to fast-filling inflatables.
There are other adaptors available as well, allowing users to use the tool with pinch or Boston valves. This suggests that filling other common inflatables is more practical and pleasant. This electric air pump can also deflate your airbed after use, making it simple and handy to store.
5. Dr.meter HT-420-V Air Pump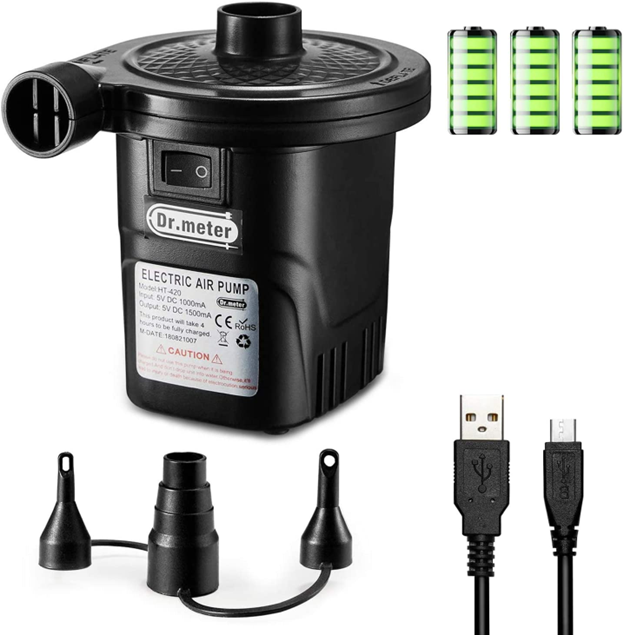 Specifications
| | |
| --- | --- |
| Color | Black |
| Brand | Dr.meter |
| Item Weight | 0.68 Pounds |
| Item Dimensions LxWxH | 4.48 x 3.93 x 4.56 inches |
| Power Source | Battery Powered |
Product Description
One of the unique versions now on the market is this rechargeable air pump. This gadget is undoubtedly a useful asset for all of your inflation-related needs. It is created with pride and has distinctive qualities that makes it more useful and effective. This device comes with a reliable lithium battery. Additionally, it has a cordless and rechargeable design.
Using the built-in USB connector, charging the pump is a breeze. This device is a useful and trustworthy travel companion for you wherever your travels and experiences take you. Users may manage various applications with the aid of the three separate nozzles, which vary in size. It could guarantee a correct fit for a variety of inflatable objects.
In fact, you may quickly blow up whatever object you want because you won't have to worry about the various sizes any longer. You can always rely on this device's strong battery. This is the ideal option for your needs if you fantasize about quick and easy inflation.
Basically, its incredibly small design is a significant bonus. It may easily fit in a tool kit, backpack, and luggage due to its tiny size. So, blowing up your bounce house, beach ball, air bed, inflatable pool, and boats is a snap if you have this rechargeable pump with you.
Dr.meter wants to simplify your life since doing so makes travel and experiences more enjoyable and manageable, even when you have to cope with escalating duties. The USB port also doubles as a device charger, which is the best part.
6. OutdoorMaster Air Mattress Pump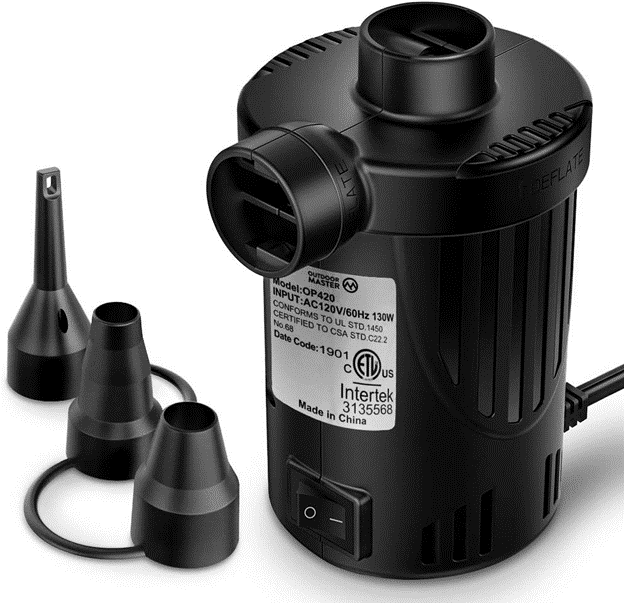 Specifications
| | |
| --- | --- |
| Color | Silver |
| Brand | OutdoorMaster |
| Material | Acrylonitrile Butadiene Styrene |
| Power Source | Corded Electric |
Product Description
Would you want to get an electric air pump for inflatable pools that is dependable, strong, and portable? If these characteristics are important to you, then this pump variant will meet your demands admirably. It is tiny and portable enough for use by anyone.
Additionally, this machine has a lengthy power chord that makes inflation tasks easier and more convenient. In fact, you can just stow it in your car and use it for camping, touring, and swimming. Three distinct nozzles on this strong pump were designed to accommodate various inflatables.
You can tell right away that it will survive for a very long period by taking a closer look at its tough design. It won't need much storage room because it is tiny enough. Furthermore, it doesn't significantly increase weight. With minimal difficulty, both adults and children may use this electric mattress air pump. When not in use, this universal pump air device is simple to use and store.
Such a gadget works well both indoors and outside. ETL approval means that it will work more reliably and quickly, making it a secure investment. Do not be concerned about the unit's use being restricted because you may use it with a variety of inflatables. It's interesting that this is now among the best electric air mattress pumps available for purchase.
As a result, amateurs won't have any trouble manually inflating a variety of inflatables. By completing your responsibilities faster, you'll have more time to unwind and enjoy yourself.
7. BOMPOW Electric Air Pump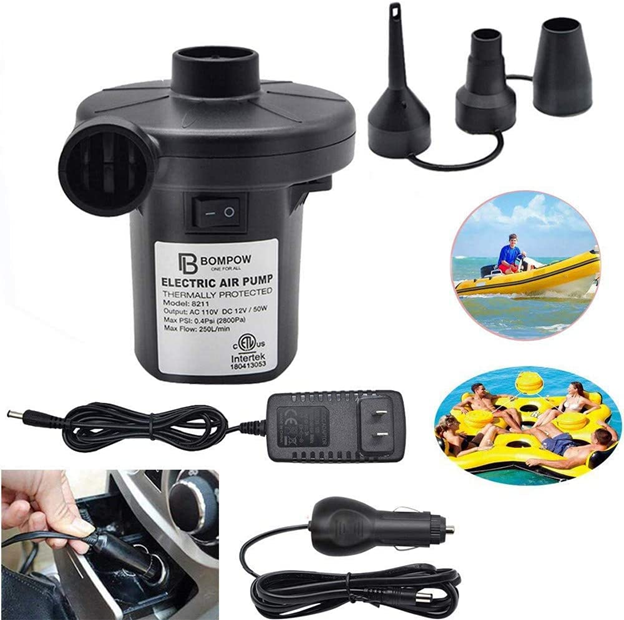 Specifications
| | |
| --- | --- |
| Color | Black |
| Brand | BOMPOW |
| Material | Acrylonitrile Butadiene Styrene |
| Item Dimensions LxWxH | 6.1 x 4.8 x 4.5 inches |
| Power Source | Corded Electric |
Product Description
This electric pump is highly regarded for its mobility and versatility. It is portable and available at all times. This is possible because of the portable air pump's compact, lightweight, and usable design; you can rely on it while traveling and going camping. This gadget doesn't require much effort to blow up a variety of inflatables in a matter of minutes.
Because it does not impose use restrictions, many customers like this choice over the others. This pump may be your trusty companion to complete the task, whether you want to use it to inflate boats, inflatable couches, air beds, air chairs, air mattresses, pool toys, or beach toys. It is convenient to use since it perfectly fits in the palm of your hand.
This pump not only deflates and inflates quickly but also runs more quietly than other pumps on the market. This device enables you to blow up various inflatables more quickly and with less energy than prior models. It comes with a long hose, making it suitable even for backyard or garden inflation jobs.
You will be happy with its customer service assistance, knowing that it can provide you with friendly and responsive 24/7 customer service support. This means that you may always get an instant answer to your questions and concerns.
8. EPAuto AT-010-1Z Air Pump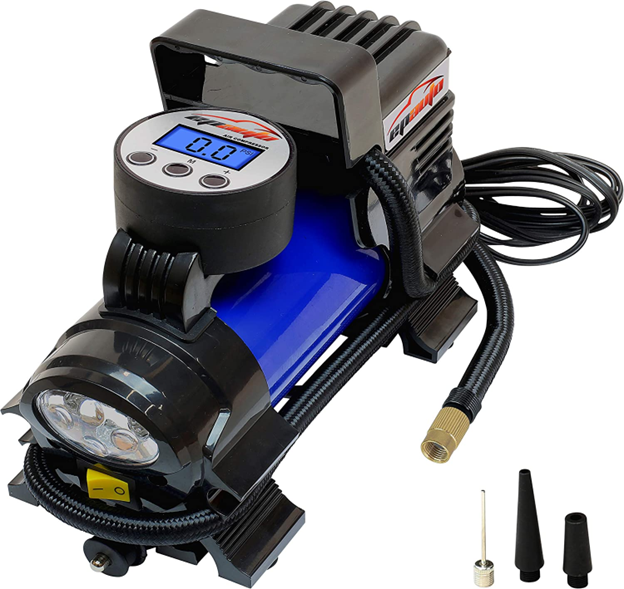 Specifications
| | |
| --- | --- |
| Brand | EPAuto |
| Item Dimensions LxWxH | 13.5 x 8.1 x 5.6 inches |
| Capacity | 3.5 Liters |
| Voltage | 12 Volts |
Product Description
This device may meet your needs if you choose a small, adaptable, and digital air compressor that will enable you to carry out a variety of tasks. It performs a great job of inflating a variety of tires and is ready for usage.
This electric air pump's automatic shut-off feature enables it to prevent the potential of over-inflation. It has a large LCD screen and is simple to use even for new users. The adjustable design of this pump, which can even read pressure in four different units, is preferred by many customers.
Furthermore, it doesn't restrict your use because it may be used to pump up the tires on your midsize SUV, sedan, bicycles, and vehicles. Moreover, it includes additional adapters with needles that may be used for basketballs and balls. In the meanwhile, inflatable kayaks and accessories for swimming pools work great with the short or long cone adapters.
It is surprisingly little in size yet more than capable of doing the task for which it was designed! You may take this with you wherever your travels lead you because it is incredibly portable.
9. Gifts Sources Electric Air Pump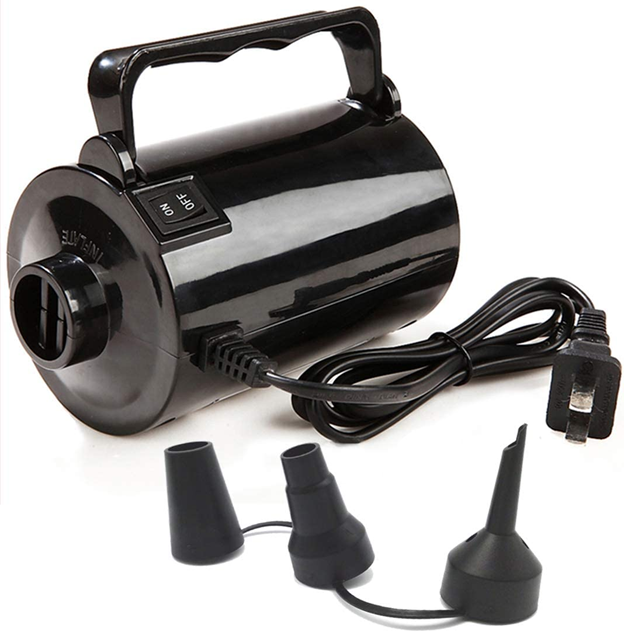 Specifications
| | |
| --- | --- |
| Color | Black |
| Brand | Artigarden |
| Material | Plastic, copper |
| Item Weight | 1.4 Pounds |
| Item Dimensions LxWxH | 6.3 x 3.9 x 3.9 inches |
Product Description
One of the greatest electric air pumps for inflatables is this particular brand. It has great functionality for a variety of uses. This is definitely the best option if you need to inflate several balls at once. This pump, which has received ETL certification, can ensure rapid inflation.
Such an electric inflatable air pump has three distinct nozzles that can each blow up a number of objects simultaneously. Additionally, the gadget does a speedy pumping job and is compatible with needles. Is it not possible to regulate how much air is released through the nozzles?
It is simple to carry wherever you go as a portable air pump. It is an overheating-resistant A1 self-cooling system. It is useful for a wide variety of pumping tasks, including those for inflatable toys, pools, sports balls, and other goods.
It's a good thing that this model is reasonably priced. It is a little more expensive than other alternatives, but it offers excellent quality and performance. Finally, you may make use of all its benefits, especially when traveling or going on camping vacations.
10. TROPRO Electric Air Pump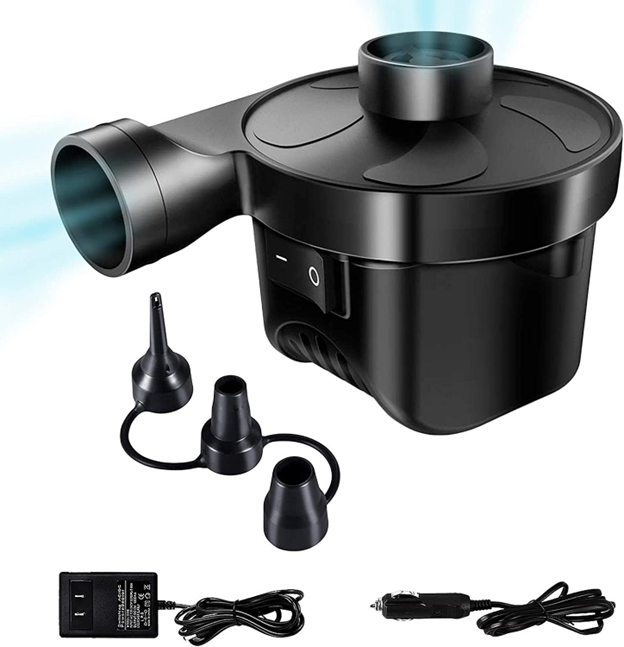 Specifications
| | |
| --- | --- |
| Brand | TROPRO |
| Item Weight | 350 Grams |
| Power Source | Corded Electric |
Product Description
This electric air pump for inflatables is a good option for buyers who want to spend their money on a reliable and durable inflate and deflator. This dual-purpose AC/DC device comes with a US adapter and can be powered by a 12V DC source to get going. It works well for a variety of indoor and outdoor activities.
Additionally, this gadget has three interconnected nozzles that can fit the majority of inflatable or deflatable things. Its mobility is a benefit because it makes moving and carrying it around simple. When in use, the nozzles have a safe lock.
For use with pools, bathtubs, pool and beach toys, waterbeds, airbeds, air mattresses, rafts, swimming rings, couches, and boats, this device works well.
Such a portable model has a high-end motor that may provide excellent and durable performance. When compared to traditional pumps, this model can save you more time and energy. Packing and shipping go without a hitch. Even better, you can keep it in your car and take it camping or on trips with you.
More significantly, it has a heat dissipation feature. Therefore, using it within the manufacturer's suggested time frame is safe. Additionally, you can count on their consistently fast customer care help.
Conclusion
This post has produced a collection of data for the best electric air pump in 2023. You are also encouraged to visit the Linquip website to learn more about these firms, as well as to find providers of additional industrial and commercial items. You can also visit our Electric Air Pump Suppliers and Companies to find out a complete list of Electric Air Pump Suppliers.
Buy Equipment or Ask for a Service
By using Linquip RFQ Service, you can expect to receive quotations from various suppliers across multiple industries and regions.
Click Here to Request a Quotation From Suppliers and Service Providers
Read More In Linquip