Best LED Fixtures for Warehouse and Garage of 2023 – Auditoriums, gymnasiums, factories, sports complexes, distribution, and other large open spaces that require strong lighting can benefit from LED Warehouse lights. They may brighten the work environment, increase productivity, save maintenance costs, and save energy.
Basics of LED Fixtures for Warehouse & Garage
Types of Garage Lighting
The incandescent bulb's prime is passed. Even if you favor the old-school energy suckers, they're becoming increasingly difficult to come by. If you come across one for sale, don't be fooled by the low price; they'll quickly show you how inefficient they are when your power bill arrives. Instead, the majority of consumers choose LED or fluorescent lights. Each has advantages and disadvantages, so choosing the ideal option for your workspace and work style is critical.
LED
LED stands for "Light-Emitting Diode," which is a fancy way of expressing that within the bulb is a small component that lights when electricity runs through it. These lights are a popular option because of their brightness, energy efficiency, and extended lifespan.
LEDs are commonly used in flashlights and spotlights because they produce directed light—a brilliant beam that shines straight out from the diode and focuses on a limited region. This isn't ideal for garages and other workshops, but lighting producers compensate in two ways: they design LEDs with multi-positional wings and add reflectors to uniformly spread light around a room. Both of these adjustments provide a great alternative to incandescent lamps' wide-cast illumination.
Fluorescent
Rather than a solid filament (as in an incandescent bulb) or a diode, fluorescent lighting uses a mercury-vapor gas to create light (like an LED). When a fluorescent bulb is turned on, the gas within emits ultraviolet lights.
Fluorescent lighting, in general, and for garage-type labor in particular, has the advantage of uniformly distributing light. The light shines out in a 360-degree pattern because the gas is trapped in long glass tubes. The problem with fluorescents is that, despite their extended lifespan, they must be disposed of at a hazardous waste disposal facility after they burn out. Fluorescents, unlike LEDs, are difficult to dispose of or recycle due to mercury gas toxicity.
Best Led Fixtures for Warehouse & Garage Reviews
1. Barrina LED T5 Integrated Single Fixture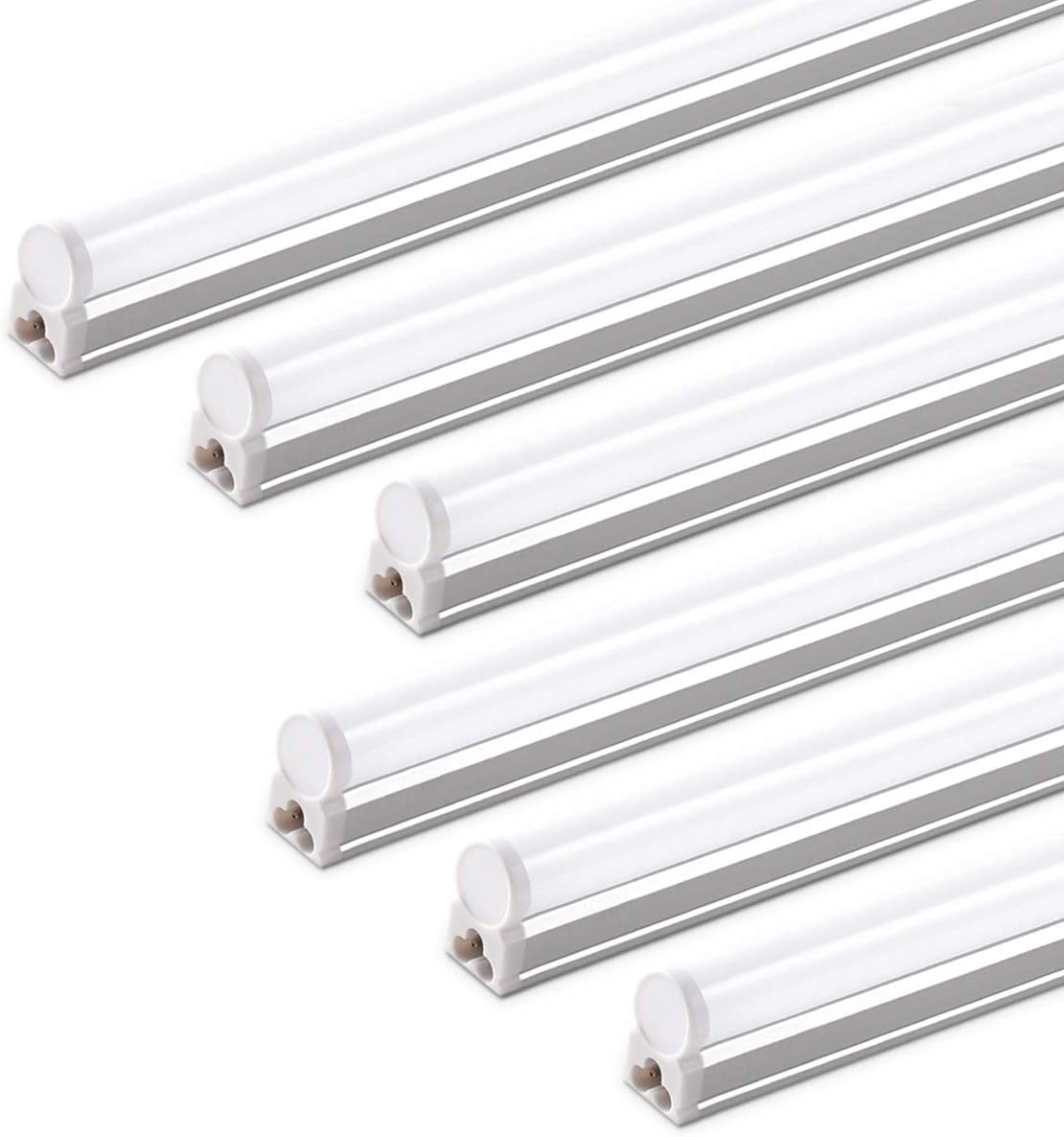 Specifications
| | |
| --- | --- |
| Power Source | Corded-electric |
| Room Type | Office, Basement |
| Material | Aluminum, Polycarbonate |
| Mounting Type | Ceiling Mount |
| Style | 6-PACK, 6500k |
General Descriptions
This set of LED T5 single lights from Barrina is a great choice for lighting up a whole garage with plenty of lumens without blowing the budget. This set of six lights produces 2,200 lumens per light and uses simple plug-in jumpers to connect them. Simply plug them into an existing outlet and clip them in place to complete a full garage's lighting system.
Each Barrina light is 4 feet long, has a very cool color temperature of 6,500K, and consumes very little electricity (20 watts per section). And, because they're LEDs, they'll function in really cold temperatures, so there's no reason to put off those projects until the winter season hits!
The Barrina LED T5 system is a breeze to install because all you have to do is screw the clip to the ceiling and snap each light into position. The ability to set a light where it's needed is a pleasant break from the norm, especially with six lights in the pack. In addition, We found the brightness to be sufficient for most garages. Our only criticism is that the jumper cables were way too short.
2. Sunco Lighting 2 Pack Industrial LED Shop Light

Specifications
| | |
| --- | --- |
| Light fixture form | Pendant |
| Switch Installation Type | Surface |
| Room Type | Office |
| Special Feature | Linkable – Up to 4, Integrated Linear Tubes, Plug-and-Play Fast Install, Instant Start, Flush Mount or Hang from Chain |
| Color | 5000k Black |
General Descriptions
Check out this Sunco Illumination two-pack of LED shop lights for industrial-grade garage lighting. These 4-foot-long lights have a 5,000K color temperature, which is great for garage lighting, and each light produces 4,000 lumens. Use the accompanying hanging hardware and cord to attach them to the ceiling or suspend them from the ceiling. Each lamp features an on/off pull switch with an integrated chain that is significantly more durable than a string in an industrial situation. Anyone who wishes to have all of their lights controlled by a single switch can connect a few sets and control them from a single wall switch.
Sunco Lighting's industrial shop light has been proven to be excellent. Despite the fact that the lights were linked together, each one was functional, which meant that they could be turned on and off separately without impacting the lights before or after them. Furthermore, these lights were powered by conventional 110-volt outlet connectors, although other systems may employ unique plugs. Straightforward connections were possible, and the lengthy cables made daisy-chaining a set across the garage simple. This system may also be suspended from a chain or mounted flush to the ceiling. The main criticism is that the flush installation will almost certainly need drilling holes through the backplate due to the lack of evident mounting holes elsewhere.
3. Hykolity 5000K LED Shop Light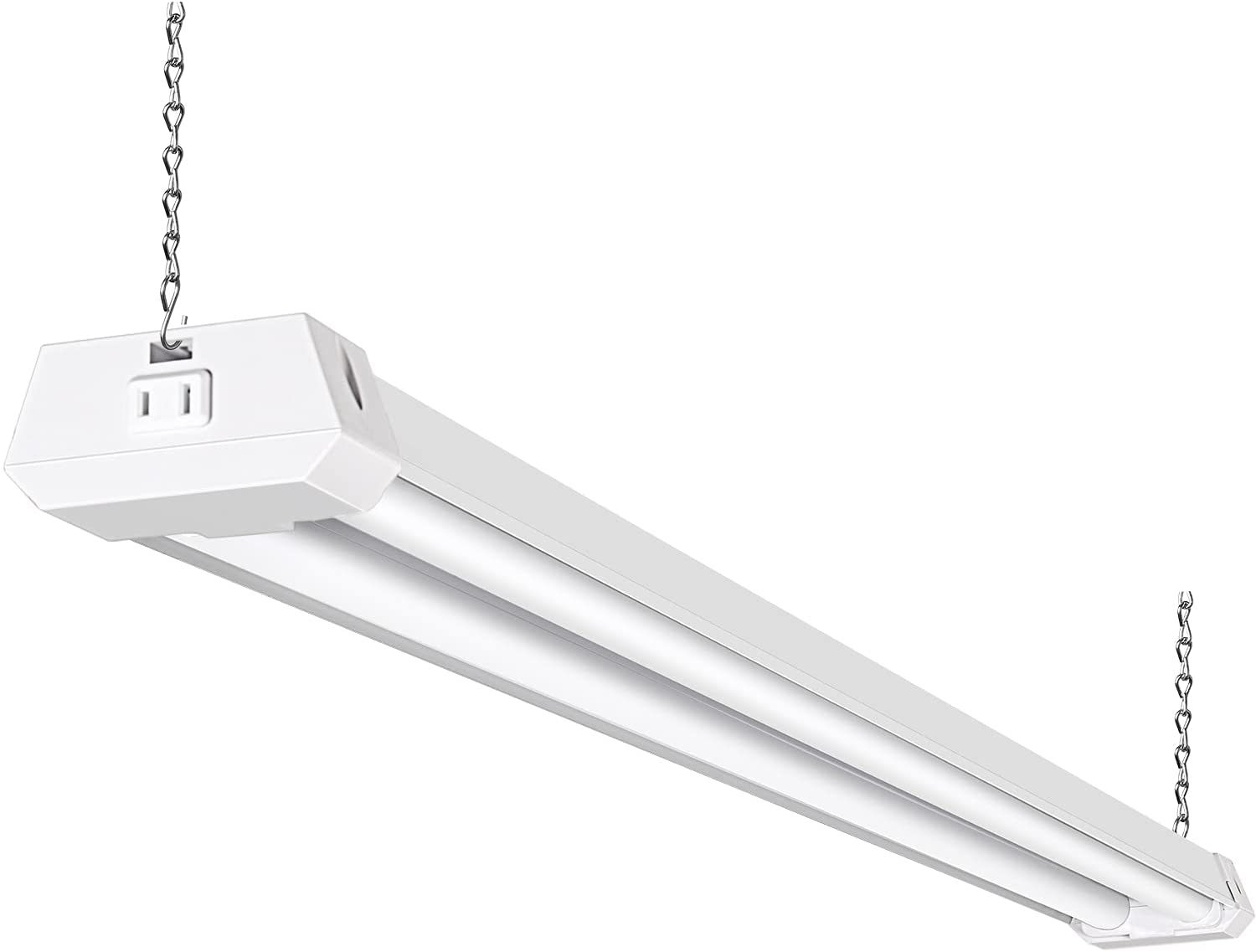 Specifications
| | |
| --- | --- |
| Light fixture form | Pendant |
| Room Type | Basement |
| Power Source | Corded-Electric |
| Material | Plastic |
| Style | Hanging |
General Descriptions
A workbench light should have three features: an accessible power switch, the ability to hang it, and enough light. The hykolity store light meets all of the requirements. This lamp is 4 feet long, which is sufficient to illuminate most work areas. Installers may suspend it from the ceiling or from behind a shelf using the accompanying hanging hardware. With 4,200 lumens and a cool-toned 5,000K temperature, the 42-watt LEDs provide lots of light.
During testing, the Hykolity LED store light was a pleasure to work with. First and foremost, the installation was simple, and mounting it over a workstation would not be a problem. Second, compared to comparable single units, this light fixture was substantially brighter. It may also be daisy-chained with another lighting because it utilizes a standard outlet plug. We hoped it came in a multipack that would save money because it's a little pricy.
4. Qimedo Illuminator 360 LED Garage Lighting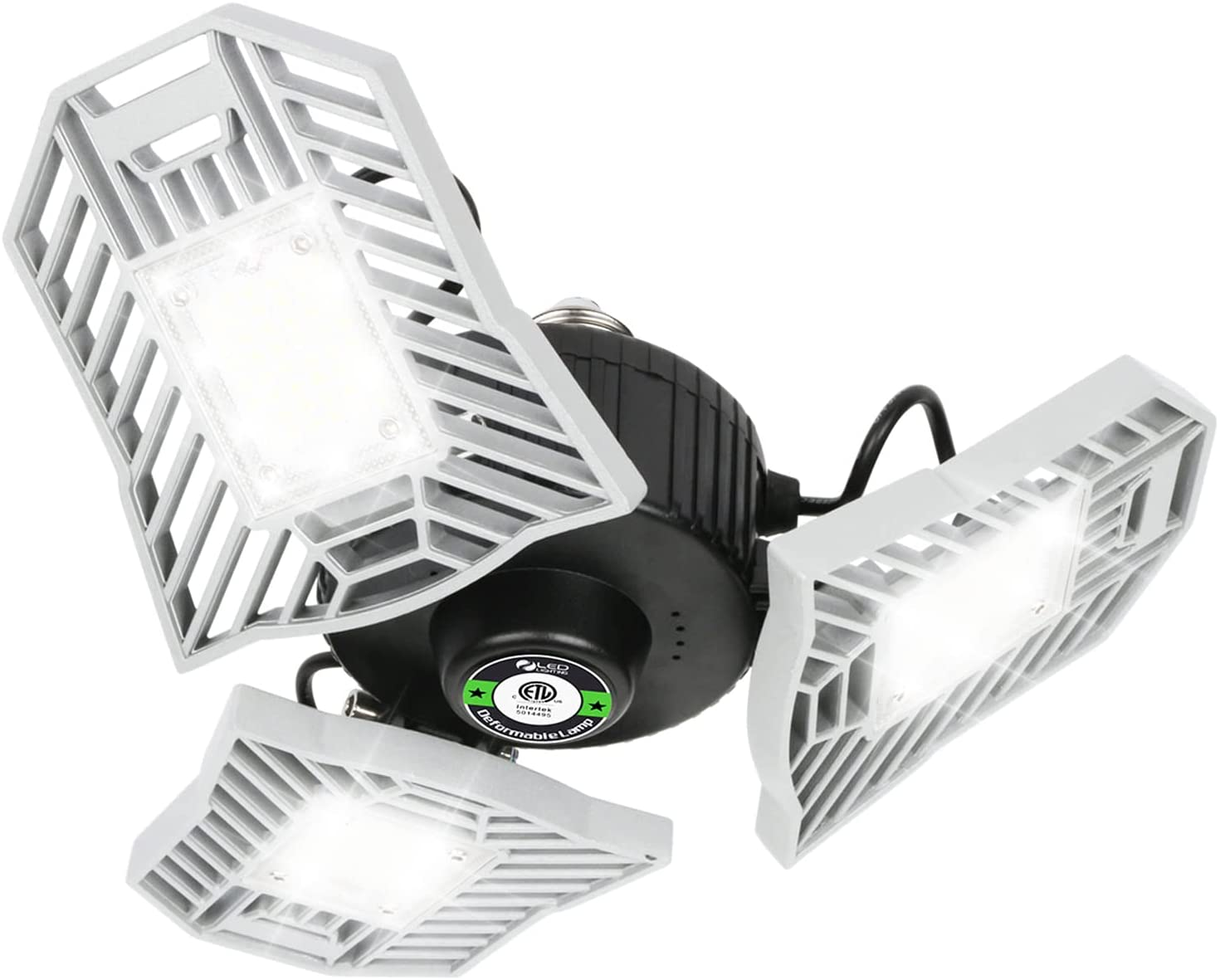 Specifications
| | |
| --- | --- |
| Light fixture form | Close to Ceiling |
| Power Source | AC |
| Indoor/Outdoor Usage | Indoor |
| Room Type | Basement |
| Material | Aviation Aluminum |
General Descriptions
The Illuminator from qimedo is an excellent alternative for garages with screw-in fittings at a terrific price. This low-cost 60-watt (total) fixture produces lots of light, with 2,000 lumens per leaf and a color temperature of 6,000K. It's a high-efficiency light fixture with 6,000 lumens and a cool temperature, making it ideal for most garage environments. The aluminum body absorbs any heat generated by the LEDs, allowing them to run as effectively as possible. If you need extra light in a certain part of the garage, simply point one of the leaves in that direction.
This screw-in fixture is the simplest and most effective approach to install garage lights we've found. By putting the Illuminator onto a base, one may transform a dark garage into a bright one in 30 seconds. We also loved that we could move the leaves in any direction, adjusting the amount of light as required. The Illuminator appeared to be made of high-quality materials. Our only complaint was that this product throws light from the center, which can result in shadows and gloomy corners if there are items in the path.
5. AVANLO Super Slim LED Ceiling Light Fixture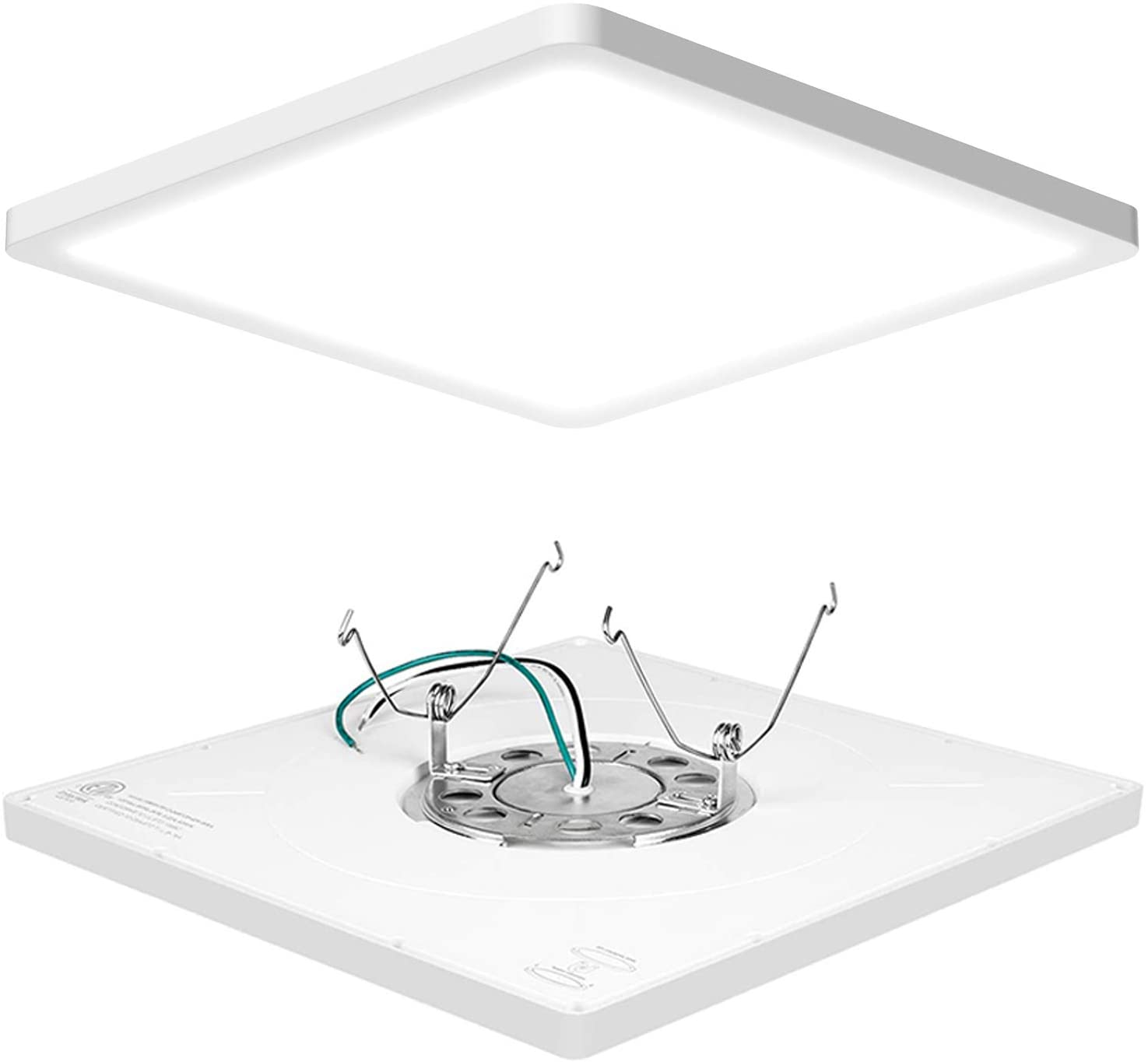 Specifications
| | |
| --- | --- |
| Light fixture form | Recessed |
| Power Source | AC |
| Indoor/Outdoor Usage | Indoor |
| Room Type | Kitchen, Bedroom, Living room |
| Material | Polycarbonate |
General Descriptions
Grabbing the end of a board on a light bulb or fixture while bringing lumber or other lengthy items into a garage may really slow things down. Consider using a flush-mount lamp like this one to prevent this problem.
While there are no clips or hardware included to hang this lamp from the ceiling, it does mount to a conventional electrical junction box. It may also be hardwired into a lighting circuit to function with 5- and 6-inch lighting cans.
The AVANLO light may be dimmed easily. With 1,680 lumens, it doesn't put out a lot of light, but a couple scattered throughout a shop can help complement ordinary work lights.
We like how thin it was and how it was built to suit a variety of older fittings, allowing you to breathe new life into an old fixture. Our only criticism is that it isn't really bright; yet, it would be ideal in a dark nook or even above a workstation.
6. Lithonia Lighting Fluorescent Ceiling Fixture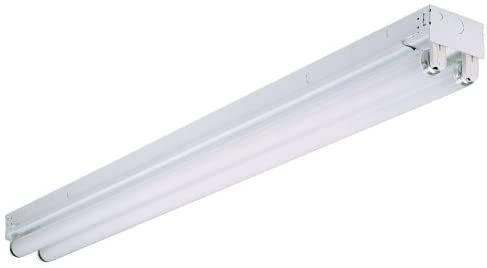 Specifications
| | |
| --- | --- |
| Light fixture form | Sconce |
| Room Type | Garage |
| Power Source | Direct Wire – Electric |
| Style | 40Watt |
| Material | Metal |
General Descriptions
This ceiling light fixture from Lithonia Lighting is worth taking a look at if you're trying to replace an outdated fluorescent fixture. T12 fluorescent bulbs (available separately) are used in this 4-foot lighting fixture, which has a high-gloss, baked-on enamel surface to withstand heat and radiate as much light as possible.
With a 120-volt domestic ballast, this Lithonia Lighting model may be wired directly into a garage's lighting circuit. While the bulbs have a greater impact on the lighting output than the fixture itself, this device can accommodate any 4-foot T12 bulb, enabling DIYers to select the brightness and color temperature that best matches their needs.
Old-school fluorescent light fixtures have their advantages, and my hands-on testing revealed this model's advantages. This fixture provided a consistent amount of light, which might be beneficial for painting or finishing a job. Furthermore, if any of the pieces on this device fail, it is very serviceable—no need to replace the entire fixture. The problem is that novice DIYers may need a few minutes to do it correctly.
7. Craftersmark LED Garage Lights Motion Activated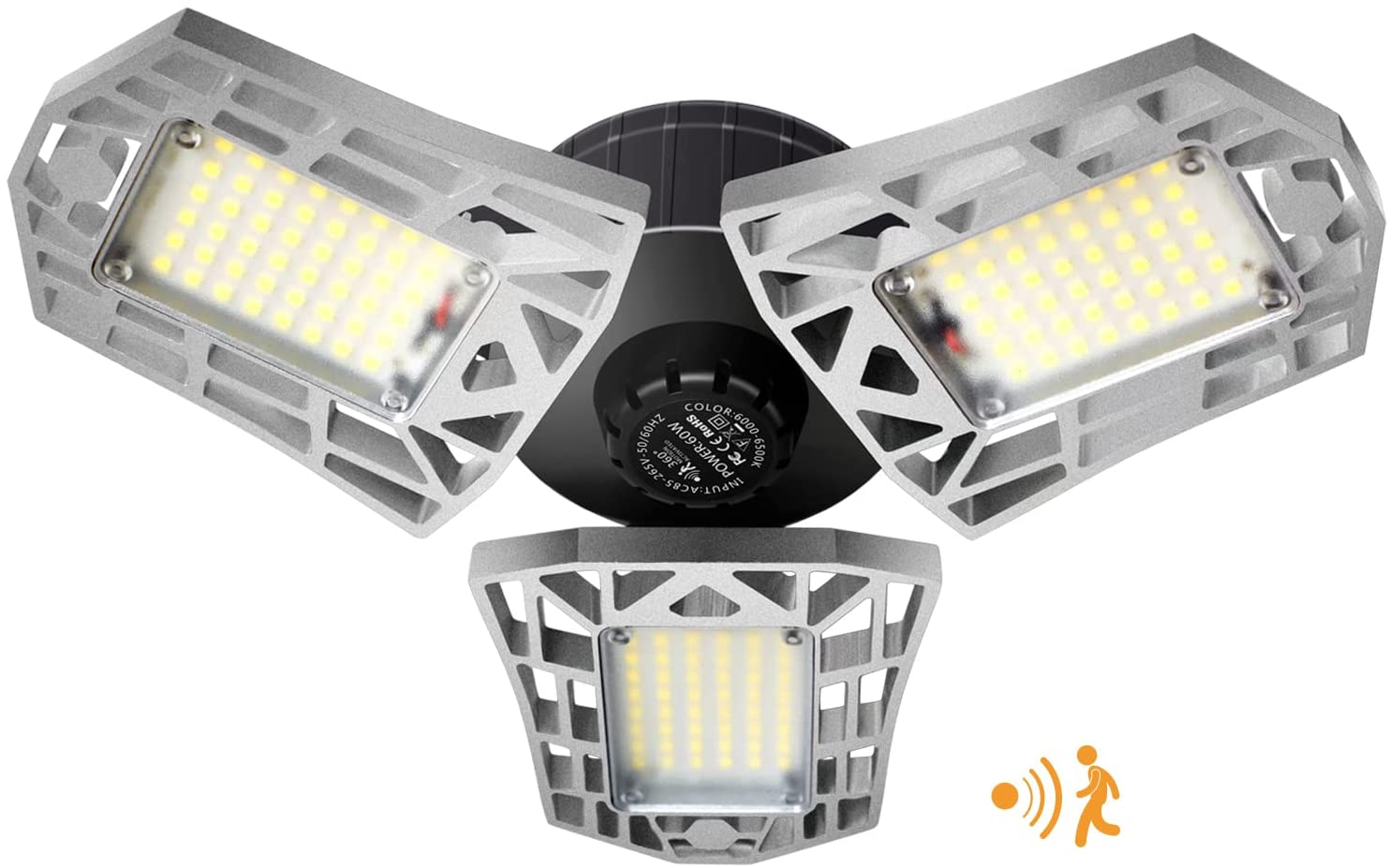 Specifications
| | |
| --- | --- |
| Light fixture form | Close to Ceiling |
| Room Type | Office, Basement |
| Power Source | Battery-powered |
| Material | Aluminum |
General Descriptions
Motion-activated lighting provides three goals in your garage: simplicity, energy efficiency, and security. The Craftersmark LED Garage Lights might be a good choice for those looking for all three in a bright, low-cost package. This 60-watt lamp generates 6,000 lumens of cool 6,500K light, which is ideal for workshops, garages, warehouses, and other areas where a lot of light is needed.
Three movable panels on the Craftersmark garage lights allow light to be directed where it is needed. These lights plug into a conventional bulb base, making them ideal for certain older garages or even basements. If it senses movement, the motion sensor turns on promptly, providing safe and convenient lighting anytime someone enters the garage. It will also switch off on its own, allowing you to save money on electricity.
We found the Craftersmark garage light to be exceedingly simple to install; simply screw it into a light base. We also liked being able to beam light practically anyplace. The motion sensor is extremely sensitive and quick. However, there is no way to modify the motion sensor, and the design of this light can result in shadows and gloomy places.
Considerations When Selecting Led Fixtures for Warehouse & Garage
Keep these crucial considerations in mind while looking for the finest garage lighting.
Brightness
Because garages have little or no natural light, consider lights that provide a lot of bright light when updating your lighting system. Lumens—a measure of light generated over a given amount of time—are used in the lighting business to determine brightness. The bottom line is that the more lumens the lighting has, the brighter it will be.
Watts and lumens are not the same thing. Watts are used to assess energy use, whereas lumens measure brightness. A 75-watt bulb, on the other hand, provides around 1100 lumens. The recommended brightness range for workshop and garage lighting is roughly 3500 lumens as a general rule.
Temperature of Color
The color temperature of light is measured in kelvins (K) and refers to the color it generates. Temperatures range from 3,500K to 6,000K, with the lower end being warmer and yellower and the upper end being colder and bluer.
Because most garages are drab and industrial in appearance, colder lighting temps are generally the most appealing, but warmer temperatures can make the floor appear filthy. Aim for a temperature of around 5,000 degrees Fahrenheit. A 5,000K bulb produces somewhat blue light that is not dazzling or unpleasant on the eyes.
Some lights include changeable color temperatures, allowing DIYers to cycle through the options and pick the one that best suits their needs.
Efficiency in Energy
A contemporary fixture will use significantly less energy than outdated incandescent bulbs, regardless of the lighting system used for a garage. When compared to an incandescent bulb that produces the same amount of light, fluorescent lights may save up to 70% on electricity. LED lights are considerably more efficient, saving up to 90% of the energy used by a comparable incandescent bulb. When you consider that they last far longer (over 10,000 hours versus 1,000 hours for an incandescent bulb), the savings are enormous.
Connectivity and Installation
When it comes to selecting the best garage lighting lights, installation and connectivity may play a big influence. There are choices for DIYers with little or no electrical knowledge that are simple to install and give excellent results. Screw-in bulb replacements are the simplest way to modify garage lights. These are multipositional LED fixtures that screw into a standard light base, not simply bulbs. They don't necessitate any additional wiring or installation work on the installer's side.
There are also plug-in systems that DIYers may use to create a massive quantity of light in their garage. These systems are powered by regular outlets, so all you have to do is plug them in and turn on the switch. They frequently have "jumper" wires that link a group of lights together to illuminate a complete garage, and they are typically installed using simple clips.
Fluorescent lighting, on the other hand, needs a little more effort during setup. The voltage to the light bulb is regulated by ballasts in these lamps. They need to be hardwired into a garage electrical circuit. It is a more complex procedure, albeit not terribly so.
Longevity
An LED bulb may live 25 to 30 times longer than an incandescent light while consuming significantly less energy. A fluorescent bulb may last up to 9,000 hours, compared to 1,000 hours for an incandescent light. Because LEDs and fluorescents lack a sensitive, delicate filament that might break or burn up, they survive significantly longer than incandescent bulbs.
Climate
LED lamps are the best choice for unheated garages in locations where winters are bitterly cold. In fact, as the temperature drops, LEDs become more efficient. They don't need to warm up, so they're bright straight away and generate constant, energy-efficient light even in the coldest of environments. Some fluorescent lights, on the other hand, will not work if the air temperature is less than 50 ° f. For the finest garage illumination, those who reside in places where temperatures frequently drop below freezing will benefit from an LED arrangement.
Additional Features
It's a good idea to improve the workstation as well as the overhead lighting system. Establish direct task illumination by suspending a cord from the ceiling to drop a fixture or placing an LED light beneath a cabinet. There are several excellent solutions available, and various systems may be combined to provide optimum circumstances. While a standard overhead light is enough, adding an illuminated, movable arm (such as those used by fly-tying fishers) can help you see tiny pieces more clearly.
Garage lights with motion sensors can be safer and more convenient. When sensors detect someone is walking or moving in the garage, certain LED systems will switch on the lights. Not only will these lights illuminate a garage without the need for the user to fumble for a light switch, but motion sensors can stop unwelcome guests from stealing equipment and other valuables.
Choose LED bulbs with multipositional wings if you want to replace incandescent lights with screw-in LED ones. These fixtures can make a significant impact on the efficiency of garage lighting. Simply position a wing in that direction to boost illumination when an area isn't getting enough light. LEDs are typically cool enough to touch bare-handed since they don't become nearly as hot as incandescent or fluorescent bulbs. This also ensures that LEDs operate at maximum efficiency.
FAQs about Led Fixtures for Warehouse & Garage
1. What are the discrepancies between lumens, kelvins, and watts?
These words are not synonymous in any way. The brightness of a bulb is estimated in lumens. The color of a temperature is represented in Kelvins. Watts are units of measurement for the consumption of energy.
2. Is it true that LED bulbs are brighter than fluorescent bulbs?
The brightness of a bulb is specified by its lumen output rather than its kind. LEDs are more efficient and hence brighter than incandescent bulbs of equal wattages.
3. Does a bulb with a greater color temperature emit more light?
No, a higher-temperature bulb gives out a cooler, bluer tone but not more light.
4. Does the intensity of LED lights fade with time?
LEDs do, in fact, lose brightness over time. They don't burn out like regular bulbs, but they do get dimmer with time.
Buy Equipment or Ask for a Service
By using Linquip RFQ Service, you can expect to receive quotations from various suppliers across multiple industries and regions.
Click Here to Request a Quotation From Suppliers and Service Providers
Read More on Linquip