10 Best Steam Boilers Worth Buying – There are many steam boilers on the market but finding the best steam boilers is a little tricky. Different brands, different designs, diverse efficiency rates, and lots of other factors will confuse you and make the choice more difficult. But Linquip is here to help narrow down the choices and enable you to make the best choice possible. We have searched around and gathered information about different boilers and created a list of the top five steam boilers sorted by their efficiency rate.
Why Should I Choose Between the Best Steam Boilers?
Steam boilers are deeply rooted in our daily lives and therefore the wise choice would be to find the best steam boilers with high quality and durability to last for a long time without losing efficiency. Whether you want it for residential or commercial use, there are certain factors to consider like commercial and residential boiler prices, their warranty, their design, materials, etc.
Steam boilers work as heating systems to heat water and produce steam through a series of pipes and heat places. They can also be used for other purposes in different fields such as the food industry, fashion, etc. It's important to find a steam boiler that is energy-efficient with a high-efficiency rate.
Key Features to Finding the Best Steam Boilers
Although boilers installation is a little expensive, if you choose a good one, it will last for at least 10 to 30 years.
Different types of steam boilers are Gas-Fired Boilers, Oil-Fired Boilers, electric boilers, condensing boilers, Firetube boilers, water tube boilers, etc. Even though the design and the fuel source of these types are different, the outcome is the same.
Best Steam Boilers Available on the Market
By researching the market and comparing different features, we have gathered some of the best steam boilers available for you to learn more about and make the best choice for your desired steam boiler. Their efficiency varies from 81.3% to 95% according to Annual Fuel Utilization Efficiency. These are as follows:
Lennox GWM-IE Boiler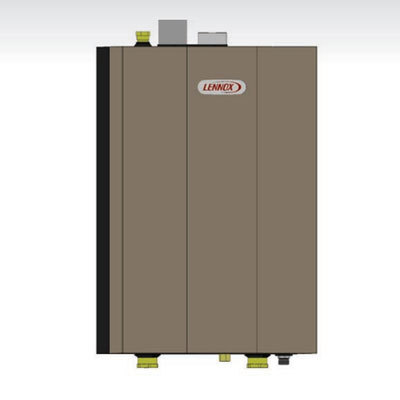 One of the best available options on the market is Lennox GWM-IE Boiler that's affordable, durable, and very quiet. Its efficiency rate is up to 95% AFUE. This boiler earned Energy Star Most Efficient 2015 Label and is considered the number one option on our best steam boilers list. Plus, it's one of the best condensing boilers you can find on the market. This boiler features an economical electronic ignition switch which is designed to monitor temperature and helps to prevent the overusing of the burner. These are not its only features! A combustion tube has been specially designed to help the reduction of this boiler's sound and self-cleaning as well.
Bosch Greenstar Boiler
Although many boilers are hard to install, the Bosch Greenstar boiler on the list of our best steam boilers is one of the systems with easy installation, and low maintenance with both floor-standing and wall-hung designs. Bosch Greenstar Boiler can be found as a combination boiler or a heat-only boiler. This gas boiler has a 95% efficiency rate and its combustion process reduces nitrous oxide emissions. Al-Si heat exchanger plus a fully modulating fan has been designed for this boiler to help increase its efficiency. You'll also get an LP and natural gas conversion with this unit. Bosch Greenstar Boiler comes with a lifetime heat exchanger warranty and a five-year parts and labor warranty.
Triangle Tube Challenger Solo Boiler
Triangle Tube Challenger Solo Boiler is a wall-mounter and has an efficiency rate of up to 94% and has four models that range from 85 to 145 MBH. It features a digital control display to help you control the system. There's a standard outdoor reset designed in Triangle Tube Challenger Solo Boiler too. Another advantage of having this boiler is its advanced modulating temperature control enabling you to adjust the boiler's temperature. The company offers a limited 10-year heat exchanger warranty that's non-prorated and also a one-year parts warranty for this boiler. You can also get a 10-year parts and labor warranty if you feel the need.
Slant-Fin Sentry Boiler
If you are looking for the best durable steam boiler, Slant-Fin Sentry Boiler is the right one for you. This steam boiler is easy to install, it is compact, long-lasting, and perfect for small places in need of an amazing boiler. It's one of the best gas boilers with an 84.4% AFUE efficiency rate. This steam boiler comes with a pre-purge option which enables heat conservation as well as an LED display to control and monitor the water temperature. This one also has low operating noise due to the installation of an insulated jacket which also prevents heat loss.
Slant-Fin Sentry Boiler is also the best cast-iron boiler you can find on the market with different sizes suitable for different places with front-mounted controls perfect for easy installation and low maintenance. You can buy this item with a 1-year warranty on parts, but the cast-iron section comes with a lifetime warranty! Pretty cool, right?
Slant-Fin Galaxy GXHA Boiler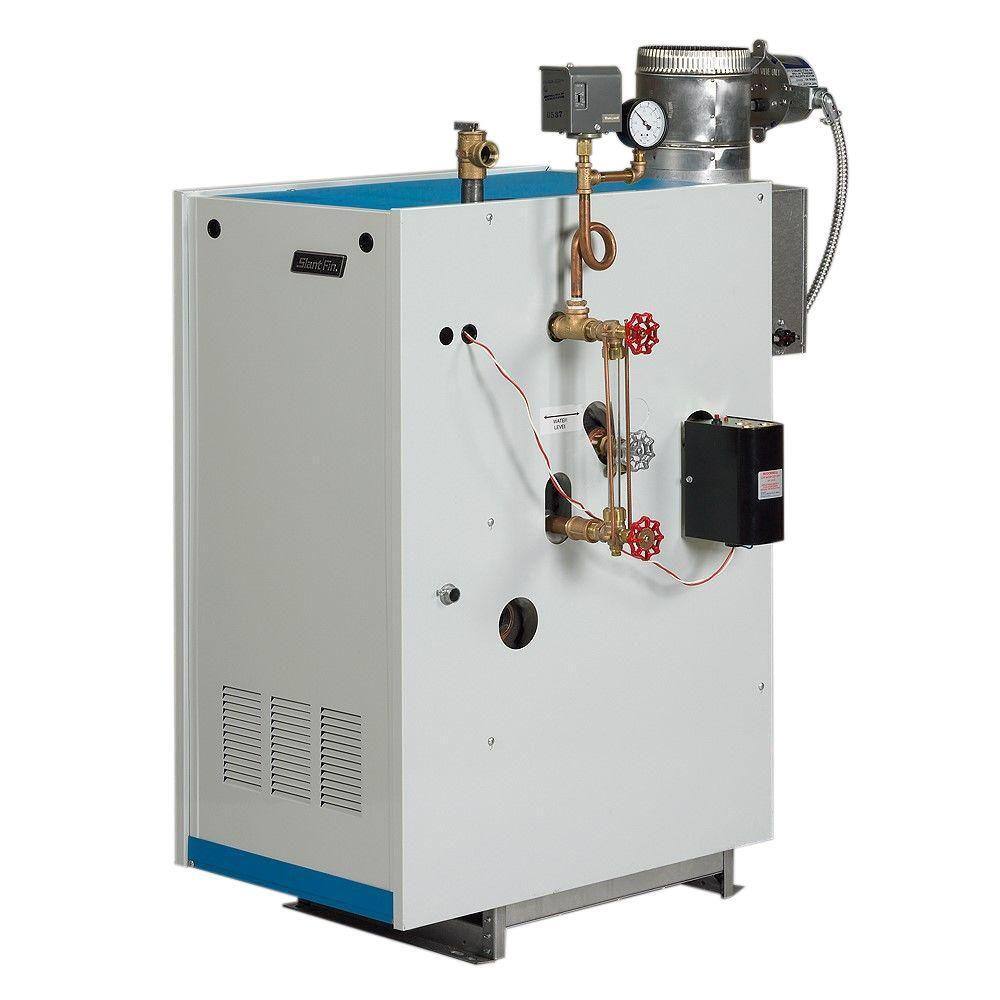 This item on our best steam boilers list is one of the gas-fired systems with high performance and an amazing efficiency rate of 81.3% AFUE. This boiler has a monitor display enabling you to control system functions. Slant-Fin Galaxy GXHA boiler features an optional tankless heater and an intermittent pilot ignition and can be installed in tight locations due to its compact design. Another advantage of this boiler is the ability to discharge contaminants and dirt thereby lowering the need for maintenance. You'll get a ten-year warranty on cast iron selection and a one-year warranty for its parts.
Viessmann Boilers
Viessmann, which dominates the European boiler industry, has a 5-star reputation because of its excellent German engineering and straightforward, clean designs. There is no ridge cut in this area.
The Viessmann brand is already making inroads into the UK market and developing a strong national reputation for dependability and quality, whether or not you can pronounce their name.
The reputable consumer group Which? named Viessmann a "very smart choice" after bestowing its Best Buy Award on seven of its models. They do go on and on.
Technical excellence is a defining advantage that all Viessmann boilers have over competitors. As an illustration, they employ stainless steel heat exchangers rather than the aluminum ones seen in the majority of other boiler companies.
A crucial component that produces hot water is a heat exchanger. Some boiler manufacturers opt to ignore this element and build their products using inferior materials at the expense of durability. Imagine a powerful Roman gladiator who only carries Scotch eggs; it will be his undoing.
When it comes to corrosion and sludge, two of the main causes of boiler malfunctions and failures, stainless steel outperforms other materials in terms of toughness and resistance.
Alpha Boilers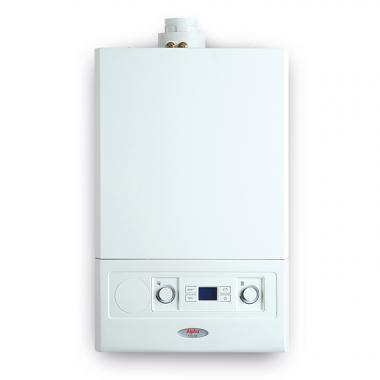 Alpha has discreetly installed cute, inexpensive boilers into UK homes for years while going unnoticed and being accused of being a "budget" boiler business.
Over the past few years, the budget-friendly brand Alpha boilers has seen an increase in market share in the UK's boiler industry. They are an excellent choice for consumers searching for a dependable, economical heating solution with a fair length of warranty.
Although Alpha is a low-cost boiler manufacturer, their products are exceptional technically. For instance, they use a stainless-steel heat exchanger, which is often only seen in high-end brands like Viessmann.
The E-Tec, Intec, or Evoke are just a few of the popular combi boiler models offered by Alpha, with prices ranging from £520 to £2,500.
For their Alpha E Tec, Alpha provides a 7-year guarantee, while Heatable has a unique 10-year warranty that matches some of the more expensive models.
Ideal Boilers
As their name suggests, the perfect brand does indeed produce some excellent boilers. neither shocking nor horrifying. Just perfect.
Ideal boilers have a long history in the UK home boiler industry as a historic British brand with a reputation for quality. They were founded in Kingston upon Hull in 1906.
From affordable versions to more durable options with all the bells and whistles and fancy features you could desire, Ideal provides a wide selection of boilers.
Vaillant Boilers
Another well-known boiler brand in the UK is Vaillant, which is also one of the select handful to get a Which? Best Buy.
Vaillant has produced high-quality boilers for longer than anybody would care to Google, earning its place among the other award-winning companies.
Vaillant, which manufactures boilers in the UK, has a range of boiler types and sizes that are built to an incredibly high level and come with a sizable 10-year warranty.
BAXI Boilers
Another British-made boiler company, BAXI Boilers, has its production facility in Preston, Lancashire. They provide a good selection of combi, standard, and system boilers that are built to endure.
Even though BAXI isn't frequently regarded as a top choice in the heating sector as a whole, it does have a decent assortment of products, strong warranties, and award-winning customer service. In light of all these considerations, a BAXI could be the best option if you're seeking a brand that gives the most value for your money. However, not every quality delivery passes that test. rather large.
These were our picks for the best steam boilers out there on the market. Now that you know the best ones according to Linquip, let us know which one is your favorite. And if you have any questions, feel free to sign up and our experts will help you out in no time!